October, 13, 2015
Oct 13
9:39
PM PT
Associated Press
LAS VEGAS -- Marco Belinelli scored 17 points, Darren Collison added 16 points and seven assists, and the Sacramento Kings beat the Los Angeles Lakers 107-100 in an exhibition game Tuesday night.
James Anderson added 13 points for the Kings (4-1) at the MGM Grand Garden Arena.
Jordan Clarkson scored 17 points for the Lakers (1-4).
STAR WATCH: Kobe Bryant scored 10 points on 4-for-12 shooting before leaving in the third quarter with a bruise on his left leg. Bryant stayed on the bench for a few minutes after the collision, but eventually went to the locker room. The Lakers had no immediate update on his condition, but it didn't appear to be serious.
KINGS: Rajon Rondo had 11 points and six assists.
LAKERS: Lou Williams scored 16 points off the bench.
RESTING UP: DeMarcus Cousins sat out in part because Sacramento coach George Karl wanted to remind his players not to rely too much on the All-Star center.
UP NEXT: Sacramento faces New Orleans at Rupp Arena in Lexington, Kentucky -- Cousins' college town -- on Saturday. The Lakers face the Warriors in San Diego on Saturday.
October, 13, 2015
Oct 13
8:56
PM PT
LAS VEGAS -- Los Angeles Lakers star Kobe Bryant left Tuesday's 107-100 preseason loss to the Sacramento Kings after suffering a lower leg contusion in the third quarter and did not return to the game.
The 37-year-old, who has suffered a season-ending injury in three consecutive seasons, appeared to suffer the bruise when he was kneed in the left calf on a drive to the rim with 9:19 left in the third quarter at the MGM Grand Garden Arena.
Bryant checked out of the game and was being tended to by the Lakers' medical staff. He then left the floor unassisted and walked briskly through the tunnel to the locker room.
Coach Byron Scott said the injury wasn't serious and Bryant would likely play in the Lakers' next preseason game against the Golden State Warriors.
"You guys know him. He's about as tough as they come," Scott said. "So I think he'll be fine for Saturday."
Bryant finished with 10 points on 4-of-12 shooting in 18 minutes.
Bryant, who is entering his 20th season with the team, returned to action this preseason after being out for nine months to rehab a torn rotator cuff in his right shoulder, which ended his 2014-15 season after 35 games.
October, 13, 2015
Oct 13
7:15
PM PT
ESPN.com news services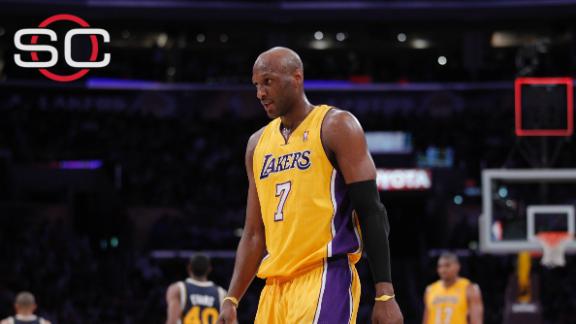 LAS VEGAS -- Former NBA and reality TV star Lamar Odom was hospitalized after he was found unconscious Tuesday at a Nevada brothel, authorities said.
The 35-year-old former Los Angeles Laker and onetime member-by-marriage of the Kardashian family was in a Las Vegas hospital Tuesday night and there was no immediate word on his condition, officials said.
The Nye County Sheriff's Department was called at about 3:15 p.m. to Love Ranch in Crystal, Nevada, about 70 miles outside of Las Vegas for a report of an unresponsive man needing an ambulance, Sheriff Sharon A. Wehrly said in a statement.
Odom was stabilized and taken to Desert View Hospital in nearby Pahrump, the statement said. Officials then tried to have him airlifted to Las Vegas, but the 6-foot-10-inch Odom was too tall for the helicopter that was available and he was driven by ambulance to Sunrise Hospital and Medical Center.
The emergency call came from Richard Hunter, media director for Dennis Hof, who owns the Love Ranch and other brothels in Nevada, the sheriff's statement said.
Hof, who had his own reality series, "Cathouse," on HBO, told the Los Angeles Times and KNX-AM radio that Odom had been staying at Hof's home that is attached to the brothel since Saturday.
Hof told the Times that Odom "wanted to get away from everybody, wanted to have fun."
He said two women from the brothel found Odom unconscious in the afternoon after not seeing him since early in the morning.
He said when they turned him over, "terrible stuff came out" of his mouth or nose.
Hof said Odom had been taking herbal Viagra and had drunk part of a bottle of cognac since arriving, but had no knowledge of his use of any other drugs.
Odom's hospitalization was first reported by TMZ.
October, 13, 2015
Oct 13
6:51
PM PT
Jeff Gross/Getty Images
LAS VEGAS -- Los Angeles Lakers coach Byron Scott took plenty of criticism last preseason when he said he didn't exactly agree with the skyrocketing rate of 3-pointers throughout the league in recent years.
"I don't believe it wins championships," Scott said last October.
That didn't play out last season, as the final four teams standing in the 2015 playoffs were among the league's top five teams in made 3-pointers during the regular season: the Golden State Warriors, Houston Rockets, Cleveland Cavaliers and Atlanta Hawks. (The other team was the Clippers, who were one win away from reaching the conference finals.)
And the Warriors won an NBA title, setting a Finals record with 67 made 3-pointers.
Eight of the last nine NBA champions also led all playoff teams in 3-point attempts and makes.
But Scott appears to have changed his tune this season -- or at least it seemed that way Tuesday when he was asked if he wanted to get rid of the 3-point line altogether after his team's shootaround.
"No, I think the 3-point line is exciting," Scott said in advance of the Lakers' preseason game against the Sacramento Kings at the MGM Grand Garden Arena.
"I would add another line -- make a 4-point line as well. I would say, let's go another three or four feet back and that's a four-pointer."
And after saying last season he wanted his team to fire 12-15 3-pointers per game, a figure that would have placed them toward the bottom of the league.
Now, Scott also says he wants them to shoot between 18-25 3-pointers per game this season.
"We've got guys that can shoot it," Scott said. "I don't know how many we're going to make, but with Lou [Williams] and Kobe [Bryant], the way he's shooting right now and Jordan [Clarkson], who's capable of knocking them down, and Nick [Young], who's capable of knocking them down. We have four or five guys, [plus] Anthony Brown, who can shoot it from that distance. So we've got some guys who can knock it down."
The Lakers ultimately averaged 18.9 3-point attempts per game last season, 25th in the league. The Houston Rockets led the league in 3-point attempts (32.7).
Aside from adding a 4-point line, is there anything else Scott would change if he could?
"If I was [NBA] commissioner for a day, we'd go back to the '80s type of style of basketball," said Scott, who played on the 1980s "Showtime" Lakers teams. "No blood, no foul. No flagrants. You run through the paint, you're going to get hit. I would just go back to those type of rules."
August, 19, 2015
Aug 19
9:58
AM PT
---
Last Season: 21-61
14h place in West; missed playoffs
---
The Lakers might think they've hit rock bottom over the last couple of seasons, but the dark reality is it will get worse before it gets better in Los Angeles.
Despite several key additions in the offseason, the Lakers still are significantly behind the rest of the pack in the Western Conference playoff picture. Worse yet, their 2016 first-round pick is owed to Philadelphia with only top-3 protection, meaning the Lakers are in the unenviable position of being bad enough to miss the playoffs (perhaps even bad enough to have a top-7 selection), but not bad enough to assure they'll keep their pick.
The path of the 2014-15 season can be defined by three events: the hiring of Byron Scott as head coach, the opening-night injury of 2014 lottery pick Julius Randle and Kobe Bryant's pursuit of surpassing Michael Jordan in the scoring record book (and subsequent season-ending injury not long thereafter).
Coach Scott's archaic philosophy regarding usage of the 3-point shot hamstrung what little chance the Lakers had of being an efficient basketball team. Despite not featuring a single player (other than backup big Robert Sacre) who shot greater than 40 percent from long 2-point range, the Lakers somehow put up the second most long 2-point jumpers in the NBA last season, second only to the New York Knicks. It's easy to blame the team's struggles on a lack of talent, but the roster actually was improved over the season before. Simply, being bad isn't an excuse for bad strategy.
Randle's injury occurred 15 minutes into his NBA career. The highest Lakers draft selection since James Worthy in 1982, Randle wasn't expected to change the course of Lakers history, but he was supposed to be a bright spot. That ended up being second-round pick Jordan Clarkson, who made the first team All-Rookie squad.
It's debatable whether Clarkson could have made the splash he did without Bryant's injury. Beyond Scott's coaching missteps, Bryant's domineering style of play led to his hijacking of plays, belittling teammates in practice, horrific shot selection and him gunning his way to 37 percent shooting (not to mention a 48 percent true shooting percentage) from the field on a usage rate of almost 35 percent, second only to Russell Westbrook. If the goal was to pass Michael Jordan on the charts by any means necessary, then mission accomplished. But it's hard to argue Kobe's play was conducive to winning basketball.
October, 9, 2015
Oct 9
7:44
PM PT
By
Anthony Olivieri
| ESPN The Magazine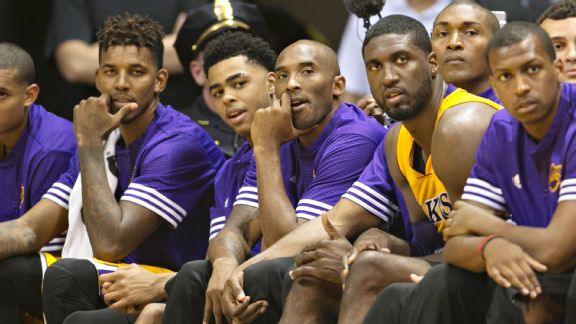 AP Photo/Marco Garcia
This story is part of ESPN The Magazine's Oct. 12 Owners Issue. Subscribe today!
Los Angeles Lakers
Overall: 101

Title track: 28

Ownership: 79

Coaching: 101

Players: 105

Fan relations: 99

Affordability: 111

Stadium experience: 82

Bang for the buck: 117

Change from last year: -14
Not even the No. 2 overall pick in 2015 -- Ohio State phenom D'Angelo Russell -- and a healthy Kobe Bryant can stave off the Lakers' biggest Ultimate Standings drop in three years (minus-14) or their sub-100 rankings in four of our eight categories. Yes, a .254 winning percentage (worst in franchise history) last season will do that to a team.
---
What's good
October, 12, 2015
Oct 12
9:59
AM PT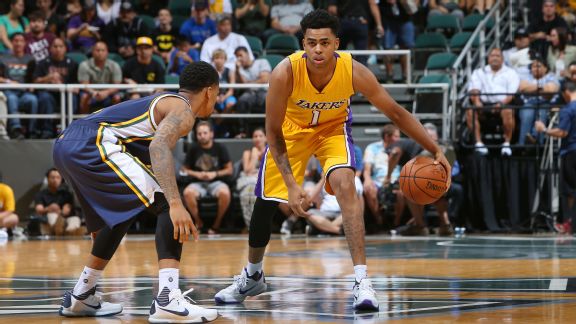 Jay Metzger/Getty Images
LOS ANGELES -- D'Angelo Russell made his Staples Center debut Sunday, and the Los Angeles Lakers rookie guard sure made an impression.
The second overall pick in the 2015 NBA draft dished out numerous crisp, on-the-money passes, displaying the excellent court vision that has inspired comparisons to Magic Johnson from Lakers coach Byron Scott and prompted Kobe Bryant to call Russell one of the "best playmakers in the game."
Russell finished with 11 assists in 18 minutes off the bench in the Lakers' 126-83 rout of Maccabi Haifa, marking the Lakers' first win of the preseason and Russell's first game back after missing the team's previous game with a bruised glute.
While the Lakers were playing non-NBA competition, Russell nonetheless looked sharp and confident -- as did his passes -- and markedly better than in his shaky preseason debut last Sunday against the Utah Jazz in Honolulu: five points on 2-for-8 shooting, three rebounds, three assists and two turnovers.
"When I get the ball, I like to pass," Russell said after Sunday's game. "So if a guy knows me, he's going to be running, running, running just to get an easy bucket or get to the foul line to get himself going.
"If you're open, I'm going to get it to you. Half the time, you won't know you're open."
Lakers center Roy Hibbert lavished the guard with praise.
"I told him, 'He's shooting for Rookie of the Year,'" Hibbert said. "He should be, but he's very modest."
Said Lakers forward Julius Randle: "That's what he does. He gets everybody involved and makes the game easier for everybody."
After starting in prior preseason games, Russell came off the bench Sunday and spent most of his time playing with backups -- not that he complained.
"I've never been blessed to play with great shooters around me," Russell said. "I feel like whatever lineup I'm in, I'm going to make the best out of it."
But now comes an early test.
The Lakers head to Las Vegas to face the Sacramento Kings on Tuesday, a matchup that will pit Russell against Kings point guards Rajon Rondo and Darren Collison.
This coming weekend, the Lakers face Golden State, meaning a chance to see sharp-shooting guards Stephen Curry and Klay Thompson in action. Next week, the Portland Trail Blazers and their star guard, Damian Lillard, come to Staples Center before the Lakers close out their preseason with a rematch against the Warriors.
In all, the upcoming gauntlet of teams featuring top-tier guards is just a sampling of what Russell will face during the regular season.
"I look at it more as Lakers versus Kings [or] Lakers versus Warriors instead of me versus that guy," Russell said. "I'm a rookie in this league. That first go-around of playing against certain guys, you're going to win some, you're going to lose some."
Still, it offers Russell an early opportunity to measure himself against those guards, which he is, of course, looking forward to.
"Yeah, for sure," he said.
He just hopes to avoid being star-struck.
"That first go-around ... you can't go in as a fan, like, 'It's Steph Curry, oh my God,'" Russell said. "You've got to go in like: 'I'm playing against this dude. Let's get this team win.'"
October, 10, 2015
Oct 10
12:45
PM PT
Elias Stein
This is the second part in a series on how league insiders view the Lakers' rebuild. Read the first part here.
As the Los Angeles Lakers take the court at the University of Hawaii at Manoa's Stan Sheriff Center for a preseason game against the Utah Jazz, Anthony Gonzales, 33, is up against the metal gate, wearing a black No. 24 Kobe Bryant jersey. Gonzales lives in Maui, but he became a fan growing up in Garden Grove, in Orange County, thanks to his father.
"My earliest memory," Gonzales says, "was the '88 title game and watching it with my dad."
He's been a die-hard ever since. Standing beside him now is his son, Kobe-J Gonzales, 10, in a gold Lakers hat and purple No. 24 jersey, holding a white sign with block text. "KOBE," it reads, "I was named after you."
Despite back-to-back losing seasons for the Lakers, the Gonzales family hasn't lost hope.
"We're going in the right direction with these young players," Gonzales says, referring to recent draft picks D'Angelo Russell, Julius Randle and Jordan Clarkson. "Hopefully we can get a big-name free agent this summer to lead all of them. Just a matter of time."
October, 11, 2015
Oct 11
10:35
PM PT
AP Photo/Jae C. Hong)
Julius Randle has averaged 15.6 points, 6.3 rebounds and three assists over the past three preseason games.
LOS ANGELES -- This summer, Los Angeles Lakers coach Byron Scott came to Julius Randle with an order.
"I told him every time he gets a defensive rebound, I want him to push it," Scott said Sunday following his team's 126-83 preseason win over Maccabi Haifa at Staples Center here.
It's not typical for a 6-foot-9, 250-pound power forward to have the green light to initiate fast breaks all by himself.
"True," Scott said with a smile.
But that's precisely what Randle has done on numerous possessions throughout this preseason, and his agility, athleticism and ball-handling skills have been one of the biggest highlights -- and biggest surprises -- for the Lakers, continually impressing his teammates, coaches and fans alike. Thus the creation of the social media hashtag, #RandlesHandles.
For Randle, though, it's nothing new.
"I've been doing that since I was little," said Randle, whom the Lakers made the No. 7 overall pick in the 2014 draft.
How little?
"Fourth grade, fifth grade," he said after notching 14 points and nine rebounds against Maccabi "It's been a while."
Randle added, "It's who I am. Naturally that's who I've always been -- been able to do everything on the court, effect the game in different ways. Naturally that's just who I am."
His years of experience shows, as Randle looks more than comfortable handling the ball as he races up the court after grabbing a rebound or a loose ball. That skill-set also adds another dynamic to the Lakers.
"It's dangerous, man," said Lakers guard and 2015 No. 2 draft pick D'Angelo Russell. "He puts himself and everybody else in a position where they're always open and he's open. If he feels like passing it, then that's what he does, but a lot of times he has that basket [in front of him]."
Randle has arguably been the most impressive Laker this preseason, especially after the past three games, during which he has averaged 15.6 points, 6.3 rebounds and three assists per game.
His fast start seems a bit unexpected considering he missed all but 14 minutes of last season after suffering a broken leg in his NBA debut. Then during summer league play, Randle was on a minutes restriction and struggled to find any rhythm.
But free of any sort of restriction, he looks smooth and lively, free of rust.
"Rhythm-wise, fatigue, game-shape wise and stuff like that, I feel good," Randle said. "I'm in a good rhythm. [There's] a lot I can build on and get better at, but I feel better."
Randle may be surprising others, but not his coach.
"We expect him to play well this year, even though it's kind of his rookie year as well," Scott said. "Just the experience of watching and learning from the bench [last season], I think was important for him. I expect him to play the way he's playing right now, even at a higher level."
October, 11, 2015
Oct 11
10:19
PM PT
Associated Press
LOS ANGELES -- Kobe Bryant, about to begin his 20th NBA season more than nine months after undergoing right shoulder surgery, scored 21 points in 19 minutes while going 4-for-6 from 3-point range, leading the Lakers to a 126-83 exhibition rout of Israel's Maccabi Haifa on Sunday night.
"We try to keep him below the 3-point line. But when he's scoring it like he was tonight, he obviously has the capability of being able to step out there as well," coach Byron Scott said.
"He's looks better and better. His timing looks great, his movement looks great, and he just looks so much more fluid right now. He says he feels great, so right now we'll keep staying the course."
Lakers point guard D'Angelo Russell, the second overall pick in the draft and one of seven rookies on the preseason roster, had 11 assists and five points in 18 minutes off the bench after sitting out a game because of a bruised glute. Roy Hibbert added 16 rebounds.
"I'm looking for the team to get better," said Bryant, who made six of 10 shots. "We've got plenty of work to do, obviously. The team is so young, and we have a lot of learning to do."
The Lakers, playing their first preseason game at Staples Center following back-to-back losses to the Utah in Hawaii and another against Toronto at Ontario, California, opened with a 17-2 run while Maccabi Haifa missed nine of its first 10 shots.
"The preseason is just like summer league -- I don't put a whole lot of stock into it," Scott said. "It's all about trying to get ready for the regular season and trying to put all your stuff in at both ends of the floor. If you win, that's great. If you don't, you hope you can learn from it."
October, 9, 2015
Oct 9
10:23
AM PT
ESPN.com news services
The NBA has suspended Utah Jazz forward Trevor Booker one game without pay for his altercation with Los Angeles Lakers center Roy Hibbert in a preseason game earlier this week.
Hibbert approached Booker during a stop in play at the 7:14 mark of the third quarter during Tuesday's game. The players got in each other's faces before Booker took an open-handed swing at Hibbert, who was held back by his teammates.
Shortly thereafter, Booker was assessed two technical fouls and ejected from the Jazz's 117-114 overtime win at the University of Hawaii. Hibbert remained in the game.
Assuming he is healthy, Booker will serve the suspension during the Jazz's season opener at the Detroit Pistons on Oct. 28.
Information from ESPN's Baxter Holmes was used in this report.
October, 8, 2015
Oct 8
11:43
PM PT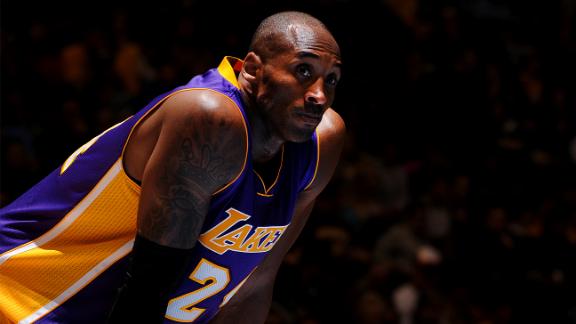 ONTARIO, Calif. -- Early in the second half of the Los Angeles Lakers' 105-97 preseason loss to the Toronto Raptors on Thursday, a fan shouted from the stands at longtime star guard Kobe Bryant: "You ain't no 93!"
The fan was referencing Bryant's No. 93 ranking in ESPN's #NBArank project, which counts down the NBA's top players for this upcoming season.
Bryant, a five-time NBA champion and the third all-time leading scorer in NBA history, laughed when asked whether he'd heard such comments from fans defending him.
"Yeah, I heard a couple of them," he said with a smile after scoring 16 points on 5-of-11 shooting in nearly 22 minutes. "I don't need to defend that [ranking]. Nobody does, really."
Pressed on what he thought of the ranking, Bryant said, "Please don't ask me about silly stuff like that."
After the release of last year's rankings, in which he was No. 40, Bryant voiced his displeasure.
"I've known for a long time [that] they're a bunch of idiots," Bryant said last October, referring to the ranking as "silly" and "laughable."
For the 2015 edition of #NBArank, 101 members of the ESPN Forecast panel (analysts, writers, researchers, editors, etc.) predicted how much each NBA player would contribute to his team's ability to win games, factoring in both his quality of play and minutes played.
The panel, founded in 2008, has been ranking NBA players since the lockout of 2011.
In the first three editions, Bryant ranked seventh, sixth and fourth (in a special edition of #NBArank published shortly before his Achilles injury).
October, 8, 2015
Oct 8
9:59
PM PT
Associated Press
ONTARIO, Calif. -- Kyle Lowry scored 25 points and DeMarre Carroll added 10 points and six rebounds in the Toronto Raptors' 105-97 preseason win over the Los Angeles Lakers on Thursday night.
Kobe Bryant suited up for his third straight preseason game and scored 16 points at Citizens Business Bank Arena in just over 20 minutes of play, a number that coach Byron Scott said was predetermined.
RAPTORS: Lowry missed the Raptors' second preseason game with a sore right groin, but there was no indication of any lingering effects as he scored 14 second-half points, including nine straight in the third quarter.
LAKERS: Julius Randle led the Lakers with 17 points. Lou Williams scored 14 against his former team.
MISSING: Lakers guard D'Angelo Russell sat out with a bruised glute. The first-round draft pick was hurt in Tuesday's preseason game, a loss to Utah in Hawaii. Brandon Bass was held out after MRIs revealed a bruised left patella.
STAR WATCH: Bryant's line included three assists and three rebounds. Metta World Peace scored six points.
UP NEXT: The Lakers will host Maccabi Haifa on Sunday night in their first preseason game at Staples Center. The Raptors return home to host the Minnesota Timberwolves on Monday night.
October, 8, 2015
Oct 8
1:46
PM PT
By One Nación
ESPNLosAngeles.com
Archive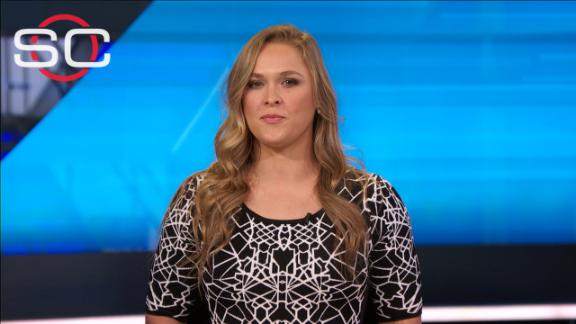 It's October.
Like trips to the Pumpkin Patch, it's the dawn of the NBA season and we're flooded with various opinions on Los Angeles Lakers star and Kobe Bryant.
UFC star Ronda Rousey would like to be added to the list.