November, 24, 2015
Nov 24
10:01
PM PT
Associated Press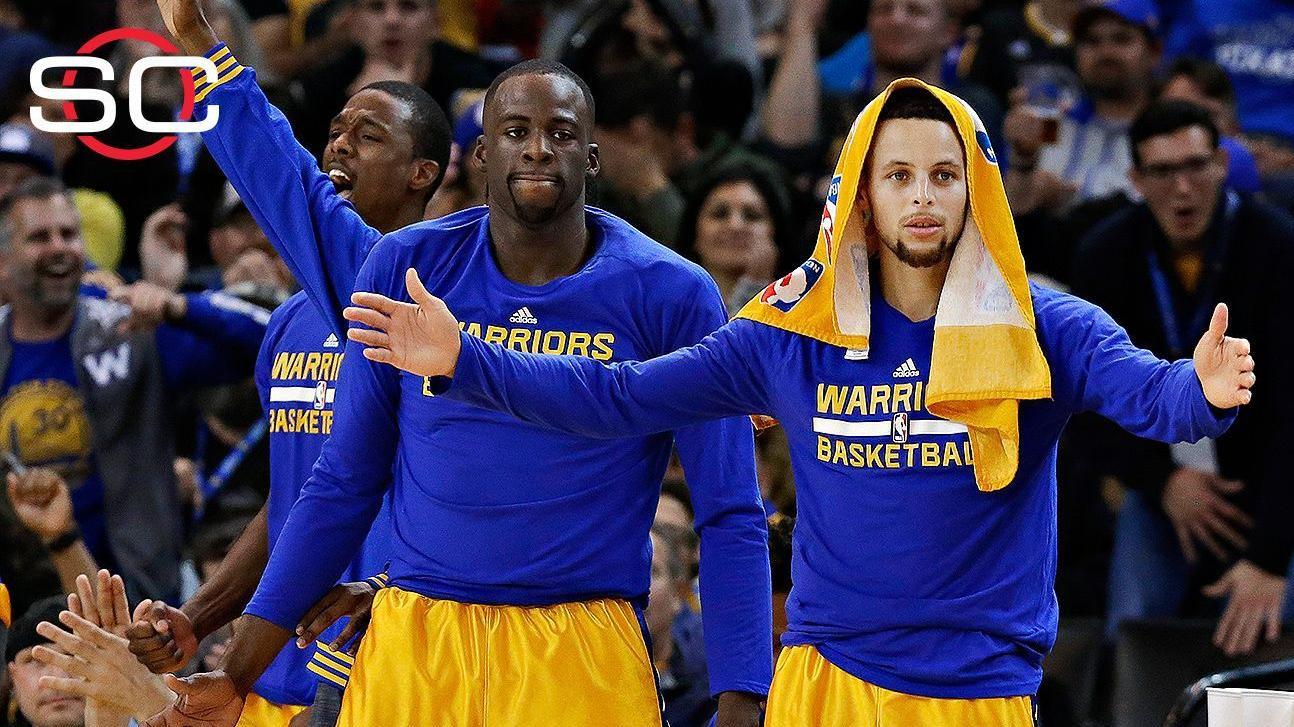 OAKLAND, Calif. -- The defending champion Golden State Warriors set the record for best start in NBA history at 16-0, as Stephen Curry had 24 points and nine assists in a 111-77 rout of the Los Angeles Lakers on Tuesday night.
With their coach sidelined, the Warriors surpassed the 15-0 starts by the Washington Capitols of 1948-49 and 1993-94 Houston Rockets.
Confetti streamed down when the final buzzer sounded and Golden State's players barely celebrated.
Kobe Bryant shot 1 of 14 for just four points in one of the worst shooting performances of his career. The Lakers dropped to 2-12 with the second-worst record in the NBA.
November, 24, 2015
Nov 24
1:55
PM PT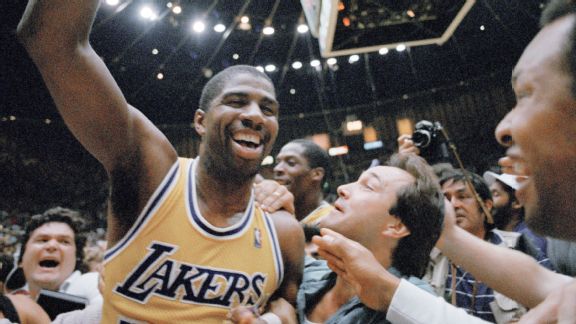 AP Photo/Reed SaxonLakers coach Byron Scott believes the Lakers of the 1980s, led by 6-foot-9 point guard Magic Johnson, would have presented matchup problems for this season's unbeaten Golden State Warriors.
SAN FRANCISCO -- The 2-11 Los Angeles Lakers face an incredibly tall task in trying to slow down, much less stop, the Golden State Warriors on Tuesday night -- especially with the Warriors looking to improve to 16-0, setting an NBA record for the best start to a season.
But Lakers coach Byron Scott believes the "Showtime" Lakers of the 1980s could beat these Warriors. Of course, Scott played for the Lakers during that era, winning three NBA titles, so perhaps he's a bit biased.
Even still, he said that in a seven-game series, the "Showtime" Lakers would "absolutely" win.
"It would be interesting," Scott admitted after the team's morning shoot-around at a local club here in advance of the game in Oakland.
"The one thing I think this [Golden State Warriors] team couldn't do on a daily basis against us that they're doing against everybody else is go small. You have Magic [Johnson] and James [Worthy] and Kareem [Abdul-Jabbar] as post-up players that demand a double-team. It would be a whole lot harder [for the Warriors]. [Warriors forward] Draymond [Green] is a great defender and I have a lot of respect for him, but guarding James Worthy? Or guarding Kareem? That wouldn't happen. It would be interesting. It would be very interesting."
How would the modern-day Lakers fare in a seven-game series against the Warriors?
"I think they would probably win that series right now," Scott said with a smile. "Let's just say that."
With regards to the matchup, Lakers star Kobe Bryant said this week that he's seen "stranger things happen."
"He's right," Scott said. "Stranger things have happened."
Scott then referenced Game 1 of the 1995 Eastern Conference semifinals between the Indiana Pacers and New York Knicks.
Scott was a guard with the Pacers then, and he watched fellow Pacer Reggie Miller score eight points in 8.9 seconds to help the Pacers pull off a historic comeback and win 107-105 at Madison Square Garden after trailing by 6 with 18.7 seconds left.
"So things can happen," Scott said. "All the stars have to be aligned correctly as well. Obviously, we've got to play our best game of the season against the best team in the league. It's obviously not a very easy task."
Scott also said of the Warriors, "It's easy say [stop them]. I think there are 15 other teams that have tried it, too, and it hasn't worked. We can go back to the NBA Finals, where they won the last three games as well. Right now, they're just playing at an unbelievable level and I think their confidence is probably at an all-time high. Everybody says the same thing -- you've got to take away their threes and layups and make them a mid-range type shooting team. That's easy to say."
November, 23, 2015
Nov 23
3:43
PM PT
AP Photo/Rich PedroncelliDespite leading the Lakers in field goal attempts per game (16.6), Kobe Bryant is shooting a career-low and team-low 33.1 percent so far this season.
Los Angeles Lakers coach Byron Scott defended Kobe Bryant's poor shooting and aggressive -- if questionable -- shot selection Monday by telling reporters the 37-year-old shooting guard's lengthy NBA career has earned him "that privilege, basically."
Bryant, who is in his 20th NBA season, is shooting a career-worst 33.1 percent from the field, including 20 percent from 3-point range. He is 1-of-14 from 3-point range in his past three games. Bryant shot 6-of-22 from the field Sunday in the team's 107-93 loss to the Portland Trail Blazers and missed all five of his attempts from beyond the arc.
Scott said prior to Sunday's game that he wanted Bryant to be more of a facilitator, yet Bryant took 12 shots in the first 10 minutes and later said he was "just trying to get us off to a good start."
Scott was asked about Bryant's shooting and how it sets the tone for isolation basketball rather than ball movement, which Bryant and Scott have both said has been lacking.
"It could be [that], but first of all, he's had 20 years of experience in the league," Scott told reporters. "We might not have six players that have 20 years in this league combined. He has that privilege, basically.
November, 22, 2015
Nov 22
11:16
PM PT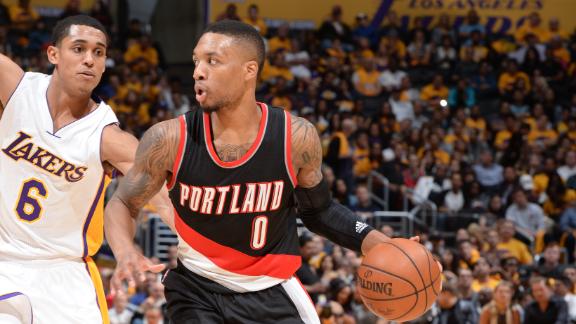 LOS ANGELES -- All that stands between the Golden State Warriors and the NBA record for most wins to start the season (16-0) is the 2-11 Los Angeles Lakers, with the two teams meeting Tuesday in Oakland. Not surprisingly, Lakers star Kobe Bryant is confident.
"I've seen stranger things happen," Bryant said Sunday after his team's 107-93 loss to the Portland Trail Blazers at Staples Center here. "We've been playing like s---. We might go up there and we might play like gangbusters up there. You never know. "
Lakers coach Byron Scott was asked for his thought on the matchup. He laughed.
"That's my thought right now," Scott said. "They're the best team I've seen in the league and it's not close ... . They're the best team I've seen in a while."
With the Warriors chasing history, Scott said he expects the Warriors to be ready.
"They haven't had a whole lot of lulls in any of the games that they've played," Scott added. "When they do [have a lull], they've got so much confidence in the way they play and how they play that they don't panic.
"You can be up by 23 [against the Warriors] and it doesn't matter, especially if they've got two quarters left. It's a difference if you're up 23 with five or six minutes left; then you've probably got a great chance of winning that game. But if you give them 24 minutes left in the game, there's not a whole lot of leads that are too big for them [to overcome]."
Scott admires the way the Warriors play, but he isn't exactly looking forward to facing them.
"Basically I look at them as a fan, when I watch them play," Scott said. "Unfortunately I don't have that luxury Tuesday. I love watching them play because they do all the things we talk about. They share the ball. They play for one another. They play as a team."
November, 22, 2015
Nov 22
8:53
PM PT
Associated Press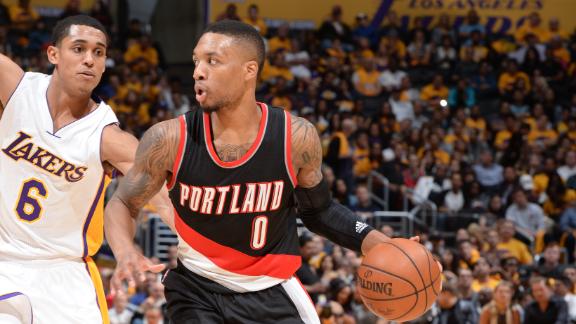 LOS ANGELES -- Damian Lillard had 30 points and a career-high 13 assists, and C.J. McCollum added 19 points in the Portland Trail Blazers' sixth consecutive victory over the Los Angeles Lakers, 107-93 Sunday night.
Mason Plumlee added 17 points and 11 rebounds for the Blazers, who have won two straight after a seven-game skid. Portland has won a franchise-record five straight road games against the Lakers after maintaining a steady lead throughout the second half.
Kobe Bryant scored 18 points on 6-for-22 shooting, missing all five of his 3-point attempts in the Lakers' third straight loss. Los Angeles' 2-11 start is one game behind their pace from last season, the worst year in franchise history.
Jordan Clarkson led the Lakers with 19 points, and Lou Williams added 14.
November, 21, 2015
Nov 21
12:15
AM PT
LOS ANGELES -- On multiple occasions before and during this season, Kobe Bryant has said how his role now is to defer to the Los Angeles Lakers' promising young players to help develop them. That is, he says he believes he needs to be more of a teacher than a scorer.
That said, Bryant is still leading the Lakers in field goal attempts at 16 per game, which is considerably ahead of Jordan Clarkson (12.9) and D'Angelo Russell (10.3).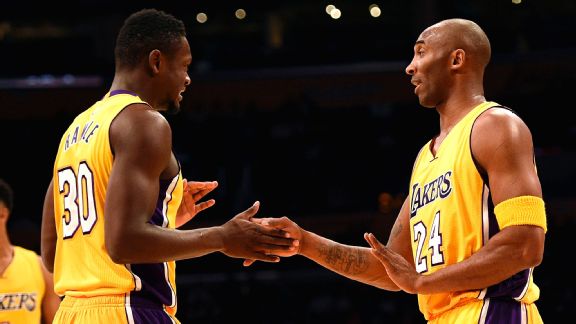 Kelvin Kuo/USA TODAY Sports"I have to make sure I continue to teach, continue to talk to these guys and try to pull them along," Kobe Bryant said of playing with youngsters such as Julius Randle, left.
"I'm just trying to help these young guys, honestly," Bryant said Friday after the Lakers' 102-91 loss to the Toronto Raptors, during which he scored 10 points on 5-of-13 shooting during a season- and game-high 37 minutes.
"I feel good enough that I could go out there and score 25 or something like that, but what the hell is that going to do for these guys? It's not going to do a damn thing."
Bryant later added, "I know what I can do. I can do a lot more. I think the most important thing right now is understand how collectively we play.
"If I go off on [scoring] tangents individually, this whole thing is going to collapse more than it is, because you're seeing signs of improvement throughout the course of the game, but I can't go off on my own. I have to make sure I continue to teach, continue to talk to these guys and try to pull them along."
One element Bryant particularly preached Friday was ball movement, which he felt was lacking against the Raptors.
"When I've become the voice of 'ball-movement reason,' you know you have an issue," Bryant said. "I never thought I'd see the day when I'd be the one preaching that stuff. That's crazy.
He added, "I can't believe I'm saying this s---. Are you kidding me? Like a kid that grows up and just starts sounding like his parents."
November, 21, 2015
Nov 21
12:01
AM PT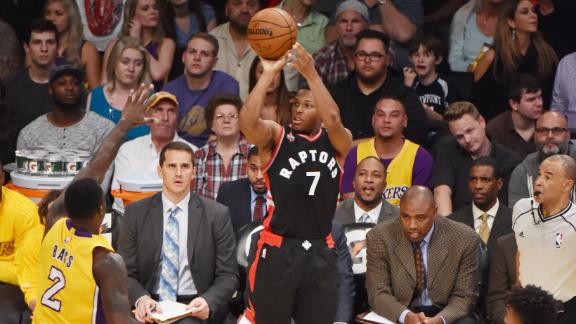 LOS ANGELES --Los Angeles Lakers coach Byron Scott had said that Kobe Bryant wouldn't play more minutes than he did in Sunday's win against the Detroit Pistons, during which Bryant logged 36 minutes.
But in Bryant's next game no less, that figure was surpassed. On Friday, Bryant's minutes matched his age: 37.
It marked a season high in floor time for the Lakers star and the most minutes for any player in the Lakers' 102-91 loss to the Toronto Raptors at Staples Center.
"I feel great," Bryant said after finishing with 10 points on 5-of-13 shooting.
Bryant had five days of rest between games, including missing Monday's blowout loss in Phoenix, and he said the time off "did wonders. I was able to lift weights, get my legs stronger. I feel great."
Bryant's postgame answer was a stark contrast from the response he gave after Sunday's game, when he played 36 minutes in a victory over the Detroit Pistons.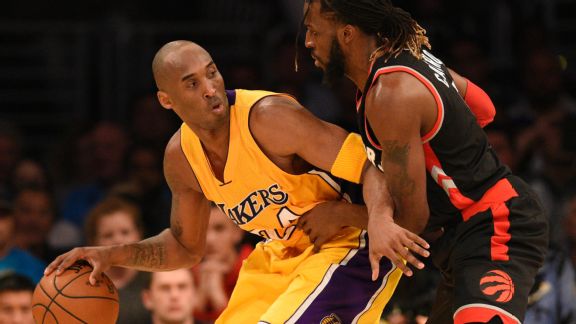 Kelvin Kuo/USA TODAY SportsKobe Bryant, who played a season-high 37 minutes Friday against Toronto, posts up the Raptors' DeMarre Carroll.
"Right now, I'm barely standing up," Bryant said Sunday. "My back and my legs, man, it's killing me."
He added later, "I'm not looking forward to walking to the car right now. Seriously."
Still, there's concern about how much Bryant should be playing considering he is in his 20th NBA season, with his past three seasons all cut short by injury, and considering that Lakers coach Byron Scott has said several times Bryant played far too many minutes last season before being sidelined by another injury.
Even more concerning is the fact Bryant remained on the court Friday when the game was far out of reach.
At the 7:58 mark of the fourth quarter, the Lakers trailed by 16 and called a timeout. The game seemed over. At such times, Bryant has often checked out of the game. The Lakers made three substitutions, but Bryant remained on the court.
Then with 6:25 left and the Lakers trailing by 13, Metta World Peace checked in for the Lakers.
"When Metta was coming, I thought I was coming out, which is what I normally do," Bryant said, "but I didn't, so I stayed."
Bryant played until the final minute, when he checked out with 24.6 seconds left.
"We didn't even talk about it," Scott said. "I just left him out there because I knew we needed him out there."
Scott later added, "For us right now it's all about, we just got to get that win to have that one breakthrough win."
Scott said he doesn't worry about Bryant's minutes during the course of the game.
"I worry about it [after the game]," Scott said. "At the time, when we're trying to win the basketball game, you try not to worry about it. But obviously after the game you worry about it."
Scott remained adamant he's not concerned about Bryant's minutes, which have increased from 29 to 31, then 32, 32, 36 and 37 over the past six games.
"Look at what he's averaging," Scott said. "It's still at the limit. When it gets over the limit, then we'll talk more about it. But right now it's still at the limit."
Bryant is averaging 31.1 minutes in nine games. That's the highest average for any player on the Lakers. The second-highest average is Jordan Clarkson (30.7 minutes per game).
Bryant said he didn't believe there was a link between his recent injuries and playing heavy minutes.
"The injuries I've had, they were traumatic injuries," he said, referencing a ruptured Achilles, fractured knee and torn rotator cuff in his right shoulder. "I don't think those minutes would have made a difference."
Bryant also said he's not worried about what playing heavier minutes now might do to him toward the end of the season.
"That's the silliest question of the night," he said. "This is literally the second game that I've played 35 minutes or more. So, it's kind of premature to ask about [that]."
November, 20, 2015
Nov 20
10:09
PM PT
Associated Press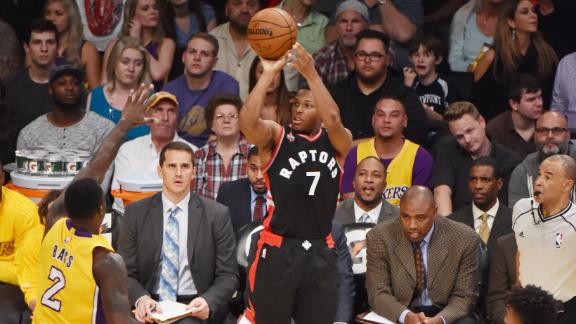 LOS ANGELES -- Kyle Lowry had 25 points, DeMar DeRozan scored seven of his 18 in the final 3:34, and the Toronto Raptors snapped a three-game skid with a 102-91 victory over the Los Angeles Lakers on Friday night.
Five players scored in double digits for the defending Atlantic Division champions, off to an 8-6 start that began with five straight wins. They converted 15 Lakers turnovers into 21 points.
Raptors starting center Jonas Valanciunas broke a bone in his left (non-shooting) hand when Kobe Bryant fouled him under the Toronto basket in the final minute of the first half. Valanciunas had three points in 18 minutes.
Terrence Ross, who signed a three-year, $33 million contract extension with the Raptors on Nov. 2, had eight points in 14 minutes after missing six games because of a sprained ligament in his left thumb.