October, 23, 2014
Oct 23
9:00
AM PT
What a season we are in for. I get excited about every NBA season, but 2014-15 will go down as one of the most anticipated seasons in recent history.
There's a new Big Three aiming to bring the city of Cleveland its first major sports title since Jim Brown was in his prime; a former MVP returning from knee injuries to play essentially for the first time in three years; and another former MVP (and five-time champion) dusting off the cobwebs to prove his detractors and Father Time' wrong.
That's just scratching the surface.
I asked a few NBA types to comment on five of the most intriguing storylines of the season. Here's what they said:
---
Eastern Conference scout: "Those three guys -- LeBron James, Kevin Love and Kyrie Irving -- are really legitimate top players. Obviously, LeBron is the best player, but they might all be top 10 players. I'm a big Kyrie Irving fan. He's extremely, extremely talented. He has the talent to be the best point guard in the league. I think he's got the best left hand of any point guard in the league ... He can do anything with it -- shoot, pass. He's done a lot of losing, but I think LeBron will come in and change that culture.
October, 23, 2014
Oct 23
8:40
AM PT
ESPN.com news services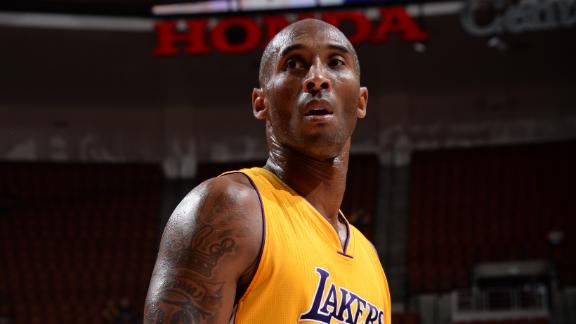 Lakers president Jeanie Buss has a message for any player who doesn't want to play with Kobe Bryant: good riddance.
"Any free agent that would be afraid to play with Kobe Bryant is probably a loser, and I'm glad they wouldn't come to the team," Buss said during a "SportsCenter" interview Thursday.
Buss was asked to comment on an ESPN The Magazine feature published earlier in the week, in which several agents and NBA personnel -- including Lakers insiders -- said that L.A. has been unable to attract top talent in free agency because players don't want to work with Bryant.
"I read the story," Buss said Thursday. "I don't agree with any of it. If there is somebody that's on our payroll who is saying things like that, I'll soon get to the bottom of it, and they won't be working for us anymore."
In fact, Buss has a warning for all of Bryant's detractors: "I have no doubt that Kobe will make people regret ever saying" those comments, she said.
The Lakers have won five championships with Bryant, though they haven't made a trip to The Finals since 2010 and missed the playoffs entirely last season as Bryant appeared in just six games because of injuries.
Bryant, now 36, signed a two-year extension with the Lakers last year worth $48.5 million. He is the league's highest-paid player.
October, 22, 2014
Oct 22
11:26
PM PT

By Jovan Buha
Special to ESPNLosAngeles.com
Archive
ONTARIO, Calif. -- The play starts the same way every time:
Jeremy Lin
dribbling atop the 3-point arc, patiently waiting for a screen from
Ed Davis
.
As Lin's yo-yoing lulls his defender, Davis flashes up and sets a pick. More often than not, Davis will go left, toward Lin's right side, which allows Lin to gain traction and comfortably attack with his dominant hand.
[+] Enlarge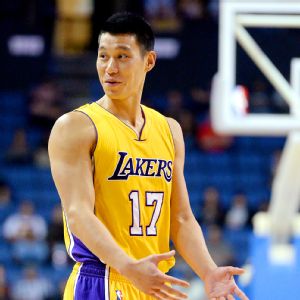 Jayne Kamin-Oncea/USA TODAY SportsJeremy Lin, above, calls pick-and-roll partner Ed Davis "unselfish" and "smart" when it comes to his style of play.
Depending on how the defense reacts, Davis and Lin will usually do one of two things.
"You just have to read it," Lin said after the
Los Angeles Lakers
' 94-86 preseason win over the
Portland Trail Blazers
on Wednesday at Citizens Bank Arena. "It depends what the defense is doing. Sometimes [Davis] has got to get out of there quick. Sometimes he can meander around behind for a pop."
If Davis' defender comes up to trap Lin, or "show" with a hard hedge, Davis will slip the screen and dart to the rim. Lin can then pull up for a midrange jumper, hit Davis with a bounce pass or find the open man on the weak side as an opposing defender likely collapses into the paint to stop Davis from scoring undeterred.
But if Davis' defender drops back and hangs around the free throw line, Lin has the speed and ballhandling ability to pick up momentum off the dribble and blaze past the slower big man into the paint. From there, he can lay the ball in, dish to a trailing Davis or kick out to a weakside spot-up shooter (usually
Wayne Ellington
or
Wesley Johnson
).
The effectiveness of the game's bread-and-butter play best materialized in the fourth quarter with 3:22 left.
As Lin reset the offense on the right side of the floor after a
Roscoe Smith
offensive rebound, Davis came up on Lin's right side and screened his defender,
C.J. McCollum
. After taking McCollum out of the play, Davis rolled to the rim, and his defender,
Meyers Leonard
, stepped up to contest Lin.
The outcome was predictable, yet virtually unstoppable.
Lin threw a soft lob with his right hand and Davis flushed it home, giving the Lakers a commanding 88-75 lead with 3:16 left.
October, 22, 2014
Oct 22
9:28
PM PT
Associated Press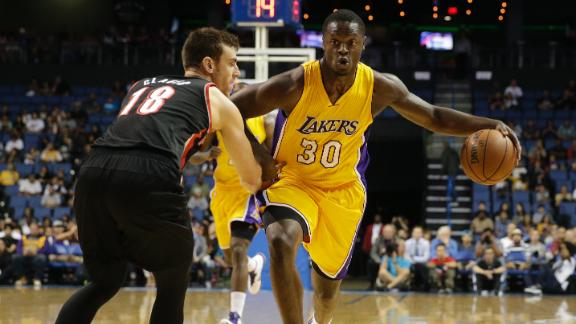 ONTARIO, Calif. -- Rookie Julius Randle scored 11 of his 17 points in the fourth quarter, and Jeremy Lin added 13 points in the Los Angeles Lakers' 94-86 victory over the Portland Trail Blazers in a preseason game Wednesday night.
Wayne Ellington and Wesley Johnson scored 11 points apiece for the Lakers (3-4), who played a solid defensive game and surged in the fourth quarter despite 18 turnovers. Los Angeles won without Kobe Bryant, who sat out to rest.
C.J. McCollum scored 17 points and Meyers Leonard added 13 for the Trail Blazers (3-3), who rested four starters as their three-game winning streak ended.
Portland center Chris Kaman scored 10 of his 12 points in the first half against his former Lakers teammates.
October, 22, 2014
Oct 22
6:43
PM PT
By
Jovan Buha
| Special to ESPNLosAngeles.com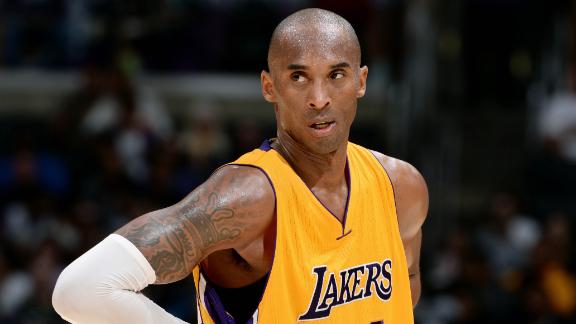 ONTARIO, Calif. -- Los Angeles Lakers guard Kobe Bryant is sitting out the rest of the preseason, coach Byron Scott said Wednesday.
Bryant did not play in the Lakers' 94-86 win over the Portland Trail Blazers on Wednesday night. The Lakers also face the Sacramento Kings on Friday.
"I just think he needs some rest," Scott said before Wednesday's game. "I think he's shown me enough. I think we're all pretty happy with where he is."
Scott was especially pleased with Bryant's conditioning in the team's previous two preseason games, as Bryant played 32 minutes in the Lakers' 98-91 win over the Utah Jazz on Sunday and 34 minutes in the team's 114-108 overtime loss to the Phoenix Suns on Tuesday.
"I think each game I wanted to see if he just got stronger," Scott said. "That's why the last couple games I've been playing him more in the second half -- later in the second quarters and later in the fourth quarters, just seeing how his body would react. From what I saw the last couple games, he's getting that lift. He just looked strong down the stretch, and I thought that was important.
"Like I said, endurance-wise I think he's there. He's in great physical condition. So these last two games, it was more of let's rest it and let's be happy with that, and then we'll move forward and get ready with the four days of work we have to do to get ready for Houston."
October, 22, 2014
Oct 22
9:02
AM PT
October, 22, 2014
Oct 22
8:30
AM PT
ESPN.com news services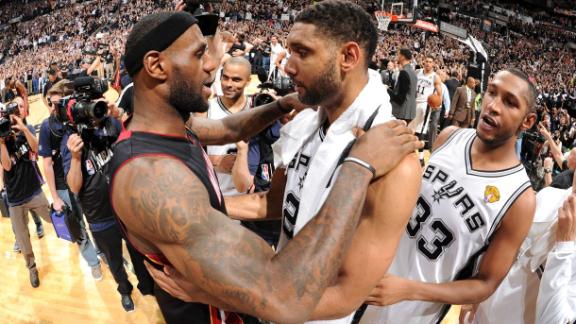 The San Antonio Spurs are an overwhelming choice to repeat as NBA champion while LeBron James is the favorite to win the MVP award, according to NBA.com's 2014-15 survey of league general managers.
The general managers gave their answers to 56 questions and were not permitted to vote for their own players or team.
In the survey, the Spurs were chosen to repeat as NBA champion with 46.2 percent of the votes, finishing far ahead of the second-place Cleveland Cavaliers (15.4). The Miami Heat were picked in 2013 by NBA GMs to win the title (75.9 percent).
James was the runaway winner in the MVP category, chosen by 67.9 percent of respondents to win the award for the fifth time in his return to Cleveland. The Oklahoma City Thunder's Kevin Durant, who is out for an indefinite period with a Jones fracture in his right foot, finished second (21.4 percent). Durant won the award last season.
James' return to Cleveland was picked as the most surprising move of the offseason (42.9 percent) while the Cavaliers were lauded for making the best offseason moves (89.3).
October, 22, 2014
Oct 22
12:47
AM PT
By
Jovan Buha
| Special to ESPN.com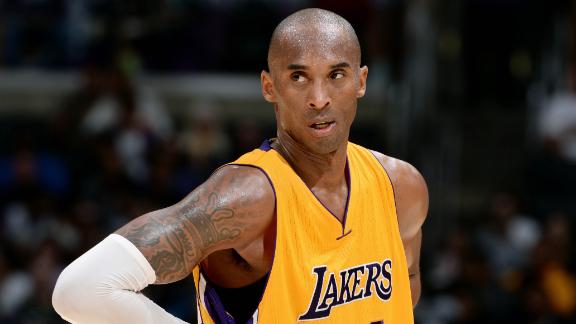 ANAHEIM, Calif. -- Los Angeles Lakers star Kobe Bryant says he has learned the ebb and flow of the media cycle over the course of his 19-year career and that it has given him the perspective to decide when he wants to react to criticism and when he wants to let it go.
In his first time speaking to media after an ESPN The Magazine article suggested that he played a significant role in the Lakers' recent slide over the last few years, Bryant, known for speaking candidly, responded with a seemingly diplomatic answer.
"It's not the first one and it won't be the last one," Bryant said following the Lakers' 114-108 preseason overtime loss to the Phoenix Suns on Tuesday. "One thing I've come to understand over the years is that you'll have a bad story that comes out on a Monday and it seems like it's the end of the world and it seems like everybody's taking shots at you. But time goes by and then you look back on it and it was just a Monday.
"Then you have another great story that comes out maybe a month later, or something like that, and it's a fantastic story. And then there's a bad story that comes out one month after that. So you understand that it's a cycle, and things are never as good or as bad as they seem in the moment in time."
Bryant continued, explaining his rationale behind remaining upbeat despite the current state of the Lakers franchise.
"Stay focused on the bigger picture and things are never as bleak as they seem at the time," Bryant said. "I just kind of roll with it."
Bryant's teammate, guard Jeremy Lin
October, 22, 2014
Oct 22
12:22
AM PT

By Jovan Buha
Special to ESPNLosAngeles.com
Archive
ANAHEIM, Calif. -- The highlight of the
Los Angeles Lakers
' 114-108 overtime loss to the
Phoenix Suns
on Tuesday was guard
Kobe Bryant
uncorking a vintage Vino performance down the stretch.
Bryant dominated Suns guard-forward P.J. Tucker -- one of the league's better perimeter defenders -- over the final two minutes of regulation, rising up and connecting on three consecutive possessions with fadeaway after fadeaway out of isolation around the left elbow.
[+] Enlarge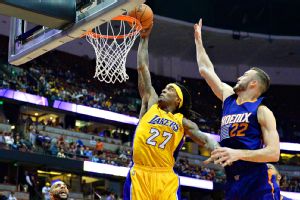 Richard Mackson/USA TODAY SportsJordan Hill and the Lakers' other frontcourt players had a strong collective effort in a loss to the Suns on Tuesday.
On the fourth possession, Tucker played Bryant over-aggressively and picked up a shooting foul. Tucker, visibly frustrated and helpless, smirked and eventually laughed. Bryant, sensing Tucker's frustration, smiled and gave him a pat on the backside.
But arguably just as important as Bryant showing the ability to still take over a close game was the impressive offensive play of the Lakers' four primary big men --
Jordan Hill
,
Carlos Boozer
,
Ed Davis
and
Julius Randle
.
Bryant's heroics would not have been possible if not for the dirty work Los Angeles' frontcourt did earlier to keep the team within striking distance.
The quartet combined for 40 points on 18-of-31 shooting, 19 rebounds, nine assists, two steals and three blocks, pushing around the Suns' undersized big men inside and creating space around the rim to score.
Heading into the 2014-15 season, the Lakers' projected advantage on offense was their dynamic perimeter attack.
Bryant,
Steve Nash
,
Jeremy Lin
and
Nick Young
have each shown the ability to consistently score and/or create for their teammates, and it was assumed the backcourt would grab the offensive reins.
In many ways, that has been the case this preseason. The Lakers' three leading scorers Tuesday were all perimeter players -- Bryant (27 points), Lin (15) and
Wesley Johnson
(15). But just like last season, injuries have a funny way of ruining the Lakers' game plan.
With Bryant still shaking off some of the rust from his return, Nash, Lin and Young nursing injuries for a majority of the preseason, and coach Byron Scott all but abandoning 3-pointers, the team's offensive identity has been in flux. There has been essentially no consistency from game to game.
"There are just too many injuries," Scott said before the game. "We're not going to be able to do the things I want to do, as far as trying to find the type of rotations that we would have. But I'm just going to go with what I've got and see how it works out."
October, 21, 2014
Oct 21
10:08
PM PT
Associated Press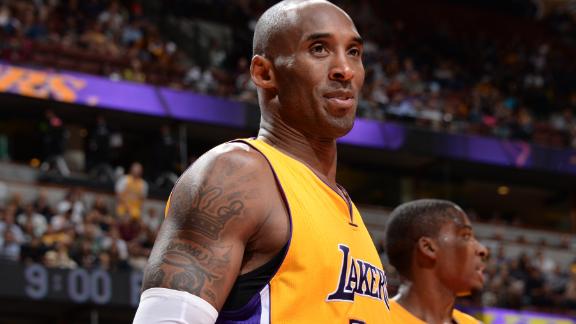 ANAHEIM, Calif. -- Isaiah Thomas scored 26 points including the buzzer-beater at the end of regulation and Gerald Green made 10 of his 21 points in overtime as the Suns topped the Lakers 114-108 in Tuesday's preseason game.
Kobe Bryant led Los Angeles with 27 points, eight of them in last two minutes of regulation. Jeremy Lin, who missed the last three games with a sprained ankle, scored 11 of his 15 points off the bench during the fourth quarter before fouling out with 11.5 seconds left in regulation.
Shavlik Randolph helped seal Phoenix's win with a pair of free throws and a 3-pointer in the final 32 seconds.
The Lakers trailed by as many as 11 in the first half, and were down six points at the start of the fourth quarter.
October, 21, 2014
Oct 21
7:17
PM PT
By
Jovan Buha
| Special to ESPN.com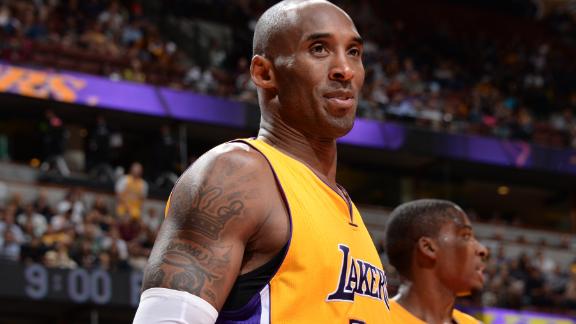 ANAHEIM, Calif. -- Los Angeles Lakers point guard Jeremy Lin returned in a 114-108 preseason loss to the Phoenix Suns on Tuesday after missing more than a week with a sprained left ankle.
Lin, who missed the previous three games, scored 11 of his 15 points off the bench during the fourth quarter before fouling out with 11.5 seconds left in regulation.
Despite Lakers coach Byron Scott suggesting last week that Lin could be the full-time starter because of Steve Nash's nagging injuries, Scott started journeyman point guard Ronnie Price against the Suns in an attempt to slowly reacclimate Lin off the bench.
"There's no thought process right now," Scott said before the game when asked about his decision. "Ronnie has been playing. Jeremy hasn't. So he's going to have to come in tonight and get his feet wet again, and we'll go from there."
The short-handed Lakers couldn't catch a break with the rest of their injured backcourt, as Nash (back) and Jordan Clarkson (sprained calf) both missed Tuesday's game. Scott said Clarkson is still day to day and offered no timetable for Nash's return.
"Jordan could probably go, but we're going to wait another day or so and just see how he feels," Scott said. "We're going to give him another day to get it a little bit better. With Steve, it's the same update. He's just not ready right now. He still has that tingling feeling or whatever it is right now, so he's the one that's out along with Jordan."