June, 29, 2015
Jun 29
4:15
PM PT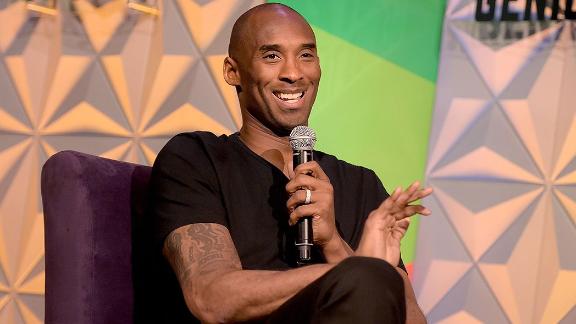 EL SEGUNDO, Calif. -- Los Angeles Lakers first-round draft pick Larry Nance Jr. said he was "terrified" of his new teammate Kobe Bryant's potential reaction to a tweet Nance sent in 2012 that referred to a sexual assault case involving Bryant.
"You hear all the stories about how Kobe, or Mr. Bryant, is so intense and just always on edge," Nance said when he and the team's other draft picks were introduced at the Lakers' practice facility on Monday.
"I was nervous to send him a long message and then just get an 'Okay,' or not a response at all. I'm just so, so glad he handled that in the manner he did. I still could be up here with a stomach in my knot, or a knot in my stomach. But he did a terrific job and I can't thank him enough for forgiving me."
Speaking at the BET Experience at the Nokia Theater in Los Angeles on Saturday night during a sit-down interview with ESPN's Jemele Hill, Bryant said "there's no need" for any further discussion about the matter with Nance, the Lakers' 27th overall pick out of the University of Wyoming.
"The kid figured it out himself," Bryant said. "He's a kid, man. He actually sent me a great message [Friday], which is really funny. I looked at it [the message], and it was like, 'This is when you know it's about time to hang these things up, when your teammate writes you, Hi, Mr. Bryant.'
June, 29, 2015
Jun 29
1:48
PM PT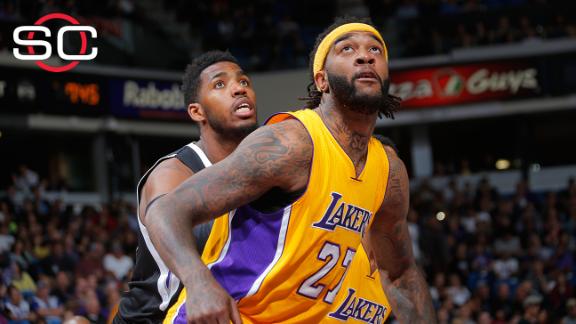 The Los Angeles Lakers will not be picking up their $9 million team option on forward Jordan Hill, league sources told ESPN.
The Lakers have an interest in re-signing Hill during free agency, but the move was made at the moment to help add salary-cap space as the Lakers enter free agency in pursuit of several big-name players, sources said.
Hill was in a tight spot, as the Lakers face a logjam at the forward position with Julius Randle, Larry Nance Jr., Tarik Black and Ryan Kelly currently on their roster. There is also Ed Davis, who declined his $1.1 million player option for a longer, more lucrative deal.
After declining Hill's option, the Lakers will have about $23 million in spending power as they target several frontcourt players in free agency, including Portland's LaMarcus Aldridge, Memphis' Marc Gasol, the Clippers' DeAndre Jordan, Cleveland's Kevin Love and Detroit's Greg Monroe.
Hill was a bright spot in an otherwise dismal 2014-15 season for the Lakers.
June, 29, 2015
Jun 29
9:42
AM PT
June, 28, 2015
Jun 28
8:08
PM PT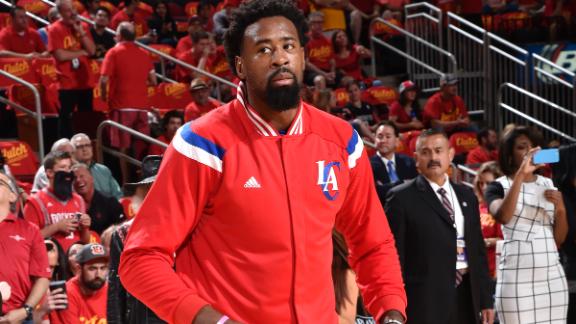 The Dallas Mavericks are widely considered the likeliest team in the league to persuade free-agent center DeAndre Jordan to leave the Los Angeles Clippers, according to league sources.
Sources told ESPN.com that the Mavericks are the team feared most by the Clippers even though Jordan is expected to meet with at least two more teams: the New York Knicks and Los Angeles Lakers.
Mavericks small forward Chandler Parsons, who regards himself to be Dallas' lead recruiter on free agent matters, visited Jordan in Houston last weekend and traveled to Los Angeles immediately after Thursday's draft to spend more time with the big man.
Both Parsons and Jordan are represented by L.A.-based Relativity Sports and agent Dan Fegan. Parsons helped recruit Dwight Howard, another Fegan client, to Houston two years ago.
The Milwaukee Bucks, sources say, are also among teams hoping to get a meeting with Jordan, who was an All-NBA third team selection this past season after leading the league in both field goal percentage (71.3) and rebounding (15.0 per game).
But sources close to the situation said Sunday night that Jordan's decision most likely will come down to the Clippers and the Mavericks.
June, 27, 2015
Jun 27
10:17
PM PT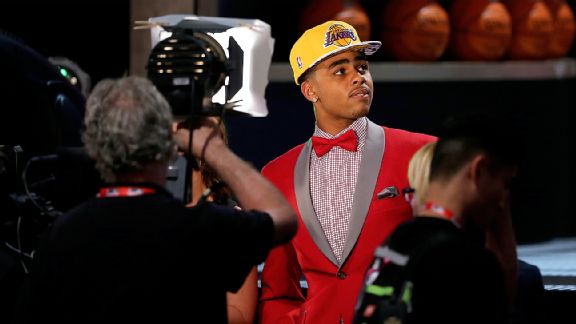 Elsa/Getty Images
Two days after the NBA draft, during which the Los Angeles Lakers selected three players, Kobe Bryant said he has one thing he wants them to do.
"Ask why -- why did things happen?" Bryant said Saturday night at the BET Experience held at the Nokia Theater in Los Angeles during a sit-down interview with ESPN's Jemele Hill.
"I think players nowadays have become conditioned to do x, y and z. So you have coaches at the high-school level, college level, then the professional level, they tell you, 'Do this, do that, do this, do that,' as opposed to teaching players what questions to ask.
"So when you're watching the game or playing the game, and he runs a pick-and-roll and all of the sudden the man is open in the corner and he hits the man in the corner and he knocks down a shot, you don't want to just have that thing happen on accident. You want to know why that happened.
"So you want to be able to read defensive packages and say, 'OK, when I come off the screen-and-roll, the big did this, the weak side did that, therefore that's open. And if I come here, now they make an adjustment; now that's not open and that's why that's open, but now that's not open and that means this one is open.' It's to get them thinking why things happen. I think that's the most important thing for young players to understand."
The Lakers drafted Ohio State guard D'Angelo Russell second overall, University of Wyoming forward Larry Nance Jr. 27th overall and Stanford wing Anthony Brown 34th overall.
June, 27, 2015
Jun 27
10:01
PM PT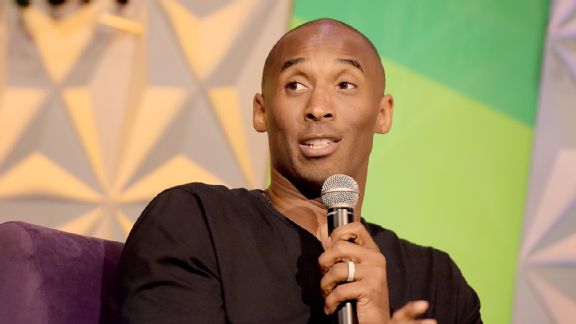 Jason Kempin/BET/Getty Images for BET
The 2015-16 season will mark the final year of Kobe Bryant's contract with the Los Angeles Lakers, during which he'll be paid a league-high $25 million.
But it remains unclear if Bryant, who will be 37 when next season begins, will want to play beyond that, even though Lakers general manager Mitch Kupchak has said Bryant has indicated next season will be his last with the team.
"It might be," Bryant said Saturday during an interview with ESPN's Jemele Hill at the BET Experience at the Nokia Theater in Los Angeles.
"You gotta retire sometime," he said. "I'm not Benjamin Button, man."
Bryant said he has yet to make a decision about his future in the NBA beyond 2015-16.
"At the end of the season, if I feel like going through this again and doing it all over again, I will. If I feel like, I don't, I won't," he said. "I won't make a big deal about it or whatever. I'll be ready to move on. I'll be ready to do something else.
"I'll be ready to take on that challenge and try to show athletes, listen, we are more than this. I think that's the challenge that I'm ready to take on too. It's like, we can do more than play basketball. We can do more than simply sit here and be puppets for brands and for an industry and this, that and the other. We can build our own s--t. When that time comes, I'll be ready to do that."
What will a retired Kobe Bryant do?
"Work," he said. "I love the concept of storytelling. I love inspiring. I love trying to help people reach their full potential ... I think there's a myriad of businesses where storytelling can then connect to because it's all centered around that ... It's all storytelling."
June, 27, 2015
Jun 27
9:51
PM PT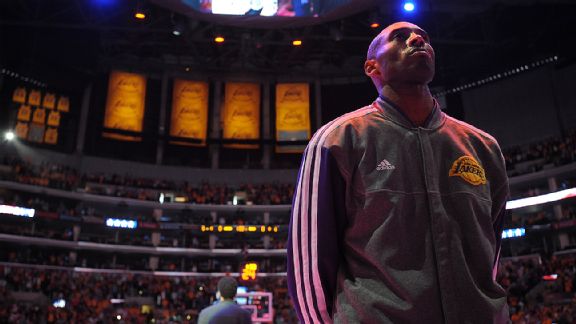 Andrew D. Bernstein/NBAE/Getty Images
Earlier this year, Kobe Bryant said "being a great friend is something I will never be." The Los Angeles Lakers star guard explained that comment at an event Saturday by saying, "I meant that friends can come and go, but banners hang forever."
Bryant, a five-time NBA champion, made his remarks during an interview with ESPN's Jemele Hill at the BET Experience at the Nokia Theater in Los Angeles.
The question posed by Hill alluded to Bryant's comments in a GQ magazine piece published in March 2015.
"It's crazy, right?" Bryant said Saturday of his mindset. "It's like, 'This dude is nuts.' But when you grow up, I loved the game so much. It wasn't on purpose to be a bad friend or not to be as good of a friend. It takes time to do that. It takes a lot of energy to do that.
"Consciously, all my energy was focused on one thing. It's like, friends, I have friends that have known me since I was 11. They know that that's how I am. But nine times out of 10, that's how they are too. Because they're as driven at what they do as what I am. It works out."
Hill asked Bryant what he has learned from strained relationships with teammates over his 19-year NBA career.
"Don't be an a--h---," Bryant said with a laugh. "No, I mean, I've never been the most patient person in the world, and one of my pet peeves is laziness or people who make excuses. I can't stand it. Working with Shaq, the guy, he's a freak of nature. He's mean when he plays, which I relate to.
"But there are other parts that I just didn't relate to. So there are certain things that were strengths of his, like putting his arm around the guys and helping them be better emotionally and giving them support. I wasn't very good at that.
"But my strengths were my focus and my dedication to the game. I had to sit back and say, 'We have these disagreements, but what can I learn from him? What does he do well?' And once I was able to look in the mirror and say, 'OK, maybe you are being an a--h---?' You've got to self-assess. All this stuff ain't coming from [nowhere]. It's not just made up. So once I learned that, I think we were able to go to a higher level as a team."
Did Bryant un-learn how to be, as he put it, an "a-hole"?
"There's two ways to do that," he said. "One, you can stop. Or two, you can just be extremely consistent, and then the people will get used to it. So when I said, 'I stopped being an a--h---,' what I'm really saying is people just got used to me being an a--h---. Then it was like, 'OK, that's just him.'"
"

There's certain players that I've made cry. If I can make you cry by being sarcastic, then I really don't want to play with you in the playoffs.

"- Kobe Bryant
Bryant then recounted a memorable interaction with a former Lakers teammate.
"Honestly, I remember Rick Fox said something in a meeting that stuck with me forever," Bryant said. "Because we were having a discussion and he said, 'Kobe, we just want to feel like you're a part of us.' And I never looked at it that way. I thought, 'What do you mean? I am. I'm practicing hard every single day.'
"But that's not what he meant. For me, stop being an a--h--- really meant you've got to start approaching the game on a human level and understand that we are people and we need to have that connection versus this hard drive all the time. Because no matter how skillful you are, it's an emotional game. If you don't have that emotional connectivity with somebody or with a group, you're not going to get at your highest level of potential."
Bryant said he's still close with several of his former teammates, such as Lamar Odom, Derek Fisher, Ronny Turiaf and Shannon Brown.
"Now, to them, if you ask them, they'll sit here and say, 'No, he's not an a--ho---,'" Bryant said. "But if you go to some of the other guys who show up to practice an hour later. You know what I'm saying? You know them. They're easily identifiable. Those guys will say, 'Yeah, he's a big a--h---.'"
He added, "Your job is to imprint a DNA on a team. You have to push buttons. The trick is figuring out when to push them and how to push them. You've got to do that."
What's the worst thing Bryant ever said to a teammate?
"Oh, Jesus, let me think," he said with a laugh. "I'm not sure if the fact that I'm thinking about the worst things that I've said really means that I haven't said that many, or maybe I've said too many. I'm scrolling through them [in my mind]. I'm like on iPod shuffle.
"I have made somebody cry before."
Who?
"There are certain players that I've made cry," Bryant said. "If I can make you cry by being sarcastic, then I really don't want to play with you in the playoffs if that's making you cry.
"But let me see. There was one teammate that was just so bad. He was so bad. It wasn't Kwame [Brown]. Kwame wasn't actually that bad. I tease Kwame. It wasn't Smush [Parker]. It was a player that you guys won't even remember if I said who his name was. I can't even pronounce his name. It was some European kid.
"But he was really, really bad. I said, 'Dude, you might want to reconsider what your life purpose is. Maybe it's not this.' It came out that way. I was like, maybe 20-something years old, I don't know, really young.
"You know how you think one thing in your head, like, 'I'm going to say this, and it's going to sound like this.' Then it comes out and it's like, 'Oh, s---. That's not what it sounds like.' That is not how I envisioned it coming out. No, I meant, maybe you're not reaching your highest potential by doing this. Maybe it's something else."
Bryant was asked to explain where the perception that he is difficult to play alongside, a well-documented perception that has reportedly deterred several free agents from coming to play for the Lakers, first developed.
"From people that want to take the easy route with stuff," Bryant said. "You want to come? You want to play and play your heart out and compete and win? We'll have no issues. It's the people that ... say these things and the people that don't show up to practice and the people that don't want to work hard and the people that aren't committed to it. We will never have anything in common. We just won't. I'm completely fine with that. I'm completely OK with that. We can't converse."
Bryant also said growing up in Italy influenced not only his playing style but also his relationships with people.
"It shaped a lot," he said. "In that situation, you wind up being in isolation a lot, so you have a lot of time to think. I gravitated to basketball even more because of the lack of common ground that I had with friends over there. So I wound up playing the game a lot by myself, imagining and dreaming and envisioning.
"But also, on the flip side of that, it makes you play things closer to the chest. Which is why I'm more comfortable shooting the ball off the double-team than passing to somebody in the corner for a game winner. No joke. Because you grow up really relying on yourself. So I had to learn, no, it's OK to work with others. But when you grow up in isolation, especially in pressure moments, you always kind of go back to your nature."
June, 27, 2015
Jun 27
7:12
PM PT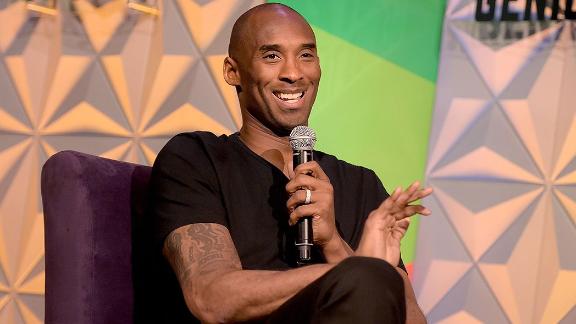 Los Angeles Lakers star Kobe Bryant says he has talked with first-round draft pick Larry Nance Jr. about a tweet Nance posted in 2012 that referred to a sexual-assault case involving Bryant.
Speaking at the BET Experience held at the Nokia Theater in Los Angeles on Saturday night during a sit-down interview with ESPN's Jemele Hill, Bryant said "there's no need" for any further discussion about the matter.
"The kid figured it out himself," Bryant said. "He's a kid, man. He actually sent me a great message [Friday], which is really funny. I looked at it [the message], and it was like, 'This is when you know it's about time to hang these things up, when your teammate writes you, Hi, Mr. Bryant.'
"I was like, 'What the f---?' But it was really nice and apologetic about what had happened. I said, 'Dude, listen. We've all said things and done things that we regret and wish we could take back. It's water under the bridge, man. Welcome to the team.' He writes back, 'Thank you, sir.'"
Nance's tweet, which was deleted within minutes of his selection by the Lakers with the 27th overall pick Thursday, read: "Gee I sure hope Kobe can keep his hands to himself in Denver this time." It also included the hashtag "#rapist."
Later Thursday night, Lakers general manager Mitch Kupchak said the team had spoken to the former Wyoming forward about the tweet and that it was something Nance and Bryant needed to talk about between themselves.
June, 26, 2015
Jun 26
10:12
AM PT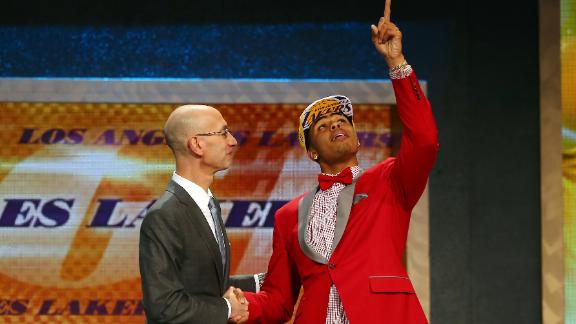 EL SEGUNDO, Calif. -- The Los Angeles' Lakers selection of Ohio State guard D'Angelo Russell with the second overall pick received most of the attention in Los Angeles on Thursday.
Lost in the shuffle, naturally, were their selections of Wyoming forward Larry Nance Jr. with the No. 27 overall pick and Stanford guard/forward Anthony Brown with the No. 34 pick.
Lakers general manager Mitch Kupchak offered these breakdowns of those picks and why the Lakers made them.
On Nance Jr.:
"We think Larry Nance Jr is what they call a late-bloomer. He's gotten better and better every year at Wyoming. He suffered a really horrific knee injury a half a year ago, an ACL injury, and recovered and just had a great senior season. I know the staff at Wyoming very well. I know the head coach and their assistant coaches for various reasons. I've talked to them numerous times over the last 3-4 months about him, [about] his character off the court, the fact that he is a late-bloomer, the fact that he had a great senior year [and] is still recovering from an ACL.
"We brought him in here twice for workouts. ... But most importantly, the two times we had them in here, he tested as an incredible athlete. Just off the charts, and we just assume he's going to get healthier and healthier and maybe even become a better athlete. Like a lot of players, you always wish they'd be an inch or two taller. But his size is good enough. His reach, his wingspan is enormous. So maybe he's an inch shorter than you like, but I played with a guy in Washington, Wes Unseld, who was a center at 6-6 1/2 , 6-7, and when he and I stood next to each other -- and I'm at least 6-10, 6-11 -- you put your arm up and his reach was longer than mine. And that is what was really important because your center of gravity is lower and yet you can reach up there with the big guys. Those are important issues for basketball players. So we're hoping that he is a late-bloomer and continues to develop."
The athletic 6-foot-9 Nance has a nearly 7-foot-2 wingspan, a 9-foot standing reach and 37.5-inch max vertical leap.
"I'm an energy guy," Nance said on a conference call with reporters. "I play with an incredibly high motor. I never take a play off. Every loose ball, I'm on it. Every offensive rebound, I'm chasing it. I really hope to just earn my niche by playing with that energy and athleticism that hopefully is unparalleled."
Nance is the son of 13-year NBA veteran Larry Nance Sr., a former Phoenix Suns forward who was named to three All-Star teams and won the first-ever slam dunk contest in 1984.
"He's my biggest fan, biggest critic," Nance said. "I love the way he could play above the rim and all his aerial acrobatics, but at the same time, he gave me his mind. Basketball IQ is the one thing that I learned from him and will continue to learn from him."
Along with recovering from a torn knee ligament in college, Nance still fights through Chron's disease, an inflammation of his digestive tract. He has also faced mononucleosis.
"I've faced a lot of adversity in my life, and I think it's made me stronger," Nance said. "For me, getting drafted wasn't just a victory for me and my family. The entire Crohn's and colitis community, it's big for them too."
As for Brown, Kupchak offered this assessment:
"Obviously, being in the Pac-12, we got a chance to see him a lot. He's locally from California, Southern California. We consider him one of the better shooters in the draft. We think he can play multiple positions -- shooting guard, small forward, be versatile enough to bring the ball up the floor under some pressure. We think he'll get better at that. A good athlete with a great pedigree. I spoke to his college coach a couple days ago, Johnny Dawkins. ... He was very high on him from a character point of view and a basketball point of view."
Brown, a graduate of Ocean View High in Huntington Beach, averaged 14.6 points, 6.9 rebounds and 2.5 assists as a senior at Stanford. He shot 44.1 percent from 3-point range last season.
"It's a surreal feeling," Brown said after being drafted. "Especially being from the area, growing up watching the Lakers (and) one of the greatest players of all time, Kobe (Bryant). It's definitely a surreal feeling, and I'm excited to get to work."
Of both players, Kupchak said, "A lot remains to be seen. Guys who get drafted late in the first round, early in the second-round -- they have to prove their mettle in this business and show that they belong. One of them is going to have some guaranteed money, the other one may not. In any event, they're both going to have to prove their way through summer program and training camp and we think they're both worthy of their selections and we think they both have bright futures."
June, 26, 2015
Jun 26
9:14
AM PT
EL SEGUNDO, Calif. -- The Los Angeles Lakers aren't here often, drafting so close to the top. Such is their success. Their last top-two pick came in 1982, when they selected James Worthy first overall. Their last top-five pick before that came in 1979, when they drafted a point guard known as Magic. That No. 1 pick happened 36 years ago Thursday.
So on the anniversary of a historic arrival that would light up the league and all of Los Angeles, the Lakers acquired their most elite point guard since Magic Johnson and a player who offers what Magic carried perhaps most of all -- what has always been the most powerful currency in this city and its marquee NBA team:
Star power.
ESPN's Statistical Plus/Minus (SPM) numbers project Ohio State's D'Angelo Russell, whom the Lakers selected second overall, to have a better chance than anyone in the draft of turning into what Lakers coach Byron Scott said Russell has a chance to become: "a superstar."
Of course, the move shocked the basketball landscape. Many expected the Lakers to take Jahlil Okafor on tradition alone, another addition to a proud lineage of big men that includes Mikan, Chamberlain, Abdul-Jabbar and O'Neal. Lakers general manager Mitch Kupchak even mentioned some of those whose retired numbers hang in their practice facility.
"You still need quality big men in this league," Kupchak said, "and if any of those players in the wall were available, we would've selected them."
But there weren't. There wasn't anyone close, either. Just as Scott said Russell could become a superstar, he said he thought Okafor would be a "good center" in the NBA. Good isn't good enough for the Lakers. It never has been.
Here, they took the player with the most promise, one that Kupchak said offers "an unlimited upside." And never has there been a timelier move, because the Lakers' own star, Kobe Bryant, is flickering. A replacement must be found, and Russell is exactly that. He has that elusive "it" quality talent evaluators desire but can't find often enough.
"He's got gifts that you can work really hard and long on and still not acquire those gifts," Kupchak said. "Some of them you're just born with or somebody sprinkles a little gold dust on you at some point. It's just there."
It's Russell's feel for the game that stands out, Kupchak said. His ability to see the floor, make the right plays and keep his teammates happy, knowing when to dish and when to score.
He's an excellent athlete, but not among the best in the NBA. He has great size for a floor general (6-foot-5), though not the size Johnson offered (6-foot-9). He's not a point guard or a shooting guard, but a blend of both, just like All-Rookie First Team selection Jordan Clarkson, whom the Lakers believe can co-exist in the backcourt with Russell.
Yet it's the entire package, all of the aforementioned and more, including leadership, which is why, during Russell's second workout, Scott saw shades of his former teammate -- yes, the one drafted 36 years ago -- in the 19-year-old. "And he did that in 3-on-3 with guys that he didn't know," Scott said. "So obviously we're anxious to see what he can do in 5-on-5 with guys that he's going to play with on a regular basis."
Following the two worst seasons in franchise history, the Lakers had needs up and down their roster. The plan, Scott said, was just to take the best player available. In watching the film, a key word kept standing out about Russell.
"We really felt the kid was special," Scott said.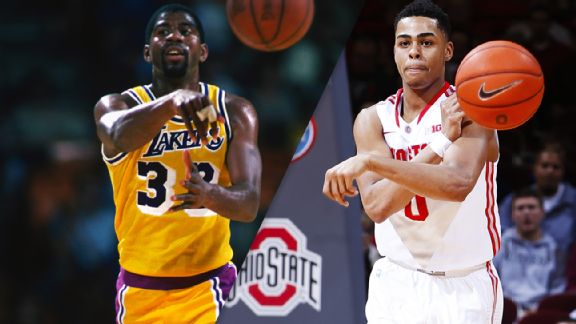 Getty Images
But Russell is more than that. Much more.
He not only represents a diversion from the Lakers' rich collection of centers. He is a nod to the future for a franchise so often accused of being arrogantly stuck in the past, an acknowledgement that the way championships are won today is far different than how the Lakers won them for years.
There's spacing, small ball and wave after wave of 3-pointers, daggers from deep that bury teams in hefty deficits. There are still those who argue against the modern style, one constructed by Mike D'Antoni, but Russell is not one of them.
"Who won the championship?" Russell asked, defiantly. "They did."
As the Golden State Warriors sliced up the league and especially the Western Conference, they also shredded old notions. The Lakers know they can no longer stay behind. Though Kupchak acknowledged the team's giants of yore, he also nodded to jerseys of Jerry West, Magic and Gail Goodrich, all guards.
So the Lakers joined the revolution by selecting what almost every NBA team seems to have at least one of these days: a dynamic point guard. The Lakers needed help, as their starting point guards last season ranked nearly last in the league in minutes (29.9 per game, 27th in the league), points (12.2, 23rd in the league), assists (4.7, tied for 25th in the league) and made 3-pointers (1.0, tied for 22nd in the league).
But Russell is more than that. Much more.
His selection marks a strong sign of confidence that the Lakers didn't need to draft a top-flight big man because they believe they can acquire one through free agency, perhaps Kevin Love or LaMarcus Aldridge. Or perhaps they find a way to pry DeMarcus Cousins loose from Sacramento via a trade.
"We're always optimistic," Kupchak said.
One free agent they almost certainly won't be chasing now is Rajon Rondo, another point guard known for his court vision who, like Russell, hails from Louisville. The Lakers have their man, and they hope he'll be the next Lakers point guard to reach the All-Star Game for the first time since Nick Van Excel in 1998.
There was risk, sure. So the Lakers' front office debated, cautioning themselves against always making the safe pick while also being wary of making a pick that's simply too risky.
"We went back and forth on that for several weeks," Kupchak said.
But when they brought Russell in for a second workout, it was clear to all that he was the best choice, a package of everything they needed most.
The Lakers aren't here often, drafting so close to the top. They cannot afford to miss. But they're already ahead, nodding to the future while acknowledging their past and the one trait that courses through the veins of the franchise. In Russell, the Lakers acquired so much. On the anniversary of Magic, they acquired just that.