March, 4, 2015
Mar 4
7:43
PM PT
Associated Press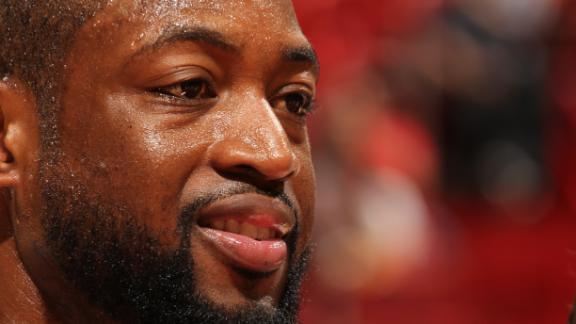 MIAMI -- Dwyane Wade scored 25 points and added six assists, Hassan Whiteside grabbed 25 rebounds and the Miami Heat rallied to beat the Los Angeles Lakers 100-94 on Wednesday night.
Wade's last two assists set up Whiteside for crucial scores in the final moments. The Heat held on to the No. 7 spot in the Eastern Conference playoff race and posted two straight home wins for the first time in more than four months.
Goran Dragic scored 21 points and Whiteside finished with 18 for the Heat, who got 15 from Luol Deng and won for just the fifth time in 26 games when trailing at halftime.
Ed Davis had 14 points and 12 rebounds, Wayne Ellington scored 14 points and Jordan Hill had a 13-point, 10-rebound night for the Lakers.
March, 4, 2015
Mar 4
9:09
AM PT
By Ben Alamar
ESPNLosAngeles.com
Archive
Issac Baldizon/NBAE/Getty ImagesGoran Dragic has been getting to the free throw line more since joining the Heat.
The 4-Point Play looks at the four analytics-based storylines that will make you smarter when watching Wednesday's game between the Los Angeles Lakers (26th in BPI) and the Miami Heat (18th in BPI) at 8PM ET on ESPN. Our BPI gives the Heat a 73 percent chance of winning.
1.
The Miami Heat are projected to win 37 games, have a 60 percent chance of making the playoffs, and have the second-easiest remaining schedule, according to ESPN's BPI.
2.
Goran Dragic
has a career average of 4.2 free throw attempts per 36 minutes, but was getting a career low of 2.9 free throws per 36 minutes this season in Phoenix. Since coming to Miami, he has averaged 6.1 free throws per 36 minutes.
3.
The Lakers will keep their first round pick provided it is in the top 5, otherwise it will belong to Philadelphia. The Lakers have a 74 percent chance of keeping their pick, according to BPI.
4.
Ed Davis
leads the Lakers in scoring efficiency with a true-shooting percentage of 60 percent and is seventh in the league with an offensive rebound percentage of 13 percent. The only 25-year-olds to have seasons at those levels or above since 2000 are
DeAndre Jordan
,
Tyson Chandler
, and
Robin Lopez
.
March, 3, 2015
Mar 3
6:47
PM PT
Associated Press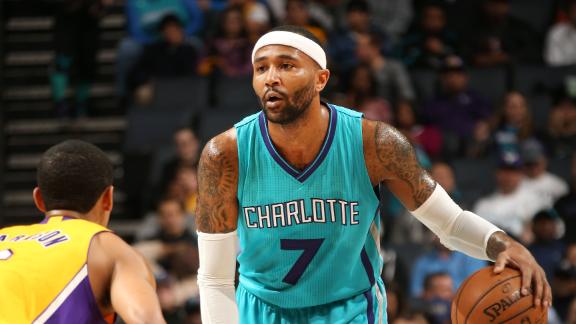 CHARLOTTE, N.C. -- Al Jefferson had 21 points and 16 rebounds, Mo Williams added 20 points and 13 assists and the Charlotte Hornets beat the Los Angeles Lakers 104-103 on Tuesday night for their third win in four games.
Williams, who came in averaging 23.4 points in his first five games since being acquired from Minnesota, had his third double-double with the Hornets.
Williams knocked down a big 3-pointer with a minute to play to push the lead to six and added five free throws in the final 18 seconds to seal the win.
Gerald Henderson added 21 points, including several key baskets late in the fourth quarter. Cody Zeller had 10 points and 11 rebounds as all five Charlotte starters finished in double figures.
Jeremy Lin led the Lakers with 23 points off the bench, while Jordan Clarkson had 19.
March, 3, 2015
Mar 3
1:01
PM PT
Associated Press
[+] Enlarge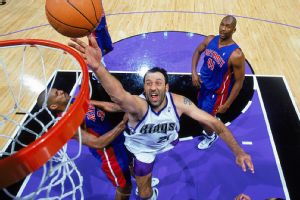 Rocky Widner/NBAE/Getty ImagesVlade Divac spent six seasons with the Kings and became a fan favorite.
SACRAMENTO, Calif. -- Former fan favorite Vlade Divac has rejoined the Sacramento Kings as vice president of basketball and franchise operations, a job that will include advising the front office and coaching staff.
The team announced Tuesday that Divac would assist in global and fan outreach initiatives and oversee the player-development programs. Divac, 47, will take a lead in talent evaluation and develop relationships between the team and European players.
Divac retired from professional basketball in 2007 and was named president of the Serbian Olympic Committee three years later.
He averaged 11.8 points, 8.2 rebounds, 3.1 assists and 1.4 blocks per game over 1,134 career NBA games with the Lakers, Charlotte and Sacramento. Divac is only one of four players in league history with at least 13,000 points, 9,000 rebounds, 3,000 assists, 1,200 steals and 1,600 blocked shots, joining Kareem Abdul-Jabbar, Hakeem Olajuwon and Kevin Garnett.
March, 1, 2015
Mar 1
6:14
PM PT

By Jovan Buha
ESPNLosAngeles.com
Archive
LOS ANGELES -- As the season drags out, Lakers Nation is divided.
Do the Los Angeles Lakers' fans want to the team to keep losing and improve its chances of keeping its first-round draft pick? Or do they want to win regardless of the draft implications?
There is no consensus either way, but Lakers head coach Byron Scott offered his perspective on what he felt the fans want.
"I think the majority of them ..." Scott said before pausing and rethinking his answer. "Let's say half and half. Half of them want us to lose, and half of them want us to win."
Does that line of thinking from loyal fans bother Scott?
"The half that want us to lose? That bothers me a lot," Scott said.
Well, Scott was clearly bothered on Sunday as those on Team Tank got their wish. The Lakers, riding the momentum of a three-game win streak, fell 108-101 to an undermanned
Oklahoma City Thunder
squad playing without
Kevin Durant
,
Russell Westbrook
and
Steven Adams
.
After holding the
Utah Jazz
and
Milwaukee Bucks
to sub-28 percent shooting in the fourth quarters of consecutive games, the Lakers were still effective against the Thunder in the final frame (OKC shot just 39.1 percent), but were never able to pull closer than six points.
Jeremy Lin
led all scorers with 20 points, while also adding six rebounds, eight assists and three steals.
Jordan Hill
claimed 14 points and 12 rebounds, and
Jordan Clarkson
and
Wayne Ellington
each scored 12 points.
Disappearing act:
What happen to the Lakers' vaunted defense over the past three games? With Durant and Westbrook out of the lineup, the Thunder had no singular offensive force capable of taking over the game, but they found a way to hurt the Lakers in transition (plus-6), from beyond the arc (plus-6) and at the free-throw line (plus-5). The Lakers were too often late on their rotations to corner 3-point shooters and gave up too many uncontested baskets at the rim when they were forced to help the helper. The Thunder may have shot only 41.2 percent, but they still put up 108 points and had plenty of good looks.
Second-unit spark:
Los Angeles' bench outperforming its starters is nothing new this season, but today's disparity was particularly jarring. No Lakers starter registered a positive plus-minus; all four bench players did. Lin was the player of the game, and Hill and
Ed Davis
palpably outplayed starters
Carlos Boozer
and
Robert Sacre
, which made it somewhat confusing as to why the bench didn't play more than they did.
Up next:
The Lakers embark on a three-game road trip and face the
Charlotte Hornets
on Tuesday.
March, 1, 2015
Mar 1
6:07
PM PT
Associated Press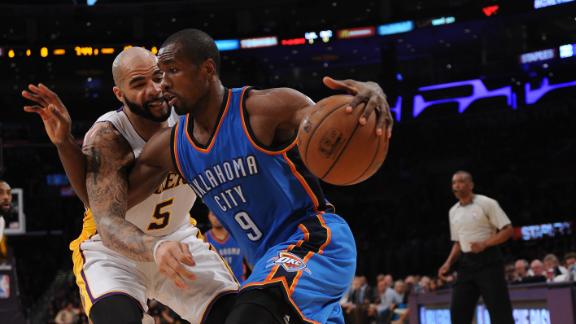 LOS ANGELES -- Serge Ibaka had 18 points and 14 rebounds, D.J. Augustin added 18 points and nine rebounds, and the Oklahoma City Thunder beat the Los Angeles Lakers 108-101 Sunday night without Kevin Durant and Russell Westbrook.
Enes Kanter had 16 points and 15 rebounds as the Thunder's supporting cast snapped a two-game skid with no help from its superstar duo. Durant is out with a foot injury, and Westbrook underwent surgery on his right cheek Saturday in his native Los Angeles.
Yet the Thunder's role players, backups and newcomers never trailed against the 14th-place Lakers, whose three-game winning streak ended meekly.
Jeremy Lin had 20 points, eight assists and six rebounds for Los Angeles, which got at least eight points from eight players, but couldn't win its season-high fourth straight.
February, 28, 2015
Feb 28
4:13
PM PT

By Jovan Buha
Special to ESPNLosAngeles.com
Archive
EL SEGUNDO, Calif. -- The 2014-15
Los Angeles Lakers
are in unfamiliar territory.
Not only are they riding a surprising three-game win streak, but perhaps more impressive, they're doing so because of their defense, which has been a historic weakness at times this season.
"We're just changing out defense a lot," coach Byron Scott said at practice Saturday. "We're going to our full-court press, we're going to our zone, we're going to our man. We're just trying to keep them off balance as much as possible. We're in scramble situations where we feel we have to make that second and third effort, and our guys are doing that. ... I'm happy with the progress."
The numbers bear that out.
The Lakers are allowing 108.0 points per 100 possessions this season, which is the second-worst mark in the NBA, according to NBA.com/Stats, but have trimmed that figure down to just 97.5 points per 100 possessions during their three wins over the
Boston Celtics
,
Utah Jazz
and
Milwaukee Bucks
-- the 10th-best defense over that span.
"[The coaching staff] told us our fourth-quarter numbers today, and the last two games have been good in terms of limiting Utah and Milwaukee's field-goal percentage," point guard
Jeremy Lin
said. "So I think that's the foundation of it all. We got stops and then we come down, spread the ball, and take what the defensive gives us."
Los Angeles held the Bucks to just 21 points on 21.1 percent shooting in the fourth quarter on Friday, and the Jazz to only 19 points on 27.3 percent shooting in the fourth on Wednesday.
Lin agrees with Scott that the unpredictability of the team's new defensive coverages -- Scott dubbed their zone as a "Spider" defense on Monday -- have made opposing offenses uncomfortable.
"It keeps them off balance," Lin said. "Scott has been able to mix in stuff -- some three-quarter court stuff, some traps, some zones, some matchup zones, some man. He's really switching it up, and I think it doesn't allow the offense to necessarily get too comfortable when we're switching things up."
The streak has Scott, who has had little to smile about this season, grinning from cheek to cheek.
"I was very happy with the way our guys played," Scott said. "We competed. The last three games defensively we've been great, especially in the fourth quarter. I'm just happy with the progress that our guys are making. The process is going well. So there's no reason not to smile."
The good vibes may not last long, though, because the
Oklahoma City Thunder
are in town on Sunday.
Even without
Russell Westbrook
, who underwent facial surgery after injuring his right cheek Saturday, the Thunder (32-27) are by far the best team the Lakers (16-41) have faced during this stretch.
"We're not used to that, but it feels good," Scott said of the pressures of maintaining a winning streak. "I think our guys are hungry to try to see if we can get four."