February, 6, 2016
Feb 6
8:08
PM PT
Associated Press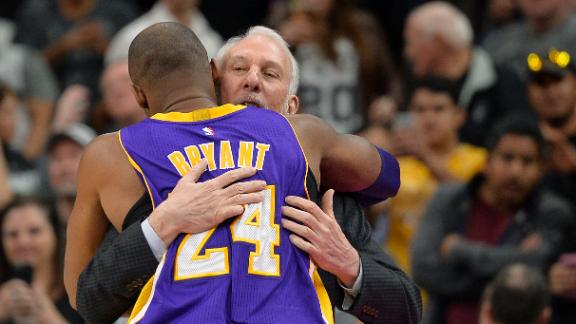 SAN ANTONIO -- LaMarcus Aldridge scored 26 points, and the San Antonio Spurs beat the Los Angeles Lakers 106-102 on Saturday to remain unbeaten at home.
Kawhi Leonard added 20 points and 13 rebounds to help the Spurs win their 28th straight home game this season. However, the Spurs' 37th consecutive home victory, dating to last season, was surprisingly difficult.
Kobe Bryant scored 25 points in his final appearance in San Antonio. The Lakers (11-42) are 5-24 on the road this season, but one last hurrah for Bryant in San Antonio was what they needed to nearly upset the Spurs.
Bryant spent much of his career tormenting the Spurs, and he did so again after a sluggish start Saturday. He finished 9-for-28 from the field but was 7-for-18 in a dynamic second half that electrified a pro-Bryant crowd.
February, 5, 2016
Feb 5
7:37
AM PT
By ESPN.com
ESPNLosAngeles.com

Kobe Bryant steals the show again in Lakers' win over the Pelicans: It was a fun day with plenty of parades, sunshine and good times during Mardi Gras. The French Quarter was happily rolling toward Fat Tuesday, the locals and tourists ready for a weekend of gumbo, hurricane drinks and everything in between. -- Los Angeles Times
Clarkson adds skills challenge to his All-Star weekend schedule: Jordan Clarkson's All-Star weekend keeps getting busier. The NBA added more tasks to his schedule, making him part of the eight-player skills challenge next Saturday in Toronto. The league announced last week that Clarkson would take part in the rising stars challenge next Friday, a game that includes only first- and second-year NBA players. -- Los Angeles Times
Kobe Bryant spurs LA Lakers to 99-96 victory over New Orleans: The Lakers showed as much festiveness as the Mardi Gras celebrations. They became as prolific as the most determined bead collectors. They played in rhythm as well as the jazz music here. All of which helped the Lakers accomplish something they have rarely done all season. -- Los Angeles Daily News
Byron Scott recalls Kobe Bryant playing through injured right shoulder vs. New Orleans: This city conjured up more memories for Lakers coach Byron Scott beyond the tasty seafood, the festive jazz music, his initial success here and his unceremonious firing. But this hardly marked a joyful moment. -- Los Angeles Daily News
Kobe Bryant carries Lakers on win 'streak': The Lakers are far from a team record this time, but here they are on another streak. A winning one, at that. The Lakers won their second straight game on Thursday, beating the New Orleans Pelicans 99-96 at Smoothie King Center. -- The Orange County Register
Kobe Bryant 'exorcises demons' in New Orleans: What you need to know: A backpack slung over his shoulders, Kobe Bryant strolled out of the locker room at Smoothie King Center and brushed aside questions over an apparent injury that had forced him to play one-handed. "I'm not too concerned," Bryant said confidently. The next day an MRI revealed a torn rotator cuff in his right shoulder. -- The Orange County Register
February, 5, 2016
Feb 5
1:06
AM PT

By Baxter Holmes
ESPNLosAngeles.com
Archive
NEW ORLEANS -- He lost another season here, the third straight, almost a year ago exactly. Kobe Bryant returned Thursday for the first time since that January 2015 night, and he came with purpose.
"I want to get back out on this court and play and play well and try to exorcise those demons a little bit," the Los Angeles Lakers star said.
In a 99-96 win over the New Orleans Pelicans at Smoothie King Center, Bryant achieved his goal, scoring 27 points and grabbing 12 rebounds in his third straight turn-back-the-clock performance. But all throughout the game, painful memories of his most recent stop here came flooding back: the third-quarter baseline dunk, then running down the court, clutching his right shoulder, which, he later learned, had suffered a torn rotator cuff.
The injury ended his 2014-15 season but not his night. Even though Lakers coach Byron Scott and the team's longtime trainer Gary Vitti could tell that something was terribly wrong soon after Bryant's slam, Bryant shrugged it off, as he always seemed to do whenever he was injured in his career.
"Is something wrong?" they asked Bryant.
"My shoulder is a little messed up, but I have my left hand," Bryant told them.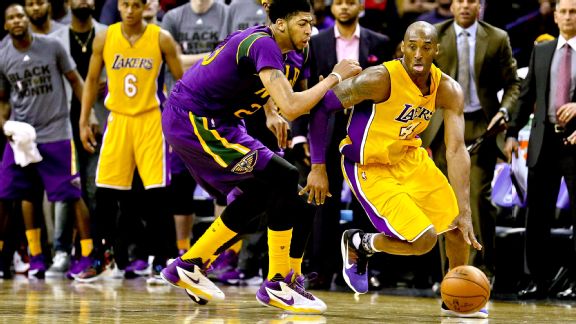 Derick E. Hingle/USA TODAY SportsKobe Bryant wanted to return to the court where his 2015 season ended to "play well and try to exorcise those demons a little bit."
When he ruptured his Achilles in 2013, he knew his season was finished; but on that night, he wasn't sure with his shoulder.
"I was trying to search for where the pain was coming from," Bryant recalled. "Because when I can find where the pain comes from, then I can [say], OK, I just don't do that. But I couldn't find it, so I felt like I could play."
So Bryant kept playing, using only his left hand while his right arm dangled there, lifeless. He dribbled left, passed left and shot a left-handed jumper that fell through. At that point, Scott and Vitti decided, "We have to get him out of there."
Then Bryant went back down the court and shot a short hook shot with his left hand that nearly went in. "I couldn't feel my shoulder," Bryant said. A few minutes later, the Lakers finally subbed him out. After the game, Bryant downplayed the injury to reporters, saying that he would need nothing more than some ice and physical therapy.
But when the team traveled to San Antonio for the next game, Vitti knew and the test results were clear. "He's done for the year," Vitti told Scott. Then the two called Bryant and said that, after surgery, he would need six to nine months of rehabilitation.
"Six to nine months? I'll be back in five," Bryant told them.
Scott laughed. But then within a couple of days, Bryant was back on the court at the team's El Segundo, California, practice facility, shooting jumpers with his right hand and with the torn rotator cuff in his shoulder.
Lakers general manager Mitch Kupchak watched the shooting exhibition from his office overlooking the court. It seemed as though Bryant was trying to prove he was fine, but it was more than that. Bryant said he was confused, because he kept making shots, even from long range, and, somehow, he still felt fine.
Bryant spoke with noted surgeon Dr. Neal ElAttrache, who explained the severity of the injury, but Bryant kept explaining that his arm felt strong.
"And he said [that] the muscles that surround the area are really, really strong, so it's covering up for this injury," Bryant said. "This injury has been here for five years. It's done nothing but got progressively worse. When he did the strength tests on my arm, the arm was still strong. He said, man, if you keep playing, you're going to do some serious, serious, serious damage to it.
"So I had to shut it down."
He didn't want to, but he had to, and on Thursday, Bryant came full circle.
It also marked his third straight vintage performance. He is averaging 29.3 points, 8.3 rebounds and 3.3 assists over his past three games. He's also shooting 50 percent (15-of-30) from 3-point range during that stretch.
"I'm as puzzled by it as you are," Bryant said. "I don't know what to tell you."
He explained that his tedious process of preparing his body to play for games (as well as recover from them) hasn't changed.
"I think it's the consistency of it," Bryant explained. "In the past, when you're younger, you can train in a program for three days and then, boom, it's there. When you get there, I think it's the consistency. I think it builds up over time, and you just have to be really, really patient and go through those ups and downs. It's hard."
He has had plenty of ups and downs this season, most notably shooting 29.6 percent during his first 17 games, when he seemed to be firing air balls left and right. At that point, did performances like Thursday even feel possible? Did he even think he could play this well again?
"That's what made it even more frustrating, because I knew I was capable of doing it," he said. "I knew the amount of training that I put in over the summertime. I worked like crazy. It becomes more frustrating because you're not seeing those results, and then it becomes, 'Maybe this is what happens when you get older. You put all the work in and there's still nothing to show for it. You can't do anything about it.' And I had to be really stubborn and say, 'No'. I've got to continue to stay with the process as I always have and see what happens."
As battered as his pride might have been, Bryant said he felt fine, because he knew he was doing everything that he could.
"When you know you've left no stone unturned, you can be comfortable in that defeat," he said. "With that being said, I wasn't ready to be defeated because the season wasn't over. So I wasn't going to quit. At the end of the season, if these games never came around, I could look myself in the mirror and be comfortable with the fact that I tried everything."
He said he didn't call anyone to ask for help, because there was no one who could even help him at that point.
"I was drowning, and I was all on my own, and I had to figure out how to get on top of the water and breathe again," he said. "It was all internal."
He has come far since then, with quite a few games in which he has looked not exactly like his old self, but not too far from it.
"I'm going to try to bottle it up for the next two months as much as possible," Scott said. "He's just on a nice little roll. He's got a great rhythm right now. He's playing great basketball."
The most entertaining moment of Thursday's game came when Bryant hit a dagger 3 with 58 seconds to go, giving the Lakers a six-point lead and some much-needed breathing room.
After the shot -- one of three clutch 3s that Bryant sank in the final 6:05 -- went in, though, Bryant held his follow through and then wagged his index finger as he walked back up the court.
Bryant laughed when asked why he did that gesture, and he unspooled a story.
"We were just having this conversation a couple days ago about players getting dunked on, and they asked me if I've ever been dunked on," Bryant said. "I said a long, long time ago by [former NBA center] Adonal Foyle. That was it."
Bryant then ribbed teammate Julius Randle, who was dunked on in spectacular fashion by Los Angeles Clippers guard Lance Stephenson in a recent game.
"And tonight, the basketball gods saw to it that Ryan Anderson dunked on me," Bryant said, referencing the Pelican forward's vicious slam over Bryant late in the fourth quarter. "I laughed all the way up the court [after it happened], and I thought the crowd had a good time doing it. Then when I hit the 3, it kind of added a little to it. It was fantastic. It was awesome."
Those are apt descriptions for his play lately, all things considered. With only 30 games remaining in his career, there's no telling how many of these performances he has left in him, making each one feel as though it should be savored before he's gone for good.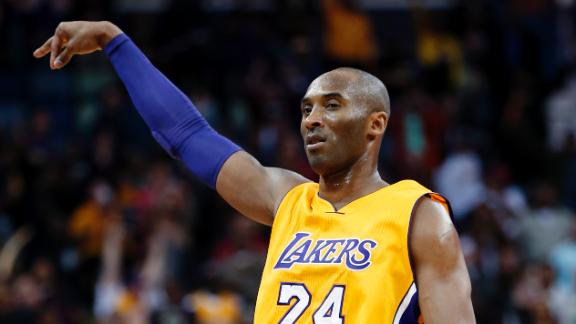 February, 4, 2016
Feb 4
9:30
PM PT
February, 4, 2016
Feb 4
9:20
PM PT
Associated Press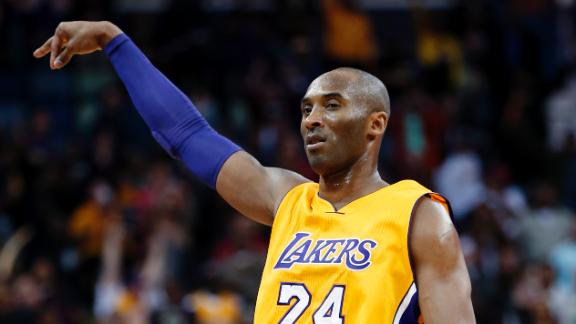 NEW ORLEANS -- Kobe Bryant scored 27 points, hitting three pivotal 3-pointers in the last six-plus minutes, and the Los Angeles Lakers won their second straight, 99-96 over the New Orleans Pelicans on Thursday night.
Bryant, who scored a season-high 38 points at Minnesota two nights earlier, held his follow-through as his final 3 went through with a minute left to put the Lakers up 98-92, then wagged his index finger as if to say, "Don't doubt me," as he jogged back up court with a good portion of the crowd cheering wildly.
Bryant missed a free throw with 6 seconds left that allowed the Pelicans a chance to tie the game with a 3, but Jrue Holiday's shot missed the rim.
Anthony Davis scored 39 for the Pelicans, but his missed breakaway dunk in the fourth quarter seemed to define the night for New Orleans, which lost its third straight.
February, 4, 2016
Feb 4
7:15
AM PT
By ESPN.com
ESPNLosAngeles.com

A day later, Lakers coach Byron Scott still reveling in Kobe Bryant's 38-point effort: Byron Scott was still glowing over Kobe Bryant's performance a night earlier, and why not? The Lakers coach said Wednesday he would try to hang on to the feeling of watching Bryant drop 38 points on Minnesota as long as possible. -- The Orange County Register
Vintage Kobe Bryant draws rave reviews from Byron Scott: It seems as though everyone is still reveling in a vintage Kobe Bryant performance. Well, maybe everyone except Sam Mitchell, that is. The day after Bryant torched the Minnesota Timberwolves for 38 points at Staples Center, Lakers coach Byron Scott was able to admire the performance. -- Los Angeles Daily News
How would Ben Simmons fare with the Lakers?: His name has given the Lakers and their fans hope amid a lost season. His talents have evoked comparisons to Magic Johnson and LeBron James. His mere presence even prompted President Barack Obama to give him a shoutout during a town-hall meeting. Ben Simmons has sparked as much excitement down here as Mardi Gras. The LSU freshman standout has dazzled the college basketball world, where the 6-foot-10 forward can both direct the offense as a playmaker (5.0 assists per game) and grab rebounds as a bruiser (12.5). Simmons can also do other things, including scoring (19.5) and playing defense (40 total steals, 20 total blocks). -- Los Angeles Daily News
Lakers Coach Byron Scott can appreciate a vintage Kobe Bryant performance the day after: Lakers Coach Byron Scott said he didn't get caught up in Kobe Bryant's vintage performance Tuesday against the Minnesota Timberwolves. After all, the Lakers were trying to avoid setting a franchise record for consecutive losses and had already blown an 11-point fourth-quarter lead before salvaging the game in the closing minutes. -- Los Angeles Times
February, 3, 2016
Feb 3
5:30
PM PT

By Jovan Buha
Special to ESPN
Archive
EL SEGUNDO, Calif. -- With 1:11 remaining in a one-point game and five seconds left on the shot clock, Los Angeles Lakers second-year forward Julius Randle caught a pass from Jordan Clarkson on the left wing and sized up his defender, Minnesota Timberwolves rookie center Karl-Anthony Towns.
Randle drove middle and then spun back baseline, where Towns met him with his imposing 9-foot-5 standing reach. Randle picked up his dribble, pivoted into the paint to look for a teammate to pass to, and then spun back around and flung up an off-balanced left-handed hook shot.
The ball clanged on the right lip of the rim, bounced backwards and hit the rim again, then kissed the backboard and fell in. The Lakers extended their lead to three points at 111-108 and then ultimately prevailed, 119-115, over the Timberwolves on Tuesday night.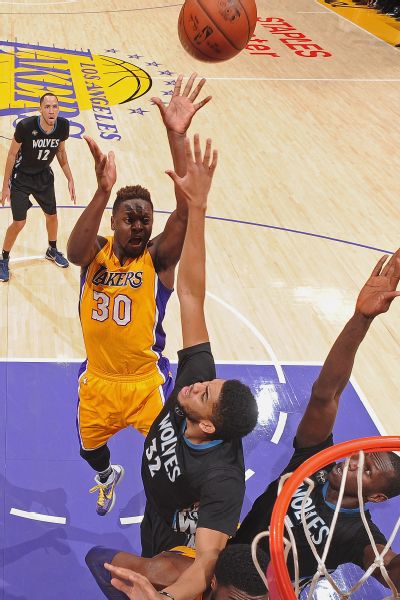 Andrew D. Bernstein/NBAE via Getty ImagesJulius Randle has become a bit of a double-double machine for the Lakers, as he has registered 19 of them.
Randle finished with 15 points and 12 rebounds, his 19th double-double of the season and sixth since moving into the starting lineup against the Houston Rockets on Jan. 17 because of a right knee injury to incumbent starter Larry Nance Jr.
Count Lakers coach Byron Scott among those impressed with Randle's improvement this season.
"I think his progression has come along nicely," Scott said Wednesday. "We had a good little talk yesterday about some of the things that I want him to continue to get better at. He takes those things to heart. He's trying to put them into play. Last night after the game we talked again and I told him the things we talked about that morning he was able to do [in the game] tonight and you see the results."
Kobe Bryant's 38-point performance garnered the headlines, but Randle's dirty work inside ensured Bryant's throwback performance wasn't for naught.
Randle collected the Lakers' only three rebounds over the final 4:37, each coming in an impressive manner.
On one, he fended off three Timberwolves players -- Gorgui Dieng, Ricky Rubio and Andrew Wiggins -- to wrestle away a vital defensive rebound. On another, he tapped a bad Bryant miss away from Towns and grabbed an offensive rebound, only for the shot clock to expire. And then on his final rebound -- arguably the most important -- he contested a Zach LaVine drive, deterring the shot, and then managed to turn around and secure the ball.
Rebounding is Randle's undisputed forte at this point. He's 12th in the league with 9.7 per game, and 19th in double-doubles. It seemed as if he kicked his energy level into another gear late against the Timberwolves, but Scott says Randle's effort was relentless throughout the game -- a trend since Randle re-entered the starting lineup almost three weeks ago.
"I saw that the whole game," Scott said. "I really thought he played that way the whole game. I think it's more obvious in the fourth quarter with three or four minutes to go when he gets rebounds like that. It seems to stand out a little bit more. But I thought he was doing that the whole game."
It'd be a stretch to suggest the Lakers' odds of winning simply hinges on Randle's effort, but he rebounds the ball considerably better in wins (11.4 per game compared to 9.3 in losses) and takes up a larger portion of the team's overall boards (45.1 percent in wins compared to 38.5 percent in losses).
That might be more indicative of the team's effort in and of itself, but Randle knows that he can swing things in L.A.'s favor if he's doing his job.
"You just have to have your niche, whatever it may be," Randle told reporters following Tuesday's win. "Just play hard regardless, and that's what I try to do. I know there are certain things the team needs me to do on a nightly basis for us to have a chance, and that's what I try to do."
The next step in Randle's development will be expanding his range and improving his accuracy. As an undersized power forward who can't protect the rim, Randle will need to develop a reliable jump shot, possibly out to 3-point range, to keep himself on the floor and maximize his potential.
Randle is still raw on the offensive end, with most of his baskets coming via the creation of his teammates off offensive rebounds or through brute strength and effort around the rim. He's only shooting 41.5 percent on the season -- low for a big man, even as a rookie -- and is far below average on shots from 10 feet and beyond (23.5 percent), according to NBA.com/stats.
With the ball in his hands in a close game, though, he was able to muster up a clutch bucket, no matter how unsightly it was.
"In those moments I have more confidence in myself than ever, and I just felt like we needed to make a basket," Randle said.
If Randle can continue to prove that he's a threat to score out of the post or on pop-outs, and not just off offensive rebounds or dives to the rim, the Lakers' offense, which ranks just 29th in offensive efficiency, can add a much-needed wrinkle to its limited arsenal.