July, 25, 2014
Jul 25
3:55
PM PT

By Dave McMenamin
ESPNLosAngeles.com
Archive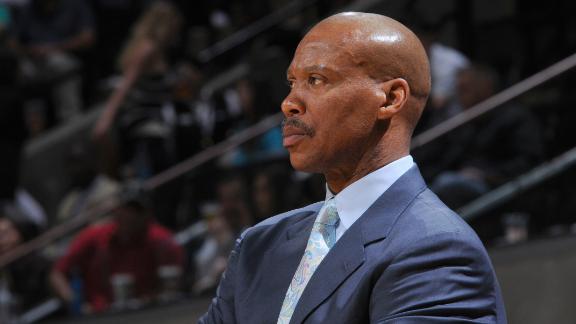 The
Los Angeles Lakers
took their good old time, but they indeed finally settled on a coach as they started contract negotiations Friday with Byron Scott,
according to ESPN The Magazine's Chris Broussard
.
The first question that comes to mind is: What took so long?
It has been nearly three months since Mike D'Antoni resigned April 30, accepting a buyout worth approximately half of the $4 million he was due to be paid next season.
[+] Enlarge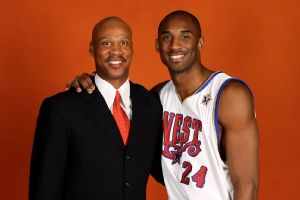 Gary Dineen/NBAE/Getty ImagesKobe Bryant endorsed Byron Scott for the Lakers job earlier this month.
League sources told me on the night that D'Antoni left that the Lakers would cast a wide net for their coaching search, and the sense was that if you could think of a coach who could feasibly step in to fill the role, the Lakers were probably mulling him over too.
The search never ended up being that widespread.
L.A. talked to only six candidates that we know of: Scott, Lionel Hollins,
Alvin Gentry
, Kurt Rambis,
Mike Dunleavy
and George Karl.
All of them you could talk yourself into and talk yourself out of. Sure, Hollins had championship pedigree as a player with those Portland teams in the '70s, but if he was really that good, would Memphis have cut him loose? Yes, Gentry has been a long-respected assistant, but other than that one run with Phoenix to the 2010 Western Conference finals, what had he done as the head guy? Dunleavy and Rambis both have Lakers ties, but the former has been out of coaching for years and the latter had 100 more losses than wins in his time in Minnesota. Karl is considered an offensive genius, but then again, the same could be said about D'Antoni.
While the Lakers weighed the pluses and minuses of the group, they purposely kept their coaching chair open.
It was no secret that if they ended up pulling off a coup and landing
LeBron James
or
Carmelo Anthony
or both, they wanted to entice the superstars to come by letting them have a say in who would coach them.
All the while, however, they kept Scott in the loop, bringing him back for a second interview June 10 prior to free agency and then again for a third talk July 16 after the Anthony/James dream had died and L.A. instead filled up its roster with the likes of
Jeremy Lin
,
Carlos Boozer
and
Ed Davis
.
Which brings us to the second question that needs to be asked: Why Byron?
It wasn't just about his ties to the Showtime era, but that surely helped. It wasn't just that he was around the team all last season as an analyst for the Lakers' television station, Time Warner Cable SportsNet, and had an intimate knowledge of what went down, but that helped too.
The Lakers franchise also wanted to establish a clear defensive identity after being atrocious on that end of the court last season, and Scott's credentials include a strong defensive-minded reputation.
But really, the Scott hire comes down to one man:
Kobe Bryant
. L.A. invested close to $50 million in Bryant over the next two seasons when he'll be 36 and a 19-year veteran and 37 and a 20-year veteran.
Despite all that's gone wrong in Laker Land since Phil Jackson retired in 2011, Bryant still remains as a box office draw and a future first-ballot Hall of Famer.
Whichever coach the Lakers decided on would have to mesh well personalitywise with Bryant first and foremost and, beyond that, play a system that would help Bryant continue to be productive even as Father Time is taking his toll.
It was no accident that Bryant publicly endorsed Scott for the job during his youth basketball camp in Santa Barbara, California, earlier this month.
"He was my rookie mentor when I first came into the league," Bryant said. "So I had to do things like get his doughnuts and run errands for him and things like that. We've had a tremendously close relationship throughout the years. So, obviously I know him extremely well. He knows me extremely well. I've always been a fan of his."
The Lakers have always operated with championships on the mind, but with a title pretty much out of the picture in the short term, they simply want to get back to having their team and everything that surrounds it be an accurate reflection of all the winning the franchise has already accomplished.
And out of all the realistic candidates for the job, Scott was the right man to start the journey from shambles back to Showtime.
July, 25, 2014
Jul 25
1:31
PM PT
ESPN.com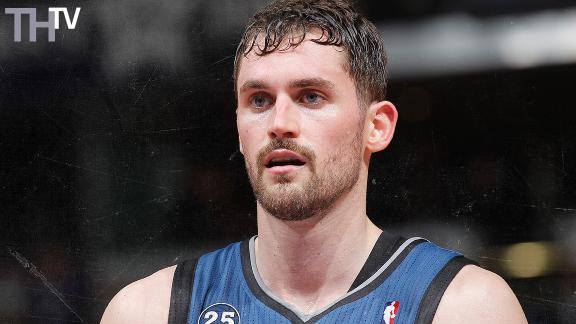 After a disappointing 2013-14 season and quiet offseason, the Lakers are embarking on a path rarely traveled in Los Angeles: rebuilding. As they negotiate a contract with Byron Scott to become their next head coach, our panel discussed the future of L.A.
---
1. What are the Lakers doing?
J.A. Adande, ESPN.com: Doggy paddling. They're keeping their heads above the water, but they're not going to keep up with Michael Phelps. They're just biding time, hoping to make that one big free-agency hit. You just wonder how many more times a fan base that's accustomed to dining on succulent steaks will be content to snack on pretzels until the next meal arrives.
Amin Elhassan, ESPN Insider: Exactly what they shouldn't be doing: ensuring that they won't make the playoffs and yet not be awful enough to keep their top-five protected pick that's due to Phoenix. This is the deal with the devil they signed when they re-upped with Kobe Bryant for two years and $48.5 million: We'll try our best to be competitive, but won't have the wherewithal to field a competitive team.
Dave McMenamin, ESPN Los Angeles: Kicking the can down the road to try to land some big-time free agents in the summer of 2016 and 2017, all the while trying to stay competitive so the last years of Bryant's career aren't wasted in the lottery. It's an uneasy seesaw that Mitch Kupchak is riding.
Marc Stein, ESPN.com: They're trying to sign the best players they can get who are willing to take short-term deals and accumulate assets on favorable contracts (example: Jordan Hill) that can be plugged into potential trades for a bigger name. They naturally won't come out and say it, but that's clearly their plan.
July, 25, 2014
Jul 25
1:40
PM PT
By Staff
ESPNLosAngeles.com

Carlos Boozer
said he was "humbled" by playing more limited minutes during his final season with the
Chicago Bulls
, who used the amnesty provision earlier this month on the last year of the veteran forward's contract.
Boozer
"It was (difficult). It was at times," Boozer said Friday as he was introduced by the
Los Angeles Lakers
. "But you learn a lot. I was humbled a lot and I grew a lot as a man and as an individual. So, I take all that with me in my new experience."
Boozer rarely played in the fourth quarter last season under Bulls coach Tom Thibodeau, who favored
Taj Gibson
, a superior defender.
"Playing first quarter and third quarter, not having a chance to help my team at the end of the game to win was tough," Boozer said. "As a competitor, you want to be out there doing everything you can to help your team win and to not get an opportunity, it was humbling. So, I learned a lot from that process."
The Bulls used the amnesty provision on the final season of Boozer's five-year, $75 million contract on July 15. Nine teams with cap space were able to make a blind bid to pick up the remaining portion of his $16.8 million deal. The Lakers won with a bid of $3.25 million, sources told ESPN.com's Marc Stein.
Boozer, who averaged 15.5 points and nine rebounds in four seasons in Chicago, praised the Bulls for the way they handled the amnesty process.
"Chicago was great about everything," Boozer said. "They're a great organization, first class. They were in touch with me and Rob Pelinka, my agent, along the whole process. So, as they were making their decision for where they were going with the team, they let us know. So we knew we were going to get amnestied, I think, the day before and we went forward."
ESPNLosAngeles.com's Dave McMenamin contributed to this report.
July, 25, 2014
Jul 25
11:20
AM PT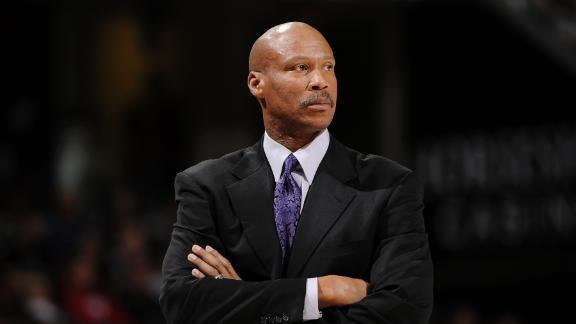 The Los Angeles Lakers have offered their head-coaching job to Byron Scott, according to league sources.
The two sides are now in negotiations on a contract.
The Lakers made Scott a verbal offer on Thursday after Scott spoke with owner Jim Buss. Scott and his representatives are reviewing the Lakers' offer.
Scott, a former Lakers star who won three titles playing next to Magic Johnson, has long been the front-runner for the job.
The Lakers have been without a coach since Mike D'Antoni resigned at the end of April. Scott interviewed for the job three times, but the organization prioritized the draft and free agency over hiring a coach.
Scott received a key endorsement from Lakers star Kobe Bryant, who played with Scott as a rookie in 1996 and has maintained a close relationship with him since.
Information from ESPN.com's Ramona Shelburne was used in this report.
July, 25, 2014
Jul 25
9:44
AM PT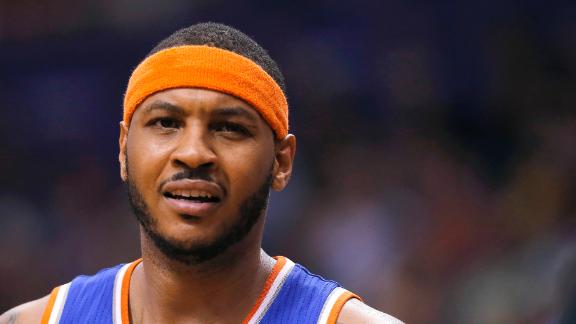 LAS VEGAS -- Carmelo Anthony said it was not the money, but instead his confidence in team president Phil Jackson and his belief that the New York Knicks "aren't that far away from contending for an NBA title," that made him opt to remain in New York instead of signing with the Chicago Bulls.
"I want to win. I don't care about the money," Anthony told ESPN.com. "I believe Phil will do what he has to do to take care of that.
"I don't think we're that far away," he added. "People use 'rebuilding' too loosely."
In what were believed to be Anthony's first public comments since agreeing to a five-year deal worth $124 million earlier this month, he told ESPN.com that the decision was so agonizing in the final days that he could not watch TV or go on the Internet.
"It was overwhelming," Anthony said. "It was stressful in the final days, one of the hardest decisions I've ever had to make."
Anthony said, though, it ultimately came down to New York and Chicago.
"I was flip-flopping," he admitted. "It was hard. It was Chicago, but then after I met with L.A., it was L.A. But it came back to Chicago -- and was pretty much always Chicago or New York. That's a situation where I could have walked in now to an opportunity to compete for the next however many years."
But the 30-year-old Anthony said he is invigorated to work with a new team president in Phil Jackson and a new coach in Derek Fisher.
"It's a matter of me believing in the organization, believing in Phil," Anthony said. "I wanted to go somewhere where I can end my career."
July, 24, 2014
Jul 24
3:00
PM PT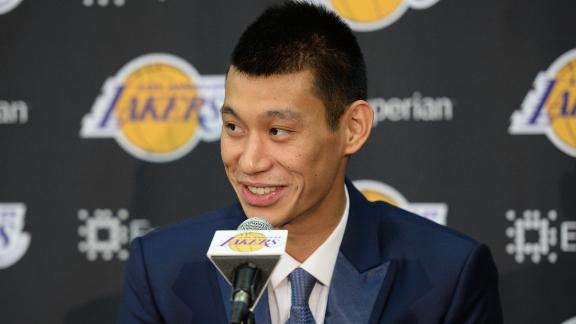 EL SEGUNDO, Calif. -- Jeremy Lin remains one of the most recognizable basketball players in the world, and he's joined perhaps the most popular global brand of any basketball team in the Los Angeles Lakers.
But it doesn't mean Lin is looking to use all that attention to replicate the same lightning-in-a-bottle situation he had when he burst onto the scene with the New York Knicks during the 2011-12 season.
"I'm not trying to relive that banner season," Lin said during his introductory news conference with the Lakers on Thursday. "I think that's been a big weight off my shoulders, and I think that's very important for me as a player. I'm not trying to recreate a 'Linsanity.' I'm not trying to be that phenomenon that happened in New York. I think I just want to be myself more than ever."
The player Lin is today in some respects is even better than the one who dropped a career-high 38 points on the Lakers at Madison Square Garden in February 2012. Even though Lin lost his starting point guard role with the Houston Rockets to Patrick Beverley last season, he still shot career bests from the field (44.6 percent), from 3-point range (35.8 percent) and from the free throw line (82.3 percent). He also limited his turnovers to just 2.5 per game after averaging 3.6 with the Knicks.
July, 24, 2014
Jul 24
7:13
AM PT
The Los Angeles Lakers have been at the hub of the NBA universe pretty much forever, but their star went supernova a couple of years ago. For decades, the Lakers seemed to hover above any of the rules that governed typical basketball operations, but no more. And like Norma Desmond in "Sunset Boulevard," the Lakers continue to preen like stars, but outside of Los Angeles, fewer and fewer seem to care.
This is a franchise at its nadir. The Lakers missed the playoffs last season for just the sixth time in the franchise's 67 years of existence. Their 27 wins were the fewest since arriving in Los Angeles in 1960 -- three fewer than the season before the Lakers acquired Kareem Abdul-Jabbar. Los Angeles also missed the playoffs in Kareem's first season on the West Coast -- the only time the organization has ever missed the postseason two years in a row. It very well could happen again this season.
How did the NBA's most glamorous franchise plummet to such depths?
July, 23, 2014
Jul 23
2:39
PM PT

By Dave McMenamin
ESPNLosAngeles.com
Archive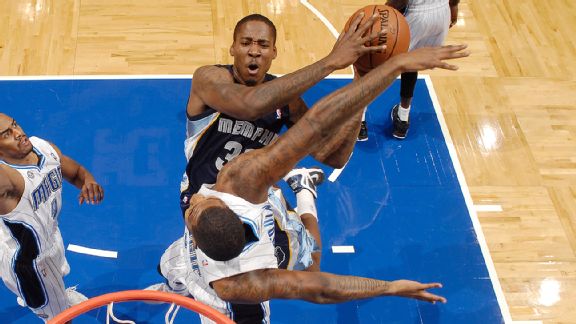 Fernando Medina/NBAE/Getty ImagesEd Davis will switch to No. 21 when he joins the Lakers next season.
EL SEGUNDO, Calif. -- After turning down a contract extension offer from the
Memphis Grizzlies
last fall worth north of $20 million, according to multiple league sources,
Ed Davis
said he was comfortable with how everything played out after signing a two-year, $2 million contract with the
Los Angeles Lakers
on Wednesday.
"No regrets at all," Davis said during his introductory news conference. "Everything happens for a reason. I'm not trying to sound cliché, but just looking forward to this opportunity here with this great franchise and just being able to contribute every night."
Davis, 25, is one of five new players the Lakers have acquired since their miserable 27-55 season ended in April. While he comes to the Lakers at a relatively bargain $1 million annual price tag, Davis has a player option for the second year of his deal and could test the market looking for a more lucrative offer should he put up big numbers in L.A. next season, similar to what
Nick Young
and
Jodie Meeks
accomplished this summer.
"As you know we're working on completion of our roster and we feel we've made significant improvements and changes and we're happy to add a young player with a very promising future who is going to continue to work and develop in this league in Ed Davis," said Lakers general manager Mitch Kupchak before presenting Davis with his No. 21 uniform.
Davis, who wore No. 32 for the
Toronto Raptors
and the Grizzlies, had to choose No. 21, the number he wore in ninth grade, because No. 32 is retired by the Lakers for Magic Johnson.
The real number Davis is concerned about is how many minutes he will be able to play in L.A. After seeing his career start to blossom during the first half of the 2012-13 season for Toronto -- averaging 9.7 points and 6.7 rebounds in 24.2 minutes per game -- he saw his playing time dip to the 15-minute range in the last season and a half after being traded to Memphis.
"Obviously it's a great organization, franchise, a lot of history here," Davis said. "And it's a young team. I think it's an opportunity where I can play and help this team win."
Davis played behind
Marc Gasol
and
Zach Randolph
in Memphis and now will likely play backup minutes to Lakers rookie Julius Randle, who has drawn comparisons to Randolph already.
"I think he's going to be a real good player in this league," Davis said of Randle. "He kind of reminded me of Zebo a little bit, but he puts it on the floor a little bit better than Zebo."
He'll also have competition in the frontcourt in L.A. outside of Randle, with the Lakers re-signing
Jordan Hill
, winning an amnesty waiver bid on
Carlos Boozer
and retaining
Robert Sacre
.
Davis, at 6-10 and 225 pounds, says he brings versatility to the court.
"I think I can play both positions, the four and the five," Davis said. "I think all the players here are different players and we all complement each other in different ways."
While Davis hopes to have a breakout season to establish his footing in the league, he said the Lakers did not try to lure him with any promise of guaranteed playing time.
"Not at all," Davis said. "I think it's tough to say that without a coach. But I'm just going to work in training camp and earn everything, so, I'm going to be ready."
The Lakers continue to operate without a head coach in place, nearing the three-month mark since Mike D'Antoni resigned. Kupchak elusively made his way out of the press room immediately after introducing Davis on Wednesday, perhaps to avoid any questions that would come his way concerning the coaching search.
No matter whom it is the Lakers hire, Davis should be able to adapt. He has already played for four coaches in his four seasons in the league -- Jay Triano and Dwane Casey in Toronto and Lionel Hollins and Dave Joerger in Memphis -- and coming to L.A. will guarantee a fifth coach in five seasons.
"It's going to be my fifth coach this year, but I think the NBA game is pretty much the same, it uses the same terms," Davis said. "All the coaches use the same terms. But it's just figuring out what the coaches like every year. They all have their own schemes and stuff like that."
For any new player coming into L.A.,
Kobe Bryant
figures to be just as influential as the coach to their transition.
Davis shares the same agent as Bryant in Rob Pelinka and has already spoken to the veteran shooting guard over the phone about coming to the Lakers. What did Bryant say to him?
"A couple things," Davis said. "Keep it private."
Davis knows that with such an intense media focus coupled with extreme fan expectations in L.A., few things are truly kept private, however. He said there was a similar atmosphere at the University of North Carolina, where he won a championship as a freshman in 2009.
"It definitely motivates you," Davis said. "Like Carolina and here, they hold you to high expectations. They want to win no matter what, no matter what the situation is. So, it does motivate you in the summertime and it's a good thing to have that support, to have the big fan base."
If Davis accomplishes what he is setting out to in L.A. -- protecting the rim on defense, playing multiple positions on the frontline and improving as a player -- those Laker fans will adopt him real quick.
"I feel over these past four years I got a lot stronger," Davis said. "I grew a lot mentally, just understanding the game because it is a big leap from college to the pros. Then I just feel like I'm going to keep working every day and just continue to build my game and just get better."