April, 17, 2015
Apr 17
3:34
PM PT
Associated Press
NEW YORK -- The Indiana Pacers have won a tiebreaker with the Utah Jazz, giving them slightly better odds at winning the draft lottery.
Both teams finished with 38-44 records. The Pacers have a 0.8 percent chance at the top pick, and the Jazz have a 0.7 percent chance.
Three other ties were broken Friday, all among teams who made the playoffs.
Dallas (50-32) beat Chicago for the No. 21 spot.
Memphis (55-27) beat San Antonio at No. 25.
Houston (56-26) beat the Los Angeles Clippers at No. 27 -- although neither team is keeping the pick. The Rockets' goes to the Lakers, while the Boston Celtics get the Clippers'.
The lottery will be held May 19 to set the top 14 selections. The remainder of the first round is determined by records.
April, 17, 2015
Apr 17
1:10
PM PT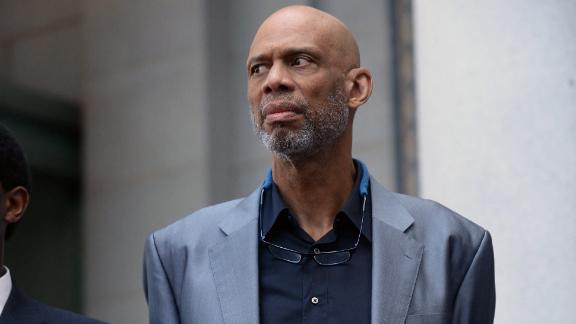 Kareem Abdul-Jabbar, the NBA's all-time leading scorer, is expected to make a full recovery after undergoing quadruple coronary bypass surgery on his 68th birthday Thursday at the Ronald Reagan UCLA Medical Center, the UCLA Health System announced in a statement Friday.
Abdul-Jabbar was admitted there this week with cardiovascular disease.
Dr. Richard Shemin, UCLA's chief of cardiac surgery, performed the operation.
"At this time, Abdul-Jabbar would like to thank his surgical team and the medical staff at UCLA, his alma mater, for the excellent care he has received," the statement read.
"He is looking forward to getting back to his normal activities soon. He asks that you keep him in your thoughts and, most importantly, cherish and live each day to its fullest."
During his 20-year NBA career, Abdul-Jabbar was a six-time MVP, six-time NBA champion and 19-time All-Star. He is the NBA's all-time leading scorer with 38,387 points.
He was drafted first overall by the Milwaukee Bucks in 1969 and played six seasons with them before being traded in 1975 to the Los Angeles Lakers, where in his 14 seasons in purple and gold he further established himself as one of the most dominant players in the history of the game.
April, 17, 2015
Apr 17
6:36
PM PT
By ESPN Stats and Information Group
ESPNLosAngeles.com

On April 17, 1999, Utah Jazz point guard John Stockton recorded 13,000 career assists when he passed to Karl Malone for a jumper in a 109-93 win over the Los Angeles Lakers.
Stockton would finish his career with an all-time time record 15,806 assists. Andre Miller of the Sacramento Kings leads all active players with 8,437.
April, 17, 2015
Apr 17
8:00
AM PT
As teams complete their seasons, ESPN Insider's NBA team will take a look at the offseason picture and priorities for all 30 teams. Below, Kevin Pelton offers a snapshot of the Los Angeles Lakers.
April, 16, 2015
Apr 16
9:18
PM PT

By Baxter Holmes
ESPNLosAngeles.com
Archive
EL SEGUNDO, Calif. -- This season, the Los Angeles Lakers find themselves near the bottom of the standings, in the same company as the Philadelphia 76ers, a fellow historic franchise that's rebuilding.
However, the teams are taking very different paths that they hope will lead them back to contending status. The Lakers prefer acquiring top-flight talent through free agency and trades while the 76ers are trying to do so through the draft, specifically by constructing a non-competitive roster that gives them a poor enough record that could result in a high lottery pick.
[+] Enlarge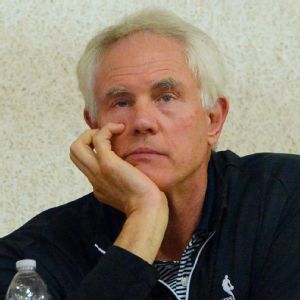 Jayne Kamin-Oncea/USA TODAY SportsGM Mitch Kupchak believes tanking to get a better draft pick is "bad karma."
The 76ers' rebuilding approach is one of the most aggressive and controversial in professional sports -- and Lakers general manager Mitch Kupchak doesn't appear to be much of a fan.
"I still don't understand what they're doing," Kupchak said Thursday at the Lakers' practice facility, where the team conducted exit interviews after its 2014-15 season ended the day before.
Kupchak made his remarks when a reporter asked about the Lakers' philosophy toward rebuilding and how it compared to, say, the 76ers, whose plan, while bold, appears rather clear for all to see.
"Can you explain it to me, if it's so clear?" Kupchak asked, seemingly half-joking.
Kupchak told ESPN.com earlier this season that he's very much against the idea of losing in order to ultimately land a top draft pick.
"Our feeling is, you can't manipulate [the system]," Kupchak said last November. "It's bad karma."
The Lakers rarely find themselves in position to acquire promising players through the draft, as this May 19 will mark only their fourth draft lottery appearance since it was introduced in 1985.
But this past season, they clinched the league's fourth-worst record and have a 37.9 percent chance of landing a top-three pick and an 11.9 percent chance of landing the top overall pick. However, if the Lakers fall out of the top five, their pick goes to the 76ers as part of the Steve Nash trade.
In regards to the Lakers' philosophy for rebuilding, Kupchak said, "Our basic philosophy is to use the three tools available to us -- that's the ability to make a trade, the draft and cap room during the offseason. There's no way to etch a plan in stone that you know you can execute. You don't know who's going to be in the draft and we don't know which free agents are going to be free agents.
"A lot of them don't have to declare until June 30. All you can do is set yourself up. We feel that we are set up to take advantage of all three of those ways to improve the team."
April, 16, 2015
Apr 16
8:16
PM PT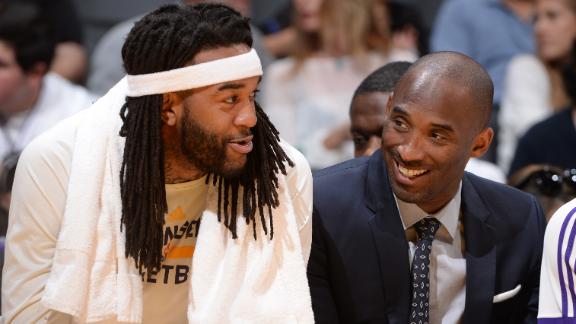 EL SEGUNDO, Calif. -- A day after the worst season in Lakers franchise history finally ended, general manager Mitch Kupchak discussed when he believes the team will be a contender again.
"We can get better quickly," Kupchak said Thursday, pointing to the upcoming offseason. "We can be in the hunt quickly. A lot depends on May 19 and how we end up with the [draft] lottery, the draft and the period leading up to the free-agent period, which is July 1.
"We are in a good position despite having a terrible year."
The Lakers finished 21-61 this season, their most losses and worst winning percentage (.256) ever. The previous record for most losses came last season, when they finished 27-55.
The Lakers hold a 2015 first-round pick that is top-five protected. If that pick falls outside the first five slots, it goes to the Philadelphia 76ers, who acquired the pick from the Suns in February. Phoenix acquired that pick in the 2012 trade that sent Steve Nash to the Lakers. Because the Lakers clinched the league's fourth-worst record, they'll have an 82.8 percent chance of retaining that pick, a 37.9 chance of vaulting into the top three and an 11.9 chance of landing the top overall pick come the May 19 lottery draw.
"We'd like to have something in our pocket for the way the year went," Kupchak said.
The Lakers also will have a late first-round pick from the Houston Rockets as part of the Jeremy Lin trade last season.
April, 16, 2015
Apr 16
2:20
AM PT
By ESPNLosAngeles.com
ESPNLosAngeles.com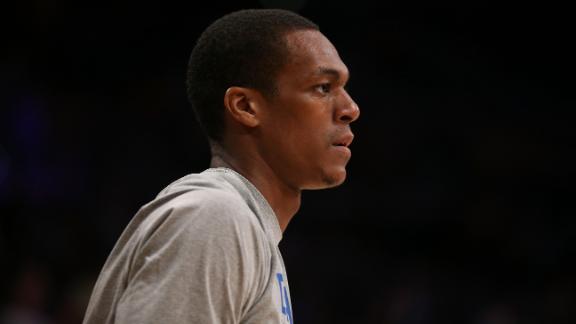 ---
For the final time this season, ESPN.com Lakers beat writer Baxter Holmes, along with ESPN.com NBA writers Ramona Shelburne and Arash Markazi, weigh in on three questions that are on the minds of Los Angeles Lakers followers.
1.Can the Lakers put their immediate future in the hands of Rajon Rondo if they were to acquire him?

Holmes: Only if they add other pieces around him, because that's the only way he thrives. If Rondo is the only major acquisition they make this summer, then they failed. That said, I'm not sure point guard is a position the Lakers need to focus on the most this summer. If anything, Jordan Clarkson has proven he could be their point guard of the future. They have other issues that need tending to as well.
Shelburne: Yes. It's a risk, but at the right price I think it's worth it. Rondo might be hard to coach, but he's respected by players around the league and it's never a bad thing to have a pass-first point guard. I wouldn't commit to this course without doing due diligence on Marc Gasol, LaMarcus Aldridge and others, but the Lakers need to get someone this summer as it's the last summer they'll have more cap space than everyone else.
Markazi: No. I think giving Rondo a big contract would be the worst mistake they could make. I think Russell Westbrook is the long-term fix at point guard when he becomes available, and in the short term, the answer is Clarkson. Giving Rondo a long-term, big-money contract would be a big mistake at this point in his career.
---
2. Jeremy Lin says he hasn't ruled out a return, but do the Lakers want him back?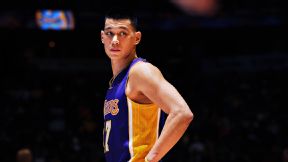 Bart Young/NBAE/Getty ImagesJeremy Lin had an up-and-down season in his first year with the Lakers. Will he be back?
Holmes: It's hard to see any sort of Jeremy Lin-Byron Scott relationship working out, just as it's difficult to see any sort of Nick Young-Byron Scott relationship working out. As long as Scott coaches the Lakers, it'll be very difficult for Lin to fit in.
Shelburne: No. He'd be OK as a backup for $3 million-$5 million a year, but I don't think that's the role he wants and we've already seen he's not that comfortable in Scott's offense and playing alongside Kobe Bryant. It's best for both sides for Lin to be playing elsewhere, in a role he's comfortable in, next season.
Markazi: I think Lin could still be a nice role player off the bench. The problem is I think it's clear he's not a reliable starter, so if he wants to come back as a starter, this might not be the best fit for him. But if he's fine being a role player off the bench, I think there's a spot for him on the roster.
---
3. What is the No. 1 thing the Lakers need to accomplish before next season?
Holmes: Draft well and develop some of their young players through summer league. Sure, it would be great if they could hit a home run in free agency, and the Lakers will no doubt try (as they always do), but they'll likely have a top-five pick as well as Julius Randle from last season. Those two players alone, plus Clarkson, offer a lot of promise as building blocks going forward.
Shelburne: They need to acquire talent. It doesn't matter who they get or what positions they play or how it all fits together. The Lakers just need to bring in the proverbial "best players available." You can always make moves and adjust on the fly after you have talent, but if you have no assets to work with, it's hard to generate much movement.
Markazi: Get an All-Star player. I know that sounds obvious and ridiculous, but the Lakers need to start the rebuilding process now by attracting a cornerstone piece they can start building from. Bringing in the likes of Carlos Boozer and Jeremy Lin isn't going to cut it this offseason.
April, 15, 2015
Apr 15
10:05
PM PT
[+] Enlarge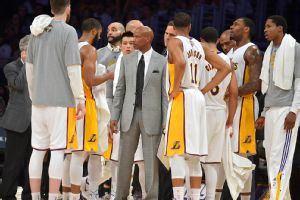 Kirby Lee/USA TODAY SportsThe Lakers' franchise-worst 61st loss of the season officially establishes the 2014-15 squad as the most futile in club history.
LOS ANGELES -- The 2014-15 season is officially the worst in Lakers franchise history. The team set that mark with Wednesday's 122-99 loss in their season finale to the Sacramento Kings at Staples Center, giving the Lakers a 21-61 record.
Their .256 winning percentage this season is the lowest in franchise history. The previous low was the .264 winning percentage set by the 1957-58 Minneapolis Lakers, who finished 19-53.
"It obviously doesn't sit with me well," Lakers coach Byron Scott said after the game. "Don't like the sound of that. But I also think it makes for a very remarkable story when we turn this thing around as well."
The Lakers were not alone in their unprecedented misery Wednesday. The New York Knicks finished the season at 17-65 -- the second-worst record in the NBA and the worst in franchise history. New York is guaranteed to land a top-five pick in the NBA draft and also will have a 19.9 percent chance of getting the No. 1 pick.
April, 15, 2015
Apr 15
10:03
PM PT

By Baxter Holmes
ESPNLosAngeles.com
Archive
LOS ANGELES -- The Lakers saved their worst for last, a fitting end to what is now officially the most horrendous season in the history of the storied franchise.
Even though 2014-15 was essentially a lost campaign from the beginning, the Lakers still needed to win Wednesday's season finale against the Sacramento Kings in order to avoid finishing with their lowest winning percentage ever: .264.
That scandalous figure belongs to the 1957-58 Minneapolis Lakers, who posted 19 wins during a 72-game season.
Yet because of injuries, these Lakers only had eight players available -- including just two guards who not long ago were in the NBA's Development League -- against the Kings, dooming the Lakers' already slim chances of avoiding another dubious record.
After the 122-99 blowout loss to the Kings, these Lakers (21-61) stamped their season with a .256 winning percentage, letting their Minneapolis forefathers off the hook.
By every measure, this season -- one in which the Lakers set a franchise mark for most losses and finished with the league's fourth-worst record -- can now be declared the very worst in the 67-year history of the Lakers.
Wacky lineup: As mentioned, the Lakers were down to just eight healthy players with Jordan Clarkson and Wesley Johnson both sidelined with sprained ankles.
Injuries were an all-too-common trend for the Lakers, who have led the NBA in most games lost due to injury for two consecutive seasons. (Their players 339 missed games all told this season, topping last season's league-leading mark of 319.)
Here was the Lakers' depth-chart against the Kings. No, really.
PG: Jabari Brown

SG: Vander Blue

SF: Ryan Kelly

PF: Jordan Hill, Ed Davis, Carlos Boozer

C: Tarik Black, Robert Sacre
Woof.
This season, Brown and Blue played with the Los Angeles D-Fenders, the Lakers' NBA Development League affiliate, and they were the Lakers' only healthy guards.
Lakers coach Byron Scott said before the game that he expected both Brown and Blue to play all 48 minutes, and they sure did.
Brown finished with 32 points on 9-of-19 shooting and Blue scored 15 to go along with 7 rebounds and 8 assists.
Notes: All five Kings starters scored in double figures, led by Ben McLemore with 24 points. Forward Derrick Williams scored 22 points off the bench. The Kings played without DeMarcus Cousins (foot) and Rudy Gay (concussion). They finished the season 28-53.
Up next: The NBA Draft Lottery on May 19. The Lakers have an 82.8 percent chance of retaining their top-five protected first-round pick, which they'll lose to the Philadelphia 76ers if it falls outside the first five slots.