November, 29, 2015
Nov 29
6:54
PM PT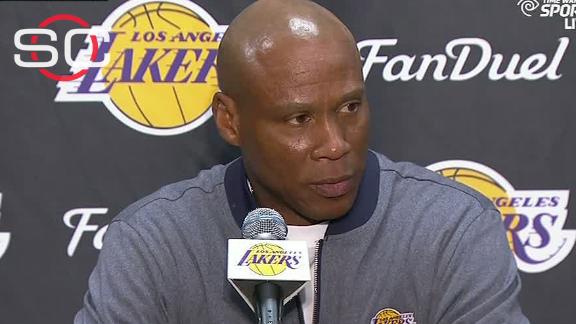 LOS ANGELES -- Los Angeles Lakers coach Byron Scott spoke at length to reporters on Sunday about Kobe Bryant's announcement that he will retire at the end of this season. Here are some of the highlights:
• Scott had talked before that he believed Bryant could play beyond this season, and he said he still believes that.
"I thought he probably had at least had another year in him," Scott said. "I know his purpose is to finish out this season and play. I don't know what he's thinking as far as playing well or getting back somewhere near to the level that he's accustomed to getting. I think when you decide this is it, you also come to grips that you're not the same player that you used to be."
• Scott hadn't sensed this decision was coming and that Bryant didn't give him any explanation why, but the coach said Bryant seemed calm when informing him about it.
"It was so matter of fact and it was so at peace, which, after I thought about it, I felt better about that. It wasn't like he was agonizing over it or anything. He was just like, 'Yeah, I'm announcing I'm retiring.' He just kind of went on from there."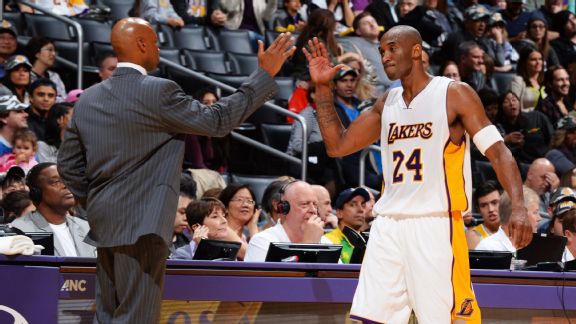 Andrew D. Bernstein/NBAE/Getty ImagesByron Scott said Kobe Bryant seemed calm when he told him of his decision to retire at the end of the season.
Scott added, "I think even as competitive as he is, and other players that have been in his position or somewhere close, they pretty much know when their time is there. When he said that to me, I was shocked, but I also knew he knew it was time."
• Scott said he doesn't want Bryant's role to change much in these final games: "I still want him to go out on a very positive note. And I think there's a part of me that feels that he's still going to have those glimmers of having some of the games that I know he's capable of having. I don't know how many that may be or how few it may be. But I think that's still the hope that I have."
• Mentoring the Lakers' young players is also a priority, Scott said.
"I just want him to mentor these guys a little bit more, on the court and off the court, because these are still a bunch of puppies," Scott said. "I just hope they understand who they've been around for the last couple months and try to spend as much time with him as possible these next six months, seven months or whatever the case may be and try to pick his brain as much as possible."
Scott later added, "What I want from Kobe is basically his last game be able to walk off the court and wave to all the fans and be able to go into the locker room standing up."
• On what he'll remember about Kobe, Scott said: "Everything. I can go all the way back to when he was this young guy out there just shooting in the dark at the Forum before the lights came on, before practice was 2-3 hours away, to this point where he's still at the practice facility 2-3 hours before everybody else getting shots up. I'll have great memories of spending a lot of time with him as a rookie and then getting a chance to spend his last years as a basketball player."
• Scott on it being hard to accept Bryant's acknowledging he's not the player he used to be: "Oh, absolutely. I witnessed an 18-year-old that came into this league that told me two months after we started the season, when I asked him what he wanted to be in this league, he told me the best. And I saw that come to light for a long period of time. So, yeah, it's hard to just kind of see guys, especially somebody that you care about."
November, 29, 2015
Nov 29
6:38
PM PT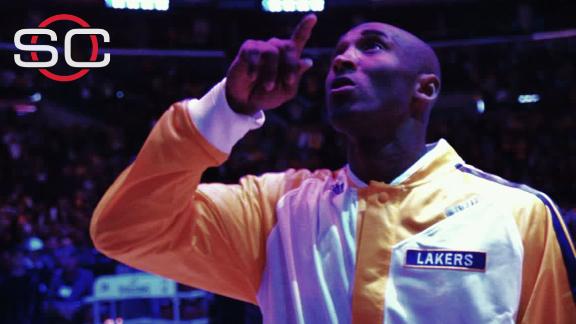 The formality of Kobe Bryant announcing this season will indeed be his last sent ticket prices skyrocketing Sunday night. The announcement, published in the form of a poem on The Players' Tribune website, injected millions of dollars into the resale ticket market across the country.
"Within 10 minutes of Kobe's announcement, we had thousands of inquiries and sales," said Harris Rosner, owner of Los Angeles-based VIP Tickets.
"This is definitely bigger than a guy like [Derek] Jeter and it's bigger than [Michael] Jordan in the sense that Jordan was always so wishy-washy no one ever knew if it would really be the end," said Patrick Ryan, co-owner of Houston-based ticket brokerage, The Ticket Experience.
The cheapest ticket to Tuesday night's game in Philadelphia between the Los Angeles Lakers and the 76ers, two teams with no more than three wins between them in 34 tries, tripled to $60 in minutes. Bryant was born in Philadelphia, lived for several years in Italy and then returned to Pennsylvania, where he played high school ball.
Ryan's company took the inventory it had been selling of all Lakers road games to wait for the market to settle. But those who kept tickets on sale in the hours after the announcement saw a brisk rise in interest and transactions.
"I had it priced as my second-highest game of the year after Golden State," said Mark Klang of Amazing Tickets in Cleveland, which sells Cavs tickets. "But things were really slow."
Then the announcement came, and all of the sudden, Klang started getting calls about the Feb. 10 game against the Lakers.
"I think I've sold almost as many seats to this game as I sold since the day the schedule first came out," Klang said.
Klang said he didn't raise prices, but with the Lakers at 2-13, he was about to lower them.
Ryan said some brokers started to push prices up earlier in the month when Kobe Bryant's wife, Vanessa, showed up to Madison Square Garden to see him play against the Knicks. Resale prices have already jumped 25 to 30 percent from that mark, and Ryan said that in some markets, Bryant's retirement will warrant another uptick of 50 to 100 percent.
"He put on a show in a lot of these cities, and his saying this is his last allows teams and fans to say goodbye," Ryan said.
For tickets not already sold, some brokers expect teams to include the game against the Lakers to help sell five- to 10-game ticket packages, which will allow teams to cash in on the demand.
In the two hours after Bryant's announcement, the cheapest ticket to what would be his final game -- April 13 versus the Utah Jazz
November, 29, 2015
Nov 29
8:50
PM PT
By ESPN Stats & Information
ESPNLosAngeles.com
Archive
Los Angeles Lakers guard Kobe Bryant will leave behind one of the most impressive basketball legacies.
Bryant is the first guard to play 20 NBA seasons, and the first to play 20 seasons with one franchise. He'll be remembered at his peak as a great scorer, tenacious defender and a winner.
All-around excellence

Bryant won five NBA titles, is a 17-time All-Star (second-most selections, trailing only Kareem Abdul-Jabbar's 19) and an 11-time first-team All-NBA selection (tied with Karl Malone for most all-time).
He'll retire as the third-leading scorer in NBA history in terms of career points. Where he'll rank in points per game (currently 11th at 25.3) will depend on how he finishes this season.
Bryant was not shy to shoot. He ranks as the NBA's all-time leader in missed shots.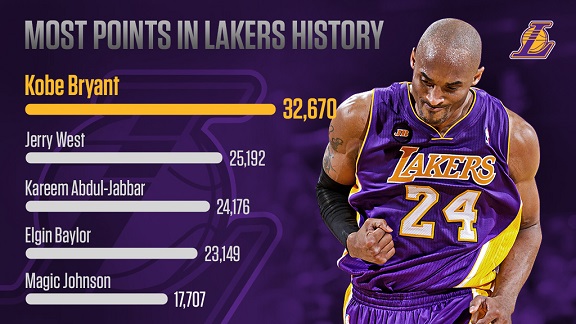 ESPN Stats & Information

Defensive stopper

Bryant is a 12-time NBA all-defensive team selection (an award that dates to the 1968-69 season. The only player with more selections is Tim Duncan of the San Antonio Spurs with 15.
Bryant is a nine-time first-team selection, matching Michael Jordan, Kevin Garnett and Gary Payton for the most all-time.
Bryant currently ranks 14th all-time in steals with 1,894. He's averaging a steal per game, so reaching 2,000 might be a challenge. If he did it, he'd be the 12th player in NBA history to record 2,000 steals.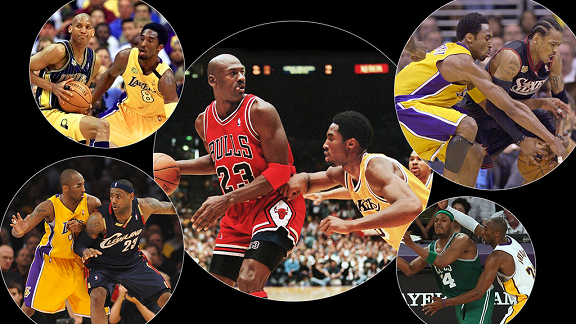 Getty Images/ESPN Stats & Information
The rings

Bryant is tied for the most titles in Lakers history. The other players to win five since the team moved to Los Angeles from Minnesota are Derek Fisher, Michael Cooper, Abdul-Jabbar and Magic Johnson.
Kobe or Duncan?

Bryant came into the NBA a year ahead Duncan and the two were among the premier players of their era. Each won five NBA titles and was named to at least 15 All-NBA teams. Duncan has a slight edge in all-defensive selections (15-12) and regular season/NBA Finals MVP awards (5-3). Bryant has been named to two more All-Star teams (17-15).
November, 29, 2015
Nov 29
3:57
PM PT
ESPN.com news services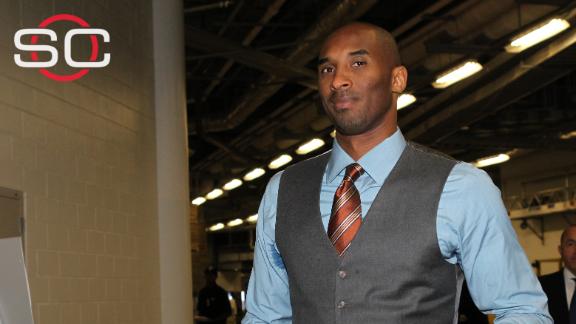 Kobe Bryant, who helped the Lakers win five NBA championships over a 20-year career spent entirely in Los Angeles, announced Sunday on The Players' Tribune website that he will retire after this season, writing that "this season is all I have left to give."
In a first-person story titled "Dear Basketball," the 37-year-old wrote in the form of a poem that the sport "gave a six-year-old boy his Laker dream/And I'll always love you for it."
"But I can't love you obsessively for much longer," Bryant wrote. "This season is all I have left to give. My heart can take the pounding. My mind can handle the grind but my body knows it's time to say goodbye.
"And that's OK. I'm ready to let you go."
Lakers coach Byron Scott said Bryant will play in Sunday's game against the Indiana Pacers and emphasized that the star guard's "purpose is to finish out this season and play."
"I think he still loves this game," Scott told reporters. "He still has a passion for it. He's still a competitive young man."
Scott said he was "shocked" when Bryant informed him Saturday night that he was going to announce his retirement the following day.
"He kind of shocked me when he told me," Scott said. "[I'm] just sad more than anything. Just sad more than anything. Somebody who I truly care about, have a lot of respect for. I think it's always hard when greatness like Kobe decides to hang it up."
Bryant's decision is not totally unexpected, given that he has said many times in recent weeks that he has considering making this season his last. After two decades, two Olympic gold medals, five championship rings, 17 All-Star selections, an 81-point game that ranks as the second-best in NBA history and more than 32,000 points, Bryant's career is officially winding down.
"With 17 NBA All-Star selections, an NBA MVP, five NBA championships with the Lakers, two Olympic gold medals and a relentless work ethic, Kobe Bryant is one of the greatest players in the history of our game," NBA commissioner Adam Silver said in a statement. "Whether competing in the Finals or hoisting jump shots after midnight in an empty gym, Kobe has an unconditional love for the game.
"I join Kobe's millions of fans around the world in congratulating him on an outstanding NBA career and thank him for so many thrilling memories."
Fans arriving at Staples Center on Sunday received a letter from Bryant in a black envelope embossed with gold.
"What you've done for me is far greater than anything I've done for you," Bryant wrote in the letter to fans. "I knew that each minute of each game I wore purple and gold. I honor it as I play today and for the rest of this season. My love for this city, this team and for each of you will never fade. Thank you for this incredible journey."
This season has been a struggle for Bryant, whose young and rebuilding Lakers are mired at the bottom of the Western Conference standings; he's also shooting a career-worst 31.5 percent. Injuries have dogged him in recent years as well, limiting him to 41 of a possible 164 games the previous two seasons. Bryant is averaging more field goal attempts per game this season (a team-high 16.7) than points (15.7). His field-goal percentage and 3-point percentage both rank last in the NBA among qualified players.
Yet despite the rough start to the season, the Lakers have publicly supported Bryant. Scott told ESPN on Friday that he would not bench the 17-time All-Star for his poor play.
Scott said Sunday that Bryant seemed calm when informing him of his decision.
"It was so matter of fact and it was so at peace, which, after I thought about it, I felt better about that," Scott said. "It wasn't like he was agonizing over it or anything. He was just like, 'Yeah, I'm announcing I'm retiring.' He just kind of went on from there."
The Lakers have 66 games remaining after Sunday, and the remainder of the season will likely turn into an adoration tour of sorts for Bryant, who has already received long ovations from normally hostile fans on road trips this season, particularly in places such as New York and Miami, where crowds sensed they might be seeing him as an opponent for the final time.
The Lakers' next road game -- perhaps not coincidentally, given the timing of Bryant's announcement -- is on Tuesday in Philadelphia, Bryant's hometown.
Bryant is in the final year of a two-year deal that will pay him $25 million in 2015-16 and makes him the NBA's highest-paid player this season. The expiring contract and numerous injuries had led to widespread speculation that Bryant would retire after this season. Lakers general manager Mitch Kupchak had publicly said on multiple occasions that the franchise expected the former league MVP to retire at the end of his current contract.
Bryant remains in contention for a spot on Team USA's 12-man roster for the 2016 Olympic Games in Rio, USA Basketball chairman Jerry Colangelo told ESPN's Marc Stein. Colangelo said Bryant's announcement "doesn't have any bearing" on the star guard's status for the Rio Games.
"We have this whole season to look at all of our players," Colangelo said Sunday.
Even before he publicly confirmed this season will be his last, Bryant said earlier this month that playing in Rio, which would give him an opportunity to win a third gold medal after triumphs in Beijing in 2008 and London in 2012, has great appeal to him.
"It would mean the world to me to be around those guys," Bryant told the Associated Press earlier this month.
Bryant was drafted out of high school by the Charlotte Hornets
November, 28, 2015
Nov 28
11:55
PM PT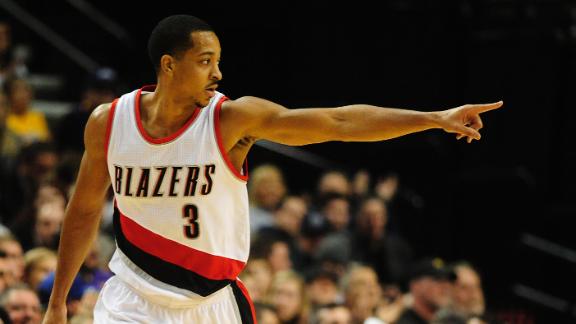 PORTLAND, Ore. -- There were flashes, the brightest yet, of what the Los Angeles Lakers hope their promising trio could become some day.
Julius Randle mixing midrange jumpers with his punishing drives to the hoop.
Jordan Clarkson attacking in transition and in the half-court with his top-flight athleticism.
D'Angelo Russell zipping passes, sinking jumpers, filling up the stat sheet with his all-around game.
Saturday night delivered all of the above for the Lakers, though it didn't bring a win, as the team lost to the Trail Blazers, 108-96, to fall to 2-13.
But wins are an afterthought at this point. The Lakers are awful and will remain that way for a while. For now, their best bet is to develop the young players who could make their future more exciting -- Russell, Randle and Clarkson.
The trio put forth their best collective game of the season thus far at the Moda Center.
Randle, the No. 7 overall pick in 2014, scored 16 points on 8-of-13 shooting to go along with 6 rebounds, 4 assists, 3 steals and a block in nearly 30 minutes.
Clarkson, a first team all-rookie selection last season, had 19 points on 8-of-15 shooting to go along with 4 assists, 4 steals and 3 rebounds in nearly 36 minutes.
And Russell, the No. 2 overall pick in the 2015 draft, had 16 points on 6-of-11 shooting, 5 assists and 4 rebounds in nearly 38 minutes.
"All three of those young guys played pretty well," Lakers coach Byron Scott said. "All made a bunch of mental mistakes."
Mistakes will happen; it's part of being young. And their defense -- along with the Lakers' defense in general -- was not up to par, especially as Damian Lillard (game-high 29 points) and C.J. McCollum (28 points) sliced up the Lakers.
But this season is the perfect environment for the Lakers to grow, as there's nothing at stake for this team as it is. Plus, the more losses the Lakers accrue, the better their chances of keeping their 2016 top-three protected first-round pick.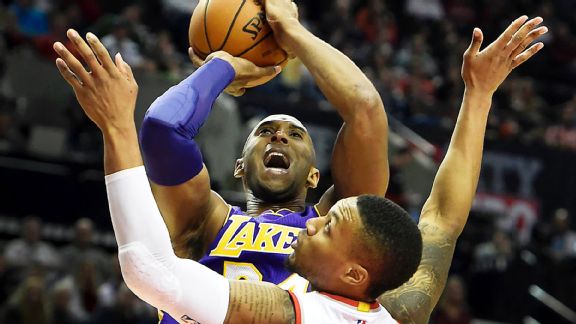 AP Photo/Steve DykesKobe Bryant scored 21 points on Saturday but missed 13 of his 20 shots.
In that sense, the losing Lakers find themselves in a possible win-win situation.
The main obstacle the Lakers face in developing their young core is, of course, Kobe Bryant.
The 37-year-old had another off-shooting night, finishing with 21 points on 20 shots. He missed 13 attempts from the field, more than Russell even attempted.
"I'm fine, man," said Bryant, who air-balled his first shot and air-balled another in the first quarter. "It's tough. Twenty years, it's tough. Legs aren't what they used to be."
Scott said he believed Bryant's rhythm issues could linger all season, Bryant's 20th in the NBA.
"The timing and the rustiness is probably going to be an issue for the rest of the season because he can't -- and we wouldn't do it anyway -- but he can't practice every day," Scott said.
"He can't go through all that where you get your timing. So he's going to have his ups and down days where he's making shots and where he's missing shots."
The way Bryant is playing now is probably how he'll play the rest of the season, more or less. There will be some nights when he's better, some nights when he's worse, but, on average, nights like Saturday are probably going to be typical.
Scott told ESPN on Friday he would "never, never, never" bench Bryant for poor play at any point during what could be Bryant's final NBA season, a declaration that isn't surprising considering how much Scott admires Bryant, a former teammate.
So this season, the Lakers will have to figure out how to blend the old (Bryant) with the new (their young trio), and it feels at times as if it's an impossible task.
For as much as Bryant has said he needs to defer to the young players, deferring has never been in his DNA and he almost certainly won't relinquish control of the team until he's gone. Once that happens, then the development will begin in earnest.
Until then, the Lakers can only hope for games like Saturday, when the kids show tantalizing glimpses in between Bryant's pump-fakes and contested jumpers. And in the games Bryant sits to rest, then the kids can really get out and run, providing flashes that give Lakers fans something they haven't felt in a while: hope.
November, 28, 2015
Nov 28
9:33
PM PT
Associated Press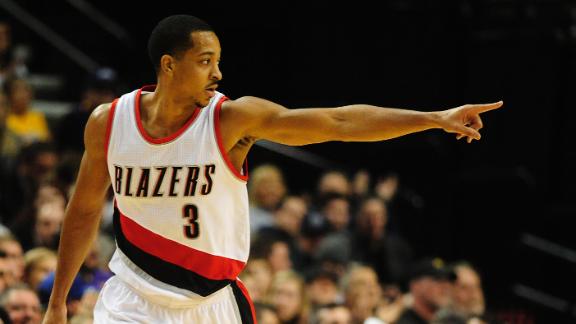 PORTLAND, Ore. -- Damian Lillard scored 29 points and the Portland Trail Blazers handed the Los Angeles Lakers their fifth straight loss with a 108-96 victory on Saturday night.
CJ McCollum added 28 points for the Blazers, who have won three of their last four games after a six-game losing streak.
Kobe Bryant scored 21 points in the Lakers' seventh straight road loss.
It was Portland's seventh straight victory over the Lakers.
Jordan Clarkson added 19 points for the Lakers.
November, 28, 2015
Nov 28
2:36
PM PT
PORTLAND, Ore. -- Los Angeles Lakers coach Byron Scott has an Instagram account that he says a family member monitors on his behalf, keeping him up to date on, for instance, what kind of messages and comments fans are sending his way.
"There's been a lot of angry fans," Scott said Saturday after the 2-12 Lakers' morning shootaround at the Moda Center in advance of their game against the Portland Trail Blazers.
"She says she's trying to hold her tongue and not respond. And I tell her, look, don't respond back to anybody. Because she's family, she takes it personal. And I don't read it because I know me -- I take it personal and I might say something and I don't want to get into that with people."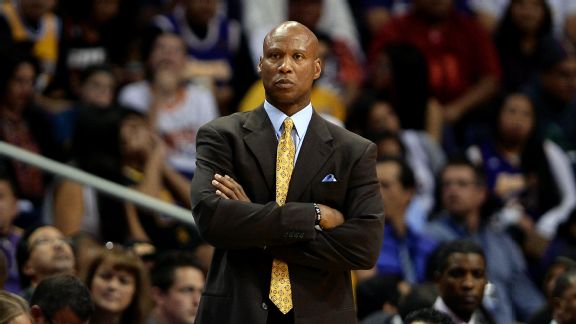 Jennifer Stewart/USA TODAY Sports"They just see the end product, so they have no idea," Byron Scott said of some of the Lakers' disgruntled fans.
There is growing chatter from a fan base upset with the team's start, but Scott said he blocks it out.
"The one thing I've always said, and a great old coach told me this a long time ago, when you start listening to the fans, you'll be sitting with them next," Scott said.
"I don't pay a whole lot of attention to fans because fans are fans. Fans aren't at practice every day. They don't know the preparation. They don't know what goes into it. They just see the end product, so they have no idea. And they all have their opinions, but I don't put a lot of stock into it.
"That's why I don't go on my Instagram and all that stuff, because as [she] would tell me, a lot of them are pissed off and hot and all this and then you've got some that are very supportive that say, 'Hey, we know it's a process. We know it's going to take a few years.' But this is L.A. You want to win right away."
One common message that Scott said he received from fans via Instagram late last season concerned the team's top-five protected first-round draft pick.
In short, as part of the Steve Nash trade, the Lakers faced losing their pick to the Philadelphia 76ers if it fell outside the first five slots. However, the Lakers finished with the league's fourth-worst record (21-61) last season and ended up with the second overall pick in the draft, which they used to select point guard D'Angelo Russell out of Ohio State.
The Lakers are in a similar situation this season in that they face losing their 2016 first-round draft pick, which carries top-three protection, meaning it will fall to the 76ers if it goes outside the first three slots.
While there are surely many Lakers fans who hope the team loses enough to ensure they keep their pick after what expects to be another loss-filled season, Scott said that is not his focus.
"I don't think about that stuff right now," he said. "To me, it's impossible to think about the team and trying to get our young guys better and try to get our team better and then also think about a pick that's six months away that you might not even get."