November, 30, 2015
Nov 30
4:37
AM PT
November, 30, 2015
Nov 30
12:40
AM PT

By Baxter Holmes
ESPNLosAngeles.com
Archive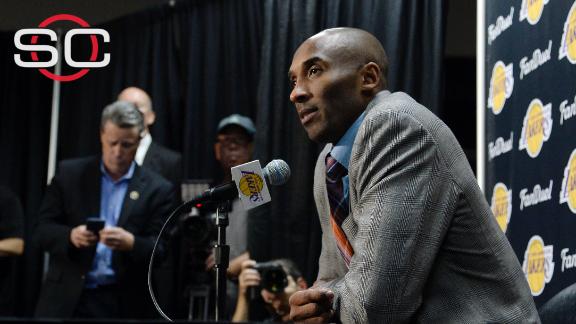 LOS ANGELES -- Kobe Bryant's teammates, as well as opponents, reacted Sunday to the announcement from the Los Angeles Lakers star that he will be retiring at the end of this season, Bryant's 20th in the NBA.
Lakers forward Julius Randle:
"For me, it's sad. It's a celebration of him, but for me, it's sad, because I grew up and that was my hero growing up. I tried to do everything like him. He's my idol, so for me, it's sad."
Lakers guard Nick Young:
"It was sad. Sat here in the room, and you all make it a little more sad when you watch the Kobe 'fro and the transform, and it's tough to see him go out like that, because it's no more Kobe. And that's like the face of the Lakers. Kobe's been a Laker for 20 years. It's like, 'Hey, Russell, Julius' -- that's some tough shoes to carry. Kobe put up a lot of buckets out here and a lot of rings and y'all young boys better be prepared."
Lakers guard Jordan Clarkson:
"I probably go back to my first game as a rookie. I think we played the Houston Rockets. He told me before the game, no matter how many minutes I play, try to fill up every column you can -- rebounds, steals, assists. Just go out there and compete and leave all your energy on the floor. Just try to do whatever you can to help the team."
Indiana Pacers forward Paul George:
"Kobe was my [Michael] Jordan. I didn't really have any moments of watching Jordan, but Kobe was my Jordan; watching him win championships. I remember just being at home watching the games with my mom, my grandma, my dad, [and] just idolizing him. After the game was over, I'd go in the front yard and try to imitate everything that I just saw. So he was, in my eyes -- not saying he's better than Jordan -- but, for me, growing up, that's who I idolized and look up to. That was the standard. He was the best player and it wasn't close."
November, 30, 2015
Nov 30
12:37
AM PT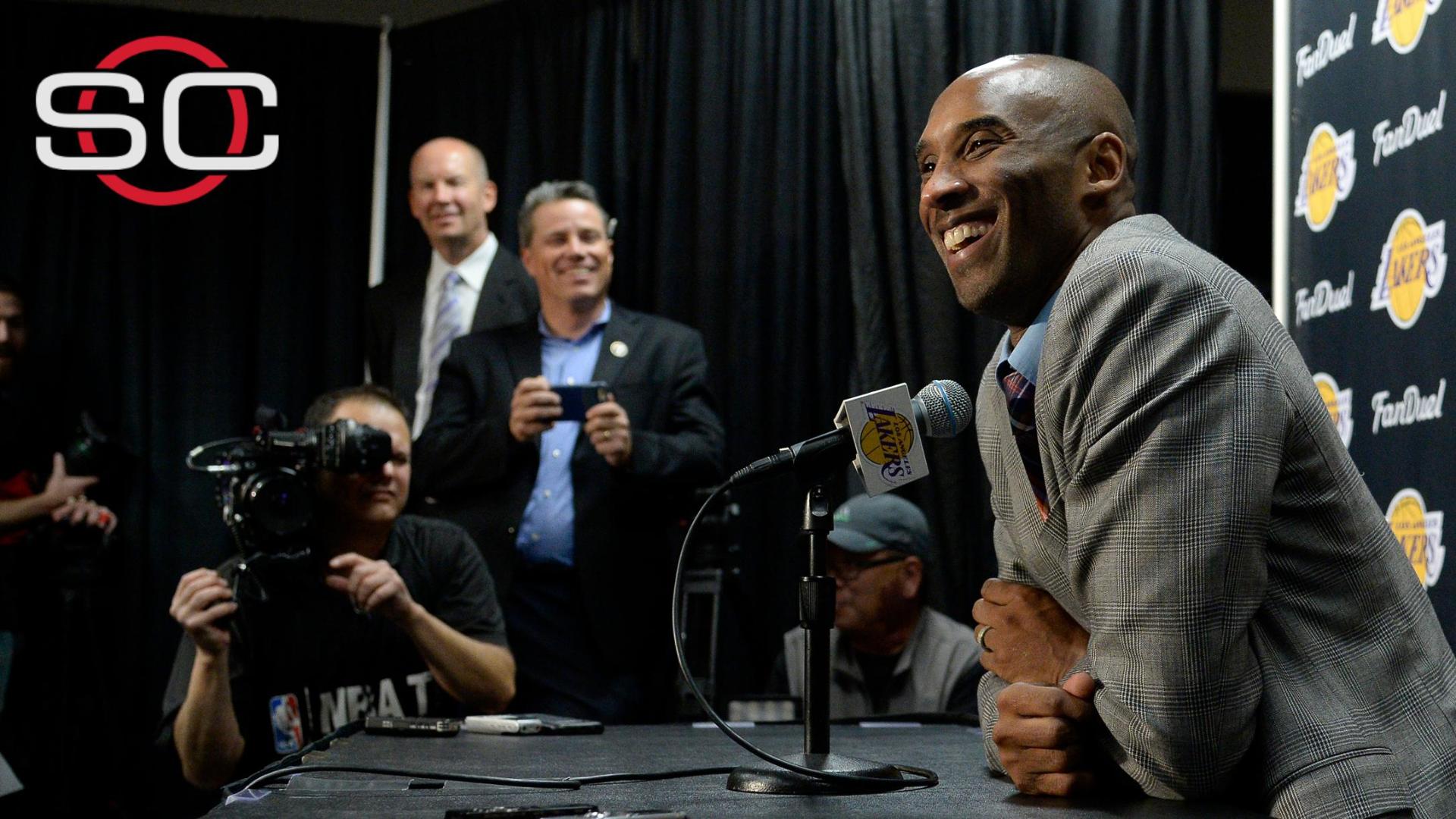 LOS ANGELES -- During meditation, Kobe Bryant said, his mind has "always, always" drifted toward basketball. But recently, that began to change for the longtime Los Angeles Lakers superstar. His mind wandered to the game only sometimes, not all the time.
"To me, that was the first indicator that this game is not something that I can obsess over for much longer," Bryant said Sunday when he announced that he'll retire at the end of the 2015-16 season, his 20th in the NBA, all of them with the Lakers.
While Lakers coach Byron Scott and general manager Mitch Kupchak said they learned of Bryant's plans only in the past day or so, the 37-year-old Bryant said he has known for "a while."
"I've always said, if anything changes, I'll change my mind. But the problem became, for me, what does that really mean?" Bryant said after the Lakers' 107-103 loss to the Indiana Pacers. "A decision like this, you can't make that decision based on outside circumstances. That's an internal decision.
"Finally, I just had to just accept the fact that I don't want to do this anymore, and I'm OK with that. Once I accepted that, then it became time to just let everybody know. I mean, why not? It just takes a load off my shoulders and everybody else's. It's just the right thing to do."
Bryant said he knew coming into the season that this would be his final campaign, but he said he has no plans to retire before the season's end.
"No, because there's so much beauty in the pain of this thing," Bryant said. "It sounds really weird to say that, but I appreciate the really, really tough times as much as I appreciate the great times. And it's important to go through that progression because that's when you learn about the self.
"There's nothing that I would love more than being able to play this entire season, to go through all of these tough times, to be able to suit up and play on the road and play in these buildings for the last time. I'm looking forward to that."
His next game will be one of his most special, as the Lakers will visit his hometown team, the Philadelphia 76ers
November, 30, 2015
Nov 30
12:18
AM PT

By Arash Markazi
ESPNLosAngeles.com
Archive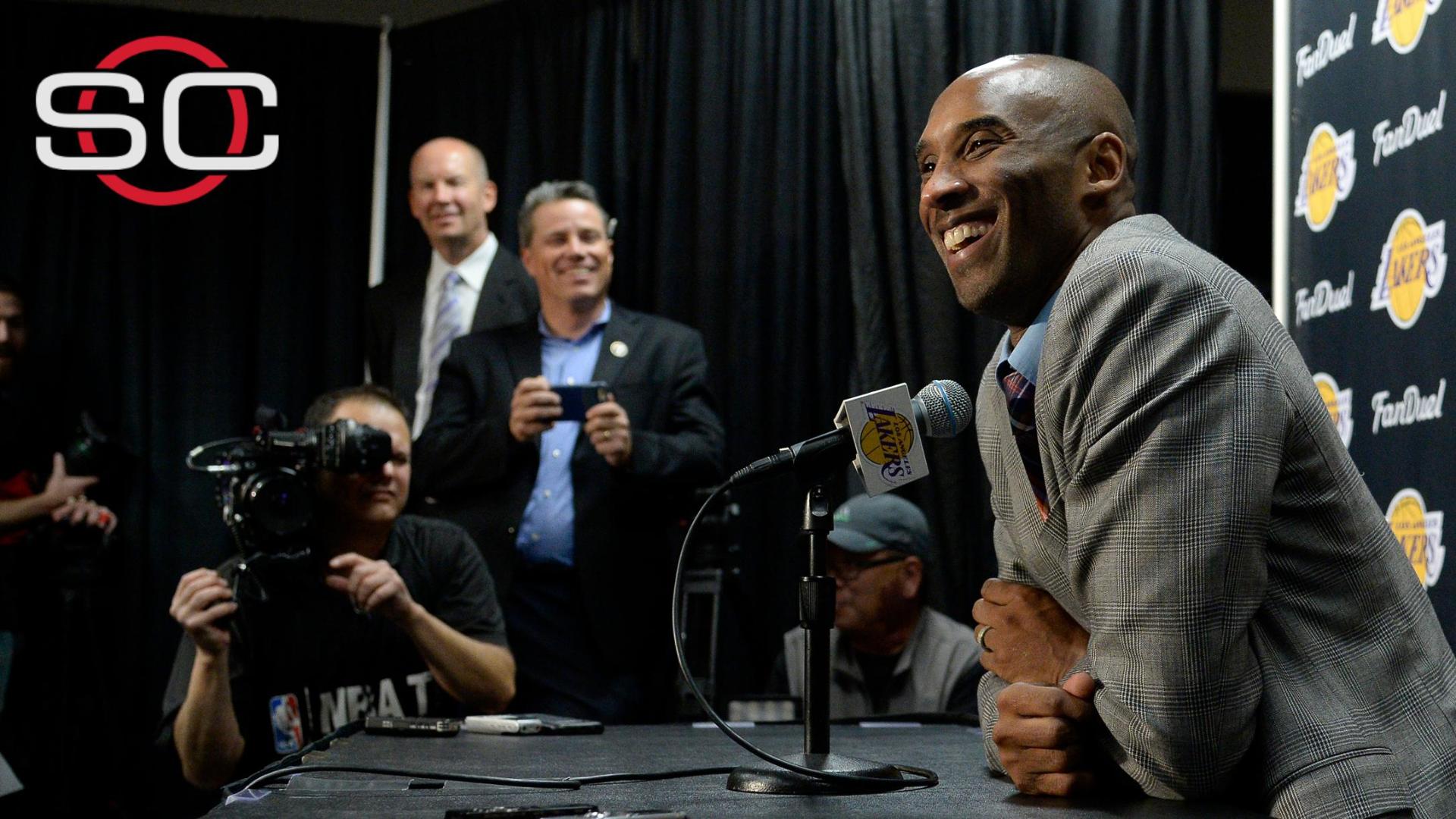 LOS ANGELES -- Kobe Bryant smiled when he was asked about being the old man in the locker room now.
"I feel like their grandfather," Bryant said. "I'm not like the older guy. I'm like triple OG. You see what I'm saying? LeBron [James] and those other guys are the old guys now, and I'm way older than them. So they're vets and I'm like a triple vet."
The 17-year old kid who needed his parents to co-sign his first NBA contract back in 1996 is now 37 years old, and on Sunday, he announced that this season, his 20th in the NBA, would be his last.
Bryant will be the first to admit he feels his age every time he steps onto the court or into the Lakers' locker room now. Not because his body hurts -- although it usually does these days -- but because he's reminded of how old he is when he looks at the players around him. The NBA's youngest current player, Phoenix Suns rookie Devin Booker, was born Oct. 30, 1996, six days before Bryant scored his first NBA point. Lakers rookie D'Angelo Russell was just eight months old when Bryant made his NBA debut.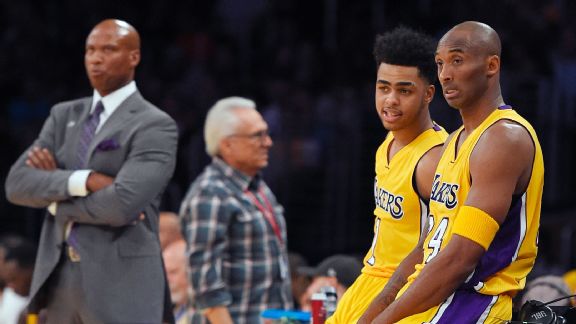 AP Photo/Mark J. TerrillLakers rookie guard D'Angelo Russell, left, was just eight months old when Kobe Bryant made his NBA debut in 1996.
"We were playing Portland and a kid from the bench said something to me like, 'We're going to beat you guys tonight,'" Bryant said Sunday. "And I looked at him and I said, 'I got one rule. If you weren't born when I started playing, you can't talk trash. It's a simple rule.' And he looked at me and said, 'Yes, sir.' No argument."
Bryant was hoping to avoid a Derek Jeter-like "farewell tour" during his final season, but after Sunday's announcement, it might be hard to avoid the inevitable of not only receiving gifts and accolades from opposing teams on the road but having younger players wanting to meet Bryant, which has already happened this season.
"When we played Detroit, we had the captain's meeting and they allow two captains," Bryant said., "And I go up there, and they had Andre Drummond and the other captain and there was another player up there but I couldn't see who it was because he was behind Andre Drummond. And the official goes, 'You can't have three captains, you're only allowed to have two.' And he goes, 'Oh no, I just wanted to shake [Kobe's] hand.' I didn't know who it was. He was behind Andre Drummond. All I saw was a hand come from around Andre and I shook it."
Even Lakers forward Metta World Peace, who is 36 years old and won a championship with Bryant in 2010, took a step back and had to appreciate the moment of Bryant's career coming to an end when he read a letter Bryant wrote to fans, which was handed out to everyone in attendance at Staples Center before Sunday's game. After World Peace read it in front of his locker, he went back to the team's training room to find Bryant so he could personally sign his letter. Bryant did, penning, "Love you like a brother forever, Metta."
November, 29, 2015
Nov 29
10:47
PM PT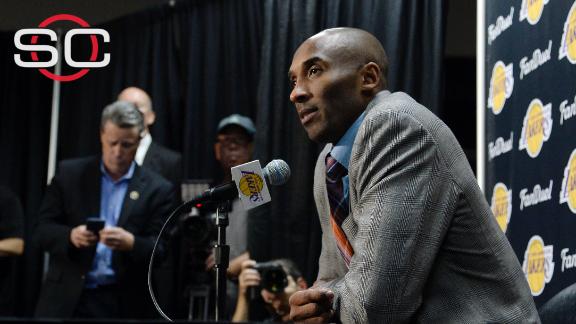 LOS ANGELES -- This past summer, Kobe Bryant reached out to the player to whom he has long been compared: Michael Jordan.
Bryant, the Los Angeles Lakers star, had something he wanted to tell the legendary former Chicago Bulls guard.
"This is it," Bryant said.
The 37-year-old Bryant recounted the story Sunday when he publicly announced he would be retiring at the end of this season, his 20th in the NBA.
"[Jordan] is actually one of the first people that I told over the summer," Bryant said Sunday. "We've been in frequent contact."
Bryant, speaking after the Lakers' 107-103 loss to the Indiana Pacers at Staples Center, said he asked Jordan when he knew he wanted to retire.
"We had some laughs, went back and forth about it," Bryant said. "But the important thing for him, he said, 'Just enjoy it. No matter what, just enjoy it. Don't let anybody take that away from you, no matter what happens, good or bad. Enjoy it, man.'"
Lakers coach Byron Scott said he considers Bryant to be "right there with MJ" in terms of the greatest shooting guards in NBA history.
November, 29, 2015
Nov 29
9:54
PM PT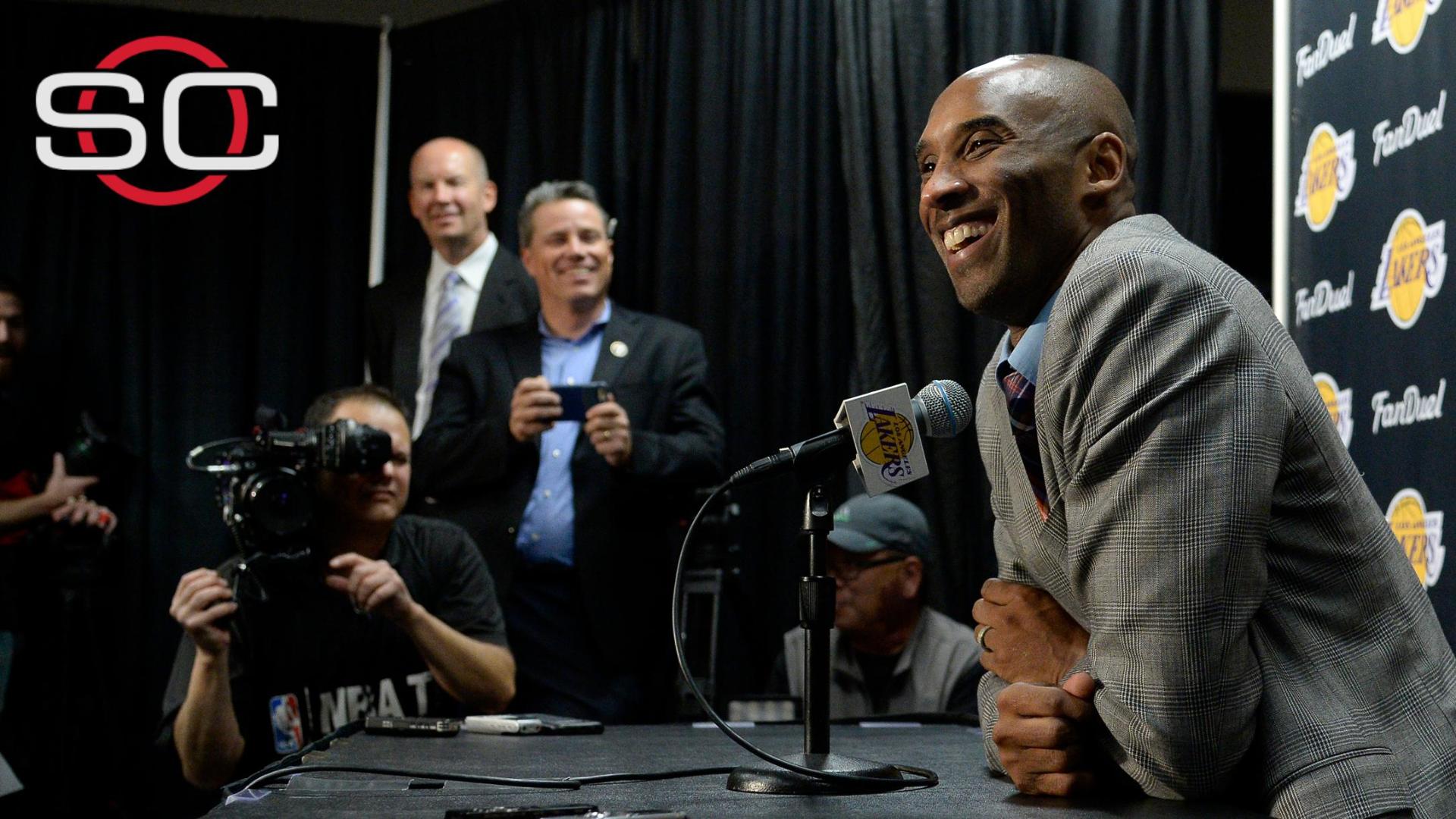 LOS ANGELES -- It's not the where of Kobe Bryant so much as the when. We get so caught up in rankings that we don't think of timing. The polarizing properties of Kobe mean the arguments over his place among the NBA greats will continue long into his retirement, so let's take a moment to discuss the one element that's not up for debate: He was the NBA's most important player from 2000 to 2009.
Kobe was the bridge from the Michael Jordan era until the likes of LeBron James, Kevin Durant and Stephen Curry took control. Maybe Shaquille O'Neal was more dominant and Tim Duncan provided a more consistent foundation for championships, but Kobe's greatness and popularity made him the most important -- both for the fans and the wave of players that followed him into the league.
"Kobe was my Jordan," said Paul George, who had been on the planet for just more than a year when Jordan won his first championship in 1991. "I didn't really have many moments of watching Jordan, but Kobe was my Jordan. Watching him winning championships, I remember just being at home with my mom, with my grandma, with my dad, just idolizing him. After the game was over, I'd go in the front yard and try to imitate everything I just saw.
"I'm not saying he's better than Jordan, but for me, growing up, that's who I idolized and looked up to. That was the standard. He was the best player, and it wasn't close."
George has been great at putting things in full context lately, lest he be subjected to a barrage of #wellactually tweets, and he framed this one perfectly. Just because Kobe wasn't Jordan it didn't mean he wasn't Jordan-like, that he didn't have just as big an impact to younger folks whose memories of the NBA exist only in HDTV transmissions.
Kobe was the one to bring the lessons he learned from Jordan to the new generation and to inspire them the way he once drew inspiration from Jordan.
Sunday night, in a postgame news conference held to follow up on his retirement announcement in The Players' Tribune, Bryant mentioned some of the players he still speaks to and the lessons he tries to impart. He name-checked Durant, Damian Lillard
November, 29, 2015
Nov 29
9:21
PM PT
Associated Press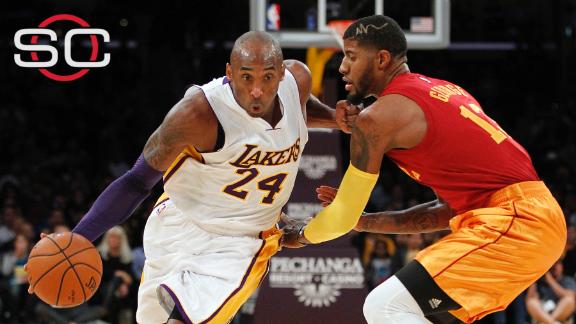 LOS ANGELES -- Kobe Bryant scored 13 points on 4-of-20 shooting after declaring he will retire at the end of the season, and the Indiana Pacers hung on to send his Los Angeles Lakers to their sixth consecutive defeat, 107-103 Sunday night.
Paul George scored the Pacers' final 11 points in the last 1:27, finishing with 39 as Indiana opened a four-game West Coast road trip with its fifth straight victory despite blowing all but one point of a 22-point lead.
Bryant overcame another poor shooting night with two big late jumpers that reflected his vintage offensive skills. His quick-release 3-pointer from straightaway with 11 seconds left trimmed Indiana's lead to 104-103.
But after the Lakers got the ball back with a three-point deficit, Bryant shot an airball on a 3-pointer.
November, 29, 2015
Nov 29
8:19
PM PT

By Baxter Holmes
ESPNLosAngeles.com
Archive
LOS ANGELES -- On Sunday, Los Angeles Lakers general manager Mitch Kupchak talked to reporters about Kobe Bryant's decision to retire at the end of the season. Here is his exchange with the media:
Reaction [to the news]?
Kupchak:I'm not surprised. The surprising part of this is that he made the announcement today. My understanding all along was that this was going to be his last year. Certainly there's been speculation and this puts an end to any speculation that he may come back for another year. But it was my understanding all along.
Right time?
Kupchak: We didn't make it any easier for him with the group we have on the court. And that's not to say that they're not a talented group of players, but they're certainly young and unaccomplished.
Awkward having Kobe and the young players -- that balance?
Kupchak:It is awkward. It's awkward, but there was really no other way to go about it. When you have a player of Kobe's caliber that wants to continue to play, and you think he can play at a high level, you're going to let him play until he no longer wants to play. Yet it's clear that we had to begin the process to rebuild the team. Now we were hopeful that we would get off to a better start this year. We think we added a couple veterans, along with a bunch of young players, and I thought we'd be better than two wins into the season. That's not to say that we'd be on pace to win 50 or 60 games. But I thought we'd be a little bit better. But clearly we're not playing at the kind of level that a player of Kobe's age and experience finds challenging.
[It's] kind of like, there's no light at the end of the tunnel. I'm not surprised that he would make the announcement now. I think the game will be easier for him now. I think he'll be able to enjoy the rest of the season. We haven't had a chance to huddle up to see if we'll use him any differently in terms of minutes. I don't think that's something that's going to be decided today. But since he has made it clear [that] this is the last season for him, I think it will be more enjoyable. I think people will appreciate what he's accomplished, not only in our building, which has always been [filled] with loads of love, but I think more so on the road.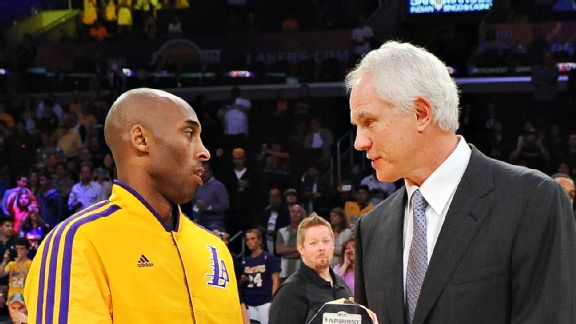 Noah Graham/NBAE/Getty ImagesMitch Kupchak hopes fans in road arenas will salute Kobe Bryant now that they know this is his final season.
Want him to change his approach and not be so shot-heavy?
Kupchak: I gave up hoping he would change his approach like 15, 18 years ago. He is what he is, and I'm thankful for it.
[When did you] find out the news?
Kupchak: This afternoon. My son is a freshman in college right now. He's going to be 20 and he was born on the night of Kobe's first game. So I did not see Kobe's first game. So that kind of puts it in perspective. Twenty years. I have a son who's a freshman in college, and that's how long he's been playing.
What has he meant to the Lakers?
Kupchak: It is impossible for me to sit here and describe what he's meant. Five championships, 20 years, 17 All-Star Games. MVP trophy. I've watched him get hurt, play hurt. We've watched the last three years with serious injuries [and] having to come back. Most players would not come back. So it's hard to describe in two or three minutes. But he's a winner. And he came into this league with an unprecedented desire to compete and get better and be the best, and he remains that exact same person today, and that's with the good and the bad that come with it. But he remains that exact same person.
Did you think it would be this hard?
Kupchak: When he tore his Achilles, it took me completely by surprise. In fact, I thought it was a sprained ankle. ... Until John Black came to me and he's walking to the locker room, I thought it was a sprained ankle. And he was 35, 34 years old then. So it's not that surprising to think after a serious injury at 35 years old. Your body has a way of compensating or under-compensating -- if you hurt this leg, then you lean more that way and now that leg gets hurt and so forth and so on ... at least this is what [Lakers trainer] Gary Vitti tells me. So it's not that surprising that one injury would lead to another. Inactivity for half a year, then come back -- there's no way to duplicate an NBA game. And he's 36, 37. How surprising can it be?
Watching him over the past 15 games?
Kupchak: Like everybody else, I go back and forth. I talk to Kobe about it and he says it's timing and getting my legs under me and conditioning, getting used to playing with different players. And I buy in. Then I watch the games on TV and I read the paper and I remind myself that he's 37 years old, and maybe it's more than that. So I go back and forth on it.
What's his role for the rest of the season?
Kupchak: Not sure yet. Once again, this is something that was brought to my attention late this afternoon, and I have not discussed it with ownership or our coaches yet. I would hope that he has more fun and appears less frustrated and also gets more appreciation. He'll get it at home, but on the road as well, because people will now have to recognize that this is the last year [of] watching one of the all-time greats.
Is it just common for athletes to have difficult endings?
Kupchak: I played 10 years and I was injured an awful lot. It was really, really hard to play even after 10 years. You've got to deal with nagging injuries or ice packs or treatments and aches or your body, [which] doesn't allow you to do what it once did. It's hard enough to do it after 10 years. It drove me, with a relatively average NBA career, to retire. After 20 years, it's just something that I can't comprehend. It's twice as long as most people play. I just can't imagine. In college, you pay 25-28 games. When he should have been a freshman in college, he played 90 games. When he should've been a sophomore in college, he played over 90 games. So not only has he played 20 years, but he's played a lot of minutes and an awful lot of games. And on top of that, you probably have to add at least two or three more seasons, or at least a season or two, due to playoffs and preseason games.
Was there a point when you realized that you couldn't put the team together like you want to send him out?
Kupchak: I'm not going to say I thought we could win 50 games this year; even 45 would be something on the upper end. If we got to the point where I felt we could win half our games, that would be a good season, and that was our expectation going into the season. This is a process with the roles as they are today and us drafting players who are 19 years old. It's a process. And you really can't hurry the process. We're trying to push it along. You really can't make it happen by snapping your fingers anymore, not that we ever did. I was hoping at least -- and I still am -- that we can reel off some games and make this season pretty competitive, but there were never expectations that this was going to be a season where, hey, we can win 50-55 games, Kobe, and you can play a small part.
What's Kobe's relationship with other players?
Kupchak: He is a mentor and he'll push. He leads by example. He always has. He may change, but he's never been the guy to put his arm around a player and slowly walk to the locker room. He's always been the guy that's barking a little bit more than putting his arm around [a player], kind of pushing behind, little bit more demonstrative. Everybody leads in their own way. But I know for a fact that every player in our locker room looks up to this guy and respects [him]. And who could not after 19 seasons of what he's accomplished?