November, 1, 2014
Nov 1
12:53
AM PT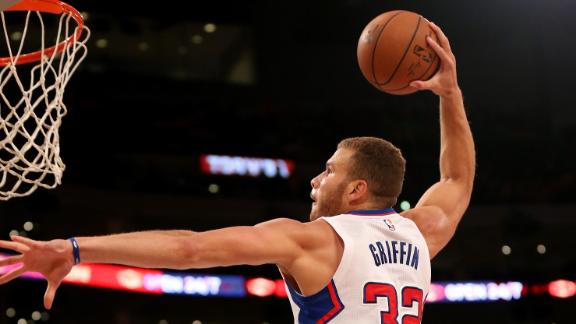 LOS ANGELES -- Tie score with T-minus five minutes -- around these parts, that's
Kobe Bryant
's time. He's been the proprietor of the ball under those circumstances for a while now. On Friday night, in said scenario, he was calling for it yet again.
But
Jeremy Lin
said no. The first-year
Los Angeles Lakers
point guard waved off the team's volume-shooting star, drove right off a pick-and-roll and heaved a prayer-like 3-pointer with
Chris Paul
in his mug and the shot clock near expiration.
And the shot went in. And the Staples Center crowd erupted. And it looked like the player the Lakers -- especially Bryant -- had called out to be aggressive and assertive was finally being aggressive and assertive, especially with Bryant.
Bryant loved it. Even though the team lost, 118-111, Bryant was upbeat and raved about Lin, about that play and that it showed him about his new backcourt teammate who arrived in L.A. via a trade with the
Houston Rockets
.
"You have to be able to assert yourself, especially on a team that I'm playing on -- especially on a team I'm playing on," Bryant said with some added emphasis. "Because I don't want chumps, I don't want pushovers, and if you're a chump and a pushover, I will run over you.
"It's important for him to have that toughness and to say, 'I believe in myself. I can step up, I can make these plays, I can perform.' I think that is very, very important."
November, 1, 2014
Nov 1
12:03
AM PT

By Arash Markazi
ESPNLosAngeles.com
Archive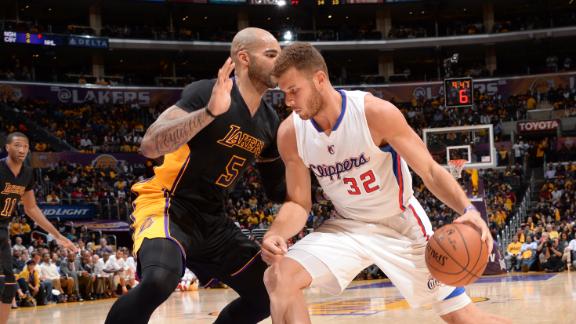 LOS ANGELES -- They say a rivalry is never really a rivalry until the other team starts winning.
Unless, of course, you're in Los Angeles and winning doesn't so much mean beating the other team as it does winning championships.
The rivalry between the
Lakers
and
Clippers
exists so far as they both share the same city, the same arena and practice mere miles from each other. There is always an inherent rivalry between teams that live and play that close to each other.
In Los Angeles, however, that's not enough to make a rivalry, and that's actually something that both the Lakers and Clippers can agree on even after the Clippers beat the Lakers for the fourth straight time and eighth time in the past nine meetings with a 118-111 win Friday night.
[+] Enlarge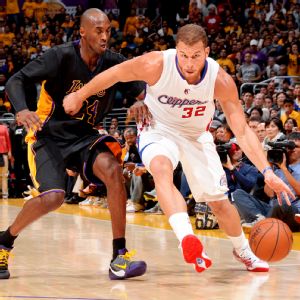 Andrew D. Bernstein/Getty ImagesBlake Griffin got the best of Kobe Bryant and the Lakers with 39 points and the victory on Friday.
"It's not for me to say," Clippers coach Doc Rivers said when asked about the rivalry. "I've lived here a year and half. Our focus is on tonight, not history. We haven't made any history."
That lack of history is exactly why Lakers coach Byron Scott laughed at the notion that the Clippers and Lakers are now rivals.
"I don't consider the Lakers and Clippers a true rivalry yet," Scott said. "Obviously, our biggest rival has always been the Celtics. They have 17 banners and we have 16. That's a rivalry."
When Scott was reminded that the Clippers had two Pacific Division championship banners hanging in their practice facility after winning the division the past two seasons, he said, "Excuse me? NBA championship banners."
Rivers actually agrees with Scott. After coaching the
Boston Celtics
and beating the Lakers in 2008 to win the franchise's 17th title and being on the other end during the 2010 NBA Finals when the Lakers won their 16th title, he realizes real rivalries aren't measured by season series. He said he will tear down the Clippers division banners as soon as the Clippers earn a "real banner."
That said, having local bragging rights never hurts.
"When you play someone near you, [it means something]," Rivers said. "When the
Oakland Raiders
and San Francisco [49ers] play, whether they're rivals or not, they live next to each other. I grew up in Maywood, [Illinois,] and we were Proviso East and when we played Proviso West, they were crap most of the time, but it was still a big game. We wanted to beat their brains in and they wanted to beat ours in, and for whatever reason the games were good. It was just a natural thing."
After the Lakers upset the Clippers to start last season, the Clippers have seemingly tried to figuratively beat the Lakers' brains in every time they have taken the court. Before Friday night's surprisingly close win, they beat the Lakers by an average of 35.5 points in their previous three wins.
The problem with the Lakers-Clippers rivalry is that it's really not relevant from a historical or current standpoint. Historically, the Lakers have won 16 championships, while the Clippers have never made it out of the second round. And the Lakers are eyeing their second straight season out of the playoffs and in the draft lottery, while the Clippers for the second straight season are one of the top five favorites to win the championship.
"It's just another game," Scott said. "It hasn't gotten to that point [of a rivalry], as far as I'm concerned, but I haven't been here. I'm just going off of what I know and what I've been through with this organization and that organization. It wasn't a rivalry when we played. Now they're the better basketball team, clearly, but I don't think if you asked Kobe, he would consider it a rivalry."
The turning point in the rivalry and really the current state of both franchises was, of course, "basketball reasons." The two unforgettable words uttered by then-NBA commissioner David Stern as his reason for nixing a trade to send Paul to the Lakers that would later lead to a trade to the Clippers.
Scott, who coached Paul in New Orleans and now coaches Bryant with the Lakers, just smiled when asked if he could picture them playing together in the same backcourt.
[+] Enlarge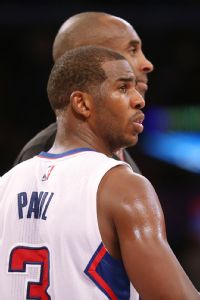 Stephen Dunn/Getty ImagesThe fact that Chris Paul is a Clipper and not a teammate of Kobe Bryant's changed the fortunes of both franchises.
"Mm-hmm, I can really imagine that," Scott said. "I would sleep with a smile on my face if that was the case. Sometimes you want to say, 'Damn it, David Stern.' You think about it, when they made that trade before David nixed it, I was like, 'Wow, that's going to be fantastic.'"
As long as the Lakers are struggling and the Clippers are winning, that trade will continue to cast a shadow over the Lakers franchise. Even during Friday night's game, a group of fans near the Lakers bench continued to chant, "
Chris Paul
was a Laker," every time Paul had the ball.
Paul didn't hear the chants and has long since moved past "basketball reasons." But he couldn't help but smile when thinking about guarding Bryant in the fourth quarter of Friday's game and going back and forth with him after failing to see him on the court last season while Bryant was sidelined for all but six games.
"I love it, I love it," Paul said. "I looked around the court and saw that it was me, Jamal [Crawford] and J.J. [Redick] and I said, 'I got Kobe.' He's one of the best to ever play the game. I was telling Jamal just a second ago that that's exciting for me just to compete against him. To guard him -- that's tough."
As much fun as it was to watch Paul and Bryant go back and forth at the end of the game, Scott still can't help but think what the tandem of Bryant and Paul could have accomplished together had it not been for, well, you know.
"From a competitive standpoint, they're two of the most competitive guys I've been around in a long time," Scott said. "The only guy I knew that was that competitive was Ervin [Magic Johnson]. He didn't want to lose in tonk, blackjack, anything, and Chris Paul, having coached him and watched him on the bus and the plane, he has that same competitive nature. He just didn't want to lose in anything. ... He might be the best leader in the NBA."
October, 31, 2014
Oct 31
10:31
PM PT
Associated Press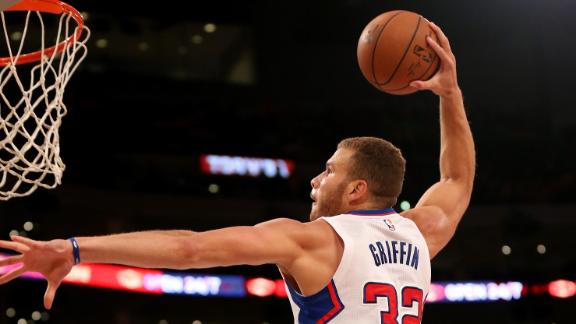 LOS ANGELES -- Blake Griffin scored 39 points and went 11 for 12 from the free throw line, powering the Los Angeles Clippers to a gritty 118-111 victory over the winless Lakers in the first meeting of the season between the Staples Center co-tenants.
DeAndre Jordan had 11 points and 13 rebounds during a foul-plagued 39 minutes. The two-time defending Pacific Division champions have won eight of nine against the Lakers (0-3) since the start of the 2012-13 campaign, including victories by margins of 36, 48 and 23 points in the final three meetings last season.
Chris Paul had 12 points, 10 assists and two steals for the Clippers.
Jordan Hill scored 13 of his 21 points in the third quarter and Kobe Bryant had 21, but cost the Lakers down the stretch with his cold shooting.
October, 31, 2014
Oct 31
7:03
PM PT
LOS ANGELES -- Were it not for "basketball reasons,"
Kobe Bryant
and
Chris Paul
would've teamed up in the
Los Angeles Lakers
backcourt.
Paul
Bryant
But then-NBA commissioner David Stern nixed the trade that would have sent Paul from New Orleans to the Lakers in 2011, using an explanation that ever since has been infamous to Lakers fans.
Lakers coach Byron Scott, who coached Paul when both were with New Orleans, said he still dreams of a Paul-Bryant pairing.
"Yeah, sometimes you want to say, 'Damn it, David Stern,'" Scott said before his team faced Paul and the
Los Angeles Clippers
at Staples Center on Friday.
"Yeah, you think about it. When they made the trade before David hexed it, I was like, 'Wow That's going to be fantastic.'"
Had he been coaching those two right now, Scott said, "I'd go to bed with a smile on my face if that was the case."
October, 31, 2014
Oct 31
8:22
AM PT
The Los Angeles Lakers are a mess. They've gotten blown out in their first two games of the season. Steve Nash, who is suffering from nerve damage in his back, is out for the season and so is rookie Julius Randle after breaking his leg.
But if you thought the Lakers' start to the season couldn't get any worse, think again. Now they have to deal with the NBA schedule's pitfall: four games in five nights. A product of cramming 82 games in just 170 days with an extended All-Star break in between; schedule-makers handed the Lakers a back-to-back to kick off the season, only to be followed by another back-to-back with just one day off in between.
Just what the Lakers needed, huh? All but two teams -- the Oklahoma City Thunder and the San Antonio Spurs -- will have to go through at least one of the dreaded four-in-five stretches. The Lakers' just so happens to come at the very beginning of the season.
And so the burden falls on Kobe Bryant, a 36-year-old coming off two major leg injuries, to carry the extra load. But this feels ominous. Remember when Bryant fractured his kneecap, ending his season last December? The devastating injury occurred during -- you guessed it -- his fourth game in five nights.
October, 30, 2014
Oct 30
8:30
PM PT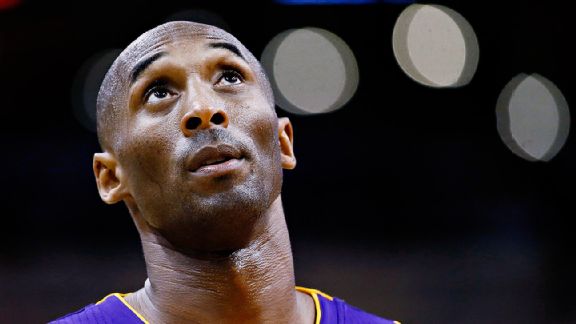 AP Photo/Matt YorkThe Lakers are "not as bad as these two games," Kobe Bryant says. "We're not."
PHOENIX --
Kobe Bryant
snarled, swore and stalked the court. His
Los Angeles Lakers
were buried in a double-digit hole that only deepened no matter what he did, and everything seemed to be going wrong.
He tried to carry the load, scoring 31, his first 30-plus-point night since rupturing his Achilles in 2013. But calls weren't going his way, his teammates fumbled his passes and failed to convert them into easy layups and, more often than not, well, they just stood there, watching the 36-year-old go solo, trying to make something out of nothing.
All that time spent rehabilitating, working out, preparing for a return to the court, to a return to his former self (or as close as he could get) and this is what awaited the Lakers icon -- an 18-point blowout to start the season at home, then a 20-point whooping here Wednesday to the
Phoenix Suns
. It marked the first time since 1960, when the Lakers moved from Minneapolis to L.A., that they lost each of their first two games of the season by double digits.
[+] Enlarge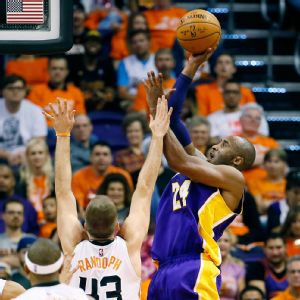 AP Photo/Matt YorkKobe Bryant says he still enjoys playing, but "the fun is when you win."
"We're not as bad as these two games," Bryant said later with his feet dunked in an ice bucket in the locker room. "We're not."
Bryant's frustration boiled over on the court, and Lakers coach Byron Scott said it was because Bryant didn't like the officiating. Bryant disagreed.
"The frustration comes from getting blown out twice," Bryant said after an 11-for-25 shooting performance from the field. "The clutching and grabbing and stuff, I think Byron is trying to lobby to get me some more calls. That stuff never bothered me. I do quite a bit of it myself."
But for as furious as Bryant had been during the game, he was just as calm after. He talked only about the process.
"I've been trained really well by the Yodas of the world," he said. "The thing they've always talked about, just looking at the game, looking at the things you can correct."
Correct an issue, then move on to the next issue. And so on. While the Lakers have plenty in need of repair -- such as 3-point shooting -- Bryant didn't seem overwhelmed and denied flashbacks to other lost seasons when he was on his own.
He instead focused on his teammates and their adjustment to playing with him, specifically point guard
Jeremy Lin
, who had six points and one assist against the Suns.
"I talked to him a on the bench a little bit [Wednesday night]," Bryant said. "I said, 'You've got to run the offense. Like, I'm telling you to run the offense. You've got to do it.'"
Bryant then invoked one of his former teammates, point guard
Derek Fisher
.
"Me and D-Fish used to bicker and snipe at each other all the time, and I couldn't love a teammate more," Bryant said. "These guys are young, man. It takes a little time to understand that -- that teams become really great by challenging each other.
"I want it to be [Lin's] role to orchestrate the offense, call the right things, get guys in the right spots. It's going to take a little getting used to for him, because it's different in the past. But that's what I want from him."
Lin played with
James Harden
in Houston and
Carmelo Anthony
in New York, two of the NBA's premier scorers.
"I'm different," Bryant interjected. "I'm a different breed. I score differently than they do." Anthony and Harden control the ball, Bryant said, while he doesn't -- or doesn't prefer to.
"I told [Lin] that's a big urban legend with me," Bryant said. "I want to score. That means coming off picks, catching and shooting, right? So you handle the ball, you run the show."
For his part, Lin agreed that Bryant's attention to detail is more precise than the aforementioned counterparts, a description that Lin has recited ad nauseam. Beyond that, Lin just said that all three are capable scorers, that he needs to find a way to facilitate and complement Bryant.
But Lin said the priority is defense -- the Lakers are allowing 113.5 points a game. "That's first and foremost," Lin said. "Everything else will kind of shake itself out."
And as for him and Bryant, Lin simply called it a "growing process."
Said Bryant: "Hopefully, [that process] is done tonight."
Bryant returned to the notion that teammates don't have to be pals on the court -- a theme Bryant holds dear, one that is also cited as a key reason why many players don't enjoy playing alongside him.
"A lot of young players think that teams are supposed to get along," Bryant said. "That's no championship team that I've been on."
He added later, "Fish and I didn't come in here having that understanding overnight. We played with some teams that were -- interesting. We had to learn by trial and error. Fish wasn't Fish when he came in. I wasn't me when I came in."
How can Bryant stay patient, though, waiting on Lin or anyone else -- or on the myriad issues before them -- especially now that Bryant is in the twilight of his career, the clock ticking closer toward the end?
"You don't stay patient," Bryant said. "You stay persistently patient. You want those results today, but you understand that it's a process to get there.
"So you demand things turn around now," Bryant said, snapping his fingers three times loud and clear for emphasis, "understanding that it won't be the case, but in order for things to turn around, you have to want them to turn them around today."
It will take time, though it's unclear if that process will ever reach a resolution that makes any sort of difference in a season in which the Lakers seemed destined for the lottery.
Just consider the scene with about four minutes left in the third quarter: Bryant slashing to the rim, the Suns collapsing and Bryant, hanging in the air, with several defenders in his face and with his team trailing by 24, looping a pass around a defender to the left wing, hoping a teammate would be ready to fire a wide-open 3-pointer.
But no one was there. The ball sailed into the third row. Bryant was on his own, and with this patchwork squad -- and with teammates that Bryant says don't know how to play with him yet -- Bryant might face that scenario a lot this season.
"We've talked about, when he does have the ball, [that] we can't just stand there and watch," Scott said. "We've still got to have good spacing. We've still got to cut to the basket to give him other opportunities to look for guys. He's more than a willing passer. It's just, guys have to get open and quit watching."
Though it has been only two games, Scott's message to the team after the Phoenix loss was telling: "I told them, 'We've got to hang in there.'" For how long is the greater question, especially to someone like Bryant.
The Lakers icon said he feels fine -- great, even. Then, when asked if this was still fun -- just being back on the court, playing again, considering what it took for him to even return -- Bryant said, simply, "No."
"I enjoy playing," he said. "But the fun is when you win."
October, 30, 2014
Oct 30
6:34
PM PT
The 3-pointer issue first reared its head in the preseason. The league is trending one way, the
Los Angeles Lakers
another.
And after his team essentially eschewed them during their exhibition contests, including going nearly 13 quarters without making one, first-year Lakers coach Byron Scott said he believed prolific 3-pointing offenses don't win NBA championships. Of course, seven of the past eight NBA champions led all playoff teams in 3-point attempts and makes.
[+] Enlarge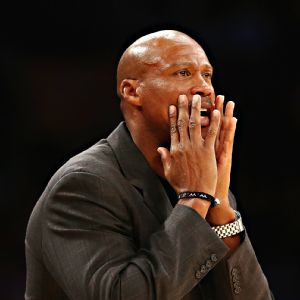 Jeff Gross/Getty ImagesThe Lakers aren't hitting 3-pointers but they're also not defending them well, and that's a big concern for Byron Scott.
But just two games (and two blowout losses) into the regular season, and the Lakers have already been torched from beyond the arc. The
Houston Rockets
held a 12-3 advantage in 3-point makes in the Lakers' season-opening loss, then the
Phoenix Suns
held a 16-4 edge Wednesday night.
In other words, the Lakers have been outscored 84-36 on 3-pointers alone this season.
"The 3-point shot's a big problem for us,"
Kobe Bryant
said after his team's 20-point loss against the Suns. "The brand of basketball that's being played, teams really shoot the 3. We're not a big 3-point shooting team so we can't give up 16 of them."
Scott agreed.
"We've got to do a better job of guarding 3s," Scott "That's the two things in the first two games that have really, really hurt us."
A solution?
"Well, get out in transition more, knock down a couple 3s ourselves," Bryant said.
The Lakers will need to take a lot more 3s. The league-average last season was 21.5 attempts per game, a record that broke the previous mark of 20, set the season before. The Lakers are averaging just 11.5 attempts per game.
But as Scott has noted before -- and Bryant touched on this subject as well -- the Lakers aren't loaded with snipers. Even then, the players they do have who can knock them down --
Ryan Kelly
and
Nick Young
-- are both injured.
The issue won't go away anytime soon for the Lakers, and they'll notice it even more in their next two games against the
Los Angeles Clippers
on Friday and then the
Golden State Warriors
on Saturday. Both of those squads feature potent sharpshooters.