November, 21, 2014
Nov 21
11:33
AM PT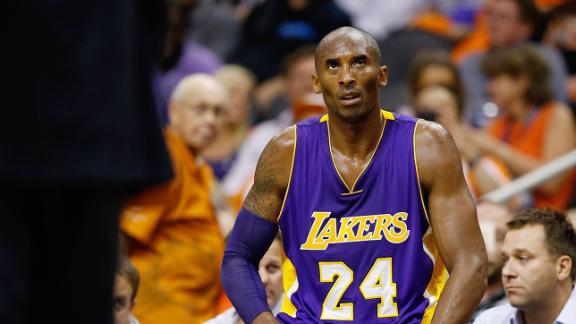 DALLAS -- Kobe Bryant considers the public pressure for longtime NBA stars to take hometown-discount deals, such as Dirk Nowitzki's contract, "a big coup" for NBA owners.
"It's the popular thing to do," Bryant said after the Los Angeles Lakers' shootaround in preparation for Friday night's game against Nowitzki's Dallas Mavericks. "The player takes less, blah, blah, blah, blah, blah. I think it's a big coup for the owners to put players in situations where public perception puts pressure on them to take less money. Because if you don't, then you get criticized for it.
"It's absolutely brilliant, but I'm not going for it. I know the new head of the players' association ain't going for it, either."
Bryant, 36, agreed to a two-year, $48.5 million extension with the Lakers last season, when he was recovering from a torn Achilles tendon. The deal is for less than Bryant was eligible to make on a maximum contract but still makes him the highest-paid player in the league.
Nowitzki, 36, re-signed with the Mavs this summer for $25 million over three years, taking far less than his market value to leave Dallas owner Mark Cuban enough salary-cap space to make roster upgrades.
What does Bryant think about Nowitzki, who has never used an agent, taking such a steep hometown discount?
"I think it means he's not playing in Los Angeles," Bryant said with a laugh.
Cuban said Nowitzki's knowledge of the collective bargaining agreement and his desire to play for a contender were the primary factors in determining the size of his contract, not public perception.
November, 21, 2014
Nov 21
11:30
AM PT

By Tim MacMahon
ESPNLosAngeles.com
Archive
DALLAS --
Mavericks
guard
Devin Harris
will miss his second consecutive game Friday night against the
Los Angeles Lakers
.
The Mavs are being mysteriously elusive about details of Harris' lower right leg injury.
Harris declined to speak to the media after the Mavs' shootaround, saying he had been told not to say anything and deferring questions to coach Rick Carlisle.
"He's doing a little bit better," Carlisle said. "We'll have an announcement probably later in the day."
About a half hour later, Carlisle sent reporters a text message saying Harris was out against the Lakers.
Carlisle declined to answer any follow-up questions about Harris, including how much the veteran guard participated in the shootaround.
Harris, who is averaging 8.6 points and 4.4 assists per game, did not play in the second half of Monday's win over the
Charlotte Hornets
and sat out Wednesday's win over the
Washington Wizards
. He said during the road trip that his leg had been bothering him for about a week before the decision was made for him to rest.
November, 20, 2014
Nov 20
1:59
PM PT
November, 20, 2014
Nov 20
8:00
AM PT
By ESPNLosAngeles.com
ESPNLosAngeles.com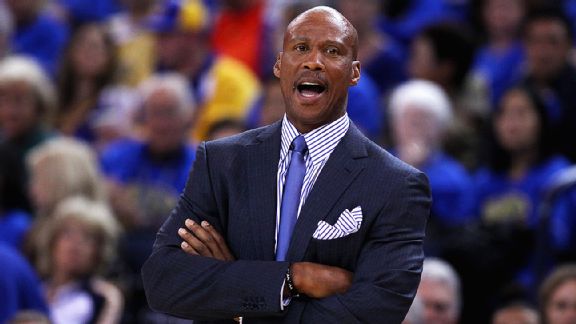 Ezra Shaw/Getty ImagesByron Scott is big on effort, but the Lakers' problems probably run way deeper than that.
---
Each week, ESPN.com Lakers beat writer Baxter Holmes, along with ESPN.com NBA writers Ramona Shelburne and Arash Markazi, will weigh in on three questions that are on the minds of Los Angeles Lakers followers.
1. Can the Lakers' poor start simply be blamed on effort, as Byron Scott has said?
Holmes:
Of course not. The Lakers' problems are many. They've been plagued with injuries (
Steve Nash
,
Julius Randle
,
Ryan Kelly
,
Nick Young
), have had a one-man show on offense that while entertaining has been problematic, and, last but not least, they're playing in a brutally tough conference. The Lakers could play at maximum effort and it might help make their games more competitive, but they lack talent. Simple as that.

Shelburne:
Not entirely. Effort was definitely a component of the 1-9 start. But the Lakers also played one of the toughest schedules in the NBA without three of their top players (Young, Nash and Randle). They had far less talent than most of the teams they were facing, which led to some hero ball from
Kobe Bryant
. That can demoralize his teammates, who don't get into a rhythm offensively, which carries over to the defensive side of the ball. Yes, that was a huge problem and part of the losses. But the lack of talent, strength of schedule and injuries were more important.
Markazi:
It's more than effort, of course. This is not a good team to put it bluntly. If you look at this team on paper and look at their results so far this season they should make sense. Unless there were some delusions of grandeur about what
Jeremy Lin
and
Carlos Boozer
could provide on a regular basis or a false sense of hope that Kobe wouldn't shoot every time he was open, the poor start should have been expected regardless of the effort, which hasn't always been bad.
---
2. Is Jeremy Lin right when he says communication and trust top his list for the Lakers' problems?
Holmes:
Absolutely. A large part of that stems from many new players playing in a new system, but it doesn't help that Kobe has, up until their win at Atlanta, largely eschewed his teammates on offense. As Boozer said after the Hawks' win, when they all touch the ball, they all feel involved and engaged, which leads to them playing more like a team on both ends but especially on defense. Scott has also noted that the bigs haven't communicated well with the guards on defense, which he said has led to several lapses.
[+] Enlarge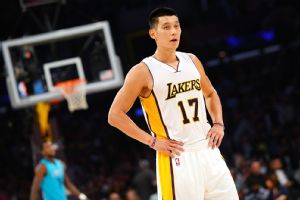 Noah Graham/NBAE/Getty ImagesJeremy Lin is on to something when he talks about some of the major issues for the Lakers.
Shelburne:
Yes, but not in the way that quote read. When Lin said "communication" and "trust" were the Lakers' biggest issues, that was code for Bryant not keeping his teammates feeling involved in what the team is doing. He just didn't want to say that out loud and cause a larger rift. Whether Lin is right is debatable. Bryant is a smart basketball player who knows how to win games. He also has heard he shoots too much for 19 years. It's not as if he doesn't recognize the drawbacks of that style of play. He's playing that way because he didn't have faith in his teammates to score. That's the real trust issue. And it can only be corrected by guys like Lin and Boozer proving Bryant wrong and scoring the way they're capable of.
Markazi:
This team has a lot of problems, but if we start with the premise that the guys in the locker room are the guys that they will have all season and not worry about the future then yes, communication and trust are two big problems. The Lakers can worry about their more pressing problems for a legitimate point guard and center in the offseason. The only way the Lakers can improve their communication and trust is by moving the ball around and playing together, which, of course, hasn't always been the case so far.
---
3. Is it on Kobe Bryant to make sure team morale doesn't become an issue?
Holmes:
Yes. It's on Kobe to do pretty much everything. In fact, in one way or another, he's responsible for almost every aspect of the team and, to a greater degree, what goes on in the organization. But as the veteran who has been on rebuilding teams, he can speak from experience to the new and younger players about how to stay focused on the process without getting too downtrodden after blowout wins. Everyone in the locker room will look to him to lead them.
[+] Enlarge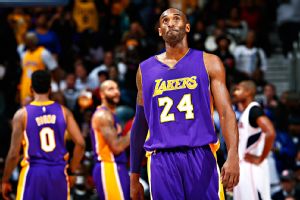 Kevin C. Cox/Getty ImagesKobe Bryant's experience and wisdom are what is needed to help the Lakers through tough times.
Shelburne:
Yes. That's the responsibility he accepted when he signed on to be the NBA's highest-paid player.
Markazi:
It's on everyone but it begins with Scott and Bryant. If the players feel that Scott will simply do whatever Kobe wants, and Kobe continues to shoot 30 times a game, regardless of how many he makes, morale will suffer and it's going to be a long season. Everyone on this team has to buy in for the morale to improve and that's on both Bryant and Scott.
November, 19, 2014
Nov 19
10:58
PM PT
By
Baxter Holmes
| ESPN.com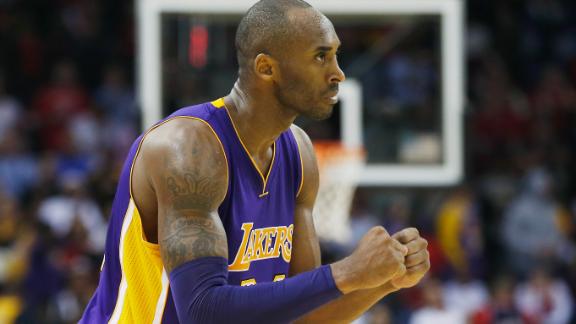 HOUSTON -- Dwight Howard sat out Wednesday's 98-92 loss to the Los Angeles Lakers with a sprained right knee, but the Houston Rockets center was still a topic of discussion for his former teammate, Lakers star Kobe Bryant.
Bryant was asked after the game whether he considers Howard to be a "p---y," the term Oklahoma City star Kevin Durant was overheard calling Howard during a recent game.
"No, I don't feel that way. I don't think Kevin does, either," said Bryant, who scored a game-high 29 points against the Rockets. "In moments of confrontation during a game, you'll say things in the heat of the moment.
"I know Dwight. I'm sure Kevin does. We don't really feel that way about him. It's like when you get in an argument with somebody, you'll say things out of frustration, out of anger, that you don't really mean."
Bryant and Howard were Lakers teammates during the 2012-13 season, when they often clashed before Howard eventually departed to join the Rockets as a free agent.
Then when they faced off Oct. 28 in Los Angeles, a 108-90 Rockets win, Howard elbowed Bryant in the chin after grabbing an offensive rebound, and the two had to be separated, although that didn't stop them from trash-talking each other, eventually drawing technical fouls.
In that game, Bryant was heard calling Howard "soft," among other things.
November, 19, 2014
Nov 19
9:24
PM PT
Associated Press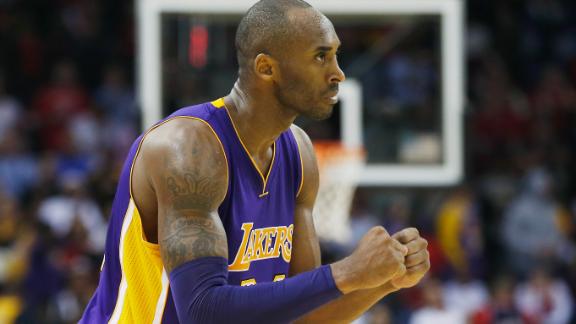 HOUSTON -- Kobe Bryant had 29 points, Wesley Johnson made key free throws down the stretch and the Los Angeles Lakers took advantage of Dwight Howard's absence Wednesday night in a 98-92 victory over the Houston Rockets.
It was the second consecutive win for the Lakers following a 1-9 start.
Los Angeles used a 7-1 run, highlighted by Bryant's three-point play and capped by four free throws from Johnson, to take a 94-92 lead with less than a minute left. Nick Young and Bryant added two free throws apiece to secure the victory.
Tarik Black, a rookie who was filling in for the injured Howard, missed a free throw and a jump shot down the stretch.
James Harden led the Rockets with 24 points.
November, 19, 2014
Nov 19
9:14
PM PT
By Baxter Holmes
ESPNLosAngeles.com
Archive
HOUSTON -- A winning streak for the
Los Angeles Lakers
? Indeed. They closed the game on a 12-1 run to pull out a 98-92 victory in the final minute against the 9-3 Rockets, who were without
Dwight Howard
(strained right knee). The Lakers improved to 3-9 and, more importantly, 2-0 with
Nick Young
this season.
Play of the game:
Wesley Johnson
stripped
James Harden
of the ball out near the 3-point line, streaked down the court and made a layup while being fouled by Harden. After Johnson converted the free throw, the Lakers led 94-92 with 43.2 seconds left. They were able to hang on from there.
Stat of the night:
The Rockets set up shop outside the 3-point arc and never strayed too far, launching 38 attempts. They hit 15 and outscored the Lakers 45-15 from distance.
Second stat of the night:
While the Lakers were outscored on the outside, they had a 38-20 advantage in points in the paint.
Player of the game:
This one goes to Young, the Lakers reserve guard who scored eight of his 16 points in the fourth quarter to help give his team an edge in a back-and-forth affair with 10 lead changes.
Kobe Bryant update:
Bryant took a game-high 28 shots, but he struggled, shooting 10-of-28 from the field. Bryant shot 6-of-11 in the first half, but just 4-of-17 in the second. He knocked down 8 of 10 from the charity stripe and added seven assists and five rebounds.
November, 19, 2014
Nov 19
4:54
PM PT

By Henry Abbott
ESPNLosAngeles.com
Archive
November, 19, 2014
Nov 19
12:51
PM PT
November, 19, 2014
Nov 19
8:27
AM PT
Here's a sentence I never thought I'd need to write:
Nick Young rescued Kobe Bryant and the Los Angeles Lakers from themselves.
For a night, at least, it appeared to be the case, as on Tuesday, a balanced Lakers attack topped Atlanta. Young returned early from thumb surgery and the Lakers looked like a different team. Carlos Boozer was attacking. So was Jeremy Lin. Bryant took a backseat for almost the entire second half, with only one field goal attempt across 19 minutes of game action, until he took over late.
I'll get this out of the way here: Bryant will go down as one of the best players to ever play the game. He's a legend in Lakerland with good reason. Five titles and countless memorable moments will warrant that kind of lofty status. You don't break the 32,000-point barrier without being elite for a long, long time. In Bryant's prime, he was the most savvy, electrifying scorer in the game and a lockdown defender when he wanted to be.
But this Kobe? He is not that Kobe. This version is 36 years old and coming off two major leg injuries that would jeopardize most players' careers. The fact that he's on the floor and playing every night is something of a medical miracle. No one should question his perseverance or willpower to play at the highest level. You certainly won't hear it from me.
But this version of Bryant can't carry a team to the playoffs like he did in 2006-07. Actually, when you look at the evidence, this version is usually keeping the Lakers from winning games as he plows his way toward scoring records. And maybe that's all part of the plan.
November, 18, 2014
Nov 18
9:51
PM PT
By Baxter Holmes
ESPNLosAngeles.com
Archive
ATLANTA -- An outrageous comparison, of course, but
Nick Young
didn't care. The
Los Angeles Lakers
guard believed that he was just as good at 3-point shooting as Reggie Miller and players of that ilk.
And Young kept saying so during the Lakers' shootaround here Tuesday morning, in advance of their game against the
Atlanta Hawks
.
"That's the thing that I love about Nick," Lakers coach Byron Scott said. "He brings positive energy. He's an energy giver, not taker, and that's what we need."
[+] Enlarge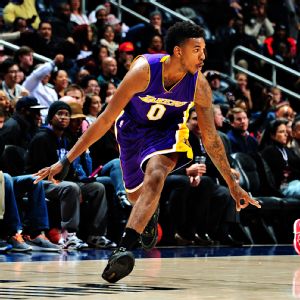 Scott Cunningham/NBAE/Getty ImagesNick Young made an immediate impact on the Lakers in his season debut, scoring 17 points off the bench.
The 2-9 Lakers needed that and so much more, and Young could see it during his six weeks on the sideline with a torn ligament in his right thumb, a delay that ended when Young returned against the Hawks, scoring 17 off the bench in his season debut, a 114-109 Lakers' win.
"It was tough," Young said. "Just cause I felt they needed me. It [wasn't] like my leg or something was hurting, so I could run and all I was doing was running. And I come to the gym and the energy in the locker room was down. It was tough."
The worst start in franchise history weighed on the players. The weight of the consecutive blowouts. They talked about a lack of trust, communication and effort. Divides started to appear in the locker room. Everything was going wrong.
But in the span of just one game, Young's lighthearted personality seemed to light up the darkness that surrounded the Lakers, and in turn they played their most complete game by far on both ends of the court.
"It's like my swag just rubbed off on everybody," Young said. "It was unbelievable."
He shot 6-of-10 from the field, hitting a pair of 3-pointers in about 28 minutes. He provided a much-needed scoring punch that the team so desperately lacked, forcing it to count almost entirely on
Kobe Bryant
.
With Young, Bryant had someone else that he could count on in the backcourt, and several times Bryant passed out of a double-team, and the ball found Young.
"The ball somehow finds me," Young said. "I kind of know it because I talk so much trash. But it was fine. Everybody got a chance to get going. My thing was to bring energy and try my best to talk trash and to get everybody going."
He did just that.
"He played phenomenal," Bryant said. "It's a testament to his work ethic. It's hard when you have an injury to try and stay in shape. He didn't look tired out there at all. It looked like he could run all day."
The impact was felt everywhere, the team's chemistry night-and-day different in just one game.
After Scott grew angry at the effort his players put forth on defense, which had become the worst in the league, they came out aggressively and held Atlanta to 20 points in the first quarter, a season low for Lakers' opponents in the opening frame.
On offense, the scoring was balanced. Five players scored in double figures, led by a team-high 28 from Bryant, who was quite efficient, going 10-of-18 from the field.
Jeremy Lin
also had his best game as a Laker: 15 points on 6-of-7 shooting and 10 assists.
Carlos Boozer
chipped in with 20 points and 10 rebounds.
"The ball was moving," Scott said. "The spacing was good. Guys were doing a really good job of setting screens. And we were just looking for each other and playing real good team basketball on both ends of the floor tonight."
Before, the ball never moved far from Bryant's hands unless he was shooting it. The impact was felt on offense, sure, but it bled over to defense, where players didn't seem as engaged.
Boozer said that was different Tuesday. The ball moved. Everyone was involved. Everyone was engaged.
"It shouldn't be that way," Boozer said. "We should play good defense no matter what. But we're human."
The mood in the locker room was so different than what it had been in previous games. Instead of funereal, there was laughter, smiling and jokes.
"Man, it's a lot better," Lin said. "It's been a rough start to the season."
Then there was Young, jokingly interrupting television interviews his teammates were doing, or talking about the legend of his 3-point shooting skills.
Young ranked the top five players all time in that category. No. 5 was Larry Bird, then either
Klay Thompson
or
Stephen Curry
, then Reggie Miller, then
Ray Allen
.
Who was No. 1?
Nick Young, of course, but only according to Nick Young.
"That's what makes Nick so fun to be around," Scott said.
The Lakers are glad to have him back.