December, 1, 2015
Dec 1
6:58
PM PT
Associated Press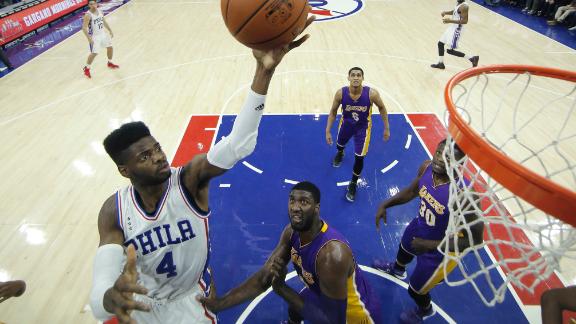 PHILADELPHIA -- The Philadelphia 76ers ended the longest losing streak in the history of major professional sports in the United States by topping the Los Angeles Lakers 103-91 on Tuesday night to snap a 28-game skid.
The Sixers had lost their first 18 games of this season, which matched the record for worst start in NBA history. They had dropped 28 straight dating to last season, which set the mark for longest losing streak among the four major U.S. sports leagues.
Against the Lakers, the Sixers won for the first time since March 25, 2015.
Robert Covington scored 23 points, and Jerami Grant and Nerlens Noel each contributed 14.
Lakers star Kobe Bryant scored 20 points on 7-of-26 shooting in the final game of his career in his hometown. He walked off to a standing ovation and chants of "Kobe! Kobe!"