November, 29, 2014
Nov 29
12:48
AM PT
LOS ANGELES -- Byron Scott tried to find the right words.
"Have you ever been to the zoo?" the
Los Angeles Lakers
coach asked Friday.
That eyebrow-raising response marked the beginning of a long-winded answer to a query about why these Lakers would look at any team as an easy win, as the Lakers did in their 120-119 loss to the
Minnesota Timberwolves
at Staples Center.
[+] Enlarge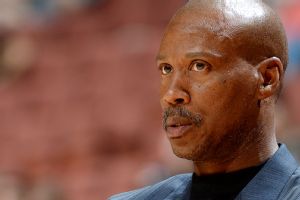 Andrew D. Bernstein/NGetty ImagesLakers coach Byron Scott said Friday's effort against the Timbwolves "was about the worst we've played as far as being focused and ready to play."
Scott said he had warned his three-win Lakers not to look at the now four-win Timberwolves that way. He said he warned them during shootaround in the morning, then before the game, then during halftime.
And yet, according to Scott, those warnings went unheeded.
Which brings us back to the zoo.
"Do you ever go see the gorillas, the elephants, the lions and the monkeys, and they're looking right back at you?" Scott asked. "That's what Minnesota was doing. They were looking right back at us."
They looked at the Lakers, now 3-14, as an easy target -- and rightfully so.
"There's nobody in this ..." Scott continued.
He began to utter an R-rated, four-letter expletive, pausing only before reciting the final syllable.
Perhaps he paused because he realized that he needed to somehow appear steady during these most turbulent times. Or perhaps he paused because he thought the league would fine him.
But, make no mistake, at no point during the worst start in Lakers' franchise history has Scott ever publicly come unglued in the way he did after Friday's loss.
And just after he paused before reciting that final, fateful syllable, Scott's breath turned to fire. He raised his voice, all but shouting. He pounded the table before him in the postgame news conference. He beat his hands into it four times -- hard.
"There's nobody in this league that we should be looking at thinking, 'This is an easy win,' " he boomed, beating the table as he spoke. "Period."
Was this rock bottom? So far, yes. It's still November. It can -- and probably will -- get worse.
But the Lakers had circled this game as one they could definitely win, which they won't be able to do much this season, especially in the Western Conference.
Then the Lakers got a rather efficient 26 points from
Kobe Bryant
, on 10-of-18 shooting, and 19 points from
Wesley Johnson
, and a double-double (18 points and 11 assists) from
Jeremy Lin
.
They shot 53.9 percent as a team.
They had an eight-point lead with 5:03 left in the fourth.
Then they fell apart, Bryant missed a last-second 3-pointer, and the Lakers lost.
"We looked at them like they were inferior to us," Scott said. "That's the bottom line."
He used the phrase "lack of focus" six times. He cited "bone-head plays."
So did Bryant.
[+] Enlarge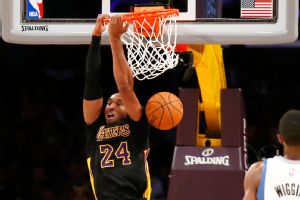 AP Photo/Danny MoloshokKobe Bryant, who missed a potential winning 3-pointer at the buzzer, said the Lakers were "lazy" on defense in their loss to the Wolves.
"We were just lazy," Bryant said. "We were lazy defensively. We cut corners."
He added, "We are shooting ourselves in the foot."
Timberwolves rookie
Zach LaVine
scored 28 points on 11-of-14 shooting off the bench, a spectacular performance for the UCLA product.
"I was playing against my childhood idol," LaVine said of Bryant, "and I'm really, really surprised he missed that [final] shot. That scared me."
While LaVine spoke, his teammate
Corey Brewer
shouted, "He's the biggest Kobe fan and he beat his a-- tonight."
The Timberwolves won't have much to celebrate this season, but the Lakers certainly weren't expecting any celebrating from the visitor's locker room Friday.
"We know this was supposed to be a win for us," said Lakers guard
Nick Young
, who scored 16 off the bench. "Playing against a wounded team and they're all young, we knew what we had to do. We've let a lot of games slip this way."
Johnson recalled hearing Scott's warning.
"They played exactly how we thought they were going to play," Johnson said. "They kept coming. They never let up. They didn't feel like the game was over when we went on a little run. They continued to play.
"And like [Scott] said before shootaround, they were looking at us as an opportunity to win. We didn't necessarily take that serious and execute like we should have."
All of which led to Scott blowing his stack.
"You can't play good, hard-nosed basketball one night," Scott said, "and look at the opponent the next night and say, 'Oh, we've got an easy one tonight.' It doesn't work that way in this sport. You'll get you're a-- kicked doing that."
There's a segment of the Lakers' fan base that is no doubt pleased, for every Lakers loss is another step closer toward the chance at a higher draft pick next summer, toward a tantalizing prospect who could help right this sinking ship.
For now, there is only frustration and convoluted metaphors about zoo animals.
"Sooner or later, you get tired of getting the crap beat out of you and you start manning up and doing the things you're supposed to do," Scott said.
Can he get through to his players?
"Definitely," he said.
So Friday was just an anomaly?
Yes, Scott said. He says he believes they can fix things with more effort and more focus.
"But tonight," he said, "that was about the worst we've played as far as being focused and ready to play."
With that, he got up and left. There was nothing more to say.
November, 28, 2014
Nov 28
10:13
PM PT
Associated Press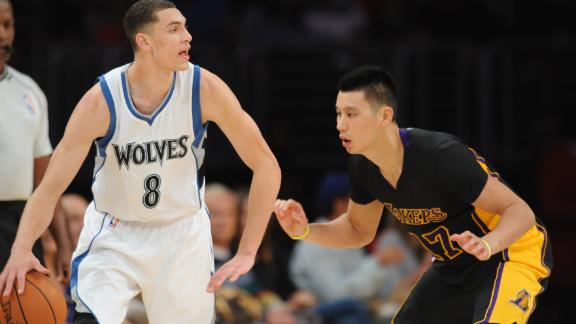 LOS ANGELES -- Rookie guard Zach LaVine scored 18 of his team-high 28 points off the bench in the second quarter, and Mo Williams had 25 points and 11 assists to lead the Minnesota Timberwolves over the Los Angeles Lakers 120-119 on Friday night. Kobe Bryant missed a 3-pointer as time expired that helped seal the win for Minnesota.
LaVine, the 13th overall pick in the draft out of UCLA, played 25 minutes in his Staples Center debut and made 11 of 14 shots. He was the fifth and last player off the Timberwolves bench as they snapped a three-game losing streak.
Bryant finished with 26 points on 10 for 18 shooting and Nick Young scored 13 of his 16 points in the fourth quarter. Wesley Johnson had 19 points against his former club and Jeremy Lin had 18 points and 11 assists in the Lakers' fourth straight loss. Seven of their 13 defeats this season have been by seven or fewer points.
November, 28, 2014
Nov 28
10:05
PM PT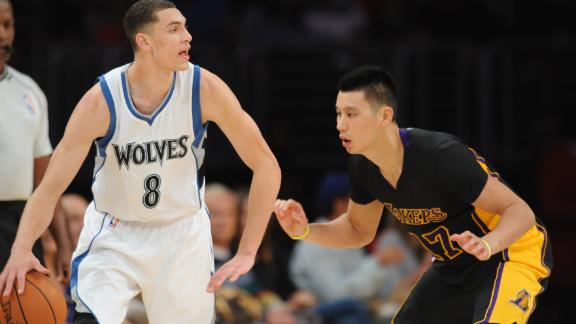 LOS ANGELES -- The
Los Angeles Lakers
had circled this one on the schedule. Yes, Friday night felt like a contest they should definitely win, which isn't something they'll be able to say much this season, especially in the Western Conference. Between the West's bottom two teams, the game came down to the final shot. The Lakers had the ball, and, naturally, they went to
Kobe Bryant
. Simply put, Bryant missed, and the Lakers fell to 3-14, the Timberwolves improved to 4-10.
Play of the game:
The Lakers had the ball with 2.8 seconds left, and Bryant had a good look, a 3-pointer from the top of the key.
Andrew Wiggins
was on him, but the 19-year-old rookie, who was 1-year-old when Bryant made his NBA debut, gave Bryant some room. The Staples Center crowd was on its feet, and Bryant's shot was straight on, but it hit the front of the rim. Bryant finished with 26 points on 10-of-18 shooting in 35 minutes.
Player of the game:
Timberwolves rookie
Zach LaVine
was spectacular. He scored a game-high 28 points on 11 of 14 shooting in 25 minutes off the bench. The UCLA product topped his previous high of 13 points and showcased his outstanding vertical leap by basically flying to the basket on several occasions.
Matchup of the game:
Top overall draft pick Wiggins guarded Bryant for most of the night and was embarrassed on more than a few occasions, with Bryant picking his pocket for easy baskets. Wiggins wasn't effective on offense, either, as he finished with just 3 points on 1 of 6 shooting in 30 minutes. Still, his team got the win.
Stat of the night:
Mo Williams
made 6 of 8 from beyond the arc for Minnesota. The Los Angeles Lakers made 8 3-pointers as a team. Williams finished with 25 points and 11 assists for the Timberwolves.
November, 27, 2014
Nov 27
12:00
AM PT
By ESPNLosAngeles.com
ESPNLosAngeles.com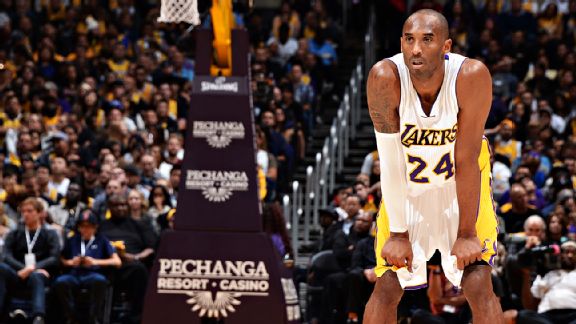 Andrew D. Bernstein/NBAE/Getty ImagesKobe Bryant has been playing plenty of minutes despite early talk of trying to limit that a bit.
---
Each week, ESPN.com Lakers beat writer Baxter Holmes, along with ESPN.com NBA writers Ramona Shelburne and Arash Markazi, will weigh in on three questions that are on the minds of Los Angeles Lakers followers.
1. Is there any potential downside to having Kobe Bryant sit out practices so he can play more in games?
Holmes:
None that really matter. From fans to television viewers to season-ticket holders to corporate sponsors, Lakers coaches and teammates, everyone is better served if Bryant is in the best position to play well when the lights are on. Given his age and mileage, rest is what's best for him right now. If that means he misses a few practices, or even most of them, then it's for the greater good.

Shelburne:
Yes. This team needs to improve throughout the season, and practice is the place to work on team concepts. Right now, though, that just can't be helped. The Lakers need the best version of Kobe on the floor during games as much as possible, and if resting during practice is the way to make that happen, they have to do it.
Markazi:
In the immortal words of Allen Iverson, "Practice? We're talking about practice?" I don't think there's any downside to Kobe sitting out practices. He wasn't participating in all the practices during training camp, and I didn't expect him to participate in all of them during the season. Bryant is getting paid $25 million per season to play in all 82 games, sell out arenas and draw eyeballs to the television. Whether or not he practices in between doesn't really matter and won't affect the Lakers' fate this season.
---
2. Is Kobe being honest with himself when he says the contract discount he took was enough for the Lakers to be a contender?
[+] Enlarge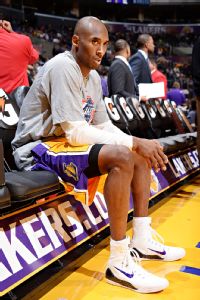 Andrew D. Bernstein/NBAE/Getty ImagesKobe Bryant's contract takes up plenty of the Lakers' salary cap, but is it a fair deal for all involved?
Holmes:
I think he's focusing solely on his situation in this market, which is truly unique. In fact, given the Lakers' television deal and what he means to them from a financial standpoint, his massive contract can easily be justified. And if the Lakers had signed
Carmelo Anthony
last summer, maybe the size of his deal wouldn't be an issue. And yet, here we are.
Shelburne:
In his mind he is. Others may have a different opinion. But Kobe has seen the Lakers go very deep into the luxury tax to field a championship contender (as recently as 2012-13) and has no reason to think they wouldn't do so again if the opportunity to acquire championship-caliber players presented itself. The thing is, the opportunity hasn't presented itself recently.
Markazi:
Not totally. I mean, yes, he technically took a pay cut and, yes, the Lakers could have offered a max contract last offseason and will be in position to next offseason, but if Kobe had taken a deal similar to what
Dirk Nowitzki
accepted, the Lakers could have lured two big-name free agents as opposed to one and could have quickly positioned themselves as a contender. As it is, no big-name free agent wants to join the Lakers' rebuild with Kobe alone, and, therefore, their rebuild might not be able to fully take shape until Kobe retires.
---
3. On the heels of Xavier Henry's season-ending injury, is the Lakers' rash of injuries the past few seasons anything more than bad luck?
Holmes:
It is bad luck, but it is a pretty startling streak of bad luck. I mean, losing three players to season-ending health issues and we're not even one month into the season? Lakers coach Byron Scott said he's never seen anything like it. They might want to start bubble-wrapping their players just to be on the safe side.
[+] Enlarge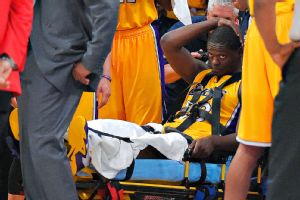 AP Photo/Mark J. TerrillJulius Randle is one of several Lakers to be hit with an injury that will keep sidelined for the season.
Shelburne:
It's definitely bad luck. There was a sense that the up-tempo system Mike D'Antoni ran last season wore players down and made them more susceptible to injuries, but there has never been any data to back that up. There's also a sense that younger players with a history of injuries like Henry tend to keep getting injured. But again, that's just a theory. Until there's hard and fast data on the issue, you have to chalk it up to bad luck.
Markazi:
It's certainly bad luck, but at some point, it wouldn't be a bad idea to take a look at how the training staff is doing things in comparison to, say, the
Phoenix Suns
. Leading the league in players missing games because of injuries in consecutive seasons is a tag no training staff wants, and once it becomes a trend, it might be time to take a closer look at how players are being treated. If it was just Kobe and
Steve Nash
, you could chalk it up to age, but when you add
Julius Randle
,
Nick Young
,
Ryan Kelly
and Henry, it becomes a bigger problem.
November, 26, 2014
Nov 26
10:05
PM PT
Associated Press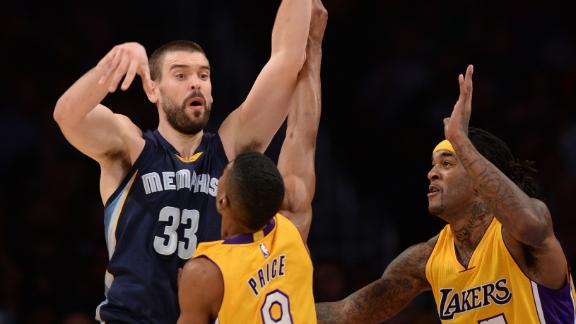 LOS ANGELES -- Marc Gasol had 19 points and 11 rebounds, Mike Conley added 19 points and the Memphis Grizzlies held off the Los Angeles Lakers 99-93 Wednesday night for their seventh victory in eight games.
Zach Randolph scored 16 points for the Grizzlies, who improved to 13-2 and kept pace with Toronto atop the overall NBA standings. But Western Conference-leading Memphis barely survived a strong effort from the 15th-place Lakers, who kept it close throughout a tense fourth quarter.
Coming off back-to-back 30-point games, Gasol scored 16 points in the second half, including 12 in the third quarter while the Grizzlies moved ahead.
Kobe Bryant scored 22 points for the Lakers, who have lost seven of nine. Los Angeles dropped to 1-7 at Staples Center.
November, 26, 2014
Nov 26
10:02
PM PT
LOS ANGELES -- A valiant effort for the
Los Angeles Lakers
, but it still goes down as another loss in the record books. That said, the Western Conference's worst played its best top pretty close, with the Lakers (3-12) displaying real grit throughout the night against a Grizzlies squad (13-2) known for its own grit. There were eight lead changes and the score was tied five times, but Memphis had too much firepower.
Player of the game:
Memphis'
Marc Gasol
, who by the way has completely transformed his body a la
Kevin Love
, finished with 19 points on five of 10 shooting, adding 11 rebounds, four assists, three blocks and two steals. The 2007 Laker draft pick sank nine of 10 free throws and was excellent in many facets of the game.
Stat of the night:
As to be expected with Gasol and
Zach Randolph
, the Grizzlies outscored the Lakers 46-32 in the paint, which was really the only number on the stat sheet that was all that lopsided.
Kobe Bryant
update: He played 13 minutes without taking a shot, then turned up in the second half, scoring 10 points in the third quarter. But Bryant again struggled late. He shot four of 10 through the first three quarters but just one of five in the fourth. He finished with 22 points in 36 minutes.
November, 26, 2014
Nov 26
5:25
PM PT
Associated Press
SAN ANTONIO -- Spurs coach Gregg Popovich missed Wednesday night's 106-100 win over the Indiana Pacers after undergoing what the team is calling a minor medical procedure.
Popovich also is expected to miss Friday's home game against Sacramento. Assistant Ettore Messina is running the team in Popovich's absence.
"It's not what you want, but the good thing is that obviously it's nothing big or you would not see me here so relaxed," Messina said before Wednesday's win.
Popovich, 65, is in his 18th season as head coach of the Spurs.
Messina became the first European-born coach to run an NBA team in the regular season. Referred to by many as the "Coach Pop of Europe," Messina is in his first season with the Spurs after a successful international career.
"Obviously, he's an international basketball legend," Indiana coach Frank Vogel said before the game. "I don't really know that much more about him other than he's highly, highly respected."
Messina is a two-time Euroleague coach of the year, and has coached in Russia, Italy and Spain. He served as a coaching consultant for the Los Angeles Lakers in 2011-12.
"Everybody here tells me from day one to feel very comfortable," Messina said of San Antonio.
In recent seasons, his name was raised as a candidate to become the first European coach to become a head coach in the NBA.
David Blatt beat him to it, coming over from Israel this year to coach the Cleveland Cavaliers. But Blatt is American born.
November, 26, 2014
Nov 26
9:15
AM PT
LOS ANGELES -- In the wake of their third player being lost to a season-ending injury, the Los Angeles Lakers are working on finalizing a one-year, pro-rated veteran minimum deal with forward Earl Clark, league sources confirmed to ESPNLosAngeles.com.
Clark, who started 36 games with the Lakers in the 2012-13 season, has been averaging nearly 29 points per game in four appearances with the Rio Grande Valley Vipers of the NBA Development League.
Clark's arrival would come after the Lakers (3-11) lost reserve swingman Xavier Henry to a season-ending Achilles injury earlier this week. Steve Nash (back) and Julius Randle (leg) are also out for the season, and Ryan Kelly (hamstring) is currently sidelined with a hamstring tear.
Lakers coach Byron Scott said Tuesday that team officials were in contact with the league office about applying for a hardship exception from the NBA to add a 16th player to the roster, one more than the regular-season maximum. Once Kelly returns, the Lakers would need to trim their roster back down to 15.
The Lakers have already been granted two disabled player exceptions this season, one each for Randle ($1.5 million) and Nash ($4.8 million). The team can use the exception to sign or trade for a player, but the exceptions, which expire March 10, cannot be combined.
RealGM first reported on the Lakers and Clark working on a possible reunion.