November, 26, 2014
Nov 26
5:26
PM PT
Associated Press
SAN ANTONIO -- Spurs coach Gregg Popovich missed Wednesday night's 106-100 win over the Indiana Pacers after undergoing what the team is calling a minor medical procedure.
Popovich also is expected to miss Friday's home game against Sacramento. Assistant Ettore Messina is running the team in Popovich's absence.
"It's not what you want, but the good thing is that obviously it's nothing big or you would not see me here so relaxed," Messina said before Wednesday's win.
Popovich, 65, is in his 18th season as head coach of the Spurs.
Messina became the first European-born coach to run an NBA team in the regular season. Referred to by many as the "Coach Pop of Europe," Messina is in his first season with the Spurs after a successful international career.
"Obviously, he's an international basketball legend," Indiana coach Frank Vogel said before the game. "I don't really know that much more about him other than he's highly, highly respected."
Messina is a two-time Euroleague coach of the year, and has coached in Russia, Italy and Spain. He served as a coaching consultant for the Los Angeles Lakers in 2011-12.
"Everybody here tells me from day one to feel very comfortable," Messina said of San Antonio.
In recent seasons, his name was raised as a candidate to become the first European coach to become a head coach in the NBA.
David Blatt beat him to it, coming over from Israel this year to coach the Cleveland Cavaliers. But Blatt is American born.
November, 26, 2014
Nov 26
12:18
PM PT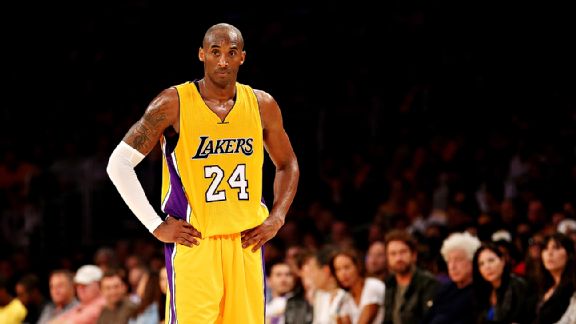 Stephen Dunn/Getty ImagesDespite his reputation, Kobe Bryant's crunch-time play is hurting the Lakers and his teammates.
LOS ANGELES -- After a recent blowout loss, Los Angeles Lakers star Kobe Bryant talked about crime. Or, more specifically, Bryant talked about fighting crime, about being a hero.
His metaphor centered on his team trailing by double digits -- nothing new for the Lakers this season -- and the feeling that it was up to him to do something.
To Bryant, that "something" is taking shots -- a lot of shots.
"I'd rather not have to do that, but you can't sit back and watch crime happen in front of you," he said after the Lakers' 136-115 loss to the Golden State Warriors last week, a game in which Bryant shot 34 shots in 31 minutes, scoring a season-high 44 points in a beatdown so lopsided he didn't play in the fourth quarter.
"Hero ball" is best described as the biggest name taking the biggest shot, specifically when the game is on the line. As YouTube footage attests, Bryant has buried many such shots throughout his Hall of Fame career, now in its 19th season.
But his recent late-game misfires have drawn questions from teammates.
November, 26, 2014
Nov 26
9:17
AM PT
LOS ANGELES -- In the wake of their third player being lost to a season-ending injury, the Los Angeles Lakers are working on finalizing a one-year, pro-rated veteran minimum deal with forward Earl Clark, league sources confirmed to ESPNLosAngeles.com.
Clark, who started 36 games with the Lakers in the 2012-13 season, has been averaging nearly 29 points per game in four appearances with the Rio Grande Valley Vipers of the NBA Development League.
Clark's arrival would come after the Lakers (3-11) lost reserve swingman Xavier Henry to a season-ending Achilles injury earlier this week. Steve Nash (back) and Julius Randle (leg) are also out for the season, and Ryan Kelly (hamstring) is currently sidelined with a hamstring tear.
Lakers coach Byron Scott said Tuesday that team officials were in contact with the league office about applying for a hardship exception from the NBA to add a 16th player to the roster, one more than the regular-season maximum. Once Kelly returns, the Lakers would need to trim their roster back down to 15.
The Lakers have already been granted two disabled player exceptions this season, one each for Randle ($1.5 million) and Nash ($4.8 million). The team can use the exception to sign or trade for a player, but the exceptions, which expire March 10, cannot be combined.
RealGM first reported on the Lakers and Clark working on a possible reunion.
November, 25, 2014
Nov 25
4:54
PM PT
The Los Angeles Lakers have been granted a $4.85 million disabled player exception by the NBA for Steve Nash, who is out for the season with a back injury, league sources told ESPN.com.
The injury-ravaged Lakers, who are 3-11 for the season, can use the exception to sign or trade for a player. They were previously awarded a $1.5 million disabled player exception for rookie Julius Randle, who is out for the season with a broken leg.
The two exceptions, which both expire March 10, cannot be combined.
Nash, who only played 65 games in two-plus seasons with the Lakers because of injuries, has not announced his retirement but is in the final year of his contract that pays him $9.7 million this season. He can still be used in a trade.
November, 25, 2014
Nov 25
4:00
PM PT
By Baxter Holmes
ESPNLosAngeles.com
Archive
EL SEGUNDO, Calif. -- When
Los Angeles Lakers
reserve swingman
Xavier Henry
ruptured his left Achilles tendon on Monday,
Kobe Bryant
had flashbacks.
"It took me right back to that place again," Bryant said after practice Tuesday.
Bryant
Henry
Bryant ruptured his left Achilles in April 2013, costing him the rest of that season. Henry had surgery Tuesday to repair his Achilles, which will cost him the rest of this one.
Henry's injury occurred during a non-contact drill in Monday's practice.
"It was just like mine, same thing," Bryant said. "[He] just tried to take off, drive to the basket and it just popped."
Since the injury, Bryant said, he's been in close contact with Henry, who averaged 2.2 points per game in nine appearances this season.
"Just trying to keep him positive," Bryant said. "It's an uphill battle. It's a long hill, at that. But he'll have us and he'll have me every step of the way."
November, 25, 2014
Nov 25
3:34
PM PT
By Baxter Holmes
ESPNLosAngeles.com
Archive
EL SEGUNDO, Calif. --
Kobe Bryant
has been feeling fatigued and his shots have been falling short. The veteran
Los Angeles Lakers
star hopes a change in his routine can help fix that issue, and also keep him fresh during the course of a long season.
[+] Enlarge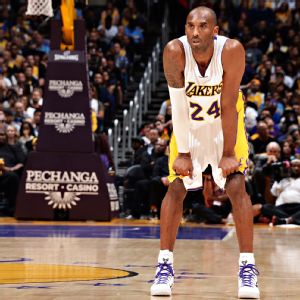 Andrew D. Bernstein/NBAE/Getty ImagesA 36-year-old Kobe Bryant is averaging a team-high 35.7 minutes per game for the Lakers.
After consulting with Lakers strength and conditioning coach Tim DiFrancesco, Bryant said he'll focus more on taking ice baths on some days, and on extra lower body weightlifting on others. And on some non-game days, such as Tuesday, he'll do almost nothing.
"It's a fine balance at 36 [years old], trying to find the rhythm of strengthening your legs as the season goes on without wearing them out," Bryant said after his team's practice Tuesday. "We're in uncharted territory in terms of trying to figure this out, but we will."
Bryant shot 4-of-14 in the fourth quarter and overtime of Sunday's loss to the
Denver Nuggets
, and he shot just 3-of-10 in the second half of a blowout loss to the
Dallas Mavericks
last week.
"The second half of games for me have been a struggle lately with my legs," Bryant said. "My shot's just been really short even though my legs feel good."
Lakers coach Byron Scott said Bryant, who is leading the league in scoring (26.7 points per game), might also play fewer minutes in an effort to conserve energy.
"It's a work in progress," Scott said. "He's played 19 years. He knows his body better than anybody, but we can see also watching the tape that everything was a tad short, which tells me that the legs were a little fatigued."
Bryant is averaging a team-high 35.7 minutes per game entering Wednesday's contest against the
Memphis Grizzlies
.
November, 25, 2014
Nov 25
1:21
PM PT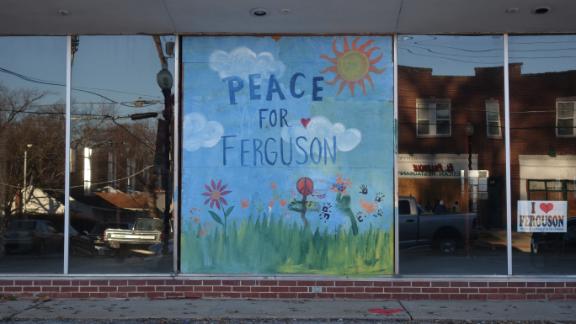 INDEPENDENCE, Ohio -- LeBron James said the decision not to indict Darren Wilson, the officer responsible for the shooting death of Mike Brown in Ferguson, Missouri, "hit home for me" and spoke out about the violent aftermath of the announcement Monday night.
"That's not the answer," James said Tuesday on reports of rioting in Ferguson. "What does that do? What does that actually do? Just hurt more families, hurt more people, draw more attention to things that shouldn't even be going on instead of people going to the family's household and praying with them. And saying, 'Things are going to be great.' You know, 'Mike Brown is in a better place now,' and 'Trayvon Martin is in a better place now.' That's where it should be. I mean, burning down things and shooting up things and running cars into places and stealing and stuff like that, what does that do? It doesn't make you happy."
James initially responded to the news on Monday night by posting a cartoon depiction on Instagram of Brown with his arm wrapped around Martin walking toward a heavenly light.
Back in March 2012, James and then-teammate Dwyane Wade organized a photo including the entire Miami Heat team wearing hooded sweatshirts -- the same style of hoodie Martin was wearing when he was shot by George Zimmerman -- and posted it to social media along with the hashtag #wearetrayvonmartin.
James said that the Brown case only touches on larger societal problems that must be addressed.
November, 24, 2014
Nov 24
3:07
PM PT
EL SEGUNDO, Calif. -- Byron Scott said he wants to start resting
Kobe Bryant
more during practice days to preserve the
Los Angeles Lakers
star for games, where Scott would like to keep playing Bryant between 30 to 40 minutes.
Scott, the Lakers coach, said Bryant did light shooting and little else during practice here Monday. Scott added that Bryant would have a similar off-day Tuesday in advance of Wednesday's game against the
Memphis Grizzlies
.
The move to rest Bryant more during practices -- a tactic that Bryant has done several times in previous seasons -- comes after Bryant has mentioned his legs feeling heavy after recent games, which Bryant said had affected his shooting.
Bryant, now in his 19th season, is averaging 35.7 minutes per game, the 13th-most in the league entering Monday.
"You try to kind of work your way through it a little bit, but everything's short," Bryant said after a 6-for-22 night in a loss against Dallas on Friday. "It's just one of those 36-year-old [hiccups]."
Scott said Monday that Bryant "was upset with himself" because many of his shots were short in Sunday's overtime loss to Denver, when Bryant shot 4-of-14 from the field in the fourth quarter and overtime after shooting 6-for-10 in the first three quarters. Bryant tied his season-high with 44 minutes in the loss.
Scott said fatigue is normal, given that Bryant missed all but six games last season after fracturing his knee.
"I said, that's expected when you haven't played that long, you miss that length of time, being a year off," Scott said, "and then you come back basically with a bang because that adrenaline is flowing.
"Then sooner or later, during the season, it's going to catch up to you. We've just got to rejuvenate and get back there. He will. I think that this week at home, getting a couple days off here and there will definitely help him."
November, 24, 2014
Nov 24
12:44
PM PT
El SEGUNDO, Calif. -- Los Angeles Lakers reserve swingman Xavier Henry will miss the rest of the season with a ruptured left Achilles, the Lakers announced on Monday.
Henry suffered the injury during practice, and an MRI confirmed it shortly thereafter.
"Results revealed a completely torn Achilles," a source told ESPN.com.
Henry is scheduled to have surgery Tuesday morning with Dr. Neal ElAttrache and Dr. Steve Lombardo of the Kerlan-Jobe Orthopaedic Clinic in Los Angeles.
Though the team is just 14 games into its 2014-15 campaign, Henry is already the third Laker to be declared out for the season because of an injury, joining point guard Steve Nash (back) and rookie forward Julius Randle (leg). Reserve forward Ryan Kelly is currently sidelined because of a hamstring tear.
Injuries plagued the Lakers dating back to last season, when their players missed a league-high 319 combined games because of injuries.
Lakers coach Byron Scott said Henry suffered the injury during a three-on-three drill.
"Nobody hit him or anything like that," Scott said after practice. "He went down and pretty much said to us that he heard a 'pop.'"
The oft-injured Henry has had knee injures the past two seasons and even went to Germany this offseason for treatment. In nine games with the Lakers this season, Henry averaged 2.2 points over 9.6 minutes.