May, 27, 2015
May 27
4:52
PM PT
May, 27, 2015
May 27
3:33
PM PT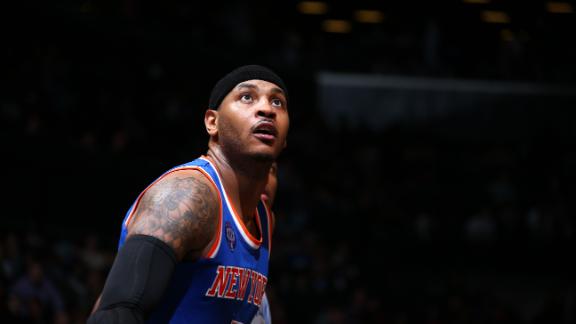 Milwaukee Bucks forward Jared Dudley said Kobe Bryant's refusal to defer to his Los Angeles Lakers teammates at this late stage in his career is why "most guys don't want to play with Kobe."
As a comparison, Dudley referenced the final years of Michael Jordan's career with the Washington Wizards.
"If you saw Jordan when he played with the Wizards, he started toning it down a little bit," Dudley said in a radio appearance with ESPN's Colin Cowherd. "He knew he didn't have it. Kobe is the opposite. He wants to show everyone so much. I remember seeing Kobe, I think it was 70 games in [this past season] and he had out-shot the whole Lakers team by like 100 shots. C'mon now. We love you, Kobe, but c'mon. It's, like, it's now time to start giving up. Most guys don't want to play with Kobe."
Bryant in fact led the Lakers by 10 shots with 70 games to play, though Carlos Boozer, who had attempted the second-most on the team at that point, had played in 31 more games than Bryant. Bryant finished the season third on the Lakers in total shots attempts (713) in 2014-15 despite playing in only 35 games; Jordan Hill led the team with 777.
Jordan had a 36.0 usage rate in his first season in Washington, the second-highest mark of his career, but that number dropped the next season, his final one in the NBA, to a career-low 28.7. Bryant had a 34.9 usage rate in 35 games with the Lakers last season, the fourth-highest mark of his 19-year career.
Cowherd mentioned that Bryant lacks the ability to tone down his style of play.
"Right," Dudley said. "And that's tough for guys and for him, obviously, being one of the greats. Also, the worst thing about it is, he can. Remember, Kobe gets in this thing where he doesn't pass and then he over-passes and he's trying to get triple-doubles every night.
"So we know you have [the ability to defer], it's just not something he wants to do, and that's why I think it'll be a while before the Lakers can get good, because no stars -- I mean, [Kevin] Love -- I'll be surprised if Love wanted to go there."
Love can opt out of his contract with the Cleveland Cavaliers this summer and become an unrestricted free agent.
Dudley's assertion that Bryant's presence is a potential obstacle for the Lakers in acquiring certain free agents isn't exactly new. Lakers general manager Mitch Kupchak recently addressed that notion on the radio.
"If there is a player out there like that, that won't come here for that reason, then we don't want them," Kupchak told Sirius XM NBA Radio. "Every great player is demanding and focused, and if you don't want to play for a guy like him that's driven to do nothing but win championships and work hard, then you shouldn't be here. You should go someplace else."
May, 26, 2015
May 26
2:06
PM PT
EL SEGUNDO, Calif. -- The Lakers invited their first group of potential draftees to their practice facility for pre-draft workouts Tuesday, beginning a weekslong evaluation process involving dozens of prospects leading up to the June 25 draft.
Six prospects went through a battery of drills, interviews and more with Lakers staffers and coaches, though none of the prospects were big-name players whom the Lakers were considering taking with the No. 2 overall pick.
Those players -- expected to include Duke center Jahlil Okafor and Kentucky center Karl-Anthony Towns -- are expected to work out with the team in the coming weeks.
For now, the Lakers are taking a look at players they might consider drafting with the No. 27 pick in the first round or their 34th overall pick in the second round.
Tuesday's crop included Arizona guard T.J. McConnell, Iowa State guard Bryce Dejean-Jones, Gonzaga guard Kevin Pangos, Maryland swingman Dez Wells, Northern Iowa forward Seth Tuttle and Minnesota forward Maurice Walker.
[+] Enlarge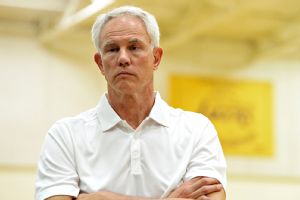 Jayne Kamin-Oncea/USA TODAY SportsMitch Kupchak and the Lakers have begun working out draft prospects at the team's practice facility.
Lakers general manager Mitch Kupchak said the team would like to bring in at least four and potentially as many as eight players it would consider drafting at No. 2.
"We'll probably bring in as many as the [players'] representatives will allow us to bring in," Kupchak said. "If the representative feels that we're not genuine in considering that player at No. 2, they probably wouldn't send them in. So we'd like to bring in as many as possible. There's a conception that there are four players there [as top-two candidates]. I think there may be more. There are European players that might not be done playing and get time to come over here and work out."
The pre-draft workout process simply provides more information -- some of which is more useful if the Lakers haven't seen much of a young talent who's only been in college for a year before going pro.
"For kids that have been [in college] for three or four years, we know them," Kupchak said. "We know their coaches. We talk to their coaches. There's a lot about them on the Internet. We talk to players who played with them. You get various levels of information, but the interview is one more piece to the puzzle."
Is there a chance the Lakers could trade the No. 2 pick?
"Nothing's really taking place in that regard," Kupchak said. "It would have to be a heck of an opportunity for us to consider doing something like that.
"You have to weigh it against who you think you'll get with the second pick. We're a little bit impatient, so if you came across something that would make your team better quicker -- it would probably be a veteran -- that's something you would consider.
"But there's something to be said about having the No. 2 pick in terms of building going forward. You know you're going to get a really good player. You know you're going to get a player under a contract that you can control for at least five years for a reasonable amount before you have to consider an extension. So those are pluses in addition to getting a heck of a talent."
The Lakers have many needs, Kupchak said, and it appears that after a franchise-worst 21-61 season, the roster will be completely rebuilt.
"We have a lot of players that were on one-year deals this year," he said. "We have players that have options, whether it's a team option or a player option. So those questions remain unanswered. We have a lot of roster spots.
"Assuming we pick three players and keep them on the roster for next year, that takes up three roster spots, and that gives less opportunity to somebody else. But we don't know if we're going to draft three players. We don't know if we're going to have three picks. We may draft a player that you might have to wait a year or two for in Europe. We don't know yet. But our roster looks better, clearly, after getting the pick in the lottery last Tuesday."
May, 26, 2015
May 26
1:54
PM PT
By ESPN Stats & Information
ESPNLosAngeles.com
Archive
The Los Angeles Lakers rank 31st of 333 international teams surveyed in an ESPN/SportingIntelligence report revealing the sports franchises that spend the most on their players. That ranks 13th among NBA teams.
The Lakers' average player salary is $4.8 million. The total payroll of $72 million ranks 101st.
May, 22, 2015
May 22
12:09
PM PT
Getty Images
Late last season, Los Angeles Lakers coach Byron Scott spoke of Lakers rookie guard Jordan Clarkson in the same breath as Oklahoma City star guard Russell Westbrook, saying that while Clarkson wasn't on the same level, he did at least play a similar style and have similar athleticism.
Now Lakers general manager Mitch Kupchak is making the same argument.
"If there's a player in the league that plays like him, it's Russell Westbrook," Kupchak said during a Thursday radio appearance with ESPN's Colin Cowherd. "Now, I'm not saying for a second that Jordan Clarkson is the next Russell Westbrook, but he's that kind of a ball-handling guard.
The Lakers acquired Clarkson with the 46th pick in the 2014 draft, and he earned considerable playing time last season with injuries decimating the roster.
In 38 games as a starter, many of them at point guard, Clarkson averaged 15.8 points per game on 45.8 percent shooting, with 5.0 assists and 4.2 rebounds.
Clarkson was recently named to the All-Rookie first team. But it's hard to say if the Lakers believe they're ready to give the reigns of the offense over to Clarkson next season.
"We drafted him [46th overall]; didn't know he was going to have that kind of year," Kupchak said. "But he played a lot of minutes on a team that wasn't very good. So we're very encouraged, but the jury is still out on him."
There are questions about whether Clarkson is a point guard or a shooting guard, but Kupchak said he's a blend of the two positions, much like Westbrook.
"He looks to attack the rim," Kupchak said. "He's aggressive offensively. He's not going to walk the ball up the court, make an entry pass and cut through. He's going to push the ball, look for a crack and try to get to the rim, try to make a play. When he comes off a pick, he'll look to shoot. He'll pass the ball, but I would agree -- he's not the typical, prototype, ball-handling point guard."
May, 22, 2015
May 22
9:44
AM PT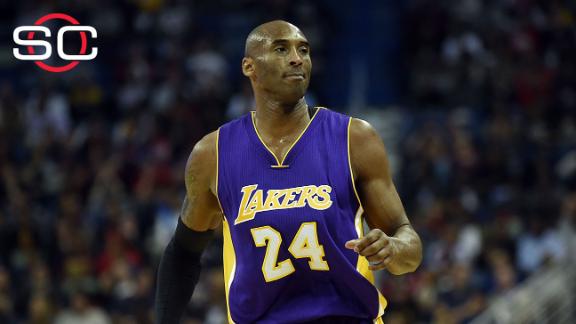 Los Angeles Lakers general manager Mitch Kupchak said star guard Kobe Bryant has told the GM that the 2015-16 season will be Bryant's last with the Lakers.
"He has indicated to me that this is it," Kupchak said Thursday in a radio appearance with SiriusXM NBA Radio.
Bryant is scheduled to make a league-high $25 million in his final contract season -- his 20th -- with the Lakers. But there's speculation that Bryant could play beyond next season, and Bryant said he hasn't ruled out that possibility.
"I think first and foremost, he's on the last year of a deal," Kupchak told SiriusXM NBA Radio. "There have been no discussions about anything going forward. I don't think there will be."
Bryant will be 37 years old when next season begins, and his past three seasons have ended early because of injury. He played only 35 games last season before suffering a season-ending shoulder injury.
"A year from now, if there's something different to discuss, then it will be discussed then," Kupchak said of Bryant potentially playing beyond next season. "I talk to him from time to time ... and he is recovering. He's running. He's getting movement and strength in the shoulder. We expect a full recovery, but yeah, he's much closer to the end than to the beginning."
Bryant took to Twitter on Friday afternoon to say nothing has changed in regards to his plans for the future.
Because of the uncertainty about Bryant's future, Kupchak said he's unsure if there will be a farewell tour next season.
"It's kind of up to the player, if they want to do something like that," Kupchak said. "And it also may take away some options a year from now and put a player in an awkward position, but he will be recognized appropriately with great gratitude when it is time."
May, 22, 2015
May 22
8:49
AM PT
ESPN Insider's Chad Ford and Kevin Pelton return to provide the kind of discussions that are happening in front offices around the NBA -- where scouts and statistical experts are breaking down NBA draft prospects using their "eyes, ears and numbers."
Following Tuesday's NBA draft lottery, we finally have the official order for the 2015 draft. Both Chad and Kevin have their own Big Boards and now it's time for them to play general manager, weighing in on the best fits for teams making the first four picks: the Timberwolves, Lakers, 76ers and Knicks.
First up: the Minnesota Timberwolves
---
If you were drafting for the Timberwolves, whom would you take No. 1?
May, 22, 2015
May 22
9:24
AM PT
Jayne Kamin-Oncea/USA TODAY Sports
Will the Los Angeles Lakers keep or trade the No. 2 pick in the NBA draft on June 25?
Will they select either Kentucky's Karl-Anthony Towns or Duke's Jahlil Okafor – or will they avoid one of the top two centers highly expected to be drafted first and second overall in some order and instead take a dynamic young guard?
Already, these questions and more are swirling among Lakers fans even though it has been only a few days since their team landed some very good luck in Tuesday's NBA draft lottery held in New York.
In radio appearances Thursday, Lakers general manager Mitch Kupchak discussed the draft pick and what the Lakers might do with it, although he pointed out that it's still early, that they're still fielding calls from teams interested in the pick and that they still must work out and interview draft prospects in the coming weeks.
"It looks as though we'll use our pick this year," Kupchak said during a radio appearance with ESPN's Colin Cowherd.
Kupchak didn't commit to the idea that the Lakers would be taking a center, but his comments certainly leaned that way.
"Clearly, at the top of the draft at this time, there are two bigs, and we have the second pick," Kupchak told Cowherd.
Of course, which center the Lakers might select depends on who is available.
At the moment, the Minnesota Timberwolves hold the first pick and it appears as though the Lakers will need only to choose whichever center the Timberwolves don't take, meaning they'll end up with either Towns or Okafor.
As much as the NBA was once dominated by centers, it is now dominated by guards. Look no further than the Western Conference finals matchup featuring the Golden State Warriors' Stephen Curry and the Houston Rockets' James Harden.
"You could argue that," Kupchak told Cowherd. "The jury is still out, but you could argue that, and there's no doubt that the game that's being played today is very different from the game that was played eight to 10 years ago. It's the 3-point shots, the drive-and-kick [style].
"Now, the teams that have had great success still have centers. San Antonio, they've done pretty well with a center there. Memphis has a great center. Although they didn't advance this year, they have an excellent team. Golden State, they don't use their center to score points, but they still have a 7-foot, 7-foot-1 guy.
"So you still need size in this league. You need a rim protector. A guy that takes space. A guy to pass the ball to run the offense through."
Kupchak said there's more pressure on the Lakers to rebuild quickly, which often means acquiring top-notch free agents. Building through the draft, he said, isn't something the team has historically done.
That said, he admitted the team has had recent success with draft picks. The Lakers have built a core of young talent, specifically with guard Jordan Clarkson, who was recently named to the All-Rookie first team, and forward Julius Randle, the team's seventh overall pick out of Kentucky in the 2014 draft who broke his leg in the team's first game last season.
"If we do end up using this pick in the draft, and let's just assume we get a big player – which if you look at our roster, you might say, well, that's what they need -- then you can say, hey, they have three young players going forward that might be fun to build around," Kupchak said during an appearance on SiriusXM NBA Radio with hosts Rick Fox and Jared Greenberg.
Kupchak said he sees several potential All-Stars at the top of this year's draft, but he's not sure if he sees any franchise-altering players.
"I do think that there are four or five players that are very, very good, and when you look back on [the draft] 10 years from now, I think they could all be All-Stars," he told SiriusXM NBA Radio. "But I don't think there's anybody that next year will lead a team to champagne in June.
"If that does happen, particularly with us, then we'll have to get lucky in the offseason, particularly with free agency. Kobe [Bryant] is going to have to come back and be very healthy, which I understand he's on track for. But I don't think right now that there's anybody who can make that kind of difference right away."
If the Lakers had fallen out of the top five in this week's draft lottery, they would have lost their 2015 first-round pick to the Philadelphia 76ers because of the Steve Nash trade.
Not only did the Lakers stay in the top five, they moved up two spots from the No. 4 spot, where they were most likely to land after finishing with the league's fourth-worst record (21-61) last season.
But the Lakers will almost certainly lose their 2016 first-round pick to the 76ers after next season -- unless the Lakers' pick falls in the top three picks, in which case the Lakers would keep it.
To even be in position for such an outcome to occur, the Lakers would need to have another calamitous season, and it appears as though they'll now have the pieces to, at the very least, avoid a repeat of last season's historically bad campaign.
Still, Kupchak said he didn't think the fact that they'll lose their first-round pick to the 76ers next year means they need to keep their first-round pick this year.
"It's not the worst thing to be able to pick in the first round every other year," Kupchak told SiriusXM NBA Radio. "If we do our job this year and we're not a top-three bad team next year, then that pick does go to Philadelphia. And I don't think that would be the end of the world. We're just happy to get this year's pick."
Indeed, there was plenty of celebrating not only for Lakers fans but within the organization itself. The team posted a video of Kupchak popping the cork on a bottle of celebratory champagne after the No. 2 pick was secured.
"Well, I prefer to be doing the champagne about five weeks from now -- not celebrating the No. 2 pick in the draft," Kupchak told SiriusXM NBA Radio. "But we had a season that was tough. We had two seasons that were tough. So it would've been just really difficult to not get a pick. We got the pick, and not only did we get the pick in the top five, we moved up to No. 2."
How valuable is that pick? Potentially very valuable, Kupchak said.
"Let's just say there was a team that had the fifth or sixth or seventh pick, and they wanted to go to No. 2," Kupchak told SiriusXM NBA Radio. "In that area of the draft, just to move up two or three or four slots, normally, it's hard to do. And the price that that team would pay would be high, because they've targeted a player that they really want. Obviously the other team would know that, and they would have to pay for that."
May, 21, 2015
May 21
6:25
AM PT
Andrew D. Bernstein/NBAE via Getty Images)Clyde Drexler and Terry Porter made the playoffs every season together.
With the Splash Brothers rolling into the conference finals, this is a good time to revisit the topic of the NBA's best backcourt combinations.
To rank the top 10 guard duos since the ABA-NBA merger, I started with my wins above replacement player (WARP) value statistic for each player, then added five wins for each All-Star appearance. Then, to make sure I highlighted the best combos rather than backcourts where one star far outshined his more limited teammate, I multiplied the totals for each player while the duo was intact and took the square root to come up with the backcourt score.
Alas, Stephen Curry and Klay Thompson don't make it -- yet. They've played together only four years, and everyone in the top 10 spent at least six seasons together. But after both made the Western Conference All-Star team this year, the Warriors' backcourt already ranks 21st on the list, and they're surely coming for a spot in the top 10. Here's who they're chasing.
Top 10 backcourts of all time
---
1. Terry Porter/Clyde Drexler
Team: Portland Trail Blazers

Score: 134.2

Years: 9+ (1985-86 to 1994-95)

All-Star appearances: 10

(Drexler 8, Porter 2)

Championships: 0
May, 20, 2015
May 20
1:36
PM PT

By Royce Webb
ESPNLosAngeles.com
Archive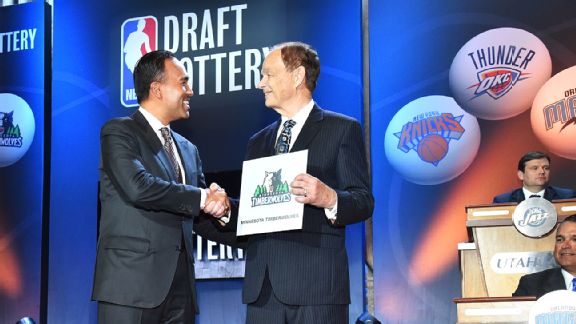 Jesse D. Garrabrant/NBAE/Getty Images
NEW YORK – The NBA Draft Lottery, the league's weirdest career-altering stunt, made peers of three people who will probably never be in the same room again: Sixers rookie Nerlens Noel, Lakers coach Byron Scott and Minnesota billionaire Glen Taylor. As the pageant reached its suspenseful conclusion on Tuesday night, the three stood onstage together as winners of the NBA's biggest loser contest. They had just been told they were receiving the top three picks in the June 25 NBA Draft (ESPN, 7 p.m. ET).
Indeed, it was Christmas for losers, and the trio were here to accept gifts from the league on behalf of their teams, which this season collectively won 55 games, 12 short of the Golden State Warriors' total.
For all of the failure that led to this night, the lottery was a giddy affair. Hundreds filled a curtained-off hotel ballroom in midtown Manhattan, on the floor and in the balcony. Onstage, 14 team representatives – from Larry Bird to Steve Mills to Russell Westbrook – waited with a mix of low-key resignation and high hopes.
On a nearby raised platform, ESPN's broadcast team of Mark Jones and Jay Bilas narrated and evaluated, while on yet another platform, Cassidy Hubbarth served as a host of sorts when nothing else was going on. For the assembled crowd, she interviewed Willie Cauley-Stein, D'Angelo Russell and Frank Kaminsky, among other potential lottery picks. Off to the side, Heather Cox was dwarfed by Karl-Anthony Towns and Jahlil Okafor, perhaps the top two picks in this year's draft, as they watched video of themselves on the big screen and then talked about their bright days ahead.
The number of NBA players in the room – future, current and retired - added buzz. Before the presentation, Scott, Westbrook and Kings VP Vlade Divac talked in a triangle, a friendly players-only chat that ran 20 minutes. Bird held court off to the side with any number of admirers, while Hall of Fame center Alonzo Mourning and Suns center Alex Len were eye-to-eye in conversation. After the event, reporters – with cameras, phones and recorders – swarmed team executives and athletes alike for instant reaction.
The main reason we were all there: to find out how the NBA's pingpong balls had reshuffled the draft order, which has the power to shape franchises and lives for years.
The reason to reshuffle: To reduce intentional losing, a.k.a. tanking. (As Phil Jackson might tweet, "Seriously, how's it goink?") By taking away a little bit of the certainty that teams crave, this system is supposed to prevent them from losing on purpose. And yet, intentional losing appears to be practiced more systemically than ever.
The fact that tanking can be labeled "rebuilding" and the fact that it's generally done at the franchise level rather than the player level has allowed league officials to ignore the issue to a large degree. Commissioner Adam Silver denies that teams are tanking.
On the other hand, he and a large group of owners tried last October to push through a change in the lottery system because they saw how certain teams – most prominently the Philadelphia 76ers – were able to use the NBA's draft rules to gain these valuable prizes, these high draft picks. The rules change was voted down, although it might be revived. The question remains, if teams aren't tanking, why do we need to continue to change the rules to prevent tanking? (As noted, the lottery exists because of tanking.)
One reason tanking isn't synonymous with game-fixing or match-fixing (which is illegal in sports across the globe) appears to be that it's so ingrained in NBA culture that we expect teams to try to lose to improve their draft position – to win by losing. Indeed, the anger in New York among Knicks fans on Tuesday night appeared to be directed at Jackson, coach Derek Fisher and the Knicks for winning a pair of games at the end of the season that hurt their lottery odds -- rage that had flared up even as the games were happening, to the point where Fisher had to make a statement defending himself and his team for winning.
At ESPN and elsewhere, there have been many recommendations for better, fairer systems than the current draft. Celtics exec Mike Zarren proposed "the wheel." At HoopIdea, we put economists and others on the case. FiveThirtyEight crowdsourced solutions. This week Amin Elhassan became the most recent analyst to call for an end to the draft, which would encourage teams to try to win and put together the best team possible at all times.
But with the success of the lottery and the draft as one-night TV and media fan-friendly events, the league is reluctant to look for a better way, even when tanking is the reason for one of those events.
A few quick case studies from Tuesday night:
Minnesota Timberwolves

Official position: 1st pick in the draft

Unofficial position: Ironic, but about time!
The Timberwolves have still never moved up in the lottery in 17 tries. (Since the draft is about fairness: Is that fair?) The irony this time – they didn't want to move anywhere.
The other irony was voiced by owner Glen Taylor, the Wolves' rep, who admitted that he had attempted and failed to make it harder for the worst team, which turned out to be his own team, to get the No. 1 pick.
Talking to reporters after the lottery, Taylor said that he had expected Minnesota to be a playoff team this season. "I wasn't planning on being here this year," he said. "We really thought we would get into the 7th or 8th position in the playoffs."
In fact, he said he was so sure the Wolves would not be in the running for the No. 1 pick that he supported the plan to reduce the lottery odds of the worst team. The effort failed, and so did the Timberwolves, thereby succeeding.
Los Angeles Lakers

Official position: 2nd pick in the draft

Unofficial position: We deserve it!
I grew up a huge fan of the Magic Johnson-era Lakers, I know the size and strength of Laker Nation and I understand intimately the appeal of having the league's marquee franchise win more than, say, 21 games. But even so, it's a bit sad to see the Lakers go on corporate welfare and be granted one of the most valuable prizes the NBA has to offer, especially after the half-hearted way they finished the season. Magic himself celebrated the outcome on Twitter.
The Lakers are worth an estimated 2.6 billion dollars, have won 16 NBA championships -- including two in the past six seasons -- and hold significant advantages over every other NBA team when recruiting players to join their franchise.
Now for the second straight year, they get an outright gift for failure – one of the most talented players coming into the league, on a rookie salary scale while the salary cap goes up and up.
The draft is generally understood to be an attempt to level the playing field and create competitive balance -- and particularly to provide small-market teams a way to compete. It's an adjustment to the structural advantages that large markets naturally have. Given that, it's amazing to see the league rewarding Los Angeles and New York for failure and incompetence by granting them the rights to the biggest prizes.
Scott and Kobe Bryant both said the Lakers deserved such a prize, though their takes were markedly different. Scott called the No. 2 pick in next month's draft "a little bit of a reward" for all their recent misery. On Twitter, Bryant resorted to potty humor that hinged on the double meaning of "No. 2," saying, "We played like crap all season."
The draft is where crap turns to gold.
Philadelphia 76ers

Official position: 3rd

Unofficial position: It could've gone better, but we knew the math.
The 76ers are a lightning rod for critics because of their coldly methodical approach to creating a roster that, they hope, will eventually be able to compete for NBA titles. The Sixers have lost 127 games the past two seasons -- quite intentionally, many believe -- which has "earned" them a pair of high draft picks. Team president Sam Hinkie's unorthodox moves, including trading away rookie of the year Michael Carter-Williams for a future draft pick, have annoyed some observers and puzzled others.
After the lottery, Hinkie calmly described the Sixers' process to reporters, noting that for a bad team looking for talent, it was entirely normal to churn through a lot of players before finding the ones to keep. As he said, if a player he picks up has a 25 percent chance of becoming someone you'll want for the long haul, you probably need four such players to find the one you are looking for.
Hinkie understands that one part of the rebuilding process -– perhaps the most important part of the process - is to take full advantage of the NBA's offer of free talent via the draft (free, as long as you don't mind a losing season). Hinkie wants to win championships, and to do that he needs stars, the kind of players that are hard to get most of the time, but much easier to get through the draft.
He is wary of getting stuck in NBA purgatory, reserved for teams not good enough to compete for a title and not bad enough to get high draft picks. He wants high draft picks and has shown himself adept at acquiring them – so adept that some teams and fans are bothered by the way Hinkie, who holds an MBA from Stanford, and the Sixers have conducted business the last two years. But that's just what it is: Hinkie's judgment about what constitutes good NBA business sense.
So on the one hand, Tuesday night was a success – Philadelphia got the No. 3 pick and a potential star. On the other hand, it wasn't quite the blowout victory the Sixers might have hoped for. Philly had a chance on Tuesday to set an NBA record by winning three lottery picks, because they hold rights to protected draft picks from the Lakers and the Heat. But the balls didn't bounce quite their way, and now they have to wait for those latter two draft picks, which might become less valuable over the years as those teams improve.
Hinkie understood this, and noted that he and his staff had run the numbers already, saying, "We never anticipated we'd get the Lakers' pick this year. We spend countless hours trying to evaluate those sorts of things, those sorts of uncertain things in the future."
If you want to know where Sixers-style losing gets you, we saw that on Tuesday night. Like it or not, this is the system the NBA has set up.
New York Knicks

Official position: 4th

Unofficial position: OK, we'll take it. Anybody wanna trade us a star?
Phil Jackson wasn't there – he sent Steve Mills. After the Knicks "fell" to fourth, Mills said, "It's not a setback at all. We went into this draft knowing we can get a good player, anywhere from 1 to 5 [in the draft]."
Emotionally, that didn't seem accurate, but technically, it was – the fourth pick in a loaded draft is the equivalent of a big bonus after a bad year at the office. And yes, we did just see the NBA grant James Dolan a prized top-four draft pick.
The Knicks will surely explore how to get a star player in return for the pick, as Mills acknowledged on Tuesday.
Before and after the lottery, I surveyed some of the executives and others attending the affair, to ask: Do the Knicks and these other teams deserve a lottery pick? I asked about a variety of teams, including three from large markets: Los Angeles, New York and Philly.
The consistent answer, which matched NBA doctrine, was that yes, they did deserve a high draft pick after successfully losing and/or tanking their way into the lottery.
And I get that. Losing is painful, as one longtime NBA executive noted in our chat.
But to say that teams "deserve" a high pick is to reward failure. In Malcolm Gladwell's critique of the NBA draft, he noted the "moral hazard" of rewarding losing. Rewarding failure is generally considered bad policy, whether in sports or other endeavors.
Perhaps fans themselves do "deserve" to be rewarded for their loyalty. The excitement and the potential that stems from the lottery and the draft do indeed give fans a reason to hope, a reason to believe. Of course, if some fans "deserve" such rewards, that implies that other fans deserve them less.
When it comes to the teams themselves, "deserve" might be entirely the wrong word. Perhaps it's another d-word that keeps the draft going, that creates excitement and buzz around something as peculiar as the lottery.
Perhaps it's desire. Desire to have a shot, deserved or not, at a transcendent talent that can change team and career trajectories.
Desire. Isn't that always the fuel that makes a lottery go?