June, 29, 2016
Jun 29
10:24
PM PT

By Baxter Holmes
ESPNLosAngeles.com
Archive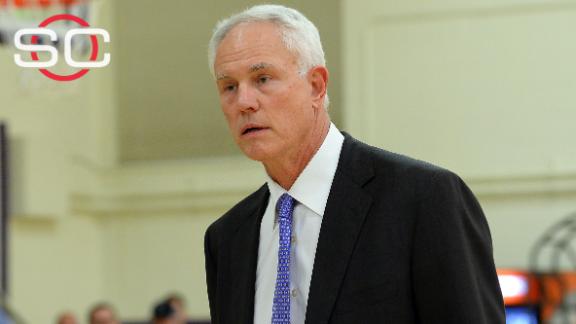 Maybe this summer will be different. Maybe this is the one that breaks the spell of the past three and sends superstar free agents stampeding back to Los Angeles for more than just an offseason vacation in Rhode Island-sized Brentwood mansions. Maybe now, finally, NBA A-listers will sign with the Los Angeles Lakers, revitalize the league's glamour franchise and carry it to a slew of champagne-soaked Junes.
Or, as Lakers general manager Mitch Kupchak said recently, "It might not be different." With those five words, Kupchak doused expectations of Lakers fans, preparing them instead for a fourth straight summer of rejection, another offseason of nope.
Sure enough, the latest free agency bonanza, which kicks off at 12:01 a.m. ET Friday, figures to unfold much like the trio that preceded it: with the Lakers striking out on all their top targets, the biggest fish whom the Lakers once always seemed able to reel in.
But that was before the team hit the darkest stretch in its otherwise rich history, missing the playoffs for three straight seasons (a franchise-long drought); and posting a franchise-record for losses in three straight campaigns (winning only 17 games in 2015-16). Along the way, they were turned down by LeBron James, Carmelo Anthony and DeAndre Jordan, and All-Star big men Pau Gasol and Dwight Howard each walked away in free agency to accept less money from other teams.
As if the script hasn't been flipped enough, one year after losing Greg Monroe and LaMarcus Aldridge to small markets (Milwaukee and San Antonio, respectively), the Lakers couldn't even get an audience with Kevin Durant, sources told ESPN's Chris Broussard. Meanwhile, Durant has secured sit-downs with other teams, including two of the Lakers' rivals: the Clippers and Boston Celtics.
With a projected $60 million to spend thanks to the skyrocketing salary cap, the Lakers can afford two max-level players (compared to only one last summer) and still have several impact players in their sights, including Hassan Whiteside, Al Horford, Nicolas Batum, Harrison Barnes and Ryan Anderson, sources tell Broussard.
Even then, none of those players would instantly lift the rebuilding Lakers from the Western Conference cellar. Overall, positives are hard to find, but there is one element of free agency that, at the very least, will be different for the Lakers this season –- their pitch.
"We can focus a little bit more on the basketball side of it, because we have more to sell," Kupchak said.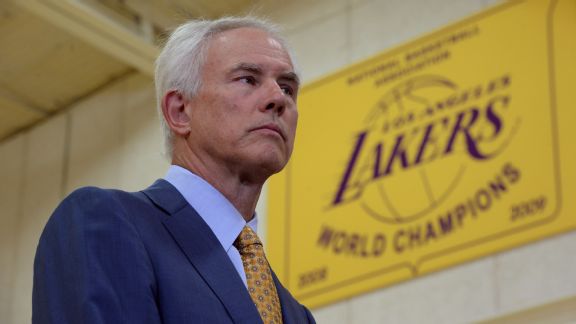 Andrew D. Bernstein/Getty ImagesLakers GM Mitch Kupchak has had to endure several summers of free agency rejection, and despite plenty of cap space, Kupchak is prepared for another disappointing free agency season. But it won't be for lack of trying.
In recent free agent sit-downs, the Lakers, knowing full well that their on-court product was putrid, relied on their television partners and AEG to help produce video presentations that pushed their Hollywood connections, postcard-perfect climate and glorious yesteryear. When the subject turned to basketball, crickets chirped.
"We just didn't have that much to sell," Kupchak said.
To drive home that point, Kupchak relayed how, generally speaking, the dialogue flowed last summer.
"Well, you're going to get to play with Kobe [Bryant]," Kupchak said he would tell a prospective free agent, mentioning the ball-dominant icon, who was headed into his 20th and final NBA season.
"But Kobe has been injured," Kupchak said the free agent would respond, noting Bryant's three consecutive season-ending injuries. "Is he going to be healthy, Mitch?"
"Well, I don't know that."
"And then who else am I going to play with?"
"Well, you're going to love playing with Julius Randle," Kupchak would say, referencing the bruising power forward, who was the seventh overall pick in the 2014 NBA draft.
"But he only played one game," the free agent would respond, a nod to the broken leg that ended Randle's rookie season in the Lakers' opener.
"And then you're going to love playing with the No. 2 pick, who hasn't played at all," Kupchak would say, naming rookie point guard D'Angelo Russell.
In short, it's not hard to see why Aldridge complained that his Lakers meeting focused too much on branding and marketing and not enough on his actual day job. And it's hard not to see why the Lakers have struck out year after year after year.
But, all things considered, the Lakers believe their position has improved entering this summer, thanks to their deeper pockets and promising young core of Russell, Randle, Jordan Clarkson, Larry Nance Jr. and, now, the No. 2 overall pick in the 2016 draft, Duke freshman standout Brandon Ingram.
Beyond that, Bryant's absence allows for a superstar to take the reins of the franchise, a selling point that the Lakers believe is plenty appealing.
The particulars of their new pitch will, Kupchak said, "depend on the free agent." In terms of who will deliver it, Kupchak indicated that he, Lakers' executive vice president of basketball operations Jim Buss and rookie head coach Luke Walton will lead the meetings.
Kupchak added that depending on how free agency unfolds, "There may be meetings, there may not be meetings. Things may be done quickly, they may take a week or two. There may not be face-to-face meetings, there may be a couple."
So there are unknowns. The Lakers' aforementioned core is composed of players 24 years old or younger. The 36-year-old Walton, an ex-Golden State Warriors assistant, is the NBA's youngest coach. And the Lakers' front office could undergo a massive shake-up a year from now if Buss follows through on his public proclamation that he'll step down if the Lakers don't make a deep run in the 2017 playoffs. (There are rumblings that if Buss leaves, Kupchak could be out the door as well.)
While uncertainty looms, the Lakers for now can only focus on tangible progress, even if taking baby steps only amounts to a minimal win increase following the worst record in franchise history. At the moment, the most important goal for a roster built around so much youth is to add veterans.
"History tells you that a bunch of young guys on the team is probably not a good thing," Kupchak said. "They look around for leadership or they look around for advice from somebody who's been through this a couple times and if there's nobody to talk to, well, you don't know how to handle the situation.
"So I think we will look to add some veteran leadership, and hopefully it's not only leadership but guys who can help us win games. It's unlikely that would come about via trade, although it's possible, but it's more likely that would come about through free agency."
The Lakers and their fans will hold out hope that a franchise-altering player will return the team to relevance, but, at the moment, the more realistic formula for success is developing its fledgling talent, though Kupchak stresses that those players are under no timeline.
"I don't think there's a plan in terms of, if it doesn't work a year from now, we're going to break it up," Kupchak said. "Or if we don't win 36 games or 42 games or 48 games [next season], it's over. That's not the plan at all.
"I think what we'd like to do is put together a group of players that are growing, that are fun to watch and they improve as the season goes along -- clearly, with the intent to keep the interest of our supporters, our fans, our partners, our season-seat holders. You do have to win games.
"That doesn't mean we have to win 40, or 45, or 50. It may not even mean you make the playoffs. I don't know what it's going to take to make the playoffs next year. Maybe you've got to win 48 games to get in in the West. And maybe we win 47. Or maybe we win 37. I don't know.
"But as long as the team is fun to watch, our fans and our partners can see a team that's growing and getting better as the season goes along, I think that's the barometer that's best for us."