May, 4, 2016
May 4
6:00
PM PT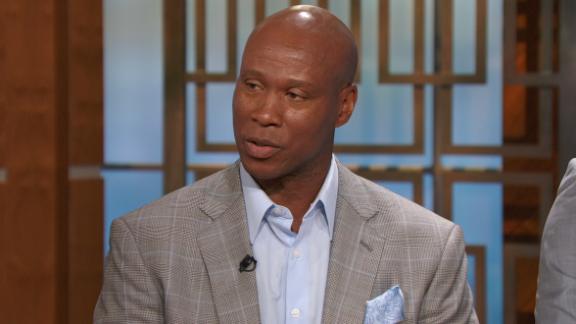 Former Los Angeles Lakers head coach Byron Scott said he was "surprised" and "shocked" that he was fired from his position last week, adding that he believed management would give him at least one more season to try to turn around the rebuilding team.
Discussing Lakers' brass Wednesday on ESPN's The Jump with Rachel Nichols, Scott said, "When you have conversations with guys, you take them for their word. And that's what I did. Our conversation a couple of years ago was, 'This is a rebuilding process. It's going to take two to three years. It's going to be very tough. Are you OK with that?' And as I stated, I said, 'Yeah I'm OK with it. Are you guys OK with it? If you can deal with it, I can deal with it.'"
The Lakers parted ways with Scott after the team posted their two worst seasons ever under him, winning just 38 games in that span and posting a franchise-worst 17-65 record this past season, the second-worst record in the NBA.
Scott's deal with the team included a team option for next season that was not picked up. Earlier this week on the "Dan Patrick Show," Scott said the Lakers' decision "blindsided" him, which Scott explained further Wednesday.
"And so when I said I was 'blindsided' by it, I figured I at least had another year to get this thing turned around, and I was preparing for that and looking forward to next year," Scott said on ESPN's The Jump. "And then boom, that happened, and I said, 'Wow.'
"That kind of surprised me, shocked me a little bit, and then went home, thought about it for a few hours, woke up Monday morning, and said, 'Hey, I'm going to go to the gym to get a workout in and start thinking about life after coaching.'"
When Scott, who won three championships with the Lakers as a player in the 1980s, was informed of the Lakers' decision, he said he didn't immediately ask why he wasn't given another year.
May, 4, 2016
May 4
1:54
PM PT
May, 4, 2016
May 4
1:42
PM PT
May, 4, 2016
May 4
10:24
AM PT
Noah Graham/NBAE/Getty Images
Golden State Warriors starting small forward Harrison Barnes will enter July as a restricted free agent after he and the team failed to finalize an extension by the deadline on Nov. 2. Barnes will draw a lot of attention on July 1 and one of the teams that might have interest is the Los Angeles Lakers.
"I think he's capable of averaging 18 a game here if the Lakers sign him and brought him here." Lakers analyst Mychal Thompson said during his show on ESPN LA radio, according to Bay Area News Group. "I think he could be more of a featured scorer, maybe a No. 2 option, maybe even a No. 1 on certain nights. He's capable of putting up in the high-20s. He's a very good shooter, can get to the basket, very athletic. He just hasn't been asked to do very much in Golden State, but coming here, he'd be asked to do more, and I think he could."
The Lakers will have at least $57 million in salary cap room once July begins, so they can easily offer Barnes a max contract that could start around $21 million. The Warriors are expected to match most potential offer sheets, however a max deal might be too high for them.
With Luke Walton leaving the Warriors to take the Lakers' head coach job, he might ask Jim Buss and Mitch Kupchak to speak with Barnes on July 1. The Lakers need to upgrade the small forward position and that might be their priority in free agency should they have to send their 2016 first round pick to Philadelphia.
May, 3, 2016
May 3
3:30
PM PT
ESPN.com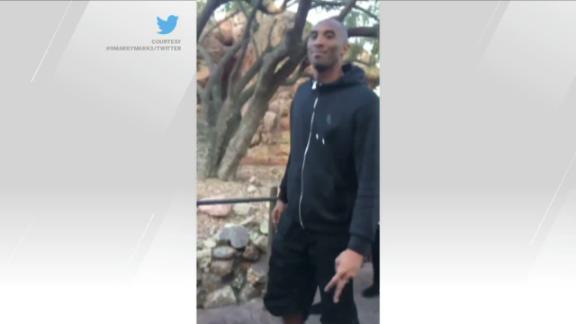 "I'm going to Disneyland!"
It's what many a player has said after winning a Super Bowl, but for former Los Angeles Lakers star Kobe Bryant, it was a way to celebrate his retirement.
The five-time NBA champion who spent his entire 20-year career in Los Angeles was spotted at the theme park on Sunday, much to the delight of fans who were also enjoying The Happiest Place on Earth.
Bryant hasn't announced any post-retirement plans, whether in the NBA or otherwise, but he seems to be enjoying a life that doesn't involve a complex daily routine to get his body ready for the rigors of basketball. Riding Heimlich's Chew Chew Train is probably a lot more fun than sitting in an ice bath.
May, 3, 2016
May 3
1:13
PM PT
May, 2, 2016
May 2
7:33
AM PT
April, 30, 2016
Apr 30
2:37
PM PT
OAKLAND, Calif. -- Golden State Warriors assistant coach Luke Walton said it was a difficult decision to take over as head coach of the Los Angeles Lakers but one he was prepared to make.
"It was a tough decision, but I didn't have to sleep on it because I already kind of thought it out," said Walton, who addressed the media for the first time since news of the hire broke Friday. "Obviously, I love that the past two years, the players here are incredible, not just talent-wise, but the people they are. I love the coaching staff I work with here."
NBA coaching sources told ESPN's Marc Stein that Walton landed a five-year deal with the Lakers -- four years of which are guaranteed -- at an annual salary believed to be between $5 million and $6 million, depending on incentives.
Walton will remain on the Warriors' staff for the remainder of the team's playoff run. His coaching star rose considerably after he led the Warriors to a 39-4 start while filling in for an ailing Steve Kerr this season.
"I was a little nervous about making the phone call because we have such a good thing going here, and I respect [Kerr] so much," Walton said. "But he was blown away. He couldn't believe how quickly it had happened, but he was so excited. It was like two friends talking. He was really, really happy for me, the opportunity. We had that call, and I was at his house three hours later."
Kerr explained how Walton broke the news to him: "Luke called me maybe around 4 o'clock or so and said, 'I got good news and bad news.' I said, 'What's the good news?' He said, 'The Lakers offered me the job.' I said, 'What's the bad news?' He said, 'I took it.' I said, 'You're right. That is bad news. We're going to miss you.'"
Walton will be trading a team that won an NBA-record 73 games this season and is chasing its second straight title for a Lakers squad coming off a franchise-worst 17-65 season. Walton said he is ready for the challenge.
"[The Lakers] laid it all out. They showed what they want to do, players they plan on going after, all that stuff," Walton said. "That's exciting to me. Get to be with one of the greatest organizations in the history of sports, and they're ready and willing to get after it."
A Southern California native, Walton admitted that his being a former Laker affected his decision-making.
"The fact I played for the Lakers, and I feel part of that family, I still root for them," he said. "Even before I took this job, I watched Laker games and hoped that they succeed and win, so it's kind of nice to be able to go back and try to help rebuild what they used to have there."
Lakers legend Magic Johnson hailed the team's new hire.
Although Walton played for former coach Phil Jackson, don't expect Jackson's triangle offense to take shape with Luke's Lakers.
"I don't think the triangle's the most appropriate offense for the players that they have in place right there," Walton said. "So I think I'm going to bring more of the style and spacing that we use up here, which has elements of the triangle, that philosophy."
Walton noted he is very aware of his present situation in the Bay Area despite knowing his future is in Los Angeles.
"My priority is winning a championship right now [with Golden State], and the Lakers know that," Walton said. "And they know that's how it should be, and we have the chance to do something very special here."
Forward Draymond Green