January, 26, 2015
Jan 26
12:27
PM PT
ESPN.com
Los Angeles Lakers star Kobe Bryant will undergo surgery to repair a torn rotator cuff in his right shoulder, the team said Monday. A timetable for his recovery won't be known until after the procedure.
The Lakers said the surgery will take place Wednesday. ESPN reported on Friday that Bryant is expected to miss the remainder of the season.
It would be the third consecutive season-ending injury for the 36-year-old Bryant, a five-time NBA champion and former league MVP, raising more questions about his future. The 19-year veteran has one year remaining on his contract with the Lakers, during which he is set to be paid $25 million.
After taking the weekend to mull his options after Lakers team doctor Steven Lombardo found a significant tear in his right shoulder, Bryant met Monday with Dr. Neal ElAttrache, another Lakers doctor, who advised that Bryant have the surgery.
January, 26, 2015
Jan 26
10:17
AM PT
[+] Enlarge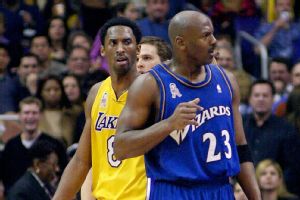 AP Photo/E.J. FlynnKobe Bryant, left, saw Michael Jordan as a mentor and Washington as a way out of LA and his feud with then-Lakers teammate Shaquille O'Neal.
Kobe Bryant has long idolized Michael Jordan, the player to whom he has been compared throughout his career. Years ago, he had plans to play alongside his mentor.
According to a Washington Post report on Monday, Bryant more than a decade ago wanted to leave the Los Angeles Lakers and play for Washington Wizards, where Jordan was winding down his career.
"That's true," Bryant told the Post. "A long time ago? Yeah."
Said Bryant, "I've always been very big on having mentors, on having muses, and I've been really, really big on that, being around guys who have done it before and done it at a high level and always tried to pick their brains and always tried to absorb knowledge. Obviously, being in that situation [with the Wizards], it would've helped having to be around him every day and so on."
January, 25, 2015
Jan 25
11:46
PM PT
LOS ANGELES --
Houston Rockets
coach Kevin McHale says he has loads of respect for
Los Angeles Lakers
star
Kobe Bryant
.
But McHale didn't seem so sure the 36-year-old Bryant would be able to rebound from another potential season-ending injury, this time a torn rotator cuff in Bryant's right shoulder suffered last week in a loss at New Orleans.
"Eventually, this catches up to you, man," McHale said Sunday before the Rockets beat the Lakers 99-87 at Staples Center. "Kobe's a great player, but I've seen other great players. When your time's up, your time's up, man. It's too bad, but it happens to everybody.
"I wish him all the best. I've always admired him. I think he's a hell of a competitor, but everything comes to an end. In my case, my body just said, 'You weren't playing anymore,' and I said, 'OK.' "
Bryant was expected to decide as early as Monday whether to have shoulder surgery. If it causes him to miss the rest of the season, it will mark his third straight season ended early by injuries. Achilles and knee injuries ended his previous two seasons prematurely.
January, 25, 2015
Jan 25
10:34
PM PT
LOS ANGELES --
Jeremy Lin
was just happy to be out there again.
"I'm thankful I played," the
Los Angeles Lakers
reserve point guard said Sunday after a 99-87 loss to the
Houston Rockets
at Staples Center.
"A DNP will change your perspective on things."
Lin was referring to Friday, when he was a DNP-CD (did not play - coach's decision) in a road loss to the
San Antonio Spurs
, his first healthy scratch since Feb. 2, 2012, even before "Linsanity."
[+] Enlarge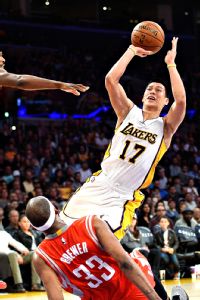 Harry How/Getty ImagesJeremy Lin had 14 points and six assists Sunday against the Rockets in his first game since being benched.
He entered Sunday's game late in the first quarter to cheers from the fans and finished with 14 points in 28 minutes against the Rockets, making just 2-of-9 shots but sinking 10-of-14 from the free-throw line. He added six assists against his former team.
Both before the game and after, Lin reflected on his roller-coaster season and more.
"In terms of my career, the only thing that's really been consistent is the amount of inconsistency that I've had in my life," Lin said. "I've gone from getting cut to the D-League to starting to playing heavy minutes -- a different role every week, it seems like. I've just got to keep trying to stay aggressive when I get out there -- if I get out there."
His healthy scratch in San Antonio was disheartening, of course.
"I'm human," he said. "I've got emotions, too. I show up and do my best to play and work hard and stuff, but it definitely hurts. It's discouraging sometimes. It's disappointing. All those emotions."
Lin and Lakers coach Byron Scott chatted Sunday morning about Lin's role, and it was the same message Scott has said all season: He wants consistency.
"The effort has been great," Scott said. "That hasn't been a problem with Jeremy. It's just a matter of being consistent each and every night, trying to get into a flow each and every night. That's what we talked about again today."
Lin has gone up and down more than an elevator since joining the Lakers.
He has been a constant target of praise and criticism from Scott and
Kobe Bryant
.
He has been moved from the starting unit to the bench.
He has gone from second-string point guard to third-string point guard, behind
Ronnie Price
and rookie
Jordan Clarkson
And he has gone from playing heavy minutes to not playing at all, such as Friday.
"The only thing that you can really get used to is the fact that you don't know what's coming next," Lin said. "That's kind of been true this whole season."
None of it is fun, mind you, and Lin hasn't looked happy much if at all this season, even though he has done his best to present himself as upbeat.
Is Lin trying to use his minutes to make his case that he deserves more?
"No, we've been down this road before," he said with a laugh. "[Sunday night], I was just enjoying the game."
He repeated that message a few times.
"I was out there having fun just attacking and really just enjoying the experience of getting to play team basketball -- try to get everybody involved and do the best we can," he said. "It was fun. Losing is not fun, but just playing again is fun."
And that's what the season has been reduced to for Jeremy Lin.
He's just trying to have fun in a situation, and in a season, that is anything but fun.
January, 25, 2015
Jan 25
10:03
PM PT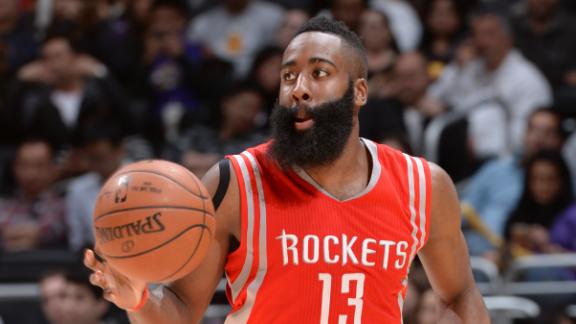 LOS ANGELES -- Nick Young was a no-show in the second half for the Los Angeles Lakers on Sunday at Staples Center, benched by coach Byron Scott after struggling in the first half.
The Lakers' reserve guard was then a no-show after the Lakers' 99-87 loss to Houston, leaving without speaking to reporters after going scoreless for the first time for the Lakers in eight minutes of playing time -- his fewest as a Laker.
It was an unusual move for the jovial Young in avoiding the media after the game, as "Swaggy P" relishes the chance to provide colorful quotes.
Either way, Scott said he wasn't happy with Young's effort.
"It looked to me that he didn't want to be here," Scott said.
"At halftime, we showed stuff on the tape where he was guarding [Houston swingman Corey] Brewer in the corner. I asked [Young], 'What were you thinking on his play?' The answer he gave me, I couldn't figure it out. So I just felt with his body language that he didn't want to play tonight, so I chose not to play him."
The Lakers are scheduled to practice Monday, when Young will likely be available to address his benching.
January, 25, 2015
Jan 25
9:00
PM PT
Associated Press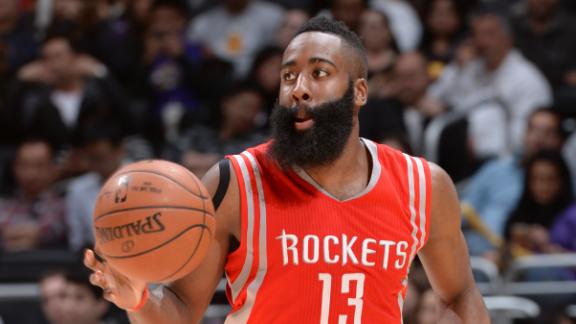 LOS ANGELES -- James Harden had 37 points and eight rebounds, and the Houston Rockets rolled to a 99-87 victory over the Lakers on Sunday night, sending Los Angeles to its eighth straight defeat.
Harden hit four 3-pointers, and the NBA's leading scorer added five assists in the Rockets' third victory in four games.
Josh Smith and Jason Terry had 11 points apiece as Houston cruised to its fourth straight road victory over the Lakers even without Dwight Howard, who sat out after injuring his right ankle two days ago.
Carlos Boozer scored 18 points for the Lakers, who are on their longest losing streak in nearly 10 years.
The Lakers weren't terribly competitive until the fourth quarter of their latest game without Kobe Bryant, who could be out for the season.
January, 25, 2015
Jan 25
9:00
PM PT
LOS ANGELES -- No
Kobe Bryant
? Bummer. No
Dwight Howard
? Even worse. A complete blowout from the start? OK, let's just change the channel.
Yes, Staples Center offered pretty much nothing worth watching Sunday night in a 99-87 victory by the
Houston Rockets
. Even Rockets fans probably tuned out after their team had doubled up the
Los Angeles Lakers
after the first quarter (30-15).
Then again, even the Rockets looked bored most of the night, just watching and waiting for the seconds to tick away in a game that they led by as many as 25 points.
The Lakers suffered their season-high eighth straight loss, their longest skid since they dropped eight in a row from March 14 to 27 in 2005. They sit at 12-33.
Bryant was absent with a torn rotator cuff in his right shoulder, and Howard was out with a sprained ankle, which meant no scuffles between the ex-teammates who had a sour relationship at best.
Player of the game:
L.A. native
James Harden
barbecued the Lakers, though some of his shots were more well-contested during pregame warm-ups than in the actual game. The Rockets' star guard finished with 37 points, 8 rebounds and 5 assists, and though he technically broke a sweat, it seemed like he wasn't trying that hard all night.
Lin in action:
Jeremy Lin
came off the bench in the first quarter, his first action after receiving a DNP-CD (did not play -- coach's decision) Friday at San Antonio, his first healthy scratch since Feb. 2, 2012. He finished with 14 points on 2-of-9 shooting to go along with six assists in 28 minutes.
Swaggy P in the doghouse:
Lakers coach Byron Scott benched
Nick Young
in the second half. Young played just nine scoreless minutes all told, missing both of his field goal attempts.
Lone bright spot:
Carlos Boozer
provided 18 points and 11 rebounds off the bench for the Lakers. There wasn't much else that the Lakers did worth mentioning.
January, 24, 2015
Jan 24
9:21
AM PT
According to sources, the Los Angeles Lakers expect guard Kobe Bryant to miss the rest of the season with a torn rotator cuff.
Bryant met with team doctor Steven Lombardo in Los Angeles on Friday. The Players' Tribune has the video from the visit, where Bryant was told, "It's torn, and it's pulled off the bone."
Exclusive Video: @kobebryant gets a diagnosis on his injured shoulder. http://t.co/KPDF63QB6S pic.twitter.com/f9a0FIna9E

— The Players' Tribune (@PlayersTribune) January 24, 2015
January, 23, 2015
Jan 23
10:45
PM PT
SAN ANTONIO --
Kobe Bryant
might have said it at a practice or a game, and he might have said it a month ago, or maybe longer. Byron Scott doesn't quite remember.
What the Lakers coach does remember is his star guard saying that his shoulder was bothering him.
"You all right?" Scott said he asked Bryant.
"I'm all right," Bryant replied.
The two never talked about the issue again, Scott said.
Then Wednesday, in a loss to the
New Orleans Pelicans
, Bryant tore the rotator cuff in his right shoulder, an injury that will likely sideline him for the rest of the season, though a final decision on that will be made early next week, likely Monday.
But Friday, before the Lakers' 99-85 loss to the
San Antonio Spurs
here, Scott recounted two rather serious missteps regarding Bryant's health that Scott said could very well be tied to Bryant's latest ailment.
The first issue is well known: Scott simply played the 36-year old Bryant way too many minutes earlier this season -- a team-high 35.4 per night during the team's first 27 games -- even though he said Bryant asked to play fewer minutes from the start.
[+] Enlarge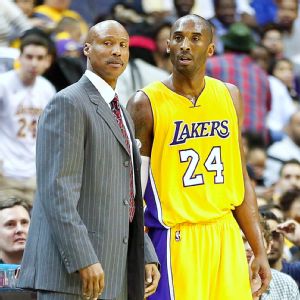 Geoff Burke/USA TODAY SportsInstead of employing a cautious Spurs-like approach, coach Byron Scott played Kobe Bryant too much early on.
"I don't know if the wear and tear of playing so many minutes early is a result of what's happening to him right now," Scott said. "To be honest with you, I thought about that, it made me almost sick."
Scott said he apologized to Bryant via text.
"His response was like, 'No, that ain't it,'" Scott said. "He tried to make me feel better."
Then Scott discussed Bryant's nagging shoulder issue, which hadn't been made public, and they brought it up again this week after Bryant appeared to tear his rotator cuff on what seemed to be a no-frills baseline dunk against the Pelicans.
"You remember when I said it?" Bryant said, according to Scott.
"Yeah, I remember," Scott said.
"I think it was kind of hurting then and I just re-aggravated it on a much higher level," Bryant replied.
Bryant has played through numerous injuries and said so again Wednesday.
"I've played on a torn labrum before," he said. "I'm not too concerned about it."
Bryant also basically played with just his left hand after suffering the injury Wednesday but said that wasn't unusual. He said that he had played entire games left-handed before too, in 2003, 2004 and 2006 because of a separated shoulder.
But that was years ago. He's aged plenty in NBA years, put on many more NBA miles and suffered two recent major injuries (Achilles and knee). So much is different.
Yet Kobe is still Kobe.
He still believes he can overcome because, well, he always has, even against great odds. The people around him -- namely Scott -- believe the same. At times, though, everyone seems to forget that Kobe Bryant is, first and foremost, human.
The usual protocol for a nagging injury, Scott said, is for a player to go talk to the team's trainer, Gary Vitti. Does Scott know if Bryant ever did that? "I don't," Scott said.
In hindsight, these issues appear greatly troubling, because just as Bryant must treat every aspect of his health, training and diet so seriously at this age just so he can perform, so too must the Lakers, and especially Scott, be ever so cautious with him.
That's all the more true because Bryant is the Lakers' sole attraction during an awful season, the lone reason for fans to tune in or attend games, all they really have to look forward to until the draft lottery. From a business sense, Bryant is their cash cow -- their extremely well-paid cash cow -- and thus missteps are extremely costly.
Where does blame lie? Certainly some falls on Bryant. He's as powerful as any figure within the Lakers' organization and as powerful as any player within any NBA franchise. If he wanted to play fewer minutes, he could have. If he wanted to get his shoulder examined earlier, he could have. The only person who could've stopped Kobe was Kobe, but he didn't, because Kobe is Kobe. He believes he will overcome.
So the blame truly falls on Scott, who hasn't been shy about admitting his fault in the issue. And, to a greater degree, the blame truly falls on the entire organization for not stepping in at some point earlier on when Bryant was playing all those minutes.
If the Lakers wanted a good lesson in how to handle superstars late in their careers, they only needed to glance down the sideline Friday.
Spurs coach Gregg Popovich said he started resting
Tim Duncan
after winning the championship in 1999 "because the following year Timmy had a bad knee going into the playoffs. We had to make a decision."
Duncan was 23 years old at the time and had just played his second NBA season.
"The docs cleared him, he could probably play, but I didn't let him," Popovich said. "I held him out. I did that with the thought of wanting him to have as long of a career as he wanted to. I didn't want to take a chance to send him out there and do more damage to it. We had playoffs. So it started way back then."
Fast-forward to Friday, and Duncan, now 38, had 14 points, 7 rebounds, 3 assists and 2 blocks in 20 tidy minutes as the Spurs rolled to a double-digit win.
Scott has talked about the Spurs being the "blueprint" for how to properly rest players, and Popovich talked about that blueprint, the one the Lakers didn't follow.
"You have a long view in the sense that you think about it, you look at the schedule at the beginning of the year, that kind of thing," Popovich said. "Because it depends on how much people played in the last three days or last night and what's coming up in the schedule or who else is hurt or injured.
"It's never about wins or losses, it's not about that," Popovich said. "You don't overplay somebody to get the win. Sometimes you're in circumstances where it happens, like the two triple-overtimes we had. That really skewed things for us. I hated watching those guys play all those minutes, but I guess it would have been sweeter if we won. In general, it's a process and you talk about it daily and weekly."
The phrases "It's never about wins and losses" and "You don't overplay somebody to get the win" appear to be exactly what the Lakers didn't do with Bryant early on this season, even though this season was never headed anywhere to begin with.
Either way, Bryant is now hurt, likely gone for the season, facing yet another rehab, and it's not clear how this will affect what should be his final season in the NBA.
"Nobody wants to see that happen," said Spurs guard
Manu Ginobili
. "It sucks. The league needs him. He's one of the best players that ever played."
"When somebody like that of that stature goes down, it's not good for everybody, obviously for his team but for the league and you miss guys like
Derrick Rose
for instance, the last couple of years, or Kobe or anybody else like that," Popovich said.
"It's a loss for the league, for fans, for all of us. I can think of a lot of shots Kobe's made that's basically knocked us out, and in an odd, weird sort of way I still enjoy it. When you see a talent like that, when they don't play anymore then you say 'Wow, I got to see so and so play.' He's one of those kind of guys."
Spurs guard
Tony Parker
agreed.
"When I first came here, Spurs-Lakers, that's all we talked about," Parker said. "It was a huge rivalry, with him and Shaq. Those were great years.
"They always say good stuff has to have an end, but hopefully we can see him one more time next year and he'll be healthy and finish on a high."
Hopefully, that will be the case. Hopefully, Bryant can recover and go out on his own terms, whatever those may be. But considering he's now facing his third consecutive season-ending injury, a storybook ending may simply not be possible, even for someone with such an iron will as Kobe Bryant.
He'll have his five rings, but a graceful exit could elude him, and it's hard not to look back at this season and wonder why more wasn't done to help him achieve that.
January, 23, 2015
Jan 23
8:08
PM PT
Associated Press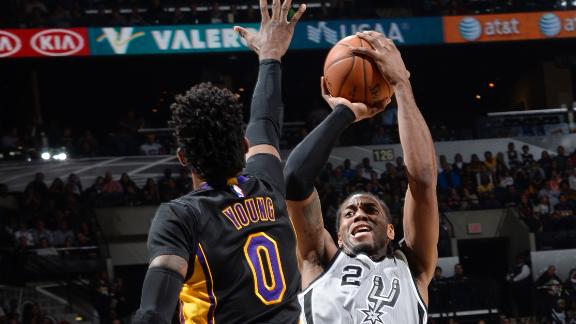 SAN ANTONIO -- Tony Parker scored 17 points and the San Antonio Spurs never trailed in rolling to a 99-85 victory Friday night over a depleted Los Angeles Lakers team that potentially has lost Kobe Bryant for the season.
Kawhi Leonard had 15 points and 14 rebounds, Manu Ginobili scored 15 points and Tim Duncan added 14 points for San Antonio.
Nick Young scored 17 points to lead the Lakers, who lost their seventh straight. Rookie point guard Jordan Clarkson, a San Antonio native, had 11 points and four assists in his first career start.
Bryant tore his right rotator cuff Wednesday in New Orleans. The injury will be re-examined Monday before the Los Angeles Lakers decide whether the superstar guard needs potentially season-ending surgery.
January, 23, 2015
Jan 23
7:49
PM PT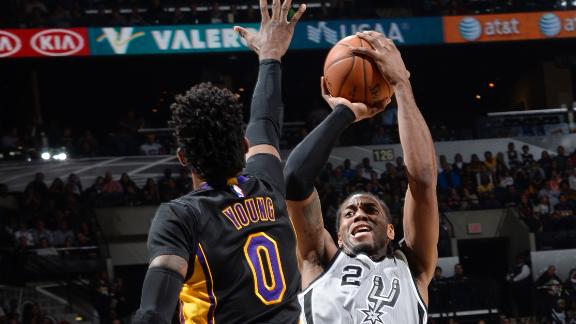 SAN ANTONIO -- Remember Dec. 23, versus Golden State? The Lakers blew out the team with the NBA's top record, and they did so without
Kobe Bryant
, creating plenty of chatter about whether they play better without their 36-year-old star, as many advanced statistics indicate.
Friday night wasn't like that. Sure, the Lakers were again playing against top competition, the defending champion Spurs, and they were again without Bryant, who likely won't play again this season after tearing the rotator cuff in his right shoulder this week.
But instead of playing inspired ball without their top attraction, as they did in December against the Warriors, the Lakers were simply bulldozed out of the AT&T Center, as they lost their season-high seventh straight game, dropping them to 12-32 this season.
Turning point:
the Spurs led 9-0 from the start and by as much as 23 in the first half. The Lakers did cut the Spurs' lead to 10 early in the fourth quarter, but the Spurs reasserted themselves and put the Lakers away for good. The Lakers never led.
Player of the game:
Spurs forward
Kawhi Leonard
scored 15 points on 6-of-12 shooting to go along with 14 rebounds. He didn't seem to be trying that hard either.
New starting lineup:
Lakers coach Byron Scott trotted out
Jordan Clarkson
at point guard,
Wayne Ellington
at shooting guard,
Ryan Kelly
at small forward,
Jordan Hill
at power forward and
Robert Sacre
at center. Only one of those players scored in double figures: Clarkson, the rookie, who made his first NBA start in his hometown and finished with 11 points on 5-of-9 shooting in 29 minutes.
No love for Lin:
For some reason, Scott decided not to play
Jeremy Lin
, who was healthy and available. It was a surprising move considering the game was such a blowout.
Top scorer:
Nick Young
led the Lakers with 17 points on 5-of-11 shooting off the bench.
January, 23, 2015
Jan 23
11:12
AM PT
ESPN.com
The Los Angeles Lakers expect star Kobe Bryant to miss the remainder of the season with a torn rotator cuff, sources told ESPN's Ramona Shelburne.
Bryant met with team doctor Steven Lombardo in Los Angeles on Friday, and Lombardo found a significant tear in the rotator cuff in his right shoulder. Bryant is expected to take the weekend to decide whether to undergo surgery and has an appointment with Dr. Neal ElAttrache, another Lakers doctor, on Monday.
Bryant suffered the tear during the second half of Wednesday night's loss to New Orleans, though sources said he has been dealing with the injury since the preseason.
Lakers coach Byron Scott didn't hide his concern about Bryant's future before Friday's 99-85 loss to the Spurs.
"Yeah, I'm worried," Scott said. "We all in the organization are worried about it."
Bryant, who has one year remaining on his contract with the Lakers for $25 million, apparently aggravated the injury with 4:14 left in the third quarter against the Pelicans when he drove baseline for a two-handed dunk.
"It felt fine when I went up, didn't feel too good when I came down," Bryant said after the game.
The 19-year veteran grabbed his shoulder as he ran back down the court and checked out of the game a few minutes later.
Bryant checked back in with five minutes left in the fourth quarter and immediately favored his shoulder. He tried to rebound and dribble with his left hand, but it became clear something was wrong when he shot and made a turnaround 14-foot jumper with just his left hand.
"Obviously after I saw that everything he did was with the left hand, I knew then, let's get him out of there," Scott said after the game.
Bryant tweeted Friday about the injury.
Scott said Friday that he believed Bryant, who played just six games last season after recovering from Achilles and knee injuries, could rehab another injury if need be.
"This is one of the toughest guys I've ever been around as far as dealing with injuries and things like that and being able to come back," Scott said. "Everybody said he was done after the Achilles and he came back pretty strong.
"Knowing him the way I know him, I know he doesn't want to go out this way. I think he'll rehab it if that's the case and then we'll have to wait and see."
Bryant, who was voted in as a Western Conference All-Star starter