April, 30, 2016
Apr 30
8:21
AM PT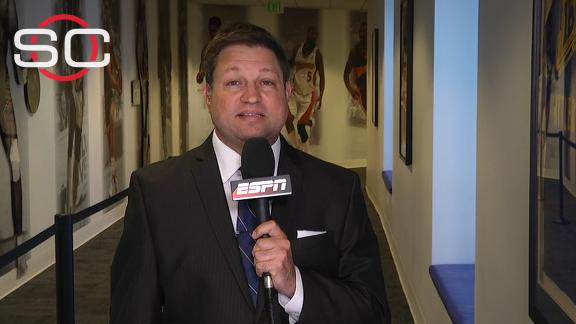 Most NBA coaching staffs would've watched the game at the office and ordered in some dinner. But Steve Kerr has built more than a coaching staff in his two seasons as head coach of the Golden State Warriors. He's created a family, just as the patriarch of his coaching tree, Lute Olson, did at the University of Arizona. So Kerr invited everyone -- his coaches and their families -- over to his house in the Berkeley Hills for dinner before they watched Game 6 of the Portland Trail Blazers-Los Angeles Clippers series.
It was a night to laugh and bond and scout the Warriors' second-round opponent. But mostly it was to be among the last nights this little coaching family Kerr had created would all be together after lead assistant coach Luke Walton agreed to become the head coach of the Los Angeles Lakers. That's how life goes in the NBA. You create something special and the rest of the league wants to steal some of what makes you magic.
It was a joyous occasion, and it was bittersweet.
And then it was just so perfectly Luke.
As news leaked that Walton had accepted the Lakers' job, and the dinner party was about to get started, he was on the side of the road dealing with car trouble. Yes, really. The man's career just took a quantum leap forward, his family and friends are waiting to celebrate with him, and his car breaks down. When he finally arrived about an hour late, he just smiled and let everyone have a laugh at him. No apologies necessary.
That's Luke Walton. Last year's lead assistant coach Alvin Gentry once said of him, "I don't think I've ever met another guy who is so comfortable in his own skin."
It's why he connects with so easily with so many people. He's as comfortable talking to brainy 68-year-old defensive assistant coach Ron Adams as he is with 20-year-old rookie Kevon Looney