November, 25, 2015
Nov 25
11:41
AM PT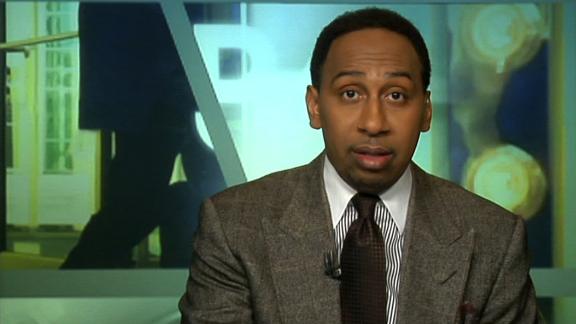 OAKLAND, Calif. -- A thin line separates confidence and delusion, and Kobe Bryant is straddling it. It's the only conclusion one could reach after judging the Los Angeles Lakers star's comments Tuesday after he tied the worst shooting performance of his career in any game in which he attempted at least five shots.
In a humiliating 111-77 loss to the Golden State Warriors at Oracle Arena, Bryant shot 1-of-14 from the field, including 1-of-7 from 3-point range, and scored four points. He also shot 1-of-14 in a loss last season to the San Antonio Spurs.
Bryant is the first player this season with four or fewer points on 14 or more field goal attempts.
Many of his shots hit the front of the rim. Some 3-point attempts were air-balls. He blew one layup that should have been a dunk -- and probably would have been years ago, before all his injuries. And one shot, perhaps the cruelest of all, became lodged where the rim and backboard meet. An opposing player had to help pry it loose.
The performance was his worst so far this season, yet, frankly, it wasn't too dissimilar from those that preceded it. In his 20th NBA season, the 37-year-old Bryant has looked his age. His body has performed as if it's carrying a ton of NBA mileage and has endured three consecutive season-ending injuries, which it has.




But once again, Bryant said he's fine, that his health is fine, that his shot is fine, and he diverted the conversation elsewhere, largely to his teammates and the team's overall scheme.
"I'm not really worried about it, honestly," Bryant said. "My shooting will be better. I could've scored 80 [Tuesday]. It wouldn't have made a damn difference. We just have bigger problems. I could be out there averaging 35 points a game. We'd be what, 3-11? We've got to figure out how to play systematically in a position that's going to keep us in ball games."
Read the above quote again, or a few times, if necessary. Specifically, re-read the part about scoring 80 points in a game or averaging 35.
Those comments were made by a player who is averaging more field goal attempts per game (a team-high 16.4) than points (15.2); a player who is shooting a career-worst 31.1 percent from the floor; a player who has now had 12 consecutive games scoring fewer than 25 points while shooting worse than 50 percent, the longest such streak of his career.
(For those interested, ESPN.com's Tom Haberstroh did the math