February, 10, 2016
Feb 10
7:34
PM PT
Associated Press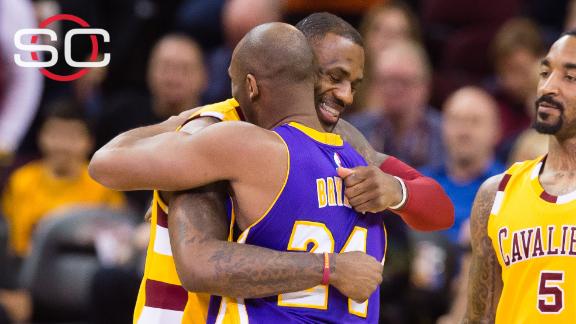 CLEVELAND -- Kobe Bryant's final game in Cleveland was reduced to a sideshow when Cavaliers forward Kevin Love re-injured his surgically repaired left shoulder in the first half of a 120-111 win over the Los Angeles Lakers on Wednesday night.
Kyrie Irving scored a season-high 35 points and LeBron James 29 for the Cavs, who head into the All-Star break with one of their "Big 3" injured.
Love quickly left the floor late in the second quarter after he got hurt while working in the post against Bryant. He did not return in the second half, and the Cavs did not provide any specifics about his injury.
Bryant finished with 17 points in his last performance in Cleveland. Lou Williams scored 28 to lead the Lakers, who have dropped 13 of 15.