Marc Stein:

Charlotte Bobcats
April, 29, 2014
Apr 29
11:23
AM ET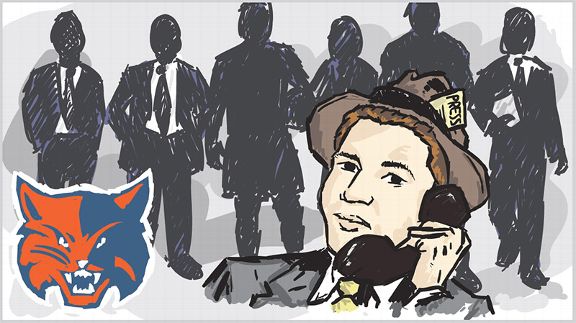 Shea SerranoESPN.com senior writer Marc Stein has the lowdown on the Bobcats as they head into the offseason.
Five burning questions and answers on the future of the
Charlotte Bobcats
after their first-round playoff elimination Monday night with a 109-98 Game 4 loss to Miami:
---
1. How likely is it that Charlotte will be back in the playoffs next season?
The bottom of the Eastern Conference playoff race can't possibly be as friendly in 2014-15 as it was this season.
It just can't.
The Bobcats, though, generally believe next season has to be better, so unsavory was their first-round experience against the Heat after
Al Jefferson
hurt his left foot.
For starters, they won't be the Bobcats anymore. And pretty much anyone you speak to in Charlotte will tell you that the excitement surrounding the return of purple and teal and the "Hornets" nickname is already palpable around town.
There are reasons for on-court optimism, too. Jefferson had an All-NBA-worthy season and hushed every critic who said owner Michael Jordan was spending foolishly when he awarded Big Al that three-year, $41 million contract last summer.
Kemba Walker
grew into the point guard role and improved his assist average every single full month during the regular season. And the unheralded Steve Clifford was an instant hit as a rookie on the bench, finishing fourth in NBA Coach of the Year voting largely because he did what many said couldn't be done: He fashioned a defense ranked sixth in the league in defensive efficiency despite the fact that Jefferson -- widely perceived a sieve -- was at the heart of it.
---
2. What issues did the Miami series expose?
The answer is somewhat skewed by Jefferson's physical limitations during the series, but the need for a third scorer to help Jefferson and Walker, as well as more weaponry on the perimeter, is indisputable.
Gerald Henderson
,
Gary Neal
and
Luke Ridnour
don't quite provide the needed punch to supplement Clifford's two go-to guys, as we saw when Miami attacked the smaller Walker to get the ball out of his hands.
The fact that
Bismack Biyombo
scarcely played in this series only raises the volume on questions about the 21-year-old big man's future with the franchise, given Jefferson's compromised health. Biyombo will be a $3.9 million player next season and has to make some real progress to get to
passable
offensively in order to justify the faith of Bobcats general manager Rich Cho, who acquired the 2011 No. 7 overall pick on draft night in a deal with Sacramento.
---
3. So what does Charlotte need to put around cornerstones Jefferson and Walker to be able to field a more well-rounded team?
Wing scoring. Wing size. Wing shooting.
A quality 3-man, if you add all that up.
"The most important position in the East," says one veteran scout, referring to the conference that currently houses
Paul George
,
Paul Pierce
,
Carmelo Anthony
and, of course,
LeBron James
.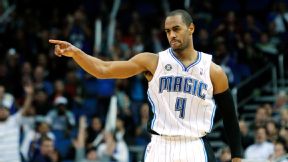 Kim Klement/USA TODAY SportsMagic swingman Arron Afflalo will be among Charlotte's trade targets this offseason.
The buzz around the soon-to-be-resurrected Hornets is that a dependable small forward will surely be their top target in free agency ... and MJ will again have money to spend, if he can find a willing taker.
Or Charlotte could certainly opt for trades to fill its nagging holes at both small forward and backup point guard if it fears the usual chilly summer chasing players on the open market. The rumbles have already begun that a player Clifford is said to regard with real fondness after working with him in Orlando as an assistant -- vet floor leader
Jameer Nelson
-- as well as current Magic swingman
Arron Afflalo
will be among the Bobcats' trade targets.
Nelson, 32, is entering the final season of his contract at $8 million, but only $2 million of that is guaranteed if Nelson is waived by July 15. Afflalo, 28, is due to earn $7.5 million next season and has a player option for 2015-16, also valued at $7.5 million.
---
4. What else is on the offseason agenda?
Charlotte naturally hopes to re-sign frontcourt newcomer
Josh McRoberts
, who is widely expected to decline his $2.8 million player option for next season to become a free agent after finding a playmaking niche alongside Jefferson.
You'll also hear and read no shortage of hopeful noises about shooting guru Mark Price straining, as he's done all season, to find the teaching breakthrough that helps defensive ace
Michael Kidd-Gilchrist
develop at least a semi-reliable stroke. (A useful summer of offseason development from big man
Cody Zeller
would be welcome, too, after a modest rookie campaign.)
The Bobcats also figure to be busy sorting through all of the renewed interest from sponsors who have been staying away for years and -- caught up now in the sort of fever reminiscent of when the Hornets put the city on the pro sports map -- want to do business with the new Hornets.
Of greatest interest here, however, is watching how Clifford, Jefferson and Walker function as a recruiting triumvirate.
Walker gave the hard sell to Jefferson last summer to convince him to make the splashiest free-agent arrival ever seen in Charlotte. Jefferson and Clifford have since been lauded for infusing the team with a measure of credibility the city hasn't seen since the early 1990s glory days.
Now? Jefferson realistically ranks as the Bobcats' only true untouchable, as much because of his age (29) and annual salary as his outstanding 2013-14 production, but those three sure give off the vibe that they're operating as a triumvirate these days.
---
5. Can we get away with saying that the Bobcats, as His Airness clearly believes, have unquestionably turned a corner?
Can't see how you could argue.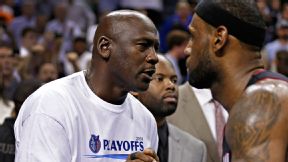 AP Photo/Chuck BurtonMichael Jordan's club fell to the Heat, but brighter days appear to be ahead in Charlotte.
The Bobcats have a couple of core pieces in Jefferson and Walker that not only snap together pretty, but more importantly, they are on the same page with their coach.
It looks like the team won't be getting Detroit's top first-round pick in June, barring a surprise in next month's lottery that bumps the Pistons out of the top eight, but Charlotte has other assets available to cement itself as a playoff contender with some staying power in the East, including a late first-rounder on the way from Portland.
After going 28-120 in the previous two seasons, Charlotte simply wanted (and needed) to establish itself as a viable NBA franchise. On that front, even though the "Bobcats" identity is about to be retired with only two first-round playoff sweeps to show for these first 10 campaigns, rolling the dice on that expensive win-now swoop for Big Al promptly launched them to viability.
Which means the most famous North Carolinian of them all can finally leave the house again.
April, 7, 2014
Apr 7
4:53
PM ET
Not even 10 minutes after this video visit with Al Jefferson hit cyberspace, Charlotte's big man was named Eastern Conference Player of the Week.
Coincidence? We think not.
Our advice, then, is simple to players everywhere who want to instantly sprinkle some good karma into their games.
Sit down with Stein for a five-minute chat on TrueHoop TV.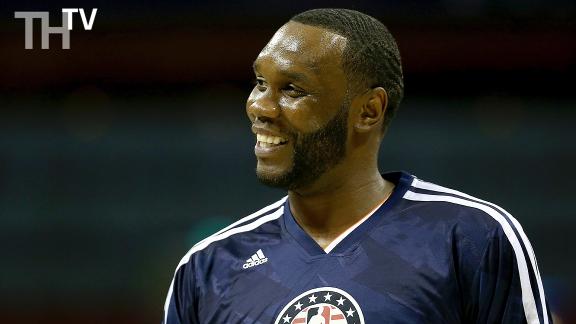 March, 16, 2014
Mar 16
3:56
PM ET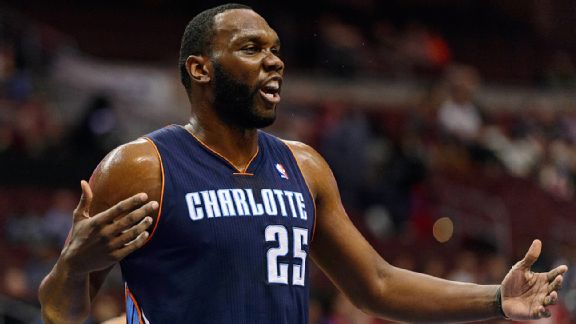 Howard Smith/-USA TODAY SportsAl Jefferson and the Bobcats are within a game of .500 and moving up the East standings.
An Eastern Conference scout on the Bobcats' surge to within a game of .500:
"They're no joke. [First-year coach] Steve Clifford has obviously brought them a strong defensive concept and they're defending at a high level. He deserves a lot of credit for what they've got going when you remember where they were and where they've been.
"He's in the [Tom] Thibodeau mold. It's a grinding style where he gets them very compacted, nothing [allowed] in transition, everyone gets back. It's a 'you're not going to score in our paint' mentality and the guys have bought into it.
"They also have players fitting their roles very well and they've got two guys they can go to when their offense gets stuck:
Kemba Walker
and
Al Jefferson
. And now they've added some shooting with the trade [for
Gary Neal
and
Luke Ridnour
], which I thought was a great trade.
"They're the fourth-best team in the East to me. Chicago is the third-best team; everybody knows they have problems scoring but I promise you no one wants to play the Bulls in the playoffs. Then I like Charlotte.
"The Nets are going to have problems playing defense in the playoffs consistently. They rely a lot on experience and that's not something you can rely on all the time. And I just think Toronto is a little soft inside. Their defense isn't good enough to sustain for four [wins] in a series, and if you really get after DeMar [DeRozan] or
Kyle Lowry
, they're going to struggle to score. I like Charlotte better than both of those teams."
December, 27, 2013
12/27/13
12:34
PM ET
It's not a festive season for everyone in the NBA.

We're actually entering a period of high anxiety for 50 players around the league whose seasons are about to reach a make-or-break point.

All non-guaranteed deals in the NBA become fully guaranteed for the rest of the 2013-14 season if the player in question is still on his current team's roster as of Jan. 10. It's a date that always leads to a handful of roster cuts once the calendar flips to 2014, as teams either look to save a few luxury-tax bucks or perhaps open up a roster spot to take advantage of the 10-day contracts they're allowed to start handing out Jan. 5.

When it comes to this season specifically, teams looking to waive players to prevent their contracts from becoming fully guaranteed must do so by 5 p.m. on Jan. 7, thus allowing sufficient time for the player to clear waivers before the magical Jan. 10 date.

The list of players technically at risk includes some who face zero chance of getting snipped; Andrew Bynum, Patrick Beverley and Michael Beasley jump off the page in terms of vets who have noting to fret about. Yet it's a generally nervy time for anyone possessing a non-guaranteed contract until Jan. 7 passes to assure safety.

One interesting certainty here, for the record, is Orlando's forthcoming divorce from veteran forward Hedo Turkoglu. The sides have spent the past several months discussing a buyout with no success, but the Magic have to either cut or trade Turkoglu by Jan. 7 or face the prospect of paying him a full $12 million for the entire season. Only $6 million of that salary is guaranteed, but it behooves Orlando to keep Turkoglu all the way to guarantee-date buzzer just in case a trade materializes where his expiring deal becomes handy.

Atlanta: Shelvin Mack, Cartier Martin, Mike Scott
Boston: None
Brooklyn: None
Charlotte: Jeff Adrien, Chris Douglas-Roberts
Chicago: D.J. Augustin, Eric Murphy
Cleveland: Andrew Bynum, Matt Dellavedova, C.J. Miles, Henry Sims
Dallas: None
Denver: Quincy Miller
Detroit: Josh Harrellson, Peyton Siva
Golden State: Hilton Armstrong, Kent Bazemore
Houston: Patrick Beverley, Greg Smith
Indiana: Rasual Butler
L.A. Clippers: Stephen Jackson, Maalik Wayns
L.A. Lakers: Xavier Henry, Ryan Kelly, Kendall Marshall, Shawne Williams
Memphis: Seth Curry, James Johnson
Miami: Michael Beasley, Roger Mason Jr.
Milwaukee: None
Minnesota: Robbie Hummel
New Orleans: Lou Amundson
New York: Cole Aldrich, Toure' Murry
Oklahoma City: Ryan Gomes, Hasheem Thabeet
Orlando: Solomon Jones, Hedo Turkoglu
Philadelphia: James Anderson, Lorenzo Brown, Brandon Davies, Daniel Orton, Hollis Thompson, Elliot Williams
Phoenix: Dionte Christmas
Portland: None
Sacramento: Hamady N'diaye
San Antonio: Malcolm Thomas
Toronto: Julyan Stone
Utah: Ian Clark, Diante Garrett, Mike Harris
Washington: None

P.S.: Even before the January rush, nine players on non-guaranteed contracts have already been waived since the regular season began. They are:

Charlotte: James Southerland
Chicago: Mike James
Golden State: Dewayne Dedmon
L.A. Lakers: Elias Harris
New Orleans: Josh Childress, Arinze Onuaku, Lance Thomas
Philadelphia: Darius Morris
Utah: Jamaal Tinsley
December, 18, 2013
12/18/13
7:30
PM ET


Marc Stein joins ESPN's George Karl, ESPN Chicago's Nick Friedell and the New York Daily News' Frank Isola for an Outside The Lines panel discussion on the woeful state of the Eastern Conference.
December, 13, 2013
12/13/13
5:37
PM ET
What has already been a robust marketplace, for those of you who love the NBA's Transaction Game, is about to get robust-er.
OK, OK. Let's just say busier.
A league that has already witnessed three trades headlined by
Marcin Gortat
,
Derrick Williams
and
Rudy Gay
since training camps opened -- with Toronto trying hard as we speak to find a workable
Kyle Lowry
deal that makes it four -- will see more than 100 new trade chips put into play in less than 48 hours.
At 12:01 a.m. Sunday, no fewer than 114 players who signed new contracts since July will become trade-eligible, thanks to the league rule stipulating that recipients of new deals (in most cases) cannot be dealt until Dec. 15 or three months from the day their new contract is completed ... whichever of those dates falls later. So ...
Just as we would have in the Weekend Dime era, Stein Line Live serves up a list of all 114 of them -- along with a flurry of bonus lists -- to assist in your
ESPN Trade Machine
endeavors:
Players eligible to be traded as of Sunday
* -- Players with an asterisk next to their name possess additional trade restrictions in their respective contracts that earned them spots on Stein Line Live's All-No-Trade Team.
Click here
to get reacquainted with that group.
---
Bonus List No. 1
The following 20 players with new contracts aren't eligible to be traded Sunday because the three-month window since their respective signing dates extends beyond Dec. 15. Next to each player's name is the date he becomes trade-eligible:
---
Bonus List No. 2
The NBA, as part of its new labor agreement in 2011, restricts players possessing new contracts from being eligible to be traded before Jan. 15 when (1) the player's team is over the salary cap and (2) the first-year salary in the new deal exceeds the prior season's salary by more than 120 percent. There are seven players who fall under those restrictions this season:
---
Bonus List No. 3
Any player who signs a contract extension cannot be traded for six months if the total length of the contract (prior deal plus extension) is longer than three years or if the extension has annual increases in excess of 4.5 percent. Two big names, as a result, are thus ineligible to be traded until after their teams' respective 2013-14 seasons:
* -- Don't forget that Kobe, as covered in the
Nov. 8 SLL post
, is also one of four players in the league who possesses an outright no-trade clause in his contract along with
Tim Duncan
,
Kevin Garnett
and
Dirk Nowitzki
.
---
Bonus List No. 4
There are only eight teams in the league, in case all of this trade-eligibility talk has made you curious, that aren't currently carrying a full 15-man roster. They are:
December, 10, 2013
12/10/13
10:45
PM ET
The
Charlotte Bobcats
are dipping into the D-League after losing
Michael Kidd-Gilchrist
to a hand injury likely to sideline the swingman for a month.
Sources close to the situation told ESPN.com that the Bobcats are poised to call up Chris Douglas-Roberts out of the D-League as early as Wednesday.
Douglas-Roberts, 26, is averaging nearly 19 points a game with the Texas Legends after going to training camp with the
New York Knicks
.
The former second-round pick, drafted No. 40 overall in 2008 by New Jersey, Douglas-Roberts had a brief stint last season with the
Dallas Mavericks
(parent club of the Legends) after two seasons with the Nets and spending the 2010-11 season in Milwaukee.
December, 4, 2013
12/04/13
8:44
PM ET
Here's a visit with ESPN Headlines' Doug Kezirian to discuss the unfortunate rash of hand injuries to hit the NBA over the course of the past week.



December, 4, 2013
12/04/13
1:23
AM ET
Another fractured hand in the NBA ... Michael Kidd-Gilchrist this time

— Marc Stein (@ESPNSteinLine) December 4, 2013
First Anthony Davis, now Michael Kidd-Gilchrist. Left hand for MKG tonight in Dallas. Depressing 72 hours for the Class of 2012

— Marc Stein (@ESPNSteinLine) December 4, 2013
Early word is Nets NOT pursuing another ex-head coach to replace LFrank. Vet asst. Joe Prunty, HC of G-Britain internationally, takes spot

— Marc Stein (@ESPNSteinLine) December 3, 2013
Said one coaching source Tuesday night after LFrank's departure: "(Kidd) needed a veteran assistant to guide him, not tell him what to do"

— Marc Stein (@ESPNSteinLine) December 3, 2013
RT @kevinarnovitz: Portland: Lotta guys who can score lotta ways. Flexible, diverse offense tough to defend (+ STOTTS KNOWS HOW TO USE 'EM)

— Marc Stein (@ESPNSteinLine) December 3, 2013