Marc Stein:

Detroit Pistons
September, 24, 2014
Sep 24
4:56
PM ET
The
Detroit Pistons
are bringing former No. 2 overall pick Hasheem Thabeet to training camp, according to team sources.
Sources told ESPN.com on Wednesday that Thabeet, 27, will get a one-year, nonguaranteed contract that gives him a chance to make the Pistons' roster in camp.
Thabeet became a free agent late last month after being waived by the
Philadelphia 76ers
. The Sixers had acquired Thabeet and cash considerations from Oklahoma City for a protected second-round draft pick in 2015 on Aug. 26. The deal also created a $1.35 million trade exception for the Thunder.
Thabeet, selected No. 2 overall in the 2009 draft out of UConn, has averaged 2.2 points and 2.7 rebounds per game over five seasons with the
Memphis Grizzlies
,
Houston Rockets
,
Portland Trail Blazers
and Thunder.
The 7-foot-3 defensive specialist from Tanzania played in 66 games in 2012 and averaged nearly a block per contest. But playing time was limited last season in Oklahoma City when first-round pick
Steven Adams
emerged as the Thunder's backup center.
September, 3, 2014
Sep 3
1:20
PM ET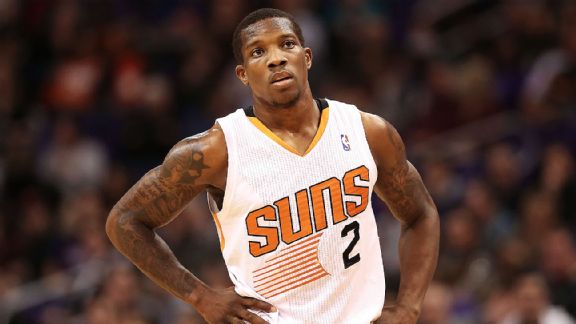 Christian Petersen/Getty ImagesStill unsigned, Eric Bledsoe is seeking the five-year max from Phoenix worth $85 million.
BILBAO, Spain -- Catching occasional glimpses of
Goran Dragic
here at the 2014 FIBA Basketball World Cup, even when he's wearing the green of Slovenia, inevitably makes you think of
Eric Bledsoe
.
Especially because it's already September.
Inside a month to go before the
Phoenix Suns
and the rest of the league open up their training camps, Bledsoe remains unsigned, just 25 days and change away from the Suns' scheduled return to work in Flagstaff, Arizona.
Which raises the unappetizing possibility that Bledsoe won't even be there for that first day of camp to reunite with Dragic. The deadline for the Suns' prized restricted free agent to sign his qualifying offer isn't until Oct. 1. And these parties have been locked in a stalemate for months.
As ESPN.com reported in August,
Bledsoe is seeking the five-year max
from Phoenix worth $85 million. The Suns' offer has topped out, to this point, at a reported $48 million over four years. The resulting impasse -- and tension -- has led to both parties exploring sign-and-trade options while Bledsoe himself inches closer to playing next season on a $3.7 million qualifier that would allow him to become an unrestricted free agent in July 2015.
Going the latter route would be an undeniable risk for Bledsoe, coming off a second knee surgery that limited him to 43 games last season, but make no mistake: Phoenix would be facing tremendous risk here as well. Should Bledsoe decide to sign the qualifying offer, as appears increasingly likely if no sign-and-trade materializes, Bledsoe can't be traded without his consent for the whole season ...
and
would instantly set himself up to join Dragic as an unrestricted free agent next summer.
Consider that last sentence again.
If Bledsoe elects to go the rare qualifying offer route, Phoenix would suddenly face the very real possibility of losing both of its two best assets without compensation in 2015 free agency.
The Lakers, for example, are just one team league sources say would likely make a hard run at both of them, based on the premise that the Suns couldn't afford the cost of paying both at that point, theoretically making either Bledsoe or Dragic gettable. Sources say that Houston, furthermore, has Dragic on its list of potential targets next summer given how he's blossomed since leaving the Rockets for Phoenix in the free-agent summer of 2012.
If Bledsoe signs the qualifier, furthermore, you can pretty much bank on him leaving Phoenix as soon as he gets the chance, because players don't take that sort of gamble and then bury the bad feelings months later to re-sign with the incumbent team. And that would naturally increase Dragic's leverage in the process, because Phoenix simply couldn't stomach losing its two most valuable players, who both happen to play what is routinely regarded as the most important position on the floor in the modern NBA.
So it's quite a quandary for the Suns. As sensible as their four-year, $48 million pitch to Bledsoe sounds and as outlandish as the player's demands might seem -- given what
Kyle Lowry
just got in Toronto -- I have to believe Bledsoe's agent Rich Paul thinks he can get much more than what Phoenix is offering next summer. He wouldn't be turning down Lowry money now if he didn't already know.
You'll recall Utah's
Gordon Hayward
was roundly questioned after passing on a similar four-year, $48 million extension offer from the Jazz last October when he was said to be seeking $52 million. Hayward wound up scoring a max offer sheet from Charlotte worth $64 million over four years, which Utah was forced to match.
Now it's Bledsoe's turn. And
Greg Monroe
's. The Detroit big man is also weighing whether to play out the coming season on a qualifying offer if he isn't presented with a sign-and-trade scenario to his liking before Oct. 1, fully believing that there's more money available next summer as an unrestricted free agent than the Pistons are offering now. And if you don't think Monroe has the gumption to go that route, you're forgetting that he's represented by the fearless David Falk.
My sense is that Bledsoe and Paul are indeed prepared to take the qualifying offer despite the rarity of the strategy. And you can't help but wonder, in the Suns' case, what sort of season awaits the NBA's plucky darlings of 2013-14 if that's how it plays out.
It would appear that Suns head coach Jeff Hornacek faces quite a challenging sophomore season, after his fantastic debut as a head coach, given that the harmony and chemistry that played such a big role in the Suns' success is bound to be shaken by the uncertainty surrounding the future of their two franchise players. Free agency is also looming, incidentally, for
Gerald Green
(unrestricted) and twins
Markieff
and
Marcus Morris
(both restricted) in July 2015.
Some solace for the Suns: Oct. 1 is the likely the longest they'll have to wait before seeing Bledsoe ... assuming they (A) can't hammer out a deal with Bledsoe through an 11th-hour round of negotiating or (B) don't opt to sign-and-trade him.
The league's new labor agreement in 2011, thanks to one of the union's many concessions, moved up the deadline for signing qualifying offers to Oct. 1. Otherwise this saga potentially could have dragged out even longer.
Or have you forgotten
Anderson Varejao
's foray into restricted free agency in the summer of 2007?
In that instance, Varejao's agent, Dan Fegan, rejected what he felt was an unworthy offer from the
Cleveland Cavaliers
and waited until December before he landed the offer sheet he felt Varejao deserved. Charlotte eventually came through with a two-year, $11 million pact that the Cavs ultimately matched ... after playing without Varejao for the first two months of the season.
Seven years later, even though both Bledsoe and Monroe do still possess the option to stage an old-fashioned holdout once their respective qualifying offers expire, Oct. 1 looms as the likely end to both of these dramas.
At least as far as this seemingly endless summer goes.
August, 8, 2014
Aug 8
5:10
PM ET
The
Detroit Pistons
are in advanced negotiations to hire former
Orlando Magic
general manager Otis Smith to coach their NBA D-League franchise, according to NBA coaching sources.
Sources told ESPN.com that Pistons president and coach Stan Van Gundy has targeted Smith -- his former boss and close associate in Orlando -- to move to the coaching side of the business by taking charge of Detroit's new D-League expansion team, which will begin play this season in nearby Grand Rapids, Mich.
One source said Friday that a deal is not done but that the sides are closing in on an agreement.
Smith stepped down as GM of the Magic in May 2012 on the same day that Van Gundy was ousted as Orlando's coach.
Star center
Dwight Howard
left the Magic three months later in a four-team blockbuster sign-and-trade deal that landed Howard with the
Los Angeles Lakers
for one ill-fated season before Howard's free-agent defection to the
Houston Rockets
.
Smith was named GM in Orlando in May 2006 and was ultimately promoted to president of basketball operations before leaving the franchise, with the Magic posting a 299-177 (.628) record during his tenure and advancing to the NBA Finals in 2009. As a player, Smith was part of the first-ever Magic squad in 1989-90.
Earlier this week, Van Gundy announced a flurry of additions to his coaching and front-office staffs in Detroit, including the hiring of former
Miami Heat
star Tim Hardaway as an assistant coach and another one of his former players, Quentin Richardson, as Pistons director of player development.
July, 17, 2014
Jul 17
10:55
AM ET
The Detroit Pistons and the Sacramento Kings have resumed trade discussions on a deal that could send Josh Smith to Sacramento, according to sources with knowledge of the talks.
Sources told ESPN.com the Kings have continued to express interest in Smith and the parties are on the hunt for a third team that could help facilitate the deal.
As ESPN.com reported last month, Detroit and Sacramento have engaged in trade discussions that would potentially land Smith in the same frontcourt with DeMarcus Cousins and Rudy Gay. Initial talks called for Sacramento to send Jason Thompson and either Derrick Williams or Jason Terry to the Pistons for Smith, but those discussions reached an impasse and were pushed into July along with the rest of both teams' free-agent business, sources said.
Click here for the full story
June, 24, 2014
Jun 24
6:58
PM ET
Stan Van Gundy's first trade as the new president and coach of the Detroit Pistons might prove to be a whopper.
Sources close to the situation told ESPN.com on Tuesday that the Pistons have engaged the Sacramento Kings in trade discussions this week that would potentially land Josh Smith in the same Sacramento frontcourt as DeMarcus Cousins and Rudy Gay.
Sources say that Smith being swapped in exchange for the combination of Sacramento's Jason Thompson and Derrick Williams is one trade construction that the teams have discussed. Although one source insisted Tuesday that no deal is imminent, another source told ESPN.com that the teams have continued to exchange proposals, with Williams potentially being replaced by another Kings player such as Jason Terry or Carl Landry.
Skeptics will inevitably question whether the Kings should indeed take the gamble of trying to fit Smith in alongside Cousins and Gay, especially with three years and $40.5 million remaining on Smith's contract from the Pistons last summer and in the wake of his struggles playing alongside Detroit big men Andre Drummond and Greg Monroe.
See the full Marc Stein story
February, 9, 2014
Feb 9
6:39
PM ET

Cheeks
I'm sure you can recite the stat on your own by now.
The one about how Joe Dumars is up to eight coach firings in his 14 years in charge of the
Detroit Pistons
after Sunday's dismissal of Mo Cheeks.
So you're never really
surprised
when the Pistons announce a coaching change. Not even when Cheeks gets hooked just 50 games into his debut season after being hired to replace Lawrence Frank.
The reality this time is that Pistons owner Tom Gores, more than Dumars, is the one who wanted an instant change on his bench despite the fact that Detroit had just won four of six games in the wake of its 17-27 start. But the real surprise here, if you're looking for one, is the fact that Cheeks was the first coach fired in the NBA this season ... and that he might go down as the only coach to be dumped in-season if New York's Mike Woodson can keep hanging on.
You certainly shouldn't have expected a flurry of midstream firings after a record 13 teams -- nearly half the league -- hired new coaches in the offseason. Yet it's extremely unusual to see so few coaches in jeopardy. How unusual? Woodson is widely regarded as the only other coach in immediate danger ... and ESPN.com ace researcher/editor/social media maven Adam Reisinger dug into it for Stein Line Live and found that there hasn't been a season
without
an in-season firing in the NBA since 1970-71.
Of course, Woodson has survived at Madison Square Garden largely because the Knicks don't have an obvious interim option to step in like they did when Woodson took over for Mike D'Antoni. There isn't a proven successor to Cheeks on Detroit's bench, either, but that somehow didn't save him, which only adds to the confusion about the timing.
You can't say Cheeks was doing a good job when Detroit ranks as one of the Eastern Conference's bigger disappointments. You likewise still hear people asking why Detroit hired him in the first place when there was so little clamor for Cheeks' services as a head coach after his previous underwhelming stints in Portland and Philly. Yet you'd have to say that, by any reasonable standards, Cheeks deserved at least one full season with the Pistons after being handed what we'll charitably call an eclectic roster.
The only sensible scenario to explain Cheeks exiting first in 2013-14, before Woodson or anyone else, is because the Pistons want to make a run at, say, the very available Lionel Hollins before anyone else has a chance.
Hollins was immediately identified Sunday by sources close to the situation as a prime target for Detroit after the Pistons' failed attempts last summer to convince him to work as an assistant on Cheeks' staff. If the Pistons brought him in right away, to lend a strong voice and hard edge to a young team that would appear to need some guidance, then the timing of Sunday's announcement starts to make sense.
Yet sources also insisted Sunday that Gores is inclined to keep John Loyer in the hot seat for the final 32 games and let the rest of the season play out before making any other big moves.
Which can only mean one thing.
If Gores is prepared to entrust the playoff push he mandated before the season to a substitute teacher, after the Pistons just went a pretty passable 7-7 in their past 14 games, it would mean he's not prepared to let Dumars look for a proven replacement for Cheeks unless he's sure Dumars is staying on as his GM.
It would mean that Gores -- after combing through the detailed rundown from my colleague Amin Elhassan on the succession of moves that
has put Joe D in peril
-- is really not sure.
January, 29, 2014
Jan 29
1:19
AM ET
There are 23 shopping days to go before the NBA's annual trade deadline.
So you hesitate to paint the stances teams take on the availability of their players as absolute.
However ...
Those increasingly frequent suggestions that
Greg Monroe
will be moved before the Feb. 20 trade buzzer are premature.
For now, anyway.
Sources briefed on the situation told ESPN.com this week that the Pistons have been telling teams with Monroe interest that the restricted free agent-to-be -- no matter what you've heard -- is not available.
Not even with Detroit mired at 18-27, looking disjointed (to put it charitably) and clearly in need of a major boost on the perimeter to loosen things up inside for young franchise cornerstone
Andre Drummond
.
What remains to be seen, of course, is how firm that position stays with slightly more than three weeks to go before the deadline.
Detroit began the season with that oversized frontline and an even bigger mandate to make the playoffs from owner Tom Gores. The half-season evidence strongly suggests that Drummond,
Josh Smith
and Monroe can't function defensively as a trio -- and that Smith would benefit greatly from a full-time move to power forward -- but the Pistons themselves don't appear ready to break it all up just yet.
Sources say teams calling to inquire about Monroe's availability are being advised that he's
not
on the market.
Yet Monroe acknowledged recently that the trade talk "does" weigh on him, presumably because he's been around long enough by now to understand that the speculation -- once it starts bubbling -- will persist until the deadline passes. Which is presumably twice as true in this case given the fact Detroit has shown few signs of capitalizing on the most inviting Eastern Conference in memory.
Drummond ranks as the Pistons' lone untouchable. But the up-and-down Smith, in Year 1 of a new four-year deal worth $54 million, isn't especially movable. So that's how the whole notion of Monroe being moved to land the elite perimeter scorer Detroit sorely needs was hatched.
Yet the message from the Pistons, for now, is that it's not a measure they're prepared to consider. They clearly don't like the sound of parting with a 23-year-old big man blessed with offensive skills and upside without giving Monroe every chance to carve out a new niche alongside Drummond and now Smith on the same roster.
What that means, though, is that Detroit has some challenging choices to make this summer if Monroe is still in Motown when the deadline passes. Knowing full well that Monroe's agent, David Falk, is sure to chase a robust deal for his client in restricted free agency, Detroit would be forced in July in that scenario to either match whatever offer sheet Falk musters or try to assemble a sign-and-trade if the offer is too rich to match.
It's the sort of conundrum that will keep rival teams killing even when they're told
no
. Because they're just as curious about which path the Pistons will chose as all of us on the outside.
December, 27, 2013
12/27/13
12:34
PM ET
It's not a festive season for everyone in the NBA.

We're actually entering a period of high anxiety for 50 players around the league whose seasons are about to reach a make-or-break point.

All non-guaranteed deals in the NBA become fully guaranteed for the rest of the 2013-14 season if the player in question is still on his current team's roster as of Jan. 10. It's a date that always leads to a handful of roster cuts once the calendar flips to 2014, as teams either look to save a few luxury-tax bucks or perhaps open up a roster spot to take advantage of the 10-day contracts they're allowed to start handing out Jan. 5.

When it comes to this season specifically, teams looking to waive players to prevent their contracts from becoming fully guaranteed must do so by 5 p.m. on Jan. 7, thus allowing sufficient time for the player to clear waivers before the magical Jan. 10 date.

The list of players technically at risk includes some who face zero chance of getting snipped; Andrew Bynum, Patrick Beverley and Michael Beasley jump off the page in terms of vets who have noting to fret about. Yet it's a generally nervy time for anyone possessing a non-guaranteed contract until Jan. 7 passes to assure safety.

One interesting certainty here, for the record, is Orlando's forthcoming divorce from veteran forward Hedo Turkoglu. The sides have spent the past several months discussing a buyout with no success, but the Magic have to either cut or trade Turkoglu by Jan. 7 or face the prospect of paying him a full $12 million for the entire season. Only $6 million of that salary is guaranteed, but it behooves Orlando to keep Turkoglu all the way to guarantee-date buzzer just in case a trade materializes where his expiring deal becomes handy.

Atlanta: Shelvin Mack, Cartier Martin, Mike Scott
Boston: None
Brooklyn: None
Charlotte: Jeff Adrien, Chris Douglas-Roberts
Chicago: D.J. Augustin, Eric Murphy
Cleveland: Andrew Bynum, Matt Dellavedova, C.J. Miles, Henry Sims
Dallas: None
Denver: Quincy Miller
Detroit: Josh Harrellson, Peyton Siva
Golden State: Hilton Armstrong, Kent Bazemore
Houston: Patrick Beverley, Greg Smith
Indiana: Rasual Butler
L.A. Clippers: Stephen Jackson, Maalik Wayns
L.A. Lakers: Xavier Henry, Ryan Kelly, Kendall Marshall, Shawne Williams
Memphis: Seth Curry, James Johnson
Miami: Michael Beasley, Roger Mason Jr.
Milwaukee: None
Minnesota: Robbie Hummel
New Orleans: Lou Amundson
New York: Cole Aldrich, Toure' Murry
Oklahoma City: Ryan Gomes, Hasheem Thabeet
Orlando: Solomon Jones, Hedo Turkoglu
Philadelphia: James Anderson, Lorenzo Brown, Brandon Davies, Daniel Orton, Hollis Thompson, Elliot Williams
Phoenix: Dionte Christmas
Portland: None
Sacramento: Hamady N'diaye
San Antonio: Malcolm Thomas
Toronto: Julyan Stone
Utah: Ian Clark, Diante Garrett, Mike Harris
Washington: None

P.S.: Even before the January rush, nine players on non-guaranteed contracts have already been waived since the regular season began. They are:

Charlotte: James Southerland
Chicago: Mike James
Golden State: Dewayne Dedmon
L.A. Lakers: Elias Harris
New Orleans: Josh Childress, Arinze Onuaku, Lance Thomas
Philadelphia: Darius Morris
Utah: Jamaal Tinsley
December, 18, 2013
12/18/13
7:30
PM ET


Marc Stein joins ESPN's George Karl, ESPN Chicago's Nick Friedell and the New York Daily News' Frank Isola for an Outside The Lines panel discussion on the woeful state of the Eastern Conference.
December, 13, 2013
12/13/13
5:37
PM ET
What has already been a robust marketplace, for those of you who love the NBA's Transaction Game, is about to get robust-er.
OK, OK. Let's just say busier.
A league that has already witnessed three trades headlined by
Marcin Gortat
,
Derrick Williams
and
Rudy Gay
since training camps opened -- with Toronto trying hard as we speak to find a workable
Kyle Lowry
deal that makes it four -- will see more than 100 new trade chips put into play in less than 48 hours.
At 12:01 a.m. Sunday, no fewer than 114 players who signed new contracts since July will become trade-eligible, thanks to the league rule stipulating that recipients of new deals (in most cases) cannot be dealt until Dec. 15 or three months from the day their new contract is completed ... whichever of those dates falls later. So ...
Just as we would have in the Weekend Dime era, Stein Line Live serves up a list of all 114 of them -- along with a flurry of bonus lists -- to assist in your
ESPN Trade Machine
endeavors:
Players eligible to be traded as of Sunday
* -- Players with an asterisk next to their name possess additional trade restrictions in their respective contracts that earned them spots on Stein Line Live's All-No-Trade Team.
Click here
to get reacquainted with that group.
---
Bonus List No. 1
The following 20 players with new contracts aren't eligible to be traded Sunday because the three-month window since their respective signing dates extends beyond Dec. 15. Next to each player's name is the date he becomes trade-eligible:
---
Bonus List No. 2
The NBA, as part of its new labor agreement in 2011, restricts players possessing new contracts from being eligible to be traded before Jan. 15 when (1) the player's team is over the salary cap and (2) the first-year salary in the new deal exceeds the prior season's salary by more than 120 percent. There are seven players who fall under those restrictions this season:
---
Bonus List No. 3
Any player who signs a contract extension cannot be traded for six months if the total length of the contract (prior deal plus extension) is longer than three years or if the extension has annual increases in excess of 4.5 percent. Two big names, as a result, are thus ineligible to be traded until after their teams' respective 2013-14 seasons:
* -- Don't forget that Kobe, as covered in the
Nov. 8 SLL post
, is also one of four players in the league who possesses an outright no-trade clause in his contract along with
Tim Duncan
,
Kevin Garnett
and
Dirk Nowitzki
.
---
Bonus List No. 4
There are only eight teams in the league, in case all of this trade-eligibility talk has made you curious, that aren't currently carrying a full 15-man roster. They are: