Marc Stein:

Memphis Grizzlies
July, 10, 2014
Jul 10
4:30
PM ET
By
matthewwong
| ESPN.com
The Memphis Grizzlies struck a deal Thursday to re-sign guard Beno Udrih, according to sources close to the process.
Sources told ESPN.com that Udrih, who was claimed off waivers from New York last season by the Grizzlies, will sign a two-year deal to stay with Memphis that starts at the league's bi-annual exception valued at $2.1 million.
Read the full story here »
June, 26, 2014
Jun 26
1:48
PM ET
The Toronto Raptors are in the hunt to acquire the Memphis Grizzlies' No. 22 overall pick in Thursday night's draft, according to sources familiar with the deal.
But the Raptors, sources said, would have to take back Tayshaun Prince via trade to make the deal happen.
Sources told ESPN.com that the Raptors and Grizzlies have discussed a trade in which Toronto sends John Salmons and the No. 37 overall pick to Memphis for Prince and the Grizzlies' No. 22 pick in the first round.
The move appeals to Toronto, sources say, because it would give the Raptors two picks in the presumed range needed to draft Canadian guard Tyler Ennis from Syracuse. The Raptors already possess the No. 20 pick and, according to sources, covet both Ennis and Swiss power forward Clint Capela, who some scouts liken to Serge Ibaka and is said to have caught the eye of Toronto GM Masai Ujiri.
Read the full story here »
June, 21, 2014
Jun 21
5:45
PM ET
The Memphis Grizzlies are hopeful of coming to terms on a contract extension with former All-Star forward Zach Randolph before free agency starts July 1, according to sources close to the situation.
Randolph must decide by June 30 whether to opt out of the final season of his contract, which is valued at $16.5 million, but sources told ESPN.com that the Grizzlies are working to hammer out the specifics of an extension with Randolph before the 32-year-old is exposed to other potential bidders.
If the Grizzlies are intent on lowering Randolph's salary starting next season, such a deal would have to wait until after July 1 to be completed and require Randolph to opt out, become a free agent and sign a new long-term deal at a reduced rate. If the Grizzlies are prepared to wait until the 2015-16 season for Randolph's salary to be reduced, they could extend him for up to three years at lowered terms after he opts in for 2014-15 at the $16.5 million.
Read the full story here »
June, 17, 2014
Jun 17
1:00
PM ET
The Houston Rockets are making a hard push to convince former Memphis Grizzlies coach Lionel Hollins to join Kevin McHale's staff as an assistant, according to sources close to the process.
However, sources tell ESPN.com that the Rockets recognize it will be difficult to land Hollins, who continues to covet his next opportunity as a head coach after his exit in Memphis following the 2013 playoffs.
The Grizzlies declined to offer Hollins a new contract following a 56-win season in 2012-13, which saw them advance to the Western Conference finals before being ousted by the San Antonio Spurs.
Read the full story here »
May, 19, 2014
May 19
3:30
PM ET
Memphis Grizzlies owner Robert Pera has abruptly ousted team CEO Jason Levien and assistant general manager Stu Lash.
The team announced the stunning moves Monday afternoon, saying "the decision was made for Jason Levien and Stu Lash to depart the organization" after discussions with management.
ESPN.com first reported the departures earlier Monday, with sources close to the situation saying a breakdown in the relationship between Pera and Levien -- who helped broker Pera's purchase of the franchise from Michael Heisley in June 2012 -- led to a major shakeup in Memphis for the second successive spring.
The Grizzlies declined to re-sign popular coach Lionel Hollins after last season's trip to the Western Conference finals and replaced him with Dave Joerger, who won 50 games this season as a rookie coach. But sources say the futures of Joerger and executive vice president of basketball operations John Hollinger -- who was hired away from ESPN -- are immediately unclear. Both were handpicked choices by Levien.
Read the full story here »
May, 4, 2014
May 4
1:11
AM ET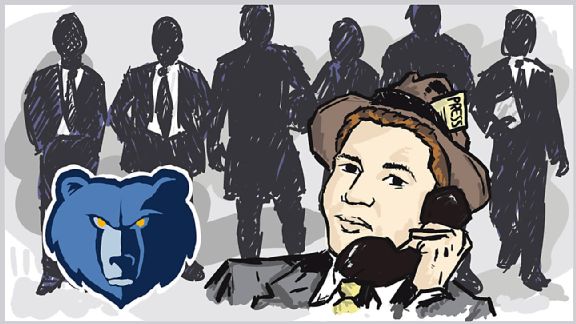 Courtesy of Shea SerranoESPN.com senior writer Marc Stein has the lowdown on the Grizzlies as they head into the offseason.
Five burning questions and answers about the immediate future of the
Memphis Grizzlies
in the wake of their 120-109 loss Saturday night in Game 7 in Oklahoma City:
---
1. How long will the Grizzlies be haunted by the fact they didn't close OKC out when they had the chance?
For days. Maybe even weeks. The Grizz had won 15 out of their previous 16 games in a row at home when they hosted the Thunder in Thursday night's Game 6.
They fully expected to finish the Thunder off.
Yet when the wounds heal, when they've summoned the strength to reflect on the season that was, Memphis has to feel like it made progress in 2013-14. Even after a first-round ouster.
It's quite clear that the Grizz were no ordinary No. 7 seed. They were forced to open the playoffs against the Thunder only because of those 23 games
Marc Gasol
lost to injury. Throw in what they lost when
Quincy Pondexter
went down -- an athletic shooter on a team that still needs all the shooting it can muster -- and you have to hat tip the Grizz for getting to 50 wins and putting OKC through such immediate playoff torment.
By the time Game 7 rolled around, Memphis had no
Zach Randolph
(suspended), no Pondexter (injured), no
Nick Calathes
(suspended) ... plus a hampered
Mike Conley
(hamstring) and
Tony Allen
(eye). Conley clearly wasn't the same Conley for much of Game 6, either.
Don't think this group, as a result, could have done much more than it did.
---
2. Are you going to tell me now that Z-Bo was suspended for what was his final game as a member of the Grizzlies?
With free agency nearly two months away, Memphis still isn't quite sure what Z-Bo has planned when it comes to his $16.5 million player option for next season.
Randolph himself has said for much of the season that, at 32, he hasn't quite worked out whether it's best to opt out now to hit the open market in July or put off free agency for one more summer.
The general sense around the team is that the Grizzlies want to keep their face of the franchise in his adopted hometown, but at a friendlier price point.
Those who know Randolph best are adamant that he hopes to stick around and re-sign on a multi-year deal -- you'll recall him
telling Stein Line Live back in November
that he hopes to retire a Grizzly -- but the extent to which he's willing to accept a pay cut remains a bit fuzzy./p
A three-year deal worth $30 to $35 million, similar to recent contracts
Tim Duncan
and
Kevin Garnett
have carried, is believed to be Z-Bo's realistic ballpark. Can he live with that? Can Memphis?
Another question: How much external interest will Z-Bo command, at this stage of his career, if he does opt for free agency?
And another good one: What about the fan factor? The Beale Street locals eventually got over the departures of
Rudy Gay
and Lionel Hollins. Yet I suspect they'll have a much tougher time letting go of the lefty low-post powerhouse they love so dearly.
The reality is that, at this stage, we've got more questions than answers when it comes to the big man whose arrival in Bluff City changed the course of this franchise as much as anything post-
Pau Gasol
.
But something tells me that these next couple months, when it comes to Z-Bo, will pass quickly.
---
3. With or without Z-Bo, what does this team need?
Besides some sustained good health for Gasol and Conley?
The Grizzlies don't get to the line enough and continue to be needy in the 3-point department, even though
Mike Miller
and
Courtney Lee
both proved to be very useful additions.
A reliable shooter to play in the backcourt next to Conley would be a good place to start.
---
4. What do the Grizzlies do with Ed Davis?
[+] Enlarge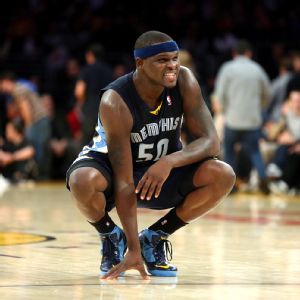 Jeff Gross/Getty ImagesDoes Memphis have a backup plan in case Zach Randolph declines his player option?
It's the trickiest part of their summer outside of Z-Bo's future.
And the reality is that the futures of the two players are connected.
The inconsistent playing time Davis received in his first full season in Memphis would suggest that there is a measure of uncertainty within the organization whether the former Toronto draftee really is the ready-made replacement for Z-Bo (if necessary) he's been billed by some to be.
The safe bet, though, is that Davis' agent, Rob Pelinka, will be able to generate an offer sheet in free agency that comes in higher than Memphis was hoping to spend on the 24-year-old. Stay tuned.
---
5. And what about the rookie coach?
Dave Joerger didn't get the fanfare of a Jeff Hornacek. Or a Jason Kidd. Or even a
Mike Budenholzer
.
But his debut season on the bench was no less memorable.
Stepping into Hollins' big shoes, Joerger had a lot thrown at him in Year 1 and, judging by those 50 wins in the regular season, more than survived the skepticism about his readiness to replace a figure almost as beloved locally as Zach Randolph.
The Grizzlies thus proceed to another big offseason with management and head coach on the same page. Which is certainly a decent place to start.
April, 21, 2014
Apr 21
9:56
AM ET
With a hearty hat tip to our friends at ESPN Stats & Info, here are eight standout statistical tidbits from an eight-game opening weekend in the NBA playoffs:

• It bears repeating even though I'm guessing you've probably already heard this one a few times by now: This was the first time in the history of the 16-team playoff format, introduced in 1983-84, that five road teams won Game 1.

• Indy's Game 1 defeat at home to Atlanta might be an even more worrisome omen than the Pacers fear. The last two No. 1 seeds to drop the opener to the No. 8 both ended up losing the series: San Antonio in 2011 to Memphis and Dallas in 2007 to Golden State.

• The Bulls have quietly lost five consecutive playoff games. And after erasing a 13-point deficit in the third quarter, Washington is just the second team to crack triple-digits in Chicago since the All-Star break.

• It wasn't by accident that Memphis faced the biggest halftime deficit in its playoff history Saturday night at OKC. The Grizzlies missed their first 18 shots outside the paint.

• The Clippers, according to the Elias Sports Bureau, were 33-0 at home this season in games in which they led at any point during the fourth quarter until Saturday's disheartening loss to Golden State. No other team was undefeated in that situation during the regular season.

• Another Elias gem: LaMarcus Aldridge is the first player with at least 46 points and 18 rebounds in a postseason road win since (whoa) Elgin Baylor in Game 5 of the 1962 Finals. Baylor had 61 points and 22 rebounds in the Lakers' triumph at Boston.

• The Blazers showed up for the postseason with 114 games of combined playoff experience, which accounts for the lowest cumulative total in these playoffs.

• The next shot Roy Hibbert converts outside of the paint will be his first since April 4.

April, 14, 2014
Apr 14
4:40
PM ET
February, 26, 2014
Feb 26
5:40
PM ET
The Memphis Grizzlies have claimed veteran point guard Beno Udrih off waivers, ESPN.com has learned.
Sources told ESPN.com on Wednesday that the Grizzlies put in a successful waiver claim to acquire Udrih, who was released Monday by the New York Knicks.
The Grizzlies, sources said, turned their attention to acquiring Udrih for their backcourt after attempts to strike a deal with Jimmer Fredette -- who is about to secure his release from the Sacramento Kings via buyout -- proved unsuccessful.
Read the full story here »
January, 5, 2014
Jan 5
8:23
PM ET
The Boston Celtics have reached an agreement with the Memphis Grizzlies to trade for veteran guard Jerryd Bayless, according to sources close to the process.
Sources told ESPN.com that the Celtics, after pursuing him in previous seasons as well, are on the verge of acquiring Bayless for shooting guard Courtney Lee. A trade call with the league office, sources said, has been scheduled for Monday.
The Grizzlies, with nearly $7.5 million left of a trade exception they created in January 2013 by dealing Rudy Gay to Toronto, can use that exception to absorb Lee's contract, which runs for two more seasons at slightly more than $11 million after this season.
And Memphis is indeed said to be willing to take on the additional longterm salary left on Lee's contract in hopes that Lee could bring much-needed perimeter shooting to the Memphis offense. The Grizzlies are essentially relying on Mike Conley and Mike Miller for their 3-point threat in the wake of losing Quincy Pondexter for the season to a foot injury.
See the full news story
December, 27, 2013
12/27/13
12:34
PM ET
It's not a festive season for everyone in the NBA.

We're actually entering a period of high anxiety for 50 players around the league whose seasons are about to reach a make-or-break point.

All non-guaranteed deals in the NBA become fully guaranteed for the rest of the 2013-14 season if the player in question is still on his current team's roster as of Jan. 10. It's a date that always leads to a handful of roster cuts once the calendar flips to 2014, as teams either look to save a few luxury-tax bucks or perhaps open up a roster spot to take advantage of the 10-day contracts they're allowed to start handing out Jan. 5.

When it comes to this season specifically, teams looking to waive players to prevent their contracts from becoming fully guaranteed must do so by 5 p.m. on Jan. 7, thus allowing sufficient time for the player to clear waivers before the magical Jan. 10 date.

The list of players technically at risk includes some who face zero chance of getting snipped; Andrew Bynum, Patrick Beverley and Michael Beasley jump off the page in terms of vets who have noting to fret about. Yet it's a generally nervy time for anyone possessing a non-guaranteed contract until Jan. 7 passes to assure safety.

One interesting certainty here, for the record, is Orlando's forthcoming divorce from veteran forward Hedo Turkoglu. The sides have spent the past several months discussing a buyout with no success, but the Magic have to either cut or trade Turkoglu by Jan. 7 or face the prospect of paying him a full $12 million for the entire season. Only $6 million of that salary is guaranteed, but it behooves Orlando to keep Turkoglu all the way to guarantee-date buzzer just in case a trade materializes where his expiring deal becomes handy.

Atlanta: Shelvin Mack, Cartier Martin, Mike Scott
Boston: None
Brooklyn: None
Charlotte: Jeff Adrien, Chris Douglas-Roberts
Chicago: D.J. Augustin, Eric Murphy
Cleveland: Andrew Bynum, Matt Dellavedova, C.J. Miles, Henry Sims
Dallas: None
Denver: Quincy Miller
Detroit: Josh Harrellson, Peyton Siva
Golden State: Hilton Armstrong, Kent Bazemore
Houston: Patrick Beverley, Greg Smith
Indiana: Rasual Butler
L.A. Clippers: Stephen Jackson, Maalik Wayns
L.A. Lakers: Xavier Henry, Ryan Kelly, Kendall Marshall, Shawne Williams
Memphis: Seth Curry, James Johnson
Miami: Michael Beasley, Roger Mason Jr.
Milwaukee: None
Minnesota: Robbie Hummel
New Orleans: Lou Amundson
New York: Cole Aldrich, Toure' Murry
Oklahoma City: Ryan Gomes, Hasheem Thabeet
Orlando: Solomon Jones, Hedo Turkoglu
Philadelphia: James Anderson, Lorenzo Brown, Brandon Davies, Daniel Orton, Hollis Thompson, Elliot Williams
Phoenix: Dionte Christmas
Portland: None
Sacramento: Hamady N'diaye
San Antonio: Malcolm Thomas
Toronto: Julyan Stone
Utah: Ian Clark, Diante Garrett, Mike Harris
Washington: None

P.S.: Even before the January rush, nine players on non-guaranteed contracts have already been waived since the regular season began. They are:

Charlotte: James Southerland
Chicago: Mike James
Golden State: Dewayne Dedmon
L.A. Lakers: Elias Harris
New Orleans: Josh Childress, Arinze Onuaku, Lance Thomas
Philadelphia: Darius Morris
Utah: Jamaal Tinsley
December, 13, 2013
12/13/13
5:37
PM ET
What has already been a robust marketplace, for those of you who love the NBA's Transaction Game, is about to get robust-er.
OK, OK. Let's just say busier.
A league that has already witnessed three trades headlined by
Marcin Gortat
,
Derrick Williams
and
Rudy Gay
since training camps opened -- with Toronto trying hard as we speak to find a workable
Kyle Lowry
deal that makes it four -- will see more than 100 new trade chips put into play in less than 48 hours.
At 12:01 a.m. Sunday, no fewer than 114 players who signed new contracts since July will become trade-eligible, thanks to the league rule stipulating that recipients of new deals (in most cases) cannot be dealt until Dec. 15 or three months from the day their new contract is completed ... whichever of those dates falls later. So ...
Just as we would have in the Weekend Dime era, Stein Line Live serves up a list of all 114 of them -- along with a flurry of bonus lists -- to assist in your
ESPN Trade Machine
endeavors:
Players eligible to be traded as of Sunday
* -- Players with an asterisk next to their name possess additional trade restrictions in their respective contracts that earned them spots on Stein Line Live's All-No-Trade Team.
Click here
to get reacquainted with that group.
---
Bonus List No. 1
The following 20 players with new contracts aren't eligible to be traded Sunday because the three-month window since their respective signing dates extends beyond Dec. 15. Next to each player's name is the date he becomes trade-eligible:
---
Bonus List No. 2
The NBA, as part of its new labor agreement in 2011, restricts players possessing new contracts from being eligible to be traded before Jan. 15 when (1) the player's team is over the salary cap and (2) the first-year salary in the new deal exceeds the prior season's salary by more than 120 percent. There are seven players who fall under those restrictions this season:
---
Bonus List No. 3
Any player who signs a contract extension cannot be traded for six months if the total length of the contract (prior deal plus extension) is longer than three years or if the extension has annual increases in excess of 4.5 percent. Two big names, as a result, are thus ineligible to be traded until after their teams' respective 2013-14 seasons:
* -- Don't forget that Kobe, as covered in the
Nov. 8 SLL post
, is also one of four players in the league who possesses an outright no-trade clause in his contract along with
Tim Duncan
,
Kevin Garnett
and
Dirk Nowitzki
.
---
Bonus List No. 4
There are only eight teams in the league, in case all of this trade-eligibility talk has made you curious, that aren't currently carrying a full 15-man roster. They are:
November, 3, 2013
11/03/13
11:59
PM ET
Zach Randolph
is the first to admit that he's not sure what's going to happen.
"I don't know yet" is the answer when someone asks if he'll play out the final season of his contract in Memphis or opt out of the $16.5 million he's owed in 2014-15 to add one more big name to next summer's star-filled class of free agents.
What Z-Bo does know eight months out: He wants to retire as a Grizzly.
Randolph
In this visit with one of our faves from the NBA's Lefties Union -- our first One-on-One (To Five) chat of the season -- Randolph makes it clear that he wants to find a way to stay in Memphis for the long term amid suspicions in some league circles that the Grizzlies already have his long-term replacement on the roster in
Ed Davis
.
In his fourth answer, specifically, Randolph seems to acknowledge that opting out to sign a new long-term deal that starts at a lower salary is an option he'd consider. It should likewise be noted that he has shed about 15 pounds to show how serious he is in what ranks as a huge season for the 32-year-old.
To the Q&A …
Stein:
I know it hasn't been the smoothest start [for the 1-2 Grizzlies], but what's the general outlook for you guys this season?
Randolph:
What we're trying to play for is a championship. Anything less than what we did last year [advancing to the Western Conference finals] would be disappointing. We have the same team. Added a shooter [in
Mike Miller
]. So anything less would be a disappointment. But I think we can make some noise. I think we can. Just got to keep pushing. Just be us doing us. We'll be all right. Gotta work the kinks out.
Stein:
What are the main differences between playing for Lionel Hollins and [new coach] Dave Joerger?
Randolph:
It's a different offense. We got more movement. It's going to be different; Train's been our coach for the last four years. So it's going to be different. But I can play for anybody. I played under coach [Mike] D'Antoni [in New York] and I was one of his favorite guys. He'll tell you. It's basketball at the end of the day. It's X's and O's. At the end of the day, just get your ass out there and play hard.
Stein:
What did you do to get ready for such a big season?
Randolph:
I lost a lot of weight [over the summer], stayed in shape. As you get older it's harder, so I started early. But I'm in my prime, too, I feel. I feel good.
Stein:
How will you make the decision on what to do this summer contract-wise?
Randolph:
I'd like to be here. I'd like to retire here. You never know. If I've got to make some sacrifices to be here, I would. I still can play. I can still help a team out. I want to win a championship. I've made all the money in the world. I just want to win. I don't know yet [about opting in or opting out], but Memphis is my home. If they trade me tomorrow, I'm here. I just bought a new house. My daughters go to school [in Memphis]. That's my home.
Stein:
Apart from when nosy reporters like me come up and ask you about it, how often are thoughts about the future weighing on you?
Randolph:
I can block it out. I've done been through it before. They tell you one thing and tomorrow it's a different story. ... That's the business part of the game. They tell you you're there and trade you tomorrow. But I've been through it.