Marc Stein:

Milwaukee Bucks
April, 22, 2014
4/22/14
4:45
AM ET
Here's the latest on the future of the Milwaukee Bucks ... co-authored with ESPN.com's Brian Windhorst:
The NBA has the right to buy back the Milwaukee Bucks from incoming owners Wesley Edens and Mark Lasry if a deal to a bring a new arena to the city is not in place by November 2017, according to sources briefed on the situation.

Sources told ESPN.com that the sale agreement announced last week to transfer the Bucks from longtime owner Herb Kohl to Edens and Lasry for a purchase price of $550 million includes a provision that allows the league to buy back the team for $575 million if construction on a new building in Milwaukee is not underway by the deadline.

Although one source said Monday that the league would likely only take that step if it didn't see "significant progress" toward a new arena in Milwaukee by then, this provision ensures that the NBA would control the fate of the franchise from that point as opposed to Edens and Lasry.
See the full story
February, 25, 2014
2/25/14
11:46
PM ET
Milwaukee Bucks
swingman
Caron Butler
is scheduled to complete a contract buyout Wednesday that sets him up to become an unrestricted free agent by the end of the week, according to sources close to the talks.
Sources told ESPN.com that Wisconsin native Butler, who is earning $8 million this season on an expiring contract with his home-state Bucks, is on course to be released by Milwaukee on Wednesday and thus clear waivers Friday, well in advance of the Saturday midnight deadline by which time he must be set free to be eligible to play in the playoffs with another team.
The two-time defending champion
Miami Heat
, sources said, will be at the front of the line to sign Butler, who spent his first two seasons in the league with the Heat and is expected to verbally commit to a team before clearing waivers.
See the full story
February, 7, 2014
2/07/14
3:26
AM ET
The question was posed Thursday on
ESPNDallas.com
and is starting to be asked with regularity in Big D by
restless fans
of the
Dallas Mavericks
:
Could the Mavs make a legitimate play for
Milwaukee Bucks
big man
Larry Sanders
before the Feb. 20 trade deadline?
The answer, for now, appears to be no.
Sources briefed on the situation told ESPN.com that teams asking whether the defensive specialist has fallen far enough out of favor with his frustrated bosses to be made available are being turned away.
For now.
Even after the steady stream of Sanders missteps almost from the moment he came to terms on a four-year, $44 million extension in August, sources say that the Bucks don't seem to think they can afford to trade the 25-year-old this month.
Reason being: Milwaukee is said to be fearful that trading Sanders so soon, when his value has taken so many hits in the wake of that October nightclub fight and the Bucks' subsequent nosedive to a league-worst record of 9-40, makes it tough to get something resembling a fair return.
You can certainly understand why Dallas would have an interest. Before this stock-dropping season and despite a few clashes with teammates over the years, Sanders won raves from NBA numbers-crunchers for his ability to protect the rim and anchor a defense. And history shows that putting a defensive-minded center with athleticism next to
Dirk Nowitzki
-- as Dirk and
Tyson Chandler
proved together -- is an ideal tag team.
Yet the Bucks appear intent on resisting, at least in the short term, though we stress the word
appear
and have to throw in the caveat -- as we did on
Stein Line Live with Detroit's
Greg Monroe
last week -- that there's still time for teams to change their trade stances.
The trade deadline is 13 days away. And nothing stops teams from listening even when they're telling suitors on the other line that so-and-so is completely off the table. The Bucks, furthermore, are widely described by rival teams as a club busily exploring all possible options in advance of deadline after assembling a team they thought could compete for a playoff spot before promptly falling to the bottom of an unsightly Eastern Conference.
So you inevitably do wonder how firm the Bucks' stance is, knowing that the focus in Milwaukee, just since the summertime, has shifted pretty quickly. It's all about
Giannis Antetokounmpo
(and a dash of
John Henson
) in Brewtown these days.
PS -- One other important caveat to note here: Trading Sanders this season is a bit tricky because of his Poison Pill status as he waits for his extension to kick in next season. Sanders' salary-cap number if he's dealt before the deadline is only $3.05 million on the Bucks' payroll. But his cap number for trade purposes is $9.41 million for any team trying to acquire him.
---
The two-year deal New Orleans finally completed this week with stretch power forward
Luke Babbitt
, after some complicated negotiations, was an intriguing signing on a number of levels.
The second year of Babbitt's new contract is unguaranteed, but the Pelicans -- needing a big man who can face up and shoot after the injuries suffered by
Ryan Anderson
and
Jason Smith
-- had to pay roughly $200,000 to Babbitt's Russian club BC Nizhny Novgorod to get the 24-year-old lefty released.
Babbitt, like
Patrick Beverley
last season when the
Houston Rockets
plucked him out of Russia, did not have an NBA buyout in his contract with Novgorod. But Babbitt, like Beverley, was able to extricate himself from his European obligations when the NBA came calling through the help of agent Bill Duffy, who orchestrated Beverley's move from Spartak St. Petersburg to the Rockets in January 2013.
The Pelicans, for the record, were not the only NBA team interested in bringing Babbitt back to the States. The former
Portland Trail Blazers
first-round pick struggled in his first three pro seasons, shooting only 37.2 percent from the field in limited looks as a Blazer, but he returns to the NBA as one of Europe's hottest shooters after hitting on better than 57 percent of 3s in Russia.
---
The Sixers, sources say, continue to hold out hope that they can acquire a future first-round pick for either forward
Evan Turner
or center
Spencer Hawes
before the Feb. 20 trade deadline. Both players become free agents in July. ... The Clippers have been described this week as "itchy" to make a deal, with veteran swingman
Jared Dudley
unexpectedly available mere months after arriving in L.A. with
J.J. Redick
in the
Eric Bledsoe
sign-and-trade extravaganza.
January, 7, 2014
1/07/14
7:54
PM ET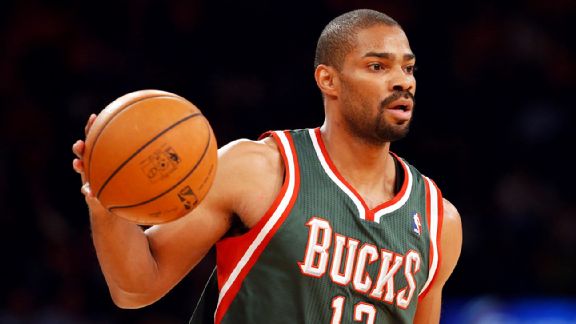 Anthony Gruppuso/USA TODAY SportsBucks guard Gary Neal has made his threes, but reportedly not gotten along with Larry Sanders.
RENO, Nev. -- The
Milwaukee Bucks
are actively looking to move guard
Gary Neal
, according to sources familiar with Milwaukee's thinking.
Sources told ESPN.com that the Bucks will do everything they can to find a new home for Neal before the Feb. 20 trade deadline, conceding that last summer's signing of the former San Antonio sharpshooter hasn't worked out as planned.
That realization was slammed home over the weekend when Neal and Bucks center
Larry Sanders
engaged in a heated locker-room argument in Phoenix after Milwaukee's 116-100 loss Saturday to the Suns. Some of the back-and-forth was heard by reporters, with Neal quoted as shouting at Sanders: "I earned my money. Why don't you try it?"
It's merely the latest controversy to envelop Sanders since the Bucks' defensive anchor landed a four-year, $44 million contract extension coming into the season. Sanders was forced to miss 25 of Milwaukee's first 33 games after suffering a torn ligament in his right thumb in an altercation at a local bar on Nov. 3.
Neal is in the first season of a two-year deal that pays him $3.25 million in both 2013-14 and 2014-15. The 29-year-old is averaging 10.4 points in 20.5 minutes per game for the Bucks, shooting just 39.4 percent from the field overall but a robust 41.9 percent from the 3-point range.
December, 27, 2013
12/27/13
12:34
PM ET
It's not a festive season for everyone in the NBA.

We're actually entering a period of high anxiety for 50 players around the league whose seasons are about to reach a make-or-break point.

All non-guaranteed deals in the NBA become fully guaranteed for the rest of the 2013-14 season if the player in question is still on his current team's roster as of Jan. 10. It's a date that always leads to a handful of roster cuts once the calendar flips to 2014, as teams either look to save a few luxury-tax bucks or perhaps open up a roster spot to take advantage of the 10-day contracts they're allowed to start handing out Jan. 5.

When it comes to this season specifically, teams looking to waive players to prevent their contracts from becoming fully guaranteed must do so by 5 p.m. on Jan. 7, thus allowing sufficient time for the player to clear waivers before the magical Jan. 10 date.

The list of players technically at risk includes some who face zero chance of getting snipped; Andrew Bynum, Patrick Beverley and Michael Beasley jump off the page in terms of vets who have noting to fret about. Yet it's a generally nervy time for anyone possessing a non-guaranteed contract until Jan. 7 passes to assure safety.

One interesting certainty here, for the record, is Orlando's forthcoming divorce from veteran forward Hedo Turkoglu. The sides have spent the past several months discussing a buyout with no success, but the Magic have to either cut or trade Turkoglu by Jan. 7 or face the prospect of paying him a full $12 million for the entire season. Only $6 million of that salary is guaranteed, but it behooves Orlando to keep Turkoglu all the way to guarantee-date buzzer just in case a trade materializes where his expiring deal becomes handy.

Atlanta: Shelvin Mack, Cartier Martin, Mike Scott
Boston: None
Brooklyn: None
Charlotte: Jeff Adrien, Chris Douglas-Roberts
Chicago: D.J. Augustin, Eric Murphy
Cleveland: Andrew Bynum, Matt Dellavedova, C.J. Miles, Henry Sims
Dallas: None
Denver: Quincy Miller
Detroit: Josh Harrellson, Peyton Siva
Golden State: Hilton Armstrong, Kent Bazemore
Houston: Patrick Beverley, Greg Smith
Indiana: Rasual Butler
L.A. Clippers: Stephen Jackson, Maalik Wayns
L.A. Lakers: Xavier Henry, Ryan Kelly, Kendall Marshall, Shawne Williams
Memphis: Seth Curry, James Johnson
Miami: Michael Beasley, Roger Mason Jr.
Milwaukee: None
Minnesota: Robbie Hummel
New Orleans: Lou Amundson
New York: Cole Aldrich, Toure' Murry
Oklahoma City: Ryan Gomes, Hasheem Thabeet
Orlando: Solomon Jones, Hedo Turkoglu
Philadelphia: James Anderson, Lorenzo Brown, Brandon Davies, Daniel Orton, Hollis Thompson, Elliot Williams
Phoenix: Dionte Christmas
Portland: None
Sacramento: Hamady N'diaye
San Antonio: Malcolm Thomas
Toronto: Julyan Stone
Utah: Ian Clark, Diante Garrett, Mike Harris
Washington: None

P.S.: Even before the January rush, nine players on non-guaranteed contracts have already been waived since the regular season began. They are:

Charlotte: James Southerland
Chicago: Mike James
Golden State: Dewayne Dedmon
L.A. Lakers: Elias Harris
New Orleans: Josh Childress, Arinze Onuaku, Lance Thomas
Philadelphia: Darius Morris
Utah: Jamaal Tinsley
December, 18, 2013
12/18/13
7:30
PM ET


Marc Stein joins ESPN's George Karl, ESPN Chicago's Nick Friedell and the New York Daily News' Frank Isola for an Outside The Lines panel discussion on the woeful state of the Eastern Conference.
December, 13, 2013
12/13/13
5:37
PM ET
What has already been a robust marketplace, for those of you who love the NBA's Transaction Game, is about to get robust-er.
OK, OK. Let's just say busier.
A league that has already witnessed three trades headlined by
Marcin Gortat
,
Derrick Williams
and
Rudy Gay
since training camps opened -- with Toronto trying hard as we speak to find a workable
Kyle Lowry
deal that makes it four -- will see more than 100 new trade chips put into play in less than 48 hours.
At 12:01 a.m. Sunday, no fewer than 114 players who signed new contracts since July will become trade-eligible, thanks to the league rule stipulating that recipients of new deals (in most cases) cannot be dealt until Dec. 15 or three months from the day their new contract is completed ... whichever of those dates falls later. So ...
Just as we would have in the Weekend Dime era, Stein Line Live serves up a list of all 114 of them -- along with a flurry of bonus lists -- to assist in your
ESPN Trade Machine
endeavors:
Players eligible to be traded as of Sunday
* -- Players with an asterisk next to their name possess additional trade restrictions in their respective contracts that earned them spots on Stein Line Live's All-No-Trade Team.
Click here
to get reacquainted with that group.
---
Bonus List No. 1
The following 20 players with new contracts aren't eligible to be traded Sunday because the three-month window since their respective signing dates extends beyond Dec. 15. Next to each player's name is the date he becomes trade-eligible:
---
Bonus List No. 2
The NBA, as part of its new labor agreement in 2011, restricts players possessing new contracts from being eligible to be traded before Jan. 15 when (1) the player's team is over the salary cap and (2) the first-year salary in the new deal exceeds the prior season's salary by more than 120 percent. There are seven players who fall under those restrictions this season:
---
Bonus List No. 3
Any player who signs a contract extension cannot be traded for six months if the total length of the contract (prior deal plus extension) is longer than three years or if the extension has annual increases in excess of 4.5 percent. Two big names, as a result, are thus ineligible to be traded until after their teams' respective 2013-14 seasons:
* -- Don't forget that Kobe, as covered in the
Nov. 8 SLL post
, is also one of four players in the league who possesses an outright no-trade clause in his contract along with
Tim Duncan
,
Kevin Garnett
and
Dirk Nowitzki
.
---
Bonus List No. 4
There are only eight teams in the league, in case all of this trade-eligibility talk has made you curious, that aren't currently carrying a full 15-man roster. They are:
December, 13, 2013
12/13/13
10:27
AM ET
The
Houston Rockets
remain on course to trade
Omer Asik
by their self-imposed deadline of Thursday, according to sources familiar with the Rockets' thinking.
As for where ...
Varejao
Asik
TNT's David Aldridge tossed out a new possibility Thursday night during the Rockets' nationally televised loss at Portland, introducing the concept of an Asik-for-
Anderson Varejao
trade.
Sources close to the process Friday stopped well short of describing the Cavs as Houston's preferred trading partner, but Cleveland certainly has to be added to the list of potential Asik destinations.
The Rockets, meanwhile, continue to give off the vibe that they will find a deal they like by the Dec. 19 buzzer,
which they established last week
and is the final day they can package anyone they acquire in an Asik trade with other players in a subsequent deal before the league's Feb. 20 trade deadline.
The rest of the latest scuttle from the Asik front:
• The Rockets have shown interest in Varejao in previous years, but one source close to the process indicates to ESPN.com that Houston would not be willing to deal Asik for Varejao straight up. It's believed that Houston would seek at least one more asset in the exchange if talks with the Cavs ever progress to a serious stage, presumably a future first-round pick. Which raises the question: Is Cleveland really willing to surrender that much for Asik -- and absorb Asik's $15 million salary for next season?
• Word is that the Cavs' preference remains upgrading at small forward -- with Chicago's
Luol Deng
at the top of Cleveland's list -- rather than bringing in a center.
• Many league insiders maintain that the Rockets' No. 1 target in an Asik deal is Hawks forward
Paul Millsap
, who will join more than 100 players who signed contracts in July in becoming trade-eligible Dec. 15, which happens to be Sunday. We caution, though, that gauging the Hawks' true willingness to part with Millsap -- after signing him to a two-year, $19 million deal that increasingly ranks as one of the league's best bargains -- remains a mystery thanks to ever-coy Hawks general manager Danny Ferry.
•
ESPN.com reported last week
that the Rockets are determined to trade Asik to an Eastern Conference destination in part to keep his highly rated defense away from current teammate
Dwight Howard
. Two more teams, then, that continue to be mentioned as potential trade partners for Asik in addition to Atlanta and Cleveland are Philadelphia (
Thaddeus Young
) and Milwaukee (
Ersan Ilyasova
).
• What do Millsap, Young and Ilyasova have in common? All three can theoretically operate next to Howard as a power forward with the clear ability to play outside and stretch the floor. Let's see how the fact that Varejao lacks the same range affects Houston's appetite to pursue such a deal. If the Rockets are intent on completing the best trade they can make by Thursday, they might not wait around for a floor-spacer.
December, 8, 2013
12/08/13
1:09
AM ET
Pinpointing a front-runner in the
Omer Asik
trade sweepstakes is still tricky at this juncture.
It's tricky even with the
Houston Rockets
, as reported
here Friday
, aggressively trying to find a trade partner for Asik within the next 10 days.
Yet there are a few things we can say about the current state of the Asik trade market:
1. Keep your eye on Philadelphia.
Front-runner
would be overstating it, but the notion that the Sixers are a viable destination for Asik is increasingly making the rounds. And that certainly makes sense given (A) Philly's front office is run by a certified Asik fan in former Rockets exec Sam Hinkie and (B) Philly has a frontcourt player to send back to Houston in
Thaddeus Young
, whose skill set can click with
Dwight Howard
's, albeit not as well as seemingly unattainable dream target
Ryan Anderson
; and (C) there really isn't an Asik for Philly to draft with the high pick it's likely to snag in the 2014 lottery.
2. Can't imagine this is an absolute stance if Houston is really after the best trade it can find this month, but I'm told those rumbles you've heard about the Rockets preferring to ship Asik to the Eastern Conference are indeed true. For all of his offensive shortcomings, Asik is precisely the sort of defensive center who can really bother Howard one-on-one. Better, then, to send him somewhere Dwight would have to face the Turk as infrequently as possible. Atlanta and Milwaukee are thus two more teams to monitor, with the Rockets undoubtedly drawn to
Paul Millsap
and his cap-friendly contract -- though the reality is you can say the same about a ton of teams -- and what has been described to me as the strong possibility that the Bucks are about to get active on the trade front in the wake of such a poor start.
3. My Grantland pals Bill Simmons and Zach Lowe recently had a compelling podcast discussion offering all sorts of reasons why the better-than-expected
Portland Trail Blazers
might be moved to try to upgrade from
Robin Lopez
to Asik at center by offering Lopez and another quality asset in exchange for Dwight's disgruntled backup. All indications at this point, though, suggest that Portland is thrilled with Lopez's impact and not planning to make a run at Asik. Houston is similarly lukewarm on the idea.
November, 25, 2013
11/25/13
9:29
PM ET
The Minnesota Timberwolves are closing in on a deal that would swap forward Derrick Williams for Sacramento's Luc Mbah a Moute, according to sources with knowledge of the talks.
Sources told ESPN.com that the teams were progressing toward finalizing the trade Tuesday to give Williams the fresh start he's been seeking.
Williams and Mbah a Moute, sources said, have emerged as the principals in the latest talks between the teams, with offensively challenged Sacramento known to be pushing hard to be the club that lands Williams, who was selected No. 2 overall in the 2011 draft.
For the full story, click here
November, 15, 2013
11/15/13
3:22
PM ET
By now you're well aware of our longstanding love of lists in the dear, departed Weekend Dime.
It just wouldn't be Friday around here if we couldn't continue the tradition.
So ...
Here are the six teams on course to pay luxury tax at season's end:
Brooklyn Nets
($87,199,294)
New York Knicks
($35,779,147)
Miami Heat
($20,700,358)
Los Angeles Lakers
($12,624,061)
Chicago Bulls
($11,945,749)
Los Angeles Clippers
($2,509,161)
That adds up to a total of $170,757,773 being paid into the league's distribution pool for non-tax teams.
---
There are two teams, meanwhile, which currently sit just under the luxury-tax line:
Boston Celtics
($134,098)
Toronto Raptors
($635,187)
---
And there are still five teams with cap room left over from the summer that can be used
this
season:
Philadelphia 76ers
($10,913,155)
Phoenix Suns
($5,714,623)
Utah Jazz
($1,953,834)
Milwaukee Bucks
($1,855,332)
Atlanta Hawks
($1,413,034)
PS -- Orlando is currently $811,167 over the 2013-14 cap but can move to $5,188,833 under if the Magic ultimately waive Hedo Turkoglu as expected. Only $6 million of Turkoglu's $12 million salary is guaranteed.