Marc Stein:

Orlando Magic
February, 23, 2014
Feb 23
2:10
AM ET
There is growing sentiment within the Brooklyn Nets' organization to move quickly to sign Jason Collins to a 10-day contract if they are spurned by free agent-to-be Glen Davis, according to sources with knowledge of the situation.
Sources told ESPN.com that the Nets -- who have made Davis their top frontcourt target -- still intend to make a signing soon if they can't convince Davis to choose them over the Los Angeles Clippers.
The teams in the hunt for Davis, sources said, expect a decision Sunday. The league office, meanwhile, has confirmed to ESPN that Davis will officially become an unrestricted free agent Sunday at 5 p.m. ET if, as expected, he is not claimed off waivers by another team.
One source close to the process made it clear Saturday that the Nets "will be ready to move on" should Brooklyn lose its recruiting faceoff with the Doc Rivers-coached Clippers.
Sources indicate Davis will likely make his choice based on available playing time and the situation he likes best, given that the salary he receives from his new team will simply be subtracted from the amount Orlando owes him after the buyout.
See the full story
February, 21, 2014
Feb 21
5:28
PM ET
Collins
An update on the Nets' potential plans with free agent center Jason Collins ... co-authored with ESPNNewYork.com's Ohm Youngmisuk:
The Brooklyn Nets will not decide on whether to proceed with their interest in signing free-agent center Jason Collins until letting the sudden free agency of Glen "Big Baby" Davis play out over the weekend, according to sources close to the process.

Davis will officially hit the open market as an unrestricted free agent Monday assuming he clears waivers after finalizing a contract buyout Friday with the Orlando Magic.

Sources told ESPN.com that Davis is the Nets' top choice for the opening in their frontcourt rotation. But Brooklyn's attentions could shift quickly back to Collins if the Nets miss out on Davis, who is being recruited hard to join the Los Angeles Clippers by former coach Doc Rivers.
Read the full story »
January, 11, 2014
Jan 11
2:25
AM ET
RENO, Nev. -- A few quickie dribbles of trade chatter coming out of the D-League Showcase ... with 40 days to go until the NBA's Feb. 20 trade deadline:
• For the first time, there are certifiable rumbles emanating from Toronto suggesting that the Raptors might well keep point guard
Kyle Lowry
for the rest of the season. Word is new GM Masai Ujiri continues to resist locking into any sort of firm position -- leaving open the possibility of a Lowry deal if the offers suddenly get sweeter -- but team officials appear to be growing increasingly comfortable with the idea that it's better to go for what would be just Toronto's third playoff berth in 13 seasons rather than try to do the absolute uber-tanking it would take from here for the 17-17 Raps to get into Andrew Wiggins range now.
• You'll recall that the Knicks were originally at the front of the queue trying to trade for Lowry in mid-December when the Raps were shopping him hard in the wake of the
Rudy Gay
deal with Sacramento. The Knicks are now said to want to work their way into the bidding for Denver's very available
Andre Miller
, but the same problem that doomed New York in the Lowry chase a month ago -- limited assets to offer -- doesn't bring much hope.
• The Knicks continue to get calls for center
Tyson Chandler
and, according to sources close to the situation, continue to scoff at every one. New York, to this point, has no interest in parting with its defensive anchor. (Which is smart if the Knicks are set on re-signing
Carmelo Anthony
to that megadeal this summer.)
• Orlando, meanwhile, continues to give the same stiff-arm to teams registering interest in shooting guard
Arron Afflalo
. The difference there, though, is that some rival clubs aren't convinced that the Magic's stance is as absolute as the Knicks' stance is with Chandler. Has Afflalo played well enough, in this breakout half-season, that the Magic will eventually be offered a first-round pick closer to the deadline that can pry Afflalo loose? The reality is that no one is giving up first-round picks these days -- such is the lure of the 2014 draft -- but 40 days is a long time.
• How badly did the
Oklahoma City Thunder
want to shed Ryan Gomes' contract for the right to move nearly $2.3 million away from the luxury-tax threshold and give themselves sufficient wiggle room to make a trade that makes a difference this season? As USA Today's Sam Amick reported Friday night, OKC surrendered a cash payment of a tidy $1.1 million as part of the three-way trade with Memphis and Boston in which the Celtics took on Gomes' deal and then immediately waived him.
January, 2, 2014
Jan 2
2:30
AM ET
The
Cleveland Cavaliers
have called virtually every team in the league this week as part of their continuing search for a trade partner interested in dealing for
Andrew Bynum
's cap-friendly contract before the magical date of Jan. 7, according to sources close to the process.
Which is a handy cue to remind us that the
Orlando Magic
possess the same sort of trade chip with
Hedo Turkoglu
and his similarly structured deal.
In both cases, only half of Bynum and Turkoglu's respective $12 million expiring contracts are guaranteed this season. Any team employing either player on Jan. 7 can thus save $6 million in salary -- and potentially more depending on where they are luxury-tax wise -- by releasing Bynum or Turkoglu in time to ensure they clear waivers before Jan. 10.
Yet there is one big difference between the Bynum and Turkoglu situations.
The Cavaliers, despite their disastrous 10-21 start, still have playoff aspirations in the Leastern Conference. So they appear to be willing to add some salary in a Bynum trade if they can land a difference-making asset, as evidenced by Cleveland's recent trade talks with the
Los Angeles Lakers
to acquire $19.3 million man
Pau Gasol
.
Orlando is not in the same place. Although the Magic decided to keep Turkoglu on their roster through Jan. 7 just in case a trade of some sort materialized in which his contract was needed, they're not chasing the likes of Gasol in support of a playoff push, which makes a trade even trickier for Orlando than it is for the Cavs to find a workable Bynum deal.
I'm told Turkoglu, incidentally, remains determined to relaunch his NBA career later this month when he is finally waived by the Magic or any other team that happens to trade for him in the next five days. The 34-year-old will become a free agent Jan. 10 after clearing waivers and has been working out on his own away from the team all season after Turkoglu and the Magic mutually agreed that he would not join the rest of the squad while they tried to find him a new home.
One source close to Turkoglu told ESPN.com this week that he remains confident he can still make an NBA contribution and badly wants the chance to show it after the rebuilding Magic decided that the 13-year veteran didn't fit in with a rebuilding program.
December, 27, 2013
12/27/13
12:34
PM ET
It's not a festive season for everyone in the NBA.

We're actually entering a period of high anxiety for 50 players around the league whose seasons are about to reach a make-or-break point.

All non-guaranteed deals in the NBA become fully guaranteed for the rest of the 2013-14 season if the player in question is still on his current team's roster as of Jan. 10. It's a date that always leads to a handful of roster cuts once the calendar flips to 2014, as teams either look to save a few luxury-tax bucks or perhaps open up a roster spot to take advantage of the 10-day contracts they're allowed to start handing out Jan. 5.

When it comes to this season specifically, teams looking to waive players to prevent their contracts from becoming fully guaranteed must do so by 5 p.m. on Jan. 7, thus allowing sufficient time for the player to clear waivers before the magical Jan. 10 date.

The list of players technically at risk includes some who face zero chance of getting snipped; Andrew Bynum, Patrick Beverley and Michael Beasley jump off the page in terms of vets who have noting to fret about. Yet it's a generally nervy time for anyone possessing a non-guaranteed contract until Jan. 7 passes to assure safety.

One interesting certainty here, for the record, is Orlando's forthcoming divorce from veteran forward Hedo Turkoglu. The sides have spent the past several months discussing a buyout with no success, but the Magic have to either cut or trade Turkoglu by Jan. 7 or face the prospect of paying him a full $12 million for the entire season. Only $6 million of that salary is guaranteed, but it behooves Orlando to keep Turkoglu all the way to guarantee-date buzzer just in case a trade materializes where his expiring deal becomes handy.

Atlanta: Shelvin Mack, Cartier Martin, Mike Scott
Boston: None
Brooklyn: None
Charlotte: Jeff Adrien, Chris Douglas-Roberts
Chicago: D.J. Augustin, Eric Murphy
Cleveland: Andrew Bynum, Matt Dellavedova, C.J. Miles, Henry Sims
Dallas: None
Denver: Quincy Miller
Detroit: Josh Harrellson, Peyton Siva
Golden State: Hilton Armstrong, Kent Bazemore
Houston: Patrick Beverley, Greg Smith
Indiana: Rasual Butler
L.A. Clippers: Stephen Jackson, Maalik Wayns
L.A. Lakers: Xavier Henry, Ryan Kelly, Kendall Marshall, Shawne Williams
Memphis: Seth Curry, James Johnson
Miami: Michael Beasley, Roger Mason Jr.
Milwaukee: None
Minnesota: Robbie Hummel
New Orleans: Lou Amundson
New York: Cole Aldrich, Toure' Murry
Oklahoma City: Ryan Gomes, Hasheem Thabeet
Orlando: Solomon Jones, Hedo Turkoglu
Philadelphia: James Anderson, Lorenzo Brown, Brandon Davies, Daniel Orton, Hollis Thompson, Elliot Williams
Phoenix: Dionte Christmas
Portland: None
Sacramento: Hamady N'diaye
San Antonio: Malcolm Thomas
Toronto: Julyan Stone
Utah: Ian Clark, Diante Garrett, Mike Harris
Washington: None

P.S.: Even before the January rush, nine players on non-guaranteed contracts have already been waived since the regular season began. They are:

Charlotte: James Southerland
Chicago: Mike James
Golden State: Dewayne Dedmon
L.A. Lakers: Elias Harris
New Orleans: Josh Childress, Arinze Onuaku, Lance Thomas
Philadelphia: Darius Morris
Utah: Jamaal Tinsley
December, 23, 2013
12/23/13
2:02
PM ET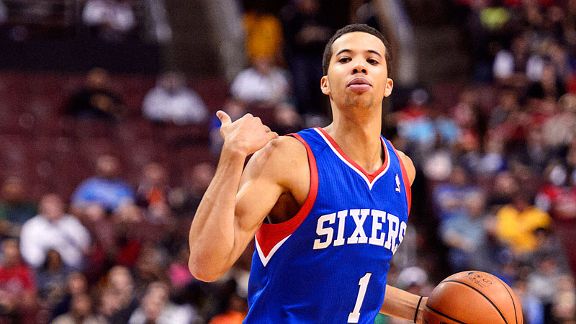 Howard Smith-USA TODAY SportsDespite missing time due to injuries, Philly's Michael Carter-Williams is at the head of the rookie class.
This is a three-player discussion at best.
And let's face it: This is a discussion of any sort only because MCW missed 12 of Philadelphia's first 28 games.
The Sixers' 6-foot-6 point guard can't continue to be out that often if he wants to snag the rookie award that matters at season's end, but Philly boasted a still-hard-to-fathom record of 7-10 entering Monday's play in the games with MCW in uniform alongside its otherwise eminently tankable roster.
Without MCW? Philly is 1-10.
There have been undeniable flashes of promise from Orlando's
Victor Oladipo
and, more recently, Utah's
Trey Burke
, who's had an MCW-esque impact on the Jazz when you compare Utah's record with Burke in (7-11) and out of the lineup (1-11). But Oladipo is averaging as many turnovers per game (3.4) as assists, learning point guard play on the fly and shot his way out of Orlando's starting lineup over the weekend. And Burke, as good as he looked in his first head-to-head meeting with Oladipo, is likewise shooting just 39.0 percent from the floor.
No one would dare suggest MCW has played mistake-free ball, but it's also true that no other rookie has shown as many All-Star flashes as the Syracuse man. And if you need more statistical proof to buy in, please note that MCW leads all rookies in points, rebounds, assists and steals.
Do you remember the last rookie who averaged at least 17 points, five rebounds and seven assists for an entire season?
Magic Johnson was his name.
Check out more First Trimester Awards »
December, 18, 2013
12/18/13
7:30
PM ET


Marc Stein joins ESPN's George Karl, ESPN Chicago's Nick Friedell and the New York Daily News' Frank Isola for an Outside The Lines panel discussion on the woeful state of the Eastern Conference.
December, 13, 2013
12/13/13
5:37
PM ET
What has already been a robust marketplace, for those of you who love the NBA's Transaction Game, is about to get robust-er.
OK, OK. Let's just say busier.
A league that has already witnessed three trades headlined by
Marcin Gortat
,
Derrick Williams
and
Rudy Gay
since training camps opened -- with Toronto trying hard as we speak to find a workable
Kyle Lowry
deal that makes it four -- will see more than 100 new trade chips put into play in less than 48 hours.
At 12:01 a.m. Sunday, no fewer than 114 players who signed new contracts since July will become trade-eligible, thanks to the league rule stipulating that recipients of new deals (in most cases) cannot be dealt until Dec. 15 or three months from the day their new contract is completed ... whichever of those dates falls later. So ...
Just as we would have in the Weekend Dime era, Stein Line Live serves up a list of all 114 of them -- along with a flurry of bonus lists -- to assist in your
ESPN Trade Machine
endeavors:
Players eligible to be traded as of Sunday
* -- Players with an asterisk next to their name possess additional trade restrictions in their respective contracts that earned them spots on Stein Line Live's All-No-Trade Team.
Click here
to get reacquainted with that group.
---
Bonus List No. 1
The following 20 players with new contracts aren't eligible to be traded Sunday because the three-month window since their respective signing dates extends beyond Dec. 15. Next to each player's name is the date he becomes trade-eligible:
---
Bonus List No. 2
The NBA, as part of its new labor agreement in 2011, restricts players possessing new contracts from being eligible to be traded before Jan. 15 when (1) the player's team is over the salary cap and (2) the first-year salary in the new deal exceeds the prior season's salary by more than 120 percent. There are seven players who fall under those restrictions this season:
---
Bonus List No. 3
Any player who signs a contract extension cannot be traded for six months if the total length of the contract (prior deal plus extension) is longer than three years or if the extension has annual increases in excess of 4.5 percent. Two big names, as a result, are thus ineligible to be traded until after their teams' respective 2013-14 seasons:
* -- Don't forget that Kobe, as covered in the
Nov. 8 SLL post
, is also one of four players in the league who possesses an outright no-trade clause in his contract along with
Tim Duncan
,
Kevin Garnett
and
Dirk Nowitzki
.
---
Bonus List No. 4
There are only eight teams in the league, in case all of this trade-eligibility talk has made you curious, that aren't currently carrying a full 15-man roster. They are:
December, 6, 2013
12/06/13
12:41
PM ET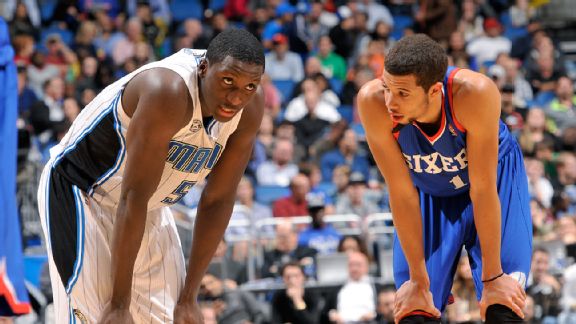 Fernando Medina/Getty ImagesOrlando's Victor Oladipo and Philly's Michael Carter-Williams are grabbing the attention of NBA scouts.
Western Conference scout on choosing between leading Rookie of the Year candidates Victor Oladipo and Michael Carter-Williams:
"It's Oladipo for me in every aspect of guard play other than passing. If you insist on a straight point guard, then you want MCW. If you want the most explosive do-everything guard who plays better defense, it's Oladipo.
"Stats may dictate otherwise right now, but it's Oladipo if we're projecting down the road. Jacque Vaughn has thrown him into the fire ASAP, and I think he's that competitive and hungry that he will improve exponentially, even though it would probably help [Oladipo] at this stage to be playing more with Jameer [Nelson], because his decision-making is not there yet.
"MCW is a little tougher to evaluate because he's playing on a bad team with a lot of freedom to do whatever he wants and still stay on the floor. But I love his court vision and midrange/floater game. He's just above average for now as a setup guy, but the quick hands and length make him a capable defender.
"Who am I kidding? I'm an Oladipo guy, but I'd love to have either one."
November, 3, 2013
11/03/13
8:28
PM ET
After our four days and two game columns from Houston, found
here
and
here
, I suspect you're probably covered for the moment on Dwight Howard coverage from this corner of cyberspace.
Yet there's one leftover from the notebook that we never got to before heading home. And I know there are lots of folks who like to keep track of these things.
Nicknames.
Don't think it's going to sell many T-shirts, but Big Horse is how Rockets coach Kevin McHale is regularly referring to Howard.
And Dwight, for the record, seems to like it.
The way Howard tells it, Orlando teammates used to call him Barbaro early in his career in a tribute to the 2006 Kentucky Derby winner. So it's not exactly new nickname ground.
As for his longstanding Superman tag, Howard was actually asked about that as well by a reporter from abroad after the Rockets' season-opening win over Charlotte. Dwight, for the record, insists that Orlando teammates -- when they weren't calling him Barbaro -- were calling him Superman because of "things they saw me do in the weight room or me jumping over guys in practice."
"I didn't choose Superman," Howard said, hitting on a subject that helped trigger some of the long-running tension between Orlando's No. 1 overall pick in 2005 and the original franchise center in Magic history associated with The Man of Steel: Shaquille O'Neal.
"A lot of people thought I chose that name," Howard continued. "My favorite action hero growing up was [actually] Batman. He could figure out anything."
In the name of trying to cover it all in the NBA ... now you know.
November, 1, 2013
11/01/13
2:29
PM ET
One week removed from the season's first big trade --
Marcin Gortat
to Washington -- you're surely wondering: Who's next?
To borrow from one of legendary wheeler-dealer Don Nelson's pet phrases:
Jameer Nelson
is a good name.
The Magic, according to the latest rumbles, would surrender Nelson today if offered a future first-round pick for him. Orlando GM Rob Hennigan continues to chase draft picks and young assets above all else as he remakes the Magic.
The problem is that teams have never been more reluctant to surrender first-round picks -- and the cap-friendly contracts they carry -- than we see nowadays. Even a proven point guard like Nelson, who's making a reasonable $8.6 million this season and is owed only $2 million guaranteed next season, could struggle to command one in return.
Perhaps a contender will be willing to make that sacrifice as we get deeper into the season, needing that one final piece for a playoff push, but first-rounders and their precious rookie-scale contracts are, well, precious. Which is why Chicago never had a hope of acquiring a future first in exchange for young guard
Marquis Teague
no matter how hard the Bulls tried to get one for Teague throughout October.