June, 6, 2014
6/06/14
9:36
PM ET
The Utah Jazz have named Atlanta Hawks assistant coach Quin Snyder their new head coach, the team announced Friday.
Snyder will receive a three-year deal with a team option for a fourth season to replace Tyrone Corbin on the Utah bench, sources said.
Snyder has a close relationship with Jazz general manager Dennis Lindsey from their time together in San Antonio. He will be a first-time NBA head coach after coaching Missouri at the college level.
"The opportunity to join the Utah Jazz and to be part of such a highly respected franchise with an incredibly bright future is a great honor," Snyder said in a statement released by the team. "I approach this opportunity with gratitude and humility and am committed to doing everything I can to help the Jazz become a championship-caliber team."
NBA coaching sources say Snyder is expected to pursue European coaching legend Ettore Messina as an assistant. Snyder worked under Messina as an assistant with European power CSKA Moscow among his recent stops, which include stints as an assistant with the Philadelphia 76ers and Los Angeles Lakers. He also was the head coach of San Antonio's D-League affiliate in Austin.
Click here for the full story
May, 14, 2014
5/14/14
12:02
PM ET
The Utah Jazz, as part of a broad coaching search expected to feature some 20 candidates, plan to reach out to Jazz legend John Stockton to gauge whether he has any interest in the position, according to sources with knowledge of the situation.
Sources told ESPN.com that Jazz officials intend to at least pose the question to the Hall of Fame guard about his willingness to move into coaching, while mindful of Stockton's lack of previous coaching experience and the fact that he has long loathed the sort of spotlight associated with the job.
Jazz general manager Dennis Lindsey declined comment Tuesday night about Stockton or any other prospective candidates when reached by ESPN.com.
Earlier Tuesday, in a general interview with the Deseret News, Lindsey told the newspaper that the Jazz are "getting closer to moving to the part where we'll reach out" to coaches Utah will consider to replace Tyrone Corbin, who was informed last month that he would not be receiving a new deal. Corbin coached the Jazz for the past three-plus seasons in the wake of Jerry Sloan's sudden resignation in February 2011.
Read the full story here »
April, 22, 2014
4/22/14
2:42
PM ET
The coaching search farthest removed from the
New York Knicks
-level spotlight could prove to be one of the most fascinating of the NBA offseason.
That's because the
Utah Jazz
, I'm told, are on that very short list of teams that will give bona fide consideration to breaking basketball's Euro barrier on the X's and O's side by hiring a new head coach who wasn't reared in North America.
NBA coaching sources say that the Jazz will take a legit look at Italian legend Ettore Messina now that they're on the hunt for a replacement for Ty Corbin, who was informed Monday after three-plus seasons as Jerry Sloan's successor that he would not be offered a new contract.
The immediate focus, in terms of replacements, centered on
San Antonio Spurs
assistant coach Jim Boylen. And rightfully so, given Boylen's longstanding ties to Jazz general manager Dennis Lindsey ... along with the seal of approval that comes when you're hired by Gregg Popovich to help fill the void created by the departures of Mike Budenholzer and Brett Brown to head-coaching gigs in Atlanta and Philadelphia, respectively.
However ...
Boylen's rough stint as the University of Utah's coach from 2007 to 2011 complicates his candidacy with the Jazz, since hiring him would almost certainly generate a lukewarm response from the local die-hards. Lindsey is secure enough in his beliefs to hire Boylen anyway if he and fellow Jazz officials decide that Boylen is the wisest choice, but you would also expect the very thorough Lindsey to have other options in mind.
None of whom, mind you, generates the sort of curiosity that Messina can.
The Spurs are the team with the longest-known fondness for Messina. Lindsey, of course, was imported from San Antonio to succeed Kevin O'Connor in Utah.
NBA coaching sources, furthermore, say Messina has another big fan in Salt Lake City in former player agent Justin Zanik, who's in his first season as a member of Lindsey's front-office cabinet with the Jazz.
So rest assured that Messina -- widely regarded abroad as the coach most likely to be the NBA's first internationally born and raised head man -- figures into Utah's thoughts.
How seriously? Time will tell. Messina detractors say he's far too demanding, far too intense from the first day of training camp and far too desirous of control to succeed in an NBA environment. Messina supporters duly downplay such claims, insisting that the season he spent with the
Los Angeles Lakers
as Mike Brown's assistant has left him with a clear idea of the tweaks he'd have to make to succeed in the NBA.
The Jazz, though, will likely have to wait until June if they ultimately zero in on Boylen or Messina. The Spurs naturally won't be surrendering any of their coaches or executives until they're out of the playoffs. And Messina will be coaching CSKA Moscow for another month-plus both domestically and in the Euroleague.
So what happens in the interim? Lindsey being Lindsey -- which is to say
Spurs-schooled
-- suggests he'll surely talk to a variety of other candidates to help gather intel on other teams while he's also out looking for Mr. Right.
Maybe the next Utah coach even comes from that group --
Chicago Bulls
assistant Adrian Griffin and current Jazz assistant Brad Jones have also been mentioned as potential targets -- but the early line has Boylen and Messina at the front of the line.
Like we said: fascinating!
December, 27, 2013
12/27/13
12:34
PM ET
It's not a festive season for everyone in the NBA.

We're actually entering a period of high anxiety for 50 players around the league whose seasons are about to reach a make-or-break point.

All non-guaranteed deals in the NBA become fully guaranteed for the rest of the 2013-14 season if the player in question is still on his current team's roster as of Jan. 10. It's a date that always leads to a handful of roster cuts once the calendar flips to 2014, as teams either look to save a few luxury-tax bucks or perhaps open up a roster spot to take advantage of the 10-day contracts they're allowed to start handing out Jan. 5.

When it comes to this season specifically, teams looking to waive players to prevent their contracts from becoming fully guaranteed must do so by 5 p.m. on Jan. 7, thus allowing sufficient time for the player to clear waivers before the magical Jan. 10 date.

The list of players technically at risk includes some who face zero chance of getting snipped; Andrew Bynum, Patrick Beverley and Michael Beasley jump off the page in terms of vets who have noting to fret about. Yet it's a generally nervy time for anyone possessing a non-guaranteed contract until Jan. 7 passes to assure safety.

One interesting certainty here, for the record, is Orlando's forthcoming divorce from veteran forward Hedo Turkoglu. The sides have spent the past several months discussing a buyout with no success, but the Magic have to either cut or trade Turkoglu by Jan. 7 or face the prospect of paying him a full $12 million for the entire season. Only $6 million of that salary is guaranteed, but it behooves Orlando to keep Turkoglu all the way to guarantee-date buzzer just in case a trade materializes where his expiring deal becomes handy.

Atlanta: Shelvin Mack, Cartier Martin, Mike Scott
Boston: None
Brooklyn: None
Charlotte: Jeff Adrien, Chris Douglas-Roberts
Chicago: D.J. Augustin, Eric Murphy
Cleveland: Andrew Bynum, Matt Dellavedova, C.J. Miles, Henry Sims
Dallas: None
Denver: Quincy Miller
Detroit: Josh Harrellson, Peyton Siva
Golden State: Hilton Armstrong, Kent Bazemore
Houston: Patrick Beverley, Greg Smith
Indiana: Rasual Butler
L.A. Clippers: Stephen Jackson, Maalik Wayns
L.A. Lakers: Xavier Henry, Ryan Kelly, Kendall Marshall, Shawne Williams
Memphis: Seth Curry, James Johnson
Miami: Michael Beasley, Roger Mason Jr.
Milwaukee: None
Minnesota: Robbie Hummel
New Orleans: Lou Amundson
New York: Cole Aldrich, Toure' Murry
Oklahoma City: Ryan Gomes, Hasheem Thabeet
Orlando: Solomon Jones, Hedo Turkoglu
Philadelphia: James Anderson, Lorenzo Brown, Brandon Davies, Daniel Orton, Hollis Thompson, Elliot Williams
Phoenix: Dionte Christmas
Portland: None
Sacramento: Hamady N'diaye
San Antonio: Malcolm Thomas
Toronto: Julyan Stone
Utah: Ian Clark, Diante Garrett, Mike Harris
Washington: None

P.S.: Even before the January rush, nine players on non-guaranteed contracts have already been waived since the regular season began. They are:

Charlotte: James Southerland
Chicago: Mike James
Golden State: Dewayne Dedmon
L.A. Lakers: Elias Harris
New Orleans: Josh Childress, Arinze Onuaku, Lance Thomas
Philadelphia: Darius Morris
Utah: Jamaal Tinsley
December, 23, 2013
12/23/13
2:02
PM ET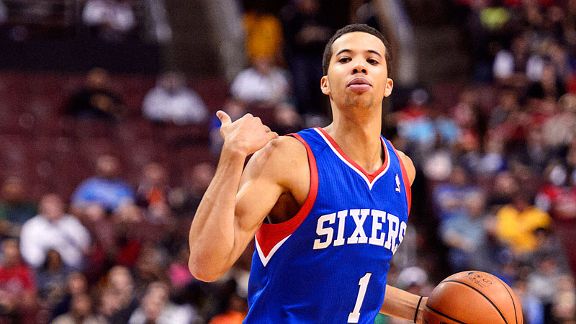 Howard Smith-USA TODAY SportsDespite missing time due to injuries, Philly's Michael Carter-Williams is at the head of the rookie class.
This is a three-player discussion at best.
And let's face it: This is a discussion of any sort only because MCW missed 12 of Philadelphia's first 28 games.
The Sixers' 6-foot-6 point guard can't continue to be out that often if he wants to snag the rookie award that matters at season's end, but Philly boasted a still-hard-to-fathom record of 7-10 entering Monday's play in the games with MCW in uniform alongside its otherwise eminently tankable roster.
Without MCW? Philly is 1-10.
There have been undeniable flashes of promise from Orlando's
Victor Oladipo
and, more recently, Utah's
Trey Burke
, who's had an MCW-esque impact on the Jazz when you compare Utah's record with Burke in (7-11) and out of the lineup (1-11). But Oladipo is averaging as many turnovers per game (3.4) as assists, learning point guard play on the fly and shot his way out of Orlando's starting lineup over the weekend. And Burke, as good as he looked in his first head-to-head meeting with Oladipo, is likewise shooting just 39.0 percent from the floor.
No one would dare suggest MCW has played mistake-free ball, but it's also true that no other rookie has shown as many All-Star flashes as the Syracuse man. And if you need more statistical proof to buy in, please note that MCW leads all rookies in points, rebounds, assists and steals.
Do you remember the last rookie who averaged at least 17 points, five rebounds and seven assists for an entire season?
Magic Johnson was his name.
Check out more First Trimester Awards »
December, 17, 2013
12/17/13
2:14
PM ET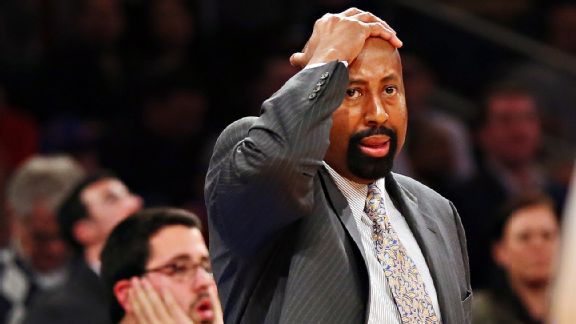 Elsa/Getty ImagesKnicks coach Mike Woodson can't feel all that comfortable about his job security after Monday's loss.
You'd like to think that one thing we're not going to see this season is a wave of in-season coaching changes.
You'd like to believe that the introduction of a record 13 new coaches coming into the season would be followed by a period of calm at a time that the bench business has seemingly never been more volatile.
You'd like to pretend that it's not surprising in the least that, with Christmas just a week away, we haven't seen a single coaching dismissal yet.
This, though, is the NBA.
So you are surprised.
You have to go back to 2006-07 for the last season that every coach in the league safely made it to Christmas Day, when the Memphis Grizzlies ousted Mike Fratello on Dec. 29 after a 6-24 start. You have to rewind all the way to 1994-95 for the last time it happened before Fratello's firing.
It's still too soon, then, for folks to really be breathing easy, since it's only Dec. 17.
Yet you could mount a strong argument, based on the latest available evidence, that the only coach in the league who legitimately faces immediate peril is New York's Mike Woodson.
For added guidance, let's consult the latest First Coach Fired odds from our friends at Bovada.lv, since bookmakers who lose money when their projections are faulty have more incentive than most to get their forecasts right.
Here is Bovada's list of coaches purportedly in trouble as of Monday morning, hours before Washington's Randy Wittman and Woodson squared off in the proverbial game that "both coaches needed to win":
Yet when you really give those names a good scan, it's difficult to see how any of them -- Woodson aside -- feel any immediate discomfort heading into the heart of the holiday season.
NBA coaching sources maintain that Woodson, in private, understands his job security is tenuous despite the recent vote of confidence he got from Madison Square Garden chairman Jim Dolan in Dolan's recent interview with The New York Post. But he's also hanging in there pretty gamely. If Woody can survive the nightmare ending witnessed Monday night at MSG, where a remedial defensive breakdown and a timeout snafu sealed a 102-101 loss to Wittman's Wizards, Woodson might get through what a lot of peers see as an unfair vigil given how much Tyson Chandler means to this team. Chandler, after all, is inching closer to a return from a fractured right fibula, which suggests that Woody and the Knicks have potentially seen the worst of their struggles. Potentially.
Two things team insiders say continue to work in Woodson's favor even after
the disastrous finish
against the Wiz: (1) He's only had the influential Chandler in the lineup for four games; (2) New York's limited options in terms of interim coaches (Herb Williams, Darrell Walker or the total coaching novice Allan Houston) add to Woodson's shelf life.
As for the rest of aforementioned coaches ...
Plugged-in sources have said for weeks that Kidd has maintained the support of his Russian bosses throughout Brooklyn's early nightmare, given that Kidd is making the virtually unprecedented jump straight from player to head coach and with too many injuries during the season's opening quarter to judge him fairly anyway.
The Wizards, while not quite living up to preseason expectations, have sufficiently rebounded from yet another slow start to the point that they're starting to look like what passes for a playoff team in the ugliest Leastern Conference in memory, which should get Wittman through the final year of his contract. Sources say, furthermore, that it's always been the preference of Wizards owner Ted Leonsis to complete the season without changing anything and then assess everything in the offseason with the deals of both Wittman and general manager Ernie Grunfeld expiring.
Casey and Corbin, like Wittman, are also in their final year of their contracts, but the fire sale clearly underway in Toronto and the youth movement undertaken in Utah mean those two really aren't being judged on wins and losses at the moment. It's likewise too early for Brown and Drew, both just months into their jobs with new teams, to be feeling any legit heat.
Since I started covering the NBA halfway through the 1993-94 season, there have amazingly been only three seasons without at least one coaching change by Christmas: 2006-07 and 1994-95 as mentioned and 1993-94.
We're looking at No. 4 in that two-decade span
if
Chandler's looming return means Woody has weathered the Knicks' latest crisis.
---
With the research help of ESPN.com's Adam Reisinger and the Elias Sports Bureau, here's a year-by-year breakdown of the in-season coaching changes seen in the NBA since 1993-94:
* In 1993-94, we made it all the way until March before the first and only coaching change. That was when the Los Angeles Lakers fired Randy Pfund after 64 games, installed the venerable Bill Bertka as the interim coach for two games and then had Magic Johnson finish out the season with a 5-11 stint before hiring eventual NBA Coach of the Year Del Harris to take over in 1994-95.
December, 13, 2013
12/13/13
5:37
PM ET
What has already been a robust marketplace, for those of you who love the NBA's Transaction Game, is about to get robust-er.
OK, OK. Let's just say busier.
A league that has already witnessed three trades headlined by
Marcin Gortat
,
Derrick Williams
and
Rudy Gay
since training camps opened -- with Toronto trying hard as we speak to find a workable
Kyle Lowry
deal that makes it four -- will see more than 100 new trade chips put into play in less than 48 hours.
At 12:01 a.m. Sunday, no fewer than 114 players who signed new contracts since July will become trade-eligible, thanks to the league rule stipulating that recipients of new deals (in most cases) cannot be dealt until Dec. 15 or three months from the day their new contract is completed ... whichever of those dates falls later. So ...
Just as we would have in the Weekend Dime era, Stein Line Live serves up a list of all 114 of them -- along with a flurry of bonus lists -- to assist in your
ESPN Trade Machine
endeavors:
Players eligible to be traded as of Sunday
* -- Players with an asterisk next to their name possess additional trade restrictions in their respective contracts that earned them spots on Stein Line Live's All-No-Trade Team.
Click here
to get reacquainted with that group.
---
Bonus List No. 1
The following 20 players with new contracts aren't eligible to be traded Sunday because the three-month window since their respective signing dates extends beyond Dec. 15. Next to each player's name is the date he becomes trade-eligible:
---
Bonus List No. 2
The NBA, as part of its new labor agreement in 2011, restricts players possessing new contracts from being eligible to be traded before Jan. 15 when (1) the player's team is over the salary cap and (2) the first-year salary in the new deal exceeds the prior season's salary by more than 120 percent. There are seven players who fall under those restrictions this season:
---
Bonus List No. 3
Any player who signs a contract extension cannot be traded for six months if the total length of the contract (prior deal plus extension) is longer than three years or if the extension has annual increases in excess of 4.5 percent. Two big names, as a result, are thus ineligible to be traded until after their teams' respective 2013-14 seasons:
* -- Don't forget that Kobe, as covered in the
Nov. 8 SLL post
, is also one of four players in the league who possesses an outright no-trade clause in his contract along with
Tim Duncan
,
Kevin Garnett
and
Dirk Nowitzki
.
---
Bonus List No. 4
There are only eight teams in the league, in case all of this trade-eligibility talk has made you curious, that aren't currently carrying a full 15-man roster. They are:
November, 15, 2013
11/15/13
3:22
PM ET
By now you're well aware of our longstanding love of lists in the dear, departed Weekend Dime.
It just wouldn't be Friday around here if we couldn't continue the tradition.
So ...
Here are the six teams on course to pay luxury tax at season's end:
Brooklyn Nets
($87,199,294)
New York Knicks
($35,779,147)
Miami Heat
($20,700,358)
Los Angeles Lakers
($12,624,061)
Chicago Bulls
($11,945,749)
Los Angeles Clippers
($2,509,161)
That adds up to a total of $170,757,773 being paid into the league's distribution pool for non-tax teams.
---
There are two teams, meanwhile, which currently sit just under the luxury-tax line:
Boston Celtics
($134,098)
Toronto Raptors
($635,187)
---
And there are still five teams with cap room left over from the summer that can be used
this
season:
Philadelphia 76ers
($10,913,155)
Phoenix Suns
($5,714,623)
Utah Jazz
($1,953,834)
Milwaukee Bucks
($1,855,332)
Atlanta Hawks
($1,413,034)
PS -- Orlando is currently $811,167 over the 2013-14 cap but can move to $5,188,833 under if the Magic ultimately waive Hedo Turkoglu as expected. Only $6 million of Turkoglu's $12 million salary is guaranteed.
November, 13, 2013
11/13/13
2:23
AM ET
Day-to-day with a sore right hamstring is the official word just issued by the Bulls on Derrick Rose

— Marc Stein (@ESPNSteinLine) November 12, 2013
RT @tribjazz: The Jazz have waived PG Jamaal Tinsley.

— Marc Stein (@ESPNSteinLine) November 12, 2013
First name I'm hearing in connection with Utah's roster opening: Diante Garrett out of the D-League who played with Phoenix last season

— Marc Stein (@ESPNSteinLine) November 12, 2013
Word is Garrett, currently with Iowa Energy in advance of D-League season starting in 10 days, will audition for Jazz & sign if it goes well

— Marc Stein (@ESPNSteinLine) November 12, 2013
November, 5, 2013
11/05/13
1:03
PM ET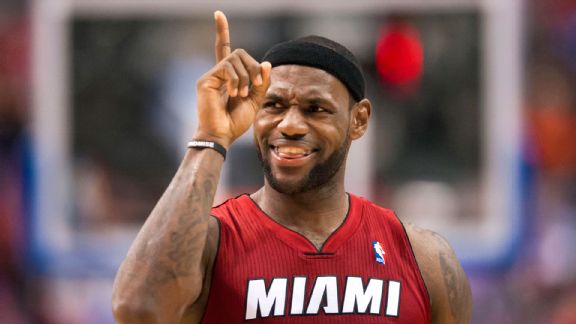 Howard Smith/USA TODAY SportsWill LeBron miss out on a fifth MVP trophy due to voter fatigue? See Stein's Fearless Prediction No. 1.
In the normal course of NBA punditry, predictions attached to the start of a season are publicly disseminated before that season actually starts.
But here's the thing:
Stein Line Live, as a tiny new entity in this mammoth NBA stratosphere, did not yet exist last Tuesday when the 2013-14 season commenced.
So we're getting our Eight Fearless Predictions to commemorate the league's 68th season out on the maiden Tuesday in SLL history, touching on some prime matters of importance that look a bit beyond the
various
prediction packages
ESPN.com hit you with early last week.
For recreational purposes only,
please
...
1. LeBron James will become the first player in NBA history to win five Most Valuable Player awards in the span of six seasons.
You want to know how I already know? Here's how: I've seen several colleagues write recently about the epidemic of "voter fatigue" and how that raises the real possibility that LeBron will fail to collect a majority share of MVP ballots even if (when?) he's deserving again. My counter? Back in the days when voters really did tire of voting for
Michael Jordan
season after season, we weren't nearly as self-aware as we are now about our collective media shortcomings. The volume of media watchdogs shouting us down for voter fatigue was practically nonexistent. Some two decades later,
Kevin Durant
or
Chris Paul
is going to have to be very, very special to deny LeBron his fifth regular-season MVP trophy and third in a row overall ... assuming he's the most worthy candidate come April as the overwhelming majority of us expect. Modern-day voters can't just quietly opt for variety in the name of merely mixing it up. Not anymore.
---
2. This will be Luol Deng's last season in Chicago.
Only a championship for the Bulls this season can potentially lead to a management rethink that invalidates this one. Otherwise? There are just too many raw feelings at hand after Chicago refused to seriously negotiate with Deng on an extension this past offseason despite his standing as one of Tom Thibodeau's all-time favorites. Deng will be a free agent in July and rest assured, at 28, he's going to attract significant interest. We're talking about a pro's pro, so you won't see any dismay seep into his game, but the overwhelming likelihood is that Deng and the Bulls -- after years and years of trade speculation that never begat an actual trade -- will finally be going their separate ways in July. Veteran Bulls watchers don't see any way that the organization plans to pay Deng as well as the blossoming
Jimmy Butler
.
---
3. Lamar Odom will be back in the NBA in 2014.
With so many teams in the hunt at the top of the East as well as the top of the West, every contender out there is going to be looking for any conceivable veteran boost for the playoff push. And the vibe I get is that Odom, despite that summerlong string of really daunting headlines,
does
want to make an NBA return eventually. Nothing will realistically happen until we get to January or February at the soonest, but I'm starting to hear that he really does have his eye on a second-half comeback. And he's still too seasoned and skilled at 34, no matter what potential concerns you want to raise, for teams not to give him a look. (Just to throw out one example: You're telling me Oklahoma City, as thin as the Thunder look, wouldn't have interest in a gamble on a minimum-salaried Odom with his close friend
Derek Fisher
in place as a welcoming committee?)
---
4. So will Jason Collins, Stephen Jackson and Baron Davis.
The concerns teams have about the inevitable media onslaught that will come with signing Collins, which we've been talking about
since camps opened
, sadly
do
mean that his absence from ppening night rosters is tied to Collins' sexuality and
the announcement he made in April
. Yet I remain convinced that a contender will decide at some point after January arrives, when 10-day contracts become available, that the addition of Collins' interior defense and veteran expertise will trump fears of relentless media swarms and land him at least one more NBA job at 34. I believe the same, furthermore, for Jackson and Davis -- who I hear is working steadfastly toward a second-half comeback of his own -- and that's based on the same premise as my Odom take. Teams will roll the dice on guys who have the resume and know-how that suggest they can make a difference.
---
5. Gordon Hayward will land a four-year max offer sheet in restricted free agency next July.
The surprise of Extension Season was undoubtedly Utah's decision to let the July market decide the price for its new face of the franchise. Contrary to some of the chatter out there, Hayward was
not
seeking the four-year max worth in excess of $60 million from Utah during the past month-plus of negotiations, but I'm convinced that's a legit possibility for him in the summer when he becomes a restricted free agent. There are too many Hayward fans in front offices around the league for the former Butler star not to cost the Jazz more later than a deal would have cost them now, given how many teams are projected to have cap space and knowing that the price tags on restricted free agents are always higher than they seemingly should be because the bidders are trying to dissuade the home team from matching.
You'll recall that it's not too far in the past that
Eric Gordon
landed a four-year max offer sheet in restricted free agency from Phoenix amid serious questions about his knees. The Suns and
Boston Celtics
-- just to name two franchises known to be big Hayward admirers with Jeff Hornacek and Brad Stevens running their respective benches -- are among those projected to have the cap space to put an uncomfortable offer on the table. Utah, of course, will have plenty of its own cap space to match a max offer if necessary, but doing a deal with
Derrick Favors
when Hayward might be an even bigger part of Utah's future ... struck me as curious to say the least.
---
6. Jerry Sloan will replace Ty Corbin as coach of the Utah Jazz.

This might rank as the most extreme projection on our board, but I can't shake the nagging belief that Sloan really does want to coach in this league one more time. And no spot for a comeback makes more sense than the SLC, where the 71-year-old is back with the franchise in an advisory role that carries a near-daily presence ... and where Utah continues to run much of Sloan's offense. The reality is that Washington's Randy Wittman and Toronto's Dwane Casey -- especially Wittman -- are the coaches in the final year of their contracts facing the far more immediate burden of playoff expectations than Corbin. And Sloan has gone out of his way in his new role to try to keep some distance to hush any suggestions that replacing his former player and February 2011 successor is an option.
Yet there's also little evidence to suggest that the Jazz regard Corbin as the long-term answer on their bench, so it really doesn't strike me as a stretch to suggest that if we ever see Sloan back in the game -- for all the belief that he'd only come back at this point to coach a win-now squad -- Utah is where it's most likely to happen. Perhaps it would only be Sloan taking over on an interim basis if things go awry until Dennis Lindsey, Utah's new front-office chief, can bring in his own guy after inheriting Corbin. All I'm saying: If folks can throw out the idea of Michael Jordan coming back at 50 to play one game for the Bobcats -- something you can actually wager on -- suggesting we'll see Sloan coaching the Jazz again is by no means outlandish.
---
7. Your NBA champion in June is coming from the Eastern Conference.

OK, OK. It's not the most definitive proclamation of all time, but here's the point: LeBron's Heat are either going to three-peat ... or the East team that keeps them out of the NBA Finals is going to go on and win it all. Pacers versus Clippers was my real-life Finals pick in ESPN.com's and ESPN The Magazine's respective
preseason prediction collections
, but what I feel even stronger about is the fact that Indy, Brooklyn and Chicago are all more title-worthy than the best of the West. Whether it's the Clips, Spurs, Thunder, Rockets, Grizzlies or Warriors, I can't talk myself into any of those teams knocking off the Heat or a team that beats the Heat. I just can't.
---
8. Andrew Wiggins will not go No. 1 overall in the 2014 NBA draft.

Regular readers have heard me say for years that I leave NBA draft forecasts to the real experts: Chad Ford, Andy Katz and now my new teammate Jeff Goodman. And nothing has changed: Big West basketball -- starring Cal State Fullerton specifically -- is the only college basketball I watch. Yet even I'm already hearing stuff here and there about the studs bound for the top of the 2014 lottery, which leads me to ask: Isn't the top-five talent way too good for all of us to just surrender the No. 1 slot to Wiggins before Thanksgiving?
Dante Exum
,
Jabari Parker
,
Marcus Smart
and a kid who played his high school basketball five minutes from my house --
Julius Randle
-- are as responsible for this season's tanking phenomenon as Wiggins, because the tank teams are convinced they're getting a franchise-changer as long as they land in the upper half of the lottery. Maybe this take cements my college basketball idiocy, but I really don't think so. For all of the obvious hype and momentum behind Wiggins' No. 1 candidacy ... it's early.