Rapid Reaction: Team USA routs Finland
August, 30, 2014
Aug 30
5:37
PM ET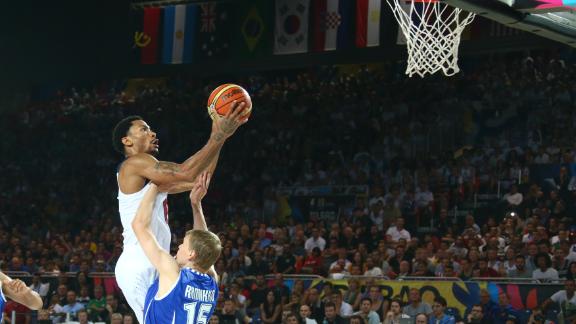 BILBAO, Spain -- Some at-the-buzzer instant analysis from press row at the Bilbao Exhibition Center after Team USA's 114-55 dismantling of Finland in both teams' FIBA World Cup opener in Group C:
How it happened:
This was simply unfair.
Hard to watch at times, too.
For all the innovation possessed within the Finnish walls of powerful companies like Nokia and Rovio, there's simply no technology in the Nordic nation to prepare its basketball players for the speed and athleticism unleashed on them Saturday night.
Looking liberated from the steady drag of negative news that has smothered this group for the past two months, Team USA played at a different gear than we saw in any of its four exhibition games this month, flying around to force 17 first-half turnovers, breaking away early and nearly pitching a second-quarter shutout.
Yes,
shutout.
The Americans legitimately flirted with one in that second quarter, scoring 29 of the period's 31 points to hike its halftime lead to a stunning 60-18. The Finns managed two Teemu Rannikko free throws and nothing more, missing all 13 of their mostly hurried 3-point attempts heading into intermission.
The biggest final margin of victory in Team USA's four warmup games this month, incidentally, was a mere 41.
The lead in this one, late in the third quarter, was up to 53, giving Harden plenty of time to rest the sprained right pinky finger he suffered in the second quarter after stepping in front of a Petteri Koponen pass at midcourt and sailing in for a layup after the steal. After doing a halftime interview with ESPN's Bob Holtzman with his pinky dunked in a small cup of ice, Harden started the second half just to make sure he could, then settled for a restful spell of spectating with the last two fingers on his right hand taped together.
Play of the Game:
Harden spectacularly rejected a jump shot on the wing the first quarter -- which certainly caught the eye after all the grief he took for his defense in Houston last season -- but there was really only one choice.
The reaction of Team USA bench told you that.
Looking as spry and speedy as he has for a full two weeks, going to back to the Aug. 16 exhibition win over Brazil in Chicago, Rose uncorked a nasty crossover to shake poor Antero Lehto at the free-throw line in the second quarter and then rumbled straight down an empty lane for a dunk to lift every teammate off his seat.
.@drose has 9 points for @usabasketball, including this sweet crossover and slam in the first half. http://t.co/YbUmTvSSu2

— NBA on ESPN (@ESPNNBA) August 30, 2014
By The Numbers:
Klay Thompson
led the Americans with 18 points and
Anthony Davis
added 17 in Team USA's 55th consecutive victory under coach Mike Krzyzewski dating to 2006. But the standout digits were in Finland's box score: 31 turnovers and just five assists against the U.S. swarms.
---
It was just the second all-time meeting between the United States and Finland at the World Cup or Olympic level. Way back in 1964, led by Bill Bradley, Team USA posted a 77-51 victory over the Finns at the Tokyo Olympics.
---
As long as you're willing to stretch the definition slightly, Finland has two current NBAers in its traveling party in Spain. Besides
Cleveland Cavaliers
power forward
Erik Murphy
, Lakers physiotherapist Marko Yrjovuori is working his native country's national team at the World Cup before resuming his usual work in L.A. with
Kobe Bryant
and Co.
---
If you're also prepared to use FIBA's world rankings as a guide, Finland is only the second-weakest team on the schedule for Team USA in Group C. Here's the breakdown (at left).
We must caution, though, that FIBA's rankings are based on an eight-year cycle for each country. Most experts would rate Mike Fratello-coached Ukraine as the third-best team in the pool behind the United States and Turkey no matter what the rankings say. Results from the 2006 World Championship, in which Team USA finished third in Mike Krzyzewski's first event coaching NBA players, will be replaced by the results from this tournament in FIBA's next rankings cycle.
What's Next:
Unlike the opening round of the Olympics, which typically consumes 10 days, FIBA scheduling requires every team in the 24-nation field to play five group games in the space of just six days.
This, of course, is actually a great advantage for the United States, which has unmatched depth and thus can handle the grind better than any other team in the field.
After playing Sunday night's late game against Turkey, all teams in Group C get a rest day Monday, then play three straight nights to complete pool play.
Led by Anthony Davis' new New Orleans frontcourt mate
Omer Asik
, Turkey will surely provide more resistance than the Finns did. Yet it remains to be seen how much more. With Milwaukee's
Ersan Ilyasova
and Utah's
Enes Kanter
are taking the summer off from national-team duty, Turkey was fortunate Saturday to pull out a 76-73 victory over New Zealand in a Group C opener after trailing by 11 late in the fourth quarter.