Team USA opens with shutdown game
August, 30, 2014
8/30/14
9:40
PM ET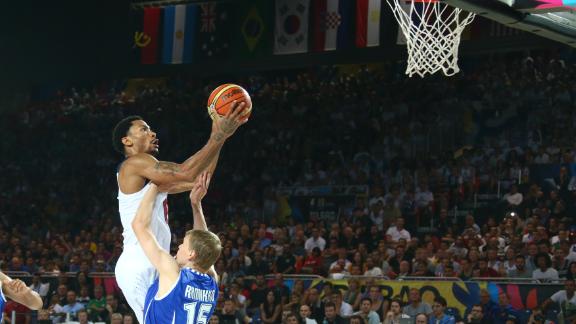 BILBAO, Spain -- Mike Krzyzewski stopped on his way to the bus and confirmed that, yes, there was a point in the first half of Team USA's first game at this 2014 FIBA World Cup that he managed to make out a smile on the face on Tom Thibodeau.
A 29-2 quarter will do that.
A 29-2 second quarter that limits the opponent, however far out of its league, to 0-for-17 shooting from the floor while also hushing one of the rowdiest packs of rival fans to ever hiss at the NBA pros representing USA Basketball simply cannot be quibbled with.
Not even by that one-of-a-kind defensive perfectionist out of Chicago.
[+] Enlarge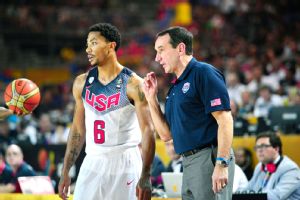 David Dow/NBAE via Getty ImagesDerrick Rose and coach Mike Krzyzewski saw Team USA get off to a strong start.
Thibodeau and Krzyzewski and everyone else on the coaching staff came away from Saturday night's show at the Bilbao Exhibition Center unable to do anything but marvel at their own exhibit. Basketball fans throughout North America undoubtedly would have preferred seeing the emerging hoops natiion of Canada dueling with Team USA, as the recipient of a FIBA wild-card entry controversially went to Finland instead, but the performance was too dominant, too smothering, for the guys in charge to lament a thing.
That's irrespective of the quality of the foe that got smoked 114-55 and got forced into 31 turnovers in the process while mustering just five assists.
Finland looked every bit the lowest-ranked invite via wild card in the history of this event -- 39th worldwide in FIBA's latest rankings -- but the way Team USA lasered right in and immediately embraced the challenge to defend with a greater ferocity than past Team USAs could only impress the bosses.
"The ball pressure was great," Thibodeau said. "Challenging shots, finishing our defense, guys being tied together ... it was terrific."
It was as if Team USA, after two months of tension and player cuts and copious fretting about further serious injuries in the wake of what happened to poor
Paul George
, realized it had finally made it to its World Cup destination and just let loose. It also couldn't have hurt Thibs' mood that
Derrick Rose
, for the first time since Team USA's exhibition win over Brazil in Chicago two weeks ago, uncorked a few vintage bursts that looked a lot more Rose-ian.
Krzyzewski, meanwhile, even liked what he saw after halftime, when Finland responded to the humiliation of a 60-18 deficit -- in front of those 8,000 rowdy Finns -- with some noticeable scrappiness after intermission.
"For our guys to play that hard in the second half was actually better," Krzyzewski said. "Most groups would kind of take it easy."
If you dare to draw any conclusions from one total mismatch, it's that this group seems to understand that its best chance to beat Spain in the Sept. 14 title game so many already expect is to beat their older hosts by suffocation. Speeding up the tempo and harassing the Spaniards into mistakes will be the twin goals for Team USA if both teams get as far as they're supposed to.
In the meantime ...
The fact that they took their defensive responsibilities so seriously, even against a team so ill-equipped to ever hurt them, would appear to be the loudest statement the Americans could have made under the circumstances.
"With this team I feel like if we play with great energy, play unselfish, you know, we're pretty hard to beat," said reserve guard
Klay Thompson
, who led Team USA with 18 points.
Added star center
Anthony Davis
after chipping in 17 points: "We can be great defensively when we want to be."
Will it last? Will they be this good against a team with an inside game or anything resembling offensive versatility? Will Team USA lapse into overconfidence now?
Will anything we saw Saturday night really matter down the line if losing coach Henrik Dettman himself likened the game to "a college team playing against professional basketball players" and described his Finns as "scared" and overawed by the occasion?
All fair questions.
But Finland's best player saw something else out there.
Point guard Petteri Koponen took the floor hoping for a showing that would convince the critics Finland deserved its FIBA wild card for something other than the raucous band of traveling fans it could bring to the World Cup or its ties to the big money of Rovio and their Angry Birds franchise. Koponen and his pals wound up running straight into a pack of Angry Yanks and their buzzsaw D.
"Maybe they're missing some great players, but for sure these players want to show how great they are, too," Koponen told ESPN.com just before making the much longer walk to
his
team bus.
"They want to show the whole world they are the next generation, and they're going to be the next superstars."