Marc Stein:

Carmelo Anthony
July, 1, 2014
Jul 1
1:53
PM ET
The Dallas Mavericks are in advanced discussions with star forward Dirk Nowitzki on a new contract but are likely to hold off on finalizing deal terms until after the team's face-to-face meeting this week with Carmelo Anthony, according to sources close to the process.
Sources told ESPN.com on Tuesday that the parties have mutually agreed to put off the finishing touches on their weeks-long negotiations until after the chance to make their recruiting pitch directly to Anthony, who ranks as Dallas' No. 1 free-agent target besides Nowitzki.
The Mavericks and Nowitzki have been negotiating for some time, sources said, because the parties strongly contemplated hammering out a contract extension before June 30 -- such as the Memphis Grizzlies did with Zach Randolph -- to prevent the former NBA Finals MVP from even reaching the open market.
But the Mavs and Nowitzki, sources said, ultimately decided to wait until after July 1 to maintain maximum flexibility for free-agent pursuits.
Click here for the full story
June, 28, 2014
Jun 28
1:36
AM ET
The New York Knicks are increasingly optimistic about their chances of re-signing star Carmelo Anthony even as he readies himself to talk to other teams next week, according to sources close to the situation.
Sources told ESPN.com that Knicks officials, while not willing to trumpet it publicly with free agency fast approaching, are quietly confident about their odds of retaining Anthony thanks in part to the idea that new team president Phil Jackson and the high-scoring forward have "connected" to some degree.
Furthermore, one source close to the process told ESPN.com's Ramona Shelburne that Jackson is planning to make a determined attempt to try to recruit his former Los Angeles Lakers center Pau Gasol to replace the freshly traded Tyson Chandler alongside Anthony on the Knicks' front line, despite the fact New York is limited to offering Gasol less than $4 million for next season.
Click here for the full story
June, 20, 2014
Jun 20
2:16
AM ET
No team could use a stretch 4 more than
Dwight Howard
's
Houston Rockets
.
Yet you don't hear much about Houston when it comes to the
latest on the
Kevin Love
front.
And here's why:
The Rockets, according to the latest personnel whispers out there, are focusing their efforts on figuring out how to acquire
Carmelo Anthony
, which would almost surely require them to find new homes via trade for
Jeremy Lin
and
Omer Asik
if Anthony indeed opts Monday to become a free agent July 1.
Word is Houston also has designs on trying to force its way onto
LeBron James
' radar should James indeed decide to consider leaving Miami for a new home.
There is no indication yet that James is seriously considering relocation. Leaving the Eastern Conference, furthermore, would appear to be a rather questionable strategy given the lack of obstacles Miami had in its way this season until the Heat's trip to the NBA Finals went awry.
Yet I'm told the uber-aggressive Rockets intend to do everything they can to work their way onto the short list of teams James might consider if he decides to end the South Beach phase of his career.
Say this much for the Rockets: Ambition is never the problem in Houston.
June, 11, 2014
Jun 11
9:34
PM ET
MIAMI -- The Miami Heat's immediate focus remains overcoming a 2-1 NBA Finals deficit to the San Antonio Spurs, but discussions have begun within the organization about trying to grow their so-called Big Three into a Big Four, according to sources close to the situation.
Sources told ESPN.com that Heat officials and the team's leading players have already started to explore their options for creating sufficient financial flexibility to make an ambitious run at adding New York Knicks scoring machine Carmelo Anthony this summer in free agency.
The mere concept would require the star trio of LeBron James, Dwyane Wade and Chris Bosh to all opt out of their current contracts by the end of the month and likely take further salary reductions in new deals that start next season to give Miami the ability to offer Anthony a representative first-year salary. The Heat also are prevented from making any formal contact with Anthony until July 1 and can do so then only if he opts out of the final year of his current contract. Anthony has until June 23 to notify the Knicks of his intentions, according to sources.
Click here for the full story
March, 7, 2014
Mar 7
6:34
PM ET
This is an excerpt from
today's 5-on-5
:
True or False: Carmelo Anthony will become a free agent in 2014.
True. The line is right there in Brian's excellent story that Melo, by all accounts, is not considering a revision to his original plan and still intends to become a free agent on July 1. So it's the same principle as the LeBron answer: Gotta go with what we know right now. Maybe Melo will have a rethink after the chatter this story inevitably sparks, but for now we're somewhat forced to base our forecasts on the hints Melo has dropped to this point.
True or False: The Lakers should be worried about their 2014 options.
True. This is the easiest question on the board to answer because the Lakers are privately concerned about their options this summer and the prospect of a third straight season in 2014-15 when they're not in the title mix. But they needn't expect much sympathy from the other 29 teams because the current Lakers are cratering all the way into a top-five pick in the most highly anticipated draft in years and will inevitably field some interesting trade possibilities because they figure to be picking so high up in the lottery. They also are well-positioned to make a big 2015 splash, when the free-agent class that summer is a lot stronger, so no one is shedding any tears for Kobe & Co.
Read the full 5-on-5 roundtable here.
March, 6, 2014
Mar 6
11:50
PM ET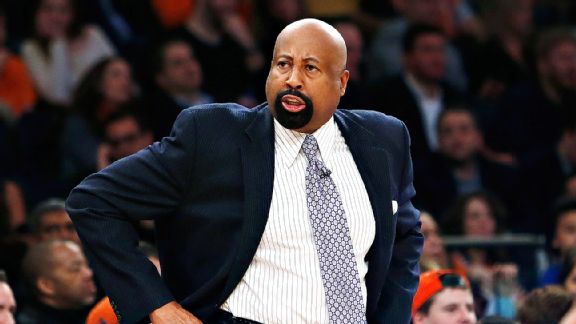 AP Photo/Jason DeCrowMike Woodson might survive the season, but that doesn't mean he'll lead the Knicks next year.
It's the question that gets thrown at me nearly as often these days as the one about the MVP race.
Always first: KD or LeBron?
Almost always next: Why haven't the Knicks fired Mike Woodson yet?
One win over the tired Minnesota Timberwolves wasn't going to make it go away. Not after the Knicks had lost their previous seven games. Not after each loss since the All-Star break left the distinct impression that it was a bigger surrender than the loss that preceded it. Not with the Knicks' steady fade in the weakest Leastern Conference in memory, all the way to 5 1/2 games out of a playoff spot as of Friday morning, prompting so many follow-up questions along the lines of: "How long ago do you think Woodson lost the team?"
Yet Woody survives, day after day, month after month, seemingly impervious to the zillions of darts winging toward his head since, oh, roughly Thanksgiving.
How?
Why?
What is the secret force that has kept Woody safe no matter how increasingly noncompetitive and checked-out his Knicks look?
The latest rumble in coaching circles holds that Madison Square Garden chairman Jim Dolan is keeping Woodson around purely because he knows that making major changes to the roster before next season -- given New York's lack of draft picks and cap space and limited trade assets -- will be extremely difficult.
Which leaves Dolan, in terms of pitching Carmelo Anthony to stay this summer, with little else to say besides: Woody was the problem!
In other words: Keep the alleged problem around to the very last drop of this nightmare season ... and then hustle him out the door by painting a coaching change as a cure-all.
Rest assured that Woody's presence for Game No. 63 on Friday night against Utah no longer has much, if anything, to do with the oft-recited line about how the Knicks don't feel comfortable entrusting Woodson's duties to any of the interim options at their disposal. The Knicks' season, even when factoring in all the injuries, has deteriorated to the point that the mere prospect of putting Herb Williams or Darrell Walker or Jim Todd in charge -- or moving Allan Houston downstairs despite his total lack of coaching experience -- has to hold some appeal just for its wake-up-call potential.
But making an in-season change, from Dolan's perspective, creates the possibility that everyone sees even more clearly than they already do that Woody is most certainly not the Knicks' biggest problem.
Which would theoretically give Melo even more reason to look around if he goes through with his long-planned intent to become a free agent July 1.
More than one plugged-in observer has insisted to me that, however transparent, this is indeed Dolan's strategy. He's going to remind the 29-year-old that he can't get $130 million anywhere else, pledge to import a worthy co-superstar no later than the summer of 2015 ... and tell him that an A-list coach will be hired right away to replace the guy who's been holding the Knicks back and elevate this team immediately.
Luckily for the Knicks, that approach might even work ... albeit mostly because Melo is said to be looking for every reason to stay in New York as opposed to the quality of the see-through sales pitch.
Cynics will say it's the $130 million he really can't bear to leave, but those who know Melo best insist that slinking away from the ballyhooed MSG stage -- and thus admitting to the world that he had to go elsewhere and attach himself to better help to win -- would wound him.
Sources say that, for all the Knicks' well-chronicled ties to Creative Artists Agency, there has been some sentiment within the organization to dump the CAA-repped Woodson as far back as Christmas.
But Woody is still here, hanging on grimly, squirming in the NBA's hottest seat partly to spare Melo from uncomfortable questions about whether he wanted the coach to stay or go ... but mostly because Dolan needs an 82-game, start-to-finish scapegoat.
And then the search for the coach who can help convince Melo to stay can begin in earnest.
I presume you've heard the names of all the chief suspects by now. We wrote about the Knicks' not-so-secret lust for Chicago's Tom Thibodeau back in December. My ESPNNewYork.com colleague Ian O'Connor had an excellent breakdown earlier this week that runs through all the other heavy hitters Dolan will be chasing as soon as the season ends, leading off with Jeff Van Gundy and John Calipari. And ESPN's Stephen A. Smith reported Friday morning that the Knicks aren't even waiting until season's end to start feeling out Phil Jackson, even though Phil remains resistant to any Knicks overture.
What's clear amid all that, even with the wildly unpredictable Dolan at the controls, is that a full-scale search figures to fully launch at the end of April.
Now this is where any veteran Knicks-watcher is obliged to throw in the disclaimer that no one would dare declare Woody to be 100 percent safe for the rest of the season. Because Dolan is still Dolan.
Yet it can be said without hesitation that Woody's ongoing residence on the Knicks' bench, with Melo and Co. still stuck at No. 11 in the Least after losing the season series to Detroit to start the week, is no accident.
It's by design.
November, 7, 2013
11/07/13
5:56
PM ET
I really want to believe that the
New York Knicks
can't possibly miss the playoffs in the top-heavy but still eminently shallow Eastern Conference even if the freshly injured
Tyson Chandler
misses a full six weeks.
I want to believe it for the Knicks' sake.
I want to believe it because the mood could otherwise get really dark in one of my favorite buildings on Earth. Really, really gloomy even before we get to July 1 and what all this means for
Carmelo Anthony
's impending free agency.
NBA muckrakers obviously can't leave that one alone, but the impact a long stretch without Chandler and what a season of underachievement might do to Anthony's willingness to re-sign with his beloved Knicks next summer is not today's focus. Ponder this instead: New York must convey a fully unprotected first-round pick to Melo's old friends back in Denver in June ... so missing the postseason would obviously make that a
lottery
pick for the Nuggets.
Based on the terms of the original Melo trade in February 2011, New York is required to send its 2014 first-round pick to Denver no matter where it falls. The Nuggets then have to send the worse of two picks – either its own 2014 first-rounder or New York's – to Orlando as a condition of the four-team
Dwight Howard
blockbuster in August 2012. So that means Orlando, in the stunning event that the Knicks and Nuggets both unexpectedly miss the playoffs, would thus inherit one of Denver's two lottery picks in one of the most-anticipated NBA lotteries ever.
Which merits a collective
Whoa
.
We repeat: The inevitable panic you're hearing this week, which we're now admittedly stoking, might well prove to be unfounded because the East is so underwhelming outside of the Miami/Indiana/Chicago/Brooklyn quartet. For all of the Knicks' considerable issues on the front line – whether it's the minutes restrictions placed on both
Amar'e Stoudemire
and
Kenyon Martin
or the distinct possibility that the completely lost
Andrea Bargnani
has actually landed in a worse situation pressure-wise than he was in Toronto when we all thought he was getting the fresh start he so badly needed – they can get back on a playoff course if Melo finally gets going.
It's not yet clear whether the Knicks will bring back one of their camp invitees (Jeremy Tyler or Ike Diogu) to fill the void, sign a free-agent stopgap (such as Earl Barron, Lou Amundson or, yes, perhaps even Jason Collins), simply try to get by with Bargnani and
Cole Aldrich
or pursue a trade with their limited assets. Yet whatever course they choose, it seems reasonable to presume that Mike Woodson's best hope for keeping the Chandler-less Knicks afloat is realistically all about going small and hoping that a philosophical shift to last season's preferred schemes will quickly shake Melo out of the slump that has seen him connect on a woeful 35.6 percent of shots from the floor in New York's three-game losing streak.
However ...
If Chandler's fractured fibula proves to be as disastrous (and long term) as some fear, just when Chandler was looking so good, New York's problems mushroom even before we get to free agency. Think of everything they've already sacrificed over the past five years to try not only to acquire a star from Melo's zip code but also to build a team with staying power around him, as Zach Lowe laid out expertly in his own Knicks piece
earlier this week
. Then imagine them having to give up a lottery pick on top of it all.
Whoa.