Marc Stein:

Dwight Howard
April, 8, 2014
Apr 8
1:37
AM ET
Dwight Howard
's comeback from a persistent ankle problem will not come Tuesday night when the
Houston Rockets
visit Los Angeles to play the Lakers, according to sources familiar with Houston's plans.
Sources told ESPN.com that Howard is indeed traveling with the Rockets this week on a three-game trip with subsequent stops in Denver and Minnesota. But Howard has been ruled out of making his return against his old team.
Howard received a second shot in his sore left ankle last week and has missed Houston's past five games. But the Rockets' All-Star center has expressed confidence that the injury won't be an issue that lingers into the playoffs.
The Rockets are closing in on securing the West's No. 4 seed after recently clinching their first 50-win season since 2008-09. But they are being cautious with Howard, especially in the wake of the recent worrisome knee injury suffered by backcourt defensive ace
Patrick Beverley
.
Howard, remember, has lined up against the Lakers on the road this season when Houston visited Staples Center in February to play Howard's old team.
February, 27, 2014
Feb 27
7:15
PM ET
Defensive Player of the Second Trimester: Dwight Howard, Rockets
Indiana's
Roy Hibbert
remains the strong favorite to win the 2013-14 Defensive Player of the Year award.
He was the only choice considered in this category after Trimester 1 and is widely regarded as the league's universal front-runner for this particular piece of hardware.
Hibbert, after all, is not only the defensive factor feared most by the two-time champs from Miami, but also the undisputed anchor of the defense threatening to record the first opponent field goal percentage reading below .409 since the
San Antonio Spurs
and
New York Knicks
did so at the end of last
century
(.402 and. 403, respectively, during the lockout-shortened 1999 season).
However ...
We feel compelled, in this cyberspace, to broaden the discussion. It's time, frankly, to show some overdue respect to a defender who, in the space of just two years, went from annual DPOY near-lock to DPOY afterthought -- which just ain't right.
No matter how much you might have soured on Dwight Howard in the wake of his messy exit from Orlando and that solitary nightmare season as a Laker, there's no denying his impact in this debut season with the Rockets. Houston entered Thursday's play with the league's best record (18-6) since Jan. 1 and has quietly worked its way up to No. 8 in defensive efficiency, with much of the credit belonging to Howard.
And since the calendar flipped to 2014, Houston actually sports the league's sixth-best team D, allowing just 101.3 points per 100 possessions.
Oklahoma City's
Serge Ibaka
is another top-flight interior defender who -- thanks to all of the attention
Kevin Durant
commands -- hasn't been getting sufficient recognition for his contributions to the Thunder's 22-8 success without the injured
Russell Westbrook
. The
Los Angeles Clippers
'
DeAndre Jordan
is yet another blossoming rebounds-and-rejections force whose strides this season have been routinely overlooked.
But this is really all about Howard's turn to be recognized for the one-man wrecking crew he still very much is defensively. Especially when you remember that Houston is by no means blessed with the sort of defensive quality on the perimeter that Indiana can field with
Paul George
,
George Hill
and
Lance Stephenson
flanking Hibbert.
The Pacers are the best defensive team on the planet. The best defender of the group -- Hibbert -- is destined to be recognized as the league's most elite individual on D when ballots are officially cast during the final week of the regular season. Consider this your friendly lecture, though, about how unfair it is that Howard gets so quickly nixed from the DPOY debate because the 2012-13 Lakers flamed out so spectacularly instead of taking note of the influential D he's actually playing.
P.S. -- Totally agree with
LeBron James
' recent proclamation that he is DPOY material. No one on earth can touch King James' versatility as that rare dude who is legitimately capable of guarding all five positions on the floor. But let's be real: The big guys who play goalie, fair or not, have a clear DPOY advantage because their rim protection is the easiest stuff for us mortals to spot. LeBron, furthermore, has too many other responsibilities to be plugged in on D at the standard he'd need to be to truly contend in this category. So it's going to take more than occasional crunch-time flashes, if it means that much to LeBron, to win this award someday.
January, 24, 2014
Jan 24
12:21
AM ET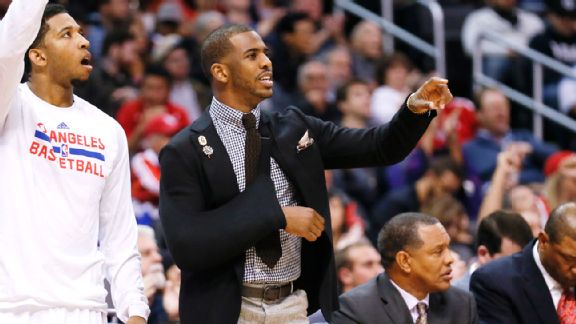 AP Photo/Danny MoloshokEven though he may not suit up, expect an All-Star nod for Chris Paul.
NBA coaches have received their All-Star voting instructions.
And here on Stein Line Live, they'll receive all the guidance they'll need to make their choices … following the same official guidelines ordained by the league office.
West head coaches, like their East counterparts, are being asked to vote for seven reserves from their conference by Tuesday at noon ET under the following conditions:
1.
Coaches must vote for two guards, three frontcourt players and two wild cards.
2.
Players must be ranked in specific order of preference in all three categories.
3.
Coaches are explicitly told as part of the voting process that the position at which a player "is listed on the All-Star ballot should have no bearing on your vote." Each coach is encouraged, furthermore, to vote for players "at the position he thinks is most advantageous for the All-Star team" and "not necessarily the one he plays most often during the season."
4.
Coaches are obviously not allowed to vote for their own players.
The starters in the West, as announced Thursday night, are
Stephen Curry
and
Kobe Bryant
at guard, with
Kevin Durant
,
Blake Griffin
and
Kevin Love
in the frontcourt. The West bench, which will be announced next Thursday on TNT, would look like this on ESPN.com's mythical ballot:
Backcourt:
1.
Chris Paul
(
Los Angeles Clippers
); 2.
James Harden
(
Houston Rockets
)
All-Star voting is the one instance in which I promise you coaches all over the West wish Paul and
Russell Westbrook
were 100 percent right now. It would make their voting jobs considerably easier because those two obviously rank as automatics when healthy.
The uncomfortable reality at the moment is that all of these decisions get a lot more complicated if CP3 and Russ are both unavailable for selection. So you fully expect Paul to be selected even if no one knows just yet whether his separated right shoulder will heal to the point that he can actually play. Then it becomes incoming commissioner Adam Silver's job to worry about injury replacements if Paul, like Bryant, decides that he can't go.
Westbrook is all the way out of contention after his third knee surgery in less than eight months, but simply hearing Paul say this week that he
hopes to be back in time
for New Orleans -- and you can understand why an All-Star Game there means so much to him -- is surely all the incentive West coaches will need. The numbers take care of the rest: CP3 is averaging 19.6 points and 11.2 assists per game, which puts the Clippers' reigning All-Star MVP two full dimes ahead of No. 2 assist man Curry's 9.2 average.
Harden, meanwhile, can bank on another All-Star nod despite the increasingly loud dismay with his defensive contributions. Last season's need to save his energy for offensive exertions would seem to be lessened on this Rockets team, after all the help Houston general manager Daryl Morey has brought in, but Harden's overall statistical production (24.3 points per game to rank fifth in scoring along with his 4.9 boards and 5.4 assists per game) can't be ignored.
Frontcourt:
1.
LaMarcus Aldridge
(
Portland Trail Blazers
); 2.
Dwight Howard
(Houston Rockets); 3.
Dirk Nowitzki
(
Dallas Mavericks
)
Aldridge isn't quite an MVP candidate, as some Blazermaniacs would contend, but that's largely because Durant and
LeBron James
are the league's only legit contestants in the MVP race. Portland couldn't have realistically hoped for more than the 24.2 points and 11.6 rebounds coming nightly from Aldridge, who never really even flirted with averaging a double-double in his first seven NBA seasons.
The new ballot format that did away with centers starting last season wound up hurting Howard more than any other player in this season's voting. Given all the drama that has swirled around him for the past couple seasons -- as well as the public's historical reluctance to show much sympathy to the game's best big men going all the way back to
Wilt Chamberlain
-- you certainly don't anticipate an overwhelming amount of sympathy to be shown. The coaches, though, aren't about to snub Dwight when he's averaging 18.6 points, 12.6 boards and 1.8 blocks for a top-five team out West.
Then there's Nowitzki who, at 35, is not far away from delivering a 50/40/90 shooting season while maintaining a spot in the league's
top 10 in terms of PER
. I like Nowitzki's chances far better than most because he's exactly the sort of universally respected vet that coaches can't resist going for. And the lack of a clear-cut candidate from San Antonio's ensemble cast -- it's no treat trying to choose
Tony Parker
,
Tim Duncan
and even
Manu Ginobili
as the top Spur so far based on their playing time and production through the first half of the season -- should only enhance Dirk's odds after a rare All-Star Weekend off last season.
Wild cards:
1.
Damian Lillard
(Portland Trail Blazers); 2.
Goran Dragic
(
Phoenix Suns
)
Do the Blazers deserve two All-Stars when the Spurs, on this ballot, have none? I would say
yes
based on how far Portland has exceeded expectations and how much Lillard's shotmaking and fearlessness have contributed to that level of overachievement. Supporters of San Antonio's Parker will undoubtedly howl in protest, but Lillard has done almost as much to transform the Blazers offensively as Aldridge, which can't be ignored.
And when it comes to the chore of making a seventh and final selection in the West -- and thus snubbing another 10 or so worthy contenders -- I can't deny that I was swayed not only by The Dragon's crafty left-handedness but also the irresistible pull of Suns Fever.
DeMarcus Cousins
and New Orleans' own
Anthony Davis
were enticing options for this last spot, as they both possess better all-around numbers than Nowitzki despite being unable to match Dirk's impact in the team-success department, but I felt as though the Suns deserved an All-Star more than any other club outside of the West's top six.
Consider it our thanks to Phoenix for supplying one of the few uplifting storylines in a first half filled with depressing injuries all over the NBA map. And Dragic is obviously the most worthy of the Desert Cinderellas, especially given the Durant-esque load he has to shoulder now with fellow lead
Eric Bledsoe
injured.
The West's foremost snubs:
Mike Conley
and Parker, Cousins and Davis … and then Duncan,
Zach Randolph
,
David Lee
,
Serge Ibaka
,
Nikola Pekovic
and
Ty Lawson
.
December, 6, 2013
12/06/13
8:23
PM ET
Eastern Conference scout on the start of the Dwight Howard era in Houston:

"I see it as real positive for them. I don't get the negativity about this team. I think they're capable of beating anyone in a series. They are also capable of losing to any team. It's all over the map because they play only one way. Their way.

"They're totally committed to what they do. There's no indecisiveness there. They're very clear on what they want to do and how to go about it. And they're very hard to prepare for because they push the ball, push the ball, push the ball.

"Scouts like coaches that call a lot of plays because it's easy to understand when it all fits neatly into a box you can study. But Houston has a very thin playbook and just keeps coming at you and, after a while, it just takes a toll on you.

"Just look at how many fouls they draw in a a game. Last time I looked at the stats, it was 28 a game, with the next closest team at 23. It's right there in black and white. They are attacking. They are shooting a 3 or taking it to the rim and there's no in-between.

"When it comes to Dwight, it's not an easy yes-or-no answer. On the positive side you like it when he faces up and attacks because he's so quick you can't handle him. On the other hand, because they're so transition-oriented, he doesn't get a ton of touches in the halfcourt, [but] I would say he gets enough.

"You wouldn't consider Dwight or [James] Harden playmkers, but it works. You've got a great scorer who gets to the rim and a guy who protects the rim and attacks the glass. It's probably going to evolve, but the overall talent is very impressive. The approach is not super-traditional, but, again, they have a style of play and they keep coming at you.

"The challenge will be what happens in the playoffs. Will they be able to go up and down? Or will they come up against teams that keep them under wraps and force them into shooting lazy jump shots? Either way they have a clear philosophy and a lot of teams in this league don't. That's something to respect."

November, 3, 2013
11/03/13
8:28
PM ET
After our four days and two game columns from Houston, found
here
and
here
, I suspect you're probably covered for the moment on Dwight Howard coverage from this corner of cyberspace.
Yet there's one leftover from the notebook that we never got to before heading home. And I know there are lots of folks who like to keep track of these things.
Nicknames.
Don't think it's going to sell many T-shirts, but Big Horse is how Rockets coach Kevin McHale is regularly referring to Howard.
And Dwight, for the record, seems to like it.
The way Howard tells it, Orlando teammates used to call him Barbaro early in his career in a tribute to the 2006 Kentucky Derby winner. So it's not exactly new nickname ground.
As for his longstanding Superman tag, Howard was actually asked about that as well by a reporter from abroad after the Rockets' season-opening win over Charlotte. Dwight, for the record, insists that Orlando teammates -- when they weren't calling him Barbaro -- were calling him Superman because of "things they saw me do in the weight room or me jumping over guys in practice."
"I didn't choose Superman," Howard said, hitting on a subject that helped trigger some of the long-running tension between Orlando's No. 1 overall pick in 2005 and the original franchise center in Magic history associated with The Man of Steel: Shaquille O'Neal.
"A lot of people thought I chose that name," Howard continued. "My favorite action hero growing up was [actually] Batman. He could figure out anything."
In the name of trying to cover it all in the NBA ... now you know.