September, 7, 2014
9/07/14
11:58
PM ET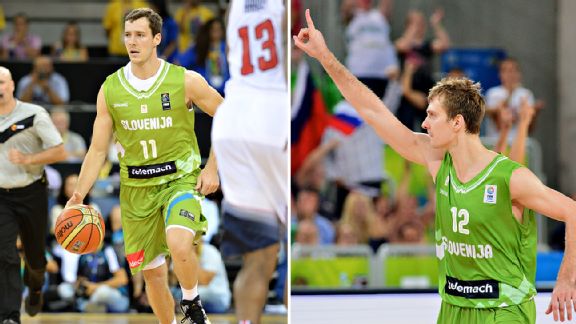 Getty ImagesWill Goran Dragic be welcoming brother Zoran into the NBA fold this season?
BARCELONA, Spain -- American viewers will be getting another up-close look at the Goran & Zoran Show in Tuesday's quarterfinals of the 2014 FIBA Basketball World Cup.
Even better news: It might not be the last time we see them together this year.
Sources here in Spain told ESPN.com this weekend that the
Phoenix Suns
are indeed among the three NBA teams expressing the most serious interest in signing
Goran Dragic
's younger brother Zoran.
The identity of the other two suitors hasn't been fully confirmed, but this much is clear: Zoran's new contract in Spain with Unicaja Malaga, sources say, does still allow for an escape to the NBA
this
season as long as A) the 25-year-old makes the move before the start of the new league season in Spain and B) he pays a higher-buyout fee than specified later in the contract. If Zoran Dragic ends up playing out the coming season with Malaga and thus delays his jump to the NBA until the summer of 2015, his buyout then would be 750,000 Euros (about $971,000).
And signing Zoran after this World Cup, sources say, is indeed an option Phoenix is pursuing, which would be a move that offers potential short- and long-term benefits for the Suns in their fight to hold onto Goran Dragic with unrestricted free agency looming for The Dragon in July 2015.
European media reports have pegged the
Indiana Pacers
as another suitor for Zoran Dragic. The Suns, meanwhile, still have roster room for a new addition and, as
covered in this cyberspace earlier this week,
face the prospect in July of both Goran Dragic and
Eric Bledsoe
becoming unrestricted free agents.
So it surely couldn't hurt, in the quest to hang on to the point guard who earned All-NBA Third Team honors last season, to try to sign his little bro first.
Projected to play shooting guard in the NBA with a shot that's still developing but with toughness and a motor that are unmistakably Dragic-y, Zoran has solidified his status as an NBA prospect with his play in this tournament, helping Slovenia make a real run at winning Group D before pumping in a team-high 18 points Saturday in the win over the Dominican Republic to set up Tuesday's rematch with Team USA at 3 p.m. ET on ESPN.
On Aug. 26 in Gran Canaria, in Team USA's first game on Spanish soil, Zoran Dragic scored a team-best 16 points in the Slovenians' 101-71 defeat.
"He was awesome," Goran Dragic told ESPN.com that night. "He was our best player on the court. It means a lot to play with him. We don't see each other so often. OK, on Skype, but it's not the same. Now it's a perfect situation for us to play together with the national team.
"We can share the court and maybe do some damage [with the national team]. And hopefully someday we can play each other in the NBA."
Or maybe even play together at the highest level.
September, 3, 2014
9/03/14
1:20
PM ET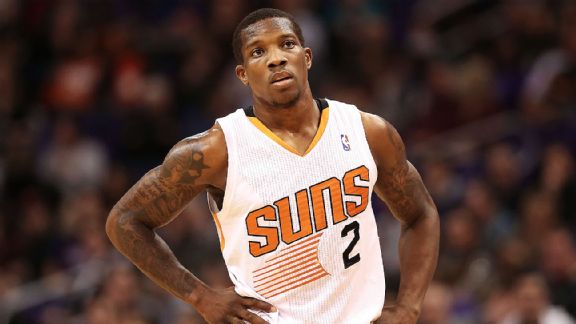 Christian Petersen/Getty ImagesStill unsigned, Eric Bledsoe is seeking the five-year max from Phoenix worth $85 million.
BILBAO, Spain -- Catching occasional glimpses of
Goran Dragic
here at the 2014 FIBA Basketball World Cup, even when he's wearing the green of Slovenia, inevitably makes you think of
Eric Bledsoe
.
Especially because it's already September.
Inside a month to go before the
Phoenix Suns
and the rest of the league open up their training camps, Bledsoe remains unsigned, just 25 days and change away from the Suns' scheduled return to work in Flagstaff, Arizona.
Which raises the unappetizing possibility that Bledsoe won't even be there for that first day of camp to reunite with Dragic. The deadline for the Suns' prized restricted free agent to sign his qualifying offer isn't until Oct. 1. And these parties have been locked in a stalemate for months.
As ESPN.com reported in August,
Bledsoe is seeking the five-year max
from Phoenix worth $85 million. The Suns' offer has topped out, to this point, at a reported $48 million over four years. The resulting impasse -- and tension -- has led to both parties exploring sign-and-trade options while Bledsoe himself inches closer to playing next season on a $3.7 million qualifier that would allow him to become an unrestricted free agent in July 2015.
Going the latter route would be an undeniable risk for Bledsoe, coming off a second knee surgery that limited him to 43 games last season, but make no mistake: Phoenix would be facing tremendous risk here as well. Should Bledsoe decide to sign the qualifying offer, as appears increasingly likely if no sign-and-trade materializes, Bledsoe can't be traded without his consent for the whole season ...
and
would instantly set himself up to join Dragic as an unrestricted free agent next summer.
Consider that last sentence again.
If Bledsoe elects to go the rare qualifying offer route, Phoenix would suddenly face the very real possibility of losing both of its two best assets without compensation in 2015 free agency.
The Lakers, for example, are just one team league sources say would likely make a hard run at both of them, based on the premise that the Suns couldn't afford the cost of paying both at that point, theoretically making either Bledsoe or Dragic gettable. Sources say that Houston, furthermore, has Dragic on its list of potential targets next summer given how he's blossomed since leaving the Rockets for Phoenix in the free-agent summer of 2012.
If Bledsoe signs the qualifier, furthermore, you can pretty much bank on him leaving Phoenix as soon as he gets the chance, because players don't take that sort of gamble and then bury the bad feelings months later to re-sign with the incumbent team. And that would naturally increase Dragic's leverage in the process, because Phoenix simply couldn't stomach losing its two most valuable players, who both happen to play what is routinely regarded as the most important position on the floor in the modern NBA.
So it's quite a quandary for the Suns. As sensible as their four-year, $48 million pitch to Bledsoe sounds and as outlandish as the player's demands might seem -- given what
Kyle Lowry
just got in Toronto -- I have to believe Bledsoe's agent Rich Paul thinks he can get much more than what Phoenix is offering next summer. He wouldn't be turning down Lowry money now if he didn't already know.
You'll recall Utah's
Gordon Hayward
was roundly questioned after passing on a similar four-year, $48 million extension offer from the Jazz last October when he was said to be seeking $52 million. Hayward wound up scoring a max offer sheet from Charlotte worth $64 million over four years, which Utah was forced to match.
Now it's Bledsoe's turn. And
Greg Monroe
's. The Detroit big man is also weighing whether to play out the coming season on a qualifying offer if he isn't presented with a sign-and-trade scenario to his liking before Oct. 1, fully believing that there's more money available next summer as an unrestricted free agent than the Pistons are offering now. And if you don't think Monroe has the gumption to go that route, you're forgetting that he's represented by the fearless David Falk.
My sense is that Bledsoe and Paul are indeed prepared to take the qualifying offer despite the rarity of the strategy. And you can't help but wonder, in the Suns' case, what sort of season awaits the NBA's plucky darlings of 2013-14 if that's how it plays out.
It would appear that Suns head coach Jeff Hornacek faces quite a challenging sophomore season, after his fantastic debut as a head coach, given that the harmony and chemistry that played such a big role in the Suns' success is bound to be shaken by the uncertainty surrounding the future of their two franchise players. Free agency is also looming, incidentally, for
Gerald Green
(unrestricted) and twins
Markieff
and
Marcus Morris
(both restricted) in July 2015.
Some solace for the Suns: Oct. 1 is the likely the longest they'll have to wait before seeing Bledsoe ... assuming they (A) can't hammer out a deal with Bledsoe through an 11th-hour round of negotiating or (B) don't opt to sign-and-trade him.
The league's new labor agreement in 2011, thanks to one of the union's many concessions, moved up the deadline for signing qualifying offers to Oct. 1. Otherwise this saga potentially could have dragged out even longer.
Or have you forgotten
Anderson Varejao
's foray into restricted free agency in the summer of 2007?
In that instance, Varejao's agent, Dan Fegan, rejected what he felt was an unworthy offer from the
Cleveland Cavaliers
and waited until December before he landed the offer sheet he felt Varejao deserved. Charlotte eventually came through with a two-year, $11 million pact that the Cavs ultimately matched ... after playing without Varejao for the first two months of the season.
Seven years later, even though both Bledsoe and Monroe do still possess the option to stage an old-fashioned holdout once their respective qualifying offers expire, Oct. 1 looms as the likely end to both of these dramas.
At least as far as this seemingly endless summer goes.
February, 28, 2014
2/28/14
11:52
AM ET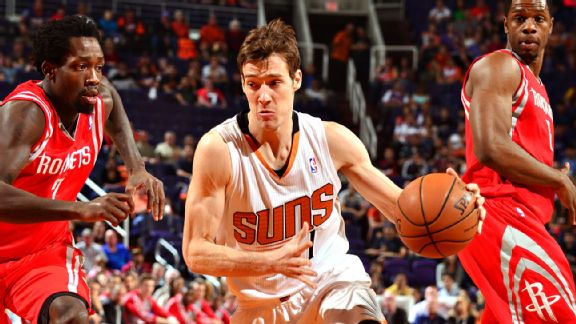 Barry Gossage/NBAE/Getty Images
Most Improved Player of the Second Trimester: Goran Dragic, Suns
It was one of the biggest mysteries of All-Star Weekend.
Goran Dragic was in town to compete in the Saturday night skills thingy.
Tony Parker
hardly played in Sunday's All-Star Game because of his "variety of maladies" and wound up being shelved by Spurs coach Gregg Popovich immediately after the All-Star break. So why didn't Parker just pull out of the midseason classic completely, watch it in street clothes like
Kobe Bryant
did and let The Dragon take his place?
That's what I would have done.
And since I have full authority here, I'm going to try to soften the blow from Dragic's painful (and needlessly dragged-out) All-Star snub by anointing him the most improved player award favorite entering the final third of the regular season.
The competition, as always, is fierce and deep. I suspect Indiana's
Lance Stephenson
remains the favorite with many voters given the huge jump he's made this season to average better than 14 points, 7 rebounds and 5 assists nightly … levels that only five other players have hit in the same season (
LeBron James
,
Kevin Durant
,
Kevin Garnett
, Jason Kidd and Lamar Odom) in the past decade.
Sacramento's
Isaiah Thomas
, Oklahoma City's
Reggie Jackson
(who's been asked to replace
Kevin Martin
and
frequently stand in for
Russell Westbrook
),
DeAndre Jordan
of the Clippers (twice the rebounder he was last season), Orlando's
Arron Afflalo
, and various other Suns -- most notably
Miles Plumlee
's rise after a rookie season in which his numbers barely registered -- have to be up there, as well.
But there's a reason Dragic's omission from All-Star proceedings in New Orleans caused such outrage in the NBA corners of the Twitterverse. He has hiked his scoring average nearly six points per game this season (from 14.7 PPG to 20.2) and his player efficiency rating nearly five points (from 17.52 PER to 22.49). Even after being stripped of backcourt mate and First Trimester MIP
Eric Bledsoe
through injury, Dragic is more responsible than any Sun not named Jeff Hornacek for Phoenix's ability to maintain this 46-win pace that not a soul saw coming.
There's a decent chance that someone from the Suns is going to win this thing, given that
Gerald Green
and the Morris twins have a case along with Plumlee, too. But the load Dragic has been forced to shoulder, especially with Bledsoe missing the past 27 games, makes him the obvious selection here.
Doubly obvious if righting an All-Star wrong means anything to you.
January, 24, 2014
1/24/14
12:21
AM ET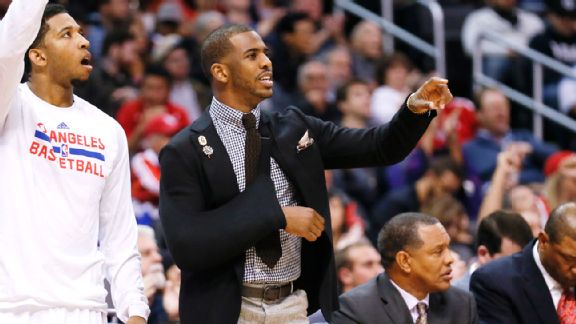 AP Photo/Danny MoloshokEven though he may not suit up, expect an All-Star nod for Chris Paul.
NBA coaches have received their All-Star voting instructions.
And here on Stein Line Live, they'll receive all the guidance they'll need to make their choices … following the same official guidelines ordained by the league office.
West head coaches, like their East counterparts, are being asked to vote for seven reserves from their conference by Tuesday at noon ET under the following conditions:
1.
Coaches must vote for two guards, three frontcourt players and two wild cards.
2.
Players must be ranked in specific order of preference in all three categories.
3.
Coaches are explicitly told as part of the voting process that the position at which a player "is listed on the All-Star ballot should have no bearing on your vote." Each coach is encouraged, furthermore, to vote for players "at the position he thinks is most advantageous for the All-Star team" and "not necessarily the one he plays most often during the season."
4.
Coaches are obviously not allowed to vote for their own players.
The starters in the West, as announced Thursday night, are
Stephen Curry
and
Kobe Bryant
at guard, with
Kevin Durant
,
Blake Griffin
and
Kevin Love
in the frontcourt. The West bench, which will be announced next Thursday on TNT, would look like this on ESPN.com's mythical ballot:
Backcourt:
1.
Chris Paul
(
Los Angeles Clippers
); 2.
James Harden
(
Houston Rockets
)
All-Star voting is the one instance in which I promise you coaches all over the West wish Paul and
Russell Westbrook
were 100 percent right now. It would make their voting jobs considerably easier because those two obviously rank as automatics when healthy.
The uncomfortable reality at the moment is that all of these decisions get a lot more complicated if CP3 and Russ are both unavailable for selection. So you fully expect Paul to be selected even if no one knows just yet whether his separated right shoulder will heal to the point that he can actually play. Then it becomes incoming commissioner Adam Silver's job to worry about injury replacements if Paul, like Bryant, decides that he can't go.
Westbrook is all the way out of contention after his third knee surgery in less than eight months, but simply hearing Paul say this week that he
hopes to be back in time
for New Orleans -- and you can understand why an All-Star Game there means so much to him -- is surely all the incentive West coaches will need. The numbers take care of the rest: CP3 is averaging 19.6 points and 11.2 assists per game, which puts the Clippers' reigning All-Star MVP two full dimes ahead of No. 2 assist man Curry's 9.2 average.
Harden, meanwhile, can bank on another All-Star nod despite the increasingly loud dismay with his defensive contributions. Last season's need to save his energy for offensive exertions would seem to be lessened on this Rockets team, after all the help Houston general manager Daryl Morey has brought in, but Harden's overall statistical production (24.3 points per game to rank fifth in scoring along with his 4.9 boards and 5.4 assists per game) can't be ignored.
Frontcourt:
1.
LaMarcus Aldridge
(
Portland Trail Blazers
); 2.
Dwight Howard
(Houston Rockets); 3.
Dirk Nowitzki
(
Dallas Mavericks
)
Aldridge isn't quite an MVP candidate, as some Blazermaniacs would contend, but that's largely because Durant and
LeBron James
are the league's only legit contestants in the MVP race. Portland couldn't have realistically hoped for more than the 24.2 points and 11.6 rebounds coming nightly from Aldridge, who never really even flirted with averaging a double-double in his first seven NBA seasons.
The new ballot format that did away with centers starting last season wound up hurting Howard more than any other player in this season's voting. Given all the drama that has swirled around him for the past couple seasons -- as well as the public's historical reluctance to show much sympathy to the game's best big men going all the way back to
Wilt Chamberlain
-- you certainly don't anticipate an overwhelming amount of sympathy to be shown. The coaches, though, aren't about to snub Dwight when he's averaging 18.6 points, 12.6 boards and 1.8 blocks for a top-five team out West.
Then there's Nowitzki who, at 35, is not far away from delivering a 50/40/90 shooting season while maintaining a spot in the league's
top 10 in terms of PER
. I like Nowitzki's chances far better than most because he's exactly the sort of universally respected vet that coaches can't resist going for. And the lack of a clear-cut candidate from San Antonio's ensemble cast -- it's no treat trying to choose
Tony Parker
,
Tim Duncan
and even
Manu Ginobili
as the top Spur so far based on their playing time and production through the first half of the season -- should only enhance Dirk's odds after a rare All-Star Weekend off last season.
Wild cards:
1.
Damian Lillard
(Portland Trail Blazers); 2.
Goran Dragic
(
Phoenix Suns
)
Do the Blazers deserve two All-Stars when the Spurs, on this ballot, have none? I would say
yes
based on how far Portland has exceeded expectations and how much Lillard's shotmaking and fearlessness have contributed to that level of overachievement. Supporters of San Antonio's Parker will undoubtedly howl in protest, but Lillard has done almost as much to transform the Blazers offensively as Aldridge, which can't be ignored.
And when it comes to the chore of making a seventh and final selection in the West -- and thus snubbing another 10 or so worthy contenders -- I can't deny that I was swayed not only by The Dragon's crafty left-handedness but also the irresistible pull of Suns Fever.
DeMarcus Cousins
and New Orleans' own
Anthony Davis
were enticing options for this last spot, as they both possess better all-around numbers than Nowitzki despite being unable to match Dirk's impact in the team-success department, but I felt as though the Suns deserved an All-Star more than any other club outside of the West's top six.
Consider it our thanks to Phoenix for supplying one of the few uplifting storylines in a first half filled with depressing injuries all over the NBA map. And Dragic is obviously the most worthy of the Desert Cinderellas, especially given the Durant-esque load he has to shoulder now with fellow lead
Eric Bledsoe
injured.
The West's foremost snubs:
Mike Conley
and Parker, Cousins and Davis … and then Duncan,
Zach Randolph
,
David Lee
,
Serge Ibaka
,
Nikola Pekovic
and
Ty Lawson
.