July, 31, 2014
Jul 31
10:20
AM ET
The Minnesota Timberwolves were engaged in serious Kevin Love trade talks with no teams other than the Cleveland Cavaliers on Wednesday, adding to the growing belief around the NBA that Love teaming up with LeBron James is inevitable, sources have told ESPN.com.
As has been the case for a week, the Cavaliers remain the front-runners to acquire Love in a trade co-headlined by No. 1 overall draft pick Andrew Wiggins. However, sources this week have described the Cavs as the only team in contention for Love.
Those sources say the Chicago Bulls have become increasingly pessimistic about their chances of trumping Cleveland's offer, while the Golden State Warriors remained unwilling to bend on their longstanding refusal to surrender Klay Thompson in a deal for Love.
Wiggins is not eligible to be dealt until Aug. 23 after signing his rookie contract last week, but numerous league insiders -- some of whom are gathered in Las Vegas for this week's Team USA training camp -- have begun to describe a Love-to-Cleveland trade as a "when" transaction as opposed to an "if."
With three weeks to go until Wiggins is eligible to be swapped for Love, one source said Wednesday that James himself already is "looking forward" to the prospect of welcoming the All-Star power forward as his newest teammate.
Click here for the full story.
July, 14, 2014
Jul 14
2:38
PM ET


Ricky Hickman. Tyrese Rice. Alex Tyus. Devin Smith.

Those were the biggest names on David Blatt's Maccabi Tel Aviv roster last season.

Now?

Now Blatt is known to the world as the guy who'll be drawing up plays for LeBron James next season, barely two months removed from leading Maccabi to an improbable Euroleague title with a roster that, in the words of one admiring Western Conference general manager, was "outgunned at every position except coach."

Blatt's recent hot streak, furthermore, shows little signs of cooling.

NBA coaching sources tell ESPN.com that Blatt, like the majority of his peers, has a number of incentives in his new contract with the Cleveland Cavaliers contingent on regular-season and playoff success. Yet sources say that the incentives, over the life of the contract, could be worth up to $10 million, which is suddenly significant because Blatt figures to do a lot more winning than we might have projected a week ago after LeBron's blockbuster announcement that he's coming back to play for his home-state Cavs.

Even though I've been following the Boston-area native's coaching career pretty closely for a good decade, I was one of those know-it-alls who thought Blatt -- despite his consistent success everywhere he coached in Europe -- would have to serve an assistant coach in the NBA first if he ever hoped to get a head-coaching shot in the country of his birth.

It's a theory formed from hearing those exact same whispers from various executives around the league, who bought into the notion that Blatt needed to spend a couple seasons here building his name up as a "hot assistant" before getting his shot, since the overwhelming majority of NBA players had never heard of him as recently as late May.

But Cleveland gambled on Blatt's unquestioned strategic chops within a month of Maccabi's fairy-tale run to the Euroleague crown and awarded him a three-year deal with a team option entering Year 4. Now it's a deal, thanks to LeBron, that has the potential to pay Blatt even more than he thought if the James-led Cavs win as much as Las Vegas oddsmakers seem to think they will.

As of Monday, according to the latest odds from the Westgate Las Vegas Resort and Casino, Cleveland's 4-1 odds to win the 2015 NBA championship trailed only San Antonio's 7-2 odds.

July, 3, 2014
Jul 3
9:01
PM ET
The agent for LeBron James has this week met with officials from multiple teams interested in courting James in free agency, according to sources close to the process.
The exact number of teams to secure face-to-face meetings with Cleveland-based Rich Paul was not immediately known, but sources told ESPN.com that the Phoenix Suns, Houston Rockets, Dallas Mavericks and James' home state Cleveland Cavaliers have all had the opportunity to make presentations to Paul in recent days.
ESPN's Chris Broussard reports that Suns owner Robert Sarver, in particular, met with Paul on Wednesday and pitched the idea of luring James from Miami to the desert by trying to sign Carmelo Anthony or Chris Bosh as well.
Sources also tell Broussard that Cavaliers owner Dan Gilbert had a meeting with Paul this week.
Click here for the full story
June, 20, 2014
Jun 20
2:16
AM ET
No team could use a stretch 4 more than
Dwight Howard
's
Houston Rockets
.
Yet you don't hear much about Houston when it comes to the
latest on the
Kevin Love
front.
And here's why:
The Rockets, according to the latest personnel whispers out there, are focusing their efforts on figuring out how to acquire
Carmelo Anthony
, which would almost surely require them to find new homes via trade for
Jeremy Lin
and
Omer Asik
if Anthony indeed opts Monday to become a free agent July 1.
Word is Houston also has designs on trying to force its way onto
LeBron James
' radar should James indeed decide to consider leaving Miami for a new home.
There is no indication yet that James is seriously considering relocation. Leaving the Eastern Conference, furthermore, would appear to be a rather questionable strategy given the lack of obstacles Miami had in its way this season until the Heat's trip to the NBA Finals went awry.
Yet I'm told the uber-aggressive Rockets intend to do everything they can to work their way onto the short list of teams James might consider if he decides to end the South Beach phase of his career.
Say this much for the Rockets: Ambition is never the problem in Houston.
June, 8, 2014
Jun 8
4:52
PM ET
SAN ANTONIO -- If
LeBron James
or any other player in these NBA Finals has further issues with cramping, they can take some comfort in the knowledge that the league has no restrictions against administering pregame or in-game intravenous fluids or the use of the "cramping pills" that James referenced after Game 1.
Such anti-cramping measures are generally sanctioned by all professional sports leagues in North America. IVs are utilized often during pro and college football games, for example, to help athletes combat heat while wearing so much equipment.
James said he took seven anti-cramping pills in addition to drinking extra electrolytes Thursday night as part of his futile attempts to ward off the cramps that limited him to just 37 seconds of court time in the final 7:31 of Miami's 110-95 loss to the Spurs in Game 1.
The pills, according to league sources, are an electrolyte and mineral mixture and possess no medicinal or performance-enhancing benefit.
Sources briefed on the situation told ESPN.com that the Heat went into Sunday with no plans to deviate from their usual protocol when it comes to keeping James hydrated, trusting their longstanding measures to combat James' history of cramping that they've relied on since a similar episode occurred during the 2012 NBA Finals.
The Heat regard what happened here Thursday night as an extreme situation, thanks to an electrical failure at the AT&T Center that caused the building's air conditioning to shut down and led to temperatures that climbed above 90 degrees on the court.
After the madness of Thursday night's fourth quarter, James was administered 2 1/2 bags of IV fluid to rehydrate.
"I did everything that I needed to do to prepare for this game, prepare for this moment and, you know, to feel like my body failed me last night, I was angry in the fact that I couldn't help my team get over the hump in a huge Game 1," James told reporters Friday at a Finals news conference.
James was also felled by cramps during Game 4 of the 2012 NBA Finals in Miami against the
Oklahoma City Thunder
. Sources say that the Heat have inevitably been flooded with numerous home-ready suggestions from fans after it happened against San Antonio, but Miami coach Erik Spoelstra insists that "our staff and LeBron's diligence has really taken care of that matter just in terms of his preparation before games [and] what he's doing during games in terms of always filling himself up with electrolytes, fluids, cramping pills when necessary.
"We have had minimal issues with it, and he's been able to handle it much better than before. [Game 1] was so extreme. That's the toughest part for people to understand. He was burning through his fluids and calories at an extraordinary rate, so about halfway through the first quarter we understood that this was a different environment."
The AT&T Center released a statement Friday insisting that
the air-conditioning issues had been fixed and tested
and would be fully operational for Game 2. Spoelstra countered by saying that the Spurs should be fined by the league if they can't get the building to an appropriate temperature for the rest of their home games in the Finals.
February, 28, 2014
Feb 28
12:13
PM ET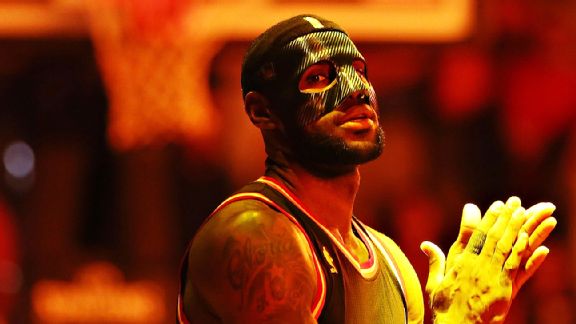 Marc Serota/Getty Images
East MVP of the Second Trimester: LeBron James, Heat
You're kidding, right?
This is even easier than the West, because the list of candidates in the East is truly one name deep.
And one name is all we need, when it's LeBron James, to set up a tasty MVP duel to consume us over the final 47 days of the regular season.
I was convinced that Bron and
Kevin Durant
, after Tim Hardaway Jr. versus
Dion Waiters
went at it with such gusto in the rookies-and-sophs appetizer Friday night, were going to take it up a notch in Sunday's real deal. But there really weren't any haymakers traded in New Orleans.
That's OK, though. None of us can complain too much, because they're sure going toe-to-toe now.
Durant surged into the MVP lead with his repeated detonations in the wake of
Russell Westbrook
's third knee surgery in a span of eight months. LeBron answered with the huge late 3 to win in Golden State that had everyone buzzing as All-Star Weekend began ... and followed it up with an absolute dismantling of OKC in Miami's first game after the break.
Which I'm sure he quietly enjoyed after all those questions he fielded in New Orleans about Durant's sudden and unexpected lead in the MVP race.
What we're looking at now, as a result, is the best MVP race since, what,
Steve Nash
versus Shaquille O'Neal in 2005? Or
Tim Duncan
versus Jason Kidd in 2002?
I'd argue it'll be better than either of those -- as well as the 2008 battle in which
Kobe Bryant
,
Chris Paul
,
Kevin Garnett
and LeBron all had a shot -- because this one features the two guys who would indisputably top every pundit's Best Player In The Game list.
Buckle up, everyone. Gonna be a fun finish.
February, 18, 2014
Feb 18
11:49
AM ET
New NBA commissioner Adam Silver revealed in an interview with ESPN Radio that Miami Heat star LeBron James is among the players who have personally asked him to make the league's annual All-Star break longer.
Silver told the network he met briefly with multiple players during All-Star Weekend in New Orleans and shared that James, in particular, is lobbying for an extended break to allow the game's stars to enjoy some semblance of respite from the grind of the regular season.
James and fellow Eastern Conference All-Stars Dwyane Wade and Chris Bosh met their Miami teammates Monday in Dallas for an evening practice before the Heat's season resumes Tuesday night against the Mavericks.
"LeBron and I have had a relationship for a long time," Silver said. "We're so far in season [that] the relationship has mainly been one of texting and emailing. I spoke to him for a little bit [Sunday], and he had a few things to say in the locker room when I was in talking to the players.
"One of the issues LeBron raised is a break during All-Star [Weekend]. A guy like LeBron, All-Star Weekend is not a break for him in any way. He's going around the clock with a combination of things the league is asking him to do, personal commitments, and I think it makes sense if we can work in the schedule a few days so the All-Stars can get a break as well."
Click here for the full story
December, 31, 2013
12/31/13
12:06
PM ET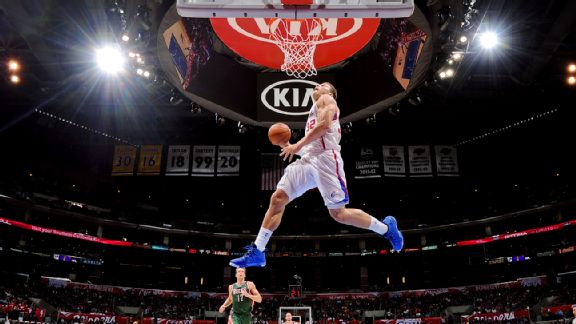 Andrew D. Bernstein/Getty ImagesBlake Griffin beats out his own teammate and a host of others for the top spot on our dunk list.
Here's one man's tally, as 2013 draws to a close, of the absolute finest five dunks witnessed in the NBA over the past 12 months:
1. Jamal Crawford's deliciously creative alley-oop to Blake Griffin
The heart is not rational. We feel what we feel. So I refuse to apologize for loving the pass part of great dunks as much as the throwdown itself. I know; I'm weird. But I can't help it. And I, speaking purely for myself, loved the creativity of Crawford going between the legs before he lobbed the ball -- just the sheer fun of such improvisation in the heat of the moment -- more than any other dunk we could list here. One man's opinion.
2. LeBron James' lefty finish off the window on Christmas Day
If I made a mistake, this is it. The case could be made that LeBron's latest gem, no matter how late it came in the competition, should have snagged top billing, such was the degree of difficulty involved. Jeff Van Gundy raised the question on the broadcast as soon as it happened: Has
anyone
ever finished an oop off the glass with his off hand? Seen-it-all vet Antonio Davis echoed those same thoughts on the set of "NBA Coast 2 Coast" last Friday, saying he couldn't even imagine another right-handed player trying to pull off the combo of a left-footed jump
and
a left-footed finish that LeBron gifted to all of us in L.A. Ridiculous
3. DeAndre Jordan's near-assassination of Brandon Knight
This is the one, I suspect, that will top most of your lists. And I get it. The finish was absolutely lethal. DeAndre's dunk face after driving Knight into floor was priceless. And the lob from Chris Paul was plenty sweet, too. Maybe it's just me, but the apparent newness of the first two -- how they stood out in terms of uniqueness -- is what made the difference on this scorecard. (P.S.: We really shouldn't be docking Blake style points just because he made his windmill finish of Crawford's lob look as easy as a finger-rolled layup.)
4. Kobe Bryant turning a corner and dunking on a bunch of Nets
Something else about me that regular readers know by now: I'm a nostalgic sap to the core. So when Kobe turned back the clock in Brooklyn, got a step on Gerald Wallace and thundered home over both Wallace and Kris Humphries with Brook Lopez lurking nearby, there was no chance my sentimental side could exclude it. You could certainly argue that Xavier Henry's
lefty pile driver
over New Orleans' Jeff Withey was truly the best dunk submission of 2013 from the Lakers. But I admit it: I wanted to give the 35-year-old future Hall of Famer his due.
5. J.R. Smith's reverse alley-oop on a low pass that didn't look oop-able
In the first week of 2013, Smith was a Knicks darling whose stunning athleticism on a seemingly routine basket cut enabled him to slam home a down-the-middle feed Pablo Prigioni threw at crotch level. In the first week of 2014, New York will drag into San Antonio with a 9-21 record, clinging to hope that Carmelo Anthony can finally shake his recent ankle woes to return to the lineup ... and wondering how long Smith will stay submerged in a season-long funk that has dragged his PER all the way down to (yikes) 10.7. I'm guessing I'm not the first person to ever say this: What a difference a year makes.
November, 29, 2013
11/29/13
3:25
PM ET
There was really only one hiccup for LeBron James on this week's ballyhooed trip to Cleveland.

Stuffed amid another routine win over the Cavs, swatting away the latest round of questions about his willingness to re-sign with them in free agency next summer and the Thanksgiving extravaganza he hosted for the whole team at his home in Akron, James did see his epic shooting percentage from the field dip slightly.

Which we were compelled to point out because epic is actually underselling it.

By shooting 9-for-19 from the floor against the Cavs, LeBron's field-goal percentage through 15 games dropped from an unfathomable ridiculous .609 to a still-rather-insane .598.

How insane?

Early as it might seem to be talking about this stuff, LeBron has established a historic Month 1 pace with his uber-efficient shooting. Through a little digging in conjunction with my ESPN Stats & Info pals Paul Phillips and Steven Martinez, we found that only 10 players in league history with a listed height of 6-foot-9 or shorter have managed to take at least 500 shots in a season and convert at least 59 percent of them.

And only one player on that list -- Charles Barkley in 1989-90 -- has been that deadly accurate while hoisting at least 1,000 shots for the season like LeBron always does.

The 10 before LeBron:



You'll note that only Barkley and McGee, of the players listed, had anything resembling LeBron's ability to score from all over the floor. My beloved Bernard King came close while with Golden State in 1980-81, but even he topped out at a success rate of. 588 with the Warriors that season.

So ...

The early season chatter, when it comes to LeBron's shooting, has been focused on his free-throw jump from 75.3 percent to 80.5 entering Friday's play. Maybe it's just me, but I find the field goal stuff to be even more fascinating, since the dramatic spikes we're seeing aren't merely a matter of conquering whatever mental demons that limited his success at the line up to now.

It's a reasonably safe bet James will tie a record that, according to the Elias Sports Bureau, belongs to Lenny Wilkens by improving his shooting percentage for the seventh successive season. But can he actually do what he's essentially done for the month of November and shoot 60 percent from the floor for an entire season?

It's one of the more interesting questions to ponder for a team and star that isn't supposed to serve up much regular-season intrigue.
November, 16, 2013
11/16/13
1:17
AM ET
Source on Clippers' meeting Friday with Lamar Odom: "I wouldn't say a deal is imminent, but I'd be surprised if it didn't happen."

— Marc Stein (@ESPNSteinLine) November 16, 2013
Odom's visit Friday to Clips' facility first reported by @SpearsNBAYahoo. ESPN reported Thursday that Clips and Lakers were tracking Odom

— Marc Stein (@ESPNSteinLine) November 16, 2013
Lamar Odom initially targeted NBA return in second half of season but timetable appears to be accelerated after a month of positive workouts

— Marc Stein (@ESPNSteinLine) November 16, 2013
These ain't 2011's Mavs, obviously, but Dirk and LeBron are staging a classic duel in Miami. Which we really never saw during 2011 Finals

— Marc Stein (@ESPNSteinLine) November 16, 2013
Now LeBron has a one-legger falling away? Why not?

— Marc Stein (@ESPNSteinLine) November 16, 2013