December, 24, 2013
12/24/13
10:49
PM ET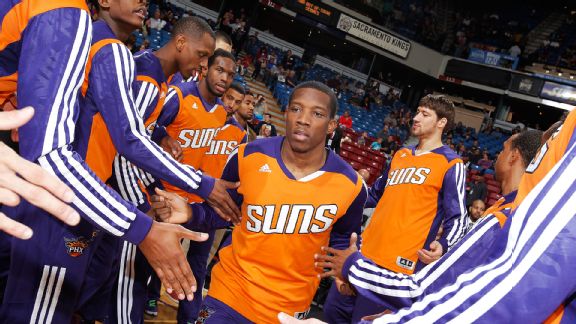 Rocky Widner/NBAE/Getty ImagesIn Phoenix, Eric Bledsoe is blossoming in his first year as a full-time starter.
You've heard it a zillion times ...
That guy didn't really "improve." He just got more minutes.
Well, sorry.
Eric Bledsoe is indeed getting more playing time in Phoenix than he's ever received before, but increased minutes alone don't guarantee that a point guard will more than double his scoring and assist averages, shoot nearly 50 percent from the floor and pump his PER all the way to 21.56 entering Christmas Day.
And that's where Bledsoe is after his first 21 games as a Sun.
Surrounded by the usual deep cast of contenders in this category -- Boston's
Jordan Crawford
and especially Indiana's
Lance Stephenson
and Orlando's
Arron Afflalo
chief among them -- Bledsoe still stands out. He's proven more than worthy of the trade investment Phoenix made to get him ... as well as the fat new contract he's due to receive in the summer.
Stephenson has taken on more responsibility for the Pacers on a variety of fronts (playmaking, rebounding, perimeter D) and leads the league with three triple-doubles already. Afflalo, meanwhile, is 10th in the league in scoring thanks to significant jumps in his 3-point shooting and overall marksmanship to counter claims that his gaudy average (21.7 PPG) is simply the product of playing for a bad Orlando team that needs
someone
to take all the shots.
Bledsoe, though, clinched the MIP lead heading into Trimester 2 because he's the standout candidate for the award on a team full of them. Suns twins Marcus and
Markieff Morris
and fellow forward
P.J. Tucker
are all MIP hopefuls, too, only to be overshadowed by the new star point guard, who plays 34.2 minutes nightly after averaging 20.4 MPG last season in Clipperland as
Chris Paul
's backup.
PS -- Regular readers surely anticipated the way we handled second-year players who are blossoming like they're supposed to:
Anthony Davis
,
Bradley Beal
,
Andre Drummond
,
John Henson
,
Tony Wroten
, etc. The likes of
John Wall
and
Derrick Favors
-- drafted too high to fit into what I've always seen as the true spirit of the MIP -- were also not considered no matter how much better they might be playing than they did last season. Standard Stein Line policy, remember, contends that lottery picks are drafted with the idea that they'll keep developing into franchise cornerstones. Crawford, Stephenson, Afflalo and Bledsoe all come far closer to the criteria we have in mind.
December, 18, 2013
12/18/13
12:10
PM ET
The Houston Rockets, as they've been telling teams all month, remain on course to trade disgruntled big man Omer Asik by Thursday, according to sources close to the process.
Numerous teams consulted by ESPN.com in recent days have said they are convinced the Rockets will indeed go ahead with a trade headlined by Asik before their self-imposed deadline of Dec. 19, with sources saying Tuesday that the Boston Celtics are increasingly active in the Asik talks.
As a result, the Celtics now are widely regarded as the strongest rivals to the Philadelphia 76ers in terms of the likely destination for Asik, with many rival executives expecting the final form of a trade built around the 7-footer from Turkey to feature at least three teams.
Sources have described the Atlanta Hawks as Houston's preferred trade partner because the Rockets came to the conclusion last month that, despite their attempts to placate Asik, they eventually would have to give in to the unhappy center's long-running desire to be moved in the wake of Dwight Howard's arrival in July. Yet it remains unclear, sources say, how interested Atlanta really is in parting with coveted forward Paul Millsap -- who's considered an ideal frontcourt complement to Howard -- in exchange for Asik.
Although sources say there has been dialogue between the Rockets and Hawks this week, it's believed that Atlanta officials are lukewarm on Asik. Asik is owed nearly $15 million next season thanks to a balloon payment in his contract that the Rockets inserted during the summer of 2012 to dissuade the Bulls from matching Houston's offer. Sources say, though, that such a high figure for a defensive specialist does not trouble the 76ers or Celtics, who have emerged as the two teams most frequently mentioned as landing spots for Asik.
Read the full story here »
December, 6, 2013
12/06/13
8:23
PM ET
Eastern Conference scout on the start of the Dwight Howard era in Houston:

"I see it as real positive for them. I don't get the negativity about this team. I think they're capable of beating anyone in a series. They are also capable of losing to any team. It's all over the map because they play only one way. Their way.

"They're totally committed to what they do. There's no indecisiveness there. They're very clear on what they want to do and how to go about it. And they're very hard to prepare for because they push the ball, push the ball, push the ball.

"Scouts like coaches that call a lot of plays because it's easy to understand when it all fits neatly into a box you can study. But Houston has a very thin playbook and just keeps coming at you and, after a while, it just takes a toll on you.

"Just look at how many fouls they draw in a a game. Last time I looked at the stats, it was 28 a game, with the next closest team at 23. It's right there in black and white. They are attacking. They are shooting a 3 or taking it to the rim and there's no in-between.

"When it comes to Dwight, it's not an easy yes-or-no answer. On the positive side you like it when he faces up and attacks because he's so quick you can't handle him. On the other hand, because they're so transition-oriented, he doesn't get a ton of touches in the halfcourt, [but] I would say he gets enough.

"You wouldn't consider Dwight or [James] Harden playmkers, but it works. You've got a great scorer who gets to the rim and a guy who protects the rim and attacks the glass. It's probably going to evolve, but the overall talent is very impressive. The approach is not super-traditional, but, again, they have a style of play and they keep coming at you.

"The challenge will be what happens in the playoffs. Will they be able to go up and down? Or will they come up against teams that keep them under wraps and force them into shooting lazy jump shots? Either way they have a clear philosophy and a lot of teams in this league don't. That's something to respect."

November, 23, 2013
11/23/13
2:34
PM ET
Marcus Landry won many admirers in L.A. for his summer league play with the Lakers and his determined attempt to make their roster in training camp.

But after falling just short of sticking in Hollywood, Landry is said to be closing in on relaunching his NBA dream as a member of the Yao Ming-owned Shanghai Sharks in China.

Sources abroad told ESPN.com on Saturday that Shanghai, after losing top scorer Von Wafer to an injury, has Landry at the top of its lost of potential replacements.

After shooting nearly 43 percent from 3-point range in the D-League last season with the Reno Bighorns, Landry was the Lakers' last cut out of camp, losing out on the 15th and final spot on Mike D'Antoni's roster to Elias Harris.

Landry, younger brother of Kings forward Carl Landry, has had brief stints in the NBA with the Knicks and Celtics and has also played for the Sharks before in addition to his time in the D-League.