Marc Stein:

Stephen Curry
April, 2, 2014
Apr 2
3:53
PM ET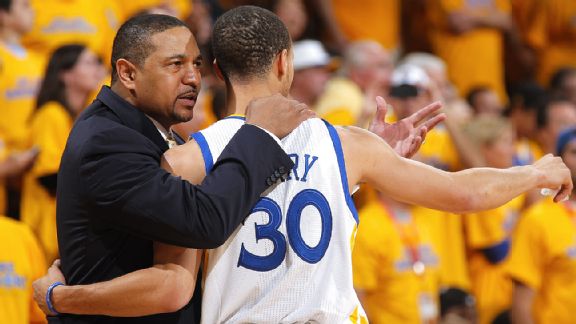 Rocky Widner/NBAE/Getty ImagesThe trust players like Stephen Curry have in Mark Jackson shouldn't be underestimated.
DALLAS -- It can't be easy to have a birthday on April Fools' Day, especially when you're an NBA coach who, day after day lately, suddenly finds yourself fielding job-security questions.
Yet something tells me Mark Jackson is going to have only fond recollections about this particular April 1.
"Everything worked out in the end," Jackson said with a smile when it was all over.
That's not a sentiment you hear often from those in Jackson's gloomy line of work, but this indeed turned out to be a pretty idyllic Tuesday for the head coach. His 49th birthday began with the unexpected sight of
celebratory Coach Jackson T-shirts
being passed out by Warriors equipment manager Eric Housen and then actually worn by countless members of the traveling party. It ended with the Warriors escaping Dallas with a 122-120 overtime victory -- one watched courtside by owner Joe Lacob and most of Golden State's front-office team -- on a Stephen Curry rainbow dagger from the wing that dropped through despite the fact Curry looked as though he didn't even have the chance to get his feet set.
"I almost started moonwalking," Jackson said of seeing Curry's bomb connect.
Without the injured
Andrew Bogut
and
David Lee
and fresh off a demoralizing home defeat to the
New York Knicks
in which they managed a paltry 84 points, Jackson's Warriors attempted only six free throws and still found a way to inflict Dallas'
third overtime defeat at home in the span of 13 days
.
The scenes at American Airlines Center, from morning to evening for those in the company of the visiting team, reminded you that the Warriors sport some of the league's most enviable togetherness.
That has to register as one of the major factors in the coming days, weeks and months as Jackson's fate in Golden State is decided.
Last week's
reassignment of assistant coach Brian Scalabrine
to Golden State's D-League franchise in nearby Santa Cruz has put Jackson and his Bay Area future in the crosshairs, mostly because it invites detractors to suggest that the curious timing of the move is symptomatic of more serious discord behind the scenes.
"Now we're supposedly 'dysfunctional,'" Curry told ESPN.com an hour before tipoff Tuesday night, adding his own air quotes and insisting that you can't find anyone playing for Jackson who would make such a claim.
The real deal? As Curry sees it?
"Coach inspires every single person in this locker room," Golden State's franchise player said.
But will that be enough to keep Jackson on the Warriors' bench beyond this season? We'll honestly know that only after seeing how far Golden State goes in the playoffs.
The reality is that Lacob and his staff, after adding the multipurpose talents of
Andre Iguodala
to the group that made San Antonio work so hard to win the teams' second-round series last spring, expected a clear step forward this season. And nothing is clear about the Warriors' fate, thanks to that crazy jumble of teams from No. 5 through No. 9 in the West that will exclude one very qualified squad from the postseason and exposes pretty much everyone in the conference to the threat of an early exit.
The Warriors, though, are advised to be careful.
A first-round exit would certainly put Jackson in immediate danger. And you can probably do the math on how perilous things get if the Dubs miss the playoffs altogether. But the overwhelming support Jackson gets from his players, particularly Curry, is no small thing.
I've always believed it's the most important thing in coaching, actually, beyond having good players.
The clashes with Scalabrine and former top aide Mike Malone last season have doomed Jackson to unavoidable whispers about how he coexists with his assistant coaches. Skepticism about Jackson's tactical nous isn't going away either, until there's more than one impressive playoff run on his résumé.
Yet allow me to say again that coaching success in the NBA -- after acknowledging that the pure talent any coach possesses is the most important variable -- rides more on player buy-in than anything else.
So if the Warriors do decide to make a coaching change at season's end, they better be sure. They better be certain that they are making themselves stronger. You don't chuck away the sort of solidarity that Jackson has achieved with his guys over a few frustrating defeats at home or a flap involving the fourth assistant.
You can't just turn to a more experienced X's-and-O's man -- even someone as accomplished as, say, Stan Van Gundy -- and bank on him building the sort of bond that Jackson undeniably has with these Warriors. You can learn many of the things Jackson doesn't bring to the bench yet. You're going to grow as a coach with time. But the way Jackson gets this group to respond can't be taken for granted, since it's by no means the NBA norm.
So even a failure to get out of the first round, to me, shouldn't trigger an automatic dismissal in Jackson's case. Given how tough first-round matchups are bound to be in the West, they have to wait and see what all the circumstances are.
Lacob's logic was sound after last season when he merely picked up Jackson's 2014-15 option as opposed to extending him even longer. He didn't want to overreact to one good postseason, which is understandable. So he ensured that Jackson would not be a lame-duck coach this season and put the onus on his young coach to deliver again.
The question is: How can anyone suggest Jackson hasn't delivered? For all the hand-wringing about some of his lineups and rotations and reluctance to call timeouts -- as well as his fondness for isolation basketball and an ill-advised penchant for us-against-the-world rants that have fed into the notion that he's overly defensive about his work -- Jackson has the Warriors headed for their first 50-win season since 1993-94.
Since
Chris Webber
was a rookie.
Add that success to the buy-in quotient and Jackson's case only gets stronger.
Asked if it's safe to say that Jackson's ouster would be received in the locker as an unpopular choice if it comes to that at season's end, Curry didn't hesitate, saying: "To me it would. Everybody has their own opinion, but he's completely changed the culture here in three short years. I don't think there would be a lot of smiles if that went down."
To ensure that everything really works out in the end in Oakland, for the long term, Jackson might need those 50 wins and another trip to the second round at the very least, as well as a more seasoned staff going forward. Just know this as what ranks as Golden State's third trip to the playoffs in the past 19 years draws near: There are roughly 20 coaches in this league, if we estimate conservatively, who would trade for the sort of all-in commitment Jackson gets from his guys.
From Curry especially.
January, 24, 2014
Jan 24
12:21
AM ET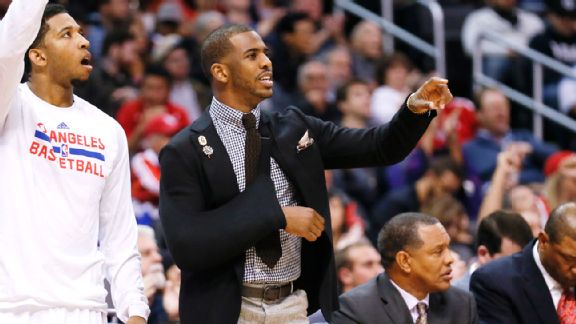 AP Photo/Danny MoloshokEven though he may not suit up, expect an All-Star nod for Chris Paul.
NBA coaches have received their All-Star voting instructions.
And here on Stein Line Live, they'll receive all the guidance they'll need to make their choices … following the same official guidelines ordained by the league office.
West head coaches, like their East counterparts, are being asked to vote for seven reserves from their conference by Tuesday at noon ET under the following conditions:
1.
Coaches must vote for two guards, three frontcourt players and two wild cards.
2.
Players must be ranked in specific order of preference in all three categories.
3.
Coaches are explicitly told as part of the voting process that the position at which a player "is listed on the All-Star ballot should have no bearing on your vote." Each coach is encouraged, furthermore, to vote for players "at the position he thinks is most advantageous for the All-Star team" and "not necessarily the one he plays most often during the season."
4.
Coaches are obviously not allowed to vote for their own players.
The starters in the West, as announced Thursday night, are
Stephen Curry
and
Kobe Bryant
at guard, with
Kevin Durant
,
Blake Griffin
and
Kevin Love
in the frontcourt. The West bench, which will be announced next Thursday on TNT, would look like this on ESPN.com's mythical ballot:
Backcourt:
1.
Chris Paul
(
Los Angeles Clippers
); 2.
James Harden
(
Houston Rockets
)
All-Star voting is the one instance in which I promise you coaches all over the West wish Paul and
Russell Westbrook
were 100 percent right now. It would make their voting jobs considerably easier because those two obviously rank as automatics when healthy.
The uncomfortable reality at the moment is that all of these decisions get a lot more complicated if CP3 and Russ are both unavailable for selection. So you fully expect Paul to be selected even if no one knows just yet whether his separated right shoulder will heal to the point that he can actually play. Then it becomes incoming commissioner Adam Silver's job to worry about injury replacements if Paul, like Bryant, decides that he can't go.
Westbrook is all the way out of contention after his third knee surgery in less than eight months, but simply hearing Paul say this week that he
hopes to be back in time
for New Orleans -- and you can understand why an All-Star Game there means so much to him -- is surely all the incentive West coaches will need. The numbers take care of the rest: CP3 is averaging 19.6 points and 11.2 assists per game, which puts the Clippers' reigning All-Star MVP two full dimes ahead of No. 2 assist man Curry's 9.2 average.
Harden, meanwhile, can bank on another All-Star nod despite the increasingly loud dismay with his defensive contributions. Last season's need to save his energy for offensive exertions would seem to be lessened on this Rockets team, after all the help Houston general manager Daryl Morey has brought in, but Harden's overall statistical production (24.3 points per game to rank fifth in scoring along with his 4.9 boards and 5.4 assists per game) can't be ignored.
Frontcourt:
1.
LaMarcus Aldridge
(
Portland Trail Blazers
); 2.
Dwight Howard
(Houston Rockets); 3.
Dirk Nowitzki
(
Dallas Mavericks
)
Aldridge isn't quite an MVP candidate, as some Blazermaniacs would contend, but that's largely because Durant and
LeBron James
are the league's only legit contestants in the MVP race. Portland couldn't have realistically hoped for more than the 24.2 points and 11.6 rebounds coming nightly from Aldridge, who never really even flirted with averaging a double-double in his first seven NBA seasons.
The new ballot format that did away with centers starting last season wound up hurting Howard more than any other player in this season's voting. Given all the drama that has swirled around him for the past couple seasons -- as well as the public's historical reluctance to show much sympathy to the game's best big men going all the way back to
Wilt Chamberlain
-- you certainly don't anticipate an overwhelming amount of sympathy to be shown. The coaches, though, aren't about to snub Dwight when he's averaging 18.6 points, 12.6 boards and 1.8 blocks for a top-five team out West.
Then there's Nowitzki who, at 35, is not far away from delivering a 50/40/90 shooting season while maintaining a spot in the league's
top 10 in terms of PER
. I like Nowitzki's chances far better than most because he's exactly the sort of universally respected vet that coaches can't resist going for. And the lack of a clear-cut candidate from San Antonio's ensemble cast -- it's no treat trying to choose
Tony Parker
,
Tim Duncan
and even
Manu Ginobili
as the top Spur so far based on their playing time and production through the first half of the season -- should only enhance Dirk's odds after a rare All-Star Weekend off last season.
Wild cards:
1.
Damian Lillard
(Portland Trail Blazers); 2.
Goran Dragic
(
Phoenix Suns
)
Do the Blazers deserve two All-Stars when the Spurs, on this ballot, have none? I would say
yes
based on how far Portland has exceeded expectations and how much Lillard's shotmaking and fearlessness have contributed to that level of overachievement. Supporters of San Antonio's Parker will undoubtedly howl in protest, but Lillard has done almost as much to transform the Blazers offensively as Aldridge, which can't be ignored.
And when it comes to the chore of making a seventh and final selection in the West -- and thus snubbing another 10 or so worthy contenders -- I can't deny that I was swayed not only by The Dragon's crafty left-handedness but also the irresistible pull of Suns Fever.
DeMarcus Cousins
and New Orleans' own
Anthony Davis
were enticing options for this last spot, as they both possess better all-around numbers than Nowitzki despite being unable to match Dirk's impact in the team-success department, but I felt as though the Suns deserved an All-Star more than any other club outside of the West's top six.
Consider it our thanks to Phoenix for supplying one of the few uplifting storylines in a first half filled with depressing injuries all over the NBA map. And Dragic is obviously the most worthy of the Desert Cinderellas, especially given the Durant-esque load he has to shoulder now with fellow lead
Eric Bledsoe
injured.
The West's foremost snubs:
Mike Conley
and Parker, Cousins and Davis … and then Duncan,
Zach Randolph
,
David Lee
,
Serge Ibaka
,
Nikola Pekovic
and
Ty Lawson
.