Miami Dolphins:

Bill Lazor
March, 13, 2014
Mar 13
1:15
PM ET
The
New England Patriots
' stance atop the AFC East got stronger Wednesday night as the
reigning division champs signed
five-time Pro Bowl cornerback
Darrelle Revis
. He returns to the AFC East after spending one year with the
Tampa Bay Buccaneers
.
Revis dominated the division during the first six years of his career as a member of the
New York Jets
and was particularly good against the Dolphins.
So what does this signing mean for Miami? Here are several thoughts:
Revis more than fills the void left behind by cornerback Aqib Talib. Talib signed a large deal with the Denver Broncos. Revis is no longer the best cornerback in football. But he's still in the top two, just behind Richard Sherman of the Seattle Seahawks. It's a major task for the Dolphins to face Revis twice per season. These will be big games that could determine the AFC East title, and Revis has a strong track record against Miami. He has four interceptions, including one returned for a touchdown, in nine career games. Last year Revis picked off Tannehill once in Tampa Bay's win over the Dolphins on "Monday Night Football."
There is a strong chance Revis will be matched up with Miami's No. 1 receiver, Mike Wallace, which is a terrific matchup. Revis has few weaknesses. But one area where he can be exposed is against receivers with elite speed. Randy Moss gave Revis trouble early in his career. That is the best chance Wallace and Miami's passing game have to consistently win against Revis.
New England's defense will be getting back Vince Wilfork and Jerod Mayo from injuries. Add Revis into the mix and you have a formidable defense for head coach Bill Belichick. The Dolphins were 27th in total offense and must find a way to beat New England in order for Miami to make the playoffs. New Dolphins offensive coordinator Bill Lazor is implementing an aggressive, up-tempo scheme and must be a better playcaller than former offensive coordinator Mike Sherman.
February, 28, 2014
Feb 28
12:45
PM ET
MIAMI -- There is no way around it: The
Miami Dolphins
are in a dark place.
[+] Enlarge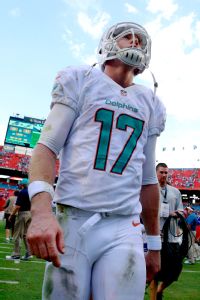 Chris Trotman/Getty ImagesRyan Tannehill has done little to establish himself as the Dolphins' franchise quarterback.
They are coming off a season that included a
high-profile bullying scandal
, a
late-December collapse
and the firing of
general manager Jeff Ireland
and
offensive coordinator Mike Sherman
. There
also was the fallout
following the Ted Wells report that resulted in the firings of offensive line coach Jim Turner and head trainer Kevin O'Neill.
But one player is capable of removing the dark cloud that hangs over the Dolphins' franchise: quarterback
Ryan Tannehill
.
The 2012 first-round pick is entering a crucial year. If he develops into a legitimate franchise quarterback, the Dolphins could be a playoff contender next season and many of their problems would be forgotten. But if Tannehill falters in his third NFL season, there will be repercussions. Jobs could be lost in Miami.
That puts a lot of pressure on Tannehill, 25, who is entering a make-or-break 2014 season after throwing for 3,913 yards, 24 touchdowns and 17 interceptions in 2013. Potential must become a reality or there could be a new quarterback under center in 2015.
After two seasons, Tannehill's resume has come closer to resembling former Dolphins draft bust
Chad Henne
's than Hall of Famer
Dan Marino
's. Henne was 13-14 in his first two seasons as a starter; Marino was 21-4 over the same span. Tannehill is 15-17, playing mostly in less-than-ideal circumstances.
"I'm a big Tannehill fan," ESPN.com NFL scout Matt Williamson said. "I think his supporting cast, with the [depleted] offensive line and zero running game, has hurt him dramatically.
"I think he excels this year, despite his circumstances. But I also hesitate to say that until I see the status of the Dolphins' opening-day offensive line."
There already was a report this offseason indicating that Tannehill will have a
slimmer margin for error
. According to CBS Sports, Dolphins coach Joe Philbin told general manager candidates during the interview process that he wants more competition for Tannehill. Philbin, who might need to make the playoffs to keep his job, reportedly informed GM candidates that he would not be afraid to bench Tannehill for backup
Matt Moore
if Tannehill struggles.
The Dolphins neither confirmed nor denied the report last week at the NFL combine. "I can't respond to speculation," Dolphins GM Dennis Hickey said. "I'm not about that, but I believe in Ryan Tannehill."
The NFL is a passing league, and few quarterbacks get four years to prove they can flourish. Other quarterbacks from the famed 2012 draft class have already experienced success. Seattle's
Russell Wilson
is a Super Bowl champion.
Andrew Luck
led Indianapolis to the postseason twice.
Nick Foles
took Philadelphia to the playoffs this past season and
Robert Griffin III
did the same for Washington in 2012. These players are firmly grounded in their starting quarterback roles for their respective teams after just two seasons.
Tannehill has not come close to the level of success of his peers. He has yet to record a winning season. Tannehill has been just good enough to keep his starting job but not convincing enough to prove he's the long-term solution in Miami.
Former
Chicago Bears
GM Jerry Angelo recently offered a scathing scouting report on Tannehill.
"He's an athlete who is trying to develop into a QB. His arm is good, but his accuracy is questionable," Angelo wrote on
TheSidelineView.com.
"He isn't comfortable from within the pocket. Led the league in sacks, something isn't right, given he's an athletic QB. Protection is one thing, 'feel' is another. When things aren't going well, he can't pull himself or his team out of it. Those aren't good signs for a signal-caller."
The Dolphins changed offensive coordinators in January, hiring Bill Lazor in hopes of lighting a spark to Tannehill's career and addressing his weaknesses. Lazor was the quarterbacks coach in Philadelphia and did wonders last season with Foles. The Dolphins are hoping Lazor has similar success with Tannehill, who arguably has more natural ability than Foles.
"I'm excited to work with him because I see a lot of ability," Lazor recently said of Tannehill. "[But] it would be premature to make an evaluation of what he can be and what he can do because I haven't been around him that much."
Williamson likes the addition of Lazor and what he brings to Tannehill and to Miami's offense.
"A new offensive coordinator could go a long way," Williamson explained. "Tannehill is way better than Foles. At a minimum, I bet Tannehill puts up big numbers. But the offensive line does need major upgrades."
The Dolphins clearly have a leadership void, evident in the findings in the 144-page Wells report. Three offensive linemen --
Richie Incognito
,
John Jerry
and
Mike Pouncey
-- were allowed to harass and bully
Jonathan Martin
, other teammates and an assistant trainer, according to the report.
Tannehill is one of the key players who must step up his leadership. One of the key components of being a starting quarterback and a face of the franchise is the ability to lead others. Tannehill has not demonstrated that ability to this point.
In many ways, it's now or never for Tannehill. The Dolphins have waited long enough for him to develop into a consistent, legitimate franchise quarterback. The 2014 season could be his final chance to prove it in Miami.
February, 22, 2014
Feb 22
12:00
PM ET
January, 21, 2014
Jan 21
4:00
PM ET
The
Miami Dolphins
hired former
Philadelphia Eagles
quarterbacks coach Bill Lazor last week. While the initial hype included Lazor's experience working with quarterbacks and the passing game, a big question is whether he can improve Miami's 26th-ranked rushing attack.
Thomas
Lazor helped previously unknown
Nick Foles
go from a backup quarterback to a Pro Bowler this season. But a little-known stat is Philadelphia's offense actually led the NFL in rushing last year under Eagles head coach Chip Kelly. Lazor certainly picked up some pointers from Kelly's offense and the successful running game that he hopes to bring to Miami.
"When you come off of a season like we did where we were the leading rushing team in the NFL. We had the leading rusher. We had the highest-rated passer. We were able to be an explosive offense," Lazor said last week. "Certainly a lot of things that led to that are going to have a great impact on what I believe works going forward."
Miller
The Dolphins can do a better job in personnel this year to help Lazor. Miami relied on inexperienced former draft picks
Lamar Miller
and
Daniel Thomas
to carry the load. In fact, the Dolphins only spent $2.412 million of their cap last year on running backs with Miller, Thomas and 2013 fifth-round pick
Mike Gillislee
. Miami ranked 30th in the NFL last season in money spent on running backs, according to the Roster Management System.
Miami has resources in both the draft and free agency to upgrade the running-back position. Big names in free agency include
Ben Tate
of the
Houston Texans
and
Maurice Jones-Drew
of the
Jacksonville Jaguars
. Potential draft targets include
Carlos Hyde
of Ohio State and
James White
of Wisconsin. White will play in the Senior Bowl this weekend.
Miller and Thomas were not the answer in 2013. It will be interesting to see if the Dolphins upgrade at running with a new offense and offensive coordinator in 2014.
January, 18, 2014
Jan 18
10:00
AM ET
MIAMI -- The 2014 offseason is underway for the
Miami Dolphins
. Let's check the Twitter mailbag to see what's on the minds of Miami fans.
Feel free to send Dolphins questions and comments here via Twitter
@JamesWalkerNFL.
January, 16, 2014
Jan 16
7:00
AM ET
Here are the most interesting Miami Dolphins stories Thursday around the Web: Morning take: Gamble, who was one of the favorites, changed his mind and decided not to interview with the Dolphins. Salguero reports Gamble didn't like the structure that Miami's general manager and head coach would be equals.
Morning take: That sounds good in theory. But there will be some core principles Lazor brings from Philadelphia. A West Coast scheme and good tempo will be two of them.
Morning take: One of Lazor's primary jobs is to make sure Tannehill reaches his full potential in Year 3. The futures of Joe Philbin, Lazor and others may depend on it.
Morning take: The pair didn't know each other well before the hire. But both coaching futures are tied together and will be key for Miami's possible turnaround.
January, 15, 2014
Jan 15
5:20
PM ET
New
Miami Dolphins
offensive coordinator Bill Lazor is aware of the lack of job security facing head coach Joe Philbin.
Miami's head coach is entering make-or-break Year 3. However, Philbin's job status was not a deterrent for Lazor to leave a stable situation with the
Philadelphia Eagles
for uncertainty in Miami.
Tannehill
"Right now, my future and his future are together," Lazor said candidly Wednesday in a conference call with the Miami media. "I'm with him. I'm in it with him, and that's how I approach it every day. I choose to compete and I choose to make an impact and be a difference-maker. That's why I'm here."
Lazor was hired by the Dolphins on Wednesday to improve the NFL's 27th-ranked offense. There are several pieces in place. Miami has a young, promising quarterback in
Ryan Tannehill
and three receivers with at least 60 receptions last season. But it will be Lazor's job to bring more balance and help Tannehill reach his full potential -- before it's too late.
But according to Lazor, Philbin was a big selling point. Both coaches believe in the West Coast offense, and this pair must shine next season to avoid more turnover on the coaching staff. Philbin is 15-17 in two seasons in Miami, and that's not good enough.
"He really sold me on the fact that this is the kind of person who can lead an organization," Lazor said. "This is the kind of coach that is committed to winning, and I felt like I could come and help and picture myself working with him to build a winner."
Lazor confirmed that he will call plays for Miami. This is the first time he's called plays at the NFL level. However, Lazor would not confirm whether more changes are forthcoming with position coaches on offense.
January, 15, 2014
Jan 15
2:00
PM ET
MIAMI -- Although the hire of new offensive coordinator Bill Lazor gets the
ESPN.com's Dolphins page seal of approval
, the move doesn't come without questions.
Lazor, a former quarterbacks coach of the
Philadelphia Eagles
, will take over Miami's 27th-ranked offense in 2014. Here are several questions Lazor and the Dolphins must answer in the coming days and weeks:
1. Will Lazor bring in new assistants?
Thoughts:
Contractually, head coach Joe Philbin is in charge of hiring and firing his staff. But rest assured Lazor brought up the possibility of bringing his own assistants to Miami before accepting the job. Lazor had some leverage entering his interview with the Dolphins. Part of that leverage may have included bringing in position coaches he's more familiar with, potentially from Philadelphia. Miami offensive line coach Jim Turner should be particularly worried after his unit struggled in 2013.
2. What is Lazor's ability to call plays?
Thoughts:
Here is perhaps the biggest downside to Lazor's hire: He's never called plays in the NFL. To Lazor's credit, he did call plays at the University of Virginia. But calling plays against Bill Belichick next season will be a whole new ballgame. This is a big season coming up for Miami. Philbin is 15-17 in two years and could be fired if he misses the playoffs for three straight years. Lazor needs to be sharp right away calling plays for the offense to flourish.
3. How fast is Lazor's tempo?
Thoughts:
No offense was faster and ran more plays last year than Philadelphia's. Eagles head coach Chip Kelly brought his demanding style of offense to the NFL and was successful enough to win the NFC East division. Lazor is a West Coast coach, but there will be some elements from Kelly's offense in Miami. One most likely will be an increase in tempo. The Dolphins should be a faster offense that better dictates the pace of the game under Lazor in 2014.
January, 15, 2014
Jan 15
12:20
PM ET
The
Miami Dolphins
did a solid job finding their new offensive coordinator.
Miami will hire
Philadelphia Eagles
quarterbacks coach Bill Lazor, ESPN's Chris Mortensen reports.
Lazor was one of Miami's top choices because he coaches the West Coast offense and has a successful track record working with quarterbacks. That should make Dolphins quarterback
Ryan Tannehill
happy and excited.
Lazor did wonders with Philadelphia quarterback
Nick Foles
last season. And Tannehill has more natural ability than Foles, which should bode well for Miami.
One of Lazor's biggest responsibilities will be making Tannehill a finished product. Tannehill, 25, didn't make all the necessary strides in Year 2 under former offensive coordinator Mike Sherman, which partially led to Sherman's departure. The job security of Miami's entire coaching staff depends in part on Tannehill's performance next season.
Lazor took a risk by leaving Chip Kelly and the Eagles after a playoff run in their first year together. There was much more security in Philadelphia, but the chance to be an offensive coordinator for the first time was too much for Lazor to pass up.
Miami head coach Joe Philbin is 15-17 in two seasons with the Dolphins. He is entering a make-or-break Year 3. Lazor can help Philbin, himself and the rest of the coaching staff by getting Tannehill to the next level in 2014.
January, 15, 2014
Jan 15
11:15
AM ET
The
Miami Dolphins
sure know how to make things interesting.
Less than 24 hours after several reports said former
Philadelphia Eagles
coach Bill Lazor was hired by the
Detroit Lions
, ESPN's Chris Mortensen reports Lazor is instead heading to Miami.
This is "silly season" in the NFL where there is plenty of information and misinformation flying around. It turned out the reports Tuesday of Lazor going to Detroit were incorrect. The Dolphins landed one of their top choices.
We will have more on this hiring coming up.
January, 15, 2014
Jan 15
9:06
AM ET
The
Miami Dolphins
reportedly lost two of their top offensive coordinator candidates on Tuesday. Former
Philadelphia Eagles
quarterbacks coach Bill Lazor was named offensive coordinator of the
Detroit Lions
, and former
Green Bay Packers
quarterbacks coach Ben McAdoo also agreed to become offensive coordinator for the
New York Giants
.
(Update: Various reports stating Lazor will be hired by the Lions were incorrect. The Dolphins agreed to terms with Lazor on Wednesday, according to ESPN's Chris Mortensen.)

So what's next for Miami? The team is simultaneously searching for an offensive coordinator and general manager. By all indications, the GM search is progressing well. However, the search for Miami's next offensive coordinator has stalled.
It appears the job security of head coach Joe Philbin is impacting Miami's search to find its next offensive coordinator. Philbin is 15-17 in two seasons with the Dolphins and entering a make-or-break Year 3. Miami's next general manager will want to bring in their own head coach if things do not work out in 2014.
The Dolphins also are looking for a coach who uses the West Coast offense. That is the scheme Philbin trusts, but it lowers Miami's pool of candidates. For example, other top names such as Norv Turner and Rob Chudzinski teach different offenses and haven't interviewed with the Dolphins.
January, 8, 2014
Jan 8
6:01
PM ET
The
Miami Dolphins
are not wasting any time in an effort to fill their offensive coordinator vacancy.
According to ESPN's Adam Schefter,
Philadelphia Eagles
quarterbacks coach Bill Lazor and former
Houston Texans
head coach Gary Kubiak are among the early candidates.
Lazor was in Miami on Wednesday interviewing with the Dolphins, Schefter reports. Lazor did wonders with Eagles quarterback
Nick Foles
, who started the season as a backup and led Philadelphia to the playoffs and an NFC East title. Miami needs someone to work closely with starting quarterback
Ryan Tannehill
, who is entering an important third season. Therefore, the interest makes sense.
Kubiak is one of the biggest names on the market for coordinators and was one of the NFL's top offensive minds during his stint with the
Denver Broncos
. But his up-and-down tenure as head coach with the Houston Texans came to an end this season. Kubiak most likely will get interest for several openings.
The Dolphins fired former offensive coordinator Mike Sherman on Monday. This year, Miami was 27th in total offense and 26th in scoring at 19.8 points per game.