Miami Dolphins:

Cleveland Browns
September, 8, 2013
9/08/13
11:51
AM ET
CLEVELAND -- The
Miami Dolphins
will take on the
Cleveland Browns
at 1 p.m. ET Sunday.
Here are the players you won't see in the game:

Dolphins

Browns
September, 8, 2013
9/08/13
10:00
AM ET
By
ESPN.com staff
| ESPN.com
Join our ESPN.com NFL experts as they break down the Miami Dolphins' visit to the Cleveland Browns. Contribute your thoughts and questions beginning at 1:00 p.m. ET. See you there.
September, 7, 2013
9/07/13
9:00
AM ET
After a much-hyped offseason, the
Miami Dolphins
will travel to face the
Cleveland Browns
in their regular-season debut. This is an important game for Miami to set the tone for the start of the 2013 season.
Here are three things to watch from Miami's perspective:
1. Can the Dolphins be road warriors?
The Dolphins were 2-6 on the road last season. This year three of their first four games are on the road. Is this a recipe for disaster? The 2012 Dolphins had problems taking care of the football and forcing turnovers on the road. That made it very tough for Miami to pull out road games in the fourth quarter. The Dolphins have been diligent in changing that trend this offseason. Creating turnovers, ball security and improving in the red zone have been focuses in training camp. We will see if that pays off Sunday against an excited Browns team playing in their home opener.
2. Will Miami stuff Browns running back Trent Richardson?
Expect some big-boy football between the Dolphins and Browns. Cleveland will try to establish its will by running the ball with Richardson behind a physical offense line. And Miami's front seven is very talented and takes a lot of pride in stopping the run. Something has to give. The Dolphins have been very complimentary of Richardson and expect a physical battle in the trenches. Controlling the line of scrimmage will be key for both teams.
3. Who wins the quarterback battle?
I don't expect this to be an offensive shootout. But at some point, either
Ryan Tannehill
or
Brandon Weeden
will have to make key plays for his team to win this game. The front seven on defense is a strength for both teams. Tannehill and Weeden, both first-round picks in 2012, will have to prove they can win with their arm. I expect a close game, and the quarterback who makes the big plays in the second half most likely will win this game.
September, 5, 2013
9/05/13
12:00
PM ET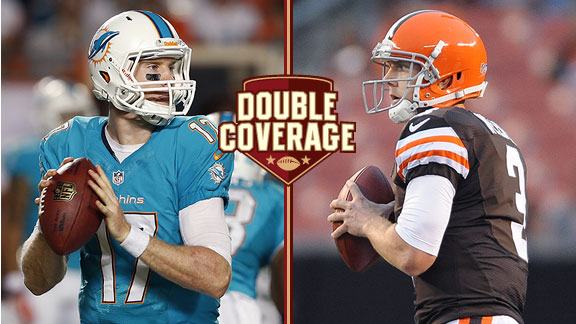 Getty ImagesSecond-year quarterbacks Ryan Tannehill and Brandon Weeden will be worth watching Sunday.
The
Miami Dolphins
and
Cleveland Browns
finished with a combined record of 12-20 last season, so both teams have plenty to prove and are looking for fast starts in 2013.
Cleveland will host the Dolphins on Sunday in an interesting matchup of AFC teams. Both are starting second-year quarterbacks who are looking to take the next step.
Can the Browns utilize their home-field advantage? Will Miami pick up a key road win to start the season? ESPN.com's Matt Williamson and Dolphins team reporter James Walker debate.
James Walker:
Matt, we can't start this debate without examining both second-year quarterbacks in this matchup. Miami's
Ryan Tannehill
and Cleveland's
Brandon Weeden
were forgotten players in the famed 2012 quarterback class. Neither put up numbers or led their teams to the playoffs, like
Andrew Luck
,
Robert Griffin III
and
Russell Wilson
did. Tannehill and Weeden, however, showed flashes at different times throughout their rookie seasons. I've watched Tannehill up close since the day he arrived in Miami. You can see he has all the tools. Tannehill can make every throw and is a solid athlete who can use his feet when needed. Consistency is where he needs to take the next step in Year 2. Tannehill did a lot of good things in the preseason and had a 98.6 passer rating in exhibition games. He is coming into this Cleveland game with momentum, but I still want to see it in the regular season. Matt, what's your take on Weeden entering his second season?
Matt Williamson:
I, too, am high on Tannehill and think this will be the season he puts himself squarely in the conversation with those names you mentioned as young star quarterbacks in this league, for now and the long term. I am also growing fond of Weeden. There wasn't a quarterback and offensive group -- personnel wise -- as miscast as this one in last year's West Coast offense. Weeden, with his big arm, is much better suited to stand in the pocket and make downfield throws -- which is exactly what quarterback guru Norv Turner will have Weeden doing behind an excellent offensive line. While I wish Weeden, 29, was a younger quarterback like Tannehill, I do expect a major step forward from Weeden in Year 2.
Walker:
For Weeden to be successful, it will up to Browns tailback
Trent Richardson
to set the tone and keep Miami's defense honest. I really like this matchup between Cleveland's running game and the front seven of Miami's defense. I'm an old-school guy at heart, and this part of the game will be vintage, tough-man football. I've talked to various defensive players in Miami's locker room this week, and all of them have great things to say about Richardson. The Dolphins' defense prides itself on not allowing 100-yard rushers, and keeping Richardson bottled up will be a challenge. I think the winner of this battle at the line of scrimmage between Miami's defense and Cleveland's running game will heavily impact the outcome of this game. Matt, what is the biggest single matchup you look forward to watching?
Williamson:
James, that is a great one for sure, and let's not overlook what an effective receiving threat Richardson can be as well. But I would say the matchup I most look forward to is Cleveland's top cornerback,
Joe Haden
, against Miami's No. 1 receiver,
Mike Wallace
. These two know one another well from numerous AFC North battles when Wallace played for Pittsburgh. If Haden, who is among the best in the league at his position, can more or less handle Wallace one-on-one, the Browns should be able to bring
T.J. Ward
into the box with regularity to stifle Miami's running game. If that is the case -- and I have my doubts how well the Dolphins will be able to run anyway in this contest -- Miami could be in for a long day trying to generate consistent offense and points.
Walker:
Good point, Matt. I also think home-field advantage could be a factor in this game. If you look on paper, I don't think many can argue against Miami having more talent. But when you consider a young quarterback (Tannehill) going on the road to Cleveland, where the Browns will be hyped up with a rowdy environment for their opener, anything is possible. The Dolphins were 2-6 on the road last year. Miami was competitive in some road games but failed to do the little things and pay attention to detail. I don't know if the Dolphins have matured on the road in one offseason, and that will be one of the under-the-radar storylines to keep an eye on for Miami. Finally, Matt, what under-the-radar element of this game do you consider important?
Williamson:
I am eager to see the play in the trenches on both sides of the ball. I have plenty of questions about Miami's offensive line, and the Browns are stout and powerful up the middle with
Phil Taylor
leading that charge. Cleveland also was highly dedicated to improving its pass rush this offseason and that could pay off immediately in Week 1 against Miami's protection. On the other side of the ball, Cleveland has a great offensive line that doesn't get talked about enough. But
Cameron Wake
should prove to be a massive challenge, and the rest of the Dolphins' defensive front is also quite impressive. The team that wins at the line of scrimmage should win this contest.
September, 5, 2013
9/05/13
10:00
AM ET
MIAMI -- We have an interesting Week 1 matchup between two teams trying to get over the hump. The
Miami Dolphins
will travel to face the
Cleveland Browns
. Both teams started rookie quarterbacks in 2012 and had losing records.

So which team will prevail on Sunday: Miami or Cleveland?
The Dolphins added a lot of talent this offseason and has playoff aspirations. General manager Jeff Ireland spent more than $200 million in free agency, and Dolphins fans are expecting results. Miami has a tough first five games, which makes this winnable game very important. Will the Dolphins win on the road?
Or will Cleveland defend its home turf? The Browns will be very excited for their home opener. They have a new head coach (Rob Chudzinski) and a new front office looking to make a statement. Will the Browns start 1-0 at Miami's expense?
Using our SportsNation poll, vote on whether the Dolphins or Browns will win Sunday's regular-season opener. You can also share your thoughts in the comment section below or send me a note via
Twitter @JamesWalkerNFL.
September, 4, 2013
9/04/13
5:30
PM ET
DAVIE, Fla. -- The Dolphins' most productive wide receiver over the past five years will be wearing an opposing uniform Sunday when Miami faces the
Cleveland Browns
.
Veteran slot receiver
Davone Bess
is making his Browns debut against the Dolphins, his former team. Bess caught 321 receptions for Miami since 2008. That included five consecutive seasons of 50 receptions or more, and a career-high 79 receptions in 2010.
Bess had another productive year in 2012 where he caught 61 passes for 778 yards and one touchdown. Despite Bess' consistency, there was always a sense Miami's new coaching staff preferred bigger, more athletic playmakers at receiver. That partially explains Miami's trade of Bess last April and signing of a bigger, faster slot receiver in
Brandon Gibson
.
Bess said he wasn't surprised that he didn't return to Miami this year, but he's not out for revenge in Week 1.
"From my perspective, I don't hold any grudges," Bess said on the conference call with the Miami media Wednesday. "I'm forever thankful of the Dolphins organization to give me this opportunity to play in this league. We're nothing without the opportunity. So I'm forever grateful for that. All good things must come to an end."
Bess
The draft-day trade between Cleveland and Miami was a bit complicated. Miami traded Bess and its fourth-round pick (No. 111) and seventh-round picks for Cleveland's fourth- and fifth-round picks. The Dolphins selected linebacker
Jelani Jenkins
and tailback
Mike Gillislee
with those selections. Both rookies made Miami's 53-man roster.
Bess said he's moved on from the Dolphins. He sold his home in South Florida and now settled in Cleveland. Bess, 27, is a six-year veteran who is asked to bring leadership to an otherwise young team.
"He's been great for us," Browns head coach Rob Chudzinski said. "We have a really young team and at that position, as well. He's a consummate pro. He approaches everything the way you want him to as a coach."
Although Bess doesn't hold a grudge with the Dolphins, he should have a chance to impact this game. Miami is thin in Week 1 at cornerback after recently cutting veteran
Richard Marshall
and with rookie cornerbacks
Will Davis
and
Jamar Taylor
ailing.
Both teams share various strengths and weakness. It could be a close game where someone has to step up in the fourth quarter. Could Bess do it against his former team?
"It's going to be different obviously," Bess said. "Me knowing them and then knowing me, it would to be easy to get rattled and let the emotions get the best me. But my approach is just like every week: I want to compete to win the ballgame."
September, 2, 2013
9/02/13
5:20
PM ET
DAVIE, Fla. -- One year ago,
Dimitri Patterson
was riding high with the
Cleveland Browns
. The cornerback had just signed a three-year, $16 million contract extension and was looking forward to a promising partnership.
But Patterson never saw that realization in Cleveland. Things quickly went sour for Patterson and the Browns, and he was released just three months into the 2012 season. Patterson, who was later claimed by the
Miami Dolphins
, previously hinted politics may have been involved in his release but never wanted to get into specifics.
[+] Enlarge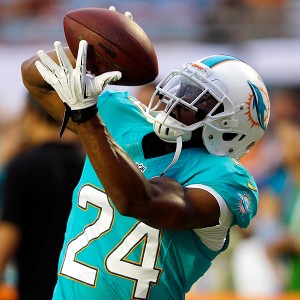 AP Photo/Wilfredo Lee"My departure from there had nothing to do with football," Dimitri Patterson said of his release from the Cleveland Browns last season.
"My departure from there had nothing to do with football,"
Patterson told ESPN.com in July.
One year later, Patterson will get a crack at his former team when Miami visits Cleveland Sunday in the regular-season opener. Patterson beat out former Miami cornerback
Richard Marshall
for Miami's starting job in training camp. Patterson showed many of the same traits in Miami that initially convinced Cleveland to sign him to an extension.
Patterson aims to prove to the Browns this week that he's still the same player.
"You're always trying to prove doubters wrong and people who may not think as highly of you as the next person will," Patterson said on Monday. "That's just how it goes. That's just part of the business. My objective is to go out here and make an impact in some form or fashion."
Patterson, who admits he has an interesting "history" with Cleveland, could get a nice measure of retribution if he makes a big defensive play against the Browns. He will face an offense led by second-year Browns quarterback
Brandon Weeden
.
It's a group Patterson practiced against every day and knows very well. Rest assured, Patterson will be sharing his knowledge on the Browns with his Miami teammates this week.
"Whatever information I have on some players, strengths and weaknesses, what they bring to the field, no doubt about it," Patterson explained. "Whatever insight I can provide, I will certainly help us be successful on Sunday."
It's been a wild calendar year for Patterson. His unexpected journey from Cleveland to Miami and back to Cleveland for Week 1 will come full circle on Sunday.
Patterson was brought to Miami to help improve the team's 27th-ranked pass defense from last year. He will start opposite fellow corner
Brent Grimes
in a partially-revamped secondary.
Cleveland's passing game will be the first test of the year for Miami's secondary, which should provide additional motivation for Patterson to play well.
"It's like anything else -- you're always showing there's a reason I'm here," Patterson said. "There's a reason I'm playing. There's a reason I'm in the league [the NFL] and this is what I'm about. I've always had a chip on my shoulder and it's not going to change. Every time I go on the field, I have the mindset that I'm a [good] player and this is why I'm here."
September, 2, 2013
9/02/13
3:47
PM ET

MIAMI -- One of the biggest questions facing the
Miami Dolphins
this week is the playing status of No. 3 overall pick
Dion Jordan
. He practiced fully Monday and sounded optimistic about his chances to play in Week 1 against the
Cleveland Browns
.
"I'm going to be excited," said Jordan, who is recovering from a shoulder injury. "This is my first real, official regular-season football game. I'm going to probably have to control my emotions, so when I get out there I'm able to help out this team so I can get the 'W.'"
Jordan sounds like a person who will play this weekend. Barring any setbacks, this will be Jordan's second straight week of practice without restrictions. Miami defensive coordinator Kevin Coyle also added that Jordan will be a big part of this week's gameplan.
Jordan's role on the defense most likely will be as a situation pass-rusher off the bench. Jordan also got reps Monday on the kickoff coverage team.
Here is more buzz from inside the Dolphins' locker room:
Miami starting guard John Jerry spent the past two weeks trying to shake the rust following a knee injury. Jerry missed most of training camp and only played in the final two preseason games. He didn't get many reps this summer, but Jerry believes he's ready. "I feel good; my body feels good," Jerry said. "Coach [Joe] Philbin does a great job taking care of us and making sure we will be fresh for the game. We'll be prepared and ready to go out and battle."
New Dolphins fullback Tyler Clutts has to be a quick study. He was claimed by the Houston Texans on Sunday and participated in his first practice with Miami on Monday. Clutts must learn an entirely new offense fast. He could get playing time this weekend because he's the only fullback on the roster. "I'm glad that I can be here," Clutts said. "And I'm working to stay. ... I transitioned from a defensive position in college and moved to fullback three years ago. I'm still learning the position. Now I feel like I have a good grasp on it. Personally, I feel like this is my natural position."
A top matchup to watch in this game will be Cleveland's running game, led by tailback Trent Richardson, against Miami's physical front seven on defense. It's going to be strength versus strength Sunday, and Dolphins Pro Bowl defensive tackle says he's looking forward to it. "He's a good running back," Starks said of Richardson. "We have to tackle and gang tackle on him. It's going to be a fun game. …We're built for that -- hard-nose smash-mouth football."