Miami Dolphins:

Don Shula
February, 13, 2014
Feb 13
8:00
AM ET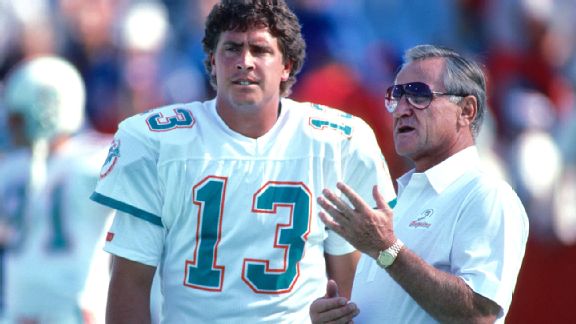 AP Photo/NFL PhotosDan Marino was the NFL's most prolific passer for years. Don Shula still tops the list for career wins.
Miami Heat
star
LeBron James
opened an interesting can of worms this week. James, who is in the prime of his career, said there's no doubt he will be on the
NBA's mythical Mount Rushmore
, where all-time greats such as Michael Jordan reside.
That brings me to the NFL and the
Miami Dolphins
, who have plenty of history. Who would be on the Dolphins' Mount Rushmore?
There are only four spots on the mountain. Here are the picks from ESPN.com's Dolphins page:
1. Don Shula, coach
Analysis:
This is the easiest pick of the four. Shula won two Super Bowls with the Dolphins -- including one with the undefeated 1972 team -- and an NFL championship with the Baltimore Colts. Shula still holds the record for most career wins and would be on the NFL coaches' Mount Rushmore as well. He was inducted into the Pro Football Hall of Fame in 1997.
2. Dan Marino, quarterback
Analysis:
Marino is one of the greatest quarterbacks of all time and by far the best quarterback in Miami franchise history. Marino was a nine-time Pro Bowler who went into the Hall of Fame on the first ballot in 2005. He holds nearly every significant Dolphins passing record and was 147-93 as a starter. The only thing missing from his résumé is a Super Bowl victory.
3. Bob Griese, quarterback
Analysis:
The fact that two quarterbacks make Miami's Mount Rushmore says something. South Florida is a region that knows the position well. Griese has two Super Bowl rings and was inducted into the Hall of Fame in 1990. His statistics were not off the charts, but he was a winner. He was 92-56-3 in his career as a starter.
4. Larry Csonka, running back
Analysis:
The fourth spot on the Dolphins' Mount Rushmore was the toughest choice. It came down to Paul Warfield and Csonka, a pair of two-time Super Bowl champions. But Warfield played only five seasons in Miami. So I'm going with Csonka, who rushed for 6,737 yards and 53 touchdowns in eight seasons with the Dolphins and remains Miami's all-time leading rusher. He was inducted into the Hall of Fame in 1987.
Honorable mentions:
WR Paul Warfield, LB Nick Buoniconti, DE
Jason Taylor
, LB
Zach Thomas
, G Larry Little, OL Dwight Stephenson, WR Mark Clayton, WR Mark Duper, LT Richmond Webb.
Agree or disagree, Dolphins fans? Share your thoughts in the comments section below or send a message via Twitter
@JamesWalkerNFL
.
January, 22, 2014
Jan 22
2:00
PM ET
It's been 29 years since the
Miami Dolphins
last played in a Super Bowl. It has been 40 years since Miami actually won the big game on Jan. 13, 1974.
The Dolphins and their fans are rightfully proud of their two Lombardi Trophies. The team proudly displays both in the front lobby of its training facility. You also constantly hear about the glory days when the Dolphins were a dominant franchise that consistently competed for championships.
However, four decades have passed since Miami's last championship, and nearly three decades since its last Super Bowl appearance. The Dolphins' run at the top of the NFL has become a distant memory.
[+] Enlarge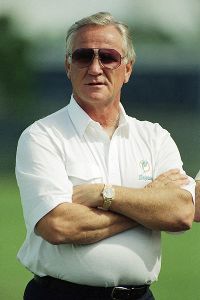 AP Photo/Dave BergmanThe Dolphins haven't been to a Super Bowl since Don Shula roamed the sidelines.
What will it take for Miami to get back to its once-elite status? ESPN.com's Dolphins page has some suggestions:
Stability at head coach: The Dolphins had Don Shula, one of the greatest head coaches of all-time, at the helm during their glory years. Shula brought smarts, motivation and stability to the head-coaching position in Miami. He coached the undefeated Dolphins during the 1972 season, the Super Bowl champs again in 1973, and the two appearances in the early 1980s. Since Shula retired in 1995, Miami has gone through a litany of bad head coaches. Nick Saban, Cam Cameron and Tony Sparano all failed in Miami. Current Dolphins head coach Joe Philbin is 15-17 in two seasons. It remains to be seen if Philbin is the long-term solution.

Long-term solution at quarterback: In today's NFL, you must have an answer at quarterback. Dan Marino provided stability in the 1980s and 1990s. Since then, the Dolphins have played the game of revolving doors over the years with quarterbacks such as Chad Henne, Cleo Lemon, Joey Harrington, Jay Feely and Jay Fiedler. They hope 2012 first-round pick Ryan Tannehill is the answer. He's shown promise, but also some holes in his game. Tannehill will get a third season to prove he's the guy. If not, Miami must look elsewhere to find their long-term solution, especially now with the NFL increasingly becoming a heavy passing league.

A better front office: Talent evaluation is a huge part of a team's long-term success, and the Dolphins have been hit and miss in that department over the years. Miami needs a general manager who is consistently adding talent and helping provide the identity of a team. What was Miami's identity last year? The Dolphins weren't an offensive team or a defensive team. They didn't pass the ball well, run the ball well, or consistently stop the pass or run. The front office needs to work with the coaching staff to bring everyone together for one mission and one focus.
These are issues three decades of owners, coaches and players have yet to figure out. Miami was 8-8 last season and made a little progress from 2012. But there is still plenty of work to be done, including the hiring of a new general manager after recently parting ways with Jeff Ireland.
December, 29, 2013
12/29/13
7:44
PM ET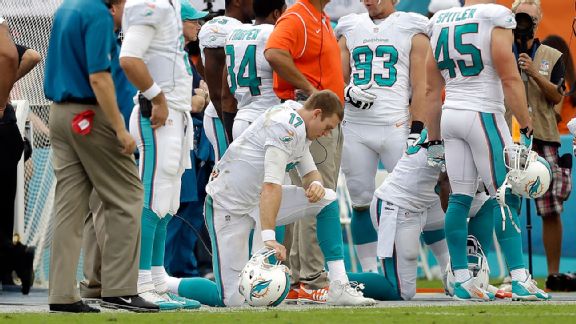 AP Photo/Alan DiazRyan Tannehill and the Dolphins ended the season with two straight losses and out of the playoffs.
MIAMI -- More than 70,000 fans at Sun Life Stadium expected a football celebration Sunday. The
Miami Dolphins
were a win away from their first playoff bid since 2008, and all that stood in their way were the inconsistent
New York Jets
.
Instead, the festive mood eventually changed to heartbreak for Dolphins fans. Miami lost a must-win game, 20-7, to New York to end the Dolphins' playoff hopes. It was the second straight loss and hapless effort to end Miami's season with an 8-8 record.
"I look at this as a losing season," disappointed Dolphins receiver
Mike Wallace
said. "We did too much, we wake up too early [and] work too hard to be 8-8. We have too much talent to be 8-8."
The Dolphins' sudden collapse raises many questions about where they go from here and what changes need to be made in the offseason.
Do the Dolphins get rid of general manager in Jeff Ireland? He put this team together last offseason with more than $100 million in guaranteed contracts.
Is Joe Philbin the right head coach? Philbin is 15-17 in two seasons in Miami.
Do the Dolphins have the right assistants? Particularly offensive coordinator Mike Sherman, who led Miami to only seven points in the final eight quarters of the season?
"It's not my job. That's the coach's job," Dolphins defensive tackle
Jared Odrick
said of evaluating the team's future. "I have to show up every day and work harder, and we all do.
"Something's got to change where we got to get over this hump. Someway, somehow we have to make it work."
Changes could --
and should
-- be coming in Miami. The only question is how many?
[+] Enlarge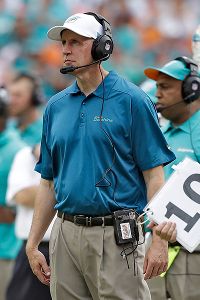 AP Photo/Lynne SladkyJoe Philbin, who is 15-17 in two seasons with Miami, is confident he can reverse the team's fortunes.
Someone will take the fall following the Dolphins' fifth consecutive non-winning season. There certainly will be player changes in the offseason. The Dolphins can start by making upgrades to their offensive line, for example.
Sherman and Dolphins offensive line coach Jim Turner also cannot feel secure about their coaching futures. Miami's offense underperformed all year, and Sherman's play-calling and Turner's position group are the primary reasons.
Philbin and Ireland will be tougher decisions that will go to the top with Dolphins owner Stephen Ross. Many Dolphins fans will want at least one gone, but Ross has gone against the popular decision before.
Expect Ross to look at the entire body of work and not just the final two games.
Miami's 2013 season included many highs and lows. The two lowest points were this two-game losing streak to close out the year and the
Richie Incognito
-
Jonathan Martin
bullying scandal.
"It wasn't dull, I can tell you that," Miami Pro Bowl defensive end
Cameron Wake
said of the season. "But 8-8, that's average. I don't look around this locker room and see average. I see above-average talent. I see exceptional talent."
The most puzzling part of the Dolphins' performances the past two weeks against the Jets and
Buffalo Bills
was the way they lost. Miami was embarrassed in back-to-back weeks against AFC East rivals and was outscored 39-7. The Dolphins looked flat, were ill-prepared and showed little intensity in both meetings.
The Jets and Bills had nothing to play for. But it appeared the roles were reversed in the final two games.
"I really can't explain it. We played two bad games in a row," Dolphins cornerback
Brent Grimes
said. "That's all you can say about it. ... It's just disappointing. We had a chance to go to the playoffs and we messed up. We blew two games and we've got to live with that."
The Dolphins didn't play well in any phase of the game. The offense scored one second-quarter touchdown, and the defense allowed 374 yards, which included 154 yards on the ground.
The Dolphins had a reputation for being a tough and resilient team. But that toughness faded in the past two weeks.
"You've got to take this feeling and let it really brand you here and leave a mark on you inside," Odrick said. "It's got to brand you hard enough to where you don't let it happen again."
Former Dolphins coach and Hall of Famer Don Shula offered a strong endorsement for Philbin before the game. Despite a roller-coaster season and a highly publicized bullying scandal, the Dolphins were in position to make their first playoff appearance since 2008. Philbin received much of the credit.
"I think that he's the right man for the job," Shula said.
Shula's endorsement should carry weight with Ross when he meets with his inner circle to determine the future direction of the Dolphins. However, Philbin wasn't in the mood to discuss the big picture Sunday evening.
"There will be a time and a place to assess the entire season, at the appropriate time," Philbin said.
The time to assess the Dolphins begins Monday. Miami's 2013 season is in the books, and it showed there are some pieces in place, but clearly not enough to be a playoff team.
December, 20, 2013
12/20/13
8:00
AM ET
Here are the most interesting Miami Dolphins stories Friday from around the Web: Morning take: Let's not put the cart before the horse. Miami must first win to get in. It's premature to think about winning playoff games.
Morning take: Miami deserves to be favored, even on the road. The Bills will be starting backup quarterback Thad Lewis, who will look to beat the Dolphins for the second time this season.
Morning take: Wallace is hitting his stride at the right time. The chemistry between Wallace and quarterback Ryan Tannehill is improving.
Morning take: Philbin still has something to prove in Miami, as evidenced by his 15-15 record. But his job this year through the Richie Incognito-Jonathan Martin bullying scandal definitely deserves recognition.
November, 12, 2013
11/12/13
9:30
AM ET
TAMPA --
Miami Dolphins
owner Stephen Ross announced Monday that he's
set up a task force
to clean up their locker-room culture. One of the members selected to lead that task force is former Super Bowl-winning head coach Tony Dungy.
ESPN.com's Dolphins team
page caught up with Dungy before Monday's game against the
Tampa Bay Buccaneers
to get his thoughts on his communication with Ross, Miami's in-house culture, and how he plans to help.

Dungy
James Walker:
Tony, you have been one of the leading figures on several important NFL issues. How did Ross get in contact with you to join this task force to clean up the culture in Miami?
Tony Dungy:
Steve called me. I talked to him several times during their coaching search and since he's gotten the team. Steve called me and said he wasn't sure what happened. He's in the process of finding that out. But he wants to look forward and see how he could ensure their locker room and whole organization was operating in the best way. He wanted to get some former players that he respect and former coaches, and put together a recommendation of best practices.
Walker:
After the
Richie Incognito
-
Jonathan Martin
saga, how serious do you think Ross is about cleaning up the Dolphins' locker-room culture?
Dungy:
I think he's very serious. I think he's disappointed that this happened on his watch, and it could have happened to anybody. People ask me how much should a coach know? How much should you be aware of what's going on? You do have to count on your players, your leadership. I'm standing around a bunch of guys [in Tampa] who made it happen for me. What I did is set the atmosphere on what my expectations are. But I counted on
Derrick Brooks
and
Warren Sapp
to let me know. As a coach you are kind of counting on that.
Walker:
You, Don Shula,
Dan Marino
,
Curtis Martin
and
Jason Taylor
all have a lot of clout in NFL circles. Why do you think Ross picked this particular group?
Dungy:
I think he wanted to get some ex-Dolphins. I think he wanted to get some guys that he respected that could say, 'This is how football is. This is normal. This is what we had in great locker rooms and this is how you get it.' I think he picked some great guys.
Walker:
How involved will you be?
Dungy:
I'm not sure. We haven't really talked about it. It's something I think will be very intensive early on, especially, to kind of set the tone. I just told him I would be glad to do whatever I can to help him out.