Miami Dolphins:

Jelani Jenkins
June, 18, 2014
Jun 18
2:00
PM ET
DAVIE, Fla. -- The
Miami Dolphins
completed Day 2 of mandatory minicamp on Wednesday. ESPN.com's Dolphins page was there to take in all the action.
Here are some notes and observations:
Wallace

The offense had a bounce-back performance after a shaky outing on Tuesday. There were more explosive plays and less sloppiness. Quarterback Ryan Tannehill threw a pair of nice touchdowns, to receiver Mike Wallace and tight end Michael Egnew, and backup quarterback Matt Moore connected on a deep throw to receiver Brian Hartline. Overall, it was about even between the offense and defense. Tannehill also threw two interceptions, to safety Reshad Jones and defensive end Cameron Wake. Neither side was dominant.
Pro Bowl center Mike Pouncey returned Wednesday after sitting out the first day of minicamp. The offensive line performed much better with Pouncey in the lineup. Here is more good news for the Dolphins: They had perfect attendance for the second straight day. The Dolphins have no contract issues of note this year.
Linebacker Jelani Jenkins got an extended look with the starting defense. He is part of Miami's 2013 draft class that is trying to make a jump in Year 2. The Dolphins held starting linebacker Koa Misi out of team drills. Starting cornerback Cortland Finnegan also sat out of team drills for the second day in a row.
With Finnegan out, second-year cornerbacks Jamar Taylor and Will Davis split first-team reps. Taylor is making the most of his reps so far with a solid minicamp. He intercepted Tannehill on Tuesday.
It's only June, but second-year kicker Caleb Sturgis was perfect today on field goal attempts, including one from more than 50 yards. Sturgis has a strong leg but is aiming to improve his consistency in Year 2.
Backup offensive tackle Jason Fox is getting a look on the left and right side. As of June, it appears he's the first offensive tackle coming off the bench in case there is an injury. Fox began the offseason competing with first-round pick Ja'Wuan James. But that has since stopped as Fox has played mostly as a backup to Pro Bowl left tackle Branden Albert.
Miami will have an interesting competition this summer at kick returner. Wednesday's returners were receivers Damian Williams, Matt Hazel, Rantavious Wooten and incumbent Marcus Thigpen.
April, 29, 2014
Apr 29
8:00
AM ET
Here are the most interesting Miami Dolphins stories Tuesday from around the Web: Morning take: Tannehill rated 24th among players, which is solid for someone who hasn't led Miami to the playoffs. Tannehill has a lot of fan support in South Florida and he will be motivated to repay it this year. Morning take: The Dolphins brought in Lee for a visit, along with other high-profile receivers. Could Miami take a receiver at No. 19?
Morning take: Miami's starting linebackers struggled last season -- and particularly Philip Wheeler. Jenkins played 118 defensive snaps last season as a rookie and that number could increase.
Morning take: Injuries slowed Finnegan last year with the St. Louis Rams. But the Dolphins believe he still has more left in the tank.
April, 15, 2014
Apr 15
12:40
PM ET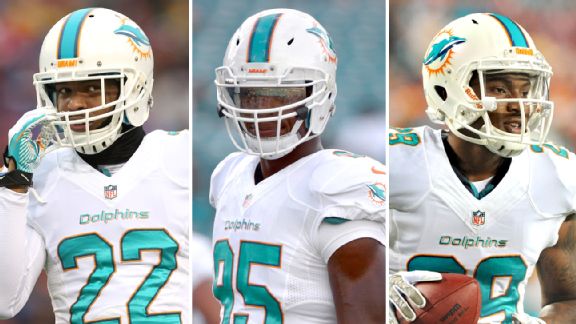 AP Photo, Getty ImagesJamar Taylor, Dion Jordan and Will Davis made a minimal impact as rookies.
Most of the attention over the next three weeks will be focused on the 2014 NFL draft, as each team tries to shape its present and future by identifying the right college players to fill needs.
But for the
Miami Dolphins
, success or failure this season will depend more on the development of the 2013 draft class. Few teams got less production from their rookies last year than Miami. Only the
Denver Broncos
and
Seattle Seahawks
had fewer snaps from first-year players -- and those teams, which competed in Super Bowl XLVIII, were stacked with established veterans.
The Dolphins, who faltered down the stretch and finished 8-8, did not have that luxury.
It's time for Miami's second-year players to come of age during an important time for many within the organization. Head coach Joe Philbin is entering an important third year after going 15-17 his first two seasons, and there could be a lot of change next year if the Dolphins aren't successful.
Most of Miami's top picks -- including defensive end
Dion Jordan
, offensive lineman
Dallas Thomas
and cornerbacks
Jamar Taylor
and
Will Davis
-- basically had red-shirt seasons in 2013, thanks to injuries, inconsistency and lack of confidence from the coaching staff. That lack of production was one reason why the Dolphins failed to get to the playoffs for the fifth consecutive year.
"They got less than anybody in the league out of their draft class, and they had high picks. That's a huge issue," ESPN.com NFL scout Matt Williamson said. "But if that group, the corners and especially Jordan, can play up to what Miami thought they were and what most people thought they were, the Dolphins could rebound."
"We have a lot of hope for the draft class from last year," Philbin said at the NFL owners meetings in late March. "A lot of them have been back early, working. You want to see development throughout the course of an individual player's career, but I think all of you guys would agree you usually see a significant jump between Year 1 and Year 2. These are guys we thought highly of a year ago when we drafted them.
"They had some injury issues that kind of curtailed their development in Year 1. So I'm excited about working with them, developing them and seeing them progress here this season."
The 2013 draft class was one point of contention last year between Miami's coaching staff and the front office. Philbin didn't feel his rookies were ready to take on larger roles. Jeff Ireland, then the Dolphins' general manager, believed in the talent of his draft picks and felt they were not being used properly. Jordan, the No. 3 overall pick in 2013, was perhaps the biggest example.
Due to offseason shoulder surgery, Jordan missed time in training camp and the preseason. He never found his footing in the regular season and he fell behind veteran defensive ends
Cameron Wake
,
Olivier Vernon
and
Derrick Shelby
.
Williamson described Jordan as "a ridiculous athlete." He has immense potential but spent most of the season as the third or fourth defensive end and on special teams. He was involved in 321 snaps and had a disappointing 26 tackles and two sacks.
There have also been offseason trade rumors involving Jordan, which Philbin has denied. Miami's head coach expects Jordan to have a larger role in 2014.
"We feel like with a full offseason, with more time devoted to his fundamentals, he will have a better grasp of the position he's playing," Philbin said. "We do want to do a better job with the numbers, rotating him in. ... We want to get him more snaps on first and second down. "
The Dolphins also are counting on young corners Taylor and Davis, who were drafted in the second and third round, respectively. Both had injury setbacks last season and played a combined 104 snaps.
Pro Bowl cornerback
Brent Grimes
will occupy one starting job, and Taylor and Davis will compete with veteran free-agent acquisition
Cortland Finnegan
for the other spot. Finnegan, a former Pro Bowl corner, is the favorite to start due to experience. But Philbin is not going in with any preconceived notions.
"I want to see the best player, whoever can help us win football games," Philbin explained. "Whoever performs the best should be the starting corner."
Miami got most of its rookie production last year from unlikely sources. Fifth-round kicker
Caleb Sturgis
proved to be the Dolphins' best rookie acquisition last season. He beat out longtime Miami kicker
Dan Carpenter
in training camp and led the Dolphins with 111 points.
The Dolphins also had decent production from undrafted rookie guard
Sam Brenner
, who made four starts and played 274 snaps. Brenner stepped up following the suspension of guard
Richie Incognito
in Miami's high-profile bullying scandal.
Brenner's production highlighted the fact that Thomas, a 2013 third-round pick, was too green to step in and be productive. Thomas was rotated between guard and tackle in training camp and never got comfortable in either position. Thomas must find a home at this season in order to provide quality depth.
In fact, it will be vital for Miami's entire 2013 draft class to find roles and contribute next season. The Dolphins used nine draft picks last year, and most have yet to make an impact.
"The Dolphins have a young quarterback [
Ryan Tannehill
], so they need to build a real core for the long term," Williamson said. "They need last year's draft and this upcoming come to build around Tannehill. They don't need to live for today. A strong core is more important than winning it all this year, although that philosophy can get you fired in Miami if you're 6-10."
February, 26, 2014
Feb 26
2:00
PM ET
The
Miami Dolphins
got little production from their 2013 draft class. It was partially the reason Miami finished 8-8, missed the playoffs and fired general manager Jeff Ireland.
Now, the pressure is on new Dolphins general manager Dennis Hickey not to duplicate Ireland's mistakes. Miami needs immediate production from its '13 rookie class to take its team to the next level.

Here are some lessons to be learned from that class:
Address a need in first round: The Dolphins were aggressive on Day 1 of the draft. They traded up nine spots to No. 3 to select former Oregon defensive end Dion Jordan. Miami had Pro Bowler Cameron Wake and two up-and-coming defensive ends Olivier Vernon and Derrick Shelby already in the fold. But Ireland had been enamored with Jordan for a couple years and really wanted him, regardless of need. Ireland selected who he believed was the best available player. During the season, Jordan struggled to get consistent playing time, while other positions such as offensive tackle struggled mightily. Hickey must learn from this and take the best available player who fills a need.
Avoid lengthy injury histories: The Dolphins overlooked injuries for two players they really liked at the top of the draft. Jordan and second-round pick Jamar Taylor had various ailments coming into the draft. Both players spent the entire offseason rehabbing and it impacted training camp and ultimately their rookie year. The Dolphins and Hickey must avoid major medical red flags at the top of the draft. This is the best chance for Miami to get an immediate impact.
Avoid "tweener" players: Another mistake the Dolphins made in last year's draft was selecting several "tweeners," which are players who don't have a well-defined position in the NFL. Miami's coaching staff spent a lot of time last year figuring out if Dallas Thomas is a better guard or tackle and which linebacker spot was best for Jelani Jenkins? Even Jordan wasn't bulky enough to stop the run as a defensive end, and that significantly impacted his playing time. The Dolphins must draft players this year who immediately know their roles at the next level and what they're best at.
The 2014 season is crucial for a lot of people in the Dolphins' organization. Miami head coach Joe Philbin enters the year in the hot seat after posting a 15-17 record in two seasons. Another losing year could cause repercussions for many in the organization.
January, 28, 2014
Jan 28
12:20
PM ET
The 2014 edition of "Walker's Fab 40" has a new twist. After several years of covering the division, this time we will rank the top 40
Miami Dolphins
.
Keep in mind, these rankings are where the Dolphins currently stand after the season. It's not based on projection or potential.
There will surely be plenty of debate from Dolphins fans. So let's get right to it.
No. 40: Will Davis
Position:
Cornerback
2013 stats:
8 tackles
Analysis:
Davis started training camp on fire. He was one of the stars of camp and unofficially led the Dolphins in interceptions over the summer. But a toe injury set Davis behind and he never recovered. It wasn't until late in the year that Davis earned a little playing time. But 2013 was mostly a redshirt season. Davis, a rookie third-round pick, will get a chance to earn a spot in the rotation in 2014.
No. 39: Don Jones
Position:
Defensive back
2013 stats:
10 tackles, two forced fumbles
Analysis:
Jones was quietly an impressive story for the Dolphins. He was Miami's final 2013 draft pick in the seventh round and made the team as a special team's ace. Jones was a gunner who is tough to block. He forced two fumbles on special teams for his big hits. Jones is raw as a defensive back, but his ability on special teams proved to be valuable.
No. 38: Jelani Jenkins
Position:
Linebacker
2013 stats:
17 tackles
Analysis:
Jenkins, a rookie fourth-round pick gained more playing time towards the end of the season. He is still a raw prospect but showed some aggressiveness and sideline-to-sideline speed. The Dolphins are committed to starting linebackers
Philip Wheeler
,
Dannell Ellerbe
and
Koa Misi
long term. So it may be hard for Jenkins to secure playing time unless there is an injury.
No. 37. Jason Trusnik
Position:
Linebacker
2013 stats:
25 tackles
Analysis:
Every team needs a versatile veteran like Trusnik. He was a backup who can play all three linebacker positions. Trusnik also was a key member on special teams. His versatility has kept him in the NFL for seven years.
ESPN.com Dolphins page will continue "Walker's Fab 40" on Wednesday.
January, 3, 2014
Jan 3
11:00
AM ET
One of the biggest criticisms on the 2013
Miami Dolphins
is the lack of production from their rookie draft class. The Dolphins drafted nine players – and each made the team out of training camp.
Here is a look at how each Miami rookie fared last season:
Jordan
DE Dion Jordan, first round, No. 3 overall
Stats:
26 tackles, two sacks
Analysis:
The bar was high for Jordan entering the year. Miami traded up to the No. 3 pick to get Jordan, which shows how much its front office thought of him as a player. Jordan never got his footing following offseason shoulder surgery. He wasn't 100 percent in training camp or the preseason and fell behind more productive players like
Olivier Vernon
and
Derrick Shelby
. Jordan must put on more weight and get stronger against the run in 2014. He will start next year as a backup.
CB Jamar Taylor, second round, No. 54 overall
Stats:
3 tackles
Analysis:
Similar to Jordan, offseason ailments stunted Taylor's growth. He had multiple health issues before and during training camp, which put Taylor behind. The Dolphins could certainly use their second-round pick at corner in 2014. The secondary is not deep and has some pending free agents. Taylor should get multiple opportunities to find a role next season.
OL Dallas Thomas, third round, No. 77 overall
Stats:
No stats
Analysis:
Thomas was a major disappointment as a rookie. Miami's offensive line had a plethora of issues on and off the field, and Thomas still was unable to see the field. Even undrafted rookie
Sam Brenner
took playing time from Thomas. Thomas appears to be a better guard than tackle, and the Dolphins will have a void with starters
John Jerry
and
Richie Incognito
as pending free agents.
Davis
CB Will Davis, third round, 93 overall
Stats:
8 tackles
Analysis:
Davis was an interesting case his rookie year. He was the talk of training camp after constantly picking off Miami quarterbacks
Ryan Tannehill
and
Matt Moore
in practice. Davis unofficially led the Dolphins in training camp interceptions and got one pick in a preseason game. Davis appeared on his way to finding a role on the team. However, a toe injury kept Davis out several weeks and he never got back into the rotation. Davis received spotty playing, but certainly not enough to find a groove. Davis should get another chance to get into the rotation in next year's camp.
LB Jelani Jenkins, fourth round, 104 overall
Stats:
17 tackles
Analysis:
Jenkins came to Miami as a raw product from the University of Florida. The Dolphins felt his athletic ability would translate well, and that got Jenkins on the field some in sub packages and special teams. Jenkins' biggest play was a crushing blow on
Buffalo Bills
quarterback
Thad Lewis
in October that resulted in an NFL fine. The Dolphins need to see more big hits – albeit legal ones – for Jenkins to get more playing time in 2014. But there were some flashes.
TE Dion Sims, fourth round, 106 overall
Stats:
Six receptions, 32 yards, one touchdown
Analysis:
Sims had a decent training camp and translated that into playing time this year. A season-ending knee injury to
Dustin Keller
moved Sims up the depth chart to the second tight end behind starter
Charles Clay
. However, Miami used a ton of three-receiver sets. Sims didn't get many reps, outside of being an extra blocker. Sims' biggest play was a game-winning touchdown catch against the
Atlanta Falcons
.
Gillislee
RB Mike Gillislee, fifth round, 164 overall
Stats:
Six carries, 21 yards
Analysis:
Despite Miami's inability to run the football consistently, Gillislee spent most of the year on the inactive list. He dressed on Dec. 1 against the
New York Jets
and rushed for 21 yards. The Dolphins could be looking for upgrades at running back this offseason via the draft or free agency. Next season could be make or break for Gillislee to prove himself.
K Caleb Sturgis, fifth round, 166 overall
Stats:
26-of-34 on field goals, 33-of-33 on extra points
Analysis:
Minus some rookie hiccups, Sturgis had a strong rookie season as Miami's new kicker. He replaced longtime Dolphins veteran
Dan Carpenter
and led the team in scoring with 111 points. Sturgis displayed a strong leg with field goals and kickoffs. The Dolphins appear set at the kicker position for years to come.
DB Don Jones, seventh round, 250 overall
Stats:
10 tackles, one tackle for loss
Analysis:
Jones came to Miami as a long shot to make the team. But his ability to play special teams earned him a roster spot and he stayed there all year. Jones was one of the Dolphins' best players in the third phase of the game. He made some big hits in kick coverage and that should help him find a roster spot again next season.
October, 25, 2013
10/25/13
3:00
PM ET
DAVIE, Fla. –
Miami Dolphins
rookie linebacker
Jelani Jenkins
was fined $15,750 for his second-half hit on
Buffalo Bills
quarterback
Thad Lewis
, a league spokesman confirmed to ESPN.com Friday.
Jenkins appeared to mostly make contact with Lewis' chest on the play. But Jenkins struck the quarterback with his helmet, and it was hard enough to garner a 15-yard personal-foul penalty and a subsequent fine. Jenkins was Miami's fourth-round pick last April.
Miami head coach Joe Philbin was not pleased with the hit and didn't come to Jenkins' defense earlier this week. That was an important penalty for the Dolphins in a close, 23-21, loss to the Bills.
"It's the quarterback. He's got to hit the guy lower," Philbin explained. "Our guys have done a great job of that all year."
The Dolphins (3-3) will travel Sunday to play the
New England Patriots
(5-2) in an important AFC East game for both teams.
September, 22, 2013
9/22/13
5:13
PM ET
MIAMI -- The
Atlanta Falcons
lead the
Miami Dolphins
, 13-10, at halftime.

Here are some notes from the game at intermission:
Falcons quarterback Matt Ryan is on fire in the first half. He completed 12 of his first 14 attempts in the first half to get Atlanta out to a 10-0 lead. Ryan finished the half 15-of-17 for 118 yards and a touchdown.
The tackling for Miami's defense was awful in the first half. Atlanta's offensive skill players consistently ran through tackles for additional yards. The Dolphins even made changes in the first half by bringing in rookie linebacker Jelani Jenkins over starter Philip Wheeler. It's unknown if Wheeler was benched due to performance. But he looked healthy and ready to play on the sideline.
Defending the tight end has been an issue for Miami's defense the past few seasons. Falcons future Hall of Fame tight end Tony Gonzalez had four receptions and three first downs in the first half. His early production led to Atlanta's opening touchdown drive.
Dolphins defensive end Cameron Wake injured his knee in the second half and his return is questionable.He was working on the bike to test his knee. We will see if he re-enters the game in the second half.
There is a good crowd at Sun Life Stadium. This is probably as packed as I've seen a Dolphins game in a while. The buzz is certainly there following Miami's 2-0 start. But the Dolphins must win consistently, particularly at home, in order to keep a strong home-field advantage.
September, 4, 2013
9/04/13
5:30
PM ET
DAVIE, Fla. -- The Dolphins' most productive wide receiver over the past five years will be wearing an opposing uniform Sunday when Miami faces the
Cleveland Browns
.
Veteran slot receiver
Davone Bess
is making his Browns debut against the Dolphins, his former team. Bess caught 321 receptions for Miami since 2008. That included five consecutive seasons of 50 receptions or more, and a career-high 79 receptions in 2010.
Bess had another productive year in 2012 where he caught 61 passes for 778 yards and one touchdown. Despite Bess' consistency, there was always a sense Miami's new coaching staff preferred bigger, more athletic playmakers at receiver. That partially explains Miami's trade of Bess last April and signing of a bigger, faster slot receiver in
Brandon Gibson
.
Bess said he wasn't surprised that he didn't return to Miami this year, but he's not out for revenge in Week 1.
"From my perspective, I don't hold any grudges," Bess said on the conference call with the Miami media Wednesday. "I'm forever thankful of the Dolphins organization to give me this opportunity to play in this league. We're nothing without the opportunity. So I'm forever grateful for that. All good things must come to an end."
Bess
The draft-day trade between Cleveland and Miami was a bit complicated. Miami traded Bess and its fourth-round pick (No. 111) and seventh-round picks for Cleveland's fourth- and fifth-round picks. The Dolphins selected linebacker
Jelani Jenkins
and tailback
Mike Gillislee
with those selections. Both rookies made Miami's 53-man roster.
Bess said he's moved on from the Dolphins. He sold his home in South Florida and now settled in Cleveland. Bess, 27, is a six-year veteran who is asked to bring leadership to an otherwise young team.
"He's been great for us," Browns head coach Rob Chudzinski said. "We have a really young team and at that position, as well. He's a consummate pro. He approaches everything the way you want him to as a coach."
Although Bess doesn't hold a grudge with the Dolphins, he should have a chance to impact this game. Miami is thin in Week 1 at cornerback after recently cutting veteran
Richard Marshall
and with rookie cornerbacks
Will Davis
and
Jamar Taylor
ailing.
Both teams share various strengths and weakness. It could be a close game where someone has to step up in the fourth quarter. Could Bess do it against his former team?
"It's going to be different obviously," Bess said. "Me knowing them and then knowing me, it would to be easy to get rattled and let the emotions get the best me. But my approach is just like every week: I want to compete to win the ballgame."
September, 2, 2013
9/02/13
1:00
PM ET
DAVIE, Fla. – The
Miami Dolphins
hit the practice field for the first time during the 2013 regular season. Miami will travel to play the
Cleveland Browns
on Sunday.

Here are some Dolphins notes from Monday's practice:
ESPN.com's Dolphins page will have plenty of reaction from Miami's locker room after practice. Keep it locked here for all the latest. You can also follow my reports and observations
via Twitter @JamesWalkerNFL
.