Miami Dolphins:

Mike Glennon
January, 31, 2014
Jan 31
11:00
AM ET
DAVIE, Fla. -- It didn't take long to find out how
Miami Dolphins
new general manager Dennis Hickey felt about the team's quarterback position. Soon after getting the job Sunday Hickey's son, Barrett, wanted a Dolphins jersey.
"We made sure that we drove down to the local sporting goods and got him a [Ryan] Tannehill jersey," Hickey said.
There was a small amount of symbolism in Hickey's initial purchase. Hickey appears invested in the stock of Tannehill, who is 15-17 as a starter. It doesn't appear Tannehill will face competition for his starting job entering an important Year 3, based on Hickey's early support.
The Dolphins hired a new offensive coordinator (Bill Lazor) to get the best out of Tannehill, and it will be Hickey's job to surround the young quarterback with enough talent. A better offensive line would be a good place to start.
It remains to be seen if Hickey will draft a developmental quarterback in the middle or late rounds of the draft. Hickey has been in Tampa Bay for 18 years, mostly working in college scouting.
Here are the quarterbacks Tampa Bay drafted with Hickey on staff over the past decade:
It is an underwhelming list of quarterbacks. No one on this list proved to be the long-term solution, although the jury is still out on Glennon.
Fortunately for Hickey, he doesn't have to worry about looking for another franchise quarterback via the draft in 2014.
November, 8, 2013
11/08/13
10:00
AM ET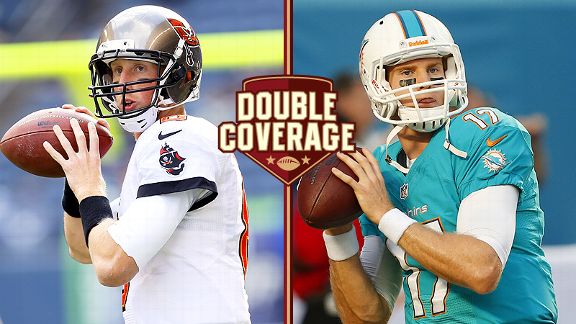 Getty ImagesMike Glennon, left, and Ryan Tannehill have a lot to prove in the season's second half.
TAMPA, Fla. -- Although their records are uninspiring, the
Miami Dolphins
and
Tampa Bay Buccaneers
have been all over the news this season -- for all the wrong reasons.
The recent incident involving Miami offensive linemen
Jonathan Martin
and
Richie Incognito
has dominated the headlines. Earlier in the season, the Bucs were in the news as the rift between coach Greg Schiano and quarterback
Josh Freeman
erupted, and Tampa Bay continues to draw attention after three players were diagnosed with MRSA infections.
But, on Monday night, the Dolphins and Bucs finally will be in the football spotlight as they play in a nationally televised game. ESPN.com Dolphins reporter James Walker and Buccaneers reporter Pat Yasinskas discuss the matchup.
Pat Yasinskas:
James, the Martin-Incognito situation has been one of the biggest stories of the season. How much of a distraction has it been for the other Miami players?
James Walker:
The Dolphins are trying to put a decent spin on things this week. However, you can tell it's weighing on them. Players are genuinely upset that it came down to this. They felt Martin could have handled this differently, and in a way that was better for the team, himself and Incognito. I would think most people outside of Miami's locker room would find issues with that line of thinking. But it's really within the NFL culture to think week-to-week and how to win games immediately. This has been an interesting case study on NFL locker rooms and how it relates real societal issues.
Pat, the Buccaneers have had their own share of drama this season. How is Tampa Bay handling its various issues at 0-8?
Yasinskas:
James, things finally seem to have settled down a little bit the past week or two. But, for the longest time, it seemed as if the Bucs had a fresh controversy every day. The Freeman saga was nothing short of a soap opera, and the MRSA is a very serious issue. Cornerback
Darrelle Revis
has admitted the Bucs have been affected by the distractions. Throw in the fact that the Bucs are 0-8 and have lost several games they should have won, and it appears as if there's a situation that could blow up at any time. But the one thing the Bucs have going for them is that they still are playing hard.
All right, let's move to some on-the-field stuff. How are the Dolphins going to adjust their offensive line?
Walker:
Here is the interesting thing about Miami's offensive line: It wasn't good with Martin and Incognito.
Ryan Tannehill
is the most-sacked quarterback in the NFL at the midpoint of the season, and, until two weeks ago, the running game was hit-or-miss. So, yes, on the surface, the Dolphins lost two starters on the offensive line. However, the bar set by the old group wasn't very high.
Tyson Clabo
will start for Martin at right tackle and
Nate Garner
at left guard. They're capable of holding up the same standard, but it remains to be seen whether they can do better.
Speaking of better, how much has the quarterback play improved with
Mike Glennon
? Can he become the long-term solution?
Yasinskas:
Glennon has shown gradual improvement in each game. He's been poised and has shown more mobility than most people thought he had. He has gone three straight games without an interception, which is a major accomplishment for a guy who has only five career starts. Schiano is very high on Glennon, and that admiration goes back to when Schiano tried (unsuccessfully) to recruit the quarterback to Rutgers. If Schiano sticks around, I think he views Glennon as his long-term answer at quarterback. But, with the way the Bucs are losing games, there is no guarantee Schiano will be back next season. A new coach might not be as high on Glennon as Schiano.
Speaking of long-term answers, has Tannehill shown enough to convince the Dolphins he can develop into a top-line starter?
Walker:
I like what Tannehill brings to the table. However, this season has been challenging to evaluate because of all the troubles on the offensive line. Tannehill has a few holes in his game, such as poor pocket presence, suspect ball security and an average deep ball. Maybe some of those can be corrected with experience. This is a big eight-game stretch for Tannehill and his long-term future in Miami. That important period starts Monday night.
.