Miami Dolphins:

New England Patriots
May, 7, 2014
May 7
2:01
PM ET
By
ESPN.com staff
| ESPN.com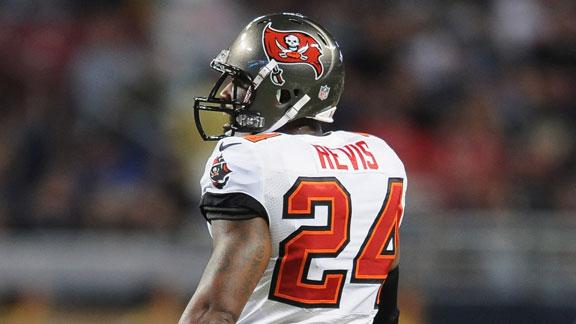 Did the AFC East's best keep on getting better?
The perennial division champion
New England Patriots
signed elite cornerback
Darrelle Revis
, which could offset significant free-agency gains by the
New York Jets
and
Miami Dolphins
.
The
Buffalo Bills
are in good position to improve through this week's NFL draft.
EJ Manuel
, the Bills' top pick last season, returns as the starting quarterback and is one of three second-year players facing intense scrutiny in 2014.
Who finishes atop the AFC East in 2014 could depend largely on which team best handles the stretch run, as December features five inter-division matchups -- including three in a row for the Patriots to end the season.
The four writers who cover the division -- Rich Cimini in New York, Mike Reiss in New England, Mike Rodak in Buffalo and James Walker in Miami -- offered their insights on the AFC East offseason and other key topics. They also polled their Twitter followers to find out if they saw the issues differently.

Which AFC East team has had the best offseason to date?
Rich Cimini: I'm all about the stars, which is why I'm picking the Patriots, who landed the best free agent of them all: Darrelle Revis. He's one of the top two cornerbacks in the league, a legitimate game-changer. His presence will allow Bill Belichick to play more press-man coverage, which will help their pass rush and create headaches for opponents. Once Brandon Browner serves his suspension, they'll have two physical corners. The Jets and Dolphins helped themselves in free agency, addressing need areas, but neither team acquired a player as good as Revis. The Patriots lost a terrific corner in Aqib Talib and actually upgraded. How often does that happen in free agency?

Mike Reiss
: The Patriots get the nod here because they added the best overall player in cornerback Darrelle Revis and re-signed receiver
Julian Edelman
(the Jets had explored poaching him), but I don't think it's a large gap to the next club. I like what the Dolphins have done to start rebuilding their offensive line (
Branden Albert
,
Shelley Smith
) while also bringing in defensive tackle
Earl Mitchell
, re-signing cornerback
Brent Grimes
and potentially getting some value with cornerback
Cortland Finnegan
.
Mike Rodak: Comparing gains and losses in free agency, the Patriots have fared the best. The season is never won in March, but the Patriots were able to upgrade even after losing cornerback Aqib Talib. Signing Darrelle Revis was the most significant free-agent move in the division, while Brandon Browner adds another quality player to the secondary. The Jets aren't too far behind. Eric Decker and Chris Johnson add firepower where the Jets have struggled in recent years -- at their skill positions. Neither player, though, is on the same level as Revis, which is why I give the Patriots the edge. Honorable mentions go to the Dolphins for signing Branden Albert and the Bills for signing Brandon Spikes.

James Walker: I like what the Jets have done this offseason. It has been offense, offense and more offense in free agency for New York. The Jets went out and signed wide receiver Eric Decker, former Pro Bowl running back Chris Johnson and veteran quarterback Michael Vick. All three have a chance to make an impact on New York's weakest side of the football. Jets head coach Rex Ryan is a great defensive mind and has that side taken care of. It's just a matter of New York scoring more points this year. If the Jets can add a receiving threat such as Marqise Lee or Brandin Cooks in the first round Thursday, look out for "Gang Green."

@mikerodak Patriots - name a player better then Revis signed this free agency period in an area of need #FourDowns

- Samuel Simmonds (@Samuel_simmonds) May 6, 2014
---

Will an AFC East team select a quarterback in the first three rounds of the draft?
Cimini: No one will pick a quarterback in the first two days of the draft. The most likely candidate is the Dolphins, who have a new offensive coordinator and might be looking to acquire some Ryan Tannehill insurance after two so-so seasons -- but it won't happen before the fourth round, not this year. Neither Geno Smith nor EJ Manuel is entrenched with the Jets and Bills, respectively, but their teams have too many other needs to start doubling down on quarterbacks. The Patriots made headlines by hosting Johnny Manziel on a pre-draft visit, but I'm not buying it. It's still too early to start looking for an heir to the Tom Brady throne.

Reiss
: Yes. One of the things that has become clear in the build-up to the draft is that this is a good year for clubs looking for a developmental quarterback. ESPN's Mel Kiper said he has spoken with teams who have identified as many as 15-20 draftable quarterbacks this year, which is higher than the norm. NFL Network's Mike Mayock said he has 10 signal-callers with grades within the first three rounds, which is about double the norm. I think Buffalo (insurance for EJ Manuel) and New England (backup
Ryan Mallett
's contract expires after the 2014 season) are the spots to look within the division.
Rodak: The Patriots are the most likely to select a quarterback in the first three rounds. Their backup since 2011, Ryan Mallett, enters the final season of his rookie contract and hasn't proved in limited playing time that he's capable of being a starter. Mallett was a third-round selection and that could be the sweet spot for the Patriots again, although I wouldn't put it past them to take a quarterback in the second round if one of the top signal-callers falls. The Bills might also pluck a quarterback off the board by Friday night. EJ Manuel, a first-round pick last year, is their starter but they could use an upgrade over Thad Lewis or Jeff Tuel as their backup. If the right quarterback falls, Buffalo might pounce.

Walker: The third round seems like the best possibility; it's the safest round of the three for avoiding a quarterback controversy. The Bills would have the best case for drafting a quarterback fairly early. The team has said several times that it's behind 2013 first-round pick EJ Manuel, but I don't see any reason for the Bills to avoid adding depth at the position behind Manuel in the middle of the draft. Backup quarterbacks Thad Lewis and Jeff Tuel are not the answers. Manuel had injury issues last year, as well. It makes sense for the Bills to consider a capable backup.

@RichCimini Pats and Mettenberger is a match made in heaven. Strong arm? Statue in pocket? Tall? Character/Injury concern? All check marks.

- Bob (@Bobister) May 6, 2014
---

What stands out about the NFL schedule for each AFC East team?
Cimini: Prepare for the missiles of October. The Jets face Philip Rivers, Peyton Manning and Tom Brady in a 12-day span, Weeks 5 to 7. Before that, they meet up with a few other top quarterbacks: Aaron Rodgers, Jay Cutler and Matthew Stafford. The Jets' suspect pass defense, which allowed nearly 4,000 yards last season, will be seriously tested. This is the main reason they need to prioritize cornerback in the draft.

Reiss
: The Patriots have a well-placed bye week and some of their biggest games around it. A Nov. 2 home game against the Broncos precedes the bye, then coming out of it is a Nov. 16 road game against the Colts. Fun, fun. If that's not the iron of the schedule, then back-to-back road games against the Packers (Nov. 30) and Chargers (Dec. 7) probably qualifies. Also, with the season concluding with three straight division games, the AFC East could still be up for grabs late.
Rodak: I've harped on this point before, but the Bills might have the NFL's toughest December schedule. Who knows where they'll be by Thanksgiving -- they could be in the playoff hunt or fading -- but their final month is brutal. The Bills must travel to face Peyton Manning and the Broncos, return home to host Aaron Rodgers and the Packers, make a cross-country trip to face the Raiders and then head back East to finish their regular season on the road against Brady and the Patriots. Ouch. Perhaps it's better that this four-game stretch comes at the end of the season rather than the beginning -- the Bills could be staring down an 0-4 start if it did -- but if they have any hope at the playoffs, they're going to need to win a couple of those games.

Walker: The Dolphins must bring their A-game on the road because they do not have back-to-back home games until the final two weeks. The Dolphins were a respectable 4-4 on the road last season, but it will be challenging for them to put together any significant winning streaks away from Sun Life Stadium. Miami's regular-season opener at home against the Patriots also stands out. We will find out immediately whether the Dolphins are a legitimate threat to New England in the AFC East.

@JamesWalkerNFL the 4 game stretch playing the broncos jets ravens and pats. ultimately make or break us

- Michael Broyles (@mikesdolphins) May 7, 2014
---

Which AFC East second-year player has the most to prove?
Cimini: My first inclination is to say Jets quarterback Geno Smith, who could lose his starting job to Michael Vick, but that's the Jets beat writer in me talking. The better answer is Bills quarterback EJ Manuel. Why him? Unlike Smith, Manuel was a first-round pick, which means greater expectations -- and those expectations were heightened when the Bills anointed him as The Guy. Smith has yet to receive that kind of endorsement from the Jets. The Bills have hitched their franchise to Manuel, who is coming off a mediocre-at-best rookie season in which he went 4-6 as the starter. He was hampered by injuries, but part of being a franchise quarterback is being on the field.

Reiss
: Bills quarterback EJ Manuel would be my choice. He looked like a foundation-type player in the season opener against the Patriots last year, and had a few bright spots in ensuing weeks, but overall had an uneven first year in the NFL that was affected by injuries. The Bills surprised many by using a first-round draft choice to select him last year, and because of that Manuel gets the nod here over Jets quarterback Geno Smith, a second-round pick. It will be intriguing to see how things unfold with Smith now that the Jets have also signed Michael Vick, but I think the discovery process on Manuel in Year 2 -- is he really a franchise quarterback? -- trumps it.
Rodak: It has to be EJ Manuel. Geno Smith is a close second, but the Jets have Michael Vick to lean on. The Bills decided not to add an experienced backup quarterback this offseason, clearing the way for Manuel to be their unquestioned starter. Manuel needs to be more consistent. He showed flashes last season but also had some downright horrid games, including a four-interception afternoon against the Buccaneers. Manuel must also stay healthy. His three knee injuries last season limited him to 10 games and set back his development. Another injury this season will cloud the picture and keep the Bills from knowing exactly what they have. That could give him more leeway if he isn't progressing as quickly as the team would like, but it could also cause the Bills to look elsewhere.

Walker: It's easy to point to the quarterback position and say New York's Geno Smith and Buffalo's EJ Manuel have the most to prove. But neither player was drafted higher in 2013 than Miami's Dion Jordan, the No. 3 overall pick. The Dolphins traded up nine spots to get Jordan last year, only to use him as a backup defensive end and special-teamer. It was head-scratching to figure out why such a dynamic talent couldn't find his way onto the field. Jordan's usage actually was one point of contention between Dolphins head coach Joe Philbin and former general manager Jeff Ireland, who had a falling out last season. Was Jordan not ready for the NFL level? Was Miami's coaching staff holding him back? This is a big Year 2 to answer those questions.

@MikeReiss. Dion Jordan his lack of production as a #3 pick especially when Miami drafted him to put pressure on Brady...gives him the nod

- paul (@kurtzfam4) May 6, 2014
September, 25, 2013
9/25/13
6:55
PM ET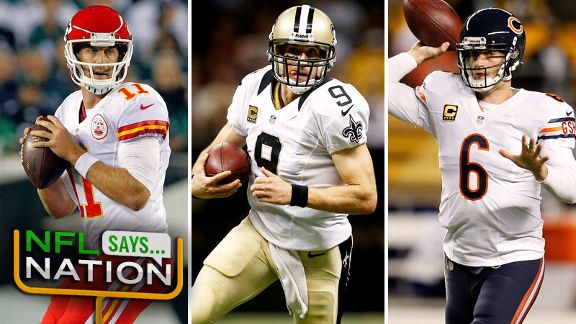 Getty ImagesAlex Smith, Jay Cutler and Drew Brees have led their teams to a 3-0 start.
The danger in getting excited about a 3-0 start is that pesky little thing known as "The Other Thirteen Games." Victories in the first three weeks can lead to a 15-1 season, as they did for the
Green Bay Packers
in 2011. Or they could mean a 2-11 finish and a fired coaching staff, as the
Arizona Cardinals
found out last year.
So let's keep our wits as we analyze the seven teams that have started this season 3-0. It has been four years since that many teams were still perfect after three weeks. The 2009 season offers another lesson in early conclusions: One of the seven (the
New Orleans Saints
) won the Super Bowl but two finished 8-8 and missed the playoffs altogether (the
New York Giants
and
Denver Broncos
).
So who is this year's version of the 2009 Saints? Are there any candidates to emulate the 2012 Cardinals? NFL Nation has some thoughts.
If there is anything to glean from the first three weeks of this season, it's the emergence of two early powerhouses. The
Seattle Seahawks
and the Broncos have outscored opponents by a combined 213-98, and their individual point differentials of 59 and 56, respectively, are by far the best in the NFL. (The next best is the
Kansas City Chiefs
at 37).
The Seahawks' path to Super Bowl XLVIII seems clear: Clinch home-field advantage at CenturyLink Field, where they have won 10 consecutive games, and book their ticket to New York. The Broncos, meanwhile, have scored the second-most points through three games in NFL history and only figure to improve as defensive stalwarts
Von Miller
(suspension) and
Champ Bailey
(injury) return to the lineup.
What about the rest?
Has Andy Reid built an instant Super Bowl contender in Kansas City, or will his Chiefs level off? Has
Ryan Tannehill
really developed into a championship-caliber quarterback for the
Miami Dolphins
?
Are the
Chicago Bears
for real after two fourth-quarterback comebacks followed by two defensive touchdowns in their victory over the
Pittsburgh Steelers
? The
New England Patriots
are fortunate to be 3-0, right? And has Sean Payton restored the Saints' magic? Let's take the pulse of NFL Nation.
Which 3-0 teams are legitimate Super Bowl contenders?
The Saints should definitely be considered as legitimate Super Bowl contenders, based on their offensive track record under coach Sean Payton and quarterback Drew Brees. Not only did they win the Super Bowl in 2009, but their offense was even better in 2011, when they finished 13-3 and set the NFL record for yards gained in a season (7,474). I don't expect an exact repeat this year, but I think that's closer to the norm than last year's 7-9 season.


Especially with tight end
Jimmy Graham
healthy again and back to being one of the most difficult matchups in the league. Clearly, however, the Saints need to improve a run game that has been practically non-existent to keep defenses honest and keep Brees upright.
Meanwhile, the Saints' young defense has been one of the biggest surprises in the NFL this year under new coordinator Rob Ryan. I still expect a few growing pains before the season is over. But they don't need to be dominant for the Saints to succeed. And I think they can continue to come up big in some big moments. Players are clearly responding to Ryan's energetic approach and versatile schemes. And they have some bona fide talent to work with in every unit -- including emerging young pass-rushers
Cameron Jordan
and
Junior Galette
. That was the biggest question mark heading into this season. If the defense can keep playing anywhere near this level, the Saints could run away with the NFC South title.
The undefeated Miami Dolphins are arguably the biggest surprise in the NFL.

But can the Dolphins be serious Super Bowl contenders? Let's temper those expectations. The Dolphins absolutely have playoff potential. This is a franchise that hasn't made the postseason since 2008. Ending that streak and having a winning season should be Miami's primary goals.


A 3-0 start is terrific, especially after beating the talented
Indianapolis Colts
and
Atlanta Falcons
in back-to-back weeks. But the Dolphins certainly have holes.
Depth is an issue in several areas and will be tested. Miami could be without several defensive starters -- defensive end
Cameron Wake
(knee), defensive tackle
Paul Soliai
(knee) and cornerback
Dimitri Patterson
(groin) -- against the
New Orleans Saints
on "Monday Night Football." The Dolphins also face issues such as pass protection (14 sacks allowed) and having the 28th-ranked rushing attack.
In addition to the undefeated Saints, Miami has tough games against the defending champion
Baltimore Ravens
(2-1),
New England Patriots
(3-0) and
Cincinnati Bengals
(2-1) before the end of October. The Dolphins cannot rest on their early success. They must continue to improve.
The health and production of second-year quarterback
Ryan Tannehill
is the biggest key. However, the Dolphins have a lot to prove over the course of 16 games.
Miami has a perfect record, but it's far from perfect.
Judging strictly from the numbers, the Kansas City Chiefs are legitimate Super Bowl contenders. They are No. 1 in the AFC in scoring defense, No. 2 in the conference in scoring differential and, most importantly, tied for first place with a 3-0 record.


But it's another number, one that will be impossible to sustain, that's feeding the Chiefs' success and threatens to reveal them as pretenders once it begins its inevitable correction.
The Chiefs are leading the league in turnover differential at plus-9. They are one of two NFL teams yet to commit a turnover. That's a statistic capable of making a good team look great as long as it lasts. The trouble is, it never does last, at least not at this rate. Once their turnover differential starts to balance out, here is the advantage the Chiefs will lose:
The Chiefs have started 10 possessions on their opponents' end of the field. Their opponents have started one in Kansas City's territory, and even that drive began at the Chiefs' 49.
Such consistently favorable field position can make life easy for a team, and credit to the Chiefs for enjoying the ride while it lasts.
It won't forever. When it ends, the Chiefs will have to make their own way.
Their defense looks capable of doing that, but their offense needs a boost. When it doesn't get one, the Chiefs will suddenly look mortal.
This 3-0 team is better than the Bears squad from 2012, which started 7-1, and is a legitimate Super Bowl contender for a variety of reasons. The Bears have already scored three defensive touchdowns, but the major difference is the club is getting contributions from both sides of the ball and special teams.

Chicago provided evidence of that with quarterback Jay Cutler engineering back-to-back, come-from-behind victories over Cincinnati and Minnesota to start the season, before coming through in the clutch on the road Sunday, bailing out a struggling defense to clinch a victory against the Pittsburgh Steelers.


The Bears racked up nine defensive touchdowns last season, which tied for the second most in NFL history. But at this juncture last year, the unit had only one score, yet basically carried the entire team through its impressive first half.
Through the 7-1 start in 2012, skepticism existed because the Bears simply hadn't played good teams. This year, the combined record of the teams first three opponents is 2-7. But don't be fooled, this is a better Bears team.
Cutler is one of the main reasons for that. He's matured. He's accepted the coaching. He's putting in more time to sharpen his craft, while shedding the enigmatic gunslinger persona for a more controlled approach. His protection is better. The front office has surrounded him with more weapons and an offensive-minded coach in Marc Trestman, who is the architect of a system Cutler believes in.
If there has been one constant of Bill Belichick-coached Patriots teams since 2000, it's that they usually get better as the season progresses. Surely, there have been exceptions (2009 comes to mind), but there are no indications this year's team is headed down that path at this point.


The defense has exceeded expectations through three games, although a lingering question is how much of the unit's success is a result of playing weaker competition. Sunday night's game on the road, against the fast-starting
Atlanta Falcons
, should tell us more about the unit. And while the offense has struggled to find its groove, the return of tight end
Rob Gronkowski
should provide a boost and with
Danny Amendola
saying he envisions being 100 percent shortly, big-time reinforcements are on the way.
So if you're judging on the present picture, it's understandable that one would say this team isn't a Super Bowl contender. In a game against the
Denver Broncos
, right now, you would have to pick the Broncos. But this is about projecting what the Patriots could be, and at this point, there's no reason to think they won't evolve as past Belichick teams have. Many of those clubs have been Super Bowl contenders.
September, 1, 2013
9/01/13
2:23
PM ET
The
Miami Dolphins
lost one of their top practice-squad candidates Sunday to an AFC East rival. The
New England Patriots
claimed former Dolphins defensive lineman A.J. Francis off the waiver wire,
according to Francis' Twitter account.
Francis was an up-and-coming defensive lineman for Miami, which had a lot of depth at the position. The Dolphins released both Francis and
Kheeston Randall
. It shouldn't take long for Randall to also find work.
New England, the reigning AFC East champs, is looking for big bodies and more youth up front on defense. The Dolphins were the last team to announce their roster cuts, but that still didn't stop a division rival from poaching at least one player.