Miami Dolphins:

Norv Turner
January, 7, 2014
Jan 7
1:30
PM ET
After some nervous moments following a late-season collapse, all indications are that head coach Joe Philbin is safe for another season with the
Miami Dolphins
. Philbin is 15-17 in Miami and will enter a crucial Year 3 to implement his program.

Philbin
But what does Philbin's status means for Miami's search to hire a new offensive coordinator to replace Mike Sherman? The 2014 season is setting up to be a make-or-break year for Philbin, and that will ultimately impact the quality of candidates he can bring to his staff.
Top candidates such as Gary Kubiak, Norv Turner and Rob Chudzinski will be hot commodities around the NFL. These top names will have options, and might be able to do better than what Miami is offering. In the cases of Chudzinski and Kubiak, in particular, both former head coaches also are being paid handsomely by their former employers next season. They can wait for the ideal situation.
The NFL Network also is reporting that
Green Bay Packers
quarterbacks coach Ben McAdoo will be interviewing for the
Cleveland Browns
head coaching position. McAdoo is another possibility for Miami. But if he becomes a hot name, that will make it tough for the Dolphins.
It's no secret the Dolphins could clean house if things don't go well next season. Coaches around the league are aware of it.
That might force Miami to dig deeper beneath the surface to find its next offensive coordinator.
January, 7, 2014
Jan 7
8:00
AM ET
Mike Sherman is out
as the Miami Dolphins' offensive coordinator. But who is coming in?
The Dolphins will be going through an extensive interview process over the next several days. Here is an early list of candidates to keep an eye on:
1. Ben McAdoo, Green Bay Packers quarterbacks coach
Pros:
McAdoo has been on Miami's radar for quite some time. Dolphins head coach Joe Philbin, who worked in Green Bay, had interest in McAdoo joining his staff in Miami two years. But McAdoo stayed in Green Bay and was promoted internally from tight ends coach to quarterbacks coach. The Dolphins' offensive coordinator position could lure McAdoo to Miami. McAdoo also comes from a West Coast offense in Green Bay, which is similar to Philbin's philosophy. Keeping a West Coast scheme could make sense for continuity.
Cons:
McAdoo has no experience as an offensive coordinator. He only has two seasons under his belt as a quarterbacks coach. The 2014 season could be a make-or-break year for Philbin and a lot of people in Miami. It would be risky putting the entire offense in the hands of a first-year coordinator.
2. Rob Chudzinski
Pros:
Chudzinski, who was surprisingly fired by the
Cleveland Browns
after just one season as head coach, has done well as an offensive coordinator. Most think Chudzinski did a good job with the
Carolina Panthers
and could add punch to Miami's offense. Chudzinski also has strong ties to South Florida. He coached various positions at the University of Miami from 1994-2003.
Cons:
Chudzinski does not run a West Coast offense. That would require the Dolphins to learn an entirely new offensive scheme in an important year for both Philbin and second-year quarterback
Ryan Tannehill
.
3. Norv Turner
Pros:
Turner was on the same staff in Cleveland under Chudzinski. He is a proven offensive coordinator and even had a stint at that position with the Dolphins from 2002-2003. Turner brings the experience needed to an otherwise inexperienced staff. Turner also had head-coach experience and could help Philbin along in a big third season.
Cons:
Similar to Chudzinski, Turner does not run a West Coast offense. Turner runs a numbers system made famous by Don Coreyell. That would require Miami to learn a new offense in an important year. Turner also is under contract with Cleveland. Although that is expected to change, Miami may want to move fast to fill its position.
4. Hue Jackson, Cincinnati Bengals running backs coach
Pros:
Jackson has been successful at every stop, with the exception of his stint as head coach of the
Oakland Raiders
. Jackson comes from a West Coast tree, which could factor in heavily. He's an aggressive play caller who gets the most out of his players. Jackson also has a good track record with young quarterbacks, which is key for Tannehill.
Cons:
Despite various positions, Jackson hasn't been an offensive coordinator for more than one season at a time in the NFL. Jackson was an OC for three teams:
Washington Redskins
,
Atlanta Falcons
and Oakland Raiders. Each time, Jackson held the position for one year.
5. Gary Kubiak
Pros:
Kubiak was very successful as a longtime coordinator with the
Denver Broncos
. His West Coast offense in Denver was among the top units for a long time. Eventually that got him a head-coaching job with the
Houston Texans
. He was fired after eight seasons.
Cons:
Health could be an issue after Kubiak passed out last season during a November game against the
Indianapolis Colts
. He may take the year off to get healthier or hold out for better offers. Kubiak's recent head-coaching experience also could provide a tense situation, considering Philbin is in a must-win year.
September, 5, 2013
9/05/13
12:00
PM ET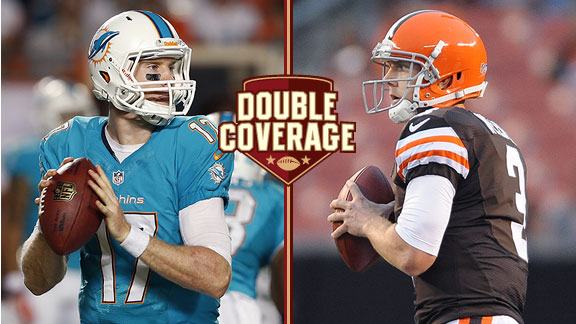 Getty ImagesSecond-year quarterbacks Ryan Tannehill and Brandon Weeden will be worth watching Sunday.
The
Miami Dolphins
and
Cleveland Browns
finished with a combined record of 12-20 last season, so both teams have plenty to prove and are looking for fast starts in 2013.
Cleveland will host the Dolphins on Sunday in an interesting matchup of AFC teams. Both are starting second-year quarterbacks who are looking to take the next step.
Can the Browns utilize their home-field advantage? Will Miami pick up a key road win to start the season? ESPN.com's Matt Williamson and Dolphins team reporter James Walker debate.
James Walker:
Matt, we can't start this debate without examining both second-year quarterbacks in this matchup. Miami's
Ryan Tannehill
and Cleveland's
Brandon Weeden
were forgotten players in the famed 2012 quarterback class. Neither put up numbers or led their teams to the playoffs, like
Andrew Luck
,
Robert Griffin III
and
Russell Wilson
did. Tannehill and Weeden, however, showed flashes at different times throughout their rookie seasons. I've watched Tannehill up close since the day he arrived in Miami. You can see he has all the tools. Tannehill can make every throw and is a solid athlete who can use his feet when needed. Consistency is where he needs to take the next step in Year 2. Tannehill did a lot of good things in the preseason and had a 98.6 passer rating in exhibition games. He is coming into this Cleveland game with momentum, but I still want to see it in the regular season. Matt, what's your take on Weeden entering his second season?
Matt Williamson:
I, too, am high on Tannehill and think this will be the season he puts himself squarely in the conversation with those names you mentioned as young star quarterbacks in this league, for now and the long term. I am also growing fond of Weeden. There wasn't a quarterback and offensive group -- personnel wise -- as miscast as this one in last year's West Coast offense. Weeden, with his big arm, is much better suited to stand in the pocket and make downfield throws -- which is exactly what quarterback guru Norv Turner will have Weeden doing behind an excellent offensive line. While I wish Weeden, 29, was a younger quarterback like Tannehill, I do expect a major step forward from Weeden in Year 2.
Walker:
For Weeden to be successful, it will up to Browns tailback
Trent Richardson
to set the tone and keep Miami's defense honest. I really like this matchup between Cleveland's running game and the front seven of Miami's defense. I'm an old-school guy at heart, and this part of the game will be vintage, tough-man football. I've talked to various defensive players in Miami's locker room this week, and all of them have great things to say about Richardson. The Dolphins' defense prides itself on not allowing 100-yard rushers, and keeping Richardson bottled up will be a challenge. I think the winner of this battle at the line of scrimmage between Miami's defense and Cleveland's running game will heavily impact the outcome of this game. Matt, what is the biggest single matchup you look forward to watching?
Williamson:
James, that is a great one for sure, and let's not overlook what an effective receiving threat Richardson can be as well. But I would say the matchup I most look forward to is Cleveland's top cornerback,
Joe Haden
, against Miami's No. 1 receiver,
Mike Wallace
. These two know one another well from numerous AFC North battles when Wallace played for Pittsburgh. If Haden, who is among the best in the league at his position, can more or less handle Wallace one-on-one, the Browns should be able to bring
T.J. Ward
into the box with regularity to stifle Miami's running game. If that is the case -- and I have my doubts how well the Dolphins will be able to run anyway in this contest -- Miami could be in for a long day trying to generate consistent offense and points.
Walker:
Good point, Matt. I also think home-field advantage could be a factor in this game. If you look on paper, I don't think many can argue against Miami having more talent. But when you consider a young quarterback (Tannehill) going on the road to Cleveland, where the Browns will be hyped up with a rowdy environment for their opener, anything is possible. The Dolphins were 2-6 on the road last year. Miami was competitive in some road games but failed to do the little things and pay attention to detail. I don't know if the Dolphins have matured on the road in one offseason, and that will be one of the under-the-radar storylines to keep an eye on for Miami. Finally, Matt, what under-the-radar element of this game do you consider important?
Williamson:
I am eager to see the play in the trenches on both sides of the ball. I have plenty of questions about Miami's offensive line, and the Browns are stout and powerful up the middle with
Phil Taylor
leading that charge. Cleveland also was highly dedicated to improving its pass rush this offseason and that could pay off immediately in Week 1 against Miami's protection. On the other side of the ball, Cleveland has a great offensive line that doesn't get talked about enough. But
Cameron Wake
should prove to be a massive challenge, and the rest of the Dolphins' defensive front is also quite impressive. The team that wins at the line of scrimmage should win this contest.