Miami Dolphins:

Peyton Manning
March, 28, 2014
Mar 28
7:00
PM ET
New
Miami Dolphins
running back
Knowshon Moreno
knows what people are thinking. Coming off a career year and Super Bowl appearance with the
Denver Broncos
, there will be heightened expectations for Miami's newest free-agent signing.
Moreno is expected to come in and immediately boost Miami's 26th-ranked rushing attack this season. Moreno also will be entering a contract year after signing a one-year agreement with the Dolphins this week.
"I don't feel no pressure to go out because it's a one-year deal and do anything spectacular," Moreno said on a conference call with the Miami media Friday evening. "I'm just going to go out and work hard and compete."
Life is hard for free-agent running backs in the NFL. Moreno said the Dolphins were the only team he talked to during the free-agency period, which is why Miami was able to get Moreno on a team-friendly contract.
The Dolphins liked Moreno's toughness and passion. He's a physical player who is strong in pass protection and short-yardage situations. Those are areas where Miami struggled last season. But Moreno's playing style also led to durability issues. That partially led to Miami signing Moreno to a short-term "show-me" contract.
If Mareno does well in 2014, a larger extension could come the following year.
"Knowshon is a very talented back and we're very excited to add him to our team," Dolphins general manager Dennis Hickey said. "He's a back that's coming off a 1,000-yard rushing season and also having 60 receptions. He's a three-down back who can help our team in a lot of ways."
There will be critics of Moreno who will point out he did not have a 1,000-yard season until future Hall of Famer
Peyton Manning
arrived in Denver. The holes certainly will be smaller in Miami with inexperienced quarterback
Ryan Tannehill
under center. But Moreno, a five-year veteran, isn't worried about the transition.
"Every quarterback goes into their third-year at one time," Moreno said of Tannehill. "But I'm going to come in and do what I have to do and learn from him. He's been in the system."
March, 24, 2014
Mar 24
1:30
PM ET
ORLANDO, Fla. – The
Miami Dolphins
made some headlines late last week with their visit with free-agent running back
Knowshon Moreno
. However, Moreno's visit Friday concluded with the tailback leaving without signing a contract.
Dolphins general manager Dennis Hickey said at the NFL's league meetings Monday that Miami hasn't closed the door on Moreno.
"Free agency is ongoing, so we have talks," Hickey said. "We'll continue to go through [it] and continue dialogue and see where it goes from there."
It has not been a strong market for running backs this offseason. Miami was Moreno's first reported visit. He's coming off a career year where he rushed for 1,038 yards and 10 touchdowns for the AFC champion
Denver Broncos
. However, much of the credit went to Broncos quarterback
Peyton Manning
creating wide open rushing lanes for Moreno.
The Dolphins are searching for a boost to their 26th-ranked running game.
Lamar Miller
and
Daniel Thomas
were not the answer last season. Moreno also would provide an upgrade in pass protection against the blitz. The Dolphins allowed a franchise-record 58 sacks last year.
March, 21, 2014
Mar 21
12:40
PM ET
The
Miami Dolphins
will host free-agent running back
Knowshon Moreno
on Friday. The Dolphins have had an interesting offseason by signing several quality veterans.
Will they add Moreno to the mix? Here are thoughts on what Moreno's visit means for Miami:
Moreno

Moreno's visit means the Dolphins finally admit they are searching for an upgrade at tailback. Lamar Miller and Daniel Thomas did not get the job done last season as Miami was ranked 26th in rushing. Most of the blame can be pointed at the Dolphins' poor offensive line, but Miller and Thomas also didn't do their part to elude defenders or break through tackles. The Dolphins need a more dynamic player in the backfield in 2014. It can come via free agency or the draft.
There are reasons why Moreno isn't a hot commodity thus far in free agency. For starters, the market for running backs has cooled tremendously in recent seasons. Ben Tate, the best tailback on the market, recently got a modest contract from the Cleveland Browns. There also are questions over whether Moreno's career year in 2013 (1,038 yards, 10 touchdowns) was a product of Peyton Manning. There were a lot of open running lanes last season in Denver. Moreno was on his way to being a first-round draft bust until Manning arrived. Can he produce similar results if, for example, Ryan Tannehill is the quarterback?
Pass protection was a huge issue for the Dolphins last season. Miami's tailbacks failing to pick up the blitz contributed to the Dolphins setting a franchise record with 58 quarterback sacks allowed. One of Moreno's strongest assets is his pass blocking. He did a good job the past two seasons recognizing and picking up the blitz for Manning. Extra time for Tannehill to throw the football always is a good thing.
January, 29, 2014
Jan 29
12:40
PM ET
ESPN.com's NFL Nation surveyed
more than 300 players
this past season to get their take on a variety of topics. Our latest survey was on clutch quarterbacks.
According to our survey, players overwhelming voted for
Tom Brady
(40 percent) to lead their team in the final two minutes of a Super Bowl.
Denver Broncos
quarterback
Peyton Manning
, who had a record-setting season, was a distant second with 26.9 percent.
Results were pretty split between Brady and Manning in Miami's locker room. Brady has more of the "clutch" reputation. But there's a chance that Miami's locker room didn't care to vote for the starting quarterback of its biggest rival.
The Dolphins split two games against Brady this past season. Miami ended a seven-game losing streak against the Patriots when
Michael Thomas
picked off Brady in the end zone to seal a 24-20 Dolphins victory on Dec. 15.
January, 20, 2014
Jan 20
4:00
PM ET
MIAMI -- It feels like ages. But less than two years ago the
Miami Dolphins
actually believed they had a legitimate chance to land future Hall of Fame quarterback
Peyton Manning
.
Now, with Manning leading the
Denver Broncos
to Super Bowl XLVIII, it's a perfect reminder of how the Dolphins wanted a game-changer for the organization. But it's also a reminder of how much of a pipe dream "Manning to Miami" really was.
[+] Enlarge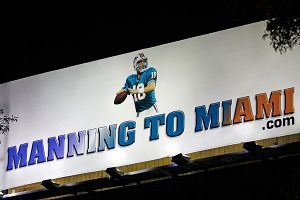 AP Photo/Alan DiazA group called "Manning to Miami" rented a billboard as part of their campaign to lure Peyton Manning to the Dolphins.
Let's rewind the circumstances and how it all took place for Manning and the Dolphins.
Two years ago the Dolphins hired their new head coach -- Joe Philbin -- and were in search of a quarterback to pair with Philbin. Miami was moving on from former draft bust
Chad Henne
, and it was a rare opportunity that an elite talent like Manning became available.
The
Indianapolis Colts
released Manning following a major neck surgery and armed with the No. 1 overall pick they'd use to draft quarterback
Andrew Luck
. Manning's services were no longer needed in Indianapolis. Yet, teams like the Dolphins, Broncos,
New York Jets
and
Arizona Cardinals
were salivating at the chance to bring Manning under center.
Miami's brass of Philbin, owner Stephen Ross and general manager Jeff Ireland reportedly met with Manning to make their pitch. But it was widely viewed as Manning being nice and showing the Dolphins courtesy for their interest. Miami was never truly in the running and was eliminated from the Manning sweepstakes early in the process.
Manning eventually narrowed his choices to the Cardinals and Broncos and correctly chose Denver. Broncos president John Elway promised Manning a chance to win another Super Bowl, and two of the greatest quarterbacks of all-time agreed to join forces. The Broncos have since won two AFC West titles and will play in the Super Bowl on Feb. 2 with Manning under center.
On the other hand, Miami is 15-17 since trying to acquire Manning two years ago. The Dolphins got rid of Ireland, and Philbin now is in the hot seat entering his third season. Miami also drafted quarterback
Ryan Tannehill
in the first round in 2012, and he's been up and down in two seasons.
The futures of the Dolphins and Broncos could have been much different if Manning chose Miami over Denver. The Dolphins failed to land one of the biggest free agents in NFL history and are still dealing with the consequences.
January, 16, 2014
Jan 16
10:01
AM ET
Denver Broncos
quarterback
Peyton Manning
was voted the NFL's "most respected player," according to the 300 players surveyed by ESPN.com this season. The results were not surprising. Manning is considered a great ambassador for the NFL.

Manning received several votes in the
Miami Dolphins
' locker room, despite Miami not playing Denver this season. But many Dolphins have faced Manning over the years and have a lot of respect for him as a player, a competitor and a person.
Manning embodies nearly every trait you want in a franchise quarterback. His combined physical and mental prowess keeps him at the top of his game after 16 years. But Manning's character and work ethic also are admired by his peers, as evident by these survey results.
January, 16, 2014
Jan 16
10:00
AM ET
ESPN.com surveyed more than 300 NFL players this season, and
Denver Broncos
quarterback
Peyton Manning
was the top choice for a player to start a franchise with, according to ESPN.com's player surveys.

It is a well-deserved honor for Manning. He's still going strong after 16 years and has the Broncos one game away this year from the Super Bowl at MetLife Stadium. Manning's numbers were off the charts in 2013. He threw for 5,477 yards and had 55 touchdown passes.
But what I found most interesting about these results is how year-to-year NFL players think.
Manning is 37. He is close to retirement, perhaps within a couple of years. Yet more NFL players -- not thinking long-term -- would take Manning as their quarterback for a year or two over someone like
Andrew Luck
, who could lead a team for the next dozen years.
Even players know the NFL stands for "Not For Long."