Miami Dolphins:

Robert Griffin III
November, 29, 2014
11/29/14
11:00
AM ET
DAVIE, Fla. -- Let's travel back two years ago with the
Miami Dolphins
: It is 2012 and no secret that they're in desperate need of a quarterback in the NFL draft. The
Chad Henne
fiasco just ended and Miami hired a new head coach in Joe Philbin, who needed a quarterback to start his program.
The Dolphins, along with most likely 31 other teams, had
Robert Griffin III
rated higher than
Ryan Tannehill
. In fact, many believed it was a reach when Miami selected Tannehill No. 8 overall after
Andrew Luck
and Griffin were taken off the board with the first two picks by the
Indianapolis Colts
and
Washington Redskins
, respectively. Both were viewed as future superstars, and Tannehill was more of a project with just 19 career starts at Texas A&M.
Tannehill
Griffin
However, three seasons later, the Dolphins are better off with Tannehill than Griffin. Tannehill will start his 44th consecutive game for Miami (6-5) when it faces the
New York Jets
on ESPN's "Monday Night Football."
Things haven't been perfect, but Tannehill has gradually improved each season and is on pace for a career year in 2014. He has thrown for 2,582 yards, 20 touchdowns and just eight interceptions. His passer rating is 93.4.
Most important, Tannehill still offers hope that he can be Miami's long-term solution at quarterback. He's playing arguably the best football of his career with a 4-2 record over his past six games.
"Yeah, I think he's been playing better," Philbin said of Tannehill. "I think he's been playing better for probably even a hair longer than that. Certainly, he's been throwing the ball accurately and doing a good job running the offense."
Griffin's chances of doing the same for the Redskins have all but disappeared since
he was benched
this week in favor of third-string quarterback
Colt McCoy
. Griffin struggled the past two seasons since returning from major knee surgery. He has a 13-20 record as a starter, including a 4-14 mark in 2013 and 2014.
Granted, Tannehill also must win more games. He is 21-22 as a starter. But Tannehill's individual stats are up across the board in assistant Bill Lazor's new offense. Tannehill also has Miami in playoff contention in December for the second consecutive season.
"I don't know exactly how my numbers look, [but] I feel more and more comfortable the more games we play," Tannehill said. "The guys around me are making plays right now. The line is protecting me. The run game is going pretty well. So when the guys around you are making plays and you can just get them the ball in space, it makes it a lot more fun to be a quarterback."
The Dolphins will have a decision to make on Tannehill's future soon. He's under contract next season and the team must decide if it wants to pick up Tannehill's fifth-year option. Miami also can determine if it wants to work out a long-term contract instead. Those choices are all in play.
But the Redskins apparently made a decision that Griffin is not the long-term solution at quarterback in Washington. It's an interesting contrast of two third-year quarterbacks -- just six draft slots apart -- heading in opposite directions.
April, 10, 2014
4/10/14
4:00
PM ET
On Wednesday,
Miami Dolphins
quarterback
Ryan Tannehill
said in
an interview with
ESPN's Keyshawn Johnson that he knows he must have a big year in 2014.

Tannehill, a former No. 8 overall pick, is 15-17 in his first two seasons. It also doesn't help that other young quarterbacks in his draft class, such as
Russell Wilson
,
Andrew Luck
and
Robert Griffin
III, have already made the playoffs in their first two seasons. Wilson, of course, won the Super Bowl this past season with the
Seattle Seahawks
.
Rarely do NFL quarterbacks get four years to prove themselves. Year 3 could be make or break for Tannehill. Will he have a breakout season?
Tannehill has shown several strengths in his first two campaign. He can make most of the throws and has good mobility and toughness. Tannehill also has a strong work ethic, which will aid him as he learns a new offense. Will everything come together for Tannehill this season?
But Tannehill also has some well-defined weaknesses. He struggles to throw the deep ball and needs to make faster decisions. Tannehill must also show more natural leadership and the willingness to take over the team in 2014. Could this hold Tannehill back from being a franchise quarterback?
Using our SportsNation poll, vote on whether you think Tannehill will make the leap to prove he is the Dolphins' long-term solution at quarterback in 2014. You can also share your thoughts in the comment section below or send a message via Twitter
@JamesWalkerNFL.
February, 14, 2014
2/14/14
11:00
AM ET
Miami Dolphins
starting quarterback
Ryan Tannehill
could be down to his last season to prove he's the long-term solution. Tannehill is just 15-17 in two seasons, and Year 3 could be make-or-break for the former first-round pick.

But it's time for ESPN.com readers to put their analyst hat on. Here is our latest "Poll Friday" question: Do you believe Tannehill is the long-term solution? Two seasons is enough to get a firm grasp on whether Tannehill is a franchise quarterback or just another
Chad Henne
.
We've seen plenty of flashes from Tannehill. He can make most of the throws and showed good toughness during a trying year in Miami. Tannehill was sacked a franchise-record 58 times and didn't have a consistent running game. Yet he set career highs in most statistical categories in 2013.
Or will Tannehill flame out? He's yet to lead the Dolphins to the postseason, while other quarterbacks from the 2012 class already have.
Andrew Luck
,
Robert Griffin
III and
Nick Foles
all have playoff berths on their resume.
Russell Wilson
of the
Seattle Seahawks
even has a Super Bowl ring. Can Tannehill take Miami to the next level?
Using our SportsNation poll, vote on whether Tannehill is the future quarterback in Miami. You can share your thoughts in the comment section below or send a message via Twitter
@JamesWalkerNFL.
February, 3, 2014
2/03/14
11:00
AM ET
Here is a memo to
Miami Dolphins
quarterback
Ryan Tannehill
and the rest of the 2012 quarterback class:
Russell Wilson
is now leading the pack.
Andrew Luck
has the stats.
Robert Griffin
III has the hype. Tannehill also has the first-round status.
But Wilson is the first to get
a Super Bowl
ring.
Checkmate.
Wilson was stellar in the
Seattle Seahawks
' 43-8 victory Sunday against
Peyton Manning
and the
Denver Broncos
. He had a 123.1 passer rating in the biggest game of his young career. Keep in mind Wilson was the forgotten quarterback of the 2012 draft and went in the third round.
But two years later Wilson got his first championship with Seattle. His success the past two seasons has far surpassed his counterparts. Quarterbacks are measured by wins and losses more than any other position. Luck, RGIII and Tannehill -- who all went in the first round -- have just one playoff win combined.
There are other notable quarterbacks in the deep 2012 class.
Nick Foles
of the
Philadelphia Eagles
,
Brandon Weeden
of the
Cleveland Browns
and
Kirk Cousins
of the
Washington Redskins
also are looking to make their marks.
But no quarterback from the 2012 draft has made the biggest imprint on the NFL so far than Wilson. He is setting the bar for success compared to his fellow draftmates.
September, 12, 2013
9/12/13
12:01
PM ET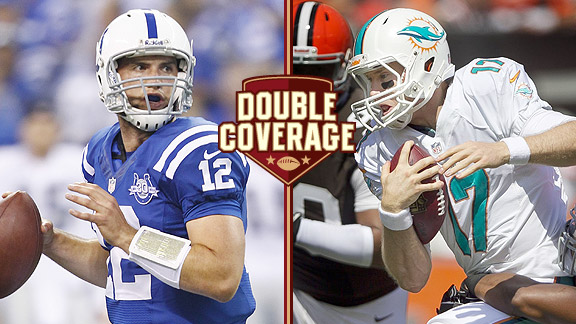 Getty ImagesSecond-year quarterbacks Andrew Luck and Ryan Tannehill face off in Indianapolis on Sunday.
The
Miami Dolphins
and
Indianapolis Colts
are two undefeated teams trying to establish themselves in the AFC. Both have young quarterbacks with promise and solid second-year head coaches.
Indianapolis beat Miami last year, 23-20, in an exciting matchup in which quarterbacks
Andrew Luck
and
Ryan Tannehill
both played well.
But who will win this season's matchup? ESPN.com Colts reporter Mike Wells and ESPN.com Dolphins reporter James Walker weigh in.
Wells:
Sunday will come down to which quarterback from the Class of 2012 -- Luck or Tannehill -- can limit his mistakes. And I'm sure we'll talk about them before we end this conversation, but before that, James, we have to address the
Mike Wallace
situation. It seems like Wallace was being selfish by making Sunday's win over Cleveland all about him because he only had one catch. For a Dolphins team that's had only one winning season since 2006, Sunday should have been about getting a nice road victory to open the season. Not about Wallace. I know Wallace cleared up his comments Monday, but it shouldn't have gotten to that point. Is that a sign of things to come out of Wallace, the $60-million man?
Walker:
The situation was not ideal, but I thought the Dolphins did a masterful job putting the Wallace issue to bed during the week. Miami's coaches supported Wallace's competitiveness and desire to make an impact. Wallace also clarified that he was more upset at himself, and I expect he will be extra motivated to have a big game. Speed kills in domes, and I don't think there will be a faster player in Sunday's game than Wallace. Look for Miami to find more creative ways to get him the football in the event the Colts consistently double Wallace, which was Cleveland's strategy. Speaking of strategy, I was surprised to see how much Indianapolis struggled last week with the
Oakland Raiders
. The Colts trailed Oakland at home with less than 6 minutes left in the game. Was this first-game jitters and what needs to be fixed?
Wells:
You weren't the only one surprised. I think most people were, especially when you look back at the Colts' first two offensive series. They scored with ease and all indications pointed to Luck having a special day after he started 11-of-11 with two touchdowns. But you have to give credit to Oakland quarterback
Terrelle Pryor
. He did an excellent job creating with his feet. He kept the Colts off balance and his team in the game until Luck became the hero. Tannehill is a more traditional quarterback. Luck,
Robert Griffin
III and
Russell Wilson
are the quarterbacks everybody talks about from 2012 -- and they should be talked about after they led their teams to the playoffs -- but do you get a sense down there in South Florida that Tannehill has the tools and work ethic to close gap on the three QBs I just mentioned?
Walker:
I really like Tannehill's tools, Mike. He can make all the throws, has good mobility and feet as a former college wide receiver, and he doesn't get rattled often. Those are all qualities you want in a quarterback. He looks the part, but I still need to see him win consistently. What was interesting about last week's win over Cleveland is Tannehill took over the game in the third and fourth quarters. Last year Tannehill played not to lose games. Last week Tannehill went out and won the game. That's probably the biggest thing that separates Tannehill from Luck and other members you mentioned from the 2012 quarterback draft class. Tannehill can certainly learn from Luck and his fourth-quarter comebacks. Mike, where is Luck in his development in Year 2?
Wells:
Everybody talks about sophomore slumps with players. You should go ahead and look elsewhere because that won't be the case with Luck. He refuses to settle. The only thing he wants to talk about is getting better. That's what you like to hear from your franchise player. Luck likely won't pass for as many as yards this season because the Colts are putting an emphasis on the running game with
Vick Ballard
and
Ahmad Bradshaw
. Those two players should take a significant load off Luck's shoulders. But it won't be easy for Luck this weekend. Miami's defense looked pretty good last week against the Browns. Six sacks and three interceptions. What makes the defense so dangerous?
Walker:
The Dolphins focused in the offseason and training camp on forcing turnovers and pressuring the quarterback. The work clearly paid off with the stats you mentioned. But perhaps the most impressive stat is Miami hit Browns quarterback
Brandon Weeden
16 times, which included the six sacks. The Dolphins' front seven is both fast and physical. They have a deep rotation on the defensive line. For example, No. 3 overall pick
Dion Jordan
is a backup who only gets limited snaps. Dolphins defensive coordinator Kevin Coyle has done a good job and really likes the group he has. I think the best way for Miami to beat the Colts is the rattle Luck, force turnovers and try to make it a low-scoring game.