September, 18, 2014
Sep 18
5:10
PM ET
EDEN PRAIRIE, Minn. --
Minnesota Vikings
coach Mike Zimmer still sounded optimistic on Thursday he'd have
Chad Greenway
on the field this Sunday in New Orleans, despite Greenway's broken left hand. But the Vikings have injuries to several starters to track on the other side of the ball.
Wide receiver
Cordarrelle Patterson
was added to Thursday's injury report after being limited in practice with a chest injury, and tight end
Kyle Rudolph
was again limited in practice with an abdominal injury. Right tackle
Phil Loadholt
was a limited participant with an ankle injury for the second straight day, though Zimmer thought Loadholt would be ready to go for Sunday's game.
"He'll be fine," Zimmer said. "He's tough."
Cornerback
Xavier Rhodes
(groin) and wide receiver
Rodney Smith
(hamstring) returned to full participation on Thursday, while defensive tackle
Sharrif Floyd
was a limited participant after missing Wednesday's practice. Linebacker
Brandon Watts
also worked in a limited capacity for the second consecutive day, after returning from a knee injury.
"He's got great speed," Zimmer said of Watts. "He's a young, developing player that I think has a great future in this league. He's got some coverage ability and it's hard to find linebackers with coverage ability nowadays, the way the league is."
Linebacker
Michael Mauti
was a full participant with a foot injury for the second straight day, and could be in line to make his regular-season debut on Sunday. If Greenway is unable to go, Mauti or
Gerald Hodges
might start in his place at weakside linebacker, but Zimmer said he thinks Greenway is improving.
"He feels a lot better today," Zimmer said. "He didn't practice, but he feels a lot better. He was running around pretty good, so we'll see how he does tomorrow."
September, 18, 2014
Sep 18
4:40
PM ET
EDEN PRAIRIE, Minn. -- As he sat on his couch last Sunday, watching a handful of
Minnesota Vikings
special-teams mistakes in the final game of his suspension, special teams coordinator Mike Priefer said he did a fairly good job of following his wife's "lecture" to stay calm in front of his kids.
That is, except for when he saw the Vikings put just nine players on the field for a third-quarter punt return, after the
New England Patriots
faked a decision to go for it on fourth down and made a late switch to their punt personnel.
[+] Enlarge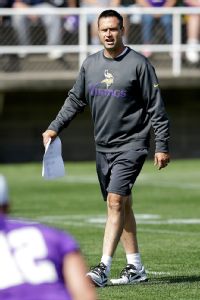 AP Photo/Charlie NeibergallSpecial teams coordinator Mike Priefer returned to the Vikings this week after completing sensitivity training.
Of his reaction to that play, Priefer said, "I probably can't say it in public."
Priefer has the Vikings' special-teams units back under his control now after he completed sensitivity training to shorten his suspension from three games to two for making a homophobic remark during the 2012 season. The Vikings brought Priefer back to work on Monday, and the coach received a standing ovation from players in his first meeting.
"It was awesome," Priefer said. "Normally, I'm there three or four minutes before the meeting starts. I walked in right as the meeting started because we had just finished up a staff meeting, and it was really, really a cool thing. It was something I didn't expect. It was a warm reception and I really appreciated it. I'm an emotional guy and I really did appreciate it. Reflecting back on it, I think that will be one of the great things that's ever happened to me as a football coach."
Priefer wouldn't get into the details of what he did during sensitivity training, but said he embraced the training session. "I don't know if I've changed," he said, "but I think I have more awareness of my surroundings and other people around me. I think I'm a better man because of it."
Now that he's back and he's served the full punishment that resulted from a six-month independent investigation into former punter Chris Kluwe's allegations against him, Priefer said he told players the situation is "all behind us. It's over.
"The situation is a dead issue and it's time to move on. I know it was hard for them. I apologized to them because of what I basically put them through being away for two weeks. But now it's time to improve and get better. We have a lot of work to do."
September, 18, 2014
Sep 18
1:30
PM ET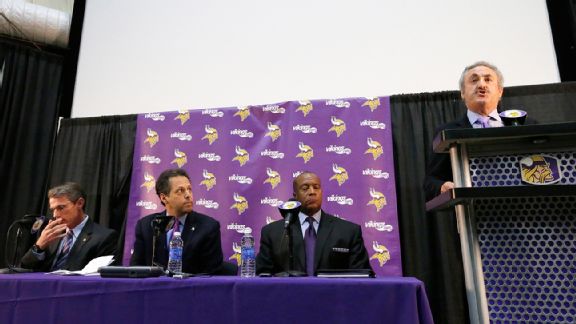 AP Photo/Ann HeisenfeltThe indictment of Adrian Peterson was another lesson in management for the Wilf family (Mark, second from left, and Zygi, right) as Vikings owners.
EDEN PRAIRIE, Minn. -- It was about 2½ years ago when Zygi Wilf and I were having an informal conversation in his office at the
Minnesota Vikings
' practice facility. It was the same room where, in previous years, Wilf had addressed his embarrassment over the team's "Love Boat" scandal, and later his concerns about a coach who kept releasing players without telling him, and later a stadium fight that threatened the future of his franchise.
"I'll tell you this," Wilf said, rubbing his forehead, "you have to really love football to do this. I mean, you have to love football. The headaches that come with it ..."
We laughed, because he and I both understood that the money is pretty decent, too. But to me, it was Wilf's way of saying that owning an NFL team comes with all sorts of unintended consequences and moments far beyond the comfort zone and interest level of even the most successful businessmen in the country.
The indictment of running back
Adrian Peterson
, and the Vikings' confusing and contradictory response, should be viewed as the latest in a long line of lessons in the education of an accidental owner. The Wilfs made their billions with a family-run real estate company that by definition bears little resemblance to the structure of NFL franchises, distinctions that have been made clear one incident at a time.
Few people remember that Zygi Wilf, his brother Mark and cousin Lenny never intended to be in a spot where their management style was subject to public scrutiny. They grew up as
New York Giants
fans whose father, Joseph Wilf, once made a run at purchasing the
New York Jets
.
In 2005, mutual acquaintances helped recruit Zygi Wilf into an investment group led by Arizona entrepreneur Reggie Fowler, who signed the initial 2005 purchase agreement with former Vikings owner Red McCombs. When questions about Fowler's financial backing threatened to scuttle the deal, Wilf and his family swapped places with him -- in part to salvage the group's $20 million deposit.
From the start, the Wilfs were on their managerial heels. Their initial hopes to be invested fans scuttled by Fowler's financial questions, the Wilfs tried to structure a franchise to operate independently with their occasional involvement.
The model was Garden Homes, the Wilfs' real estate company, where family members talk through issues and make group decisions. In Minnesota, it led to a three-man committee system for football operations that included the head coach, the personnel director and the contract negotiator. Zygi Wilf envisioned himself as the tiebreaker on football decisions, while Mark Wilf was considered the glue between vice presidents of finance, marketing, stadium development and legal.
That structure was appealing in theory because it removed owners from making decisions out of their expertise. But it proved clunky and inefficient while leaving the team vulnerable to issues that fall between the cracks of their internal fiefdoms.
Rick Spielman finally convinced Wilf in 2013 to verticalize football operations under one general manager role, but the rest of the organization remains structurally splintered and contributed to the team's chaotic response to Peterson's arrest.
The Wilfs are among a handful of NFL owners who don't live in their home market, but in most of the other cases, a unifying team president is on site every day. The Vikings' team president technically is Mark Wilf, who like his brother lives and works in New Jersey.
The arrest of a superstar, at a time of intense social scrutiny of the NFL, is not a matter for a general manager, a vice president of legal affairs or anyone else. It requires leadership from a unifying figure that the Vikings don't possess. Someone with the appropriate authority must take charge in that situation. The decision to reinstate Peterson on Monday was
overbalanced toward football goals
and was punctuated by an obvious failure to work through the problem from a moral and business standpoint.
Zygi Wilf acknowledged Wednesday that the Vikings made a mistake, and Mark Wilf expressed hope that team supporters will recognize "we are doing our best as ownership and a franchise to do the right thing."
How will the Wilfs react? It was worth noting that they were joined at their news conference by not only Spielman but also Kevin Warren, the longtime vice president of legal affairs. Is Warren in line for a business-side promotion on par with Spielman? That's a question worth asking as the Wilfs deal with the headache that is NFL ownership.
September, 18, 2014
Sep 18
1:19
PM ET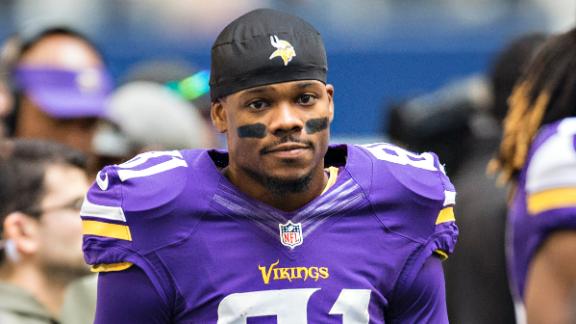 EDEN PRAIRIE, Minn. -- Another Minnesota Vikings player is in trouble with the law -- and in this case, it's a player who has found legal trouble before.
Wide receiver Jerome Simpson has a Nov. 3 arraignment scheduled in Hennepin County for misdemeanor charges of marijuana possession, driving with an open bottle and violating limited license restrictions after he was pulled over in Bloomington, Minnesota, on July 7, according to Bloomington police. Simpson was not arrested but was cited for the aforementioned charges.
Coach Mike Zimmer said he hadn't heard about Simpson's latest run-in with the law until he was told about it by a team PR person on Thursday, and he did not want to comment on it until he'd talked with general manager Rick Spielman.
Speaking generally about the team's recent spate of legal trouble, however, Zimmer said, "We're going to look for high-quality guys. We're going to keep guys who care about football, guys who are passionate about playing the game. We're going to continue to get those guys and keep working. There's really nothing I can do about what everybody else says. All I can do is what I think is best at the time."
Simpson was already serving a three-game suspension at the start of the season after he was arrested for drunken driving last November in Minneapolis. He pleaded guilty to lesser charges of reckless driving on Jan. 2 but was still suspended by the NFL. It was his second suspension in three years with the Vikings, following a three-game ban in 2012 stemming from a marijuana-related arrest in Kentucky in 2011.
September, 18, 2014
Sep 18
10:25
AM ET
September, 18, 2014
Sep 18
8:00
AM ET
Welcome to Around the Horns, our daily look at what's happening on the Vikings beat:
When the
Minnesota Vikings
travel south to face the
New Orleans Saints
this weekend, the game will have a bit of a family reunion feel for Mike Zimmer and his son Adam.
Mike Zimmer was on the
Dallas Cowboys
' coaching staff for three seasons with New Orleans Saints coach Sean Payton, who served as the Cowboys' assistant coach under Bill Parcells when Zimmer was the defensive coordinator. When Payton became the Saints' head coach in 2006, he hired Adam Zimmer -- now the Vikings' linebackers coach -- as an assistant coach. Adam Zimmer worked for Payton during his first four seasons in New Orleans, winning a Super Bowl with the Saints in 2009.
"I would consider him a very close friend, but that being said," Payton said in a conference call with Twin Cities reporters. "He's someone I've known for a long time; obviously, we spent three years together in Dallas. I had a chance to hire his son Adam; he worked with us here, was part of our Super Bowl team, and I know Adam's there doing a great job. Their whole family, we've had a great relationship for quite a while. I'm thrilled that he's got this opportunity. I think he's a great choice for the Vikings. I'm biased, obviously, but you look at his history, the defenses and winning programs he's been a part of, it's much deserved. Already on film, you can see the impact he's having."
Payton said he hasn't had a chance to talk with Zimmer about the
Adrian Peterson
situation yet, but said he had no doubt the coach would handle it well. "Whenever you're a head coach, you try to eliminate distractions, but yet, they come," Payton said. "That being said, he'll handle this in a great manner. His demeanor is such that I'm sure he'll get the focus on football for the players who are going to be playing in this game. That's a strong suit of Mike's."
In case you missed it on ESPN.com:
Best of the rest:
September, 17, 2014
Sep 17
10:08
PM ET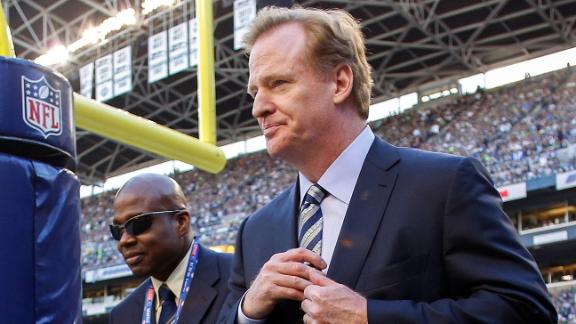 Roger Goodell has disappeared. In the NFL's hour of greatest need, its leader has decided to remain silent and invisible. Poof! Vanished. For more than a week, as pictures emerge and indictments are filed and news conferences collapse under the weight of doublespeak and obfuscation, Goodell has sealed himself away from the mounting pile of rubble.
Where is he, and why? Is the commissioner himself on the NFL exempt/commissioner's permission list? His retreat from the public realm gives the impression of a boss who is not only inaccessible, but incapable.
This isn't going away soon. The Ray Rice decision and re-decision was followed by the Adrian Peterson decision and re-decision, which was followed by the Greg Hardy decision, which was quickly followed by Jonathan Dwyer's arrest for aggravated assault involving a woman and 18-month-old child at his home. Off in the distance there's the gathering sound of trouble, and everyone's ears are calibrated to pick up the tone.
And where is Goodell? Apparently holed up on Park Avenue, high above the fray. Sports Illustrated's Peter King quoted a source "with knowledge of ... Goodell's mindset" as saying, "Roger has determined that he will be a leader in the domestic violence space." In an email to ESPN.com, NFL spokesman Greg Aiello wrote, "He's been working every day (and much of the night) in the office this week on these issues."
September, 17, 2014
Sep 17
6:41
PM ET
ESPN.com news services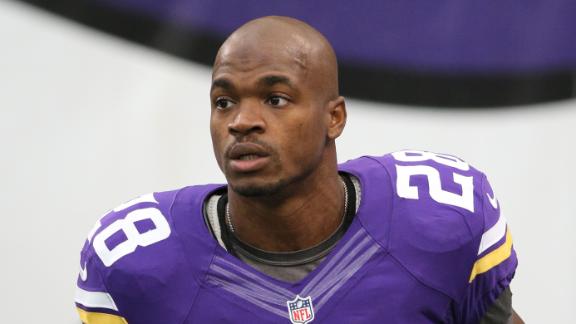 The mother of Adrian Peterson came to his defense Wednesday in her first public comments since the running back's indictment for child abuse, saying he has six kids and "wants to be a good father to them all."
"I don't care what anybody says," Bonita Jackson, 50, said in an interview with the Houston Chronicle from her home in the Houston suburb of Spring, where Peterson also has a house. "Most of us disciplined our kids a little more than we meant sometimes. But we were only trying to prepare them for the real world."
Jackson said that although she's still in contact with the mother of the boy Peterson is charged with abusing, neither she nor Peterson can have any contact with the boy.
"When you whip those you love, it's not about abuse, but love," Jackson said. "You want to make them understand that they did wrong."
The Minnesota Vikings placed Peterson on the NFL's exempt list early Wednesday morning, barring him from all team activities until his child abuse case is resolved. Peterson was indicted last week in Montgomery County, Texas, on a count of reckless or negligent injury to a child. The charges stem from a whipping incident that reportedly left bruises and wounds to much of his 4-year-old son.
The Vikings had reinstated Peterson on Monday after initially deactivating him, saying he could play until a resolution is reached in the case. They again changed course in the wake of sponsorship fallout and the Minnesota governor declaring in a lengthy statement that Peterson shouldn't be on the field while the case is pending.
"My son is not a perfect man by no means, but in the end I'm proud to be his mom," Jackson said in the interview with the Chronicle. "For the most part he is trying hard to be a good parent, he's working at it. People are judging him, but they don't know his heart. This was never his intent."
Friends and other family members of Peterson's, including two uncles and a stepmother, discussed the corporal punishment his father freely wielded during Peterson's upbringing in recent interviews with USA Today