Minnesota Vikings:

2013 preseason
August, 31, 2013
8/31/13
6:50
PM ET

Most significant move:
Joe Webb
has officially made the Vikings' roster at two different positions. After a dismal performance in place of
Christian Ponder
during the Vikings' playoff game last January, Webb made the transition to wide receiver this spring and beat out
Stephen Burton
for the final roster spot. Burton started off well in camp, but was inconsistent in the Vikings' final two preseason games, while Webb caught a touchdown pass from Ponder that showed he might have potential as a red zone target. He'll probably also factor in on special teams, but in beating out Burton -- who was with the Vikings all of last season -- Webb rewarded the coaching staff's faith in him.
Sherels survives again:
Marcus Sherels
has made a habit of turning in notable preseason performances to claim one of the Vikings' final roster spots. He saved his best for last on Thursday night, returning a kickoff 109 yards for a touchdown and recording an interception less than a week after his father's funeral. The performance was enough for Sherels to fight off
Bobby Felder
for the Vikings' final cornerback spot, and it likely means he keeps his job as the team's punt returner. His results were mediocre aside from a 77-yard touchdown last year, but special teams coordinator Mike Priefer praised Sherels' sure hands and decision-making this week. That probably helped him beat out Felder, who looked impressive as a punt returner in his own right and might claim a practice squad spot.
What's next:
The Vikings will announce their practice squad tomorrow, and could look for more help on the offensive line, where they only kept eight players.
Vikings moves:
Released TE
Colin Anderson
, RB
Joe Banyard
, S
Brandan Bishop
, OG
Travis Bond
, CB
Brandon Burton
, WR Stephen Burton, DT
Everett Dawkins
, S
Darius Eubanks
, CB Bobby Felder, TE
Chase Ford
, OT
Brandon Keith
, DT
Anthony McCloud
, LB
Tyrone McKenzie
, OT
Kevin Murphy
, DT
Spencer Nealy
, DE
D'Aundre Reed
, WR
Rodney Smith
, WR
Adam Thielen
, DE Collins Ukwu. Placed OG
Seth Olsen
on injured reserve. Placed FB
Jerome Felton
and OG Demarcus Love on suspended list. Placed WR
Greg Childs
on physically unable to perform list. Placed DT
Christian Ballard
on reserve/left squad list.
August, 30, 2013
8/30/13
5:15
PM ET
When the Vikings officially announce their 53-man roster sometime between now and tomorrow evening, they will conclude what coach Leslie Frazier says "is, without question, one of the toughest parts" of his job.
"When you sit down with them on that Saturday, or Friday, they come by the office and you explain to them that their career in Minnesota is going to be over, and there's a possibility it may be over for good, it can get emotional," Frazier said. "You spend a lot of time with them from April on, and some, like the veterans, you've been with them for years. To have to explain to them or let them know that the end of the journey is now, it's a tough time, a very tough time."
Frazier and general manager Rick Spielman collaborate on the process with Frazier's coaching staff, but the final say belongs to Spielman. The process is more a discussion than a negotiation -- "There are no chips (to play)," Frazier says -- but the head coach's input on whom he feels he can work with also carries plenty of weight.
"One of the things that he's learned and I've learned is that you don't want to make that decision about a player if the coaches -- the head coach in particular -- are totally against it," Frazier said. "It's hard if as a coach, you have to get this guy going and so on and then you don't necessarily believe in it. It's a tough deal, but we've been very fortunate in our relationship where we can discuss every single guy."
When the Vikings finish their deliberations, here's our guess at how their 53-man roster will look:
[+] Enlarge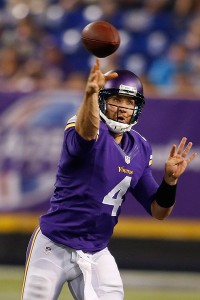 Bruce Kluckhohn/USA TODAY SportsWith so much uncertainty at the quarterback position, the Vikings may opt to keep McLeod Bethel-Thompson.
QUARTERBACKS (3)
:
Christian Ponder
,
Matt Cassel
,
McLeod Bethel-Thompson
The Vikings' only question here appears to be whether they keep Bethel-Thompson or go into the season with two quarterbacks. Considering they've spent a year developing the strong-armed 25-year-old, and the fact that they're not exactly entrenched at the position with Ponder and Cassel, they'll keep him around to continue working with him.
RUNNING BACKS (4)
:
Adrian Peterson
,
Toby Gerhart
,
Matt Asiata
,
Zach Line
This group will likely have a different look after Week 3, when
Jerome Felton
is eligible to return from his suspension. His return might push Line to the practice squad, but for now, the undrafted free agent makes it as another fullback option. He was impressive as a pass-catcher in the preseason, and made a nice kick-out block on
Joe Banyard
's 18-yard run in the fourth quarter on Thursday night. Banyard had a nice preseason, but loses out to Asiata, who has been strong on special teams. Banyard could be a practice squad candidate, though, after spending time there last year.
WIDE RECEIVERS (5)
:
Greg Jennings
,
Jerome Simpson
,
Jarius Wright
,
Cordarrelle Patterson
,
Joe Webb
Had this decision been made a couple of weeks ago,
Stephen Burton
might have grabbed the spot over Webb. But the converted quarterback caught a touchdown pass on Sunday night against San Francisco, and though he dropped a pass on Thursday night, he had the most targets and catches among wide receivers. The Vikings have invested enough time into the Webb experiment that they'll continue to see it through, especially with Burton being inconsistent late in the preseason; he stopped short on a route that helped lead to Ponder's interception on Sunday night, and caught just one pass for 14 yards on Thursday.
Greg Childs
also lands on the PUP list, where he'll get more time to try to return from two knee injuries.
TIGHT ENDS (3)
:
Kyle Rudolph
,
John Carlson
,
Rhett Ellison
Few surprises here; Rudolph is the starter, Carlson gets another year to work his way into the offense and Ellison stays for his contributions as a run-blocker, which could land him more playing time at fullback while Felton is out.
OFFENSIVE LINEMEN (8)
:
Matt Kalil
,
Charlie Johnson
,
John Sullivan
,
Brandon Fusco
,
Phil Loadholt
,
Jeff Baca
,
Seth Olsen
,
Brandon Keith
The starting five returns intact from a year ago, and Baca -- the fifth-round pick who played center extensively on Thursday night -- beats out
Joe Berger
for one of the reserve spots. Baca, who can also play guard, will team with Olsen to give the Vikings a pair of versatile interior linemen off the bench. Keith, a veteran who can play guard and tackle, beats out rookie
Travis Bond
for the last spot.
DEFENSIVE LINEMEN (9)
:
Jared Allen
,
Kevin Williams
,
Sharrif Floyd
,
Letroy Guion
,
Fred Evans
,
Brian Robison
,
Everson Griffen
,
George Johnson
,
Chase Baker
The Vikings will have a couple of tough decisions to make here; we have
D'Aundre Reed
, who spent the 2012 season on the 53-man roster, off the team in favor of Johnson, whom the Vikings signed late last season. Baker also gets a spot, at least for the early part of the season, with the Vikings' defensive line depth is a concern and
Christian Ballard
remains away from the team. The Vikings will either have to cut Ballard or leave him on the reserve/left squad list, but it seems unlikely they'll give him a roster spot at this point.
LINEBACKERS (8)
:
Chad Greenway
,
Erin Henderson
,
Desmond Bishop
,
Audie Cole
,
Marvin Mitchell
,
Gerald Hodges
,
Michael Mauti
,
Larry Dean
At one of the more competitive spots on the roster, the Vikings go young with a pair of rookies (Hodges and Mauti) and a second-year linebacker (Cole). Dean sticks because of his value on special teams, and Bishop -- who has looked better in the final two preseason games -- could wind up starting at weakside linebacker. There are injury concerns here with Bishop and Mauti, but if both players are healthy, they offer more upside than
Tyrone McKenzie
.
DEFENSIVE BACKS (10)
:
Chris Cook
,
Josh Robinson
,
Harrison Smith
,
Jamarca Sanford
,
Xavier Rhodes
,
A.J. Jefferson
,
Marcus Sherels
,
Bobby Felder
,
Robert Blanton
,
Andrew Sendejo
Sherels and Felder have been fighting for one of the final spots on the roster, but both offer enough value on special teams that the Vikings will keep them both. Sherels showed what kind of a return man he can be with his 109-yard kickoff return against Tennessee, but Felder has looked like a capable punt returner, as well, and gives the Vikings another option in the slot if Robinson can't handle the job. The biggest name left off the roster here is safety
Mistral Raymond
, who was starting early last year but hasn't been able to stay on the field.
SPECIAL TEAMS (3)
:
Blair Walsh
,
Jeff Locke
,
Cullen Loeffler
A kicker, a punter/holder and a long-snapper. That's all the Vikings need on special teams. They'll have a simple decision to close out their roster.
August, 30, 2013
8/30/13
1:10
AM ET
The day before the Vikings' first preseason game,
Marcus Sherels
' father, Ben, lost his long battle with cancer. Marcus Sherels played for the Vikings the next night.
He played again the following Friday in Buffalo, continuing his seemingly annual battle to claim one of the Vikings' final roster spots. But when it finally came time to say his final goodbyes to his father in Rochester, Minn., Sherels had to step away from the team for its third preseason game against San Francisco. He found a source of support in coach Leslie Frazier.
"You try to put yourself in his shoes, knowing what he might be going through," Frazier said. "We have some other guys on our team who lost a parent. It's hard to focus on your job. Last week, when he talked to me about going to the funeral, I wanted to be very clear to him that there was no hesitation on my part, or our organization's part, about him going to that funeral. He thought he might need to play because of the situation, but there's nothing more important than being there with your mother, your brother and your sisters at that time."
Sherels will find out in the next 36 hours whether he'll continue his time with his home-state team. But what he did Thursday night, in his first game after his father's funeral, might have ensured he will stay around with the Vikings for a fourth season.
[+] Enlarge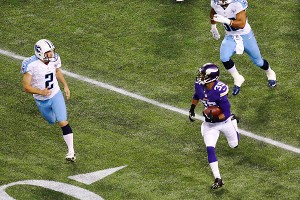 AP Photo/Jim MoneMarcus Sherels, fighting for a roster spot with the Vikings just weeks after his father's death, returned a kickoff 109 yards for a touchdown Thursday.
He ran the opening kickoff of the second half back 109 yards for a touchdown, and cut in front of a crossing route to intercept Titans quarterback
Rusty Smith
just over three minutes later. That all came on a night when
Bobby Felder
, whom Sherels has been battling for one of the Vikings' final cornerback spots, sprained his ankle while defending a 50-yard completion. The plot surrounding Sherels might have changed drastically, and if it did, it happened with a roster full of teammates cheering for him.
"Our whole sideline was just jubilant to see him come out and play the way he did," Frazier said. "I'm really happy for him."
This is far from Sherels' first time on the fringes of the Vikings' roster, but the 25-year-old, who signed with the Vikings as an undrafted free agent out of Minnesota, had an interesting response when he was asked about his tenuous spot. "I always feel like that, and I like it that way," he said. "Competition always makes us better."
For whatever reason, he's developed a knack for sticking on the Vikings' roster. He had an interception in the team's third preseason game in 2010, and ran an interception back 64 yards for a touchdown in the second preseason game of 2011. It took a step of faith on Sherels' part to miss the third preseason game, especially when Felder had played well at cornerback and impressed as a punt returner. But Sherels saved his best for last Thursday night.
"(Coach Frazier) was the one that basically told me I need to be with my family, (and said) he would have done the same thing," Sherels said. "I am glad I made that decision."
He's got enough collateral with the Vikings that he might be able to stick once again. The undersized Sherels has struggled in pass coverage -- witness
Aaron Rodgers
' 73-yard pass to
Jordy Nelson
over him in the final game of the regular season last year -- and aside from a 77-yard punt-return touchdown a year ago, Sherels averaged just 6.77 yards a return, irking some fans with his tendency to fair-catch punts rather than taking a shot to return them.
But special-teams coordinator Mike Priefer said Sherels made the right decision to fair-catch a punt on all but one occasion last season, and aside from his fumble last November against Seattle, he's shown sure hands.
"It's the right idea, because it's either high and short, or it's a plus-50 punt (in Vikings territory) and he had to come up and catch it," Priefer said. "We only had one touchback against us, but that's because of the quality of the punts against us last year. Marcus, I thought, did a great job for us."
Sherels certainly has his fair share of fans in the Vikings organization, and just when he seems in danger of losing his spot, he's found a way to get the job done. This year, he's been able to do it with a heavy heart.
"For him to come out and play the way he played tonight, just tells you a lot about Marcus' heart and his character," Frazier said. "As an organization, we try to be supportive of all of our guys when they're in that situation. ... Those are real human moments. Our players need to know that we're concerned about them beyond what they do between the white lines."
August, 27, 2013
8/27/13
5:45
PM ET
We'll begin to move on from the
Kevin Williams
-
Joe Looney
play after this afternoon -- the Vikings are now about as close to their next game against the
Tennessee Titans
as they are to last Sunday night's game in San Francisco -- but I thought it would be worthwhile to add one more item to the discussion, from Vikings players
Chad Greenway
and
Jared Allen
on the double standard they believe exists on hits like these.
Gripes from defensive players on the league's move to protect quarterbacks are nothing new, but I thought what both players had to say today went a step further.
[+] Enlarge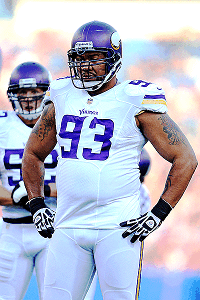 AP Photo/Tom DiPaceDefensive lineman Kevin Williams might be playing his final season with the Vikings.
Williams injured his knee after Looney blocked him low, and both Greenway and Allen said they had no doubt Looney would have been fined had he been a defensive player hitting an offensive player. Allen, in particular, has some experience in that area. He was fined $21,500 last year for a hit on then-Bears offensive lineman
Lance Louis
, after Allen launched into Louis on an interception return and injured his knee. Allen said at the time he wasn't trying to deliver a dirty hit, and said on Tuesday he paid his fine without complaint. Both he and Greenway asked for the standard to be the same for offensive players.
"I think the reality is, if the role was reversed and it was a defensive guy going into a quarterback or a receiver or a high-profile player, you tell me what's going to happen," Greenway said. "We've seen the fines, you've seen what's gone on in this league. I think you have to be consistent. If you're going to go down that route, you better be consistent with every player, offense, defense, no matter what number's on the back of your jersey."
The league is cracking down on peel-back blocks for 2013, but as
ESPN.com's Mike Sando pointed out yesterday, Looney's hit wasn't illegal by the letter of the law
. Still, it seemed like the kind of hit -- especially in a preseason game -- that at least violated the spirit of the law. And this isn't the first time Allen has called for more attention to what defensive players have to put up with.
He spoke out last October, after Jets guard
Matt Slauson
ended
Brian Cushing
's season on a peel-back block, saying "my knee is as valuable as
Tom Brady
's," and detailed some of the things defensive players have to put up with under the rules.
"It's bad enough we have to deal with, where an offensive lineman can engage us and the adjacent offensive lineman can chop our legs," Allen said. "It's bad enough that we have to deal with a motioning tight end coming in on a pass-rush situation, we're focused on the tackle and they can take our ears out. I'm just saying, be consistent. How is (Williams) not a defenseless player? You go back and look at that play, and tell me he's not a defenseless player. He has no idea that guy is there, and that dude could have taken him up high. He could have hit him right in the chest, and he chose to duck down and hit him in his knee. We don't have anything [for that]? I'm just a little upset about it."
The league's move to eliminate peel-back blocks, and its prohibition of running backs using the crown of their helmet to hit defenders, would seem to be moves designed with defensive players' safety in mind. But there is a gray area within all these rules, and the Williams play won't be the last one to get players irked this year. It is interesting, though, to see more of a spotlight put on where defensive players are being exposed to dangerous hits, given the league's work in recent years to protect skill players, especially. Time will tell if the hit Williams took will help trigger another round of safety measures.
August, 27, 2013
8/27/13
1:40
PM ET
The rancor over
Joe Looney
's low block on
Kevin Williams
was still strong on Tuesday morning, as the Vikings got back to work in preparation for their final preseason game. Coach Leslie Frazier said the Vikings have been in contact with the league about the hit, and linebackers
Chad Greenway
and
Desmond Bishop
didn't mince words when they were asked about it.
"It's really quite ridiculous," Greenway said. "It's something we talked about in our meetings with the refs before the preseason started. It's just unnecessary. He wasn't going to make the play. He wasn't going to be part of the play. I understand that guy [Looney]'s trying to earn a job, as well, but he could have easily just hit him high. You can say what you want about, you didn't mean to hurt him, but the reality is, you did that. And now we have a guy who's been one of the best at his position for a long time dealing with an injury he shouldn't have to deal with."
That will be the lasting effect of Looney's hit on Williams, once the Vikings' anger has cooled down. Williams, who sustained a hyperextended right knee, a posterior capsular strain and a bone contusion, could be back for the season opener on Sept. 8 in Detroit, but the concern over his injury is significant enough that
Sharrif Floyd
-- himself returning from a minor knee surgery after a low block in the Vikings' first preseason game -- probably won't play in the final preseason game on Thursday night. Floyd, who was expected to miss the rest of the preseason, might have been able to play a few snaps, Frazier said, but the Vikings determined it wasn't worth the risk.
"When you have a question mark regarding a potential Hall of Famer like Kevin Williams, that creates some concern," Frazier said. "He's one of the best to ever play the game at his position. We're all hoping he'll be ready to go, but it definitely creates some concern from a depth standpoint."
The Vikings expected to be deep at the position after drafting Floyd 23rd overall, but particularly at the three-technique tackle position, they're sweating things out before they start the season. Floyd will head into the opener with just 53 snaps of preseason experience, and if Williams isn't ready, the Vikings could be leaning on the rookie more than they'd planned to do. They would like to rotate Williams and Floyd, but that might not be an option in the first week of the season.
And defensive tackle
Christian Ballard
is still away from the team while he deals with personal issues. Frazier said "nothing has changed" with Ballard's situation, and it's becoming clearer the situation will take some time to get resolved. Ballard might be a better fit as a nose tackle than a three-technique, but he would help the Vikings' depth at the moment. With him gone, and with knee injuries complicating things for both Floyd and Williams, the Vikings won't start the season anywhere near as settled on the defensive line as they'd like to be.
"With Sharrif coming off an injury, with Kevin a little bit banged up, now you're into your depth quite a bit," Frazier said. "We have some other guys on our roster that we'll try to give an opportunity and see how they progress, but we're all hoping that Sharrif will play well and continue to improve and that we'll get Kevin on opening day."
August, 26, 2013
8/26/13
8:38
AM ET
Welcome to Around the Horns, our daily roundup of what's happening on the Vikings beat:
Vikings defensive tackle Kevin Williams will have a MRI on his knee today after being chop-blocked on Sunday night by 49ers offensive tackle Joe Looney. The hit from the second-year tackle caused Williams to leave the game in the third quarter, and afterward, the veteran
told
reporters
he wasn't too happy about how Looney played.
"I feel all right," Williams said. "Don't really know what's wrong, but I think I'm fine. I was just upset that I'm getting cut like that 11 years in from a guy I don't even know who the guy is. Between the pain and the fact that no one was looking it was terrible."
As we discussed Sunday night, the Vikings are thin at defensive tackle at the moment with Sharrif Floyd out until the start of the season and Christian Ballard away from the team. Williams wasn't likely to play in the preseason finale on Thursday night anyway, but with the Vikings' roster down to 75 players by then, they'll have to make sure they have enough depth to get through their game with Tennessee.
Continuing on:
August, 25, 2013
8/25/13
1:45
PM ET
The Vikings' third preseason game is tonight in San Francisco, and it will serve as the final look at almost all of their starters before they begin the season in Detroit on Sept. 8. It's no coincidence the third preseason game is on national TV -- if
Adrian Peterson
was going to play at all this preseason, it was going to be tonight, and the reigning MVP will give fans at least a little taste of what to expect this season. But for the Vikings, there are more pressing matters than what Peterson does in a brief tuneup.
Here are five things to watch from the Vikings' perspective:


1. Christian Ponder's last rehearsal:
The Vikings' starting quarterback hasn't done much to ease fans' anxiety about how he'll perform this season, throwing an interception on his second pass of the Vikings' first preseason game and going 5-for-12 for 53 yards last week against Buffalo. He'll play into the third quarter tonight in his most extensive work with new receivers like
Greg Jennings
and
Cordarrelle Patterson
before the season starts, and it would help Ponder to show tangible signs of progress before starting his third season. Coach Leslie Frazier stopped short of calling tonight's game "crucial" for Ponder but did say it's important for the Vikings coaches to come off the field with some confidence about where the team is at in certain areas. Count Ponder's play high on that list.
2. More work for Patterson:
With
Jarius Wright
staying home because of a concussion, Patterson will get his first work with Ponder in a game, and the Vikings could get some chances to see whether the dynamic rookie can take advantage of how defenses are playing Peterson. He hasn't caught a pass from Ponder in a preseason game yet, but that will likely change tonight, and the Vikings can take a look at how prominently Patterson can factor into their offense early in the season. It will be especially interesting to see if Patterson gets on the field with Jennings and what kind of production the Vikings can get with both receivers in the same packages.
3. A rebound for the O-line:
The Vikings offensive line had some uncharacteristic mistakes last week in Buffalo;
Matt Kalil
missed a block on
Jerry Hughes
on the first play of the game, and
John Sullivan
delivered a shotgun snap before Ponder was expecting it, leading to a fumble that Ponder recovered. The unit was solid all last season, and tonight is a chance for it to clean things up against a strong defense. That's particularly important in pass protection, considering how much Ponder struggled under pressure last season and how much pressure the 49ers can generate.
4. "Good-on-good" action for Bishop:
The Vikings will give linebacker
Desmond Bishop
plenty of work with their first team tonight so they can see how he fares in what defensive coordinator Alan Williams termed as "good-on-good" situations (in football parlance, the Vikings want to see Bishop against the 49ers' best players). As Bishop returns to his hometown, he'll also have an opportunity to make a strong statement that he deserves one of the Vikings' linebacker spots. That seemed to be a foregone conclusion when he signed with the team in June, but Bishop missed time in training camp and sat out the Vikings' first preseason game with a groin injury, and he's been playing behind
Marvin Mitchell
at weakside linebacker. Tonight, he'll be on the field quite a bit with the Vikings' starting defense, and, after playing last week for the first time since he tore his hamstring in the
Green Bay Packers
' 2012 preseason opener, Bishop has an important opportunity to show he's still effective at age 29. The Vikings have a number of young linebackers, like second-year man
Audie Cole
and rookies
Gerald Hodges
and
Michael Mauti
. That means there could be some hard decisions looming at the position, and Bishop needs to make his case after an up-and-down performance last week in Buffalo.
5. "All Day" at night:
Even if it's only for a few carries, Peterson's presence on the field is hard to ignore -- particularly when he hasn't played since last January's playoff loss and when he figures to be prominently featured on TV. He has never carried less than than 10 times when he's played in the Vikings' third preseason game, though it seems likely he could get less work than that tonight. Still, Peterson fundamentally changes the Vikings offense. Defenses have to account for him, and Ponder will get his most realistic action of the preseason simply because of that fact. The Vikings could also see how other fullbacks, like
Rhett Ellison
and
Zach Line
, fare as lead blockers for Peterson with Pro Bowl fullback
Jerome Felton
out for the remainder of the preseason after an emergency appendectomy earlier this month.
August, 24, 2013
8/24/13
6:50
PM ET
With
Antoine Winfield
off to Seattle,
Josh Robinson
's progression as a slot cornerback might be one of the biggest keys to the Vikings' defense this season. Winfield played the slot as well as anyone in the NFL last season, holding quarterbacks to the fourth-lowest passer rating in the league when they tested him in slot coverage, according to Pro Football Focus. Additionally, the website ranked Winfield as the best run-stopping corner in the league, and Winfield had done the job long enough that the Vikings were taking a gamble in deciding to cut him and turn the job over to Robinson.
Robinson
We won't know for sure how that experiment will play out until the regular season, but Sunday night's game in San Francisco could be a decent indicator of where Robinson stands. The 49ers run the ball well enough that Robinson could be tested in run support, and though San Francisco could use all five of its quarterbacks Sunday night, the presence of
Colin Kaepernick
could give Robinson something to handle for at least part of the game.
For his part, defensive coordinator Alan Williams said Robinson has looked "much more comfortable" in the slot than he expected the second-year corner would be at this point.
"To his credit, he's really working at it," Williams said. "He's coming along faster than I think that he even thought he would because he hadn't been inside. I think he's embracing it and liking the position in terms of what we allow him to do and the plays that he can make. I feel good about Josh being inside."
Bobby Felder
is making a strong push for a roster spot, and should get plenty of playing time Sunday. If he makes the team, he'd give the Vikings another option at slot corner. But the job, by all accounts, is Robinson's to lose. And how he handles it is definitely worth watching early in the Vikings' season.
Asked where Robinson has come the furthest, coach Leslie Frazier said, "I think just seeing him calm down a little bit. Sometimes he can get so hyper about what he's trying to get done that he begins to overthink things. He's begun to relax a little bit, and part of that is we put him in a lot of different situations in practice, trying to get him in some situations in games as well, so it is not the first time he sees things when we line up in Detroit.
"I think just the fact that he has slowed down mentally and begun to relax a little bit as a player is probably where the growth has come the most."
August, 23, 2013
8/23/13
4:38
PM ET
EDEN PRAIRIE, Minn. -- In his first two preseason games with the Vikings, wide receiver
Cordarrelle Patterson
has shown plenty of promise, returning his first kickoff 45 yards and catching a combined six passes for 73 yards. The first-round pick, though, has yet to catch a pass in a game from starting quarterback
Christian Ponder
.

That could finally change on Sunday night, when Ponder is scheduled to play into the third quarter of the Vikings' third preseason game against the
San Francisco 49ers
. Wide receiver
Jarius Wright
will stay home from the game after sustaining a concussion last Friday in Buffalo, even though he has been cleared to return. And with Wright out, Patterson could get more time with the Vikings' first-string offense on Sunday.
Offensive coordinator Bill Musgrave said on Thursday that the Vikings want to get "more turns" for their receivers with Ponder on Sunday night, and that probably means they'll use a deep rotation of wideouts while Ponder is in the game. It would be surprising, though, if they don't take a long look at how Patterson can handle a more prominent role in their offense.
He has shown a firmer grasp on the Vikings' playbook than many expected he would after just one year of major college football; coach Leslie Frazier said Patterson graded out with no mental errors in the Buffalo game, and Frazier added the Vikings haven't needed to simplify any of their plans for the receiver.
Patterson might step in as the Vikings' most explosive receiver and has shown how productive he can be on crossing routes early this preseason. If the Vikings feel comfortable enough to feature him early in the season -- and if he can develop enough of a connection with Ponder to hit on some big plays -- Patterson could have a significant effect on the team's ability to capitalize on the attention defenses pay to running back
Adrian Peterson
.
How Patterson works with Ponder will definitely be worth watching on Sunday night. The Vikings believe Patterson could be a star, but the next step in that process is connecting with the quarterback in an actual game. That makes Sunday an interesting test of what the receiver can do at this point.
August, 22, 2013
8/22/13
6:35
PM ET
EDEN PRAIRIE, Minn. -- For most of the time they were at Minnesota State in Mankato for training camp, the Vikings practiced under unusually mild temperatures. It might have been his Mississippi upbringing, or the time he spent playing for Mike Ditka with the Bears in the 1980s, but coach Leslie Frazier didn't like it.
"This new CBA (which limits practice time) and then you get weather like this? This is a player's dream," Frazier said on Aug. 12. "I like a little heat. I think it's good for our linemen to sweat a little bit."

With Minnesota temperatures finally in the 90s this week, Frazier has taken advantage.
He put the Vikings through their second straight padded practice of more than 2 1/2 hours on Thursday, continuing a regimented camp that new receiver
Greg Jennings
said was more rigorous than what he'd been used to in Green Bay in a radio interview this month. Frazier heard half-joking pleas from veterans like
Jared Allen
and
Brian Robison
this month to take a break from padded practices, too. He's kept pushing the Vikings, though, and this week, he has the weather to back him up.
"The guys know it's something we were hoping for, and I'm glad it's here," Frazier said of the heat. "It should help us in the long run. (The long practices) are more of a factor for the new schedule that we're on as much as anything. But it is good to have some sun and sweat."
Some other notes and observations from the Vikings' practice:
Linebacker Erin Henderson went through a brief scare when a teammate stepped on his left heel, causing Henderson to kick a cooler in frustration before going to the ground for a trainer to examine him. But Henderson only had a cut on his heel, and returned to practice after trainers applied a bandage.
Offensive guard Charlie Johnson missed practice with a personal issue, and he'll likely be gone tomorrow, as well, but should play on Sunday in San Francisco.
Wide receiver Jarius Wright returned to practice after sitting out with a concussion suffered on Friday night in Buffalo, but was still limited to individual drills and needs to clear the final step in the NFL's concussion protocol before he can return to full-contact work. Frazier said he would likely keep Wright out of Sunday night's game in San Francisco.
With Sharrif Floyd out until the start of the season because of knee surgery and Christian Ballard still gone because of a personal issue, the Vikings' defensive line depth could be stretched on Sunday night. But the team won't overwork veteran Kevin Williams, which could open up opportunities for reserves like Chase Baker, and rookies like Everett Dawkins to see a little more playing time.
Quarterback Christian Ponder looked sharp in individual drills and some of the Vikings' 7-on-7 work, hitting deep balls to Wright and Jerome Simpson. But he underthrew a deep pass to Simpson that was tipped and intercepted, and Ponder fired short on a few throws over the middle once he faced pressure. Offensive coordinator Bill Musgrave said the Vikings' starting offense could play into the third quarter on Sunday, and in what will likely be his last game action before the start of the regular season, Ponder will get a chance to work with a full range of receivers. "We're looking for more turns at it this third preseason week," Musgrave said. "I think they've had a quarter and a half out there together, and we'll get a couple more quarters and a half to see if we can get some more turns with everyone so we can be ready to go at Ford Field in September."
The Vikings pumped in crowd noise for most of their 11-on-11 work, trying to simulate a little of what they'll get in San Francisco. But realistically, the noise was probably geared more at what they'll face in Weeks 1 and 2 in Detroit and Chicago, respectively. "We're treating (the 49ers game) more like a game in the regular season," Frazier said. "I thought about that for a while. I thought it'd be the right thing to do. If we're going to treat everything else like a true game situation, in-season, why not do the same thing on the road with the crowd noise like we would in the regular season?"