Minnesota Vikings:

Chicago Bears
February, 3, 2015
Feb 3
12:00
PM ET
MINNEAPOLIS -- The
Minnesota Vikings
began the year with a carefully-manicured plan for
Teddy Bridgewater
's development. They would let him mature as
Matt Cassel
's backup, away from the pressure that comes with starting as a rookie. Perhaps at some point they would hand him the job -- after their bye week in November, maybe -- but they certainly wouldn't be rushed into anything.
That plan lasted all of 2 1/2 weeks until Cassel broke several bones in his left foot. Thrust into the starting job, Bridgewater thrived.
Playing with no
Adrian Peterson
, a depleted offensive line and a receiver group in flux, Bridgewater improved steadily throughout the season, finishing the year with the seventh-highest passer rating (85.2) and third-highest completion percentage (64.4) by a rookie in NFL history. After all that, Bridgewater was voted the NFC North Rookie of the Year by our merry band of NFL Nation writers covering the division.
Bridgewater
He finished with 14 points, claiming four of the five first-place votes, and beat out teammate
Anthony Barr
, who received the other first-place vote and wound up with seven points.
Chicago Bears
cornerback
Kyle Fuller
finished third,
Green Bay Packers
center
Corey Linsley
was fourth and Packers safety
Ha Ha Clinton-Dix
was fifth.
Bridgewater's improvement at the end of the season, and his poise through both the good and bad moments during his rookie year, might be the biggest reasons why the Vikings have so much hope for their future. After his calamitous pro day caused him to drop to the end of the first round, he'd resolved many of the concerns about his accuracy and arm strength by the end of the season. Bridgewater showed a veteran's command of the Vikings' offense, checking into a screen pass that went for a game-winning 87-yard touchdown in overtime Dec. 7 after he used a hard count to get the
New York Jets
to show their blitz.
He already seems to have the confidence of the Vikings' veterans, in addition to their front office and coaching staff. The identity of the team, it seems, will be in his hands.
"I think it's no secret in the NFL that the quarterback is the big difference," safety
Harrison Smith
said Dec. 30. "It's what they talk about on TV all day. Having that position, having a guy like Teddy, who's got all the tools to do it, who's got the mindset, the way the guys feel about him -- he's a guy that's not doing things off the field -- it's huge."
Bridgewater has already talked about getting all of his receivers together to work out with him in South Florida this offseason, and the Vikings have plenty of confidence he'll take the next step in Year 2. The way he handled a chaotic rookie season made believers of many in the organization.
"Somebody asked me, 'Is he going to take charge?' and all of these things," Zimmer said on Dec. 28. "All I know is, the players on the football team, the coaches, the organization, hopefully the fans, believe in this kid. He gives them hope. The thing that I get impressed with, with him, is he makes other people better around him."
Here are the final results from the ballot (first-place votes in parentheses):
Teddy Bridgewater 14 (4)
Anthony Barr 7 (1)
Kyle Fuller 5
Corey Linsley 3
Ha Ha Clinton-Dix 1
December, 25, 2014
12/25/14
8:00
AM ET
When:
1 p.m. ET
Where:
TCF Bank Stadium, Minneapolis
TV:
Fox
The
Minnesota Vikings
and
Chicago Bears
square off in what amounts to the Week 17 NFC North undercard, with third place in the division at stake before the
Detroit Lions
and
Green Bay Packers
battle for the division title. The Vikings-Bears matchup will feature the same two quarterbacks as the teams' Nov. 16 meeting, but
Teddy Bridgewater
and
Jay Cutler
are headed in very different directions.
Bridgewater has completed better than 70 percent of his passes in each of his past four games and seems to be asserting himself as a solid young NFL quarterback. Cutler, meanwhile, was benched last week in favor of
Jimmy Clausen
and is starting this week only because Clausen sustained a concussion against Detroit. Sunday could be Cutler's last game with the Bears.
ESPN Vikings reporter Ben Goessling and ESPN Bears reporter Michael C. Wright discuss Sunday's matchup:
Goessling:
Michael, it looks like we'll see Cutler one more time this Sunday. Is that a good thing for the Bears at this point? He played well against the Vikings last time, but how invested will he be?
Wright:
Ben, it depends on how you look at it. Marc Trestman mentioned that Cutler gives this team the best chance to win against the Vikings, which is absolutely true. But to me, Trestman probably irreparably damaged the relationship with the quarterback by benching him. When the announcement was made, I asked Trestman directly about Cutler's future in Chicago because once you make the type of decision he made, to go with Clausen, there's no turning back. I still believe that. So if the Bears actually plan to move Cutler this offseason, they're taking a big risk in playing him against the Vikings in this meaningless game. Cutler's $15.5 million salary for 2015 is already fully guaranteed, and if he's on the roster on the third day of the new league year, the Bears would be on the hook for more than $10 million of his 2016 salary. And guess what? You can't trade an injured player. So to me, this is a risky proposition. Based on the decision to start Cutler, my guess is the team isn't planning to move him this offseason. I think the relationship between Cutler and Trestman is broken. So Cutler will be invested, but he'll also probably be out there doing his own thing as opposed to playing within the confines of Trestman's system. My expectation is Cutler will play a backyard brand of ball in this last outing.
The teams own similar records, but I'd be willing to bet you the feelings about the future of both these franchises are way different. Minnesota (6-9) has lost its last five by a combined 16 points, while what's going down with the Bears (5-10) is downright embarrassing. Despite Minnesota's record, there seems to be some optimism about the future. What's next for the Vikings?
Goessling:
They're 6-9, but after everything they've been through -- losing
Adrian Peterson
, starting a rookie quarterback, dealing with several injuries on the offensive line -- the Vikings feel as though they're headed in the right direction. The key to the whole thing, of course, is Bridgewater. If he continues to get better, the Vikings will have a young quarterback they can build around for the first time since ... Daunte Culpepper? They got only a few years of franchise QB-level play from him, but that tells you how starved this team has been for an answer at the position. The defense probably needs another offseason of player acquisition, but with the right moves, this could be a top-10 unit next year. That, plus an improving young quarterback, is a nice foundation.
The Bears' pass rush hasn't gotten the job done enough this season, and now
Willie Young
is out, so this looks as if it could be a matchup of resistible force vs. movable object when the Vikings are trying to stop the Bears' pass rush. Can
Jared Allen
pick up some of the slack in his return to Minnesota?
Wright:
I think he can, and you know he'll be motivated to play well in front of the Vikings' fans at TCF Bank Stadium. Allen throughout his career has always been a guy who has kind of come on as the season progressed, and it seems as if this season is no different. He's sitting at 5.5 sacks right now, and it seems very likely he'll finish the season without a double-digit sack total for the first time since 2006. So you know Allen is going to give it everything he's got to try to get the 4.5 sacks he needs to get to double digits, which you and I both know probably isn't happening. But that's not going to stop him from trying. My guess is he'll draw a little extra attention because the Bears will be forced to play unheralded guys such as
Cornelius Washington
and
David Bass
opposite Allen. So he'll have a difficult time trying to pick up the slack for Young.
Remember Bridgewater's dreadful pro day workout? That seems like ages ago, and now he certainly seems like the answer at quarterback moving forward. In what areas does Bridgewater need to improve this offseason to take that next step?
Goessling:
He's really made some significant strides in recent weeks, particularly with how well he throws downfield. He's completed better than 70 percent of his throws of 15 yards or longer in the past four weeks, which is a huge development for a QB who wasn't hitting anything deep earlier this season. I'd still like to see him be able to manage a higher volume of those throws -- you know Norv Turner would love to make the old "Bang 8" skinny post a staple of his offense again -- and he probably needs to get stronger this winter. He still throws high at times and misses some easy completions, but his improvement even during the past month has been noticeable. Bridgewater wants to be great; he believes he's capable of it and he'll put the work in to try to get there. An offseason of strength training and prep work can only help.
Of the Bears teams you've covered, how surprising has the collapse of this one been? I thought they'd be a playoff team; some had them among the NFC contenders. What sticks with you most about what went wrong?
Wright:
This is just my fifth season on the Bears beat, but it's by far the worst I've seen it out here. All the internal drama obviously sticks out. But I think what sticks out the most is how badly Bears general manager Phil Emery miscalculated in terms of the contributions this team would be able to get from some of the additions he made. Emery paid big money to sign Allen and
Lamarr Houston
in free agency and they've combined for 6.5 sacks. Houston had never produced more than six sacks in a season, yet Emery billed him as the crown jewel of the team's free-agent class. Then the Bears went out and signed a bunch of no-name safeties. M.D. Jennings was the most experienced safety of all the signees and he didn't even make the team. Let's not even get into the big money paid to Cutler.
Coming off a promising 2013 season, the Bears sold everyone on the notion they'd be a playoff contender. But the fact is that Chicago's offense in 2013 -- despite finishing second in scoring last season -- wasn't as good as everyone seems to think. They caught teams by surprise because they didn't know what to expect from Trestman's offense, but at the core, the unit is flawed. You've got three big receivers in
Alshon Jeffery
,
Brandon Marshall
and
Marquess Wilson
, but not one target capable of taking the top off coverages. So I knew the offense would take a step back in 2014, but not as dramatic as what we've seen. On the other side of the ball, nobody expected the Bears to return to the level they'd been under Lovie Smith. But the expectation was the defense would be at least mediocre, which obviously isn't the case. I'd say about 80 to 85 percent of this team's problems in every facet are the result of bad personnel moves. So although Trestman and the coaching staff -- deservedly -- take plenty of heat, Emery dealt them a horrible hand from a personnel standpoint.
It's difficult to get a team up when there's nothing to play for. But what is Mike Zimmer's message for how he'd like to see the Vikings close out this season?
Goessling:
Zimmer was livid with the Vikings after their 37-35 loss to the Dolphins last Sunday, and I'd be willing to bet they'll be sharper this weekend. He's made it clear that he's not going to go into evaluation mode, that it's still about winning games this season. But at the same time, the Vikings are trying to make decisions about their future and Zimmer has sent the message that players who coast to the finish line won't have as much security as they might expect. I think the Vikings will respond to that Sunday, especially playing at home and facing a team that appears to be in disarray.
March, 28, 2014
3/28/14
10:00
AM ET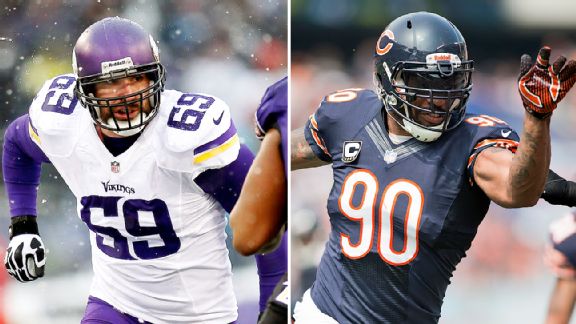 AP PhotoIt will be interesting to watch Jared Allen and Julius Peppers face their old teams this season.
MINNEAPOLIS -- The subplots behind the roster moves -- among teams that have lived on intra-division player hopping over the last five years -- are particularly juicy.
Jared Allen
jumps from the
Minnesota Vikings
to the
Chicago Bears
, just four days after
Julius Peppers
emigrates from the Bears to the
Green Bay Packers
? We sure do love our star-player-faces-his-old-team melodrama up here in NFC North country, and even by the lofty standards of a division that gave us Favre vs. Rodgers in 2009 and the hottest existential question of 2013 (who is
Greg Jennings
?), this week's game of musical chairs between pass rushers created intrigue. After all,
Brett Favre
,
Aaron Rodgers
and Jennings never got to hit their former teammates on the field.
But behind the flurry of roster moves lies three teams with distinct defensive problems, and three disparate approaches to solving them. How each strategy pans out could have a large hand in untangling the NFL's most mediocre division a year ago.
The Vikings had lived for years on a defensive line anchored by Allen and tackle
Kevin Williams
, who were named to 10 Pro Bowls between them in Minnesota. But when that foundation aged, and the arrival of coach Mike Zimmer brought a new approach to the 4-3 defense this winter, the Vikings decided they needed to revitalize the position more than they needed to give Allen a new contract before he turned 32. Instead of retaining Allen, they gave $20 million guaranteed to 26-year-old defensive end
Everson Griffen
, who has so far delivered production mostly in flashes.
The Packers, decimated by injuries in 2013 and forced to generate much of their pressure by bringing extra rushers, needed a player who could give blockers something to think about other than linebacker
Clay Matthews
. They gave Peppers a three-year, $30 million deal, with plans to add linebacking duties to the defensive end's resume and hopes that Peppers could learn a new role in a 3-4 defense at age 34.
And the Bears, who couldn't get to the quarterback or stop the run in 2013, let Peppers and
Henry Melton
walk and pivoted to Allen, giving him a four-year contract worth up to $32 million and crossing their fingers he could be a complete player at age 32 and beyond.
All three strategies carry considerable risk, but all three teams had substantial incentive to make changes. Zimmer's defense called for Vikings linemen who would be stout against the run before chasing quarterbacks, and Allen didn't fit that profile. The Packers and Bears were 30th and 32nd in the league in quarterback pressures, according to ESPN Stats and Information, and both teams were among the league's worst at getting to the quarterback with four pass rushers.
What's more, all three teams have central figures on offense who aren't getting any younger. Vikings running back
Adrian Peterson
turned 29 earlier this month, Bears quarterback
Jay Cutler
will be 31 in April and Packers quarterback Aaron Rodgers turns 31 in December. If some of the changes seem rash, it's because keeping the status quo probably carried greater risk.
Still, the moves should command headlines as much because of their boldness as the players they involve. The Vikings, Packers and Bears are all gambling they've got the best way to fix an anemic defense -- the Vikings by reinventing their defense, the Packers by trusting an aging player can reinvent himself and the Bears by believing a veteran pass rusher needs no reinvention. How their respective strategies work could swing the NFC North race in any number of directions next season, which might ultimately be the most compelling outcome of this week's moves.
But next fall, when Peppers is bearing down on Cutler or Allen is trying to corral Peterson? Well, we'll still have fun with that, too.
March, 26, 2014
3/26/14
5:30
PM ET
MINNEAPOLIS -- After the
Chicago Bears
signed
Jared Allen
to a four-year, $32 million contract on Wednesday morning, I asked a question on Twitter, wondering how Vikings fans felt about the sight of Allen in another uniform after years of being on the receiving end of the prominent-NFC-North-player-switches-teams scenario.
There was a wide range of responses, but by and large, many of you are saying you're at peace with the decision:
We'll talk more later this week about how this fits into a major shift among NFC North pass-rushers, but my initial reaction is, I wouldn't put this along the same lines as
Brett Favre
jumping from the Packers to the Vikings (with a stopover in New York) for a couple reasons:
-- Allen's parting with the Vikings looked inevitable for the better part of the last year, was a mutual decision and ended with cordial statements from both sides on Wednesday; Favre's split with the Packers was an acrimonious divorce that played out on national TV, with the Vikings largely entering the picture out of Favre's desire to stick it to his old team.
-- As big a rivalry as the Vikings have with the Bears, it doesn't match the intensity of what they have with the Packers, at least in the minds of their fans.
-- And as popular and prolific as Allen has been in Minnesota, he doesn't have the iconic status Favre had with the Packers. He probably means more to the Vikings than
Greg Jennings
did to the Packers, but it's hard for any player to duplicate what Favre meant to Green Bay. If
Adrian Peterson
were ever to cross the border, that might be a closer approximation.
It will be interesting, however, to see how Allen is received in Minnesota (and for that matter, how
Julius Peppers
is received in Chicago) next season. He'll match up with
Matt Kalil
, and a number of you said on Twitter how much you're looking forward to seeing Allen face the third-year tackle. There was also a common sentiment among you that Allen's best years might be behind him; I'd agree that he's slipped, and from a football perspective, the Vikings' decision was clear-cut. It's always interesting, though, to see what's stirred up in a player by the desire to prove people wrong.
This will be an interesting relationship to follow over the next few years, particularly if Allen conjures up a couple big games against the Vikings. And if the NFL's Week 17 divisional rotation continues for a fifth straight season in 2014, the Vikings should end the year with a final week matchup in Chicago. That promises to be fun.
March, 17, 2014
3/17/14
8:00
AM ET
On the eve of free agency last week, our four NFC North reporters -- Rob Demovsky (
Green Bay Packers
), Ben Goessling (
Minnesota Vikings
), Michael Rothstein (
Detroit Lions
) and Michael C. Wright (
Chicago Bears
) -- compiled a list of
the top-15 free agents
in the division.
A week has passed and nine of them already have come off the market, including six who re-signed with their old teams.
Perhaps the biggest-name free agent from the NFC North, former Bears defensive end
Julius Peppers
, did not make the original list because he was not a free agent until he was released last week. He
signed with the Packers
on Saturday.
You can follow all of the NFL free-agent moves in
Bill Polian's free-agent tracker
, but let's revisit the NFC North top 15 and see what has changed:
1.
Sam Shields, Packers CB
: Signed a four-year, $39 million contract just a few hours into the open negotiating period on March 8. His $9.75 million per year average made him the fourth-highest paid cornerback in the league behind
Darrelle Revis
($16 million),
Brandon Carr
($10 million) and
Aqib Talib
($9.8 million).
2. Brandon Pettigrew, Lions TE
: Re-signed with the Lions for four years and $16 million, including a $4 million signing bonus.
3. Jermichael Finley, Packers TE
: Remained unsigned after a visit to the
Seattle Seahawks
last week. It's not known what the Seahawks' medical staff thought of Finley's C-3/C-4 neck vertebra fusion surgery that he had last November following his season-ending neck injury.
4. Charles Tillman, Bears CB
: Signed a one-year contract to return to Chicago last Friday after missing half of last season because of a torn triceps. The deal is worth about $3.5 million.
5. B.J. Raji, Packers DT:
Less than a year after reportedly turning down a multi-year offer that averaged $8 million per season, he returned to the Packers for a one-year deal signed on Friday that was believed to be worth $4 million plus incentives.
6. Matt Cassel, Vikings QB
: Opted out of his 2014 contract after the Super Bowl but signed a new two-year, $10.5 million deal with the Vikings on March 7, just before teams could start contacting his agent and will likely head into training camp with the inside track on the starting job.
7. Willie Young, Lions DL
: Signed a three-year, $9 million contract with the Bears. Former seventh-round pick received his first extensive playing time with the Lions in 2013, becoming a full-time starter after
Jason Jones
was injured for the season in Week 3.
8. James Jones, Packers WR
: Remained unsigned after the first week of free agency and has not had any known visits even after he ranked second on the Packers last season in receptions (59) and yards (817), the latter of which was a career high despite missing nearly three full games because of a knee injury. Three years ago, coming off the NFL lockout, Jones did not draw strong interest on the free-agent market and re-signed with the Packers for three years and $9.6 million. Could the same thing happen again?
9. Jared Allen, Vikings DE
: Remained unsigned after the first week of free agency but reportedly visited the Seattle Seahawks over the weekend. After three All-Pro selections in six years, Allen's time in Minnesota is over.
10. Josh McCown, Bears QB
: Signed a two-year, $10 million contract to rejoin his old coach, Lovie Smith, with the
Tampa Bay Buccaneers
.
11. Henry Melton, Bears DL
: Coming off a torn ACL, Melton went unsigned during the first wave of free agency but has a visit scheduled with the
Dallas Cowboys
this week.
12. Devin Hester, Bears KR
: Remained unsigned more than a week after the Bears said they would not bring him back.
13. Rashean Mathis, Lions CB
: Remained unsigned after playing in 15 games and taking over as a starter early in the season last year.
14. Everson Griffen, Vikings DE
: Cashed in on March 9th by signing a five-year, $42.5 million deal that included $20 million guaranteed to return to Minnesota.
15. Louis Delmas, Lions S
: Signed a one-year, $2.25 million contract with the
Miami Dolphins
after the Lions released him with one year remaining on his contract in February, in part because of a cap number of $6.5 million in 2014.
March, 12, 2014
3/12/14
3:00
PM ET
MINNEAPOLIS -- After signing
New York Giants
defensive tackle
Linval Joseph
on Monday, the
Minnesota Vikings
apparently aren't done looking to add to their defensive line.
They will bring former
Chicago Bears
defensive tackle
Henry Melton
to Minnesota for a visit on Thursday, according to a league source. Melton, who went to the Pro Bowl in 2012 for the Bears, is an unrestricted free agent this spring after tearing his left ACL during the third game of last season.
That injury might be what gives the Vikings a chance at Melton, who's just 27 and would likely have had a much more robust market if he hadn't been hurt. He could still get a multi-year deal from a team looking for a three-technique tackle, if he's able to prove he's healthy. The Vikings, on the other hand, would likely be looking for someone to share the load with second-year man
Sharrif Floyd
. They'd obviously have to offer a role that Melton deemed worth taking, and Melton will have to answer questions about his knee. But if the Vikings get a chance to talk with a player who looked on his way to becoming one of the better defensive tackles in the league before he got hurt, it's probably worth their time.
We'll see what the interest in Melton means for
Kevin Williams
, who is a free agent and had expressed interest in returning to the Vikings for a 12th season. If he did return, Williams would likely play a reduced role in the Vikings' defense, and would have to learn a new system from the one that's made him a six-time Pro Bowler, but he'd add a veteran presence to a defensive line that's making a pronounced turn toward youth. If the Vikings can get Melton, though, they might not have room for Williams. We'll see how things develop in the next few days.
March, 10, 2014
3/10/14
10:00
AM ET
A few deals have been signed around the NFC North in the days leading up to free agency, but plenty of valuable players are about to hit the open market.
Here is a ranking of top NFC North free agents, with information provided by ESPN.com reporters Rob Demovsky (
Green Bay Packers
), Ben Goessling (
Minnesota Vikings
), Michael Rothstein (
Detroit Lions
) and Michael C. Wright (
Chicago Bears
).
We will update this periodically throughout the next several weeks.
1.Sam Shields, Packers CB:
Emerged as the Packers' top cover cornerback last season while playing for the restricted free-agent tender of $2.023 million and was re-signed to a four-year, $39 million contract just a few hours into the open negotiating period Saturday. His 2014 total pay of $15 million makes him the NFL's second-highest-paid cornerback for next season.
2. Brandon Pettigrew, Lions TE:
The No. 20 pick in the 2009 draft out of Oklahoma State, Pettigrew spent the past five seasons as one of Detroit's primary tight ends, specifically known for the ability to both block and run routes effectively.
3. Jermichael Finley, Packers TE:
Had surgery to fuse the C3 and C4 vertebra in his neck but expects to be cleared by his doctor. Gambled two years ago in free agency, signing just a two-year, $14 million deal in the hope that he would blossom into a star and command an even bigger contract the next time around.
4. Charles Tillman, Bears CB:
The NFL's Walter Payton Man of the Year, Tillman started eight games last season before finishing on the injured reserve with a torn triceps. The Bears hope to bring back Tillman but might not be able to come up with a suitable offer.
5. B.J. Raji, Packers DT:
Reportedly turned down an $8 million per year offer from the Packers last season, which might have been a sign that he preferred to play in a system that gave defensive linemen more freedom. After a disappointing season, his value has gone down, and as of last week, he was close to signing a one-year deal to return.
Cassel
6. Matt Cassel, Vikings QB:
Opted out of his 2014 contract after the Super Bowl but signed a new two-year deal with the Vikings on Friday, just before teams could start contacting his agent. He will likely head into training camp with the inside track on the starting job.
7. Willie Young, Lions DL:
Former seventh-round pick received his first extensive playing time in 2013, becoming a full-time starter after
Jason Jones
was injured for the season in Week 3. Young turned into one of the more disruptive players up front, making 47 tackles, recovering two fumbles and recording three sacks.
8. James Jones, Packers WR:
Ranked second on the Packers last season in receptions (59) and yards (817), the latter of which was a career high despite missing nearly three full games because of a knee injury. Three years ago, coming off the NFL lockout, Jones did not draw strong interest on the free-agent market and re-signed with the Packers for three years and $9.6 million.
9. Jared Allen, Vikings DE:
After three All-Pro selections in six years, Allen's time in Minnesota is likely over. He could come back as a situational pass-rusher on a reduced salary, but after making $14 million last season, Allen might head elsewhere for a bigger role and bigger paycheck.
McCown
10. Josh McCown, Bears QB:
He proved he is capable of filling in for
Jay Cutler
in a pinch and is instrumental behind the scenes for nearly every skill player on the offense. It's not a slam dunk he will be back, and talks with the Bears haven't been especially productive.
11. Henry Melton, Bears DL:
Melton's representatives fully expect him to test the market in free agency because the Bears haven't shown a ton of interest. Coming off a torn ACL, Melton probably won't command top dollar in the first wave of free agency.
12. Devin Hester, Bears KR:
Became strictly a return specialist for the Bears last season and is still one of the league's best at his position. Probably expects a payday similar to what he's gotten in the past.
13. Rashean Mathis, Lions CB:
Mathis signed with Detroit during the 2013 preseason and became one of the team's starting cornerbacks by the third week of the season. He played in 15 games, making 47 tackles and often drawing the opponent's top wide receiver.
14. Everson Griffen, Vikings DE:
The 26-year-old cashed in on Sunday by signing a five-year, $42.5 million deal that included $20 million guaranteed to return to Minnesota. He should flourish in new coach Mike Zimmer's defensive scheme.
15. Louis Delmas, Lions S:
The 26-year-old was released by Detroit with one year remaining on his contract in February, in part because of a cap number of $6.5 million in 2014. Has played in 65 games for Detroit over five seasons, with 328 tackles, six interceptions and two forced fumbles. He also had five sacks and four fumble recoveries.
November, 29, 2013
11/29/13
12:00
PM ET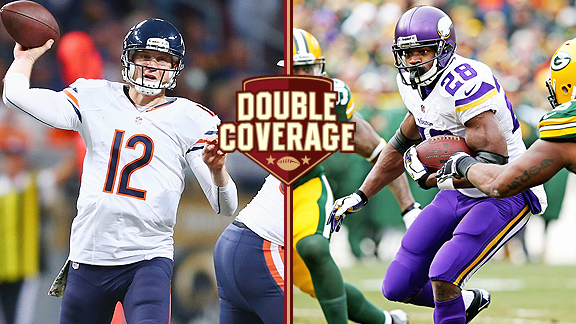 Getty ImagesJosh McCown has a successful history against Minnesota, but Adrian Peterson is gaining traction.
The last time the
Chicago Bears
and
Minnesota Vikings
met, the Bears' touchdown with 16 seconds left gave them a 31-30 victory that put Chicago at the top of the NFC North and sent Minnesota home, just two weeks into the season, with grave concerns about its ability to put a team away.
Eleven weeks later, the two teams are still more or less in the same spot. The Bears are tied for the NFC North lead with the
Detroit Lions
, and could take the outright lead this week if they beat the Vikings and the
Green Bay Packers
knock off the Lions on Thanksgiving Day. The Vikings, meanwhile, blew their fourth last-minute lead of the season on Sunday, when the Packers forced overtime in a game that eventually ended in a tie.
With the Bears playing for first place -- and the Vikings trying to recover some dignity -- on Sunday at Mall of America Field, ESPN.com Vikings reporter Ben Goessling and Bears reporter Michael C. Wright got together to preview the game:
Ben Goessling:
The Vikings might have some bad memories from Week 2, but they also have bad memories of
Josh McCown
. Ten years ago, as a member of the
Arizona Cardinals
, McCown threw a last-second touchdown pass that kept the Vikings out of the playoffs on the final play of the 2003 season. What's he doing so well in his latest stint as a starting quarterback?
Michael C. Wright:
McCown says it's a combination of factors such as where he is in life right now (he's 34), the lessons he has learned from being in the league so long playing behind guys such as
Jon Kitna
and
Kurt Warner
, and the fact he has been with the Bears since they implemented this new offense. When McCown first signed with the Bears in 2011 and was forced to play, he came in basically cold. Now, McCown has just as good of a handle on the offense as starter
Jay Cutler
because he had some input with Bears coach Marc Trestman when the system was being installed. McCown obviously doesn't possess the cannon of an arm that Cutler has, but he makes up for that with a quick release and strong anticipation skills. McCown really has excelled at not getting outside of himself, and allowing his weapons --
Matt Forte
,
Brandon Marshall
,
Alshon Jeffery
and
Martellus Bennett
-- to do the majority of the work. But McCown is also being careful with the ball and not taking chances by throwing into coverage as Cutler might.
After watching film from Chicago's loss to the Rams when they gave up 109 yards to
Benny Cunningham
and allowed an average of 8.9 yards per carry, do you think
Adrian Peterson
is more or less licking his chops thinking about what he might be able to do?
Goessling:
He certainly should be. Peterson had a season-high 146 yards on 32 carries (also a season-high) on Sunday in Green Bay, and though he's dealing with a groin injury, he looked like he was running harder against the Packers than he was able to the week before against Seattle. The other guy the Bears might need to keep an eye on is
Toby Gerhart
, who ran eight times for 91 yards against the Packers and provided a nice change of pace when the Vikings gave Peterson a break. They could look to use Gerhart a little more this week; he's a good downhill runner who's obviously not as shifty as Peterson, but who can do some damage to a tired defense. The Vikings ran the ball more effectively last week than they had all season, and Peterson has had plenty of big days against the Bears before.
As the season has played out, it looks like the Bears have had a similar problem to the Vikings' on their defensive line, which isn't getting the same kind of pressure it used to. Why have the Bears had so much trouble getting to the quarterback?
Wright:
The No. 1 reason is simply injuries. The Bears have used nine different combination of starters in the front four alone having lost defensive tackles
Henry Melton
and
Nate Collins
for the season, in addition to playing without defensive tackle
Stephen Paea
and defensive end
Shea McClellin
for stretches. With so many newcomers such as
David Bass
and
Landon Cohen
, the Bears lack experience up front and, most importantly, they haven't played with a set lineup long enough to develop any level of chemistry.
Julius Peppers
is the only member of Chicago's defensive line to start in the same spot for every game, and he has been largely ineffective, although he came alive in the team's win over the
Baltimore Ravens
on Nov. 17 and notched multiple sacks (2) for the first time since December of last season.
How's Leslie Frazier's job security looking, and will it have an effect on how this team plays down the stretch?
Goessling:
The Vikings are still playing hard for Frazier, and players say they believe he's the right man to lead them. You need look no further than how they battled the Packers last Sunday to see that. But will it save his job? I'm not so sure. The Vikings picked up Frazier's 2014 option, but didn't give him a contract extension after he took the Vikings to the playoffs last season, so if he were to come back they'd either have to let him coach into the last year of his deal or give him a new contract after a disappointing season. Either one of those moves would be a gamble on the Vikings' part, so if Frazier stays, it will be because he has proved to ownership that he's still the man to lead the Vikings forward. And if he does stay, I have a hard time seeing his offensive and defensive coordinators -- Bill Musgrave and Alan Williams -- joining him for another season in Minnesota. Somebody's going to have to pay for this season, I'm guessing.
Cordarrelle Patterson
first made his mark for the Vikings in Week 2 against the Bears, and now he's seeing a bigger role in their offense. As much trouble as the Bears had with
Tavon Austin
last week, could Patterson be in line for a big day on Sunday?
Wright:
Patterson and Austin are much different players, and from this vantage point, Patterson doesn't appear to be as elusive out in space as Austin. Austin ripped the Bears for a 65-yard touchdown run early on last Sunday. But for the most part, the Bears held him in check, limiting him to two catches and one 24-yard kickoff return. Patterson's best chance to hurt the Bears would probably be on special teams where he already stung them in Week 2 for a 105-yard kickoff return for a TD. But on offense, Patterson probably won't be as impactful because Chicago's cornerbacks -- even backup
Zack Bowman
-- should be able to hold their own against him fairly well. Remember,
Tim Jennings
is a Pro Bowl player and Bowman is experienced and matches up well with Patterson in terms of size.
What's going on with Minnesota's red zone offense? The Vikings' numbers in that area haven't looked very good over the past two games.
Goessling:
They certainly haven't been very good there, and they could have won last Sunday if they'd scored more than two TDs in five red-zone trips. This is where I think not having tight end
Kyle Rudolph
hurts the most; he'd become a reliable red zone threat for
Christian Ponder
last year and this year before fracturing his foot. The other problem is, with less space to work, Ponder has to be more decisive and do a better job of getting the ball out quickly. Those aren't his strong suits, though I should note he made a sharp throw to the back of the end zone in overtime on Sunday that could've won the game if Patterson had been able to hang onto it after
Davon House
got just a piece of it. When the Vikings are inside the 10, they've always got Adrian Peterson to rely on, but when they need to throw the ball, they're definitely missing Rudolph.
September, 15, 2013
9/15/13
10:00
AM ET
By
ESPN.com staff
| ESPN.com
Join our ESPN.com NFL experts as they break down the Minnesota Vikings' visit to the Chicago Bears. Contribute your thoughts and questions beginning at 1 p.m. ET. See you there.