Minnesota Vikings:

Green Bay Packers
November, 20, 2014
Nov 20
8:00
AM ET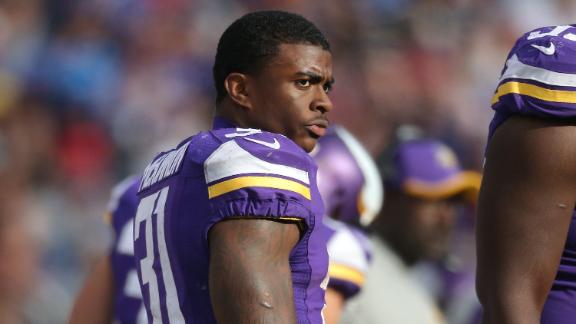 When:
1 p.m. ET, Sunday
Where:
TCF Bank Stadium, Minneapolis
TV:
Fox
The last time the
Minnesota Vikings
and
Green Bay Packers
faced each other, the Packers took a 28-0 lead at halftime on a rainy Thursday night at Lambeau Field.
Since then, the Packers have had halftime leads of 24 points or more in three of their four games. The Vikings, who faced the Packers without rookie quarterback
Teddy Bridgewater
last time, will have the rookie on the field on Sunday as they try to slow down the league's hottest team at TCF Bank Stadium.
ESPN Vikings reporter Ben Goessling and ESPN Packers reporter Rob Demovsky preview Sunday's matchup:
Goessling:
Rob, it seems like the decision to move
Clay Matthews
to inside linebacker on a part-time basis has paid dividends in the past few weeks. What has that done for the Packers' defense, and do you expect they will keep Matthews inside?
Demovsky:
Ben, they'll keep him there until they find another playmaker they can put in the middle of the defense, which means he'll stay there the rest of this season. They would have loved to have gotten a guy like
C.J. Mosley
of Alabama in the draft last year, but he was gone by the time they picked at No. 21 in the first round. So after trying three different inside linebackers --
Brad Jones
,
Jamari Lattimore
and
Sam Barrington
-- at the spot next to
A.J. Hawk
, they more or less had no choice but to find someone more athletic to play there. And that guy was Matthews. It's saved their run defense. The interesting thing is how defensive coordinator Dom Capers has used Matthews in other spots as a pass-rusher. He still played Matthews some at his old outside linebacker spot last week against the Eagles, but then he also lined him up even wider at the end of a five-man front, where Matthews was essentially outside of the outside linebacker.
We all know what kind of impact
Adrian Peterson
could have made on the field, but how much has his situation off the field impacted the Vikings' season, and how has first-year coach Mike Zimmer handled it? Can they finally put it behind them after
this week's ruling
?
Goessling:
If there's one silver lining for the Vikings, it might be what you just mentioned.
Captain Munnerlyn
said as much
on Tuesday when I talked to him
about the ruling; he said the Vikings now at least know Peterson's "not coming through that door," and they can focus on the players they have on the roster. I think the Vikings have done a fairly good job of blocking out the Peterson issue, but it's probably easier to compartmentalize it when they know he's done for the year, in all likelihood. Players almost universally wanted him back, but after the NFL dragged its heels following Peterson's plea deal, there was a growing sense among them that it wasn't going to come to fruition. As Munnerlyn put it, "I don't think the organization is going to let that happen or NFL let that happen."
It's interesting to look at the stats and see that the three teams to beat the Packers this season are the three teams that blitzed
Aaron Rodgers
the least. Is the key to beating Rodgers still pressuring him with four guys? What avenue can the Vikings take to slow him down?
Demovsky:
Rodgers has proved it time and again that if you blitz him, he'll make you pay. Part of the reason is his ability to get rid of the ball so quickly. Part of the reason is he's so good at recognizing where the blitz comes before it even happens. And then there's his ability to use his feet to avoid rushers, and once he gets out of the pocket, his receivers know how to run the scramble drill. And now that the offensive line is protecting better than ever, it's even more difficult to get to Rodgers. The teams that have had the most success against Rodgers are the ones that can pressure with four and leave both safeties back in coverage. However, if you do that, you're vulnerable to
Eddie Lacy
and the running game.
The Packers didn't get to see Bridgewater in the first meeting. What will they see when they put the film on to prepare for him this week?
Goessling:
They'll see a quarterback who's very much a work in progress. Bridgewater is coming off one of his worst games of the season, against the defense that Rodgers shredded the week before. He's looked too tentative at times, and is still adjusting to the differences of the game at the NFL level, where cornerbacks are better and pass-rushers more disruptive. Bridgewater has done a good job of limiting turnovers, he's shown a knack for being able to step up in the pocket and he's able to extend plays with his feet, but he needs to be more accurate and more decisive. It hasn't helped that he hasn't had Peterson.
Cordarrelle Patterson
is still learning the finer points of the wide receiver position,
Greg Jennings
(as you know) is a guy who needs a good quarterback to excel, and the offensive line has been an issue all season. Bridgewater will probably be better for all the struggles he's faced this season, but it's been a rough stretch for him as a rookie.
What do you think is the ceiling for this Packers team? They're playing as well as any team in the league right now; do you see them rounding into contending form, or might they be peaking too early?
Demovsky:
I don't think they're peaking too early because they've won every game at home, whether it was early in the season and now. What they have to do is show they can beat a good team on the road and shut down a great quarterback. If they do that, then maybe you'll be able to say they have a championship-caliber defense. So far, they've won games when they've gotten takeaways. That formula works against lesser teams, but the great quarterbacks don't typically turn the ball over, so they have to find other ways.
The Packers have been protecting Rodgers well of late. He's commented after several games that he's barely been touched. Meanwhile, the Vikings got very little pressure on
Jay Cutler
last Sunday. How can they get any pressure on Rodgers this time around?
Goessling:
As we've talked about, it probably won't happen with blitzes. The Vikings didn't bring much extra pressure after Rodgers the first time, and they know the risks of trying to heat him up with blitzes. The good news for the Vikings is,
Everson Griffen
has been on quite a roll. He didn't have a sack last Sunday, but he's got nine for the season, and his quickness off the edge has really helped him develop into a good pass-rusher, particularly in the past few weeks. Defensive tackle
Sharrif Floyd
has also been playing well, and
Tom Johnson
has proved to be a nice pickup as a slippery pass-rusher in nickel situations. It's likely we'll see
Anthony Barr
and
Chad Greenway
on the Vikings' double-A gap blitz a few times, but in the games where the Vikings have rushed especially well, they've done it as a team. Zimmer is big on preaching pass-rush discipline, where players choke off escape lanes for the quarterback and eventually take him down as they collapse the pocket as a group. The Vikings were struggling to do it well when they saw the Packers last, and after a poor week against the Bears, they'll have to get back on track with it to get to Rodgers this week.
November, 14, 2014
Nov 14
8:00
AM ET
Welcome to Around the Horns, our daily look at what's happening on the Minnesota Vikings beat:
For the Vikings defensive backs who will line up against
Brandon Marshall
and
Alshon Jeffery
, there's an additional area of the field to defend this week: The space just above a defender's head, where
Chicago Bears
quarterback
Jay Cutler
can throw jump balls for his two 6-foot-4 receivers and make an already formidable matchup even tougher.
The Vikings found out last year that height alone won't help a defensive back slow down Marshall and Jeffery -- 6-foot-2 defensive back
Chris Cook
got burned on a pair of passes over his head during Jeffery's 249-yard performance in the Metrodome last year. Coach Mike Zimmer has been talking with defensive backs such as 5-9
Captain Munnerlyn
and 5-10
Josh Robinson
this week about the proper techniques to take away the Bears' height advantage.
"You've got to be careful with these guys, because they're so big and physical," Zimmer said. "They'll throw the ball up to them, and they can go up and get it. We're not going to out-jump them. They're big, good athletes. If the ball does get up, we've got to be great with pulling their hands apart. We've got to be great about putting our hands in the hole -- what I call the hole (between the receiver's hands). And then being in the right position, too, that helps. If you're in the wrong position and you're fighting to get to it, and he goes up and you're half a step late, they'll make the catch most of the time."
The Vikings' secondary has made a major improvement this season, but they probably haven't faced a challenge quite like the Bears' receivers will present. If the Vikings are going to get their first win at Soldier Field since 2007, their secondary will have to be equal to the task against Marshall and Jeffery on Sunday.
In case you missed it on ESPN.com:
Best of the rest:
June, 19, 2014
Jun 19
10:00
AM ET
By
ESPN.com staff
| ESPN.com
The NFC North features a mix of veteran quarterbacks and a rookie in Minnesota who might be in line for significant playing time this season.
Will
Teddy Bridgewater
put up the most impressive numbers among rookie quarterbacks?
Will
Matthew Stafford
be directing the most explosive offense in the division now that the Detroit Lions have added weapons?
Will rising star
Alshon Jeffery
emerge as the Bears' No. 1 target, supplanting
Brandon Marshall
?
And could the Packers withstand another injury to
Aaron Rodgers
, as they did last season while winning the division?
These are the questions our NFC North reporters tackle in the latest version of 4 Downs.

Of the three QBs taken in the first round of this year's draft, Teddy Bridgewater will put up the most impressive numbers.
Michael Rothstein: Fact, although not because Bridgewater will be the best quarterback of the first-rounders. Simply, he is going to end up playing more than either Johnny Manziel or Blake Bortles this season, so he will have more opportunity. Plus, Minnesota is going to be down in a lot of games this season, so the Vikings are going to have to throw more in the second halves of games. He'll end up having nice numbers, but the number that matters -- the record -- will be ugly.
Michael C. Wright
: Fiction. That is only happening if the other two quarterbacks end up as backups. First off, Bridgewater doesn't have to put up big numbers because he has a beast in the backfield in
Adrian Peterson
. So all he needs to do is hand off to Peterson and make sure not to turn it over on passing downs; be a game-manager. Perhaps Bridgewater is more of a gamer than workout performer, which is what all the scouts I have talked to would say. But I'm just not sold on Bridgewater based on what I saw from his pro day workout. That means he will probably wind up being Rookie of the Year.
Rob Demovsky: Fiction, unless Matt Cassel goes down with an injury. There is more pressure on the Browns to play Johnny Manziel right away than there is on the Vikings to play Bridgewater. The same could be said of the Jaguars and Blake Bortles. All three of the first-round quarterbacks have journeyman veterans starting in front of them, so it all depends on which one flames out or gets hurt first. Cassel seems the least likely to do either.
Ben Goessling: I'm going to say fiction, simply because I think he'll have more work to do to get on the field than Johnny Manziel. The Vikings have Matt Cassel and have been giving him many of the first-team snaps during organized team activities and minicamp. So unless Bridgewater is so good that he takes the job away from Cassel in training camp, I think it will be a while before he is on the field in regular-season games. Now, he might be more efficient once he gets in there -- he has certainly looked sharp during the Vikings' offseason program -- but he might not put up many numbers until late in the season, if at all.
@GoesslingESPN True, and it won't be close. Like asking which will have the more pleasant winter: North Dakota, Manitoba, or Hawaii?

— Steven Macks (@semacks) June 17, 2014
---

The Lions will have the most explosive offense in the NFC North this season.
Michael Rothstein: Fact. There are a bunch of good offenses in the NFC North this season, although none improved on paper as much as the Lions. Detroit still has Calvin Johnson, Reggie Bush and Joique Bell as targets for Matthew Stafford. The Lions added Golden Tate, which is an upgrade from Nate Burleson. They also held on to Joseph Fauria and re-signed Brandon Pettigrew, along with drafting Eric Ebron in the first round. While Ebron's hands are in question, his athleticism and ability to get open down the field are not. As long as Stafford and Johnson stay healthy, there is no reason Detroit should not be a top-10 offense again. They should inch ahead of Green Bay and Chicago, both of which had top-10 offenses as well in 2013.
Michael C. Wright: Fiction. It's fact if "implosive" is the word used. Just kidding. But the Lions in the past relied too much on Matthew Stafford forcing the ball to Calvin Johnson, which often led to turnovers and quick three-and-outs. And although the offense features multiple weapons, it's easy to see why the club has operated this way. Megatron is the best in the game. He is going to make plays other receivers can't make. But, to me, it's expected that a team operating a new scheme will experience its fair share of growing pains. I see that happening with the Lions in 2014. I know Stafford has put up big numbers in the past, but I see his inconsistency holding this offense back this season if he doesn't take a big step in his development.
Rob Demovsky: Fiction, unless Aaron Rodgers and Jay Cutler get hurt again. Do you trust Matthew Stafford more than Rodgers or Cutler for a full 16-game season? At this point, the Bears might have the most explosive offense. They have the best 1-2 receiver punch with Brandon Marshall and Alshon Jeffery, and the Packers have the best quarterback. Not only do the Lions not have the most explosive offense in the division, they might not even be No. 2.
Ben Goessling: Fiction. They have the talent to have it, but how often do the Lions turn talent and potential into actual results? Give me the Bears, with Alshon Jeffery, Brandon Marshall and Matt Forte, or the Packers, now that Aaron Rodgers will be healthy and have a full season with running back Eddie Lacy. I like what Golden Tate gives the Lions opposite Calvin Johnson, and Eric Ebron fits nicely into their scheme, but I think they have the third-best quarterback in the division.
@mikerothstein If Stafford plays the way he can play then fact. Good O-Line, balance runners, best WR and other WR/TE opt

— Tom (@tomarmetta) June 16, 2014
---

Alshon Jeffery, not Brandon Marshall, will be Chicago's go-to receiver in 2014.
Michael Rothstein: Fiction. Jeffery might have had more yards last season, but opponents also are going to be more aware of the former South Carolina receiver this season from the get-go. While his numbers were gaudy a season ago, 467 of his 1,421 yards came in two games. Marshall had a little more consistency last season than Jeffery and was a more consistent target. The real reason Jeffery won't be considered Chicago's go-to receiver next season is that the Bears won't have one on a consistent basis. It will likely change based on matchups, because they are the best receiver duo in the division.
Michael C. Wright: Fiction. As long as Jay Cutler is quarterbacking the Chicago Bears, Marshall always will be the go-to receiver. And why not? Marshall is one of the league's best, even when teams focus on stopping him with double teams. Besides that, Marshall, in my opinion, is poised for a big season because he has spent this entire offseason actually training instead of rehabbing an injury. In 2013, it took Marshall, who was coming off hip surgery, about half the season to finally find his groove; yet he still finished with a team-high 100 grabs for 1,295 yards. Last season, Jeffery was probably the beneficiary of extra coverage devoted to a hobbled Marshall. Because of the damage Jeffery did last season, he will start to see more coverage, which should free up Marshall to continue to do his thing. Besides, Marshall was the fifth-most targeted receiver in the NFL last season. Marshall's 163 targets ranked even more than Calvin Johnson, who had 156 passes thrown his way.
Rob Demovsky: Fact, if we're talking about making big plays. Marshall still might end up having more receptions like he did last season; he's Cutler's security blanket. But even last season, Jeffery began to emerge as the bigger playmaker of the two. His 16.0-yard average per catch was 11th best in the league among all receivers last season. He is a freak athlete with great size, making him a matchup nightmare.
Ben Goessling: Fact. Jeffery is six years younger than Marshall and probably is a better deep threat at this point in his career. I thought he was phenomenal last season, and, to me, he might be the second-best receiver in the division right now behind Calvin Johnson. If he is not there yet, he can ascend to that spot by the end of the season. Marshall is still a great receiver, but Jeffery seems ready to become the main man in Chicago's offense.
@mikecwright no he won't as long as jay cutler is the QB. cutler looks Marshall 1st, 2nd and 3rd and then for others! #NFCN4Downs

— Anthony Strong (@TonyStrong631) June 12, 2014
---

The Packers can win the division again even if Aaron Rodgers misses nearly half the season, like he did last season.
Michael Rothstein: Fiction. Not a chance. Chicago has improved defensively and should have a more potent offense in 2014, as well as a healthy Jay Cutler for the entire season. Detroit should have a more dynamic offense than in 2013, and the leadership within the Lions should keep the team from collapsing like they did in 2013. Minnesota is likely not a factor this season, but either Chicago or Detroit would take advantage of a Rodgers-less Green Bay team better than they did a year ago.
Michael C. Wright: Fiction. In the past, this would definitely be "fact" and it might still be now that the Packers have put together a nice ground game to complement their passing attack. But I just think the rest of the division is starting to catch up to the Packers in terms of overall talent. Every team in the division improved its talent. Detroit's offense should be above average at the very least, and its defense definitely will be better. The Bears will be potent on offense in Year 2 of Marc Trestman's system, and their defense should be improved, especially up front with that revamped line. Let's not forget that Rodgers' return (combined with a mental bust by Bears safety Chris Conte on the quarterback's game-winning bomb) is what won Green Bay the division title. The Packers appear to have put together a better backup plan than they had last season, but we all know how important Rodgers is to his team's success.
Rob Demovsky: Fiction. The Bears and Lions folded last season, which allowed the Packers to stay afloat until Rodgers returned for the regular-season finale in Chicago. Both teams have taken measures to ensure that won't happen again. The Bears beefed up their defense, and the Lions made a coaching change. That said, the Packers might be in better position to handle a Rodgers absence because they should have Matt Flynn as the backup from the get-go.
Ben Goessling: Fiction. The only reason the Packers won the division last season was because the other three teams were flawed enough not to take it from them. The Lions collapsed late in the season, the Bears lost four of their last six (including the season finale against Green Bay) and the Vikings blew five last-minute leads (including one against the Packers) to take themselves out of the race. Green Bay might be better prepared for a Rodgers injury now that they have gone through it with Matt Flynn and Scott Tolzien, but the Packers' offense is predicated on Rodgers making throws few others can make. You can't expect a team to survive the loss of an elite player like that again.
@RobDemovsky True. Defense will be much better this year & flynn/tolzien will have a full training camp to run offense.

— Jules Parmentier (@JulesPthe5th) June 12, 2014
March, 28, 2014
Mar 28
10:00
AM ET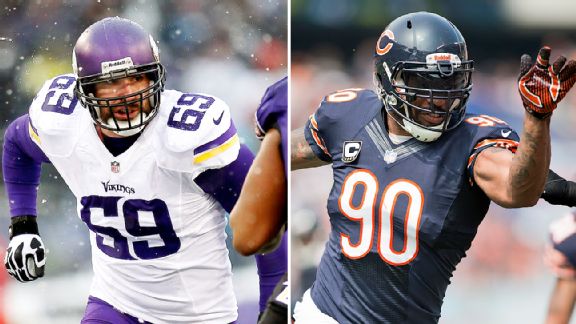 AP PhotoIt will be interesting to watch Jared Allen and Julius Peppers face their old teams this season.
MINNEAPOLIS -- The subplots behind the roster moves -- among teams that have lived on intra-division player hopping over the last five years -- are particularly juicy.
Jared Allen
jumps from the
Minnesota Vikings
to the
Chicago Bears
, just four days after
Julius Peppers
emigrates from the Bears to the
Green Bay Packers
? We sure do love our star-player-faces-his-old-team melodrama up here in NFC North country, and even by the lofty standards of a division that gave us Favre vs. Rodgers in 2009 and the hottest existential question of 2013 (who is
Greg Jennings
?), this week's game of musical chairs between pass rushers created intrigue. After all,
Brett Favre
,
Aaron Rodgers
and Jennings never got to hit their former teammates on the field.
But behind the flurry of roster moves lies three teams with distinct defensive problems, and three disparate approaches to solving them. How each strategy pans out could have a large hand in untangling the NFL's most mediocre division a year ago.
The Vikings had lived for years on a defensive line anchored by Allen and tackle
Kevin Williams
, who were named to 10 Pro Bowls between them in Minnesota. But when that foundation aged, and the arrival of coach Mike Zimmer brought a new approach to the 4-3 defense this winter, the Vikings decided they needed to revitalize the position more than they needed to give Allen a new contract before he turned 32. Instead of retaining Allen, they gave $20 million guaranteed to 26-year-old defensive end
Everson Griffen
, who has so far delivered production mostly in flashes.
The Packers, decimated by injuries in 2013 and forced to generate much of their pressure by bringing extra rushers, needed a player who could give blockers something to think about other than linebacker
Clay Matthews
. They gave Peppers a three-year, $30 million deal, with plans to add linebacking duties to the defensive end's resume and hopes that Peppers could learn a new role in a 3-4 defense at age 34.
And the Bears, who couldn't get to the quarterback or stop the run in 2013, let Peppers and
Henry Melton
walk and pivoted to Allen, giving him a four-year contract worth up to $32 million and crossing their fingers he could be a complete player at age 32 and beyond.
All three strategies carry considerable risk, but all three teams had substantial incentive to make changes. Zimmer's defense called for Vikings linemen who would be stout against the run before chasing quarterbacks, and Allen didn't fit that profile. The Packers and Bears were 30th and 32nd in the league in quarterback pressures, according to ESPN Stats and Information, and both teams were among the league's worst at getting to the quarterback with four pass rushers.
What's more, all three teams have central figures on offense who aren't getting any younger. Vikings running back
Adrian Peterson
turned 29 earlier this month, Bears quarterback
Jay Cutler
will be 31 in April and Packers quarterback Aaron Rodgers turns 31 in December. If some of the changes seem rash, it's because keeping the status quo probably carried greater risk.
Still, the moves should command headlines as much because of their boldness as the players they involve. The Vikings, Packers and Bears are all gambling they've got the best way to fix an anemic defense -- the Vikings by reinventing their defense, the Packers by trusting an aging player can reinvent himself and the Bears by believing a veteran pass rusher needs no reinvention. How their respective strategies work could swing the NFC North race in any number of directions next season, which might ultimately be the most compelling outcome of this week's moves.
But next fall, when Peppers is bearing down on Cutler or Allen is trying to corral Peterson? Well, we'll still have fun with that, too.
March, 17, 2014
Mar 17
8:00
AM ET
On the eve of free agency last week, our four NFC North reporters -- Rob Demovsky (
Green Bay Packers
), Ben Goessling (
Minnesota Vikings
), Michael Rothstein (
Detroit Lions
) and Michael C. Wright (
Chicago Bears
) -- compiled a list of
the top-15 free agents
in the division.
A week has passed and nine of them already have come off the market, including six who re-signed with their old teams.
Perhaps the biggest-name free agent from the NFC North, former Bears defensive end
Julius Peppers
, did not make the original list because he was not a free agent until he was released last week. He
signed with the Packers
on Saturday.
You can follow all of the NFL free-agent moves in
Bill Polian's free-agent tracker
, but let's revisit the NFC North top 15 and see what has changed:
1.
Sam Shields, Packers CB
: Signed a four-year, $39 million contract just a few hours into the open negotiating period on March 8. His $9.75 million per year average made him the fourth-highest paid cornerback in the league behind
Darrelle Revis
($16 million),
Brandon Carr
($10 million) and
Aqib Talib
($9.8 million).
2. Brandon Pettigrew, Lions TE
: Re-signed with the Lions for four years and $16 million, including a $4 million signing bonus.
3. Jermichael Finley, Packers TE
: Remained unsigned after a visit to the
Seattle Seahawks
last week. It's not known what the Seahawks' medical staff thought of Finley's C-3/C-4 neck vertebra fusion surgery that he had last November following his season-ending neck injury.
4. Charles Tillman, Bears CB
: Signed a one-year contract to return to Chicago last Friday after missing half of last season because of a torn triceps. The deal is worth about $3.5 million.
5. B.J. Raji, Packers DT:
Less than a year after reportedly turning down a multi-year offer that averaged $8 million per season, he returned to the Packers for a one-year deal signed on Friday that was believed to be worth $4 million plus incentives.
6. Matt Cassel, Vikings QB
: Opted out of his 2014 contract after the Super Bowl but signed a new two-year, $10.5 million deal with the Vikings on March 7, just before teams could start contacting his agent and will likely head into training camp with the inside track on the starting job.
7. Willie Young, Lions DL
: Signed a three-year, $9 million contract with the Bears. Former seventh-round pick received his first extensive playing time with the Lions in 2013, becoming a full-time starter after
Jason Jones
was injured for the season in Week 3.
8. James Jones, Packers WR
: Remained unsigned after the first week of free agency and has not had any known visits even after he ranked second on the Packers last season in receptions (59) and yards (817), the latter of which was a career high despite missing nearly three full games because of a knee injury. Three years ago, coming off the NFL lockout, Jones did not draw strong interest on the free-agent market and re-signed with the Packers for three years and $9.6 million. Could the same thing happen again?
9. Jared Allen, Vikings DE
: Remained unsigned after the first week of free agency but reportedly visited the Seattle Seahawks over the weekend. After three All-Pro selections in six years, Allen's time in Minnesota is over.
10. Josh McCown, Bears QB
: Signed a two-year, $10 million contract to rejoin his old coach, Lovie Smith, with the
Tampa Bay Buccaneers
.
11. Henry Melton, Bears DL
: Coming off a torn ACL, Melton went unsigned during the first wave of free agency but has a visit scheduled with the
Dallas Cowboys
this week.
12. Devin Hester, Bears KR
: Remained unsigned more than a week after the Bears said they would not bring him back.
13. Rashean Mathis, Lions CB
: Remained unsigned after playing in 15 games and taking over as a starter early in the season last year.
14. Everson Griffen, Vikings DE
: Cashed in on March 9th by signing a five-year, $42.5 million deal that included $20 million guaranteed to return to Minnesota.
15. Louis Delmas, Lions S
: Signed a one-year, $2.25 million contract with the
Miami Dolphins
after the Lions released him with one year remaining on his contract in February, in part because of a cap number of $6.5 million in 2014.
March, 10, 2014
Mar 10
10:00
AM ET
A few deals have been signed around the NFC North in the days leading up to free agency, but plenty of valuable players are about to hit the open market.
Here is a ranking of top NFC North free agents, with information provided by ESPN.com reporters Rob Demovsky (
Green Bay Packers
), Ben Goessling (
Minnesota Vikings
), Michael Rothstein (
Detroit Lions
) and Michael C. Wright (
Chicago Bears
).
We will update this periodically throughout the next several weeks.
1.Sam Shields, Packers CB:
Emerged as the Packers' top cover cornerback last season while playing for the restricted free-agent tender of $2.023 million and was re-signed to a four-year, $39 million contract just a few hours into the open negotiating period Saturday. His 2014 total pay of $15 million makes him the NFL's second-highest-paid cornerback for next season.
2. Brandon Pettigrew, Lions TE:
The No. 20 pick in the 2009 draft out of Oklahoma State, Pettigrew spent the past five seasons as one of Detroit's primary tight ends, specifically known for the ability to both block and run routes effectively.
3. Jermichael Finley, Packers TE:
Had surgery to fuse the C3 and C4 vertebra in his neck but expects to be cleared by his doctor. Gambled two years ago in free agency, signing just a two-year, $14 million deal in the hope that he would blossom into a star and command an even bigger contract the next time around.
4. Charles Tillman, Bears CB:
The NFL's Walter Payton Man of the Year, Tillman started eight games last season before finishing on the injured reserve with a torn triceps. The Bears hope to bring back Tillman but might not be able to come up with a suitable offer.
5. B.J. Raji, Packers DT:
Reportedly turned down an $8 million per year offer from the Packers last season, which might have been a sign that he preferred to play in a system that gave defensive linemen more freedom. After a disappointing season, his value has gone down, and as of last week, he was close to signing a one-year deal to return.
Cassel
6. Matt Cassel, Vikings QB:
Opted out of his 2014 contract after the Super Bowl but signed a new two-year deal with the Vikings on Friday, just before teams could start contacting his agent. He will likely head into training camp with the inside track on the starting job.
7. Willie Young, Lions DL:
Former seventh-round pick received his first extensive playing time in 2013, becoming a full-time starter after
Jason Jones
was injured for the season in Week 3. Young turned into one of the more disruptive players up front, making 47 tackles, recovering two fumbles and recording three sacks.
8. James Jones, Packers WR:
Ranked second on the Packers last season in receptions (59) and yards (817), the latter of which was a career high despite missing nearly three full games because of a knee injury. Three years ago, coming off the NFL lockout, Jones did not draw strong interest on the free-agent market and re-signed with the Packers for three years and $9.6 million.
9. Jared Allen, Vikings DE:
After three All-Pro selections in six years, Allen's time in Minnesota is likely over. He could come back as a situational pass-rusher on a reduced salary, but after making $14 million last season, Allen might head elsewhere for a bigger role and bigger paycheck.
McCown
10. Josh McCown, Bears QB:
He proved he is capable of filling in for
Jay Cutler
in a pinch and is instrumental behind the scenes for nearly every skill player on the offense. It's not a slam dunk he will be back, and talks with the Bears haven't been especially productive.
11. Henry Melton, Bears DL:
Melton's representatives fully expect him to test the market in free agency because the Bears haven't shown a ton of interest. Coming off a torn ACL, Melton probably won't command top dollar in the first wave of free agency.
12. Devin Hester, Bears KR:
Became strictly a return specialist for the Bears last season and is still one of the league's best at his position. Probably expects a payday similar to what he's gotten in the past.
13. Rashean Mathis, Lions CB:
Mathis signed with Detroit during the 2013 preseason and became one of the team's starting cornerbacks by the third week of the season. He played in 15 games, making 47 tackles and often drawing the opponent's top wide receiver.
14. Everson Griffen, Vikings DE:
The 26-year-old cashed in on Sunday by signing a five-year, $42.5 million deal that included $20 million guaranteed to return to Minnesota. He should flourish in new coach Mike Zimmer's defensive scheme.
15. Louis Delmas, Lions S:
The 26-year-old was released by Detroit with one year remaining on his contract in February, in part because of a cap number of $6.5 million in 2014. Has played in 65 games for Detroit over five seasons, with 328 tackles, six interceptions and two forced fumbles. He also had five sacks and four fumble recoveries.
November, 21, 2013
11/21/13
10:00
AM ET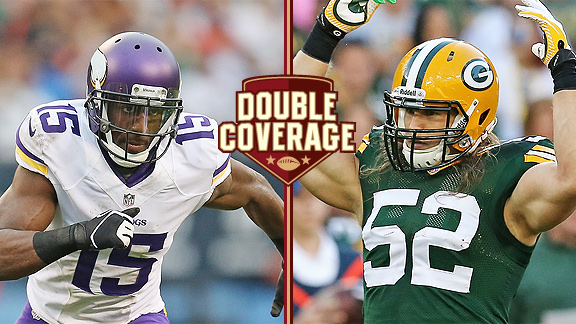 Jonathan Daniel/Getty ImagesIt's been a rough season for Greg Jennings and the Vikings, who hope to split their season series with Clay Matthews' Packers.
A month ago, when the
Green Bay Packers
left Minnesota with a 44-31 victory over the Vikings, all seemed right in their world.
They were 5-2 and in first place in the NFC North.
A week later, their season took an unexpected turn when quarterback
Aaron Rodgers
broke his collarbone. He hasn't played since, and the Packers have lost three in a row.
Meanwhile, the Vikings' slide has continued. They have lost five of their last six and still haven't answered their questions at quarterback.
Packers reporter Rob Demovsky and Vikings reporter Ben Goessling discuss Sunday's rematch at Lambeau Field.
Demovsky:
Ben, when these two teams met last month in Minneapolis, the Vikings had just gone back to quarterback
Christian Ponder
after
Josh Freeman
's disastrous start against the
New York Giants
. Has their quarterback situation -- both short term and long term -- cleared up at all since then? From here, it sure doesn't seem like it has.
Goessling:
It looked like it might have, until last week. Ponder had started every game since then and was having one of his best games of the season Nov. 7 against the
Washington Redskins
when he left with a dislocated shoulder. We've got to grade that one on a curve because of the Redskins' porous defense, but Ponder looked more decisive, a little less skittish in the pocket and more confident while throwing on the run. That lasted through the first half Sunday in Seattle, but the two interceptions Ponder threw in the second half were unconscionable and the Vikings might make another switch at quarterback this week. If I'm them, I would take a look at Freeman and see if he's improved at all with a month to study the offense. The Vikings know what Ponder is at this point, and he's not going to be a franchise-level quarterback. The Vikings continue to say they don't need Freeman to play to evaluate him, but with so little on the line, why not put that $2 million to good use, see if he can give the team a spark and roll the dice on something different?
Speaking of quarterbacks, it seems like
Scott Tolzien
has played well for the most part, but he's been unable to avoid the turnovers that Rodgers simply doesn't commit. Can the Vikings -- a team that has been terrible at generating takeaways -- count on a couple this weekend, or do you see Tolzien excelling against a weak defense?
Demovsky:
After throwing five interceptions the past two weeks, including three Sunday against the Giants, Tolzien knows he absolutely must take care of the ball. The strange thing is, he's been fantastic throwing the deep ball. Some backups get into trouble with interceptions when they're trying to force the ball down the field. That wasn't the case with Tolzien last week. All three interceptions were on short or underneath throws, including the one
Jason Pierre-Paul
returned for a touchdown. Assuming Tolzien does a better job taking care of the ball this week, where he really needs to improve is in the red zone. The Packers have scored just two touchdowns on their past nine trips inside the 20, so along with taking care of the ball, that's where I expect a lot of Tolzien's focus to be this week.
I know I asked you this about
Greg Jennings
before the first meeting, but given the somewhat strange circumstances surrounding him being inactive last week, how do the Vikings feel now about the investment they made in the former Packers receiver this offseason?
Goessling:
You know, when Leslie Frazier talked about Jennings on Monday and said how he couldn't predict for sure whether Jennings would be back against the Packers, it was the first time I wondered about that. It seemed to me Frazier was miffed about the whole situation, whether Jennings decided he couldn't play or whether a valid injury cropped up at the last moment and kept him out of the game. Durability was absolutely a concern with Jennings before the Vikings signed him, and it was a day they were counting on him, with
Jerome Simpson
probably due to sit because of his drunken driving arrest. Whatever caused it, there's no question the Vikings were hoping Jennings could lend some stability to their passing game and help their quarterback, be that Ponder, Freeman,
Matt Cassel
or whomever. They're paying him enough that they have to count on him to make that contract worthwhile.
We've talked before about Jennings' digs at the Packers. What kind of a reception do you expect he'll get on Sunday, and could he be in for a better game with injuries surfacing again for the Packers in the secondary?
Demovsky:
I can't imagine the reception for Jennings will be friendly at Lambeau Field. People here don't take too kindly to those who bash their team or their quarterback. Jennings said some pretty hurtful things this offseason, and regardless of whether he was "just messing around," those words have not been forgotten. I would be willing to bet that every time Jennings touches the ball -- which lately hasn't been much -- he'll get booed. Regarding the Packers' secondary, the fact that it's still having communication breakdowns this late in the season isn't a good sign.
Jennings didn't do much of anything in the first meeting against the Packers, and neither did
Adrian Peterson
. I'm not sure which one was more surprising. But since Peterson carried only 13 times (for 60 yards) against the Packers, he has gotten 25, 20 and 21 carries in the past three games. Is he the Vikings' only hope for success on offense?
Goessling:
Depends on what the Vikings get at quarterback -- which is pretty hard to predict these days. They had planned this year to have more balance on offense, and without it, they've suffered from Peterson having merely a good, not historic, season. He said after Sunday's game that his groin injury was bothering him a lot, and it's the first time in the past two years I've heard Peterson admit an injury was affecting him like that. There were certainly runs where it looked like he just didn't have that top gear like he normally does, and it kept him from breaking a couple. I'm not so sure the best thing wouldn't be to sit him down for a game or two and let him get healthy, rather than having him try to play when he's clearly not 100 percent. The fact the Vikings could be missing center
John Sullivan
because of a concussion doesn't help either. Their best chance to get going on offense would be to feed Peterson, get a lead and try to pressure Tolzien. If Peterson is not at his best, it might not be feasible to lean on him so much.
What about the Packers' running game? It was striking to see
Eddie Lacy
& Co. pound the ball at will against the Vikings in October. Was that legit, or are teams taking that away now because Rodgers is gone?
Demovsky:
That was legit. He leads the NFL in rushing over the past seven games. Less than three weeks ago, the Packers ran for a season-high 199 yards against the Bears. The past two weeks, however, both the Eagles and the Giants have loaded the box to stop the run, and it has worked. There weren't many yards for Lacy to get last week against the Giants, and he averaged only 1.9 yards per carry on 14 attempts. It's like defenses have completely changed the way they're playing the Packers. With Rodgers, they used to dare the Packers to run the ball. Now, they're daring them to throw it by bringing extra defenders up to the line of scrimmage.
October, 25, 2013
10/25/13
12:00
PM ET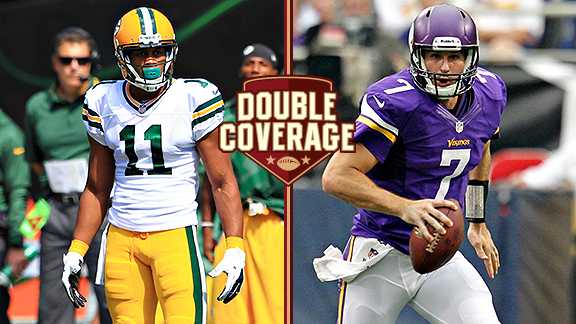 USA TODAY SportsPackers WR Jarrett Boykin came up big as an injury fill-in last Sunday; can Vikings QB Christian Ponder do the same against the Packers?
.
The
Minnesota Vikings
and
Green Bay Packers
will meet for the fourth time in 11 months on Sunday night at Mall of America Field, but things have changed quite a bit for both teams since they faced off in the wild-card round of the NFC playoffs last January.
Christian Ponder
will likely start at quarterback for the Vikings, but it might be a one-week engagement with
Josh Freeman
out because of a concussion.
Greg Jennings
became the latest Packer to switch sides in the rivalry. And
Aaron Rodgers
is relying as much on a nasty offensive line and a productive running game as he is on a receiving corps that's been hit hard by injuries.
As the Packers try to extend their lead in the NFC North and the Vikings try to get their season headed in the right direction following a 1-5 start, ESPN Vikings reporter Ben Goessling and ESPN Packers reporter Rob Demovsky got together to break down the matchup.
Ben Goessling:
Rob, one of these teams has the sixth-ranked rushing game and the third-ranked run defense in the league. And it's not Minnesota. Those two things have been fixtures for the Vikings for years, but they're struggling to open holes for
Adrian Peterson
, who has looked too anxious at times to turn everything into a big gain, and on a few occasions they've been whipped up front by opposing offensive lines. How strange has it been to watch the Packers play so physically, and what kind of an advantage will that create for them on Sunday?
Rob Demovsky:
It's like the Bizarro World around here. The Packers haven't run the ball this well in a decade, not since the days of Ahman Green. And they haven't had this kind of run defense since 2009, when they led the NFL in the category. But it's probably the way they have to win now, considering all the skill-position guys –
Randall Cobb
,
James Jones
,
Jermichael Finley
– they're missing on offense and all the pass-rushers –
Clay Matthews
,
Nick Perry
-- they're missing on defense.
I'm used to seeing the Vikings run the ball like crazy. Are the problems at quarterback the major reason the running game hasn't taken off, or are there other issues at work?
Goessling:
Ah, yes, the old U-71 package with Kevin Barry. And then they got gun-shy in the famous fourth-and-26 game against the Eagles. Sorry, I'm probably hitting some nerves for the Packers fans out there. Moving on …
It's hard to put a finger on exactly what hasn't worked for the Vikings this season, but I'd start with two guys they paid handsomely over the winter -- right tackle
Phil Loadholt
and fullback
Jerome Felton
. Peterson has done his best work running behind those two guys, but Loadholt hasn't been anywhere near the road grader he was last season, and Felton has had trouble as a lead blocker since returning from his three-game suspension at the beginning of the season. It also seems like Pro Bowl left tackle
Matt Kalil
and center
John Sullivan
(who was a Pro Bowl alternate) aren't playing at the same level they were last season. But yes, if the Vikings could throw the ball and make teams pay for putting nine men in the box, they'd have a little more margin for error. That's got to be on the quarterback situation; the Vikings spent plenty of money trying to upgrade their offense over the winter, but without a guy who can make it all go, it's not going to work.
Speaking of the guy who makes it all go for the Packers, am I right in assuming Rodgers is going to be hanging on tightly this week to what Greg Jennings said about him over the summer? Those two can play nice all they want with their comments, but Jennings' earlier remarks would seem like the type that would activate the famous chip on Rodgers' shoulder.
Demovsky:
It was funny, Rodgers talked at length this week about being focused on this game, this team -- and not about what anyone outside the organization (hint: Jennings) had to say. But when someone asked him how he could forget about that, he came back with a classic response. He said that he didn't say anything about forgetting, just focusing. Now, does this rival the intensity behind the 2009 games against the Brett Favre-led Vikings? Not even close. But knowing Rodgers, he'll have a little something extra for this one.
What's the feeling about Jennings' contributions so far? Do the Vikings feel like they're getting their $45 million worth?
Goessling:
Yikes. That does sound like a classic Rodgers response. And with the shape this Vikings secondary is in -- especially without safety
Harrison Smith
-- that might be bad news for defensive coordinator Alan Williams.
Coach Leslie Frazier has raved about what Jennings has meant to their receiving corps, the work he's done to mentor young receivers such as
Cordarrelle Patterson
and the time he's spent with Ponder. He's had moments, such as the short pass he turned into a 70-yard touchdown against the Steelers, when he's looked like the player he was in Green Bay. But it's hard to gauge exactly what he's done, because there's been so much uncertainty at quarterback. He's played with three starters in six games; he had the same number in seven seasons with the Packers. He's also so technical as a route-runner -- and so good in small spaces – that I think he's really at his best when he has a quarterback who understands the details in his game and can use those to exploit a defense.
Maybe Ponder can get closer to that on Sunday. He played one of his best games last December when the Vikings needed to beat the Packers for a playoff berth. Can he recreate that against what looks like a tougher defense, or will he struggle, especially now that it looks like
Casey Hayward
might be back?
Demovsky:
This is a much different defense than Ponder saw last season, even if Hayward doesn't return. The Packers are so much deeper in the secondary now with the emergence of
Davon House
, who had his first career interception Sunday against the Browns, and rookie
Micah Hyde
.
Sam Shields
has become their new shutdown corner, but that's not to say
Tramon Williams
still isn't a factor. He's actually playing some in the slot now, so it's a new role for him. As good as Hayward was last season, I'm not sure he's essential to their pass defense right now. The Packers have only three interceptions on the season, but I wouldn't be surprised if the floodgates open fairly soon.
One of the matchups I'm most interested in is
Jared Allen
against the Packers' new left tackle,
David Bakhtiari
. Bakhtiari has played well, especially for a rookie, but he hasn't yet had to pass-protect with the noise inside of a dome. And you know Allen will have some tricks for the rookie. How much do you think the Vikings will try to key on that matchup?
Goessling:
I'm sure they're hopeful it's a productive one for them. Allen hasn't looked like the same guy this season -- although he still is on pace for double-digit sacks -- and the Vikings have had enough trouble getting to the quarterback that they've had to blitz a little more, which typically isn't a smart strategy against Rodgers. But Allen always seems to do his best work against the Packers, particularly in the Metrodome, and if the Packers leave Bakhtiari alone against Allen, he could have his hands full.
See you on Sunday night, Rob. Soak up those Metrodome memories. With these two teams in this building, something interesting usually happens.
.
August, 30, 2013
8/30/13
11:45
AM ET
The history of the NFC North takes you back to the old NFC Central, when hardscrabble teams brutalized one another with violent trench play in cold weather. The
Green Bay Packers
,
Chicago Bears
,
Detroit Lions
and
Minnesota Vikings
ran the ball hard, hit their opponents harder, scored only when necessary and produced a well-deserved nickname as the "Black and Blue" division.
I think we can all agree that times have changed.
[+] Enlarge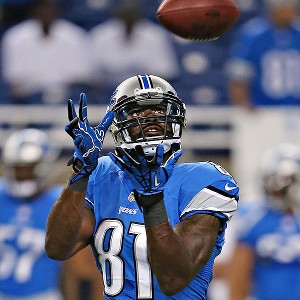 Leon Halip/Getty ImagesDetroit's Calvin Johnson narrowly edged Adrian Peterson for the No. 2 spot in the #NFLRank project.
The finale of our #NFLRank project brings another reminder of what this division has become. The NFL's top three offensive players all come from the NFC North, according to 63 ESPN football analysts. Packers quarterback
Aaron Rodgers
ranked No. 1, followed by Lions receiver
Calvin Johnson
and Vikings tailback
Adrian Peterson
.
Reasonable people could quibble with the placement of Johnson and Peterson, but there shouldn't be much debate about the trio's status in the league. Rodgers is arguably the NFL's best player, on offense or defense, and Peterson was the 2012 MVP. Pass-catchers aren't always valued in the same breath as quarterbacks and running backs, but Johnson set the NFL record for receiving yards in a season last year, and his unique skills and production were rightfully recognized in this project.
How have these three players affected the NFC North? Last season, the Black and Blue division hosted the NFL's second-most-prolific passing offense (Lions) and its highest-rated passing game (Packers). Peterson, meanwhile, elevated the Vikings to the NFL's second-most-productive rushing team in 2012.
All four NFC North teams, in fact, finished among the top half of the NFL in scoring offense last season, led by the Packers (27.1 points per game) at No. 5 overall. Over the past five seasons -- a time when Rodgers, Johnson and Peterson have all been regular NFC North players -- the division has had six instances of a team's finishing in the top five in NFL scoring. This division's teams have finished among the top half in NFL scoring 14 times (of a possible 20 opportunities).
I'm sure many of you are wondering whether Johnson finished ahead of Peterson based on the strong belief that he is a better player -- or if it reflects the
modern-day obsession
most of us have with skill-position players in the passing game.
First, it's important to know how close the voting was. Our 63-person voting group rated players on a scale of 0 to 10, with 10 being the highest a player could get. They had the same number of 10s, but Johnson got one more 9 than Peterson.
So is there any way to differentiate between the two?
As a running back, Peterson touches the ball far more times -- 388 times in 2012 -- than Johnson, who had 122 receptions last season on 204 targets. But as a receiver, Johnson produced nearly as many yards (1,964) as Peterson (2,097) in far fewer opportunities.
Both players attracted extraordinary defensive attention last season and succeeded despite a near-total lack of offensive balance. The Vikings were the NFL's weakest downfield passing team in 2012 -- their average pass traveled a league-low 6.3 yards past the line of scrimmage -- while the Lions faced more six-man rushing boxes than any other NFL team.
I don't think I could pick between the two. I gave both players 10s on my ballots -- once I remembered they play in the NFC North. Historically, it's something to behold.