December, 15, 2014
Dec 15
5:45
PM ET
EDEN PRAIRIE, Minn. -- Local dailies have
touted it as a slump.
Yours truly felt compelled to note Sunday that the
Minnesota Vikings
have
no concerns
about place-kicker
Blair Walsh
, who has converted only one of his past six field goals over two games.
Kicking is among the many foreign languages of football, so there can be a barely-decipherable line between a player who is struggling and one who has been victimized by a confluence of unfortunate factors. The question in these parts: Where does Walsh's two-game stretch fit in?
Three of Walsh's misses have been from 53 yards or longer. The other was from 39 yards, and a 26-yarder was blocked. His one conversion came from 20 yards.
Vikings coach Mike Zimmer had enough confidence in Walsh to let him attempt from 68 yards on the final play of a 16-14 loss to the
Detroit Lions
, choosing that option over a Hail Mary pass. Walsh's attempt was a few yards short, not surprisingly, and Zimmer dismissed questions about his confidence in Walsh moving forward.
For his part, Walsh said Monday that "it's been a strange two weeks, honestly" and added: "I don't think I'm hitting the ball poorly, but my results say otherwise."
Walsh said he felt so good during pregame warmups Sunday at Ford Field that he extended his usual routine to about 69 yards, attempting his final kick from almost the exact spot where he tried the potential game winner. The practice kick sailed through the uprights, and Walsh said he lobbied Zimmer for the end-game opportunity.
The NFL doesn't officially keep track of length of field goal attempts, but it's safe to say that Walsh's was one of the longest (serious) kicks in league history. The chart, provided by John McTigue of ESPN Stats & Information, lists the five longest attempts since ESPN started independently tracking in 2001.
Sebastian Janikowski
's 76-yard attempt in 2008
was viewed mostly as a shot toward then-owner Al Davis
from lame duck coach Lane Kiffin. The next two attempts, 71 yards by
Phil Dawson
and 69 yards by
Mason Crosby
, were "free kicks."
So in the big picture, Walsh followed a 82-for-93 start to his career with a 1-for-6 stretch. It hardly seems time to panic.
"You're not in this profession to make excuses for yourself," Walsh said. "You've got to hold yourself to that standard and hold yourself to a higher standard for performing, especially when you've done it before."
April, 24, 2014
Apr 24
10:01
AM ET
By
ESPN.com staff
| ESPN.com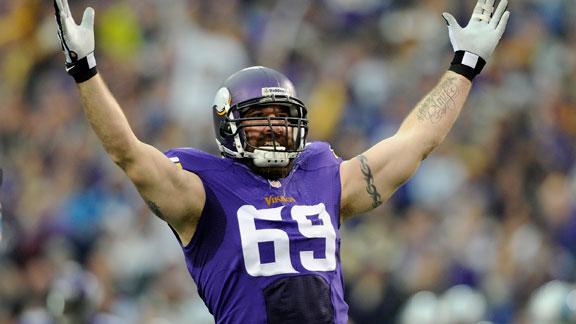 Are the
Detroit Lions
thinking of moving up in the draft? If not, why did they host
Jadeveon Clowney
on a recent visit? But what about the possibility of moving up to take
Sammy Watkins
to pair him up with
Calvin Johnson
as a dynamic receiving tandem?
That's one of the questions our NFC North reporters -- Rob Demovsky with the
Green Bay Packers
, Ben Goessling on the
Minnesota Vikings
, Michael C. Wright on the
Chicago Bears
and Kevin Seifert filling in on the Lions -- will tackle in this installment of 4 Downs.
With all of the offseason movement in the NFC North, which move will have the biggest impact? Will
Julius Peppers
have a bigger impact with the Packers or will
Jared Allen
make a bigger splash with the Bears?
Will the Bears' defense, buoyed by offseason acquisitions, enjoy the kind of resurgence in 2014 that their offense did in 2013?
Now that
Adrian Peterson
has reached 29 years old, will his production decrease, or will Norv Turner's offense invigorate him?
Find out what our reporters are thinking.

Fact or fiction: The best draft move the Lions could make is moving up for Sammy Watkins.
Rob Demovsky
: Fact. There's something to be said for making your strength even stronger. Clearly, with
Calvin Johnson
, the Lions' passing game is their strength -- they were third in the league in passing yards per game last season -- so why not make it even more difficult to stop? The addition of Watkins would give
Matthew Stafford
another big-play option.
Ben Goessling
: Fiction. As exciting as it would be to see Watkins in the same offense as Calvin Johnson, the Lions likely would need to move up from No. 10 to No. 4 or 5 to get Watkins. That would be the kind of expensive trade that could mean Martin Mayhew doesn't have enough picks to improve the team's defense. The Lions could use an upgrade to their secondary and at linebacker, and they'd likely find some good options there with the 10th overall pick. The Lions need another complement to Johnson, but defense is too big of a priority to make a costly trade up to get Watkins.
Kevin Seifert
: Fiction. Adding Watkins to a group that includes Calvin Johnson and
Golden Tate
would be one of the top power moves in recent memory. And, yes, the best way to build a team is to draft the best players and fill in positional gaps via free agency. But mortgaging the next two drafts seems like a steep price for a wide receiver on a team that has already committed the NFL's third-most salary-cap space ($20.3 million) at the position. The Lions' best move would to be clearheaded and take the best player remaining at No. 10.
Michael C. Wright
: Fiction. By now, the Lions should've already learned their lesson about investing too heavily in receivers. Besides that, Detroit needs help on defense if it wants to win now. The club has several defensive tackles set to become free agents after the 2014 season, it needs a safety and a cornerback, and it could stand to use some help at linebacker, too. The Lions already have several weapons on offense in Matthew Stafford, Calvin Johnson and
Reggie Bush
, in addition to free-agent acquisition Golden Tate. They can't neglect a defense that seems to always lack depth once injuries hit. This is also one of the deepest drafts in recent years for receivers, meaning the Lions could address defense first, then come back and add another target for Stafford in a later round. That would be the best course of action for Detroit. But the Lions haven't always done what's best (even though things seem to be improving with Martin Mayhew on board).
@mikecwright False. Megatron&Tate are a good one two punch & corner and safety are bigger needs.WR is deep; the opportunity cost is too high

- Ragan (@DupesSA) April 21, 2014
---

Fact or fiction: Julius Peppers will make a greater impact on the Packers' defense than Jared Allen will make on the Bears' D.
Demovsky
: Fact. The Packers didn't have a single defensive lineman record as many sacks as Peppers did for the Bears last year, when he had seven. Even if he's only able to replicate that, it'll be an upgrade for the Packers' defense, which badly needs another pass-rusher to complement
Clay Matthews
, who faces near-constant double teams.
Goessling
: Fiction. It's hard to know what the Packers will get from Peppers. The Bears are essentially asking Allen to do what he's always done, and as consistent as Allen's been, you know what you're getting. He'll probably produce 10-plus sacks and stay on the field, though he looked a step slower last season. With Peppers, though, the Packers' decision to put him opposite Clay Matthews is a big gamble -- on Peppers' ability to pick up a new position, to move around in the Packers' defense and to remain productive at age 34. It could work out splendidly, but as consistent as Allen is, I'm not ready to bet that Peppers will make a larger impact.
Seifert
: Fiction. Call me boring, but I don't foresee one having a dramatically different impact than the other. Both will provide something their teams didn't have last season. The Packers will get a player athletic and versatile enough to spur defensive coordinator Dom Capers' creativity and legitimately draw attention away from linebacker Clay Matthews. Allen offers a classic outside pass rush that Peppers failed to provide the Bears last season.
Wright
: Fiction. The Bears played it very diplomatically publicly while ushering Peppers out of the door, but even if his base salary for 2014 wasn't so astronomical, the club still didn't want him back. That's because some within the organization felt Peppers gave the Bears just five to six solid snaps per game in 2013. That sentiment falls right in line with Peppers' longstanding reputation as a player who doesn't go all-out consistently. So even if Allen's impact with the Bears in 2014 is minimal, I'd venture to guess it would be more than what the Packers will get from Peppers. That's not to say Peppers has lost it. He hasn't. He can still play at a high level when motivated. And he'll definitely be motivated in Green Bay. At the same time, Allen has never been accused of taking plays off, and over several years has earned a reputation as a high-motor player. That's exactly what the Bears need. Besides that, Peppers will be playing in a scheme totally different than anything he's ever done in the NFL, while Allen moves to a scheme similar to what he did in Minnesota. Everything considered, Allen has the best chance to be the more impactful player.
@RobDemovsky true, because the bears will play Allen on every down and wear him out. Making him less effective.

- kay oh (@shredmon) April 21, 2014
---

Fact or fiction: Chicago will achieve a turnaround on defense similar to what the team experienced on offense in 2013.
Demovsky
: Fiction. Unless your definition of turnaround is a slight improvement, don't expect this defense to jump into the top 10 after ranking 30th last season. The Bears have added some nice pieces, especially on the defensive line with Jared Allen and
Lamarr Houston
, but this defense was downright bad in 2013. A major turnaround could take several years.
Goessling
: Fiction. I like what the Bears did to their defensive line, adding Lamarr Houston,
Willie Young
and Jared Allen, but their safeties are still suspect, their young linebackers are still learning and they're going to count on players like
Charles Tillman
,
D.J. Williams
,
Lance Briggs
(if he's healthy) and Allen, who will all be at least 32 when camp starts. The Bears will be better on defense, but I'm not ready to say unequivocally that they'll turn things around after having the league's worst rushing defense in 2013.
Seifert
: Fiction: Some important team-building remains, most notably through the draft. But I'm not convinced the Bears have done enough yet to expect such a dramatic turnaround. (Remember, the Bears' offense ranked second in scoring in 2013 after finishing No. 16 in 2012.) Free agency has promised a different lineup, but will it be better? As many as six projected starters will be at least 30 years old. That's not a profile for massive turnaround.
Wright
: Fiction. The Bears will definitely turn things around, but I don't see the improvement being near as dramatic as what the club did in 2013 on offense. And that's OK. If the Bears can reach mediocrity on defense in 2014, that would be a huge win because the club now has a potent offense that can flat out stack points on the board. The Bears set single-season franchise records for net yardage (6,109), net passing yards (4,281), completion percentage (64.4), passing touchdowns (32), passer rating (96.9) and first downs (344) in addition to finishing eighth in total offense (381.8 yards per game), second in scoring (27.8-point average) and fifth in passing yardage (267.6). I don't see the Bears rewriting the franchise record books on defense next season, which would be incredibly difficult anyway given all the great defenses fielded in the past by this franchise.
@mikecwright False.There will be turnaround but nothing that great.Secondary still needs work and the chemistry might not be there for team

- Matt Varney (@HeadCoachVarney) April 21, 2014
---

Fact or fiction: At age 29, Adrian Peterson will be invigorated by a new offensive scheme and buck the trend of running backs declining in their late 20s.
Demovsky
: Fact. If we've learned anything about Peterson, it's that we should never doubt him. Not after what he did following his ACL tear. That said, 2,000 yards might not be realistic. If his 1,266 yards from last season was a disappointment, then so be it, but there aren't many teams in the league who wouldn't be happy with that right now.
Goessling
: Fiction. Peterson will still be productive in Norv Turner's offense and could relish the opportunity to get the ball as a pass-catching threat for one of the first times in his career. But running backs at his age -- and with that much wear and tear -- don't tend to stay at that level forever, and Peterson's three surgeries in the past three offseasons are concerning. If he does what
LaDainian Tomlinson
did for Turner at age 29 (1,110 yards rushing and 426 receiving), is that bucking the trend? Maybe, but that would still only be Peterson's sixth-best season in terms of total yards. So I'll say fiction. Even though I expect Peterson to have a solid, productive season, I don't think we're looking at some fountain of youth in Turner's offense.
Seifert
: Fact. I'll say this: Peterson doesn't need to be invigorated as much as he needs a transition path for continued elite production. After all, he rushed for 1,266 yards in 14 games last season. But he has undergone significant surgery in each of the past three winters, and offensive coordinator Norv Turner wants to involve him more in the passing game. More receptions and fewer carries sounds like a good plan for preservation.
Wright
: Fact. But I'm not even so sure it will be as much about a new offensive scheme. Peterson just isn't human. Just kidding; sort of. Peterson is coming off his worst season since 2009 in terms of yards per attempt (4.5). But think about that for a second. Most running backs would be downright giddy averaging 4.5 yards per carry. I know Peterson has taken a pounding over the years and he's coming off yet another surgery. But doesn't that always seem to be the case for Peterson, dating all the way back to college? At Oklahoma, Peterson dislocated a shoulder in 2004, suffered a right high-ankle sprain in 2005 and a broken clavicle in 2006, which led to scrutiny going into the 2007 draft about his durability and longevity. Seven seasons and 10,115 yards later, Peterson's still here, giving defenses fits. Minnesota needs to get Peterson some help (like a quarterback) for sure. But I honestly think Peterson is such an extraordinary physical specimen, hard worker and determined player, he'll buck the trend for a while the way
Fred Taylor
did it. Taylor rushed for 1,202 yards in 2007, completing that season just weeks before his 32nd birthday. The year prior, Taylor rushed for 1,146 yards.
@GoesslingESPN false. Wear and tear catching up....he'll still be a good RB, but his glory days are behind him.

- Vikings Fan Page (@Kevin_VFP) April 21, 2014
January, 2, 2014
Jan 2
5:45
PM ET
There is much to unfold
among the roughly 3,880 words
former
Minnesota Vikings
punter
Chris Kluwe
published Thursday at Deadspin.com, and I think it's important to separate some of the unrelated issues contained therein.
From the top, Kluwe was not released in April 2013 solely because he advocated for gay rights, no matter the portrait he painted in the piece. A more objective explanation,
as we discussed at the time
, would note that he was a 31-year-old veteran who had produced a below-average performance in 2012 based on the criteria the Vikings most valued. He was entering the final year of his contract, one that carried no salary cap hit if he were released, and was playing for a team that had been systematically replacing older players with younger ones.
If anything, Kluwe's advocacy was the final push off the plank. Fair or otherwise, NFL teams don't have much tolerance for middling performers who draw more attention off the field than on it, be it for social causes or television commercials. Kluwe's stated confidence that his "activism was the reason I got fired" is a convenient storyline, one that has already drawn a great deal of attention, but it isn't supported by the full set of facts.
Kluwe
It's important to dismiss that thread so that we can independently address the real issue here. The story, as I see it, isn't a reassessment of why Kluwe is headed toward retirement. It's that Kluwe quoted a prominent Vikings assistant coach allegedly uttering abhorrent and obviously inappropriate sentiments about gays in a team setting, quotes that remained unreported (and presumably unaddressed by the team) for more than a year.
According to Kluwe, Vikings special-teams coordinator Mike Priefer said in a 2012 special-teams meeting: "We should round up all the gays, send them to an island, and then nuke it until it glows." Priefer had made other comments in a "semi-joking manner," Kluwe wrote, but in this case he spoke "in one of the meanest voices I can ever recall hearing."
(Update:
Priefer said in a statement released Thursday evening that he "vehemently denies" Kluwe's allegations, that he "does not tolerate discrimination of any type" and that he is "respectful of all individuals.")
I suppose we can note that Kluwe's advocacy had its limits; he wasn't willing to risk his job (or cause further distraction) by going public with the quotes immediately. But timing shouldn't discredit or lessen the impact of the revelation, assuming it is accurate. If that's the case, Priefer's career in the NFL might be over and his words should spark the same industry shakeup as the
Miami Dolphins
' hazing debacle from earlier this season.
According to Kluwe, Priefer had never used homophobic language in front of the punter before he began advocating for gay rights in the summer of 2011. So did Priefer resort to it as a way to tease, haze or otherwise send Kluwe a message? I recognize that off-color jabs are a staple in professional sports, but Priefer -- knowingly or otherwise -- crossed an obvious line. If his superiors weren't aware of it, then the Vikings had a serious, organization-wide communication issue at the time.
The Vikings did not mention Priefer in a statement released Thursday afternoon, focusing only on their dealings with Kluwe and concluding that he was released "strictly based on his football performance." They promised "further comment at the appropriate time," and I can only hope that comes after a thorough investigation into Priefer's language and methods.
Words are the most powerful weapon in advocating -- and blocking -- social change. A sentiment expressed once can be forgotten. One expressed repeatedly, for good or bad, becomes ingrained.
The NFL already was likely to establish new workplace rules when the Dolphins investigation is complete. The primary language in question in Miami was the N-word, but anti-gay sentiments -- in jest or otherwise -- should be considered just as seriously. In light of Kluwe's letter, I would imagine that nascent set of rules is about to get thicker.
December, 30, 2013
12/30/13
5:45
PM ET
EDEN PRAIRIE, Minn. -- At 3 p.m. ET on Monday,
Minnesota Vikings
owner Zygi Wilf stepped to a podium and announced that coach Leslie Frazier won't return for the 2014 season. Simultaneously, a former Vikings player logged into Twitter. Here's what retired place-kicker
Ryan Longwell
tweeted:
So sorry to see Leslie Frazier go. Great coach, even better man of integrity. Too bad they fired the wrong guy up there.

— Ryan Longwell (@4thandLongwell) December 30, 2013
Longwell's account soon was trending in Minneapolis, a sign that the Vikings' fan base blames more than Frazier for this year's 5-10-1 record.
I don't want to put words in Longwell's mouth, but it was reasonable to interpret his tweet as a shot at general manager Rick Spielman. And so on this day, the story is less the departure of Frazier -- a gentleman whose 21-32-1 record was undeniably substandard -- and more about the plan to entrust Spielman with the rebuild.
Make no mistake: Wilf is all in on Spielman, who will choose the Vikings' next coach and quarterback during the next few months. Both are franchise-changing decisions that will set a course for at least the next three years, and it's only fair to ask if Spielman is up to it. He is a respected and experienced personnel evaluator, but he has never hired a coach and his history with quarterbacks is mixed at best.
Zygi Wilf didn't take questions from reporters, and his brother and co-owner, Mark Wilf, declined to discuss Spielman's qualifications in detail. "He's our general manager," Mark Wilf said. "We've entrusted him to be leading this process for our club."
[+] Enlarge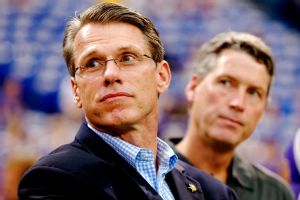 Bruce Kluckhohn/USA TODAY SportsVikings general manager Rick Spielman will be entrusted with finding the team's next coach and quarterback.
Longwell's beef with Spielman wouldn't be unlike many players who are released, as Longwell was in the spring of 2012. An objective view of Spielman's tenure is difficult considering that he spent his first five years with the team as vice president of player personnel before gaining full authority as general manager for the next two. He acquired all but three players on the Vikings' current roster, one that is talented in some spots (receiver, running back, offensive line), thin at others (quarterback, linebacker, cornerback) and ultimately produced one Pro Bowl player (
Adrian Peterson
) this season.
In truth, the Wilfs encountered the touchy consequence of hiring a general manager with a coach already in place. The Wilfs by all accounts have full faith in Spielman, but even if they had doubts, firing him after two seasons -- without giving him his own coach to work with -- would have been an exceptionally quick trigger.
Based on that timing, if not intent, Spielman is more entrenched than ever at the Vikings' Winter Park facility. This itself is progress for the Vikings, whose past three head coaches -- Frazier, Brad Childress and Mike Tice -- were all hired without the consultation of football people. Spielman will be "leading the charge," he said, on what he predicted would be a comprehensive coaching search that could cull candidates from as many as 13 categories of backgrounds.
Yes, Spielman said he conducted a study that traced all possible origins of head coaching hires -- former coordinators, former college coaches, retread NFL coaches, etc. -- and concluded that he would not be boxed in to a specific coaching profile.
"It's a situation where if [the right] head coach comes in, I feel it could be a very quick turnaround," he said.
Spielman's 13 coaching categories reflects an obsessive and meticulous approach to research and fact-gathering. His system for stacking draft options, for instance, runs further beyond the decimal point than I can count; a 2.6547 player is better than a 2.6546. And that's why I wouldn't be surprised to see him run a process similar to that of
Chicago Bears
general manager Phil Emery, who interviewed more than 15 candidates in January 2012 and made the most out-of-the-box hire of the offseason in Marc Trestman.
There is a fine line between information gathering and overthinking, of course, and Spielman must avoid the latter when looking for the Vikings' next quarterback. He is largely responsible for the mess that consumed the 2013 season, most notably the decision to punt on
Christian Ponder
and sign
Josh Freeman
five weeks into the season, and there aren't many success stories on the longer list of quarterbacks he has acquired in his career.
He has twice traded for journeyman
Sage Rosenfels
, then signed him as a free agent a third time. As a personnel executive with the
Miami Dolphins
, he was involved in the acquisitions of quarterbacks
A.J. Feeley
,
Ray Lucas
and
Brian Griese
, among others.
To his credit, Spielman said Monday that "I haven't got it right yet" and added: "I have the confidence that we'll get this quarterback situation resolved. I really do. And what that answer is right now, we're not going to have those answers until will get the coach in place. And when we sit down and we delve into what we have at this position, what is potentially out there in free agency, what is the draft class, those answers will all come in time."
It has been a long time since a single person with football background was making all major football decisions for the Vikings. Does it mean progress? It's time for Rick Spielman to step up and show us.
December, 27, 2013
12/27/13
9:00
AM ET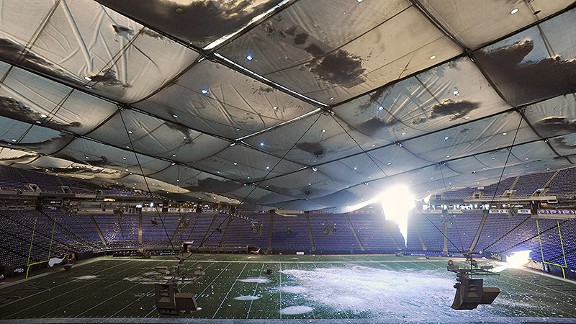 Hannah Foslien/Getty ImagesYes, the Metrodome's roof collapsed in 2010, but more amazing is that it held up as long as it did.
MINNEAPOLIS -- They played two World Series in the Hubert H. Humphrey Metrodome, and the same number of Final Fours. Baseball's All-Star Game, the Super Bowl, Pink Floyd and Paul McCartney all made appearances as well. And yet, from a national perspective, the dominant memory might well have originated on Dec. 12, 2010 -- when the roof collapsed a day before a
Minnesota Vikings
game.
The Teflon-coated roof was one of many engineering quirks that gave the Metrodome a retro-futuristic feel that was equal parts Jetsons and Lite-Brite. My personal favorite was the strict rule against opening any set of double doors at the same time, a fail-safe against altering the air pressure setting that maintained the roof's shape.
That rule was one of many improvised plans that stadium engineers developed and followed to maintain a building that will host its final event Sunday. And it's why Steve Maki and six colleagues found themselves on the roof with fire hoses and a steam connection in the hours before the 2010 collapse.
We'll get back to that incredible instance of homespun maintenance in a moment. First, it's important to know a few facts about the roof.
The original design called for 20 fans of 90 horsepower apiece to maintain inflation from their position at the top of the stadium. Because it was used in a region that receives about 50 inches of snow per year, a system was installed to melt snow accumulation on the roof by shooting hot air between two layers of fabric on the surface.
The roof, however, deflated or ripped three times between 1981 and 1983. According to Maki, who was hired as the Metrodome's top engineer in 1985, the holes providing ventilation were too small to allow in enough hot air to melt snow.
Through trial and error, engineers developed a do-it-yourself routine for removing snow accumulation from the roof. First, they would crank the temperature in the building above 80 degrees. Usually, the rising heat would penetrate the roof and initiate melting. But for more significant occasions, they came up with an emergency plan that seemed stolen from a Rube Goldberg diagram.
Water connections were installed where the concrete structure met the perimeter of the roof. Later, a steam line was added. Fire hoses also were purchased.
If 80 degree heat rising didn't melt the snow, stadium workers would clamber to the roof and connect the hoses to water and steam outputs. Standing on eight-inch cable lines, 150 feet above ground, they pointed hoses and manually melted snow with hot water.
Yes, that's how the Metrodome hosted 300 events a year for more than a quarter century. And it's how it came to be that Maki and six colleagues found themselves on the roof at 10 a.m. Dec. 11, 2010, amid what turned out to be
the fifth-largest snowstorm in Minnesota history
.
A total of 17.1 inches would fall over a 24-hour period, accompanied by 25 mph winds and sub-zero temperatures. Dressed in snowsuits and ski goggles, Maki and his crew spent nearly eight hours on the Metrodome roof spraying water trying to make a dent in the accumulation.
In 2010
, American bioengineers created the first "self-replicating, synthetically designed life." British researchers developed an embryo using DNA from three parents. Astronomers discovered evidence that there could be water on the moon. But in Minnesota, there proved to be no way to prevent snow from collapsing the fabric roof on an NFL stadium.
"We just couldn't make any headway," Maki said. "That storm was a rare occasion of a lot of snow, winds that were really strong and falling temperatures. It was so cold that by the time the water reached the snow, it wasn't hot anymore. Nothing was melting."
Wind gusts were the biggest danger. Fearing his crew could be blown off the roof, Maki pulled them down at 5:30 p.m. The decision meant a catastrophic roof collapse, but Maki said: "The safety of our guys came first, obviously. We had to do it."
Smirk all you want about an NFL stadium kept online by such low-tech methods. (I'm not aware of any use of duct tape, spackle or bubble gum.) If you ask me, it was an engineering miracle that Maki and his group managed to keep the deficient roof inflated for 27 consecutive years.
This was a building erected for $55 million.
With design flaws that were immediately apparent.
Whose tenants began clamoring to get out less than 15 years after it opened.
The Metrodome's legacy? To me, it's that it has a legacy at all. How this building made it 32 years is, well, an engineering feat for the ages.
September, 18, 2013
9/18/13
10:30
AM ET
Over the years, I've tended to side with statistical analysts who believe NFL coaches are too skittish about going for it on fourth down. More often than you might think, data built up from years of NFL play runs counter to conventional wisdom about the right time to punt, kick a field goal and/or "trust your defense."
Once such opportunity seemed to arise Sunday for the
Minnesota Vikings
late in their game at the
Chicago Bears
. Leading 27-24 with three minutes, 18 seconds remaining, the Vikings had a fourth-and-goal from the Bears' 4-yard line.
Coach Leslie Frazier faced a dilemma. He could kick the short field goal, take a six-point lead and leave his team vulnerable to a regulation loss if the Bears answered with a touchdown. Or he could go for a touchdown that would force the Bears to score twice to win.
In the worst-case scenario, if the touchdown attempt failed, the Bears would have gained possession pinned deep in their own territory with at least 60 yards to gain -- and only one timeout available -- for a chance at a game-tying field goal.
We all know what happened: Frazier chose
Blair Walsh
's 22-yard field goal. The Vikings took a 30-24 lead, but the Bears scored a touchdown with 10 seconds remaining for a 31-30 victory.
Watching the game live, I thought Frazier should have handed the ball to
Adrian Peterson
and tried to score a touchdown to seal the game. I figured the Vikings' chances to seal the game with the reigning MVP were at least as good, if not better, than the likelihood that their defense would stop Bears quarterback
Jay Cutler
in a fourth-quarter frenzy.
Years of hard data, however, mutes that sentiment. Frazier made the most informed choice, either intentionally or by chance. ESPN analytics specialist Alok Pattani graciously researched and passed along the details.
The ESPN win probability model contains data from all possible down-and-distance situations dating back to 2001. Over that period, NFL teams have scored touchdowns on 27 percent of their attempts on fourth-and-goal between the three- and five-yard lines. Perhaps the Vikings' chances were better than that with Peterson, but 12 years of precedent is hard to ignore.
Four yards takes more than an offensive line push and a lunge from the running back. You need either a well-blocked hole or an exceptional play by a running back who had averaged less than four yards per carry in the game.
As a result, statistical analysis gave the Vikings a better chance to win by converting the field goal (81.5 percent) and defending against a touchdown drive than going for it on fourth-and-goal (74 percent chance) and facing the likelihood of failure.
Frazier is as traditional of a game manager as there is, and I'm not sure he would have gone for it even if the ball at been at the 1-yard line, but this exercise emphasizes that knee-jerk reactions in the balance between convention and statistical analysis can work both ways.